Article Summary
Attractiveness, practicability and longevity, the three key elements most people want to know when making a large, expensive purchase, such as a garden deck.
Adding a decking area to your home creates a versatile space that can host a variety of activities: from putting on the garden event of the year, family dinner, or solitary morning coffees. Find out all the information you are going to need when shopping for an easy to install and maintain decking designed to last for many years.
Article Contents
How to plan your decking
Do you need planning permission for decking?
Decking types explained
What decking material is the best?
What decking accessories do you need?
How to care for and maintain your deck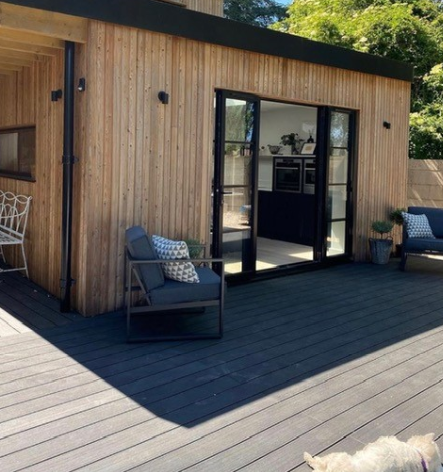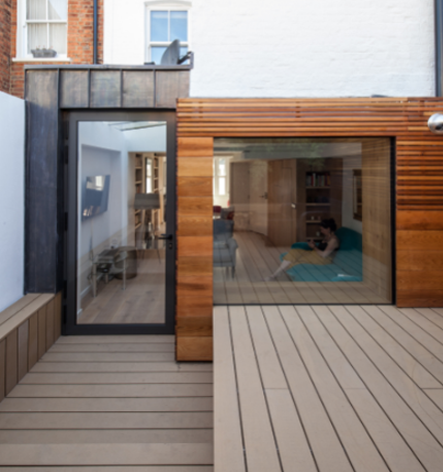 How to plan your new decking
There is no 'one size fits all' when it comes to garden decking. People have different budgets, size of space available and taste when it comes to accessorising their garden. So, how can you make sure you're buying the right decking for you?
No matter what style of garden or choice of decking you are aiming for there is a range of factors to be considered before purchasing.
How large do you want your decking? Are you planning on doing one small deck, a large deck, or multiple sized decking areas?
What budget are you planning on spending? How much of the budget is going to be for the materials and how much for the installation, joists, trims and weed mats need to be included?
How long do you want your decking to last? Different boards, made from different materials will have different guarantees, if you are in your forever home you may want a deck you won't have to replace in ten-years.
what style do you want your deck? Composite, PVC, and Plastic decks are often available in a range of colours.
How are you wanting it installed? Are you wanting to instal with professional tradespersons or as a do it yourself project?
Are you planning on having raised or grounded deck?
Decking types explained
The market is saturated with different types of decking boards, deck building kits, and decking tiles. Varying between traditional timber, wood-plastic decking, or PVC Decking. All types available come with a range of great attributes and benefits.
Deck Building kits:
A deck-building kit is exactly what it says on the tin a pre-packaged picked-out kit with all the materials you will need to build a new decking area, including boards, trims and joists. Decking kits could be a good value investment if you're looking for a quick and simple way to transform your garden with garden decking.
Pros
Ready to use, quick and easy assembly, comes with everything you need to create your deck.
Cons
The design has been chosen, giving you less freedom to style your garden the way you want your outdoor area to look.
Decking tiles
Decking tiles are similar to decking boards except they are smaller, easier to install and often not made of the same high-quality materials as other outdoor decking alternatives. Deck tiles are often used in a small space where decking boards would need to be cut to fit, they can also be used to place under flower pots, garden furniture or as temporary flooring.
Pros
Tiles are easy to install, can be fixed to existing flooring, decking or patios for a quick and simple deck. They are perfect for a smaller or temporary space.
Cons
Unlike other decking boards, tiles may not necessarily come with a range of benefits, they will not last as long as other decking materials and may not create a seamless natural-like finish.
Decking Boards
Decking boards are the most commonly used material to create a high-quality, versatile decking area. Areas can be either raised or built at ground level. Decking boards can be made from a variety of different materials including timber, composite or PVC/ plastic materials.
Pros
Boards can add value to your home, they look like authentic timber decking, often come with a wide range of properties and available in a range of colours and finishes.
Cons
Boards can be expensive, and labour intensive and may require treatment before installation. Boards also need to be supported by the correct framework.
Where to buy decking boards
Cladco offers both Composite and PVC decking boards, both come with a range of properties including low-maintenance, low-slip and absorb less moisture than other boards to ensure your deck does not rot. Both boards will need to be installed using joists, which are also available to purchase from Cladco Profiles.
Find out how many boards your garden or home may require using the Cladco Decking Calculator here the calculator will also quote how many fixings, joists and corner trims you may need.
What decking material is the best?
When building an outside addition to your home, you want to make sure that the material you are using is the best you can possibly get. The market is overflowing with products, both natural and synthetic. But which is best for your project?
Natural Wood:
If you are wanting a premium-quality natural look, natural wood decking in either softwood or hardwood may be the option for you.
Pros:
Authentic timber look and feel
Natural, appealing aesthetic, no two boards are perfect or alike
Cheaper than some synthetic decking boards
Cons:
Require a lot of maintenance
Can be incredibly slippery when wet
Expand and contract with weather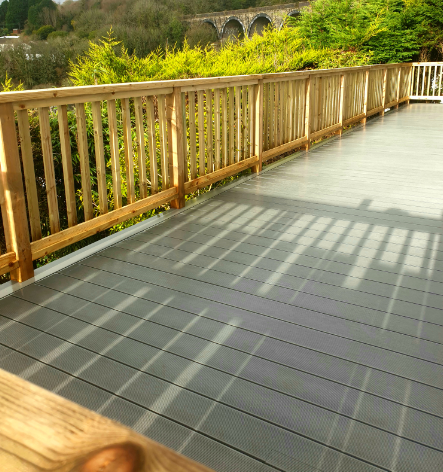 Pressure Treated Wood:
Treated Timber Decking Boards are natural lumber with added additives and protection which enhances their natural properties. If you are planning on adding outdoor furniture or other accessories, pressure-treated wood can sometimes scratch.
Pros:
Durable - treated timber, if properly maintained can last longer than untreated
Improved resistance to rotting, splintering and warping
Improved resistance to UV rays and fading
Cons:
As wood is natural, the chemicals added can cause discolouration.
High-maintenance
Chemicals used in the wood can be harmful to the environment.
Find out more about timber decking and where to purchase it here
Composite
Composite Decking Boards are a popular alternative for your garden to timber, creating a premium-quality timber look without the hassle of maintenance. Boards are made from an amalgamation of 60% recycled timber fibres and 40% recycled plastic bonded together with additives and colour tints. Find out more and order a sample pack here.
Pros:
Low-maintenance, does not need to be sanded, painted or varnished
Available in a range of eight colours to match your home or any decking furniture or accessories
UV, insect and rot-resistant
Low-slip properties
Cons:
Can look synthetic
More expensive than traditional decking
Available in a range of colours but these cannot be changed.
Find out more here.
Plastic PVC Decking
Adding PVC Decking to your garden is another alternative to timber decking, PVC decking is created using a PVC interior encased within an ASA (acrylic-styrene-acrylonitrile) resin for an increased strength board with a great variety of benefits ensuring it is the right product to use for your outdoor deck. Cladco PVC Decking Boards come with a 25-year guarantee.
Pros:
Low-maintenance
increased-quality timber aesthetic
UV, Rot and insect resistant
Cons:
An expensive alternative to natural decking
Not environmentally friendly
Do not have any natural components in the boards' makeup.
How much decking do I need to buy?
When adding decking to your garden is it important to purchase the correct amount of boards, use the Cladco Decking Calculator found here to help you purchase the correct amount of boards, framework and other products to ensure you have all the necessary components to build the perfect deck. Please note quotes provided with the calculator do not include delivery.
What decking accessories do you need?
When building your new garden decking it isn't just the boards you will need. Any decking installation a raised or flat must be installed properly. Ensure you have all you need to fit your deck at home.
Items such as wood screws, joists, weed mats and more are needed for your garden project to be properly and safely installed whatever the look or design wanted.
See the Cladco installation guide for more details here
Please use the installation guides provided by your supplier for a good, secure and safe fit.
How to care for and maintain your deck
Cladco Composite Deck or PVC Boards are a low-maintenance alternative to traditional timber decks boards. Unlike natural lumber they do not need to be sanded, varnished or painted, giving you a low-maintenance garden. They will not rot, warp or splinter, and does not require any further labour other than cleaning and ensuring the deck is kept clear of debris. Make sure your deck is kept clean using either a pressure hose, soap and water or deck cleaner found here
Both boards are treated with a range of additives to help ensure they are UV and bug resistant, unlike timber boards.
For further help and information on how to ensure your composite deck is properly maintained, or help please see the links below.
For frequently asked questions regarding Cladco composite decking see here
Learn more about how to use your composite deck and its benefits here
Order a sample of the Cladco Composite decking to make sure it meets your needs here
For any further help or how to use the calculators, or other queries please contact the Cladco Sale team on 01837 659901 or view the Cladco Website here. Cladco Profiles offer nationwide delivery for all items.