This urban garden has used Cladco Composite Solid Decking Boards in Teak to convert their garden into a bright, open and peaceful space. No matter the size, location or style garden you are after, Cladco Composite Decking Boards are the perfect material to help you transform your garden into a personal oasis. This project has used calm colours and balances between natural and manmade components to create a relaxing, timeless haven.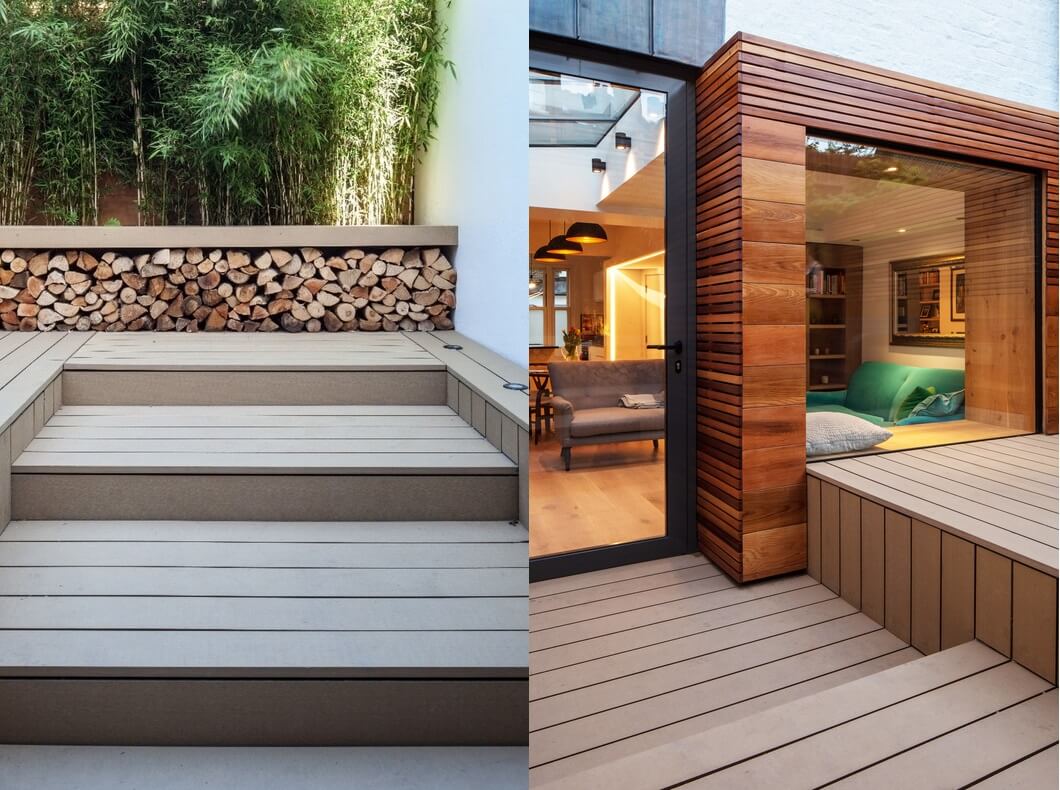 This Teak, light timber theme travels throughout this garden, bringing warmth and light with it.
The Teak Decking Board has also been used as a Fascia Board for the stairs forming a gentle entranceway to the garden.
The Bamboo shoots and timber contrast beautifully with the pristine white walls.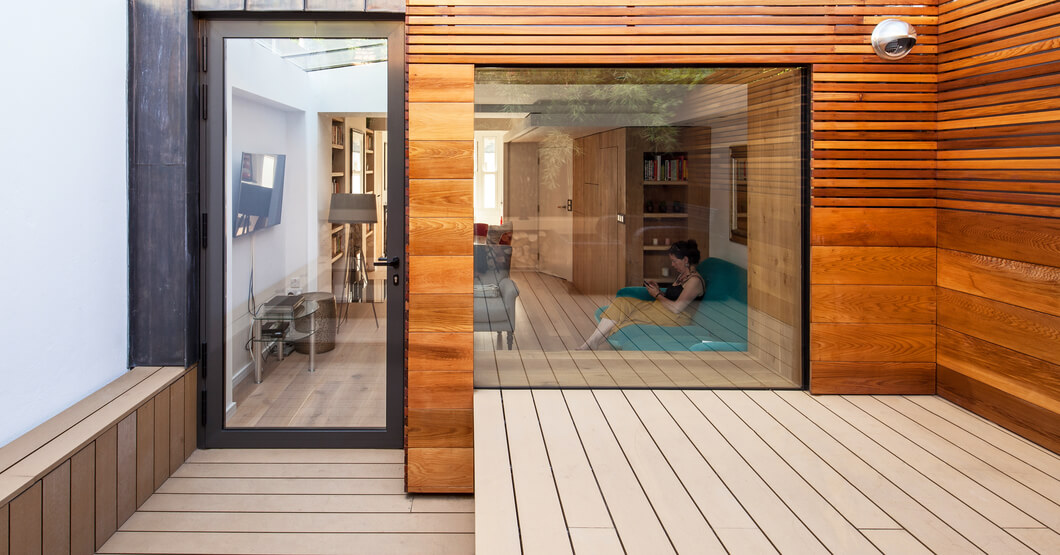 This Decking has created a seamless divide between inside and outside living.
The Composite Decking has been installed in two tiers, dividing the garden into sections and giving the illusion of larger outside living space.
With its raised shelf, the left-hand section can be used as additional seating, shelving for plant pots or other garden accessories.
The modern industrial accents around the door juxtapose the warm timber cladding and the Cladco Composite Solid Teak Decking perfectly.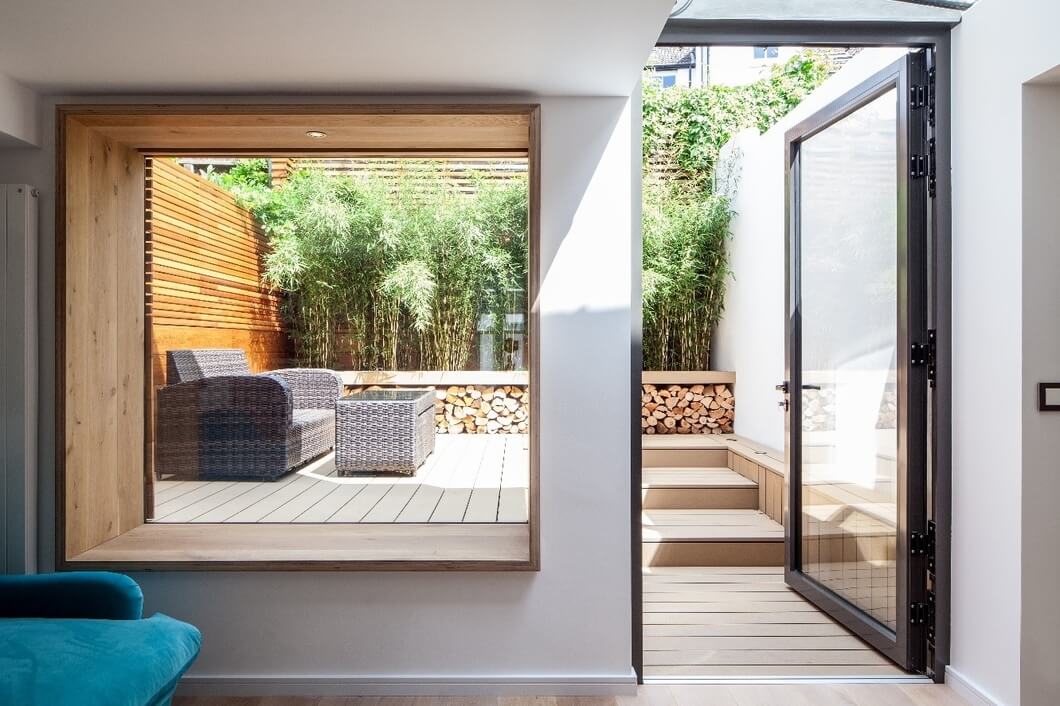 Cladco Composite Solid Decking has been installed on one section vertically, leading the eye towards to vast window into the living area.
While the lower section of the Decking has been installed horizontally, with Fascia Boards for a neat, clean finish, hiding the supporting structure below.
Edward Rensen Architect has designed this beautiful minimalist garden.

A log store has been incorporated into the design, beneath a floating Deck seat, Saving space.

The Decking area is accessorised with bamboo at the rear of the garden and additional lighting embedded within the Decking.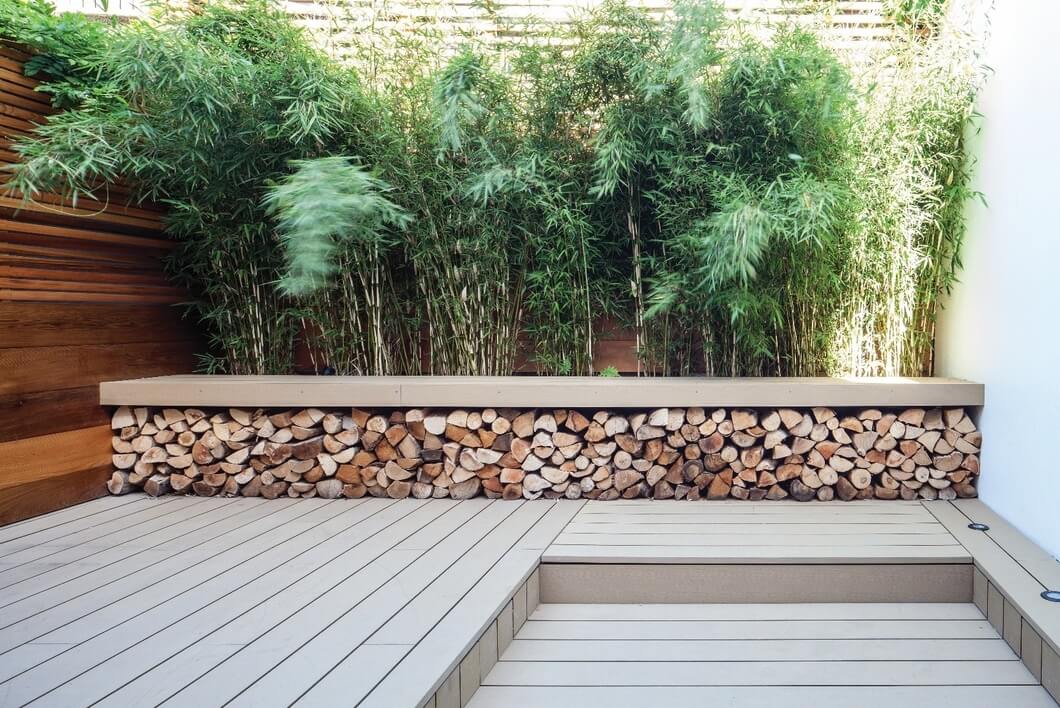 Cladco Composite Decking Boards look similar to traditional timber decking boards while being environmentally friendly, low-maintenance and with a ten-year guarantee. Allowing this customer to enjoy their garden without the hassle of staining, painting or varnishing the Decking Boards for many years to come.
Please note these Boards have been installed on the reverse side and will not benefit from the low-slip, stain and scratch-resistant properties when installed with the narrow groove side facing up.

To find out more about the Boards used in this project, shop the look here, order a sample pack, or contact our sales team on 01837 659901.