At Cladco Profiles, we are always looking to improve, expand and develop our product ranges. We are proud to introduce a new range of products, which complement our existing Decking range, but also give our customers the choice of something a little different.
Our new Woodgrain Composite Decking is available in eight attractive colours: Teak, Stone Grey, Charcoal, Coffee, Redwood, Light Grey, Ivory and Olive Green. These Boards are available with a Hollow Core and in two lengths of 2.4 metres and 4 metres. 
Cladco Composite Woodgrain Decking Boards are a low maintenance product which can be used to create a beautifully decked out area which will last for years to come. Our Composite Decking Boards are double-sided, with one side featuring a Woodgrain Effect and the other a wide-spaced groove effect. 
The Perfect Alternative to Timber
One of the attractions of Cladco Composite Woodgrain Decking Boards is the detailed woodgrain effect on the topside of the Boards. This gives the effect of wood without the need to treat, sand or maintain its high-end finish.
Woodgrain Composite Decking is low maintenance and easy to install, making for a great alternative to timber decking. Install using our T-Clip System, or our Stainless Steel Clips for a hidden and reduced gap between Boards.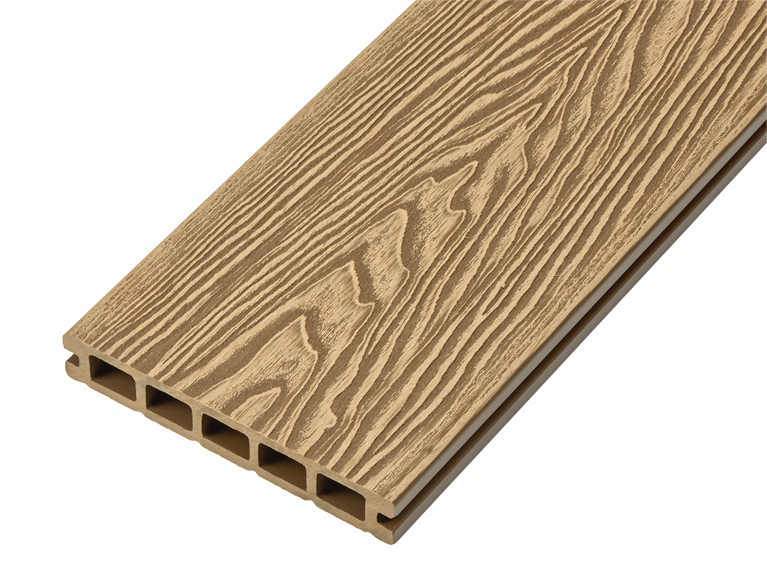 Benefits of Composite Woodgrain Decking
Cladco Hollow Core End Caps can be used to finish and seal off the exposed ends of Woodgrain Effect Decking Boards, available in all eight colours. These End Caps help to keep any insects, rainwater or pests from entering through the holes.
It can be a difficult decision when choosing between our Woodgrain Composite Decking and our Original Composite Decking. If you are unsure, simple contact us for a Sample pack.
Our Woodgrain Wood-Plastic Composite Decking Boards are made from 60% recycled hardwood fibres and 40% recycled plastics, with bonding agent, additives and tints.
Please note that due to the natural hardwood fibres contained . This can be exaggerated when ordering Boards in different lengths. 
For more information on our Composite Decking Boards, please contact one of our Sales team at [email protected] or call 01837 659901.