Cladco Profiles is the leading supplier of Composite Decking in the UK, with a wide variety of Composite Decking Boards in various colours and styles. Adding a Deck to your home is a fantastic way to transform the look and feel of your outdoor space, creating a blend of inside and outside living.
See below our top tips for installing Cladco Decking® Boards and helping to ensure a high-quality, aesthetically pleasing Decking area you can enjoy for many years to come.
Which side up should a Decking Board face when installed?
Cladco Decking® offers a range of Composite Decking Boards, Original, Woodgrain and Solid. While we recommend installing them a certain way to ensure you get the most benefits, they can be installed on the reverse if you wish, however we do not recommend doing this as it will affect your warranty.

Cladco Composite Original Decking Boards have been designed with two sides, one with narrow grooves and one with wider grooves. It is recommended for the narrow grooves to be installed facing up to benefit from the low-slip, stain and mark resistant properties. If Decking is installed with the wider grooves facing up, you may not benefit from the above.

Cladco Composite Solid Decking Boards – Cladco Solid Boards are designed with one smooth side and one side with narrow grooves. As above, these are recommended to be installed with the narrow grooves facing up for low-slip properties.

Cladco Composite Woodgrain Decking Boards – One side of the Woodgrain Boards is designed with an attractive woodgrain effect and the other with wide grooves. To benefit from the timber appearance of your Board, install with the wider grooves faced down.

If you install Timber Decking, it is important to fit any Decking Boards with the 'bark side' down. Installing this way will form a crown across your Decking, encouraging water runoff and helping to prevent water pooling.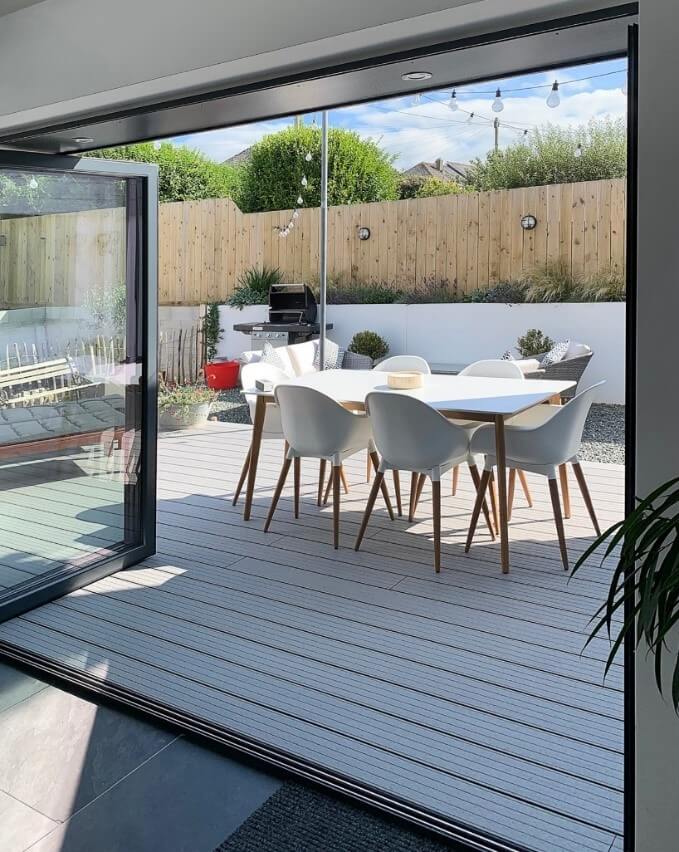 Cladco Light Grey Composite Decking Boards installed on the reverse with the wider groove side facing up.
How should Cladco Composite Decking Boards be installed?
While you may be tempted to install your Deck vertically out from your house, so the Decking Boards and the doors are aligned perfectly for an aesthetically pleasing design, we recommend installing your Boards perpendicular to your walking pattern to benefit from any low-slip properties.
For example, suppose you are stepping out of your house onto your Decking Boards. In that case, we recommend installing your Boards parallel (horizontally) from your home, across the width rather than vertically along with it. So, you can benefit from the improved grip when walking. *
Can Decking Boards be installed on mud?
Your Decking will need an adequate structural base for it to be secure and stable. Decking Joists and Posts should be used when building any Decking area.

You can install your Decking Joists onto your garden and attach the Decking Boards to them. However, it is recommended that if you install your Decking directly onto soil, install a Weed Mat before fixing the Decking Joists on top. The Weed Mat should be fitted onto the mud using specific Weed Mat Pins.
Adding a Weed Mat will help keep the grass and soil below full of nutrients and prevent unwanted weeds from growing between your Decking Boards. See how to install a Weed Mat correctly here.
How to design garden Decking?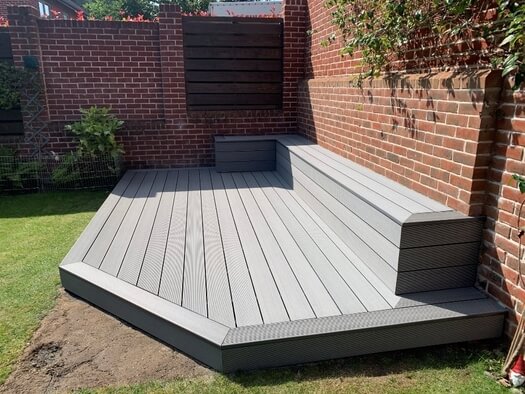 This Deck has used matching Stone Grey Bullnose Boards for a sophisticated and seamless edge.
All Cladco Composite Decking Boards are available in a range of eight colours. Colours range from traditional wood tones to contemporary Greys and Blacks. The range of colours gives you various ways to design your Deck in a style that complements or contrasts your home.
Using unique colour variations for your Decking is one way to create an attractive and unique garden space. Torbay Composite featured below has used Cladco Composite Woodgrain Decking Boards in Teak and Coffee, creating a uniquely designed Deck to enjoy for many years to come.
Please note photos were taken when the Decking Boards were wet.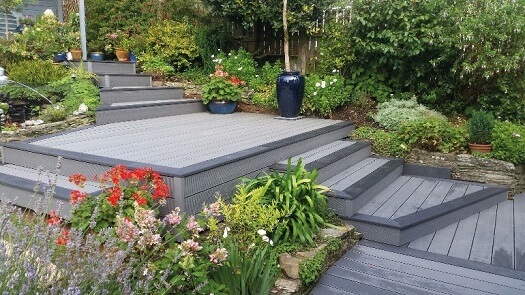 Cladco Stone Grey Bullnose Boards create an attractive picture frame around the Light Grey Composite Decking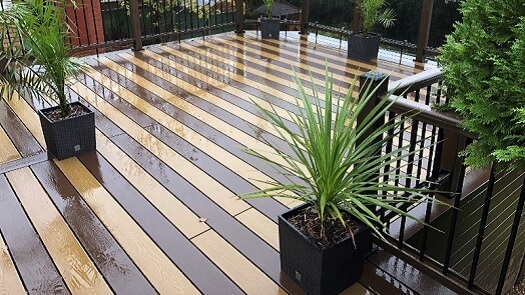 Bullnose Decking Boards can be used to create an attractive picture frame effect around your Deck. The Bullnose gives your Deck a sophisticated curved edge for a seamless design.
Bullnose Boards can be installed in matching or contrasting colours depending on your preference. Alternatively, if you do not want a Bullnose Board picture frame finish, Cladco Skirting and Corner Trims can be installed around the edges of your Deck. These Trims protect the edges of your Composite Decking Boards and are available in matching colours to your Decking for an attractive and seamless design.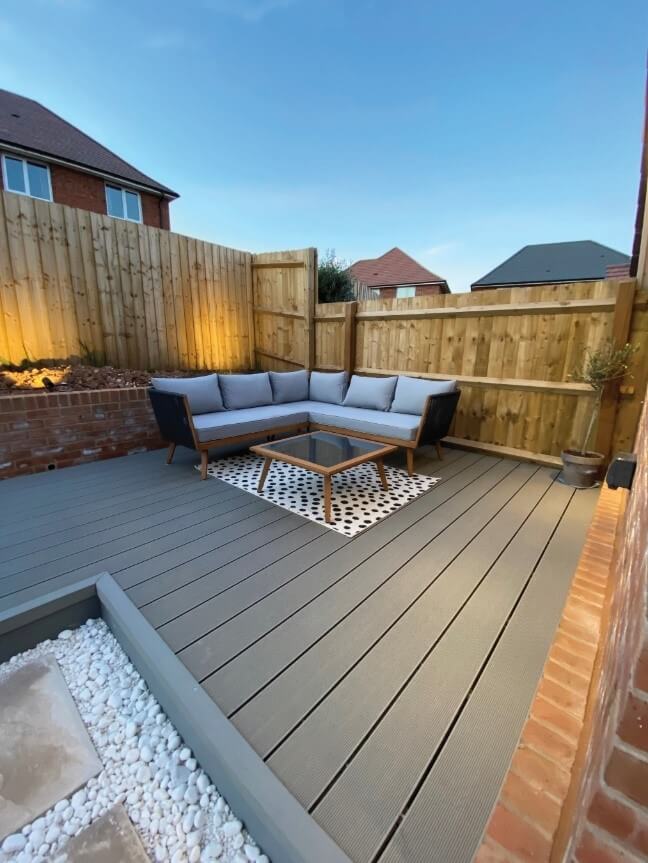 This project has protected the edge of their Stone Grey Composite Decking with matching Stone Grey Corner Trims.
Why do you need an expansion gap between Composite Decking?
Cladco Composite Decking Boards are manufactured using 60% FSC Certified wood fibres and 40% recycled plastic. Because of the part natural composition of the Boards, they may experience minimal expansion and contraction due to changes in the weather.
Because of this, it is important to ensure a slight gap between each Board to allow for this movement. Installing your Composite Deck using Cladco T Clips will ensure a gap of 7mm between each Decking Board to help ensure a necessary and adequate gap.
See how you can install your Composite Decking Boards here.
For further tips and tricks, see our Frequently Asked Questions page or view our Brochure.

Alternatively chat with a sales team member via our Live Chat or by calling us on 01837 659901. Discover our range of Composite Decking Boards and colours, in our Sample Packs here.