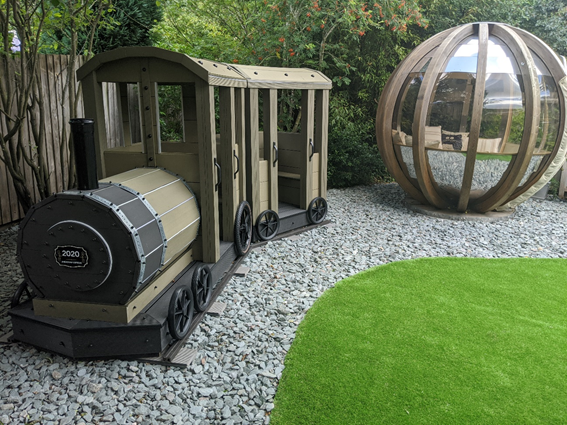 When using Cladco Decking, Fencing, or Cladding, more often than not you will have some materials left over.
As part of Cladcos' environmental journey, we have a range of guides detailing how you can turn your decking offcuts into miniature nature reserves for the wildlife in your garden, find out how you can create your very own bug, bird, or planter here.
One of our customers from Hill flooring went one step further and created this magnificent masterpiece using offcuts from Cladco Composite decking and fencing. The idea was born when the couple were shopping for climbing frames for their grandchildren, but couldn't find any that were safe, durable, or long-lasting enough to suit their needs. Graham and his wife had recently built their decking and fencing using Cladco Composite boards and were impressed with the low-slip qualities (perfect for the children who will be climbing all over the train), the low-maintenance, and long life guarantee giving them peace of mind knowing that the new play area would be safe all year round for the many, many hours of playtime to come. , made this train for his grandchildren to play in by upcycling his leftover Cladco Composite solid fencing boards in Olive Green, decking joists and bullnose edging.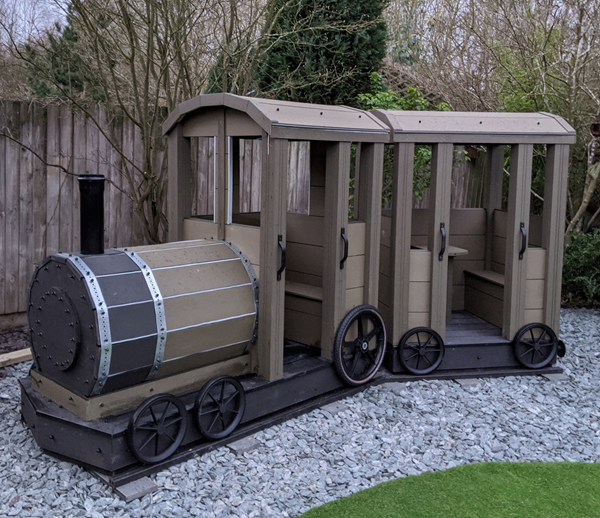 By using leftover components of his decking and fencing, Graham wasn't just saving money, and helping protect the environment, he was also ensuring that every aspect of his garden flowed and matched, creating a consistent look from the house, to garden, to play area.
This was created using Cladco fencing posts in olive green, for the train carriage mainframe, charcoal composite decking boards for the flooring, fencing boards in charcoal black for the smokebox and smokestack at the front and olive green for the trains cylinder/dome section, and Cladco corner trims in olive green for the curved finish to the train's roof.
Turning your Cladco composite boards into a statement piece for your garden, a feature for the local wildlife, or even a play area for your children has never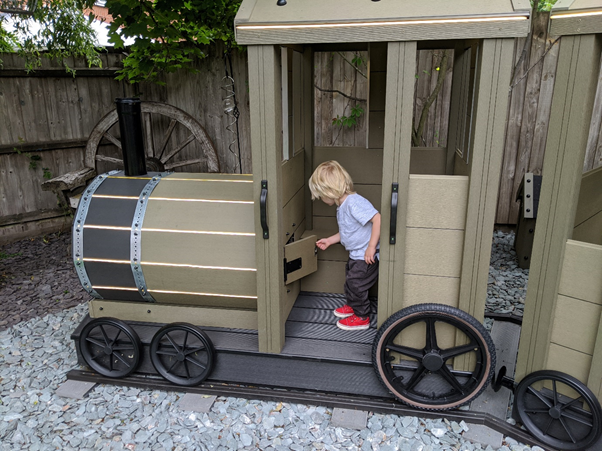 Now that the school holidays are upon us, why not try and create for your children a fun, innovative and beautiful play area just like this, or give your children the task to build one of our bug or birdhouses to keep them occupied during the wet days that is British summertime?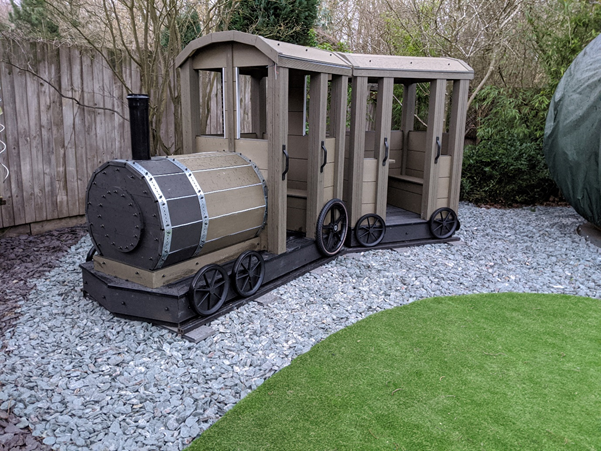 Cladco composite boards are made from 60% recycled hardwood fibers and 40% recycled polyethylene. Meaning not only are our boards environmentally friendly but low maintenance, durable and safe for children and animals. Any mud, drinks, or food that get trodden onto Cladco boards won't damage or stain them, helping keep your deck and your children clean and tidy.
We would love to see if you've used your leftover decking pieces for anything, be that creating a train like this one, building chairs, bug houses, or even another decking area. Send us your images to [email protected]