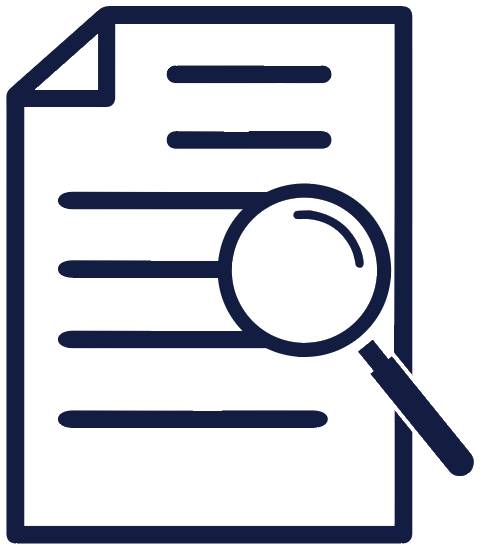 2023 is set to be a big year for garden design trends - from indoor and outdoor areas merging, to sustainable outdoor furniture and vertical living walls - there is a style to suit your own garden which you can achieve yourself, without the rising costs of hiring a professional garden designer.
In this article, we take a look at the garden trends set to be big in 2023, and how you can achieve them in your own outdoor space no matter your taste or preferences.
Indoor-Outdoor Merged Spaces
One of the biggest garden trends for 2023 is connecting the inside of your home with the outside, bringing small, homely elements and living spaces together as one.
Since the national lockdowns of 2020/2021, more and more people are opting to invest time and money in their homes and gardens, making them more comfortable and enjoyable spaces to spend time in throughout the year.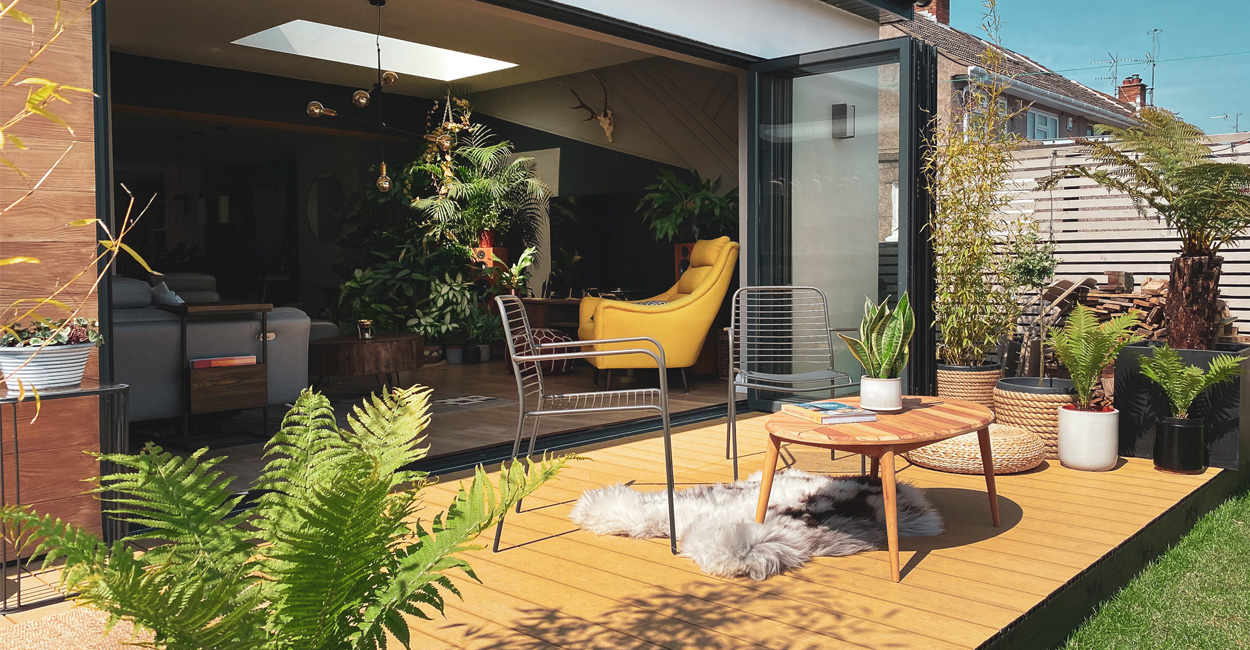 Folding glass doors are a great way to make your inside feel brighter and more connected to the outside (image @thishousewemade)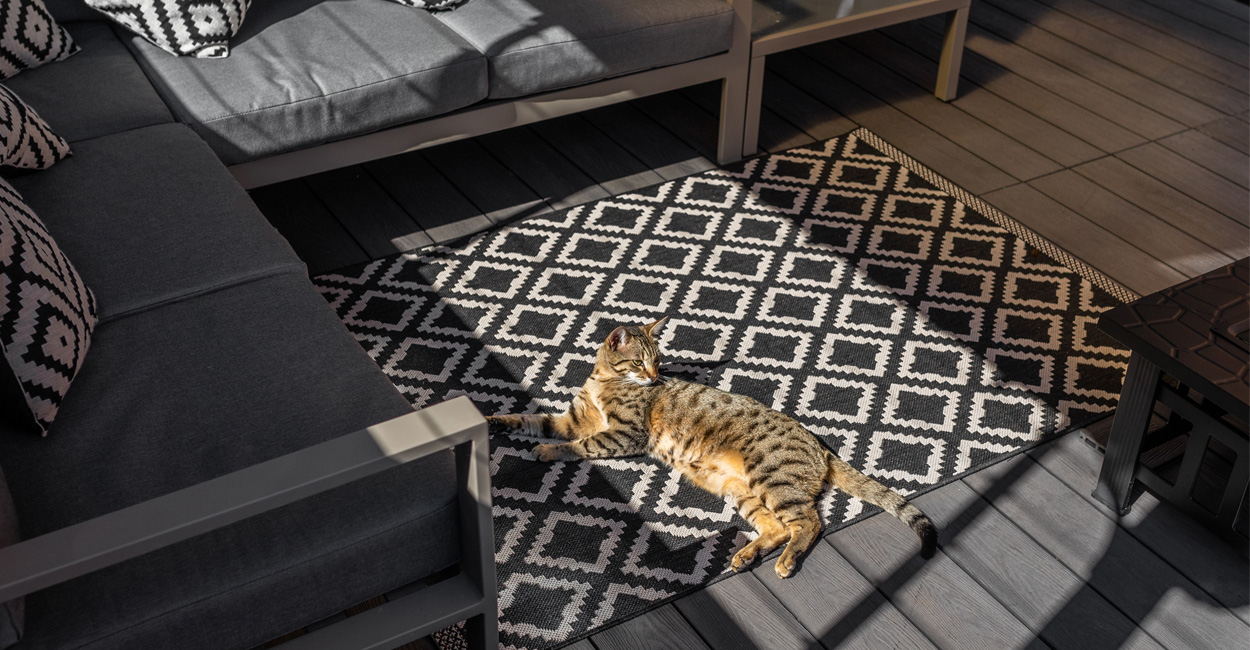 Merging indoor and outdoor spaces: Garden trends 2023
In the above projects, large folding glass doors have been used to open the inside living space up into the garden decking area, to create a spacious indoor-outdoor area.
Outdoor rugs are also a popular way to bring homely touches to your garden, adding a welcoming feel that you can style with the rest of your outdoor furniture for a seamless and stylish finish.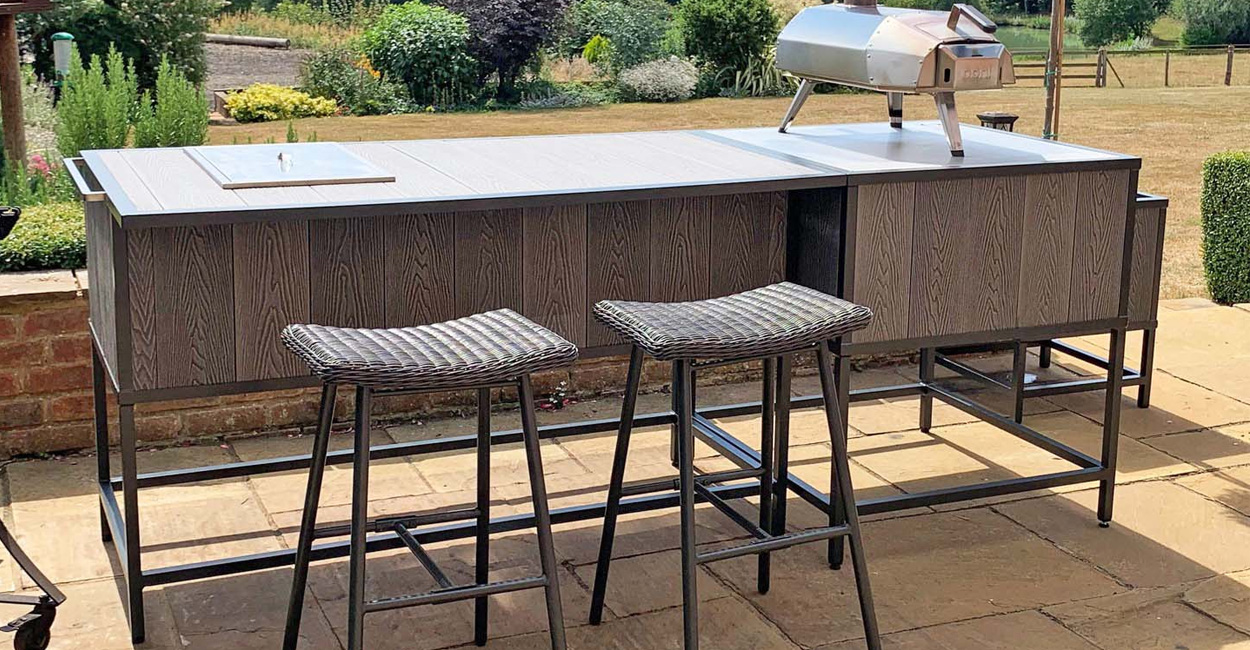 2023 top trend: composite decking upcycled into an innovative outdoor kitchen (image @gurneydesign)
Traditionally, barbeques have been one of the only ways to cook food outside - with all the kitchen work and prep happening in the home's kitchen. Now, thanks to innovative backyard design trends, lightweight and robust garden kitchens are becoming a popular way to prep, cook and serve food/drinks in outdoor living spaces.
The outdoor kitchens have been designed and crafted by Gurney Design - an outdoor living design company that plays an integral role in the sustainable outdoor furniture industry.
Manufactured from recycled Composite Decking Boards and other upcycled materials, these small garden kitchenettes are a fantastic way to merge outdoor/indoor living whilst being an eco-friendly and sustainable product.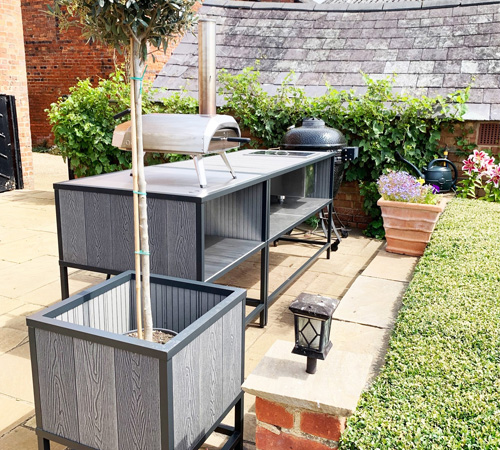 Outdoor kitchens are a popular outdoor living trend for 2023 (image @gurneydesign)
Natural Material/Stone Pathways
Natural stone makes for not only an attractive material to create a distinctive garden walkway with - but natural materials are a low-maintenance way to add interest, texture and a country-cottage garden style to your outdoor space.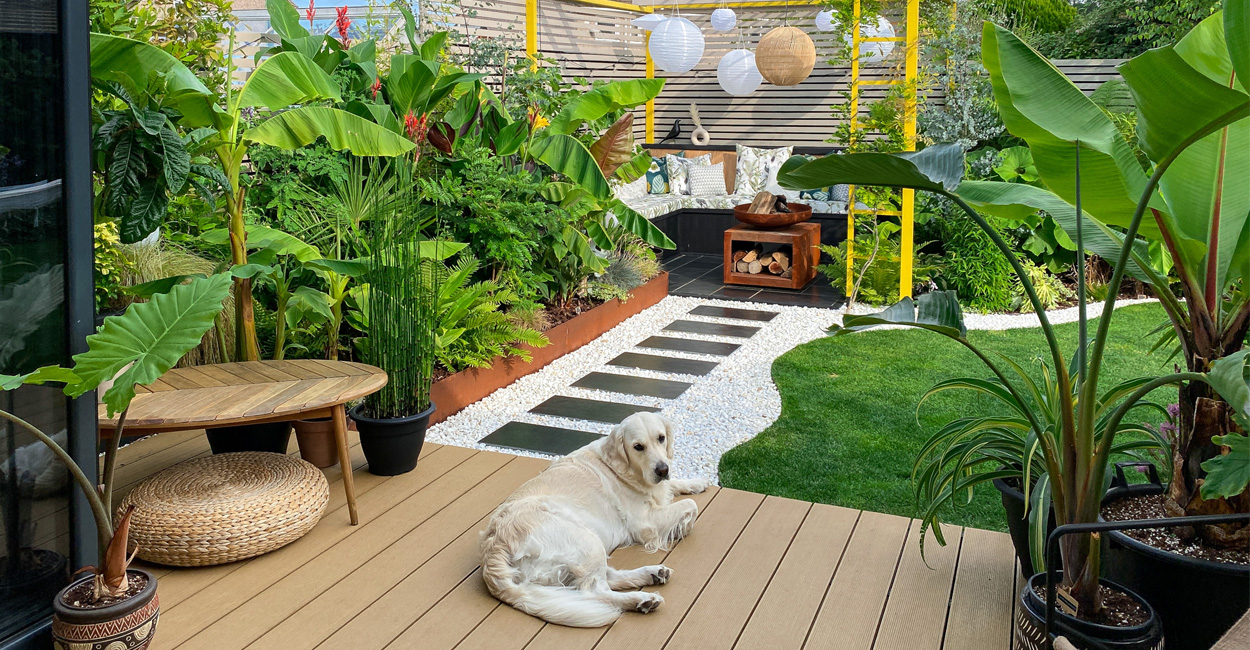 Brushed or textured stone slabs manufactured from granite, sandstone, or limestone are an economic way to create a focal point between lawned and decked areas - or to add a more comfortable walking route underfoot in gravel gardens.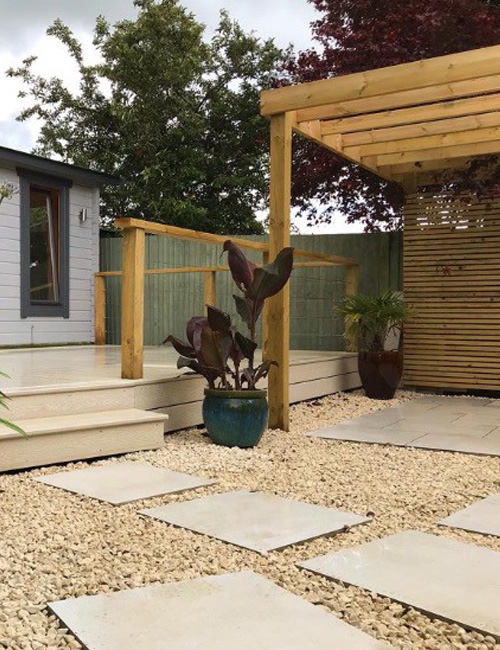 Enclosed verandas make for partially covered gardens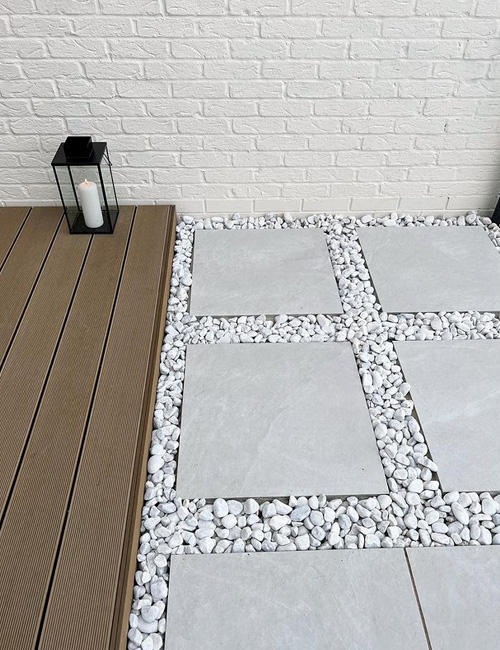 A mixture of different materials used for this walkway
Terra cotta: Material and Colour
Terra cotta is set to be one of the most popular garden-inspired colours of the year for 2023.
Originally a reddish brown unglazed clay, used to craft pots and ornaments that're often found in greek-inspired gardens, it is now seen as a popular all-round colour for use with paint, cladding and decking thanks to its warm tones which add a Mediterranean feel to even the coldest gardens.
The term terra cotta translates directly as "baked earth" and is a traditional pot-making material that is still commonly used by many gardeners to create an authentic, beautiful garden - such as the below project which has used a selection of flower-filled terra cotta planters against an all-black house for pops of colour or to add interest to a small space.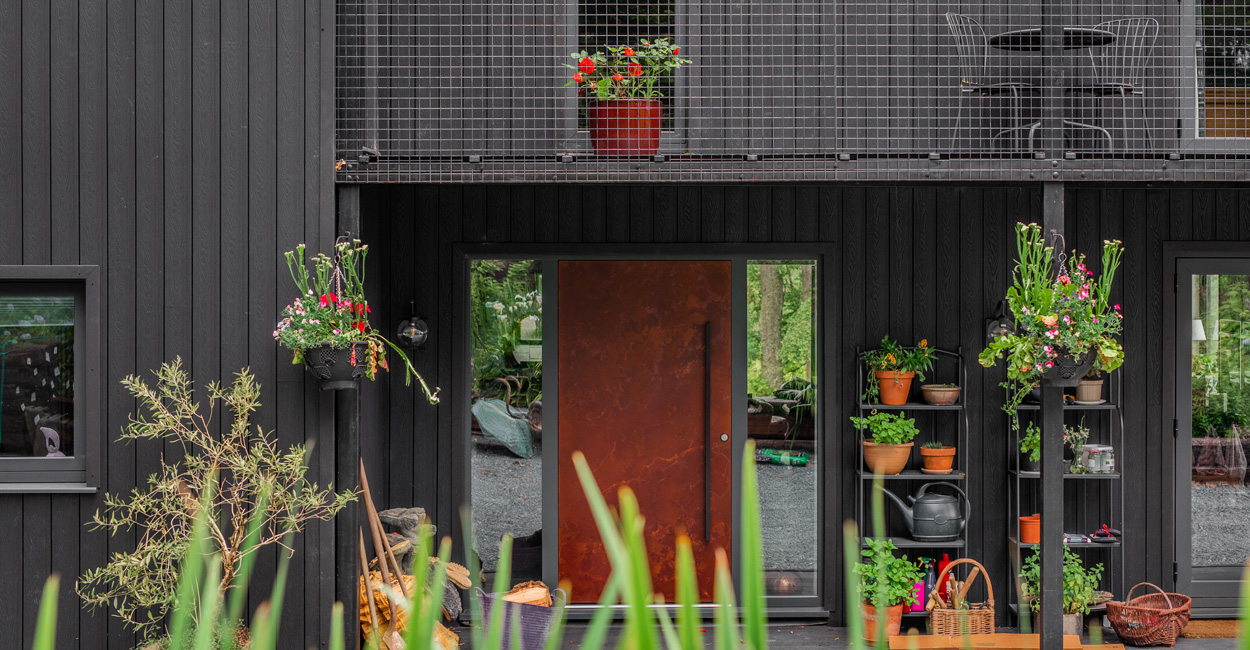 Terra cotta flower pots create a pop of bright colours against an otherwise dark backdrop
The below project has used Cladco Woodgrain Composite Wall Cladding in the colour Redwood - which is inspired by the authentic hues of terra cotta. Cladco Composite Wall Cladding is a low-maintenance and durable alternative to timber and is an excellent way to bring an element of 2023's garden trends to your own backyard when installed on a shed, summerhouse or garden room.
Redwood Composite Cladding in Woodgrain by Cladco is made from a combination of recycled plastic and hardwood fibres
Illuminated spaces and sculptures
Impress guests with a well-lit social space in 2023, ideal for entertaining during those long, summer evenings.
Outdoor lighting and lit-up garden sculptures are other key trends to keep an eye out for this year. They provide a focal point for those inside-outdoor living spaces that are also increasing in popularity as previously discussed.
Make your garden centre stage with illuminated spaces and sculptures (image @richbb86)
The two projects here are a perfect example of how strategically placed lighting can enhance outdoor areas and brighten small spaces, adding an element of interior design to the outdoors. Both projects have used Cladco Composite Decking Boards in their garden for a high-quality and long-lasting alternative to timber decking, thanks to its combination of wood and plastic recycled materials that make up the material of the Boards.
Feature lighting used to illuminate outdoor spaces (image @thishousewemade)
When it comes to privacy and dividing up different segments of your garden, most people immediately consider using fencing or decorative screens. For 2023 however, one of the biggest garden design trends is vertical gardens or a "living wall".
This is where natural (or in some cases, artificial) foliage is used to create a separation barrier between spaces or to add a signature show-piece wall to your garden design. Not only is it a great way to support sustainable gardening, but it also creates more square meterage for other living spaces like seating or dining areas.
This project has used plain foliage with a simple flowerbed to create a feature corner in the garden - and when entertaining guests, fresh-cut flowers such as sweet peas can be weaved into the design for a seasonal update.
Not just reserved for plants - other eco-friendly materials such as cut timber can be used to create a dividing boundary in your garden. This is a great way to store firewood in the winter months whilst creating an interesting, rustic border design to your backyard as below.
With many of us spending more time at home and expending less money on holidays and hotels, we want our outdoor dwellings to feel like a luxury. With this, a key trend for 2023 outdoor spaces is adding a calming, spa-like space - or "upscale relaxation" area to our gardens.
This involves investing in specialities such as outdoor pizza ovens, firepits, part-covered pergolas and hot tubs, for a real holiday-from-home experience.
Pizza ovens and elaborate firepits bring a holiday home feel to domestic living places
Hot tubs are a fantastic way to achieve an at-home spa feel, with more people choosing to make a one-off investment by purchasing one, rather than visiting and paying for a hotel spa time and time again.
The below home-garden retreat has opted for Cladco Premium PVC Decking to house their hot-tub, because the Decking Boards can be installed low to the ground, in very moisture-prone areas due to their strong PVC-ASA moisture-resistance properties - making it the ideal Decking choice for outdoor hot tubs in 2023.
Cladco Premium PVC Decking is ideal for installation around hot tubs and pools
High-quality furniture has long been a garden staple for most homeowners with outdoor spaces - however, for 2023, the sustainable outdoor furniture industry has seen a huge boom - with more and more of us opting for eco-friendly materials for our garden tables and chairs.
Sustainable furniture consumers continue to look for eco-friendly ways to protect the natural world
Garden Trends 2023: Adirondack Chair made from recycled Decking Boards (image @Mark Holt)
These two projects have used excess Cladco Composite Decking Boards in Stone Grey from a previous decking project to create a sustainable, recycled garden bench and corner sofa.
Cladco Composite Decking is splinter, rot and warp resistant so there is no need to worry about any discomfort when using the furniture in a practical setting.
As well as this, Our Composite Decking Boards are manufactured from 60% FSC® Certified* recycled hardwood fibres and 40% high-grade recycled plastic, making them an environmentally-friendly product that is guaranteed for ten years.
*If you require FSC® Certified products, please ask for these when placing your order.
As well as recycled materials - bamboo, rattan and macrame textiles are also popular choices for keeping up with sustainable garden furniture trends in 2023.
When it comes to keeping up with outdoor living trends in 2023, you want to keep in mind the practicality of the space you have to work with and available budget.
If you are a conscious gardener aiming to take on a more sustainable approach this year, of the 7 key trends discussed in this article, the most achievable for you would be Natural Pathways, Planted Dividers and Eco-Friendly Furniture.
If style and socialising are a priority - you may want to think about looking at Indoor-Outdoor Merged Spaces and Upscale Relaxation as a trend to explore.
On the other hand, if you are simply looking for a quick, stylish update for your garden that doesn't blow the bank, the simple addition of some Terra cotta planters and Illuminated Accessories is a surefire way to stay on top of the garden trends for this year.
For more information on the Cladco Decking products mentioned in this article, take a look at our Website or give our friendly Sales Team a call on 01837 659901.