Product Range
We added Composite Decking Boards to our Metal Roofing Sheet range in 2013. The Composite range was extensively tested over a two year period to ensure the quality and standard is as we would expect. This extensive testing allowed us to ensure the product was good enough to bring to the UK market. The results mean our Composite Decking is tested independently and has a ten-year warranty, allowing us to continue our belief in providing quality products at competitive prices, delivered with a high level of service and informed technical and product support.
Since the introduction of Composite Decking we have expanded our range to include PVC Decking, Composite Cladding, Fibre Cement Cladding, Slatted Cladding and Composite Fencing. We will continue to move forward with product lines. Our base of operations will also expand, enabling us to continue to provide our excellent services with our growing number of staff and quality products. We hold large stock levels of our products, allowing us to deliver at short notice on our own fleet of delivery trucks. Visit our Delivery page for further information.
All our Composite products are made from sustainably sourced FSC Accredited materials, ensuring our impact on the environment is reduced.
Further information on how we manufacture our products can be seen on the Accreditations or FAQs page. For anything else, please contact us directly.
We are also leading suppliers of Profiled Steel Sheeting in the UK and supply Nationwide. Visit our website for more information on roofing sheets.
"At Cladco we believe in providing quality products at competitive prices delivered when promised. We also offer technical and product support to make sure we satisfy the needs of our customers."
Lawrence Trescher
Company Director
Our Story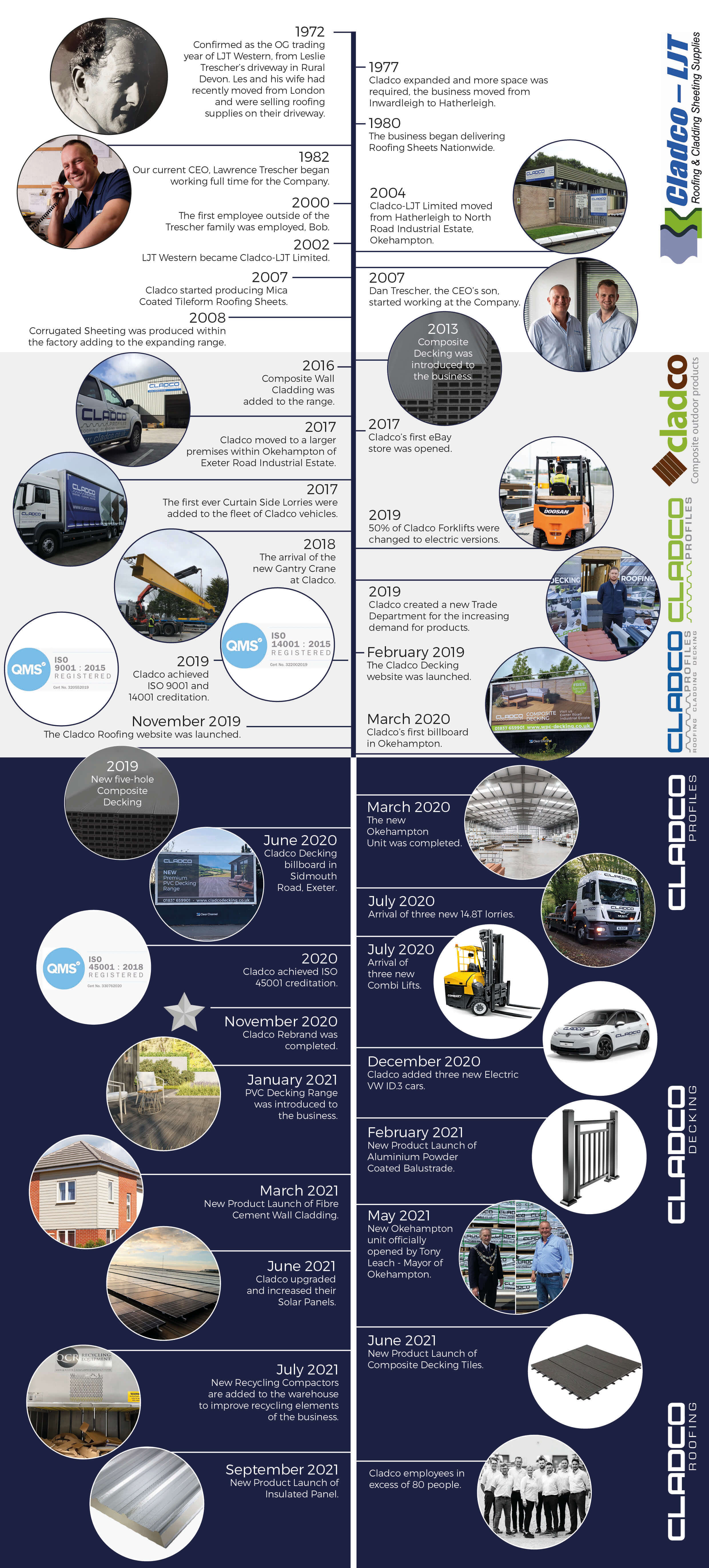 Our ISO certificates
It is the world's largest developer of voluntary international standards for products, services and good practices. Certification of compliance with ISO standards can be a useful tool to add credibility, by demonstrating that a product or service meets the expectations of your customers.

ISO 9001 is the world's most recognised quality management system standard. ISO 9001 is designed to ensure organisations meet the needs of customers and other stakeholders, by having a framework in place that helps ensure consistent quality in the provision of goods and or services. Cladco is accredited with ISO9001 after achieving management excellence status from ISO.

ISO 45001 - Cladco have achieved Occupational Health and Safety Management performance accredited by ISO. ISO 45001 standard reduces workplace risks to improve employee safety. This Standard surpasses many existing health and safety standards because it has been developed by a committee of occupational health and safety experts.

ISO 14001 Environmental Management is the International Standard for Environmental Management Systems (EMS). It was designed by the International Organisation for Standardisation (ISO) to help businesses and other organisations to reduce their environmental impact. Read more on our environmental journey here.
BALI is the leading trade association that represents all landscape professionals, from design, build and maintenance through to supply, training and education and confidently offers nationwide coverage.
Membership has only been granted to companies and individuals who meet BALI's stringent Terms & Conditions of Membership, and, their continuation of membership depends upon the maintenance of satisfactory standards, which may be subject to inspection at any time.
The FSC system allows businesses and consumers to identify, purchase and use wood, paper and other forest products made with materials from well-managed forests and/or recycled sources.
FSC's "tick tree" logo is used to indicate that products are certified under the FSC system. When you see the FSC logo on a label, you can buy forest products with confidence that you are helping to ensure our forests are alive for generations to come.