Cladco Composite Decking Boards
The UK's leading supplier.
Cladco Profiles are the UK's leading supplier of composite decking and wood plastic composite DIY outdoor materials, these materials are designed to be low maintenance, cost-effective and long-lasting giving you peace of mind for years to come.
All Cladco composite products are made to the highest quality and are designed as low maintenance, durable alternatives to traditional timber products. With WPC there is no need to worry about regular upkeep, painting or staining as the products are UV treated to ensure longevity to enable you to enjoy new looking decking all year round.
Cladco deck boards are far superior to wood decking as they do not splinter, rot, warp or absorb water meaning when comparing decking timber vs decking composite, you can ensure composite is the right choice.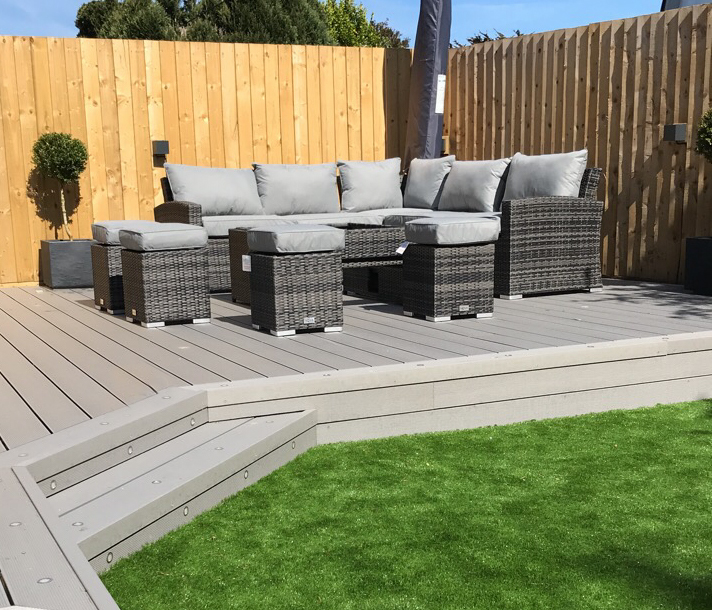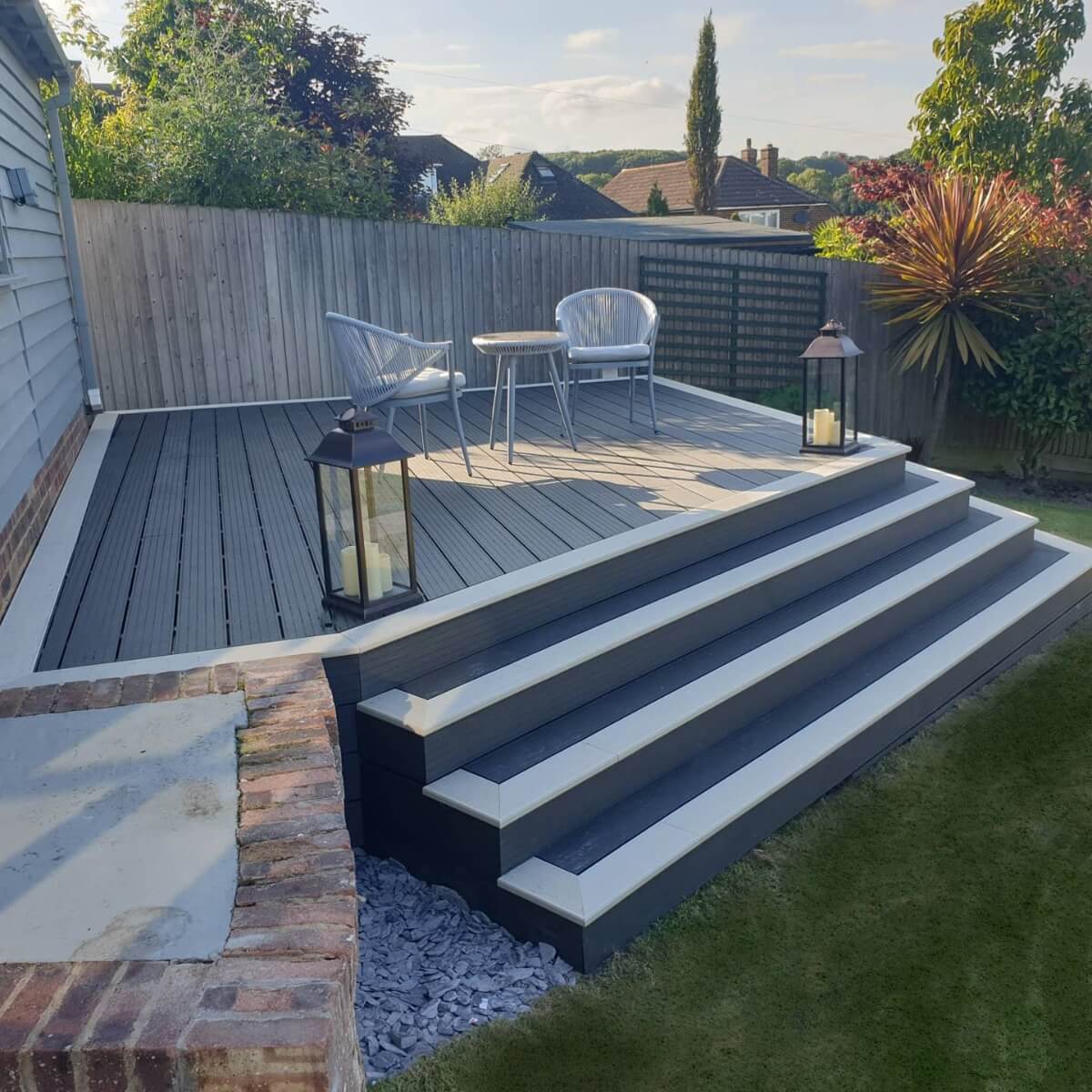 WPC Composite Decking
Cladco wood plastic composite decking boards are made from 60% recycled hardwood fibres and 40% recycled polyethene, bonding agent and tint.
Composite deck boards are intelligently designed to be a high-quality alternative to wood. Cladco products do not require painting, sealing, staining or waterproofing, and composite decking boards are provided with a 10-year manufacture warranty. WPC composite decking boards are ideal to use wherever durability and weather resistance are required, providing they are installed with Cladco T Clip system. The boards will naturally expand and contract with varying weather conditions.
The narrow groove side of Cladco composite decking gives a slip-resistant, low slip surface meaning in wet or wintery conditions the boards are still able to be used. Please note if installed wide groove or smooth side up the non-slip aspects will not be utilised, please see installation guide here. Cladco profiles are slip-resistant in wet or standard conditions, as with all part natural conditions care should be taken when icy. Cladco composite products should be installed as per the installation guide to ensure the 10-year warranty is valid and to benefit from the properties above.
Cladco Composite Exterior Wall Cladding
Cladco composite wall cladding exterior boards are made from the same material as the composite deck boards meaning they have the same UV resistant, low maintenance, high-quality properties as per the decking.
Composite wall cladding is a great way to enhance and upgrade the exterior of your building with minimal cost and effort. Cladco wall cladding can be installed on top of existing materials such as pebbledash, render and brick using a batten system. See our installation guide here. Composite wall cladding can be installed vertically or horizontally meaning you can choose the look of your project and whether to have the wall cladding running the entire height of the building or installing it to cover half.
Composite wall cladding is a contemporary low maintenance alternative to timber cladding and comes in a variety of eight colours and two finishes of traditional smooth composite and woodgrain composite. Woodgrain gives the appearance of natural timber wood without all the hassle and upkeep.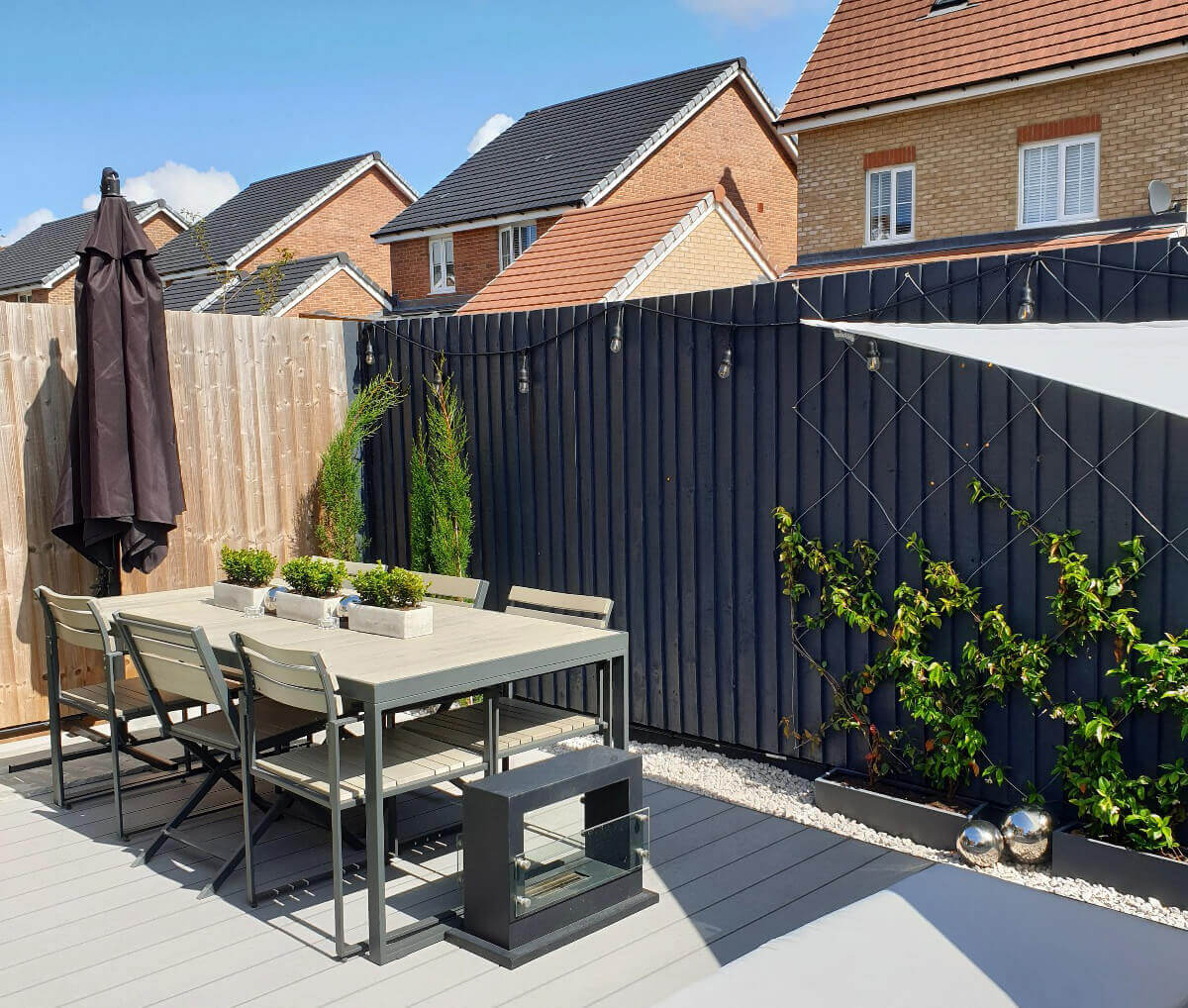 Designed with you in mind,
low maintenance composite deck boards
All composite decking boards have been designed with the user in mind, composite decking boards are designed as low slip to ensure they can be used year-round. Composite decking is also low maintenance meaning they do not have to be regularly cleaned or treated, just a simple brush and wash once a year. (Particularly shady areas may requite additional cleaning if prone to moss or algae)
All composite materials are recycled, which means they are often a cheaper/more cost-effective alternative to traditional wooden timber boards and artificial materials. As we are passionate about the environment, we are constantly working on ways to reduce or impact on the planet. Read more about our environmental journey here.
High-quality deck boards are provided with a 10-year peace of mind residential warranty, meaning you can install the products knowing they will be looking great for years to come.
Composite Decking

Fixings and Accessories
Cladco high quality decking is available with a range of fixings and accessories to suit. Composite decking requires a t-clip system to enable the part natural boards to expand and contract. Starter clips enable you to install your decked area flush to a wall or fence without the need for a gap.
Borders can be created with the use of a matching or colour contrasting bullnose decking board, which can be installed on the edge creating a picture frame effect.
Cladco heavy control weed mat can be used as a solution to prevent weeds from penetrating the area of composite decking. Using a weed mat under a timber decking frame ensures the high end look is future proof from weeds.
Corner trims and skirting trims can be installed to finish the edges of decking steps and decking projects, these can be installed as matching colours or contrasting for a contemporary finish to your outdoor space.
Composite products are low maintenance meaning they do not require on-going maintenance, however you may wish to keep them looking their best with simple cleaning and aftercare.
More information about

WPC Composite products
All Cladco composite products are designed to be simple and easy to install. All composite products are designed to be easy to install using no specialist tools, just woodworking tools as expected with timber products. The lightweight easy to install materials are lightweight helping to speed up the installation process. Cladco composite products will have your exterior looking stylish in no time.
At Cladco we believe in minimising wastage and encouraging sustainability. All products are made using recycled plastics and FSC certified wooden fibres.
All products are easy to work out thanks to our handy online decking calculator. The composite decking calculator allows you to easily work out how much material you need to complete your exterior decking project. The composite decking calculator even offers bullnose boarder options for a contrasting edge to your decking project.
Our specialist composite sales team are on hand to answer any questions or queries you have surrounding your garden project. Simply call us on 01837 659901 or email info@cladco.co.uk
Cladco Composite Decking
and additional composite decking range
Cladco boards (composite decking, composite cladding, composite fence panels and accessories) manufacturing process includes an anti-UV agent which helps the boards to resist colour fade. Mild fading can be expected, but this should only enhance the appearance of your deck boards to give them an attractive natural high-end finish, particularly areas that are exposed to direct sunlight for prolonged periods. This effect can help the composite materials blend into their environment, furthermore, some variation in colour may appear across boards which have been produced in different batches. This can be avoided by ordering boards in the same lengths (as they are produced in the same batch)
Our wood plastic composite materials are all engineered to be more durable than wood. The additives help strengthen the existing hardwood properties which means your deck, cladding or fencing is tougher and superior to ordinary products. Our composite materials do not absorb water like wooden alternatives which means they are able to effectively endure weather conditions, and are easier to keep clean.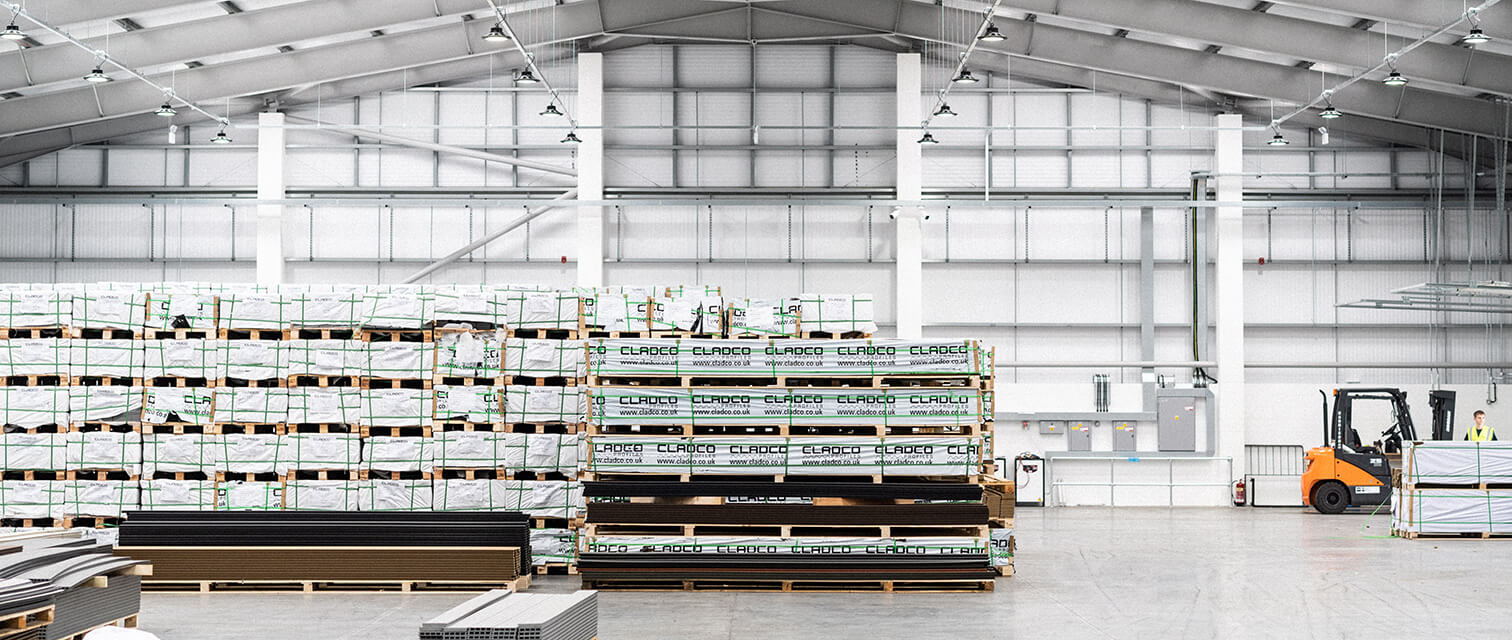 Warehouse
Cladco Profiles is based in Okehampton, Devon located just off of Dartmoor National Park. This picturesque town is located just off of the A30 meaning the fleet of vehicles can quickly access transport links to enable us to deliver Nationwide.
Cladco operate with two warehouses based within minutes of each other meaning we can supply small or large quantity orders with increased level of stock holding at any one time. The warehouses are equipped with state of the art steel rolling machines for the roofing side of the business, enabling us to roll and create steel roofing for a variety of small and large projects. The composite side of the business is growing at a rapid rate and the increased space and capacity of the new warehouse has enabled further innovations of product lines and stock have been implemented. Ordering composite decking can be a daunting task when faced with such a vast product range so we have ensured we offer decking calculators to work out exactly what you need, sample packs to show you what the product will look and feel like, and a helpful team of sales members who can walk you through each step of the ordering and aftercare process. The warehouse is where we carefully package and load all composite materials such as decking, wall cladding, fencing and accessories to arrive to your door in perfect condition. Pop in and see us at our Beardown Road address and pick up a free sample pack or visit our showroom.