Shop Our Cladco
Composite Decking Range
All Cladco composite decking boards are manufactured to be more durable than wood, with an anti-UV agent to help resist colour fade. Our slip-resistant composite materials do not absorb water like wooden alternatives which means they are able to effectively endure all weather conditions and are easier to keep clean. This ensures our WPC composite deck materials are superior to any ordinary products. Wood-plastic composite decking is available in either 2.4m or 4m lengths and in a range of 8 colours. Choose from either Solid or Hollow Core composition and a choice of original or woodgrain effect boards.
Shop Decking
Discover & Learn About
Composite Decking Boards
If you want to learn more about our Cladco composite decking boards, you can visit this page to find out how Cladco composite products will have your exterior looking stylish in no time. All Cladco composite products are designed to be simple and easy to install using no specialist tools, just woodworking tools as expected with timber products. All products are easy to work out thanks to our handy online decking calculator. Our specialist composite sales team are on hand to answer any questions or queries you have surrounding your garden project. Simply call us on 01837 659901 or email info@cladco.co.uk.
About Composite Decks
Shop Our Composite
Deck Fixings & Accessories
Cladco's high-quality composite wood decking is available with a range of fixings and accessories to suit. Composite decking requires a t-clip system to enable the part natural boards to expand and contract. Starter clips enable you to install your decked area flush to a wall or fence without the need for a gap. Choose from a wide range of fixings including T clips, starter clips, end caps, corner trims, skirting trims, heavy duty control weed mats, and more. These can be installed as matching colours to complement your decking boards or contrasting for a contemporary finish to your brand new outdoor space.
Shop Fixings & Accessories
Cladco Composite Decking Boards: The UK's Leading Supplier
Cladco Profiles are the UK's leading supplier of composite decking and plastic decking DIY outdoor materials. Our decking area boards are designed to be less maintenance, cost-effective, and long-lasting giving you peace of mind for years to come. All Cladco composite products are made to the highest quality and are designed as low maintenance, durable alternatives to natural wood products. Our certified wood plastic composite decking boards are made from 60% recycled wood fibres and 40% recycled polyethylene, bonding agent, additives, and tint - All available with a 10-year warranty.
Composite decking boards are intelligently designed to not need regular upkeep, painting, or staining as the products are UV treated to ensure longevity. This enables you to enjoy new-looking decking all year round. Cladco's garden deck boards are far superior to real wood decking as they do not splinter, rot, warp or absorb water meaning when comparing timber decking vs decking composite, you can ensure our anti slip composite is the right choice.
Decking Calculator
Design your garden decking area: Select your shape, decking style, colour, & fixings to obtain a full decking quote using our online decking calculator. Buy online or save it for later.
Calculate my deck cost
Sample Packs
Sample packs fit through your letterbox and help you decide on your style and finish of decking project, plus sample packs include all 8 decking colours; charcoal, teak, olive green, redwood, ivory, coffee, light grey, and stone grey.
Order Decking Samples
WPC Composite Decking: UK's #1
Cladco wood plastic composite decking solutions are made from 60% recycled hardwood decking fibres and 40% recycled polyethylene, bonding agent, and tint.
Composite deck boards are intelligently designed to be a high-quality alternative to wood. Cladco products do not require painting, sealing, staining, or waterproofing, and composite decking ranges are provided with a 10-year manufacturer warranty. WPC composite decking boards are ideal to use wherever durability and weather resistance are required, providing they are installed using the Cladco T Clip system. Our products have an excellent life span and are all supplied with a 10-year warranty.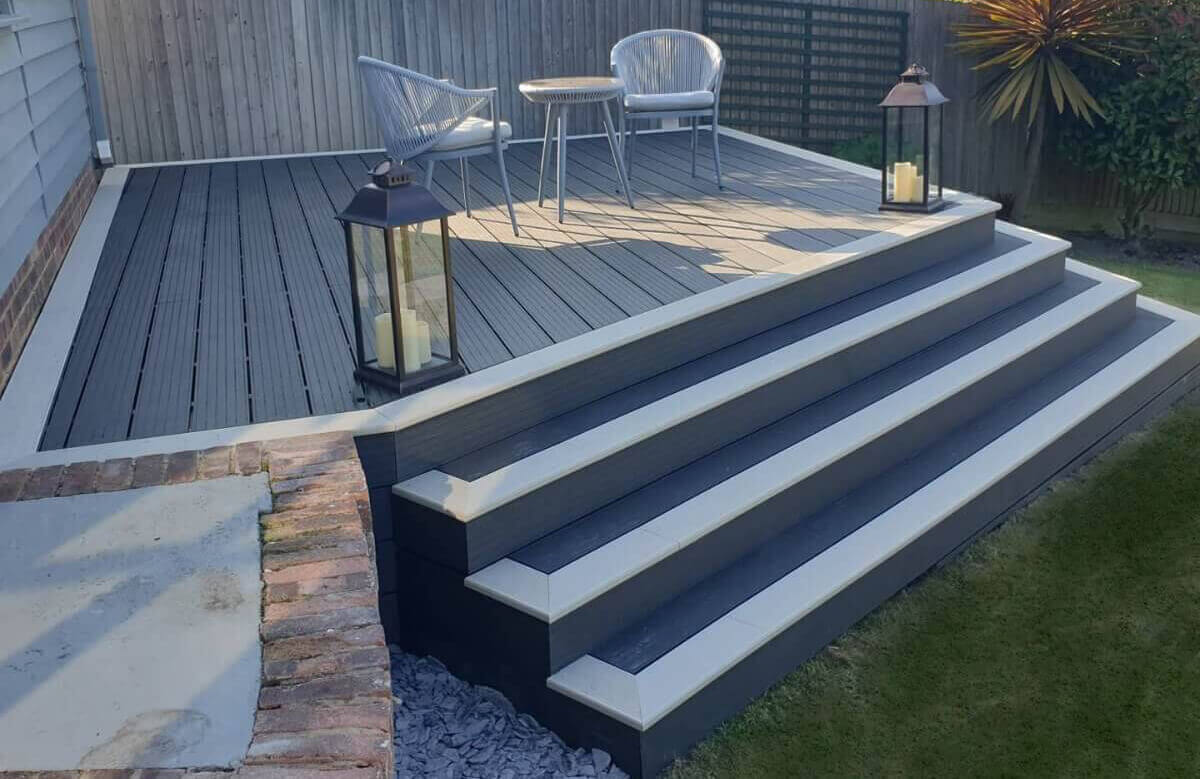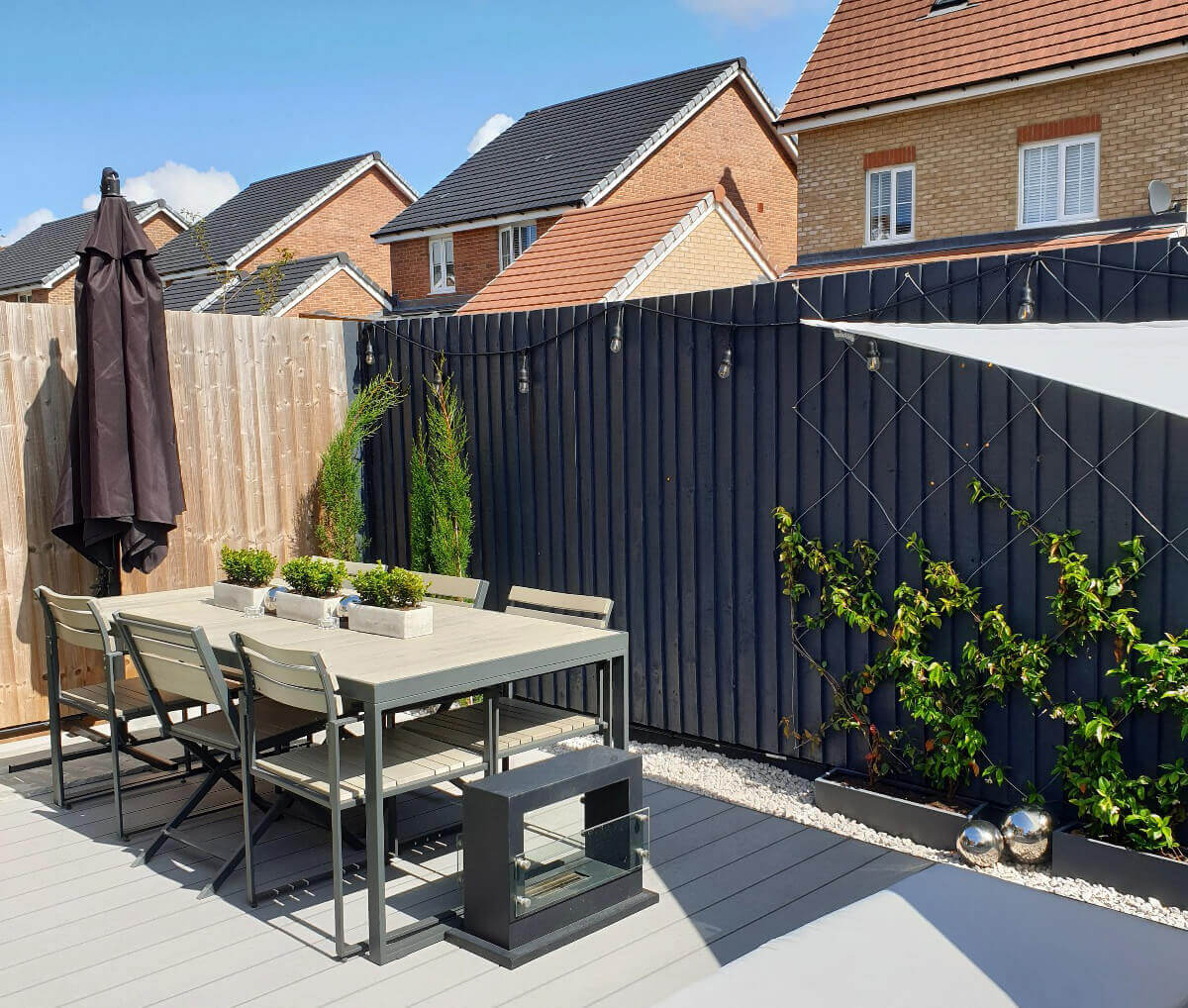 Designed With You In Mind, Low
Maintenance Composite Deck Boards
All composite decking boards have been designed with the user in mind, composite boards are designed as 'low slip' to ensure they can be used year-round. Composite decking is also low maintenance meaning they do not have to be regularly cleaned or treated, just a simple brush and wash once a year. (Particularly shady areas may require additional cleaning if prone to moss or algae)
All our stain-resistant composite materials are recycled, which means they are often a cheaper/more cost-effective alternative to traditional wooden timber and artificial materials. High-quality deck boards are provided with a 10-year peace of mind residential warranty, meaning you can install the products knowing they will be looking great for years to come.
Cladco Composite Exterior Wall Cladding
Cladco composite wall cladding exterior boards are built from the same material as the composite deck boards meaning they have the same UV resistant, low maintenance, high-quality properties as per the composite decking.
Composite wall cladding is a great way to enhance and upgrade the exterior of your building with minimal cost and effort. Cladco wall cladding can be installed on top of existing materials such as pebbledash, render and brick using a batten system.
Composite wall cladding is a contemporary low maintenance alternative to timber cladding and comes in a variety of eight colours and two finishes of traditional smooth composite and woodgrain composite. Woodgrain gives the appearance of natural timber wood without all the hassle and upkeep - All supplied with a 10-year warranty.