8 WAYS TO ADD IMPACT TO A BLANK WALL
You can treat your indoor living space to a new lease of life without the need for a total makeover, with the simple addition of a feature wall - also known as an accent wall.
Feature walls are typically described as a single wall that provides a focal point in a bedroom, living room or office room for example, and holds a different theme to the rest of the surrounding walls.
You can create a feature wall in many inventive and budget-friendly ways, from highlighting original architectural elements like a fireplace in an older home - to adding character with bold wallpaper, bright paint and wall panels to a new build.
In this article, we take a look at a selection of feature wall ideas that you can try yourself to transform your home in an instant.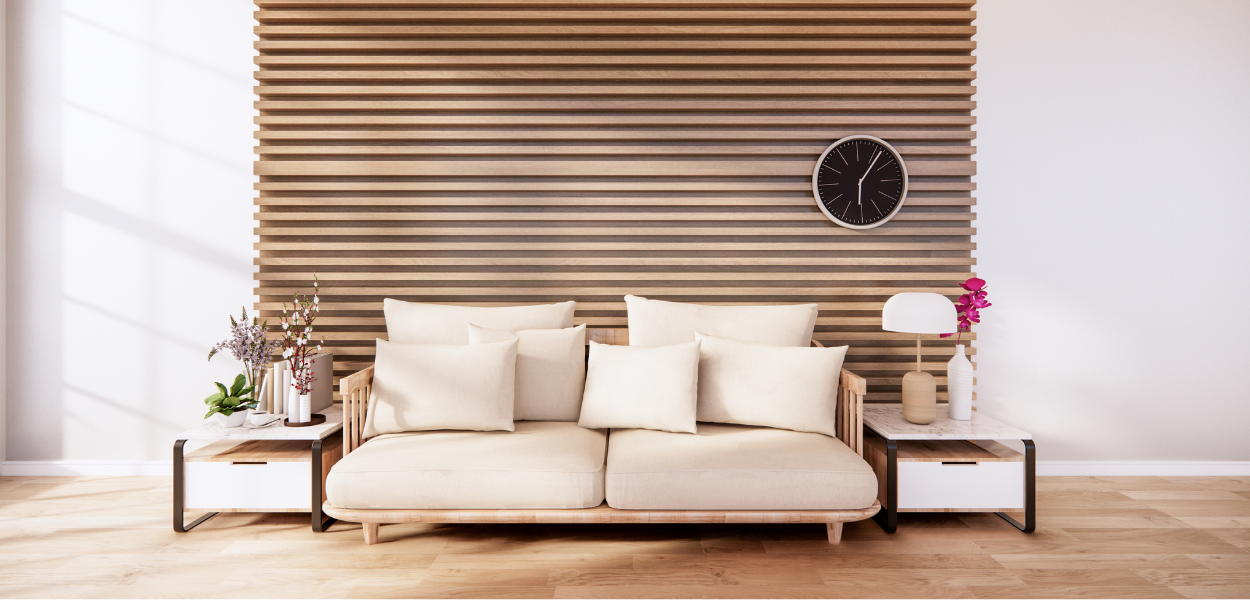 1) DESIGN A GALLERY WALL WITH PHOTOS AND ARTWORK
Perhaps one of the most popular and easily achieved feature wall ideas you can accomplish at home is a gallery wall with multiple frames.
The simple addition of a few prints and photographs that have been framed and hung in a particular pattern on your main wall, will instantly draw attention to the space and add character.
There really aren't any rules to this, you can use as many or as few framed wall hangings as you like - but in order to achieve a professional interior design finish, the below tips might help:
Try to stick to the same theme throughout your gallery wall. If you are going to use a black-and-white image - it would look more polished to stick to a monochrome theme throughout, for example. Other popular gallery wall themes include travel, family and nature.

Mix and match frame sizes to achieve an interesting layout that isn't too symmetrical. Get creative and think outside the box with the placement of your prints and photographs.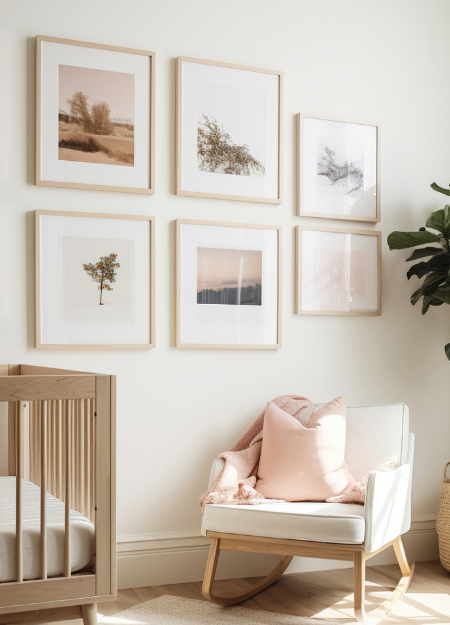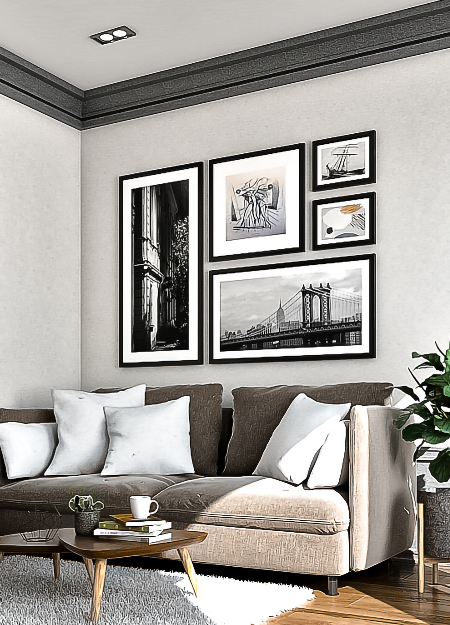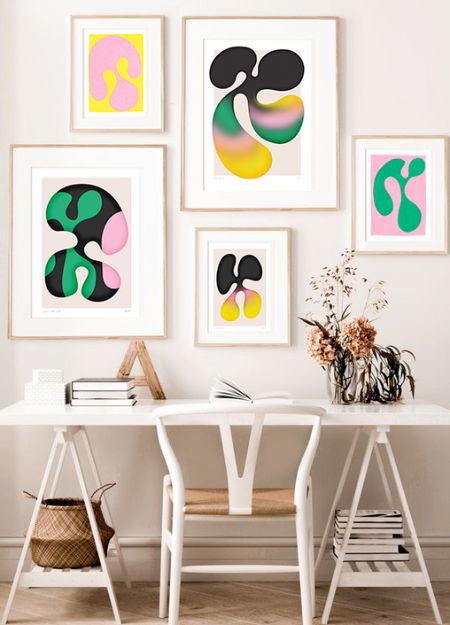 2) CREATE A PATTERNED WALL TO DOUBLE THE IMPACT
Another quick and creative way to add interest and fill a blank space on your interior walls is to apply bold, bright or printed wallpaper to one wall, whilst leaving the remaining walls blank.
This feature wall style is cost-effective and quick to achieve, with so many different styles, patterns and colours of wallpaper to choose from.
Whether you are looking to complement or contrast the rest of your rooms' style with a signature wallpaper, or simply add a pop of excitement to a chimney breast wall for example, the possibilities are endless - with no structural change to your home required.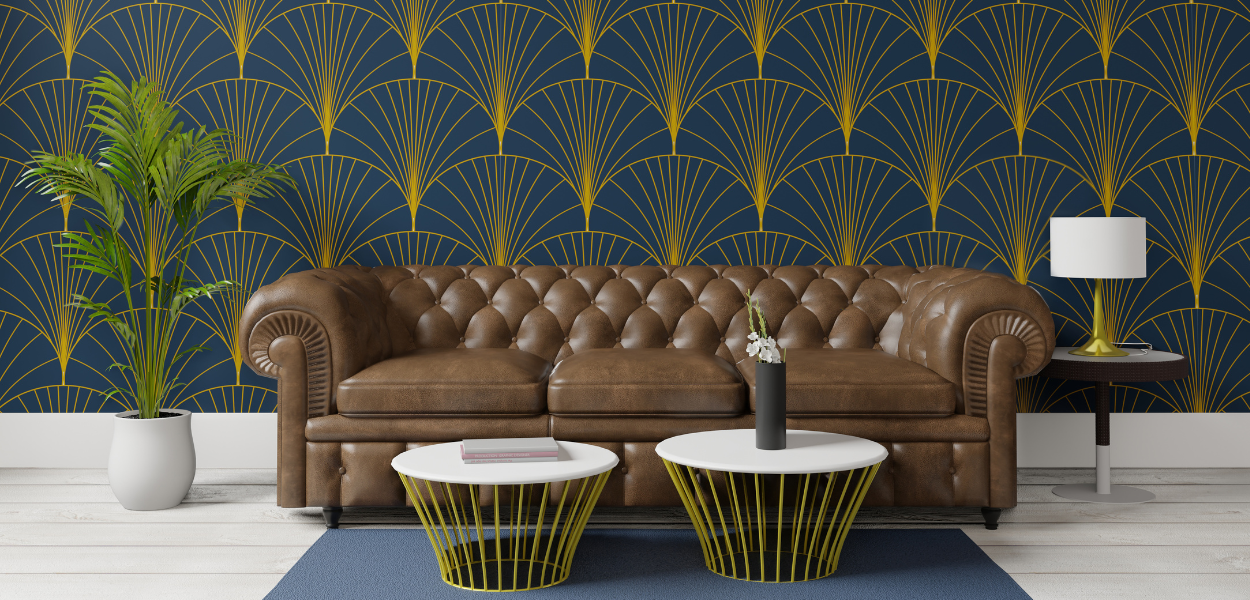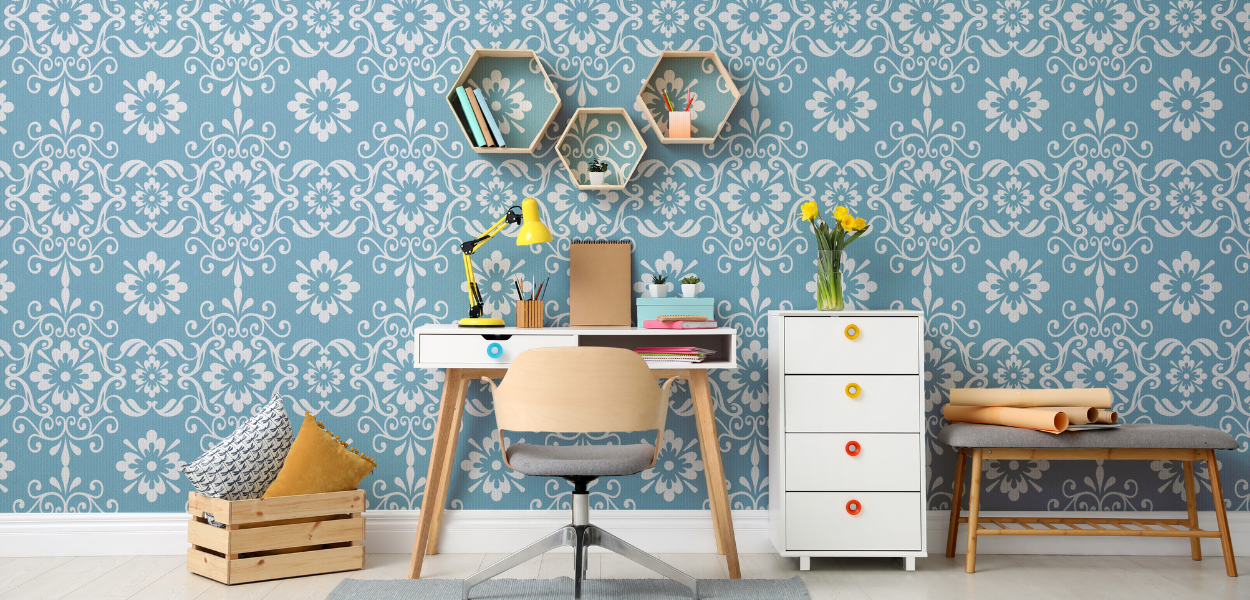 3) MAKE A STATEMENT - ADD COLOUR
Dull, white paint on your walls? Looking to mix things up? Why not add a splash of colour to complete your interior design scheme? Got green cushions, plants and accessories? Add a green backdrop wall. Looking for sunshine on a rainy day? Bright yellow accent walls are a surefire way to add some fun and warmth.
The below are some great examples of bold, painted feature wall ideas - just be sure to stick to a tonal colour palette throughout the rest of the room and your space will feel instantly transformed.
Top tip: Apply professional painter's tape or Frogtape around the edges and corners of your adjoining other walls before painting, for a crisp edge and the best possible finish.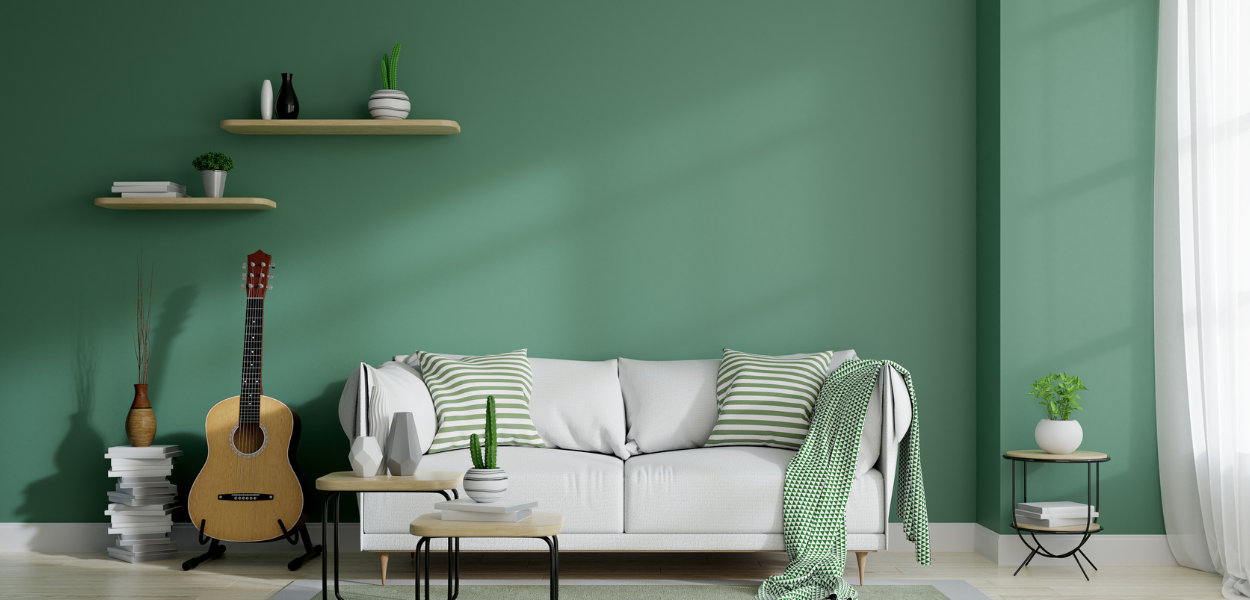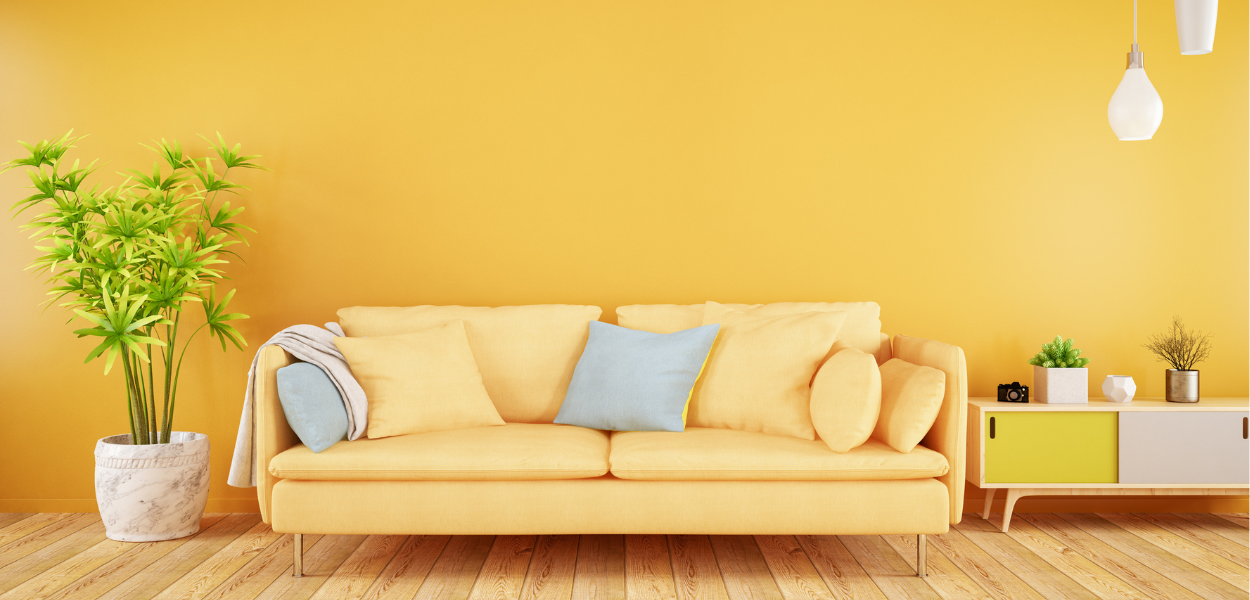 A popular way for homeowners to add a feature wall to their bedroom is to install slatted panels (also referred to as acoustic panels) and double them up not only as an attractive interior characteristic - but also as a practical headboard for the bed.
Cladco Internal Slatted Panels are the perfect product to achieve this look. They are low-maintenance, lightweight and easy to install with a realistic wood-effect surface.
As well as this they are wipe clean and can simply be hoovered between each slat, keeping your sleeping space fresh and looking brand new for longer.
Below are some great examples of how Cladco's Internal Slatted Panels have been applied to bedroom walls creating a practical, yet contemporary headboard design.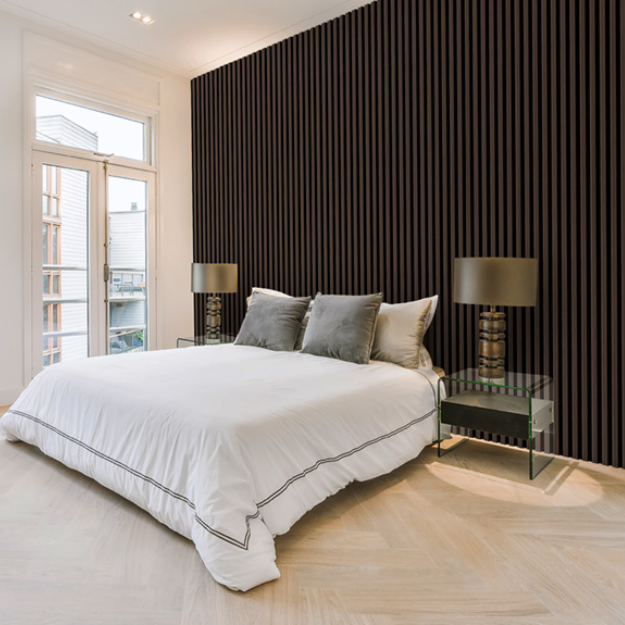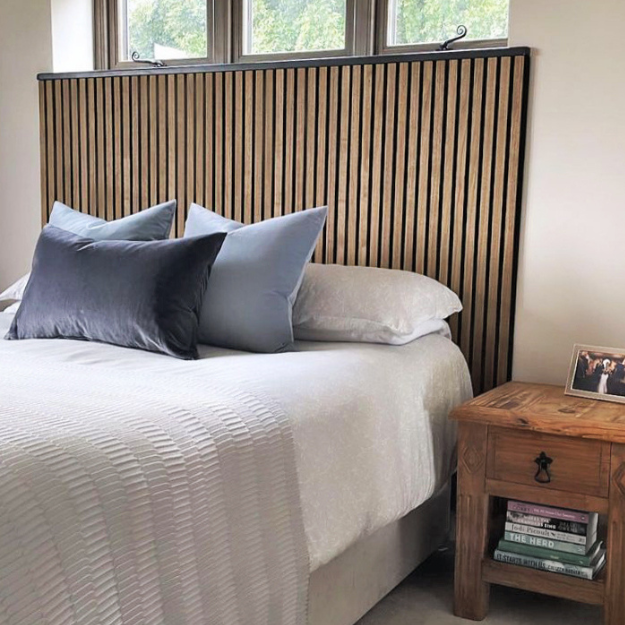 5) CREATE A 3D EFFECT WITH WOOD PANELS
Merge traditional interior style with modern living by installing decorative wall panelling. Classically seen in Victorian architecture, decorative panelling was once used as a clever way to protect the grand walls from scuffs and marks left by chairs, as well as enhance the look of the space.
This style of panelling would have been fitted part way up the walls before being capped off with a dado rail to complement the era's rich designs - and act as a protective barrier.
Now, we are seeing these feature wall ideas having a modern-day-moment, with the conventional geometric and striped interior styles of the Victoria era making a comeback.
Below are some examples of how modern-day homes have reinvented the trend to create a feature wall across any dining room, lounge space or even bathroom.
Top tip: This can be achieved at home as a DIY project using dado rails and a selection of timber trims. If you are going down the do-it-yourself route, be sure to use a tape measure and spirit level for a professional and accurate application.
6) MIX AND MATCH WALL HANGINGS, ARTWORK AND DECOR
Much like a gallery wall as previously mentioned, take your feature wall to the next level by integrating complementing accessories. Add texture and interest by hanging straw bags, woven hats and floating shelves for plants on your walls - and see your once-plain space come to life.
Be your own creative director and combine lots of decorative accessories of a similar theme or colour for a 3D, multi-faceted style - guaranteed to draw the eye to the space and bring your living room an entirely new feel.
You may have seen small terraced or urban gardens utilising their (lack of) space by installing what is known as a living wall or vertical wall. This is a self-supported structure in which plants and pots can be grown, whilst still receiving all the nutrients and light required to survive without taking up valuable floor space.
Recently, living and/or artificial living walls have made their way into our homes as interior feature wall ideas, and are especially popular among flat owners or those without a garden, to bring an element of nature into the home whilst making a fantastic design feature too.
If you're thinking about installing a living will inside your home, assess all your walls and be sure to opt for a sturdy wall that can bear the weight of your structure. Also, take into consideration:
A wall that gets plenty of light so your vertical garden can thrive

Despite this, avoiding a wall right next to a window is a good idea as this may negatively impact growth during colder months
8) ADD NATURAL TEXTURES WITH WOOD AND STONE
If a natural aesthetic is more your thing, and the colour pallette of your home is that of a neutral one, then wood and stone themed feature walls are the ideal way to create an impact, without being too loud.
Cladco Internal Slatted Wall Panels are available in a range of four earthy colours - these include: Espresso, Golden Pine, Antique oak and Pebble Grey.
They are quick to secure onto interior walls using nails, screws or wall grab adhesive and can be installed either horizontally or vertically, to create a bespoke look over an entire wall or around any existing feature.
The below examples demonstrate how easy it is to achieve a high-quality finish that blends seamlessly with the rest of your home.
There are so many different ways in which you can style your home to create an impactful, stylish feature wall, so before you think its time to book in an interior designer for a total makeover - think again. Many of these ideas can be achieved easily at home with a tin of paint or a roll of wallpaper.
To find out more about the Cladco products mentioned, give our helpful Sales team a call on 01837 659901 or email [email protected].