This summer has seen an increase in 'staycations', thanks to the Global Pandemic which has been putting a stop to peoples' weddings, holidays, and travel plans. However, thanks to this there has been an increase in home and garden improvements and makeovers. With the extra time at home, and not having to spend money on holidays, why not invest in a composite decking area for your garden?
What Decking to use?
When it comes to decking, the average UK homeowner wants to have something easy to lay, requires little maintenance, reduce slipping hazards when it's wet or icy, and decking which will look good all year round for many years to come. Cladco Composite Decking has a narrow groove side meaning it can ensure all of these requirements are met.*  
Cladco Profiles is the leading decking provider in the UK, providing a high-quality product at a competitive price. Our ten-year guarantee on all decking makes Cladco Profiles the best choice for any decking project.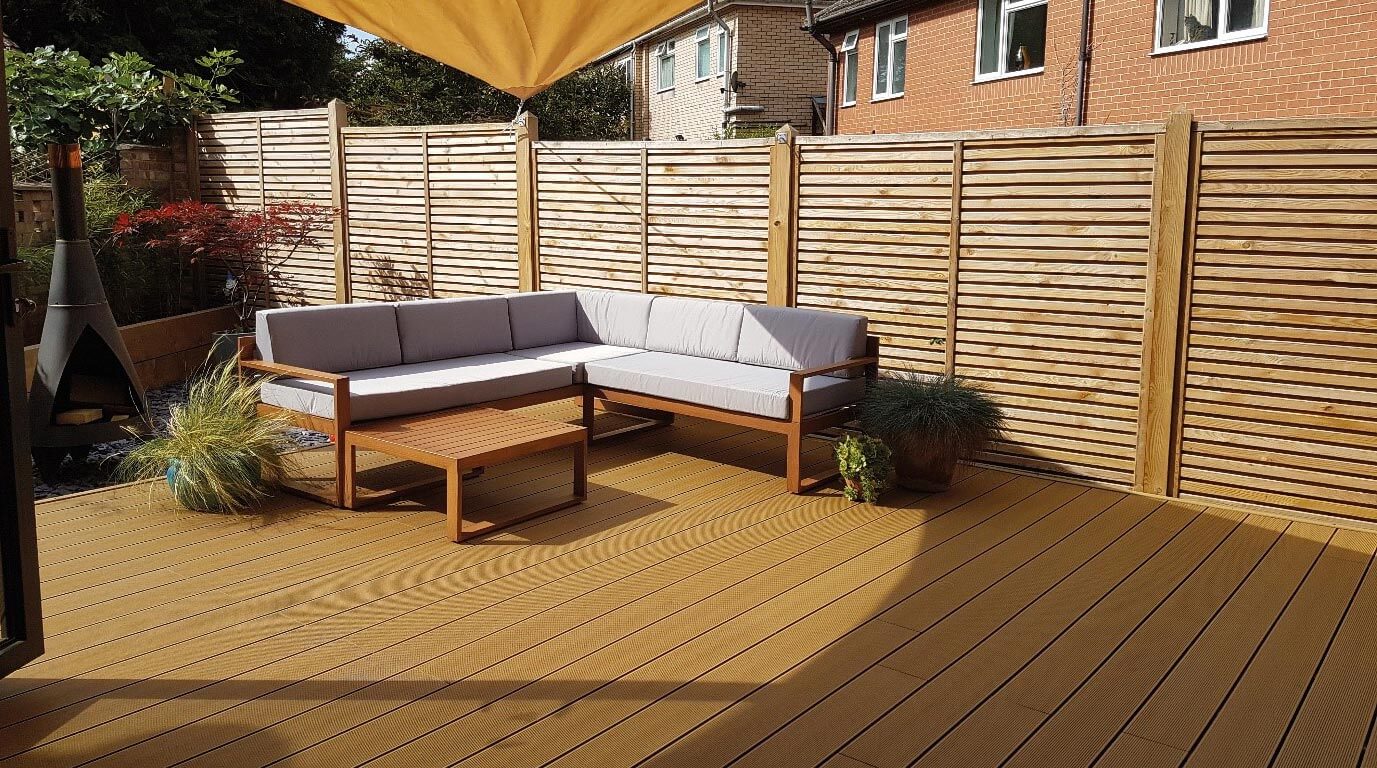 5 Reasons to purchase composite decking over timber.
When buying composite decking boards, you're saving wood fibers and plastics from landfill. Cladco Composite Decking boards are made from a 60/40% blend of FSC accredited wood fibred and recycled polythene.
Cladco Composite Decking boards also come with the following benefits:
Low maintenance –Composite decking is durable and water-resistant, so no need to treat, paint, varnish, or seal.
Low-slip – unlike wooden decking, composite decking won't become slippery in wet or wintery conditions. *
Does not splinter, split, rot or warp – due to its dense infrastructure, of wood-fibers and plastic, the decking boards are durable and therefore are unlikely to rot or splinter.
UV light resistant – Thanks to composite decking's anti-UV agent, composite decking boards can resist colour fade, however, over time some colour fade may occur due to the natural fibres in the boards. Like all surfaces, when exposed to hot weather for a long period of time, decks will become hot.
Resistant to attack by insects – as composite decking is a combination of plastic and wood fibers, densely packed together, insects struggle to penetrate the material unlike timber decking.
Environmentally friendly – all material used in Cladco Composite Decking is 100% recycled and FSC certified, learn more about our environmental journey here.
Composite Decking – Solid vs Hollow, what's the difference?
Both solid and hollow composite decking's have the aforementioned benefits as well as their own subtle differences.
Woodgrain or Original Decking? What's the difference?
If you're wanting your deck to have the look of natural wood, but don't want the hassle of maintaining traditional timber decking. Cladco Composite Hollow Woodgrain Decking boards are the perfect substitute.
The woodgrain effect gives the look of natural wood, but with its composite properties no sanding, painting or treatment is required to keep its high-end look.
Adding the woodgrain effect decking boards to your project will give your garden a unique style, without any extra hassle.
Please note that the woodgrain surface has very little low-slip qualities due to the lack of grooves on the surface of the board, so may be slippery when icy or wet.