Last updated: 3rd August 2023
When it comes to Decking, we know that not everyone has a level garden. The addition of decking steps is the perfect opportunity to make your outdoor living space a multi-level, easily accessible area that can be enjoyed no matter how many different heights it sits upon.
In this article, we take a look at multi-level decks, steps with lighting, and many other step designs.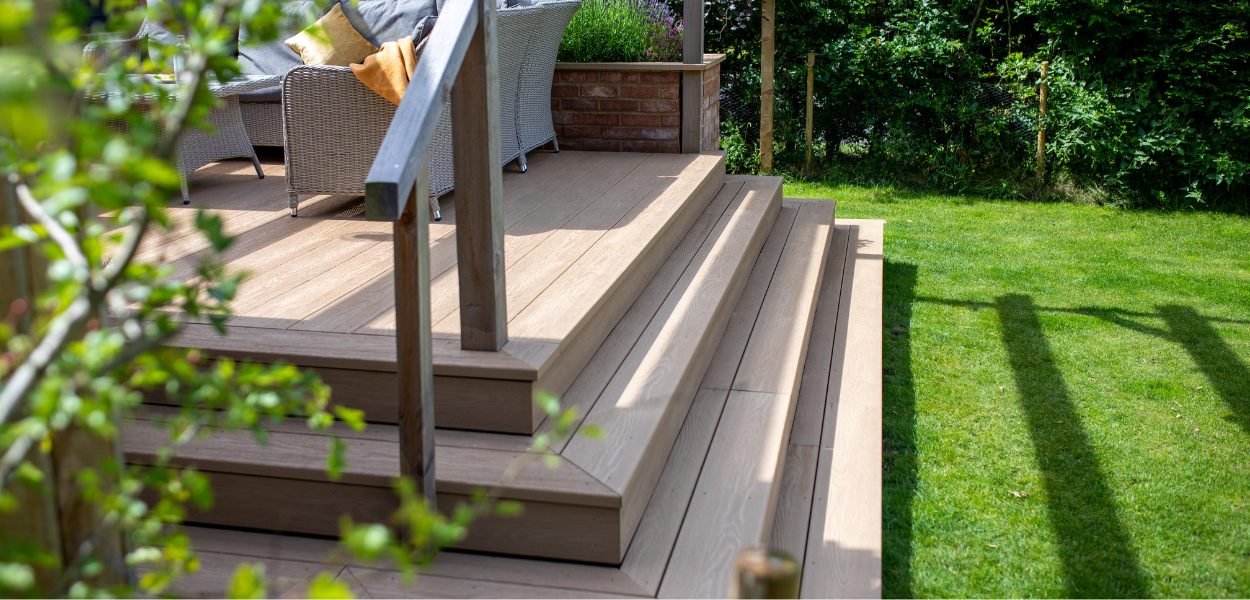 Cladco PVC Decking installed as steps and complete with Bullnose Boards
Composite Decking Steps Ideas
Composite Decking has fast overtaken timber decking as a popular material of choice when it comes to building decking areas and deck steps. The rot, splinter and warp-resistant properties of Composite makes for a safer, longer-lasting deck board that is stronger and lower-slip when compared with all-natural materials.
The example below has used Cladco Composite Corner Trims in the same colour as the Boards (Stone Grey) on the edge of each step to create a seamless, well-put-together finish - complete with sleek metal railings for added safety.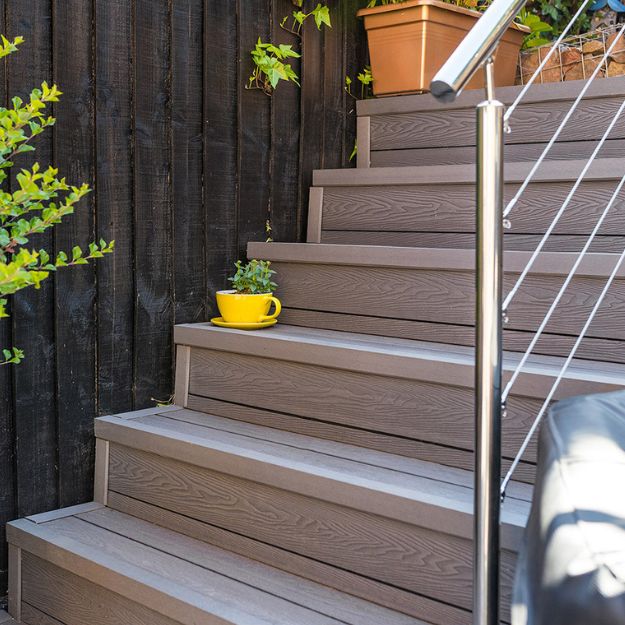 Composite Corner Trims add a seamless and safe finish to these steps, that lead up to a raised deck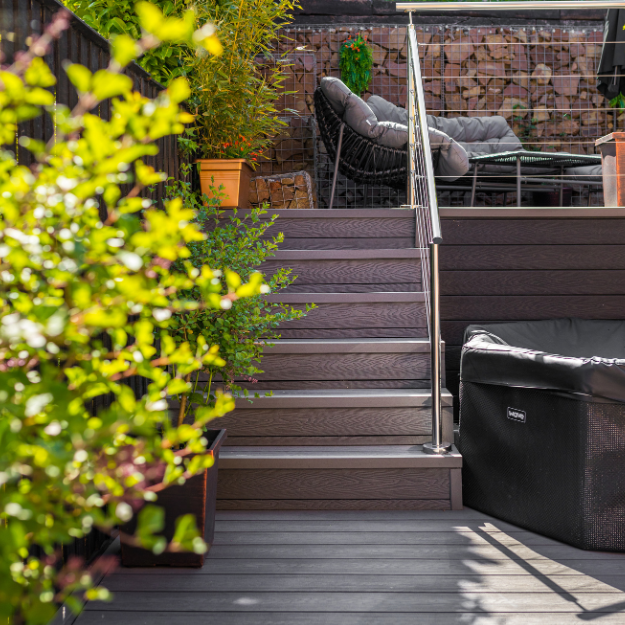 Cladco Composite Decking Boards in Stone Grey Woodgrain with matching Corner Trims for a seamless set of steps
The below is the perfect example of how a set of pre-existing stone steps can be transformed entirely with Composite Decking. The landscaping company the Outdoor Makeover Group have used contrasting colours of Charcoal and Light Grey Composite Decking Boards by Cladco to create these wide steps leading down to a newly built pergola area, with festoon lights for a gentle glow.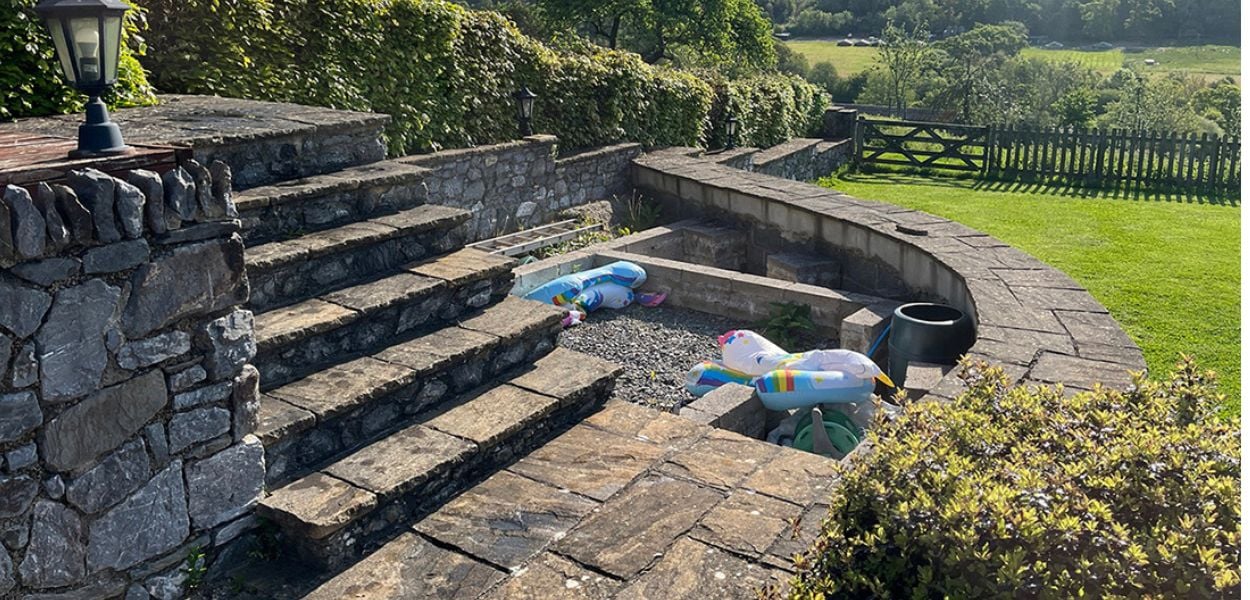 Before: Stone steps on a dis-used patio space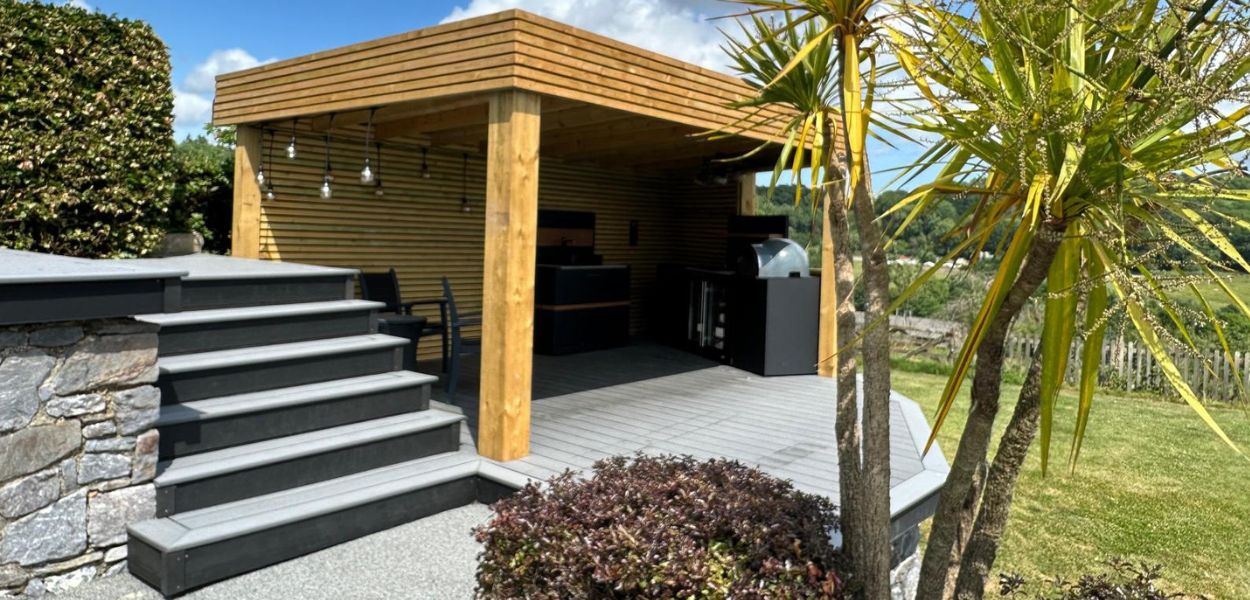 After: Deck boards have transformed this existing project into a fantastic decking area with steps
Cladco Premium PVC Decking is one of the highest-quality decking types on the market. Perfect for modern, traditional or alternative outside projects and available in six colours, this decking comes with a 20-year guarantee and is the perfect high-end alternative to timber decking for building deck stairs.
Capstock PVC Decking has an ASA coating which creates a weather-resistant super-strength shell that replicates the natural look of real wood - making it the ideal material for a deck design with a natural feel.
The below deck step design has used Cladco PVC Bullnose Boards in the same color (Cedar Wood) on the edge of each step. Bullnose Boards have a smooth, rounded edge to create curved steps with a professional finish.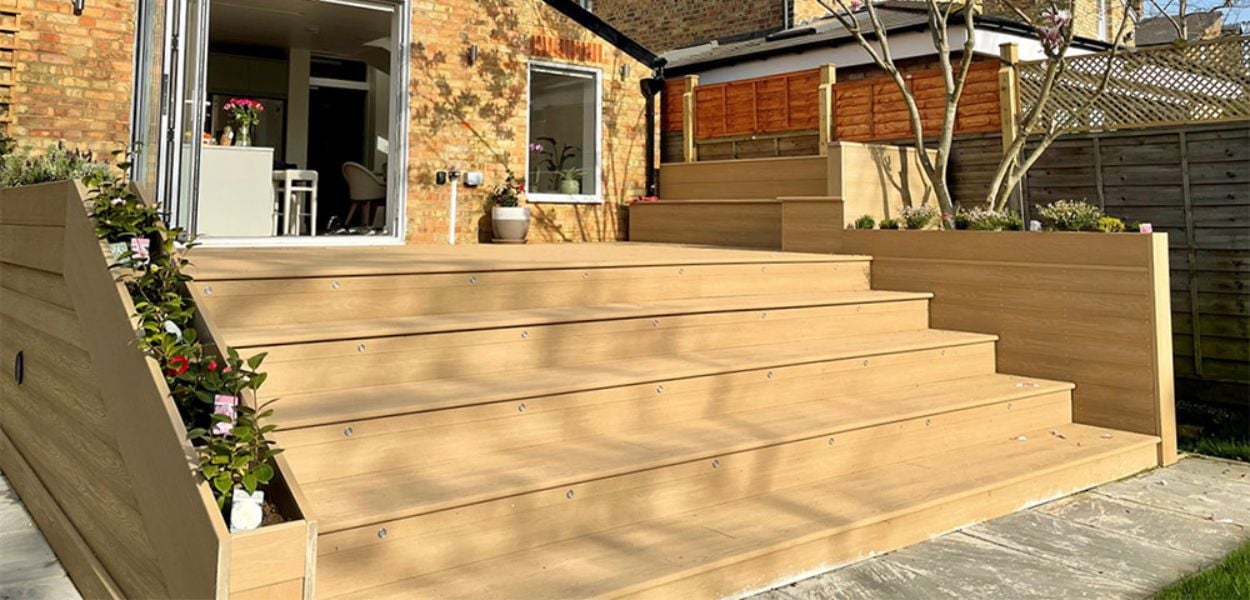 Cladco Premium PVC Decking Steps in the colour Cedar Wood with build in planters for a more unique look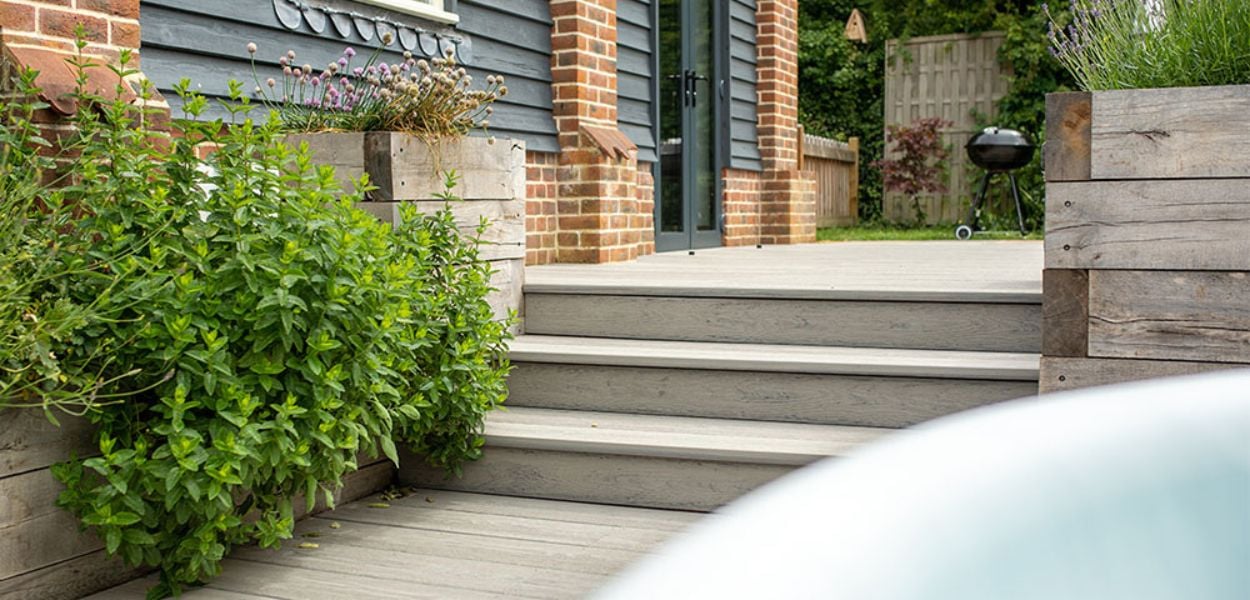 Curved steps deck design: Cladco Premium PVC Bullnose Decking steps in the colour Silver Birch
Decking Steps With Built-In Lighting
If you're looking to integrate steps within your decking for your next project, why not add some subtle lighting to the design? Lights can add style and an extra element of safety to your deck stairs - but they can also be considered one of the smart options to light up your outdoor living space, with many lighting options now being solar-powered.
The below deck steps have all been built with Cladco Decking and completed with complementary LED lights, creating a seamless transition in your outside space from day to night.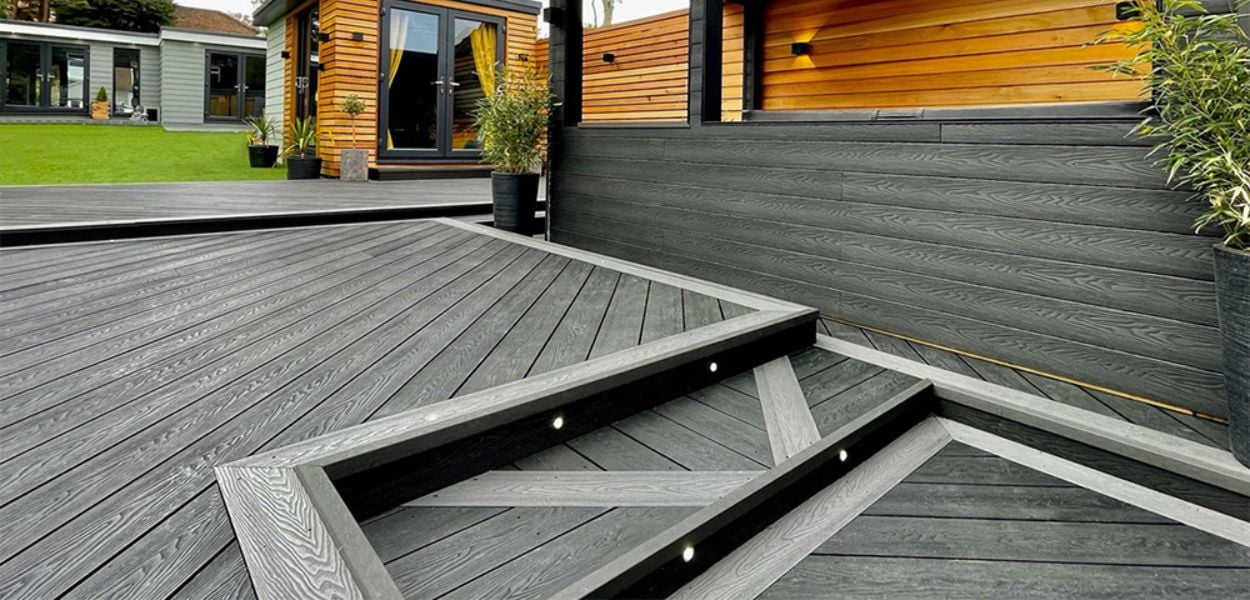 Deck steps ideas: Cladco Woodgrain Angled steps with built-in lighting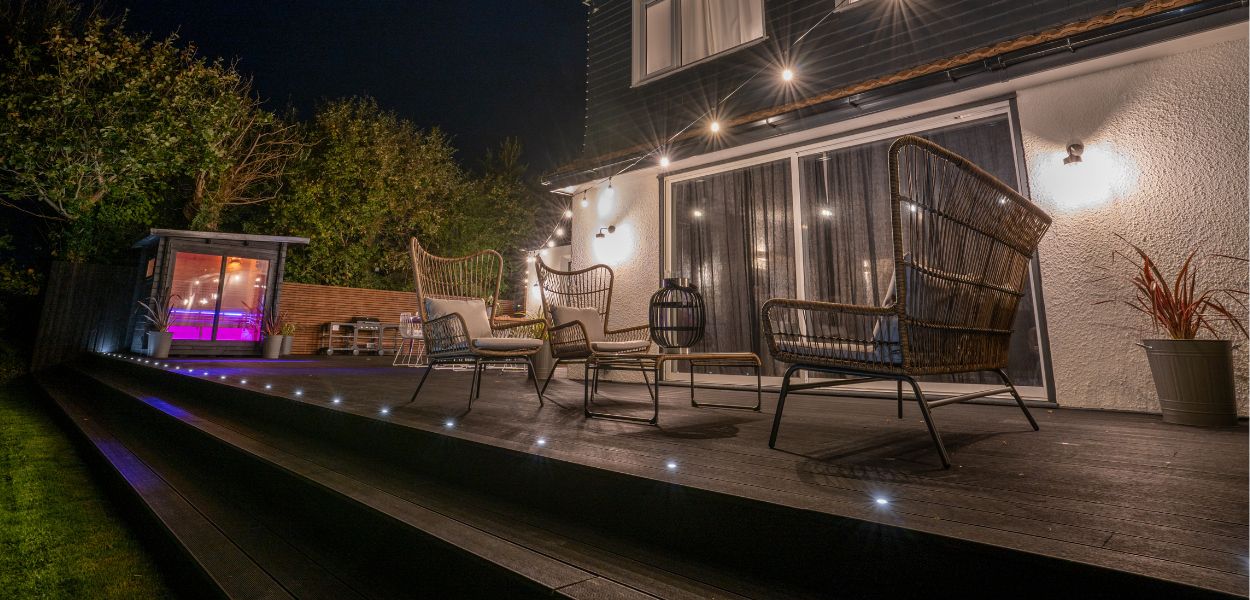 Deck steps ideas: Add lights to your deck steps to illuminate the area and add a modern twist
Mixing Colours for Contrasting Steps
Another popular way to enhance your deck step design is to add a picture frame effect. This is when you finish your main deck steps with a different coloured edge - to create a modern, contrasting finish with added interest.
For a solid, rounded-edge finish your decking stairs, you can install our Composite Bullnose Boards. See image captions for colour combination details.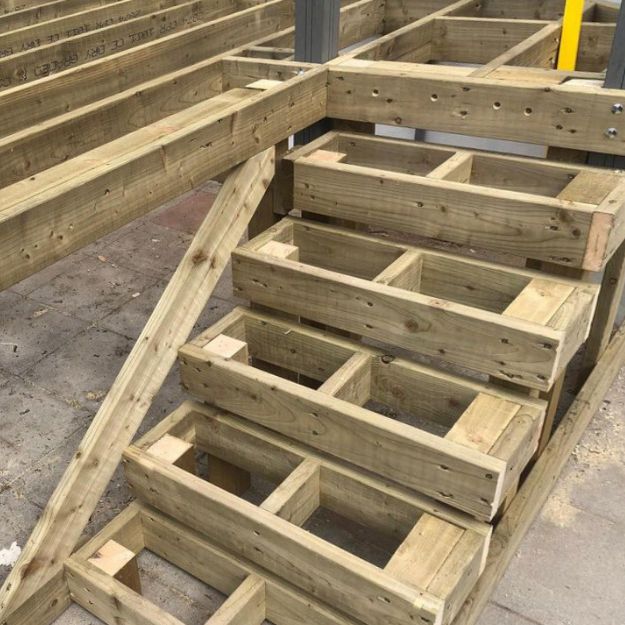 Before: Deck steps require a stong and sturdy base built from hardscaping materials for laying decking on to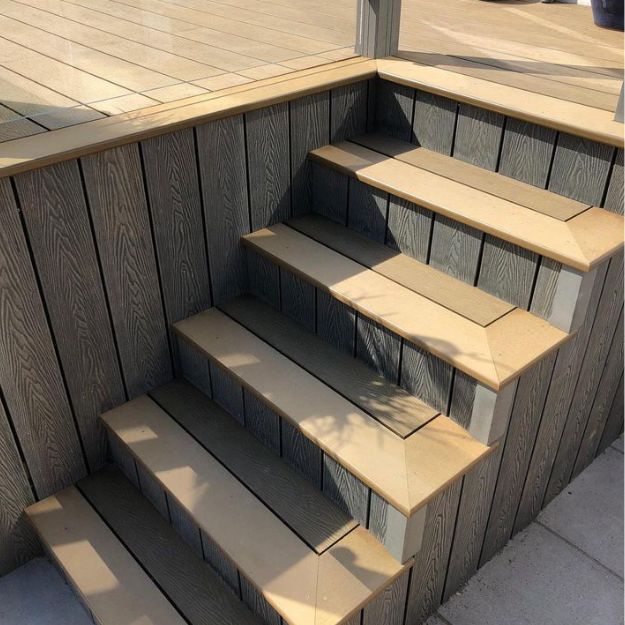 After: Deck stairs in contrasting colours Olive Green (base) and Teak (steps) for a unique deck design
Low deck stairs with contrasting Cladco Stone Grey and Ivory coloured Deck and Bullnose Boards installed together
Complement your decking stairs with an Aluminium Balustrade System, like the below project that has used porch railings and railing posts to keep the upper deck a safer space to be.
Cladco Powder-Coated Balustrade Handrails, Gates and Posts are manufactured from extruded and welded aluminium, offering a tough and low-maintenance Balustrade System for your decking and step area.
Balustrades are a great solution to create a clear divide between two areas of decking, or alongside walkways and balconies.
Cladco Balustrades installed on decking steps creates added safety
The second story of this decking step installation is sealedf with Cladco Aluminium Balustrades