40% of people in the UK own a dog, most dogs typically enjoy sunning themselves in the garden, why not give them the perfect place for them to relax, without risking them getting muddy or covered in grass? Cladco composite decking can provide them with just that and is perfect for gardens of all sizes!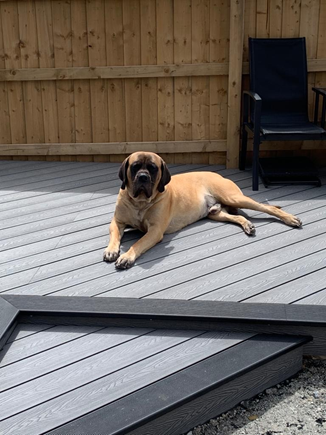 Cladco composite decking boards are the perfect addition to any garden. Composite decking can be added to any size or shaped garden and transforms not only the gardens look, but also how the space can be used. By adding decking to your garden, you are extending your living space beyond the walls and doors of your home, enjoy Al Fresco dinners in the fresh air, socialize with friends or even sunbathe with your four-legged pal.
Cladco decking is made from 60% recycled hardwood fibers and 40% recycled polyethylene, with a bonding agent, colour tint and additives. Meaning that all decking is not only environmentally friendly, but also durable, low maintenance and suitable for pets of all shapes and sizes. We have even driven one of our Toyota Hilux trucks over the decking to test the durability, watch the video here. Please note, we don't advise driving any vehicles over your decking, this was simply a fun way test the boards.
Take a look at Troy, a 13 stone English Mastiff owned by the general manager, Troy is highlighting just how comfortable, durable and inviting Cladco composite decking boards are. With the low slip properties, Troy (hopefully) won't find his paws slipping and siding over the decking, reducing the risk of falls and injuries.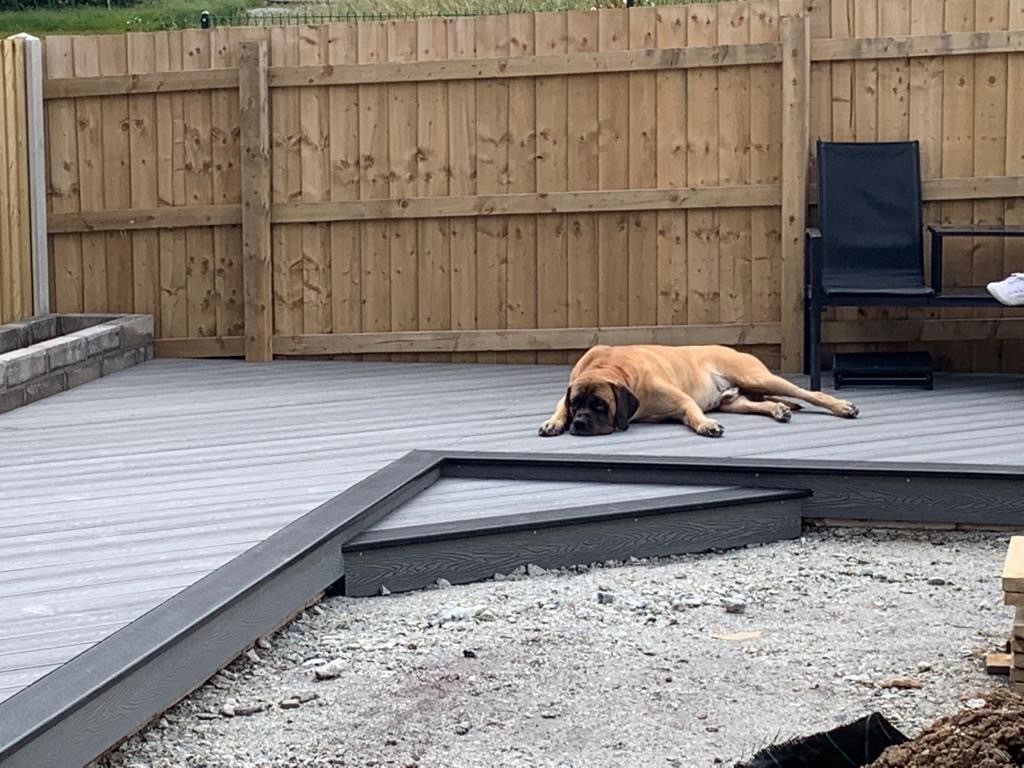 Please note that Cladco woodgrain composite decking has a much smoother surface than the original hollow board, for a low slip surface you may wish to opt for the original board installed narrow groove side up.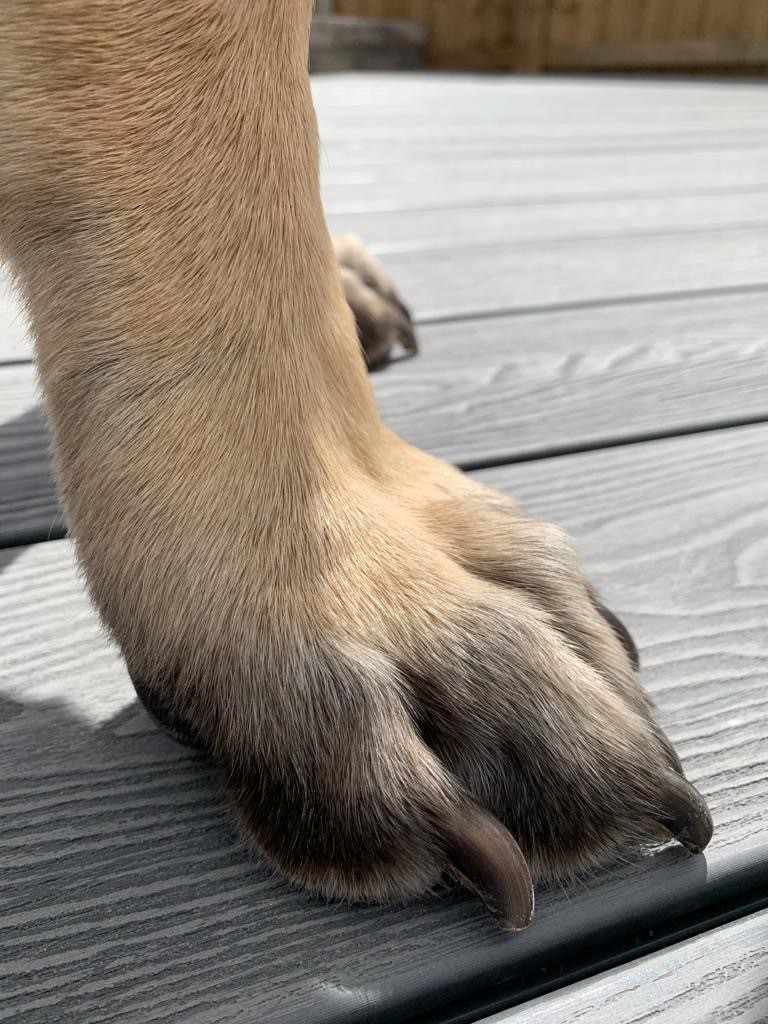 Troy's composite decking area was created by using Cladco woodgrain stone grey composite decking with a picture frame effect made with Black/Charcoal bullnose edging for a stylish and sophisticated finish.
Troy will be able to lounge about on his decking for many years to come! Not only will Troy be able to relax comfortably in the garden his owners have the peace of mind that once their artificial grass arrives in the center, no longer will Troy be traipsing muddy paw prints through the house. Perfect for those that want a clean, simple and low maintenance garden.
With the woodgrain decking, not only does it pay homage to traditional timber decking, has the same great look without all the hassle of wood staining and treatment. Cladco composite decking is provides a natural looking long lasting, easy to maintain outdoor areas without applying harmful chemicals.
Safe for any of your furry, or human friends to enjoy.
Here at Cladco we pride ourselves on supplying a high-quality product at an affordable price, choose from a range of eight colours and four different styles, pair it with ether a picture board edging like this, or with the same coloured edging for a seamless flow.
For more information, or to purchase your own decking please do get in touch, either at [email protected] or by calling us on 01837 659901