Cladco Profiles over the years has seen a plethora of decking projects ranging from traditional garden decks, to intricate deck step designs, to even a train made from our composite boards.
One of our customers recently showed us how they used Cladco Composite Decking boards to create a Shepherd's Hut in their garden. This unique shepherds hut is a brilliantly inventive way to create extra space creatively and cost-effectively. This customer transformed their Shepherds' Hut simply by adding a gorgeous deck, using Cladco Composite Decking boards in Teak. The raised decking around the Shepherds Hut creates an extra space in which to relax, dine, and socialise while enjoying their surroundings.
What is a Shepherd's Hut and what were they used for?
Ranging back as far as the 16th-century Shepherds Huts were built as a place of shelter for Shepherds out tending their livestock. Used predominantly around England and France, these huts were often built cheaply on the farm out of scrap materials, normally metal but occasionally wood. Inside would act as a bedroom, kitchen, dining room, sitting room, workshop, and storehouse. Some would have wheels to allow for relocating while minding flocks, a window on both sides of the hut, and a stable door, to be positioned away from any wind. More recently Shepherds Huts have been reinvented into stylish getaway locations, home offices, coffee huts, food trailers, small businesses, or mini houses. Shepherd Huts are versatile, easy, and cheap to build and maintain.  
What Features must a Hut have to count as a Shepherd's Hut?
Traditionally Shepherd's Huts were made from for the side panels and roof, something which Cladco Roofing would be a trustworthy replacement thanks to its variety of profiles, thickness, and coatings. A Woodburning stove, originally used to keep the hut warm and to cook food, is now essential for any romantic getaway locations. Corrugated Iron Cladding or Wood-paneled Cladding both on the inside and the outside of the hut, are also stylish features to have on your Shepherds Hut. Using Cladco Composite cladding will not only appeal to the traditional aesthetic of the hut but also help to make your hut more environmentally friendly.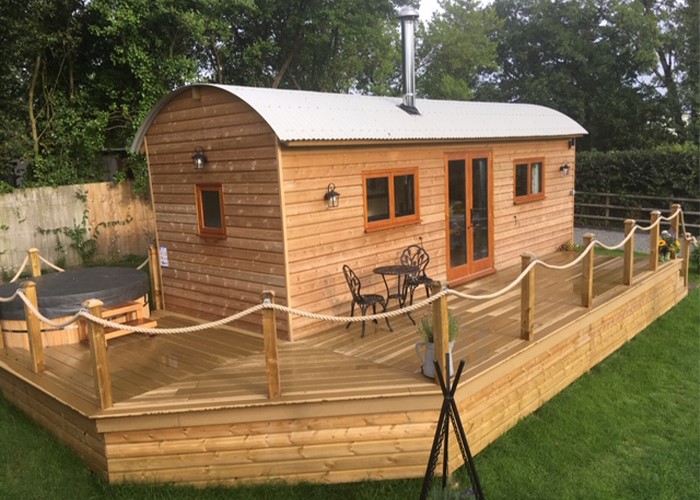 How big is a Shepherd's Hut?
When Shepherds Huts were used by farmers, farmhands, and of course, Shepherds, the huts had to fit through farm gates, meaning there were very strict sizing requirements to meet. A standard hut would measure 3.6m long and 2.2m wide. Now huts are made in a range of shapes and sizes, ranging almost four times bigger than their predecessors.  
Do you need planning permission for a Shepherd's Hut?
Before we start answering this question, please note that we are not planning consultants, and would recommend contacting a professional for all legal advice.
However, all cases are different, but, if you're having your Shepherd huts on wheels as a portable Shepherds hut. Or, if you're placing your hut in your garden for domestic use only, and you're outside of a conservation area and you're home isn't a listed building then no, you shouldn't need planning permission. 
A shepherd Hut alone does not necessarily need planning permission, however, if you're planning on letting it out as a holiday let, or the use of the land that it's on changes, you may need to acquire planning permission.   (Always check first with your local planning authority before carrying out any works)
How much do Shepherd Huts cost?
As with anything you buy, the cost will be reflective of the quality, size, and age of the Shepherds hut. An unfurnished, standard-sized hut could cost you around the region of £5000, plus the cost of equipping and styling the shed yourself.
 However, if you wanted a fully finished and equipped hut, with standard features such as; internal and external wall cladding, fixed double bed, fully kitted and working bathroom, wood burner, and kitchenette, with an outside veranda, you could be looking into the region of £20,000+.
Do I need to Clad my Shepherd's Hut?
As mentioned above for a hut to fall under the remit of being a Shepherd's hut it must be cladded both inside and out. For an easy to maintain, environmentally friendly Shepherds Hut, Cladco has a range of colours and a variety of composite wall cladding to envelope your hut. You may opt for a timber alternative but bear in mind this will require maintenance and regular staining to keep it looking pristine. Composite Cladding has similar aesthetic qualities of traditional timber cladding, without having to treat and maintain it.