What is composite decking?
Cladco Five-hole Composite Decking is a new and unique range of Cladco Composite Decking boards, supplied only by Cladco Profiles. The original four hole decking boards have had innovative design improvements to increase strength and durability.
Cladco has found that the original hollow decking boards, with their unique honeycomb structure, are more cost-effective, lightweight, and durable. Ideal for any outside space. The new five hole decking boards have increased material meaning they are the strongest hollow decking board on the market. The new design has increased composite material increasing strength and ensuring a durable long lasting product.

What is Cladco five-hole decking made from – what makes it different to others on the market?
Like all of Cladcos' Composite products, five-hole decking is made from a mixture of recycled materials - 40% recycled plastics and 60% recycled FSC accredited wood-fibres, blended with a mixture of bonding agents, tint and other additives. This composition enables the product to be robust, low-maintenance and cheaper than timber decking. Unlike traditional timber decking, Cladco composite decking is long lasting and low maintenance meaning Autumn and Winter weather will not have you slipping on timber, the low slip properties mean its safe all year round.  
All Cladco Composite Products are environmentally friendly, so you can redesign your garden and feel happy at the thought you're doing your bit for the environment.
Is Cladco Five-hole Composite Decking sturdy and durable?
Cladco Five-hole Composite Decking boards come with all the same features as the four-hole decking, but with added strength and durability.  
Cladco's new and improved five-hole design structure creates a stronger, more durable board able to withstand increased footfall and weight. As the first supplier in the UK** of five-hole decking boards you can ensure you are purchasing the best hollow decking board on the market.
Please ensure you follow the installation guides when installing Cladco decking boards.
.
What is the difference between Solid Composite Decking boards and Hollow Composite Boards?
Both solid and hollow decking boards come with a ten-year guarantee.
Both Cladco Solid and Hollow Decking boards come in a variety of eight colours, allowing customers to choose the colour to best suit their style.
Both Solid Cladco Composite Decking boards and Cladco Hollow Composite Decking boards, do not rot, splinter, split or warp, have low-slip properties*, and require no maintenance except the occasional clean.
Along with a plethora of other benefits too.
 For further comparisons between Cladco Composite Hollow boards and Cladco Composite Solid boards see here.
.
The five-reasons why countdown - What are the benefits?
Cladco Composite Decking boards are 150mm wide, 24mm wider than most other Composite Decking suppliers – allowing you to cover a larger area at a cheaper rate.
Cost-effective. Cladco Composite Decking boards are one of the most cost effective composite decking boards in the UK, giving you more decking for your money.
Increased Strength - Cladco Five-hole Decking boards, with their honeycomb structure offers improved durability and resilience. Ideal for those busy weekends and evening socials.
Unique to Cladco Decking – Cladco, currently are the first company with the improved technology** to create these five-hole decking boards. Cladco is the UK's leading Supplier of Composite Products, with years of expertise and customer service.
Low-maintenance, Low-slip*, Insect-resistant and more. Cladco Five-hole Composite Decking boards come with all the benefits of composite products, so you can spend less time maintaining and more time enjoying your new deck. For further benefits see here.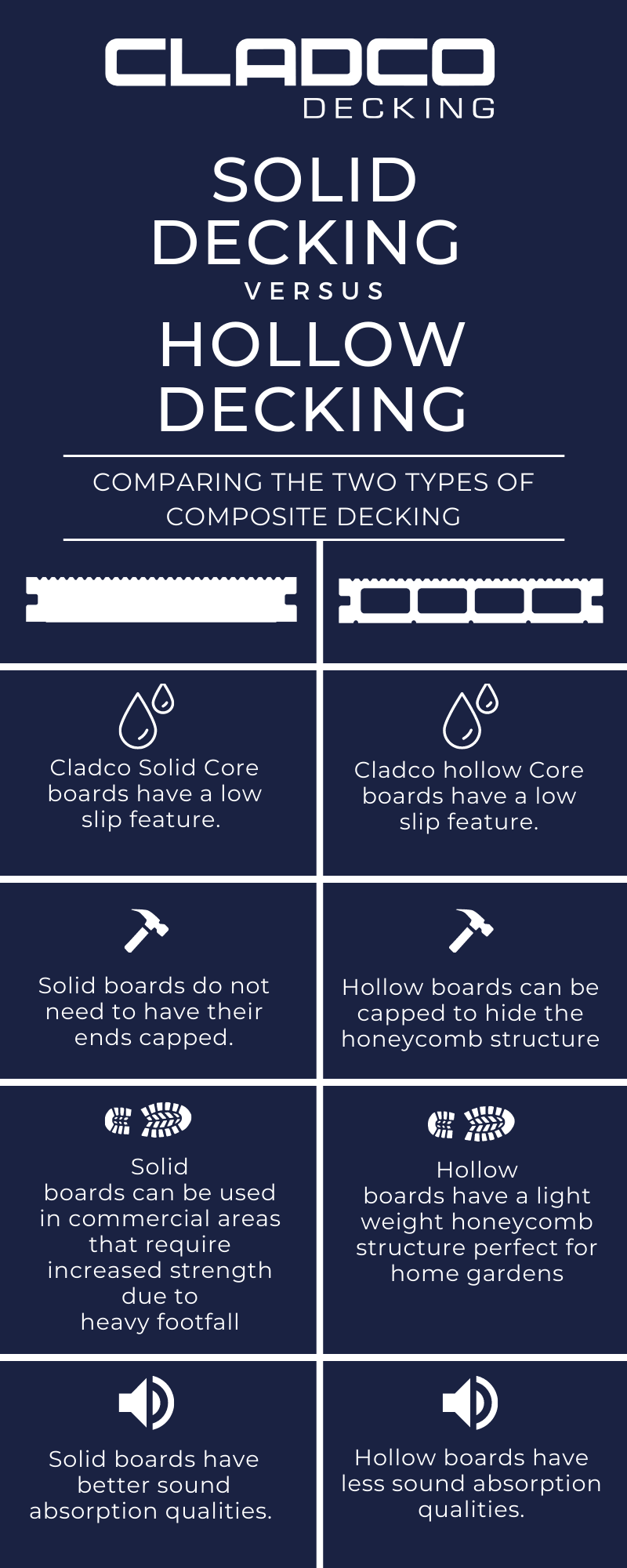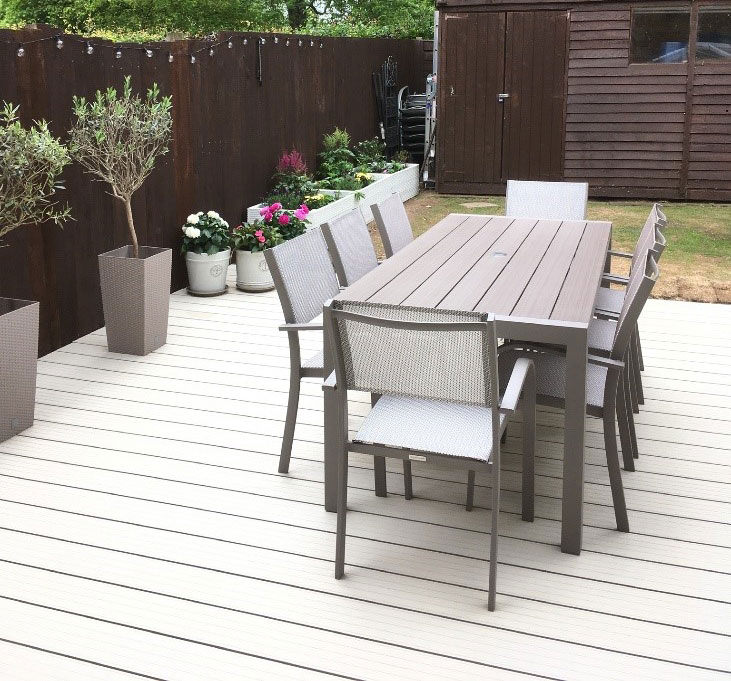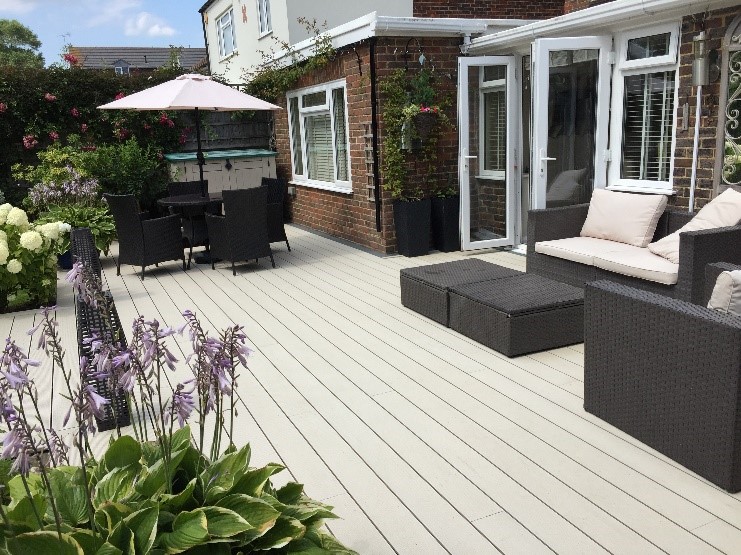 *These two beautiful gardens have been decked with Cladco Composite Hollow Decking boards in Ivory, for a clean, modern and chic look.