Grey composite decking has been a popular colour choice in gardens for many years, its variety of timeless shades blend seamlessly with almost all exterior aesthetics and provides a natural palette that can be customised with furniture, plants and accessories without clashing.
Composite decking has a wood-plastic composition, meaning boards require virtually no maintenance and are hard-wearing with excellent durability. Cladco Composite Decking Boards are guaranteed for 10 years and so will last for years to come, without going out of style.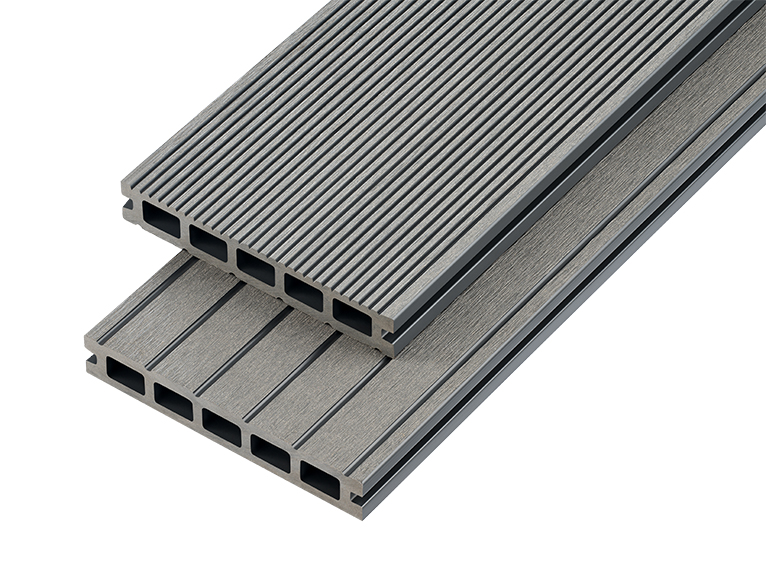 Stone Grey Composite Decking Boards are the perfect happy medium when it comes to shades of grey for outside projects. Their natural, pebble-like tone works perfectly with both traditional and contemporary garden designs, and it's easy to find matching furniture and composite decking accessories to complete the look.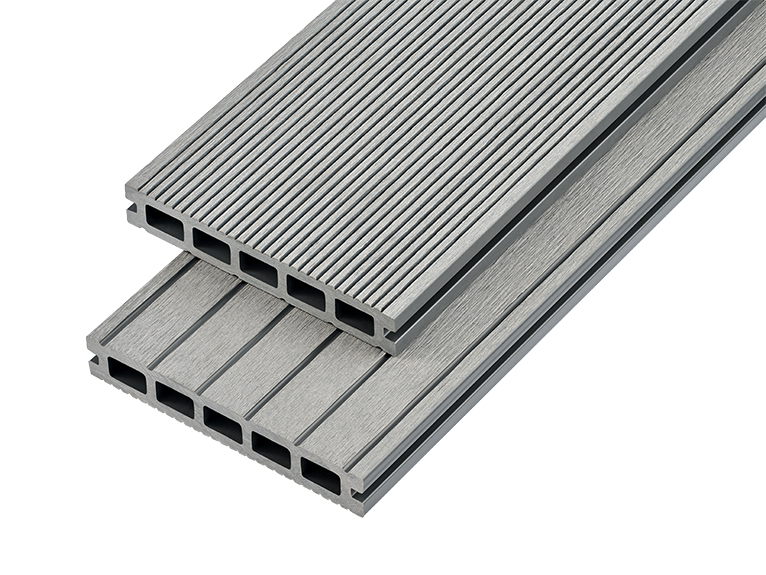 Perfect for long summer days in the garden, or for those with small children, Light Grey Composite Decking Boards bring a bright spacious feel to your garden. The paler shade of grey on these boards means they do not get hot in the sun, reflecting light away more successfully than darker boards for example - thanks to their airy colour.
Our Dark Grey ('Charcoal') Boards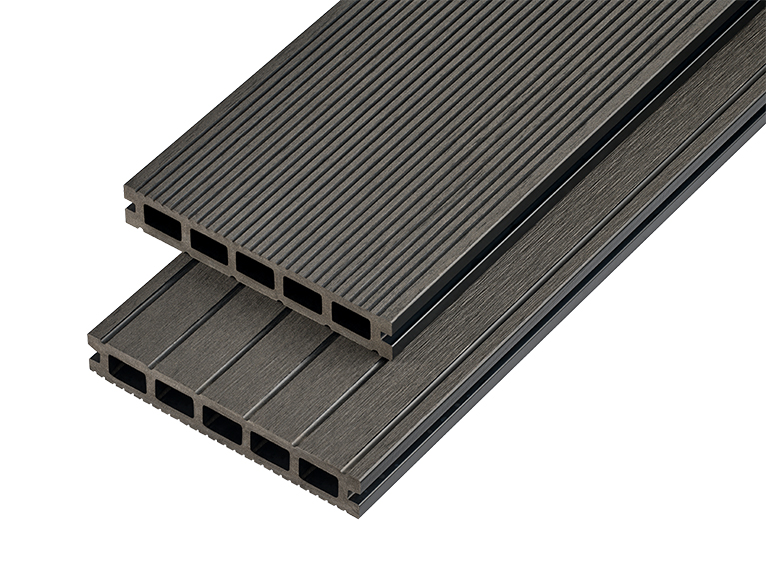 Perhaps the most modern of all the Grey Composite colours available from the Cladco Decking range is Charcoal - our Darkest Grey Board. A tone like this is a neutral colour that complements small outdoor spaces. These deep shades, however, may become overpowering when installed on large decking areas, and they will typically absorb more heat from the sun's rays and become warmer to the touch when compared with lighter greys. The addition of brighter, more colourful garden accessories is a great way to break up the dark grey boards.
Thanks to the neutral palette of grey composite decking, the possibilities for styling them in your garden are endless. Below, we take a look at the popular ways in which you can style grey boards for a brilliantly finished deck.
MATCHING COLOURS
Cladco Composite Decking is available in the same matching colours as Cladco Composite Wall Cladding, meaning you can round off your garden makeover with complementary colourways.
The below project has used Cladco Composite Decking in Stone Grey to create a multi-level outdoor space - and completed the design by cladding the adjoining garden room in matching Stone Grey Composite Cladding, for a fluid theme throughout.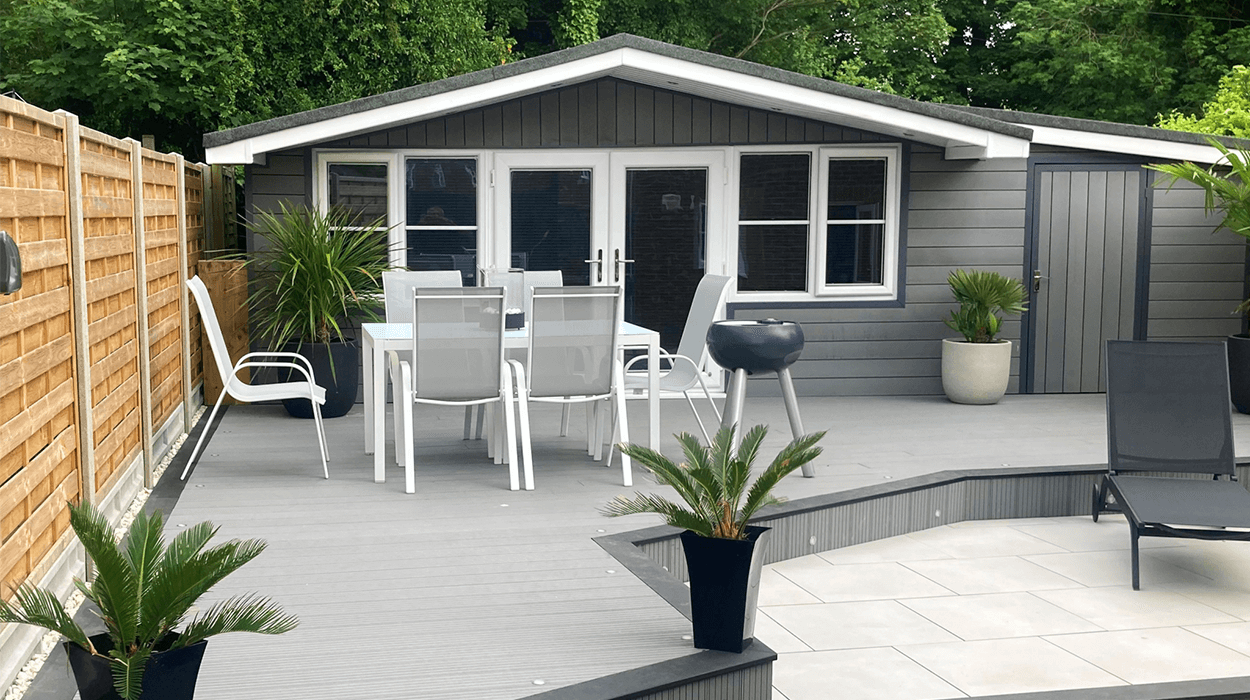 The project below has used our Composite Decking Boards in Stone Grey on this raised area and has finished the design with our Composite Fence Posts and Post Caps in matching Stone Grey for the balustrades. These additions, as well as the stylish grey furniture, makes for a contemporary living space that blends seamlessly with the rest of the garden and the natural stone within the gabion walls.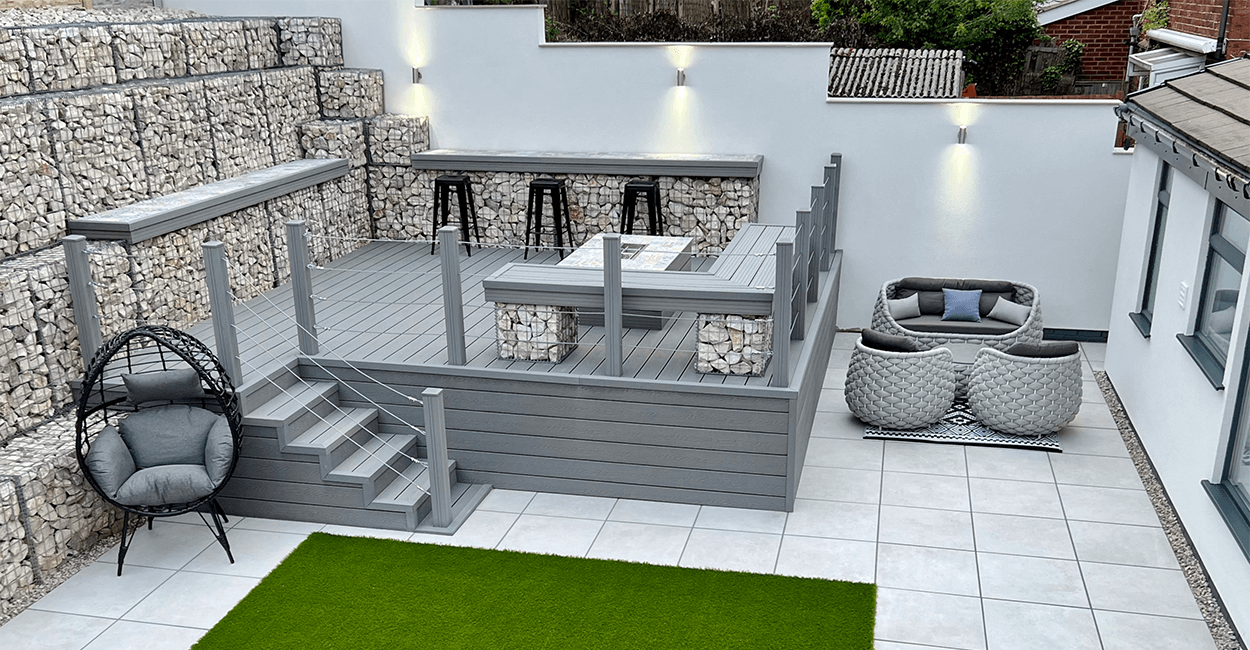 CONTRASTING COLOURS
As well as blending similar shades of grey together to style your deck, contrasting greys with pops of other colours is also a fantastic way to breathe life into your outdoor space.
The below two projects have taken the subdued, neutral shades of grey in their decking, and contrasted them with the more natural, warmer shades of brown and timber on the adjacent cladding. This brings warmth and interest to the final garden design, bringing traditional and contemporary tones together.
Adding bright furniture like orange chairs, green cushions and potted plants such as below tie the look together, making these two grey decks a more colourful place to relax - without clashing.
The natural brown/dark brown colour shades within natural timber cladding work well alongside subtle greys
Another popular way to enhance your grey decking project is to add a picture frame effect. This is when you finish your main deck area with a different colour, or in this case, a different shade of grey on the edges - to create a sleek, framed finish and added interest.
For a solid, rounded-edge finish to the edge of your decking, you can install our Composite Bullnose Boards. See image captions for colour combination details.
Some of our favourite examples of how Cladco customers are using grey composite decking:
What is the best grey for a deck? Light or dark grey?
This all comes down to personal preference and what colour would suit your space, its decor and your personal style the best. Light Grey Composite Decking is less likely to show any light marks and will fade less in direct sunlight in comparison to dark grey.
Does grey Composite Decking fade?
Cladco Composite Decking Boards have UV-resistant properties. However, like anything installed outside and exposed to the sun and other elements, Boards may fade over time. This should only give the Boards an attractive weathered look. The Light Grey Composite Decking Boards are likely to fade less noticeably than darker Charcoal Boards for example.
Does grey Composite Decking get hot?
Composite Decking is designed to retain as little heat as possible, and unlike plastic decking, will not get hot to the touch on warm, summer days. Boards are also UV resistant, which can help reduce colours from fading in time.