Adding Cladding to the entire or part of your house, garden studio, or garage is a fantastic way to spruce up or transform your home. This fantastic garden studio has been Cladded in Cladco Composite Teak Wall Cladding Boards.
For a stylishly clad home, ensure your Wall Cladding is installed in an attractive colour (Cladco Composite Cladding Boards are available in eight stylish colours) which either complements or contrasts any additional colours within the design. While also making sure the Cladded walls are accessorised with windows, plants or Fascia Boards when possible.
The vertical design of the Boards creates an attractive, modern build. The Teak Cladding contrasts perfectly with the white flagstones and the darker features, which draws the eye.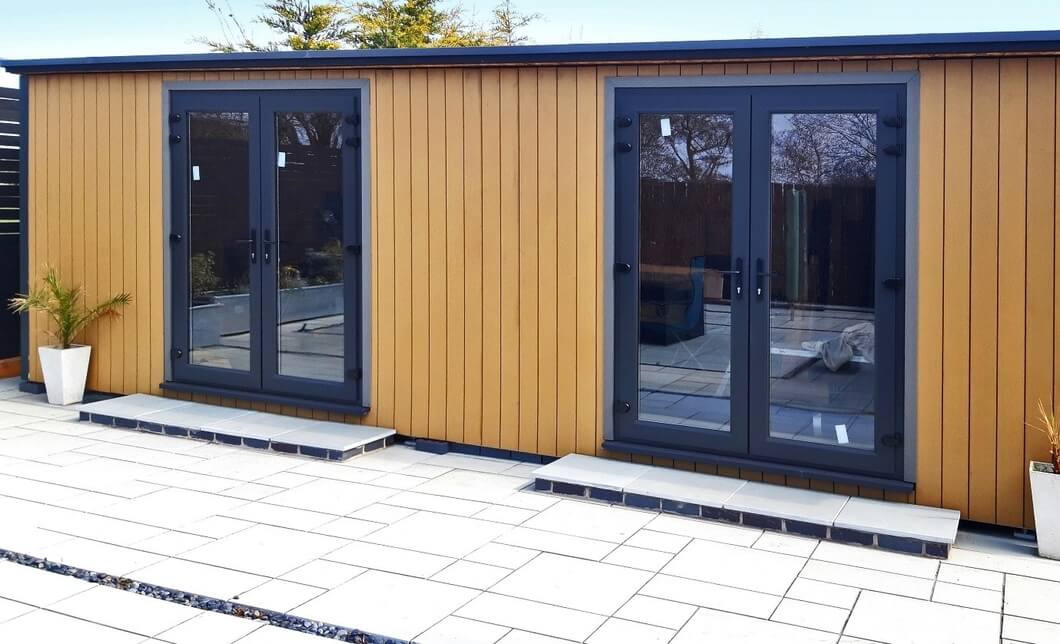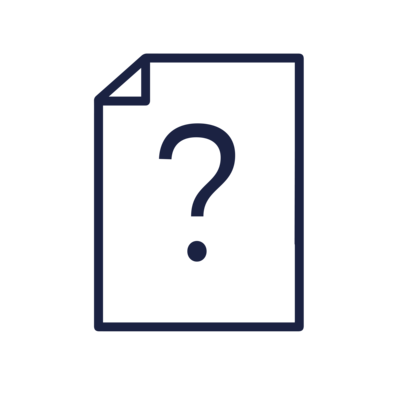 Cladding is a term that widely refers to the external layers of a building. Nowadays, Cladding often comes in pre-made panels, boards or tiles, which are easily fixed together.
Traditionally, houses in the UK were built with solid walls, reaching undisturbed from the base of the building to the rafters, in materials found naturally in the area, such as timber, stone or clay. In addition to this, British homes are designed to retain heat and keep the wind and rain out; the thick walls helped aid this.
However, in the 20th Century, the way we built houses changed. Instead of one thick wall making up the exterior of a building, walls are now constructed using an inner and an outer layer, with cavities and gaps between the two rather than the two solid throughout.
The outer area of the wall, otherwise known as the Cladding, no longer needed to provide any load-bearing duties, with the sole purpose to protect and weatherproof the building. As a result, the exterior outer Wall Cladding has since evolved into the lightweight, attractive Cladding we know today, which is used for aesthetic more than protection on modern builds.
Cladco Composite Wall Cladding Boards:
Cladco Composite Wall Cladding Boards are made from an amalgamation of 60% recycled plastics and 40% recycled FSC accredited wood fibres.
Cladco Composite Wall Cladding Boards can be fitted either vertically or horizontally, depending on your preference. Cladco Composite Decking Boards have a range of benefits including:

Available in a range of eight colours

Environmentally friendly, made with 100% recycled materials

Low-maintenance, do not need to sand, stain or varnish, simply clean when necessary

UV Resistant, Boards should not fade.

Rot, insect and stain-resistant.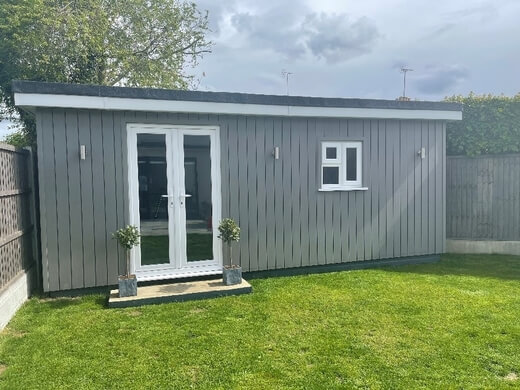 The Light Grey Composite Wall Cladding Boards have been installed vertically on this garden room.
The Vertically installed Wall Cladding Boards in this design make this studio look smaller and help it to blend into the fences on either side.
The Light Grey of the Cladco Composite Cladding Boards complements the white skirting of the doors, windows and soffit beautifully.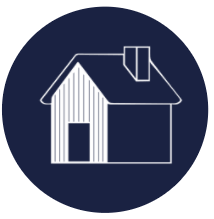 Why install Cladco Composite Wall Cladding vertically?
Cladco Composite Wall Cladding can be installed either vertically or horizontally, there are no additional benefits for installing in either way, it is purely down to the customers personal preference and aesthetic.
For most homeowners, adding Cladding is a way of transforming and redecorating the exterior of their home, and they may well have specific spaces in mind they want the Wall Cladding.
Installing your Cladding Boards in a vertical design gives your home a unique and contemporary appearance while also giving the illusion that your home is taller/bigger than it is.
Once you have a suitable supporting subframe in place, with correct Battens and spacing between them, Cladding can be fitted, to a degree wherever you want it on your home. If you want the Cladding to cover the entire house, across a dorma window, or around the edges of doors and windows. Find out how to create a suitable substructure and how to clad your home here.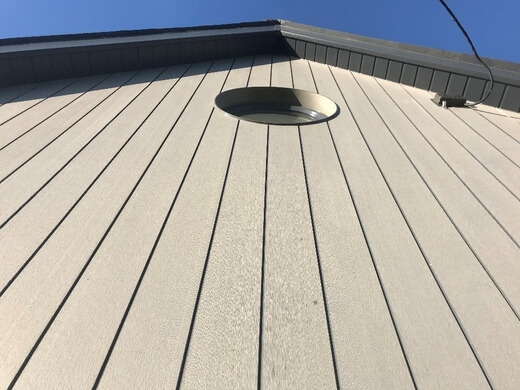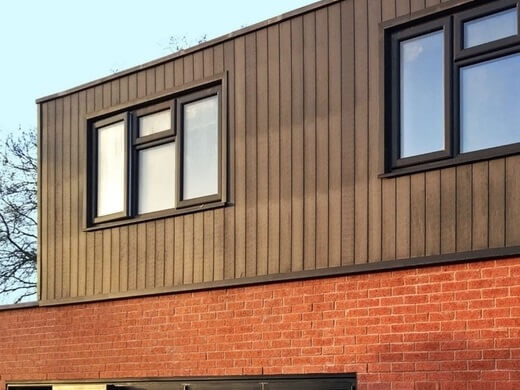 The first image above shows how this stunning Vertically Clad Home has created a modern, yet smooth exterior. The Cladco Composite Stone Grey Wall Cladding has been fit exquisitely around the port-hole designed window. While the soffit of the building has been covered using Cladding Boards for an uninterrupted construction.
The project in the second image above has used Cladco Composite Wall Cladding Boards in Charcoal, vertically installed on the second half of the building. Drawing your eye to the roof. The dark Charcoal Wall Cladding Boards contrast beautifully with the red brickwork, creating a contemporary, sophisticated structure.
This project (pictured above-left) has stylishly added vertical Wall Cladding in an elegant and understated way. Stone Grey Composite Wall Cladding has been vertically installed on this dorma style balcony window. Creating a new feature for the home. The vertical Cladding Boards start protruding from the roof, getting longer as they reach out to the windows in an attractive and sophisticated way.
Adding Cladding to your home doesn't just mean installing it on the exterior walls. This home (pictured above-right) has continued its Wall Cladding leading up to their door, creating an uninterrupted narrative of the vertical Stone Grey Cladco Composite Wall Cladding Boards. The Vertical Boards give the illusion of a bright and high ceiling entranceway.
Adding vertical wall cladding to smaller buildings is an easy way to make space look larger and taller. Cladco Ivory Wall Cladding Boards have been used to Clad this Shepherds Hut (pictured below), transforming this traditional farm cabin into a contemporary, stylish rustic Shepherd's hut.
Cladco Composite Wall Cladding Boards can be used to make your building blend into your surroundings, stand out from the crowd or turn it into a unique and wonderful aesthetically pleasing building. Cladco Composite Wall Cladding Boards are installed onto supportive Battens and slot together efficiently and effectively. Installation guides can be viewed here.
For further inspirational images, see our gallery, or follow our social media platforms, Facebook, Instagram, Twitter and LinkedIn. 
Find out more about Cladco Composite Wall cladding via our website, ordering a sample pack or calling our friendly sales team on 01837 659901