Composite Decking and our much-loved pets
Here in the UK we love our pets; we have Instagram pages, bedrooms, daycares - even cafes all dedicated to our furry friends, and in 2023 the UK had an estimated pet population of 22 million domestic cats and dogs.
With that, it comes as no surprise that one of the most-asked questions from pet owners regarding Cladco Composite Decking is, "Is it is safe for our four-legged friends?" In this blog, we will be answering this in as much detail as possible, with plenty of cute #petsondeck photos along the way!
*Please note that Boards installed with the wide-grooved side up do not benefit from having lower-slip properties.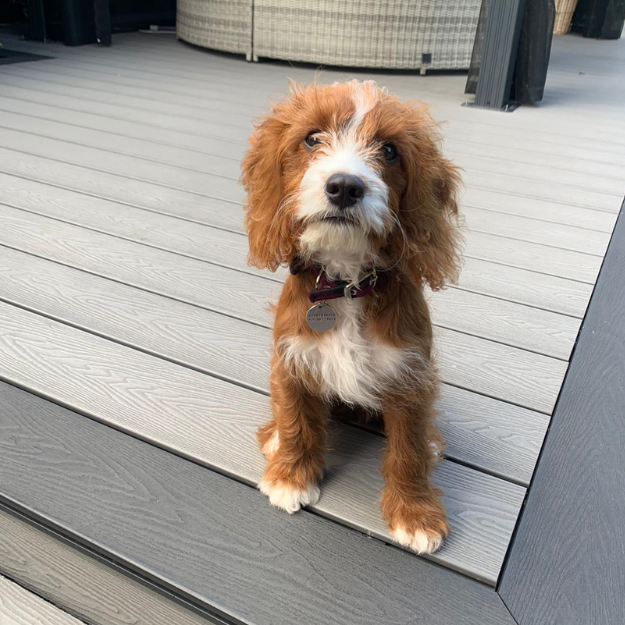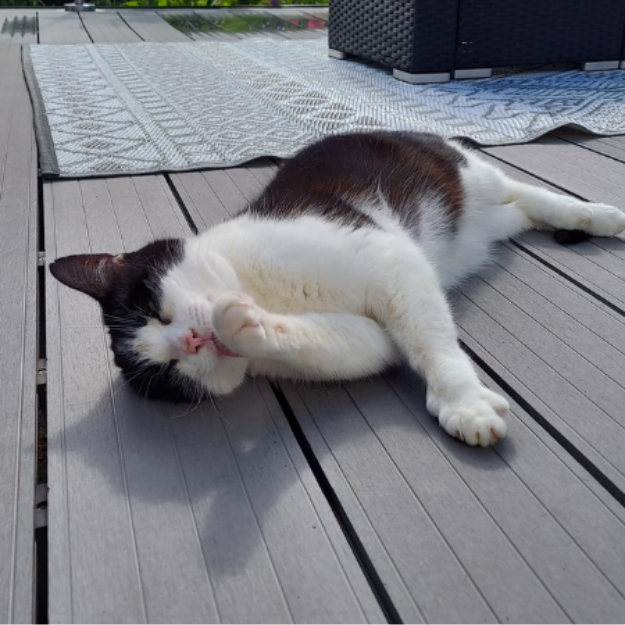 Is Composite Decking safe for dogs?
The main concern for most responsible pet owners who are thinking about installing Composite Decking in their garden is the risk of injury to their pets. Owners want a dog-friendly deck, with Cladco Composite Decking material being just that.
Composite Decking, unlike traditional Timber Decking, will not rot, warp and splinter over time thanks to the 60% recycled hardwood fibres and 40% recycled plastic components that make up the material of the Boards. This composition reduces the risk of injury to both your pet's paws and your own bare feet, with there being no sharp or jagged pieces of damaged wood for them to get caught on.
As well as this, when Cladco Composite Hollow Decking Boards are installed with the narrow-groove side facing up, they have improved low-slip properties* in comparison to hardwood decking, and so there is no need to worry about your furry friend sliding across wet decking - and into your patio doors!
Along with being durable, splinter-resistant and low-slip, Capped Composite Decking materials are virtually maintenance-free and do not need to be regularly treated or stained like wood decking does.
In fact, you can easily clean Composite Decks with warm, soapy water or a good-quality Decking Cleaner, making mucky paw prints and nose smudges a thing of the past.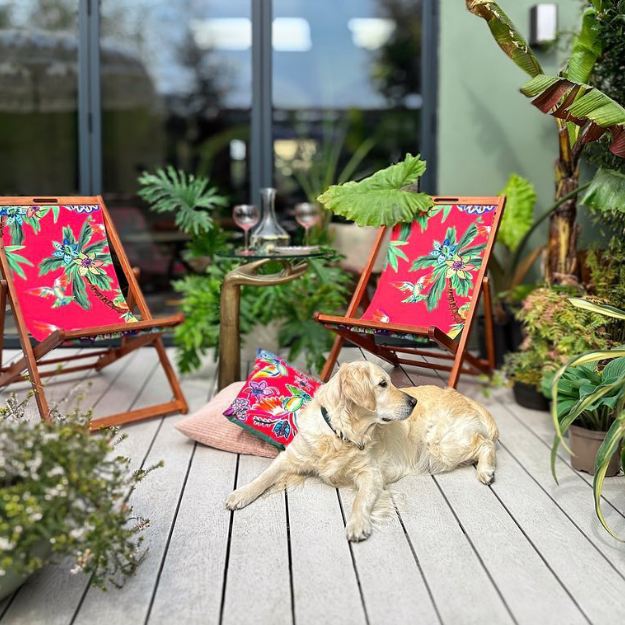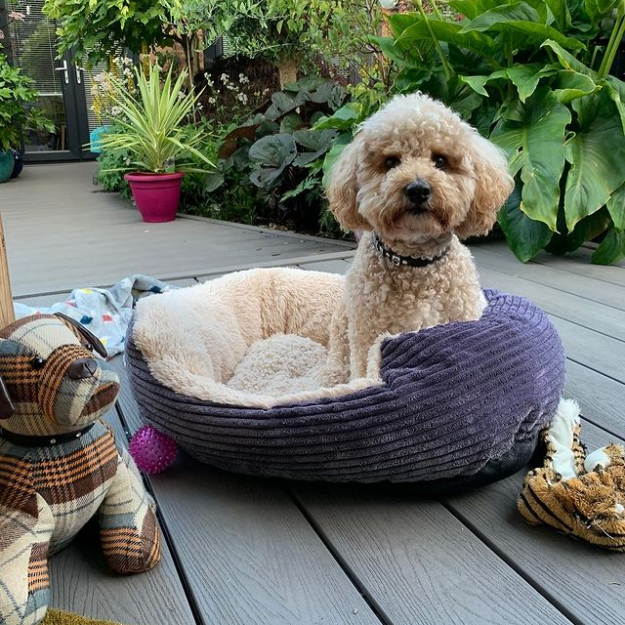 How about when your animal companion has to relieve themselves? Bathroom breaks are an inevitable part of dog ownership, but with Cladco Composite, even if your pets do decide to "go" on your new Decking, the low absorption rate of the Composite Boards means you can simply wash away any messes without permanent staining - although it is always best to encourage your pets to do their business in a different outdoor area to start with!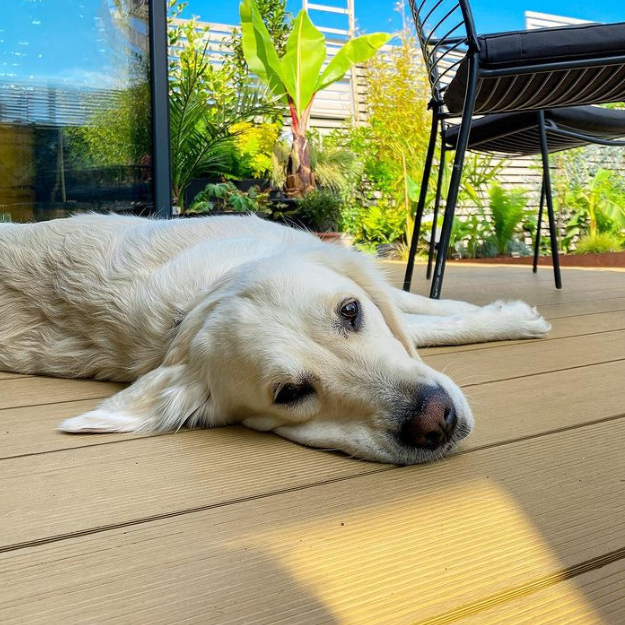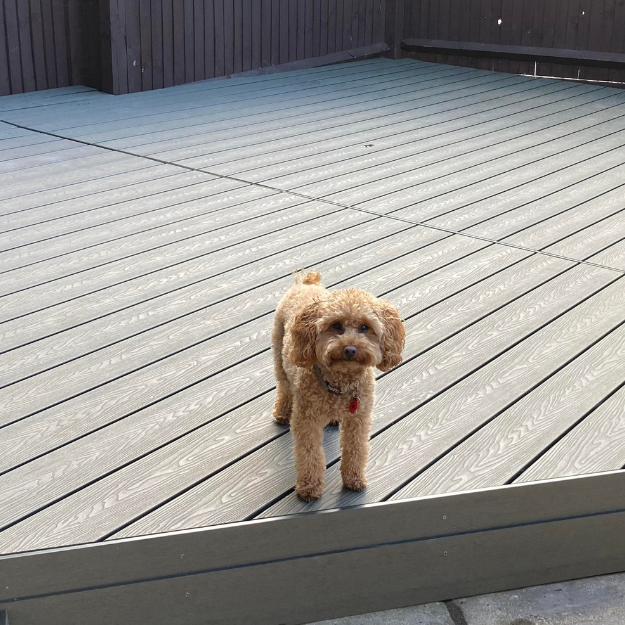 Is it safe for my dog to spend a long period of time on my composite decking?
Most family pets love to bathe in any small sliver of sun they can find. The good news is that Cladco Composite Decking is UV resistant* and long-lasting, meaning the surface colour on the Boards is less likely to fade and keeps your outdoor living space looking newer for longer - even with your furry friend lounging around in the sun all day.
*Please note some fading may occur over time due to the natural fibres within the boards.
Another point to note is that the lighter colours within the Cladco Decking range (Ivory and Light Grey for example) will absorb less heat than the darker colours in the range (think Charcoal, Coffee and Redwood), but rest assured your pet pooch (and human family!) should be able to relax in the sun without the worry of the decking overheating for years to come.
*Please note that if left for hours in the heat then composite decking will get hotter than usual. Be sure to provide your dog with plenty of shade and water for additional safety on hot, sunny days.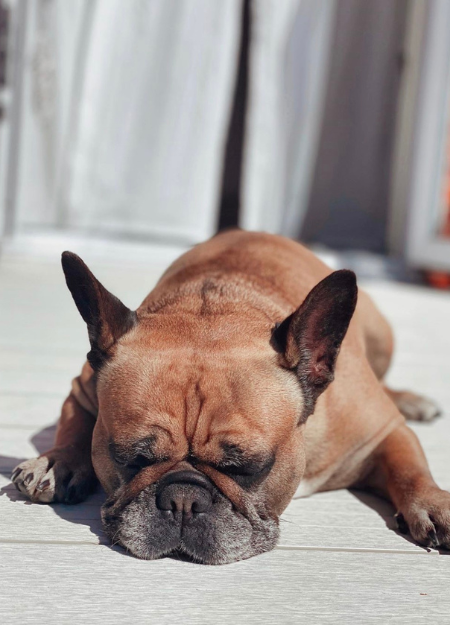 So, if you're a pet owner looking to find the ideal decking for you and your four-legged friends, Cladco Composite Decking is a great option to look into. It comes in a range of eight attractive colours and two finishes, is a perfect low-maintenance way to makeover your garden, and most importantly, is paw-friendly and pet-safe!