Here in the UK we love our pets, we have pet Instagram pages, pet bedrooms, pet daycares, even dog and cat cafes (Maison de Moggy as one example, found in Edinburgh), you name it, we probably have it. In 2018 the UK had an estimated pet population of 17million domestic cats and dogs.
So, it's no surprise that one of the most asked questions regarding composite decking is if it is safe for our four-legged furry friends, in this blog we will be answering as many queries as possible, while offering out some advice for all your pets on decks concerns.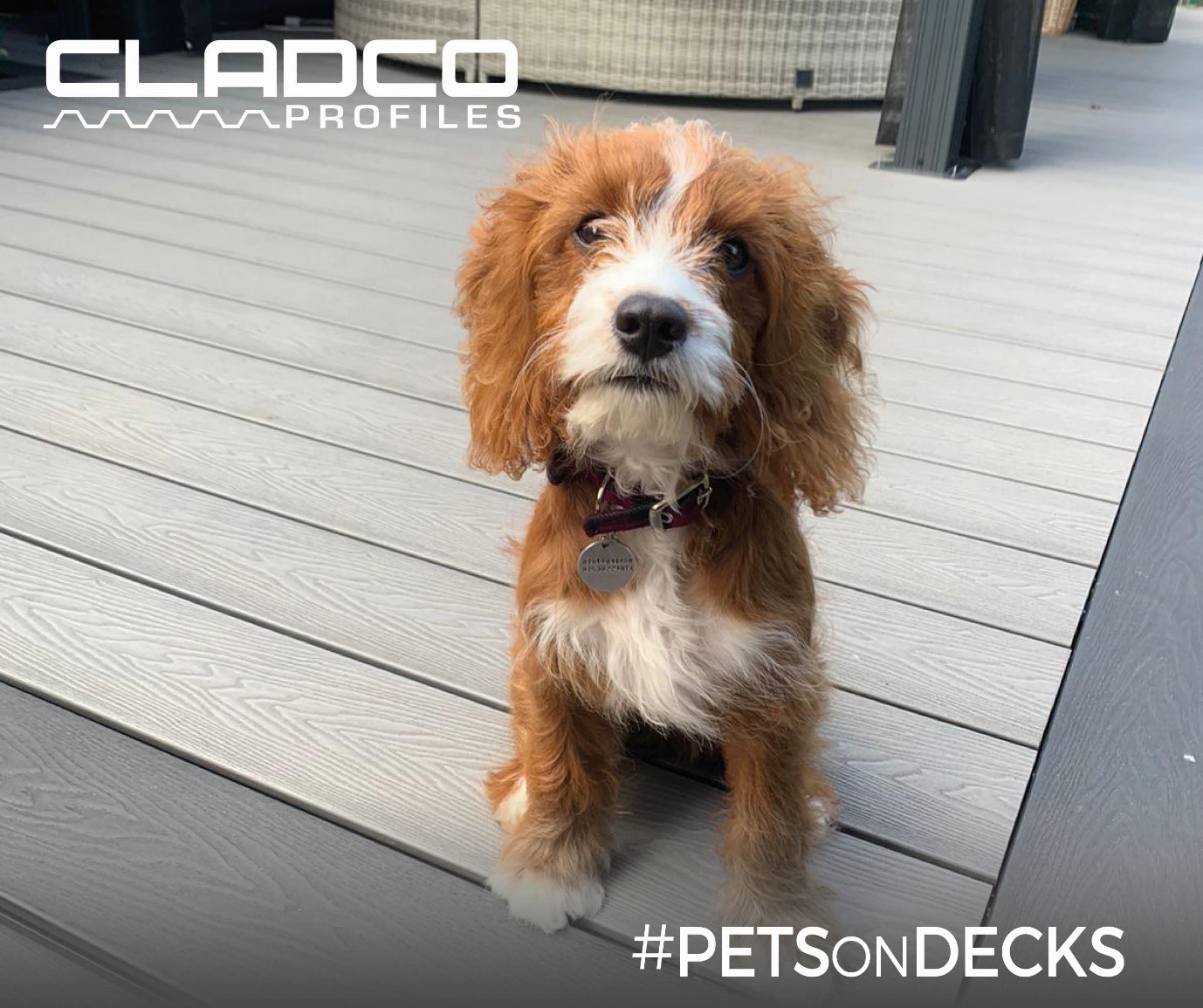 This adorable puppy is modelling her owners light grey woodgrain composite decking boards with a stone-grey picture board edging.
Is composite decking safe for dogs?
The main concern for owners who are thinking about adding some composite decking to their homes is the risk of injury for their pets. Owners want a dog friendly deck, and composite decking is just that, pet friendly, here's why.
Composite decking, unlike traditional timber decking, will not rot and splinter. The wood fibres and plastic components will not rot, warp or splinter, reducing the risk of injuries to your pet's paws. Keeping both your decking looking as new as the day it was installed and keeping your precious pals safe and splinter-free!
When Cladco Composite Hollow Decking boards have been laid narrow groove side up, they have low-slip properties. So, seeing your dog slipping and sliding across wet flooring and decking is a thing of the past. Cladco composite decking's low slip properties allow even the most excited of pooches to launch across the decking without slipping over.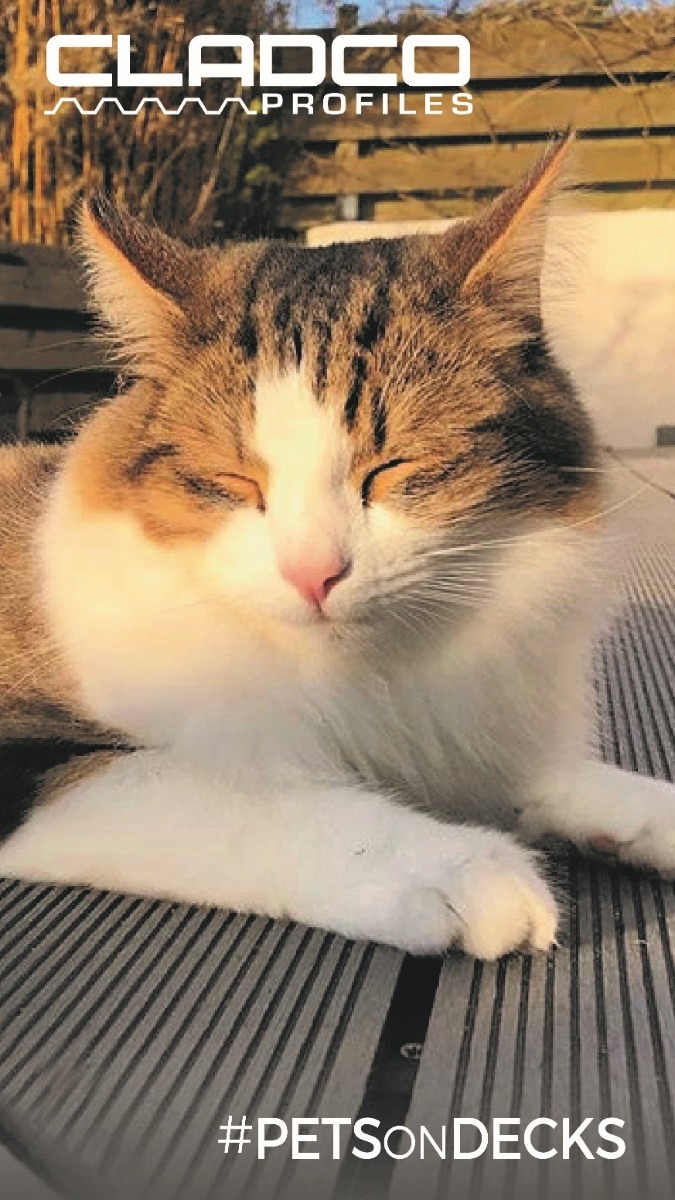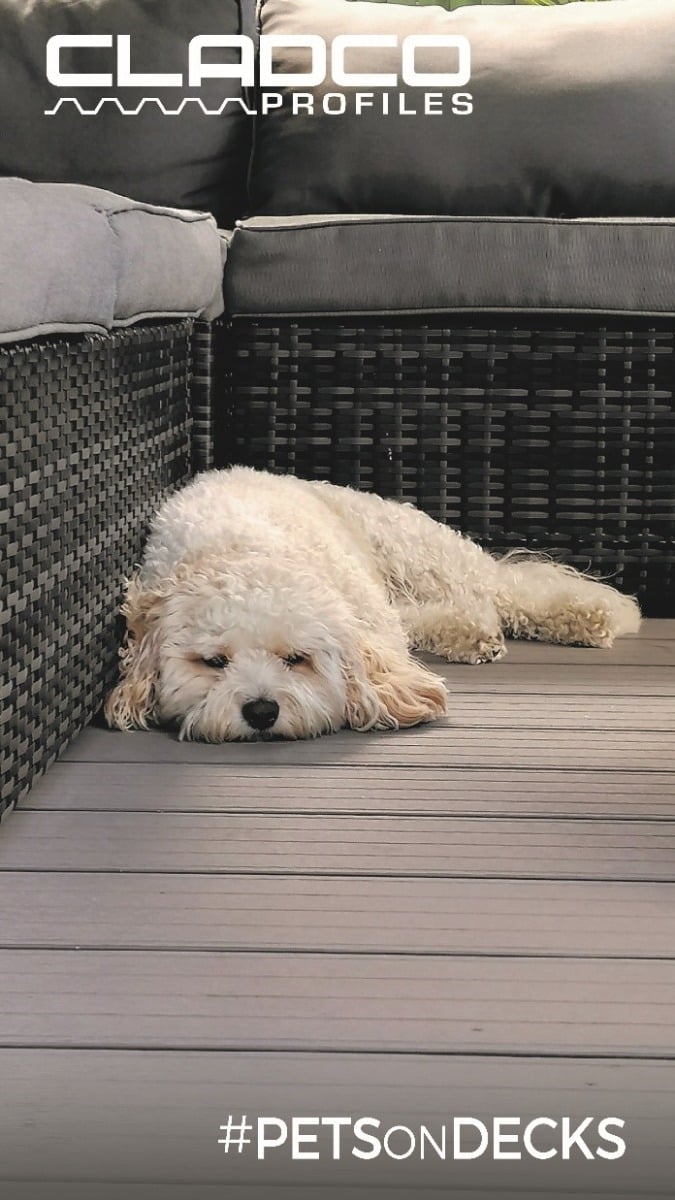 This feline friend is soaking up the sun while relaxing on Cladco Composite Hollow Stone-Grey Decking
This pooch is relaxing on Cladco Composite Decking in Stone Grey, please note that this decking has been laid on the reverse, we recommend laying with the narrow groove side up
---
Is my composite decking safe from my pets?
The excuse 'my dog ate my homework' has been flying around schools since the invention of homework. However, it is true, dogs (and cats) do have a way of creatively playing, aka, destroying anything they can get their teeth into.
So, what's the point in spending lots of time, money and effort in adding a beautiful feature to your garden just for the dog to destroy within a matter of months? Composite decking, unlike timber decking, is not seen as one giant stick for your teethy tyrants, so is less likely to be gnawed on!
Thanks to the tightly packed wood and plastic fibres your pet's claws will find it hard to scratch and mark the surface. (When decking has been laid narrow groove side up when following Cladco installation guides) Please note, when laid on reverse, narrow groove side down, that while certain scratches may not show, because it is part natural product some marks may appear.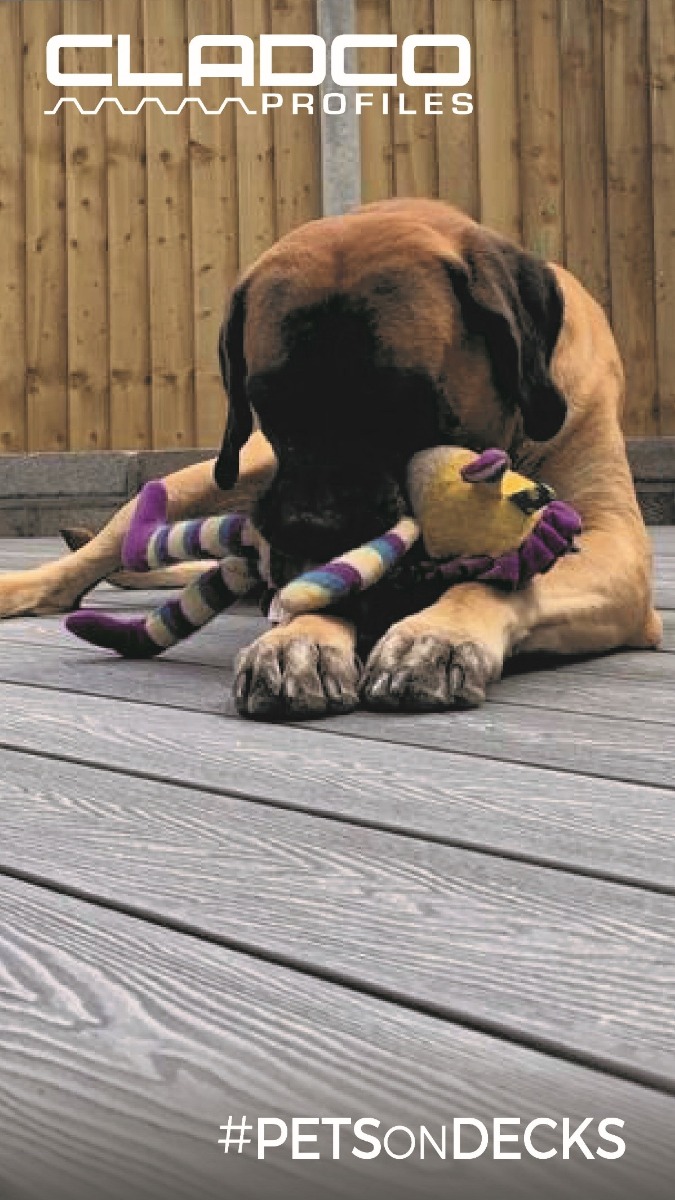 This English Mastiff is chilling on his owners Cladco Composite Hollow Woodgrain Decking in Stone Grey
What about when your pooch has to relieve themselves? Bathroom breaks are inevitable when you own a pet, with Cladco composite decking, even if your pets decide to relieve themselves on your composite deck, simply spray a hose or water across the decided toilet spot and your deck will be good to go. Unlike with gardens or timber decking, thanks to composite decking's low absorption rate, no staining or side effects will occur. However, if your deck has been lain on concrete, or with a weed mat underneath, to prevent any urine smells you may want to either discourage any toilet breaks or properly wash the waste away.  
This wonderful Westie is enjoying the use of her owner's garden furniture on their kitted out Cladco Composite Decking in Stone Grey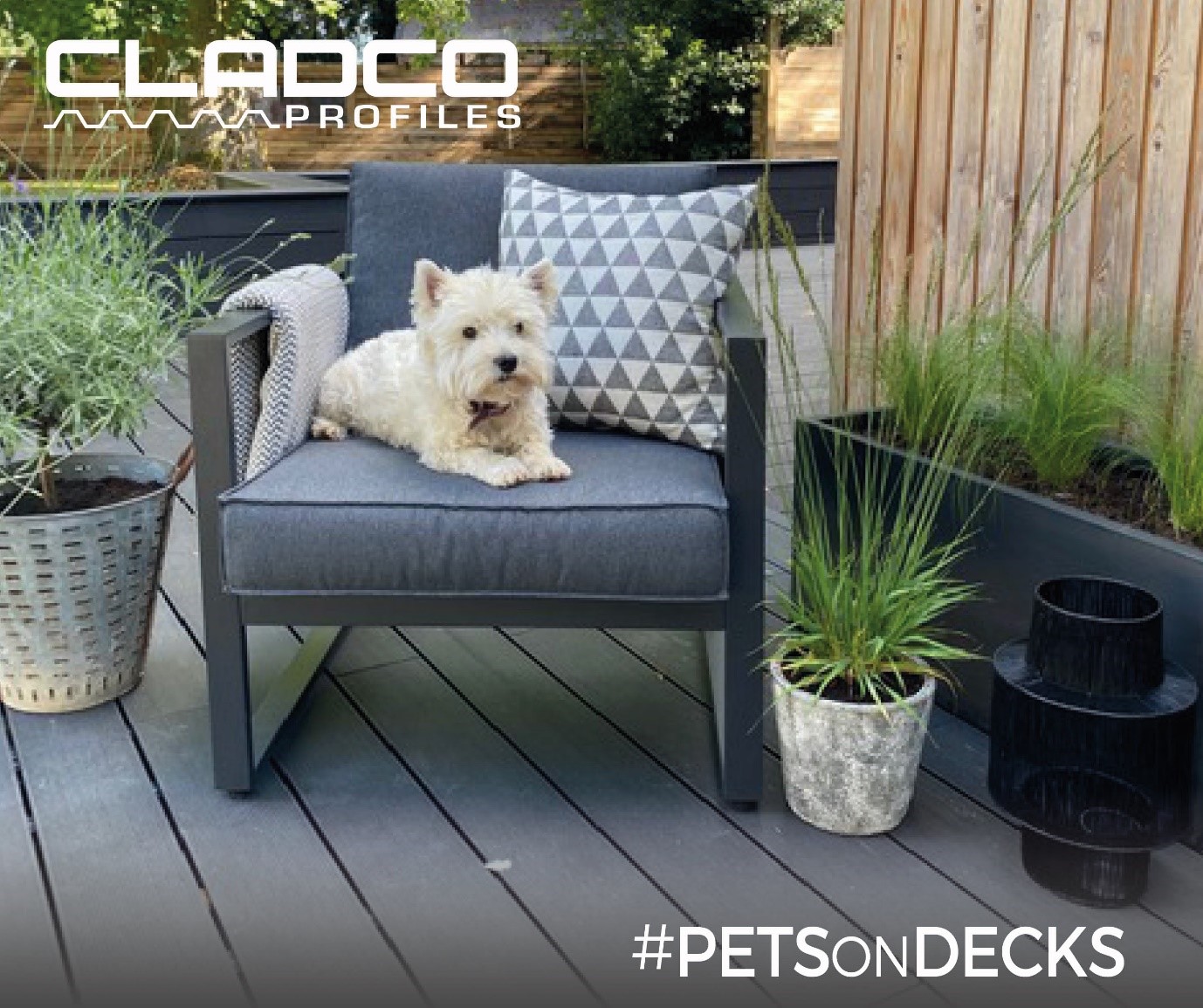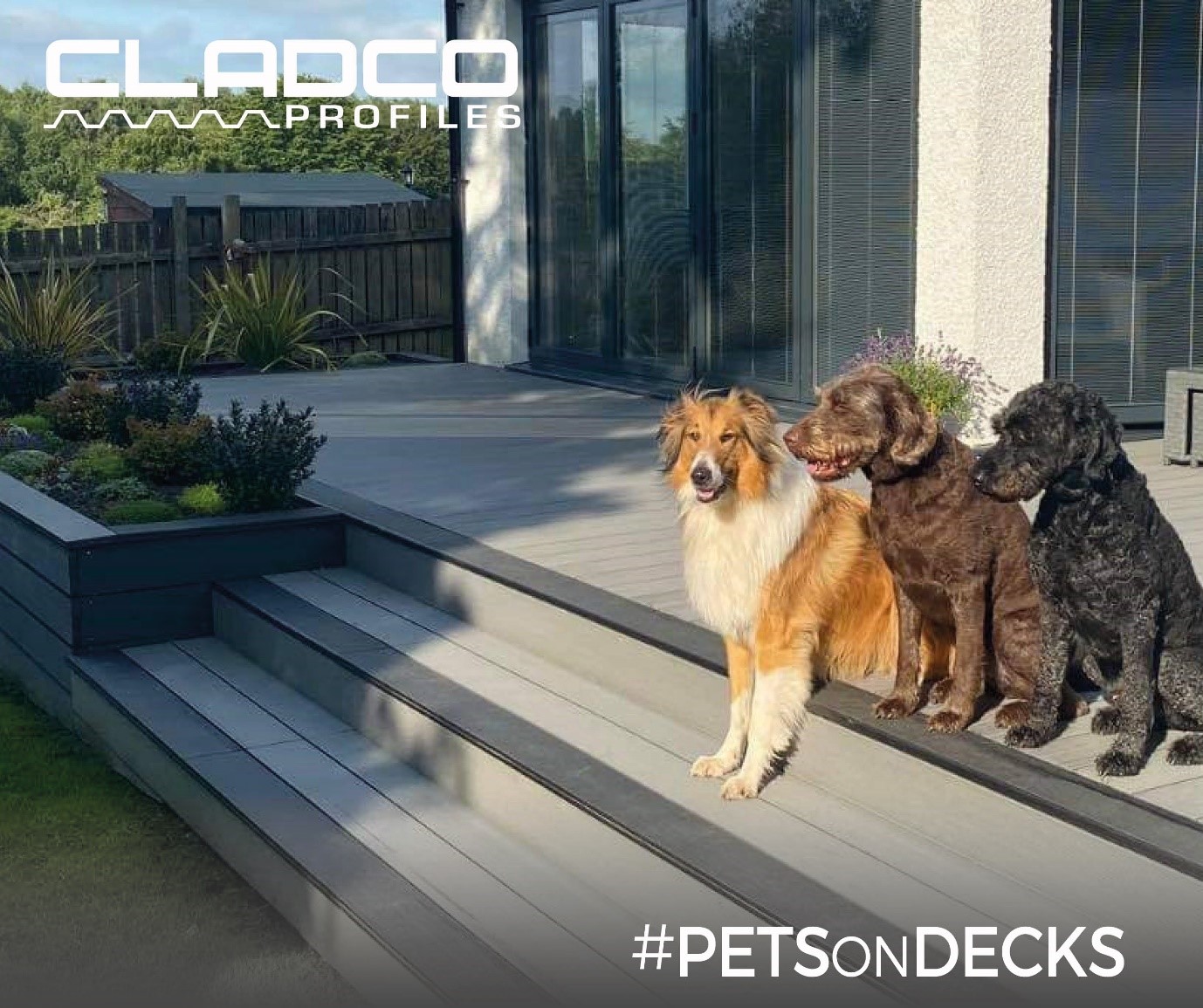 Is it safe for my dog to spend a long period of time on my composite decking?
Most dogs love to bathe in any patch of sun they can find. You'll be happy to read that Cladco Composite decking is UV resistant. Meaning the colour is less likely to fade, staying looking new for longer even with your furry friend lounging around it. Please note some fading may occur due to the natural fibres in the boards. Lighter decking colours will absorb less heat than our darker decking range, but your pooch should be able to relax in the sun without having to worry too much about the decking overheating.
Please note that if left for hours in the heat then composite decking will get hot. Be sure to provide your dog with plenty of shade and water for hot sunny days.
This trio is enjoying the sunshine on their Cladco Light Grey Composite Decking with Stone Grey Picture Board.
So, if you're a pet owner and wanting to find the ideal decking for you and your four-legged friends Cladco Composite decking comes in a range of colours and finishes, a perfect low-maintenance way to make-over your garden without neglecting your pets!