This luxury holiday cottage by Oakwood West Holidays required a high-quality Decking space fit for purpose. Cladco Premium PVC Decking Boards offered all the qualities the company was looking for, including a realistic woodgrain effect surface and durability around an outdoor kitchen area.
Without any natural wood fibres, the durability of the tough ASA-resin shell, combined with water-resistant properties, made our PVC Decking Boards perfect for installation around areas prone to standing water, such as hot tubs.
The embossed woodgrain effect surface of Cladco PVC Decking Boards complements the natural elements surrounding the cottage, helping to enhance the overall experience for holiday-goers and visitors.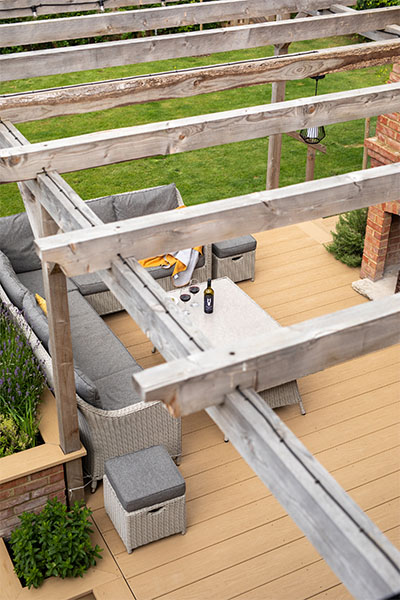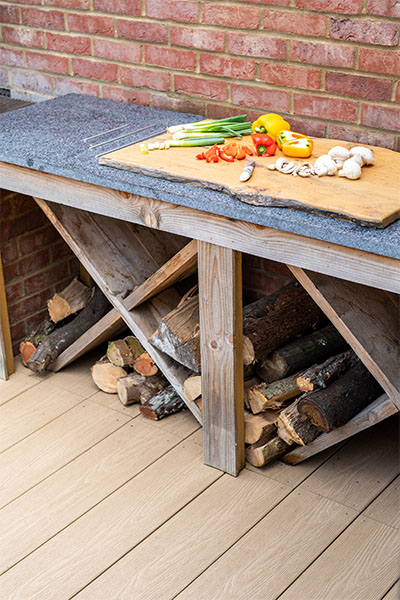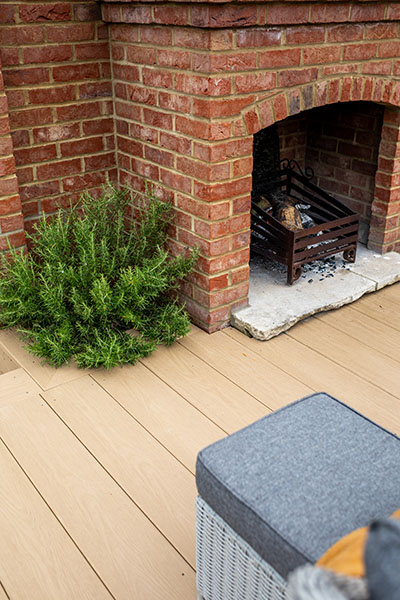 PVC Decking in Cedar Wood colour gives the holiday cottage the look and feel of realistic timber, complementing the existing wooden veranda overhead and the natural plants around the edges.
Cladco PVC Decking Boards are tough underfoot, which makes them perfect for heavy furniture, tables and chairs, as well as areas that experience high levels of footfall.
The hard-wearing ASA surface of our PVC Decking gives an extra level of scratch resistance over other Decking materials, such as Composite and Timber. This was a must-have feature for this luxury retreat.
Oakwood West Holidays opted for our Premium PVC Decking Boards for their scratch resistance properties, keeping them protected under this log store for the outdoor fireplace.
The warp-resistant properties prevent the Boards from expanding or contracting in changing temperatures, either from the ambient temperature or a hot fireplace.
PVC Fascia Boards in matching Cedar Wood colour have been installed around the steps to create a professionally-finished edge. The Boards' natural woodgrain effect blends in with the real wood panelling featured along the side cladding in front of the cottage's red brick wall.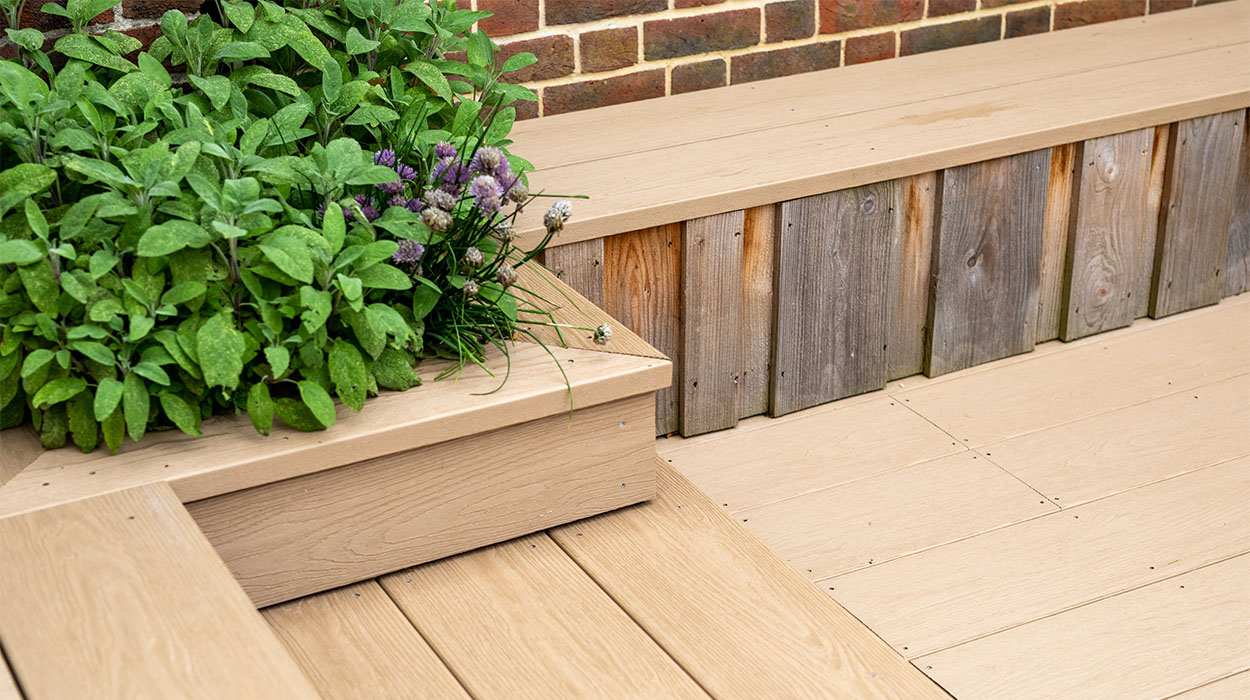 Premium PVC Decking Boards are supplied with a 20-year guarantee, reducing the lifetime cost of the Decking area. The low-maintenance benefits of Cladco PVC Decking are a major advantage over more traditional timber materials, requiring no sanding, painting or treatment to protect the surface of the Boards.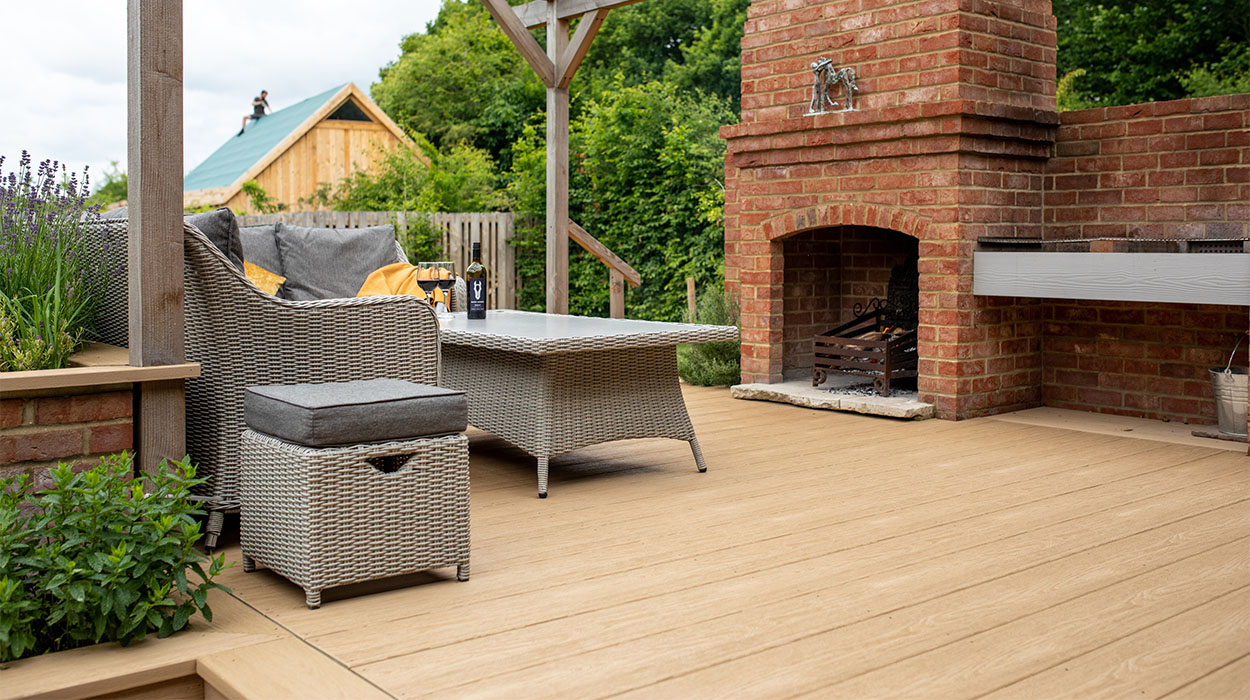 The ASA-resin shell manufactured around a PVC inner core means that Cladco PVC Boards are resistant to becoming saturated in water-prone areas, such as around hot tubs, preventing the Boards from expanding and warping; a major advantage for this holiday cottage.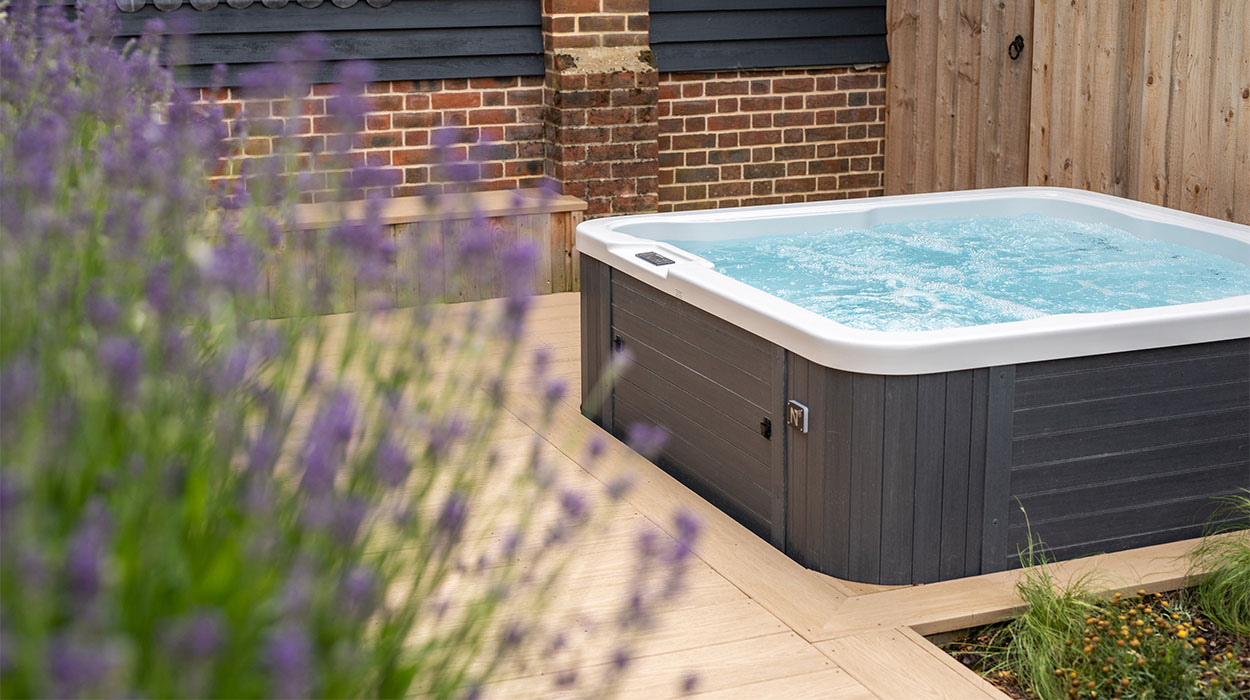 Oakwood West Holidays needed a versatile Decking material that could easily be installed around various objects and corners in the outdoor space of this cottage. Using ordinary woodworking tools, PVC Boards were adapted to fit around steps and flowerbeds, providing additional seating and decorative edging.
For FREE Samples of our Premium PVC Decking, head over to our Samples page to pick your two preferred colours.
Learn more about our Premium PVC Decking Range online. Alternatively, contact us directly on 01837 659901 to speak with our friendly Sales team for more information or a no-obligation quote.