You can upgrade your indoor living space without the need for a total makeover, with the simple addition of interior wall panelling - also referred to as Wainscoting.
Wall panelling is typically thought of as a way to add character and design flair to your home, by applying (mainly wooden) panels directly onto your interior walls for added insulation and style.
There are many inventive and budget-friendly wall panelling options to choose from to suit your home, from shiplapping to slatted panelling and raised panels to 3D designs.
In this article, we take a look at a selection of wall panelling ideas that you can use to transform the look and feel of your property in an instant.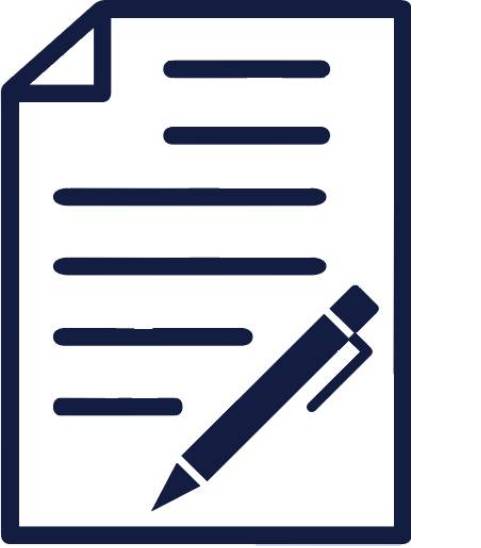 Shiplap wall panels
Beadboard wall panels
Board-and-batten wall panels
Raised wall panels
Slatted wall panels
Pallet wood panels
3D wall panels
Tongue and groove wall panels
Victorian wall panels
How to style wall panelling in your living room, bathroom and hallways
Environmental considerations
Traditionally the term "shiplap" cladding derives from its original use, which was to protect the outside of ships at sea from harsh weather conditions and crashing waves - before later being utilised as an exterior cladding material to protect and insulate buildings' walls.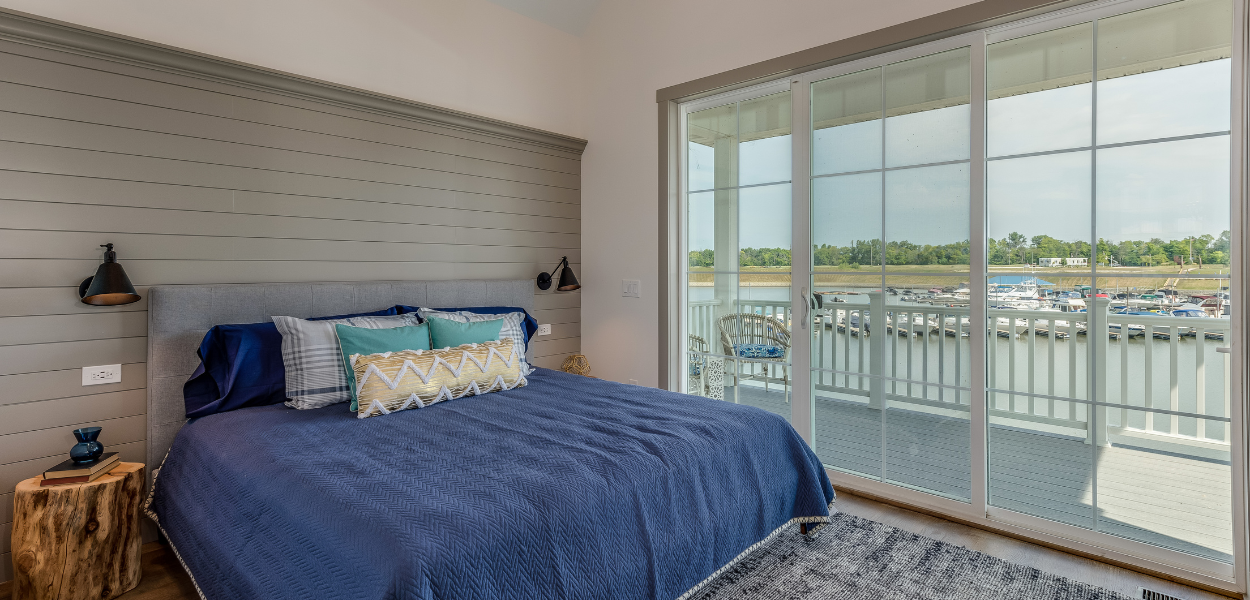 Floor to ceiling: shiplap wall panelling installed as a feature wall/headboard in this coastal bedroom
These days, shiplap wall panelling is commonly used as an interior wall covering thanks to its modern rustic appeal, and in keeping with its maritime roots, is often found in homes by the sea and nautical-style holiday lets. It can also be installed on ceilings, as below: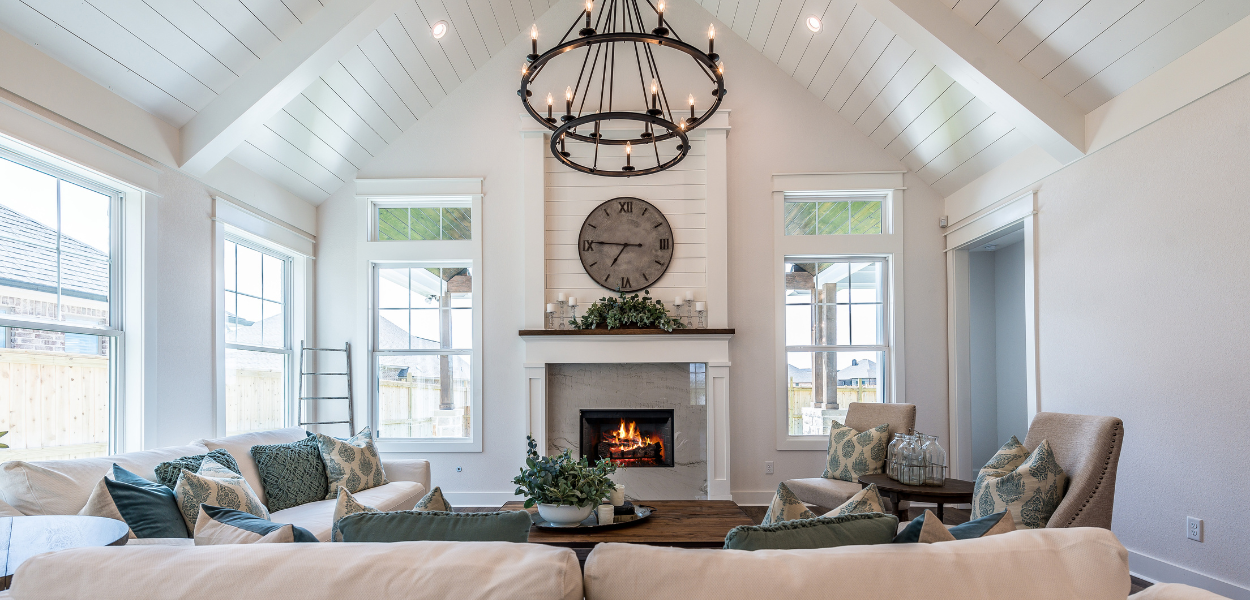 Floor to ceiling: Shiplap cladding is a nautical style of wall panelling that can be installed on both walls and ceilings
The ways in which these panels are installed to walls is with alternating recesses called "rabbets", which allow each rough-sawn panel to be hung in an overlapping style horizontally or vertically.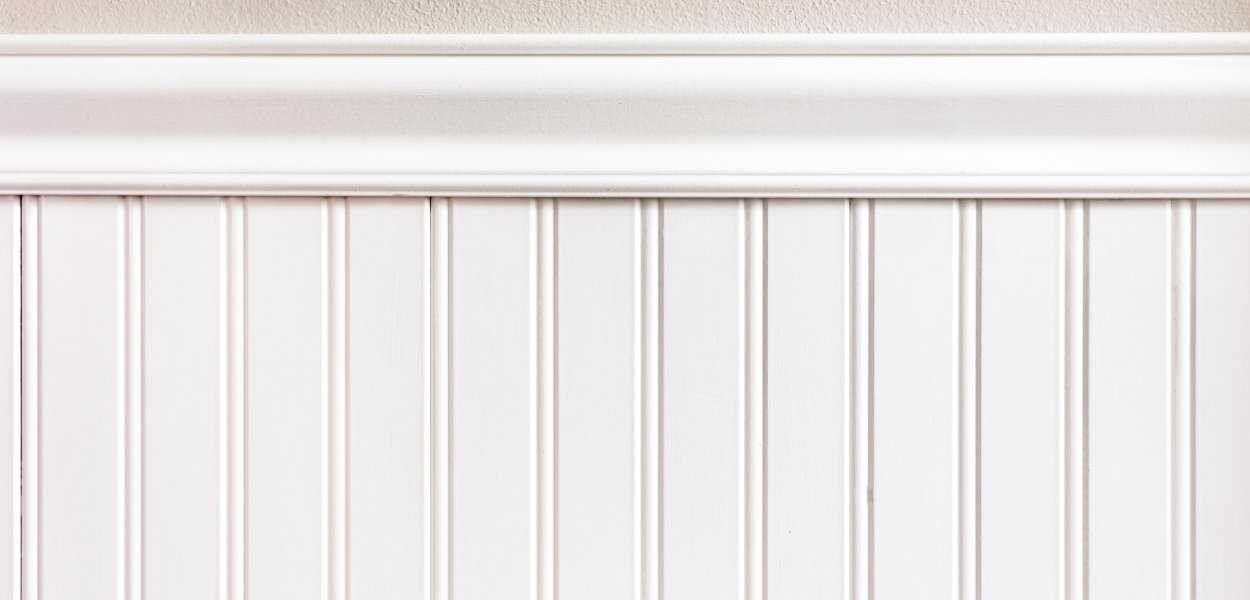 Beadboard cladding gets it name from the parallel beaded joins in the wood panels
Beadboard wall panelling gets its name from the combination of grooves and small ridges between each vertical board, creating an indented parallel beaded effect. These vertical boards are then completed with a decorative picture rail fitted horizontally along the top, for a neat installation that generally sits around a third of the way up the wall.
Often found in high-traffic areas of the home such as the hallway, beadboard panelling styles are an attractive and practical addition to your walls and will help to protect the lower half from knocks and dirt, whilst adding a rustic charm.
Beadboard panels are traditionally manufactured from natural wood, however, these days they are often available as PVC, vinyl or MDF panelling. For a basic installation, beadboard panelling can be applied directly to walls with a strong adhesive and finished securely with nails.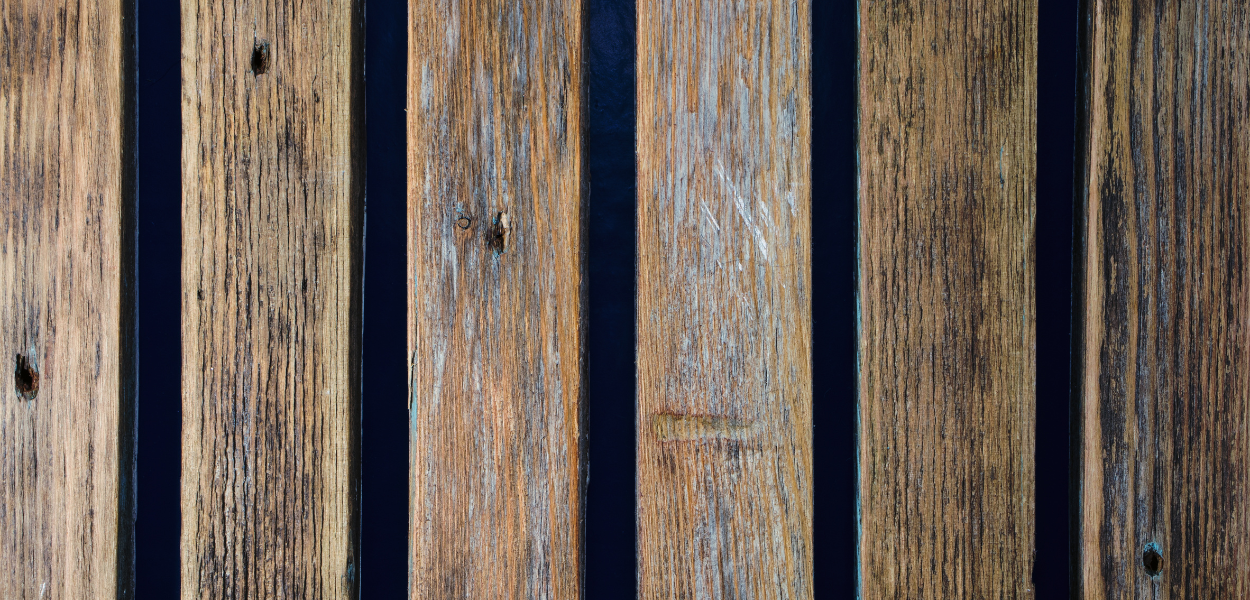 Slim, wooden batons are applied over the joints of wider wooden boards to creat a board-and-batten effect
The application of narrow strips of timber (battens) placed over the joints of wider strips of timber (boards) is known as "board-and-batten" panelling, with the pronounced profile creating an attractive, shadow-gap effect on the exterior or interior walls of your home.
Because of the low-cost and relatively easy-to-assemble properties of board-and-batten cladding, historically, it was often applied to the exterior of barns for additional strength and insulation - and is still to this day sometimes referred to as "barn-siding".
These days, its traditional charm makes for a brilliant interior design element within country homes and can add warmth whilst bringing a modern rustic look to living rooms and home offices up and down the country.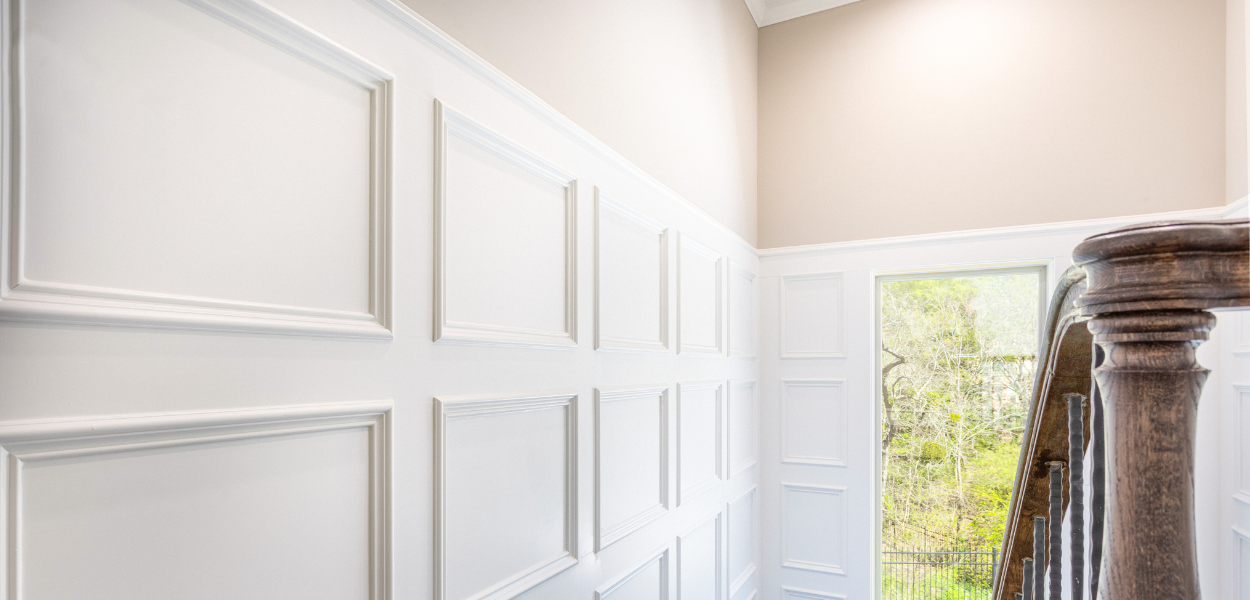 Raised wall panels using wood slats
One of the most popular ways to add wood panelling to your home is with the addition of raised panelling, also referred to as shaker-style wall panelling. This is essentially plain, square wall panelling that creates multiple frame-like designs across the wall.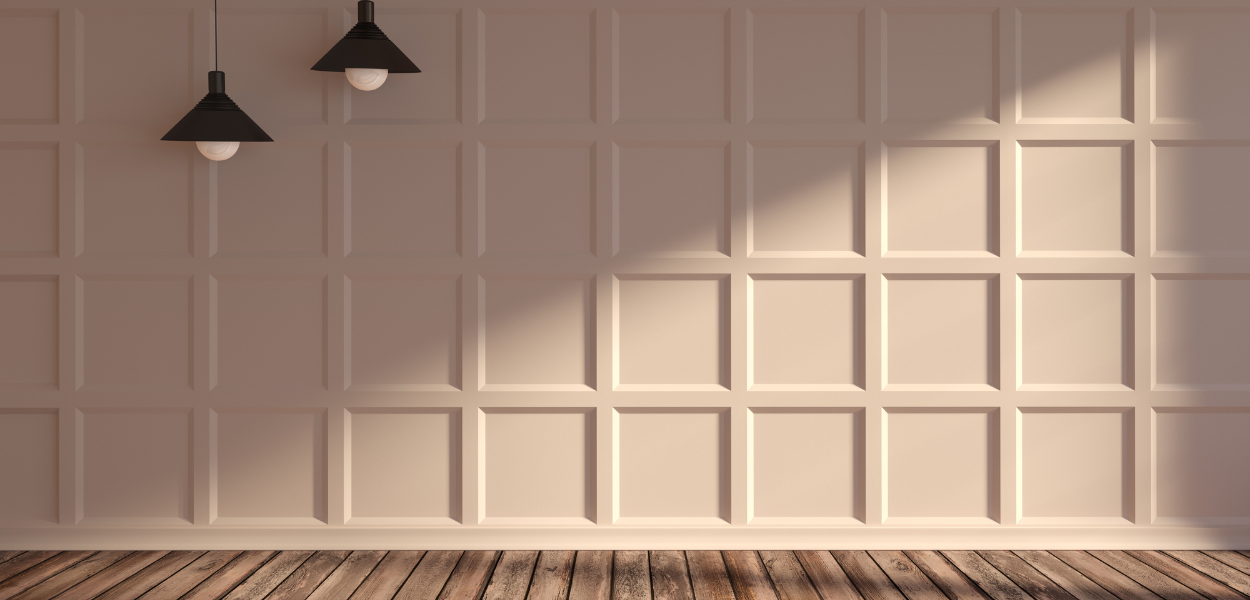 Wall covered in shaker panelling for a modern take on a traditional style
Raised panels are a perfect way to add depth and texture to any wall, and can be created by simply adhering thin strips of MDF, timber, or dado/picture rails to your walls in a uniform pattern.
Despite initially being associated with classic or formal rooms in stately homes, shaker-style wall panelling as it is also referred to, is now commonly found in standard properties up and down the UK thanks to their easy-to-install and transformative benefits.
Tip: If installing raised wall panelling yourself at home, be sure to use a spirit level and tape measure to mark out where you would like your frames to sit before installing, for a professional and level finish. Paint panelling and the entire wall the same colour to hide any timber hues and make for a fluent completion.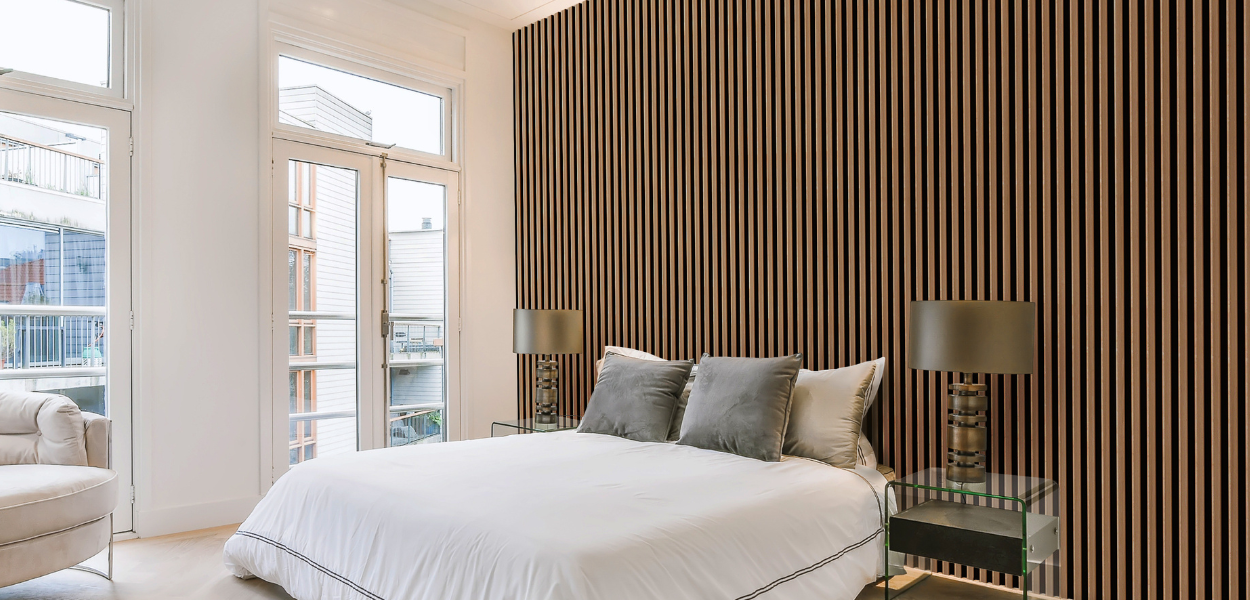 The perfect backdrop: Cladco Slatted Wall Panelling installed as an accent wall in a master bedroom
Slatted Wall Panels are an interior design solution that enhances both the visual appeal and acoustic properties of interior spaces. By applying Internal Slatted Panels to your walls you will gain warmth and texture with aesthetic appeal and durability. This slatted style is sometimes referred to as acoustic panelling thanks to its sound-enhancing properties and makes for a favoured choice in home environments ranging from offices to living rooms.
Cladco 2.4m Slatted Wall Panels are low-maintenance, lightweight, and easily installed, offering an immediate interior transformation. Manufactured from wood-veneered MDF, they emulate a realistic woodgrain surface, providing an authentic look with a modern twist.
Available in four natural colours, these internal panels can be installed both horizontally and vertically as a feature wall or around other architectural features like chimney breasts and wall-mounted TV units.
These large panels can be easily nailed, screwed or adhered to any interior wall whilst covering a large surface area.
Tip: Any holes or existing imperfections on the wall should be filled in prior to installation for a smooth and level surface. This is to allow for the adhesive to properly bond if you are choosing this installation method.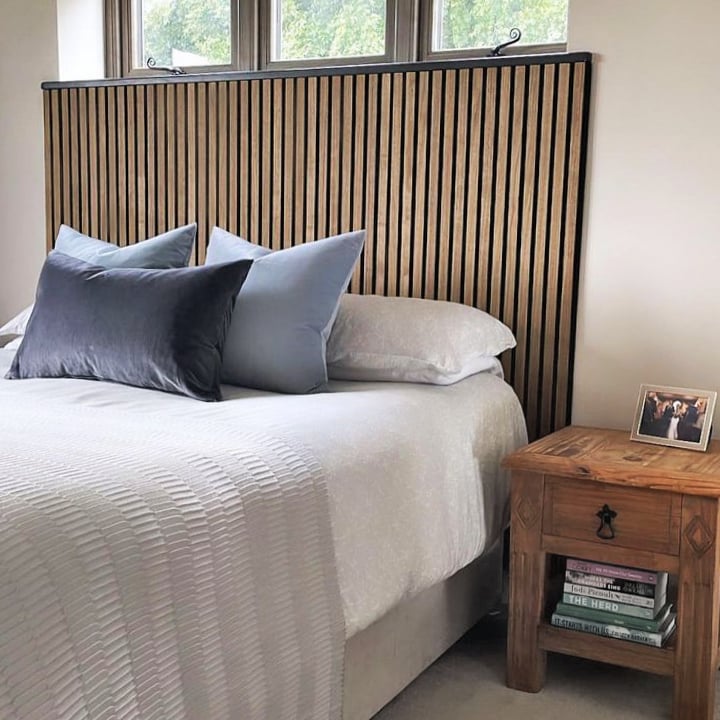 Slatted internal wall paneling is quickly becoming all the rage in UK homes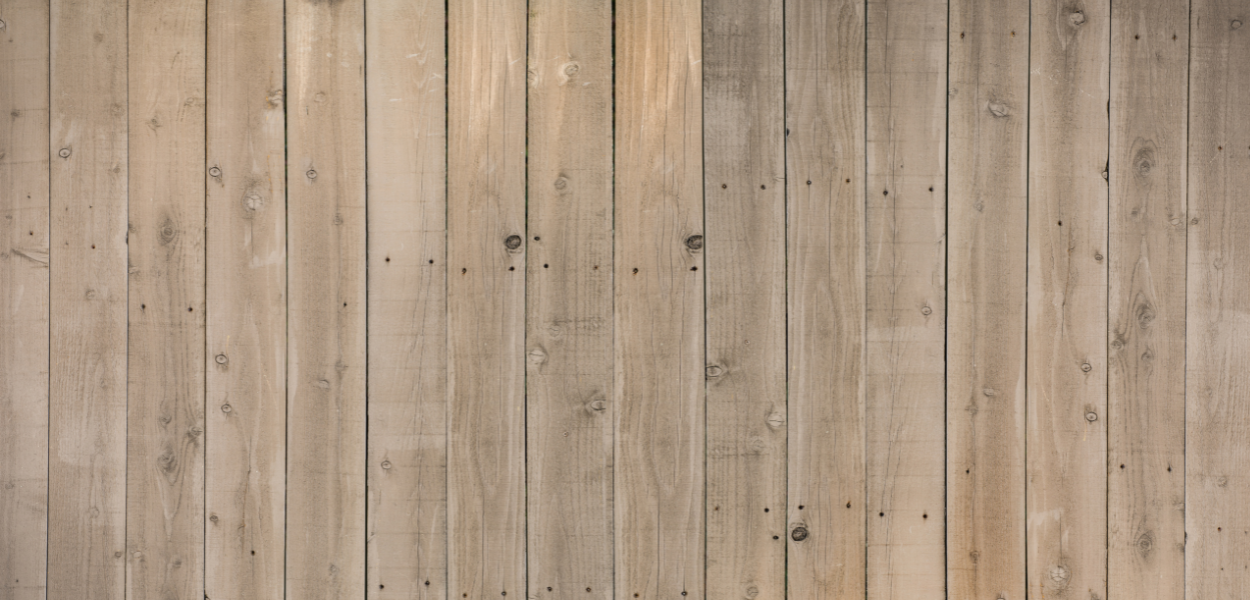 Sustainable wall paneling designs: Recycled pallet wood used as wooden panels
With the environment taken into consideration, many people are now looking to improve their homes' interior style with sustainability in mind. A great way to achieve this is to use recycled pallet wood as a wall panelling solution. The rustic style of the reclaimed wood taken from transportation pallets creates a unique warm colour and "unfinished" texture that suits many interior styles.
Remember to check for nails within the pallet boards before working with them and also sand and seal the boards to prevent a rough texture or any splintering.
Rustic pallet boards are a great way to enhance space in home offices or any small room, however, due to the nature of the reclaimed material, it is not recommended to install this type of wood panelling in children's rooms or homes with infants for safety reasons (splinters etc).
Orac decor inspired 3D panels add pattern and texture to modern walls
Wall paneling ideas: 3D panels bring an ultra-modern style to new builds and city apartments
Popular with ultra-modern decors and favoured by interior designers, 3D wall panelling is a fantastic way to add an art-deco feel to any room - whilst adding volume and texture to the walls.
3D wall panelling can be made from an array of different materials, the most common of which are plastic, gypsum, aluminium and wood/MDF.
This type of wall panelling is available in many different styles and shapes and can be applied to walls with strong wall-grab adhesive. 3D panelling is often used to create unique geometric panelling styles, waved shapes and even totally abstract features around wall-mounted TV units etc.
Painted tongue and groove wood panelling is one of the more traditional wall covering styles
One of the most wall panelling ideas for both interior and exterior walls is tongue and groove panelling. It can be installed horizontally and vertically, is relatively cost-effective and easy to install thanks to its click-in-place fit
These days, this type of traditional paneling is often manufactured from mould-proof MDF and is found in bathrooms, generally installed about 1/3 of the way up the walls, protecting them from moisture build-up and water splashes.
The simple tongue and groove installation technique means that these can be fitted by any DIYer looking to improve their interior style and add character to any room. They can be painted in almost any colour to suit your home and the rest of its design elements.
Classic victorial style wall panelling used in a modern setting
Merge traditional interior style with modern living by installing decorative Victorian-esque wall panelling. Classically seen in historical architecture, decorative panelling was once used as a clever way to protect walls from marks left by chairs and furniture in dining rooms, as well as enhance the look of the space.
In the past, this style of panelling would have been fitted part way up the walls of stately homes before being capped off with a dado rail to complement the era's rich designs - and act as a protective barrier.
Now, we are seeing these feature wall ideas having a modern-day-moment, with the traditional panelling and geometric interior styles of the Victorian era making a comeback in regular houses.
Below are some examples of how contemporary homes have reinvented the trend to create a feature wall and add character to any dining room, lounge space or even bathroom.
Wall panels in white work fantastically alongside brighter colours
You don't always have to stick to the same shade with raised wooden panels
Top tip: This can be achieved at home as a DIY project using dado rails and a selection of timber trims. If you are going down the do-it-yourself route, be sure to use a tape measure and spirit level for a professional and accurate application.
HOW TO STYLE WALL PANELING
So, you've chosen your wall panelling, now - how to go about styling it in your home?
If your new wall panelling is one of the options mentioned that is manufactured from natural materials, ie) shiplap panels or slatted panels (that are manufactured from MDF but designed to replicate the look for real timber slats) then it is a good idea to keep the rest of the room and its accessories neutral and traditional.
For a more modern aesthetic, go bold with bright colours and contemporary accessories. This style will pair perfectly with 3D wall panelling or simplified shaker-style wall panelling.
For any of the wall paneling ideas mentioned in this article, you can always add your own personal touch to improve the styling of your walls. Why not incorporate open shelving into your panels, or even use it to your advantage and create a built-in hidden door?
Installing panelling like tongue and groove or shiplap cladding vertically is a brilliant way to create the illusion of additional height in a small space, whilst horizontal installations can draw the eye into a sense of additional width in a room.
Below are some examples of how wall panelling can be styled according to each individual room in your home:
LIVING ROOM WALL PANEL IDEAS
Open shelving incorporated on some reclaimed wood panelling
A living room with a modern take on victorian-style wall panelling using white paint
Living room wall paneling ideas: Internal Slatted Wall Panels by Cladco Decking
Wall Panel Ideas for Hallways
Make an entrance with the addition of wood wall panels to your home hallway:
Shaker style wood wall panels installed in an entrace hall
Adding panelling in different colours can break up walls and create bold grids
Classic stairway panelling using beadboarding and 1/3 dado height
Add a feature wall to your bedroom with the below wall paneling ideas:
Headboard wall panelling - Slatted Panels by Cladco
Articifial living walls combined with textured wall panels in a bedroom
Board and batten wall panelling installed as a headboard in a modern bedroom
BATHROOM WALL PANEL IDEAS
Some examples of how you can transform and protect your bathroom with wall panelling:
Natural wood tongue and groove paneling used in a bathroom
Shiplap panelling fitted vertically in a bathroom
Individual solid wood slats installed in a commercial bathroom
ENVIRONMENTAL CONSIDERATIONS
The environment, and sourcing sustainable materials play a big part in many homeowners' decision-making when looking to improve their living space.
Reclaimed wood wall panels or pallet panelling is a great way to reuse and recycle wood that would otherwise go to landfill. It is also a fantastic way to add a rustic/vintage look to your home or office space without breaking the bank.
Try to source wood panels that have come from FSC®-accredited forests. This means that the forests the wood comes from are well managed and replenished, to prevent deforestation. Cladco Internal Slatted Wall Panels are manufactured from 60% recycled FSC® hardwood fibres at the same cost. If you require FSC®-certified products, please ask for these when placing your order.
As well as this, many internal wall paneling ideas improve the insulation of the home, helping walls to retain heat in winter and stay cool in the summer. This is an environmentally friendly element, as it saves on heating costs and energy consumption throughout the year.