In April 2020, the UK was plunged into the first of the years' lockdowns, where homes became peoples sanctuary. Spending more times within their houses meant that many people started doing and completing DIY projects, they otherwise wouldn't have done.  
With the increased time at home, people took to an array of projects from reading, painting, learning a new skill and DIY.
One couple had been living in their current home for four years, and with lockdown, ample free time they got to work transforming their garden into a homage of the place they fell in love, Japan.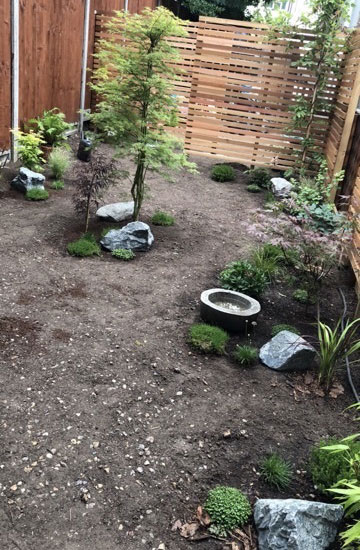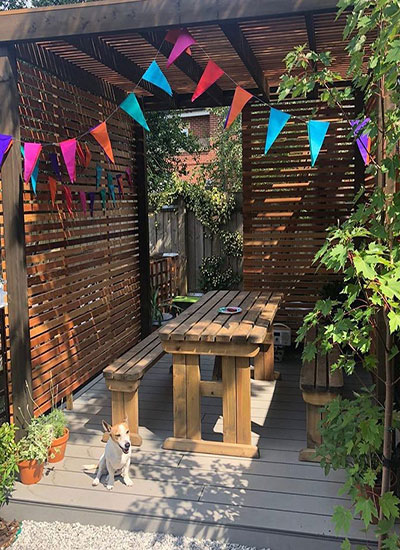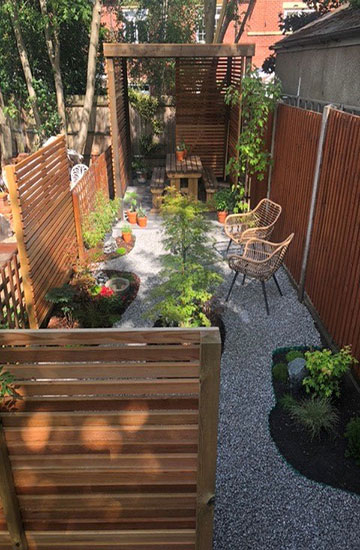 What are the key features of a Japanese garden?
Traditional Japanese garden, otherwise known as 日本庭園, nihon teien, these gardens often have philosophy and aesthetic working together throughout the design to create a calming and harmonious space to celebrate both human creativity and natures beauty.
How to recreate this in a small, urban, British garden?
Who wouldn't want to bring a bit of Japanese culture into their home? One of the core, practical, features of a Japanese garden is they are incredibly low-maintenance, minus any pruning of the traditionally used cloud trees. Cladco Composite decking fits perfectly with the low-maintenance requirements, thanks to its recycled plastic elements, the boards do not require any painting, sanding or varnishing. Merging in perfectly to the must-have items for a traditional Japanese garden, and allowing the couple to relax and enjoy their hard work rather than having to continue maintaining the look.
How to make the most out of a narrow, smaller garden?
Using a mixture of textures, of the same colour, with a contrasting element allows a garden to seem visually bigger. This couple achieved this effect by matching their Cladco Light Grey Composite Decking to the granite stone gravel. As well as colour matching the terracotta plant pots, to a similar colour and feel of the wooden features used throughout the design, creating a soft, natural colour scheme subtly and effectively.
With a longer and narrower garden, adding fencing, decking or large eye-catching features in the garden can change the length and shape of the space. This couple added some stained fencing to the entrance of the garden, making the garden, shorter, but squarer, and an easier shape to work with, as well as creating an ideal space for a storage shed.
Adding the curved paths around the central focal point of the garden, the Japanese Acre draws the eye around the garden, and the added foliage and plants, giving the effect of a larger space.
What features are a must-have in a smaller garden?
Gardens are meant to be enjoyed, having assigned seating, eating and socialising area is essential to get the most out of your garden. This couple has done this beautifully with their pergola and decking area, thanks to the pergola the deck and seating area is protected from both the vibrant sun rays as well as wind or rain. The seating area, decking and pergola create an ideal place for the couple to eat outside, socialise and show of their spectacular garden.
This deck was created using Cladco Composite Light Grey Decking with Cladco Stone Grey Bullnose edging for a curved and sophisticated look.
If you love the look of this small garden transformation and want to do something similar yourself, please see our website or contact a member of our sales team on 01837 659901