When it comes to laying decking on a balcony or high-rise build, there are many elements to take into consideration before you get started. From a health and safety or structural point of view, the material you use is very important - and with so many options to choose from it can be difficult to know where to start.
Whether you already have a balcony area and are looking to re-lay the flooring, or if you're looking to build one as an addition to your home, choosing the right decking material is vital. With so many varieties of deck boards to choose from - from wood to composite and metal to PVC, health regulations must be at the forefront of your decision when making the choice for your project.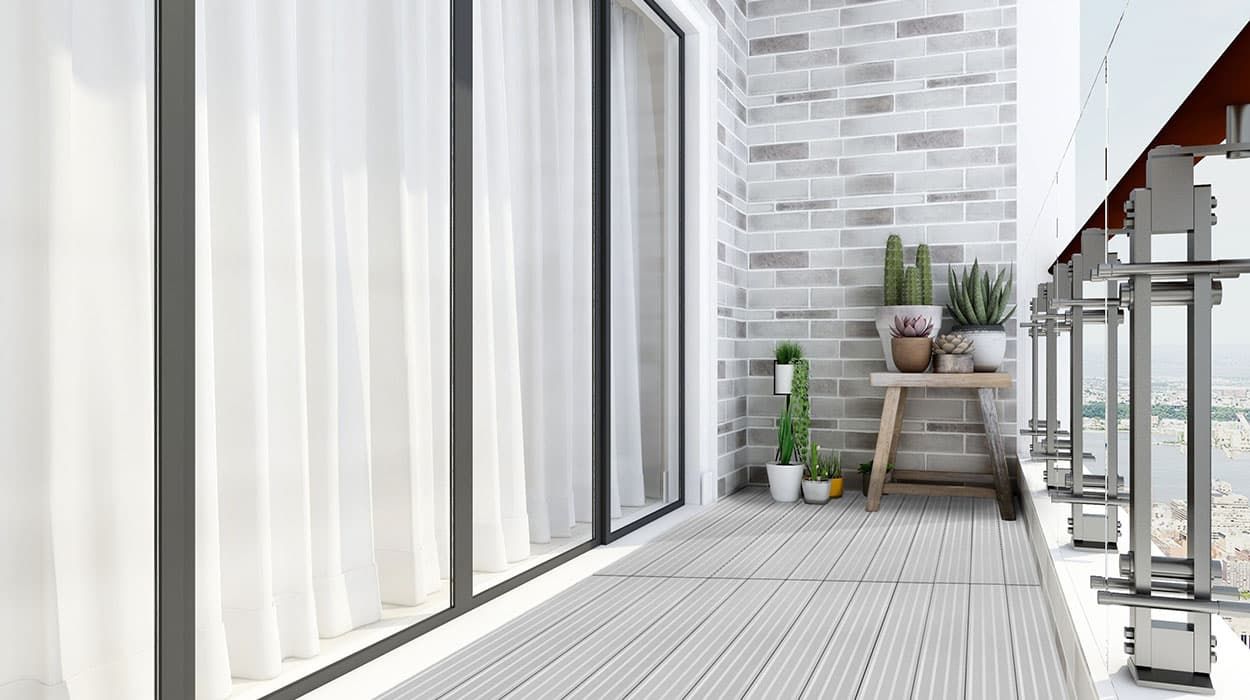 Non-Combustible Balcony Decking and the Options for High-Rise Buildings
According to the new British Standard for the design of balconies and terraces (BS8579), non-combustible materials are recommended for decking outside spaces at height such as balconies and roof terraces.
The general view of experts is that any existing combustible materials used in balcony construction should be removed and replaced for the optimum welfare of the residents, and this is the most successful way to prevent fires from starting and any external fire from spreading.
If any combustible materials are put in place as balcony decking it must be clearly communicated to the owner or residents, with the advice from the UK fire and rescue services being that flammable products such as barbeques and cigarettes should not be present, irrespective of the height of the building - as a significant number of high-rise fires start from the unsafe disposable of their byproducts.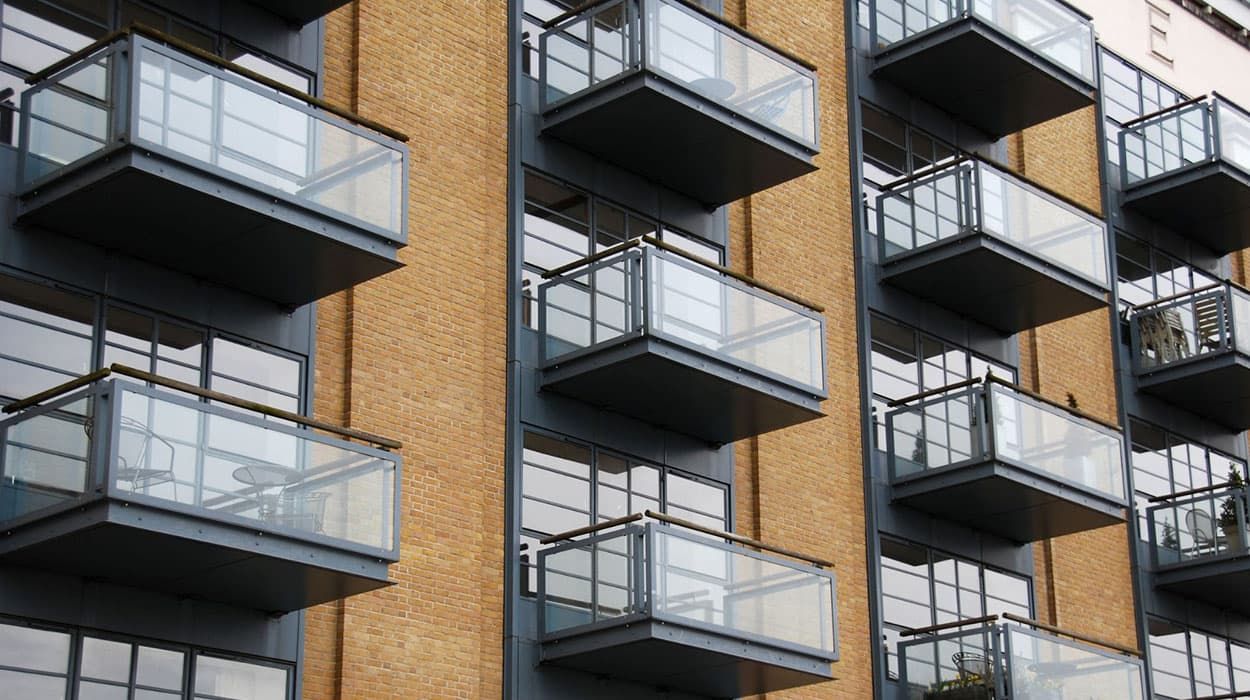 Where there is any doubt over the materials used in these spaces, owners should seek professional advice from an appropriately competent and qualified professional such as a fire engineer.
While the guidance from BS8579 is not mandatory, it is highly recommended that any materials used on high-rise buildings and balconies come with an official fire rating of at least A1 or A2. A1 materials are completely non-combustible while A2 materials have very limited combustibility.
Aluminium decking is highly suited for use on new build terraces, balconies and refurbishment projects whereby balcony flooring may need replacing due to a change in residential fire regulations. It is the most recommended decking product on the market due to its compliance with BS EN 13501 fire regulations.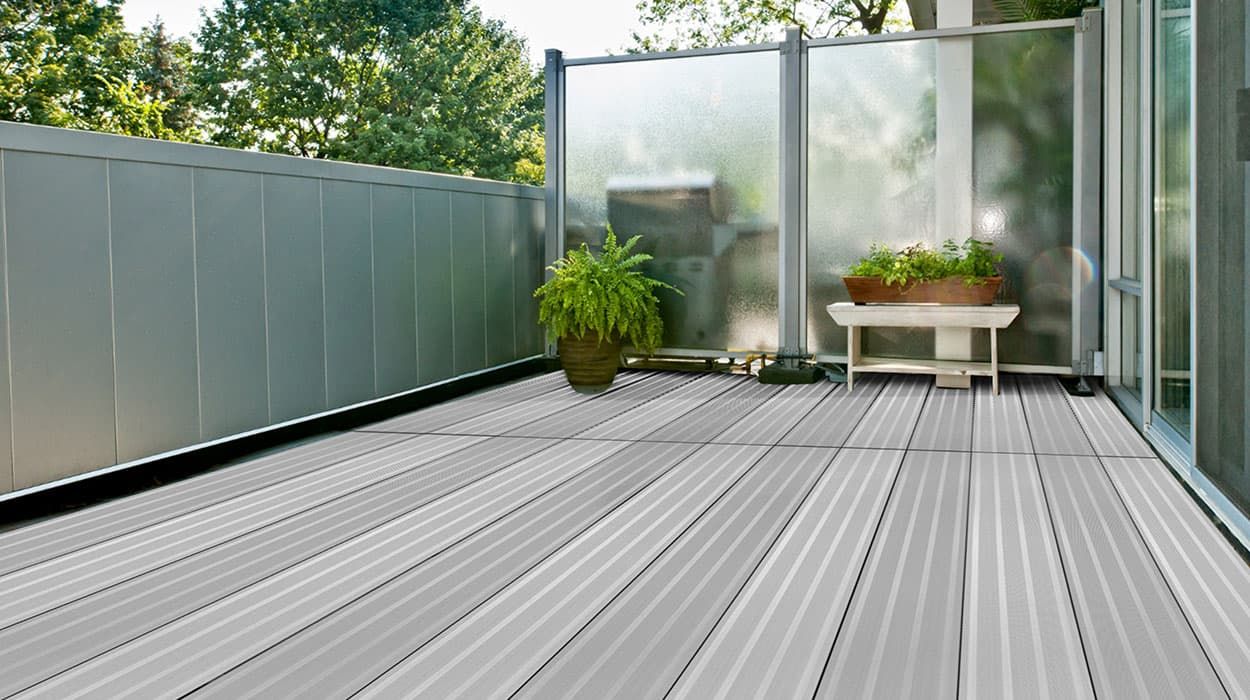 The non-flammable, durable products used to manufacture Cladco Aluminium Decking makes for the perfect system for use on balconies, high-rise terraces or any other floor area that has to comply with British standard building regulations, thanks to their A2 S1 fire rating.
Cladco's Aluminium boards include good slip-resistance when fitted perpendicular to the walking path, combined with a finely grooved surface. A positive drainage system also features beneath the boards to help provide excellent water runoff, with the nature of their metallic structure making them rot-free. The decking system is easy to install and strong yet lightweight, therefore making a great choice for installation on any balcony at height.

The downside can be the initial cost investment when purchasing Aluminium, due to the higher cost of materials can mean it's an expensive solution. However, thanks to the extremely long-lasting durability, strength and resilience compared to most alternative materials, aluminium is a long-term investment that will ensure the building meets regulations.
Fibre Cement Boards used as Balcony Decking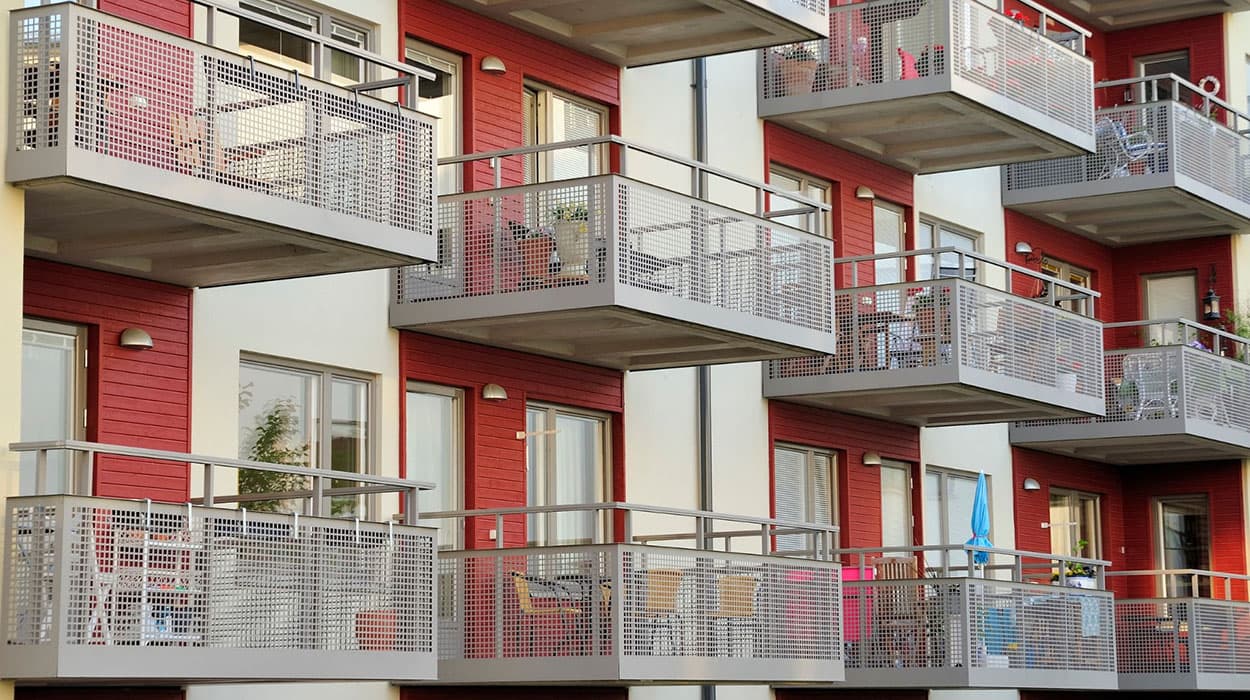 Fibre cement decking is a non-combustible decking solution, with good quality boards being A2 fire rated - making them an ideal material for installations on balconies and high-rise buildings (that sit more than 11m off the ground).
They're manufactured from a cement composition alongside cellulose fibres with added water and chemicals, which increases the strength and longevity of the product.
One of the many benefits of fibre cement decking is that it is lightweight and easy to install, making them a safe and suitable choice that complies with EN 13501 regulations when fitted on balconies. They are 100% asbestos free and do not contain any chemicals that may be harmful to human health.

The downside of fibre cement decking boards is that they lack the aesthetic appeal that you would gain from a traditional timber or Composite Deck. Fibre cement decking is also prone to poor water drainage.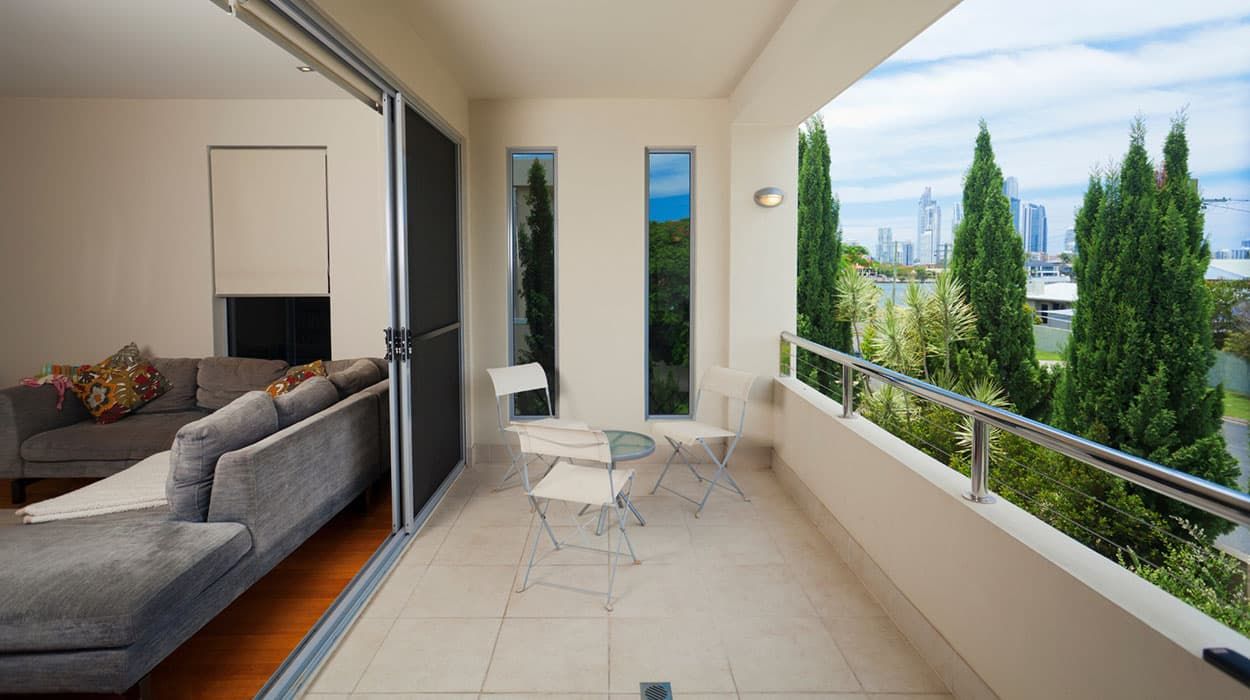 If you're looking to recreate the look of balcony decking that you may find overseas in warmer climates or in luxury holiday resorts, porcelain floor tiles are a great way to achieve this. In the UK however, the industry does not recommend using porcelain tiles on exposed balconies or installing them directly onto concrete foundations because there is a high risk of structural damage beneath them - as a tile is not fully waterproof. If used in colder, wetter climates such as the UK, there's a high chance tiles will lift and buckle in the rain and become less cost-effective in the long run, with repairs and ongoing maintenance.
Porcelain or stone tiles are a cheaper option for decking a patio or low-level balcony, and so they are seen to be a cost-effective option for those looking to update their exterior living space.

As well as having poor weather resistance in wet conditions, you must ensure that the porcelain tiles and their weight will not overload or heavily reduce the available load-bearing capacity of a balcony. A professional structural engineer must check this before you can look to install the tiles at low levels or on mid-rise terraces.
Durable, environmentally friendly and available in a selection of finishes and colours, wood plastic composite boards (WPC) means you don't have to waste time painting, varnishing, sealing and repairing your decking year in and year out.
Whilst WPC decking works great as an installation on ground floor gardens and verandas, the 60% hardwood fibre and 40% plastic composition of WPC means they are not compliant with the necessary A1 or A2 fire rating required for new balcony decking installations.
Best suited for ground-level projects, Cladco Composite Decking Boards are available in either 2.4m or 4m lengths, Original or Woodgrain finishes, and in either solid or hollow structures depending on their end use. Cladco also has a range of matching Trims and Fixings available for a seamless finish.
Wood-plastic Composite Boards by Cladco Decking are guaranteed for 10 years. Installation is easy, and thanks to their narrow-grooved surface, composite decking boards have good slip resistance. The wood fibres within the boards are sourced from FSC-accredited trees, whilst the recycled plastic element provides superior rot, mould and splinter-resistant benefits in comparison to timber.
One of the biggest negatives when it comes to wood-plastic composite decking is that it can be a less cost-effective option compared with real timber. With lots of different brands and styles of WPC products on the market, it can also be quite time-consuming to find the right product suitable for your project.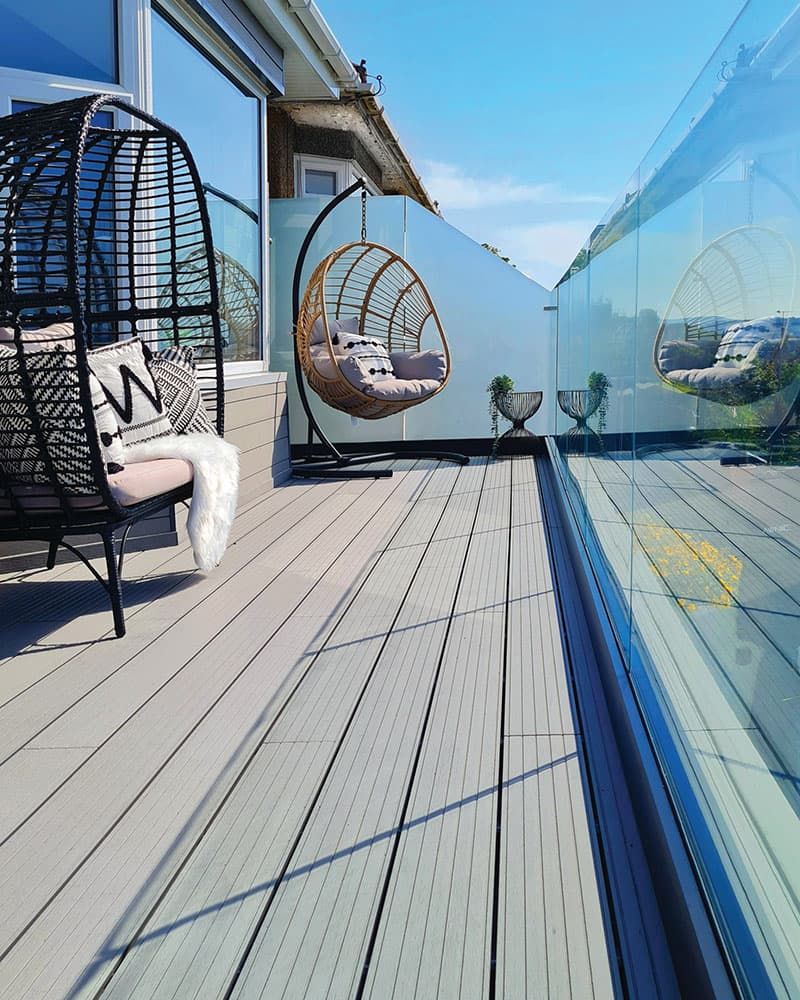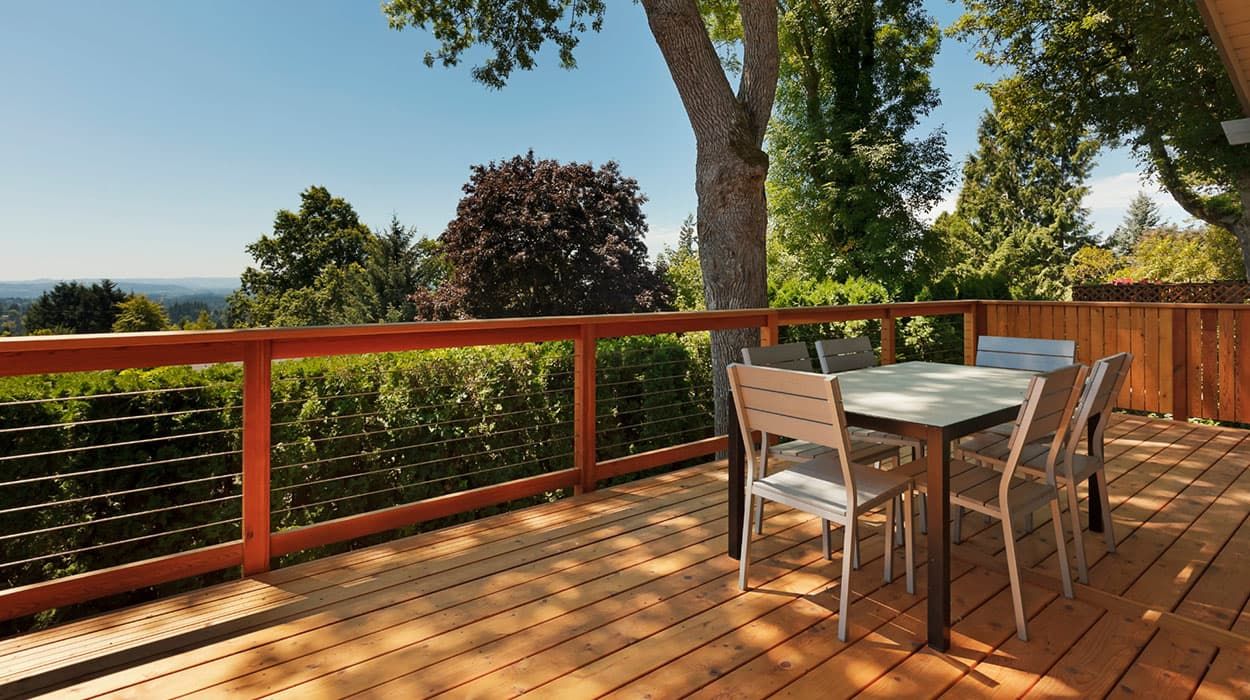 If you are wanting the most traditional-looking decking solution for your outdoor project then timber decking is a fantastic choice, with most real wood decking boards being manufactured from high-quality wood.
Cladco Timber Decking Boards are 4.8m in length and are made from softwood spruce, which is one of the most popular types of timber used in decking areas. Boards are green pressure treated and kiln-dried - increasing durability and providing easy maintenance throughout the year.
Due to the nature of the wooden Boards, this type of material is NOT suitable for high-rise installations on balconies or rooftops due to their highly flammable materials. They work great installed on ground-level domestic gardens and can be stained, treated or painted in a range of colours to suit your desired real-wood aesthetic.
The use of softwood spruce makes timber decking easier to install, drill and saw, saving time on fitting. We recommend installing our timber boards on top of a solid, structural base using Timber Joists and Timber Posts to ensure stability.

Whilst there is no doubt that timber decking looks conventional and aesthetically attractive, it can be prone to splintering/rotting, and can become mouldy in wet and rainy climates, with poor slip resistance.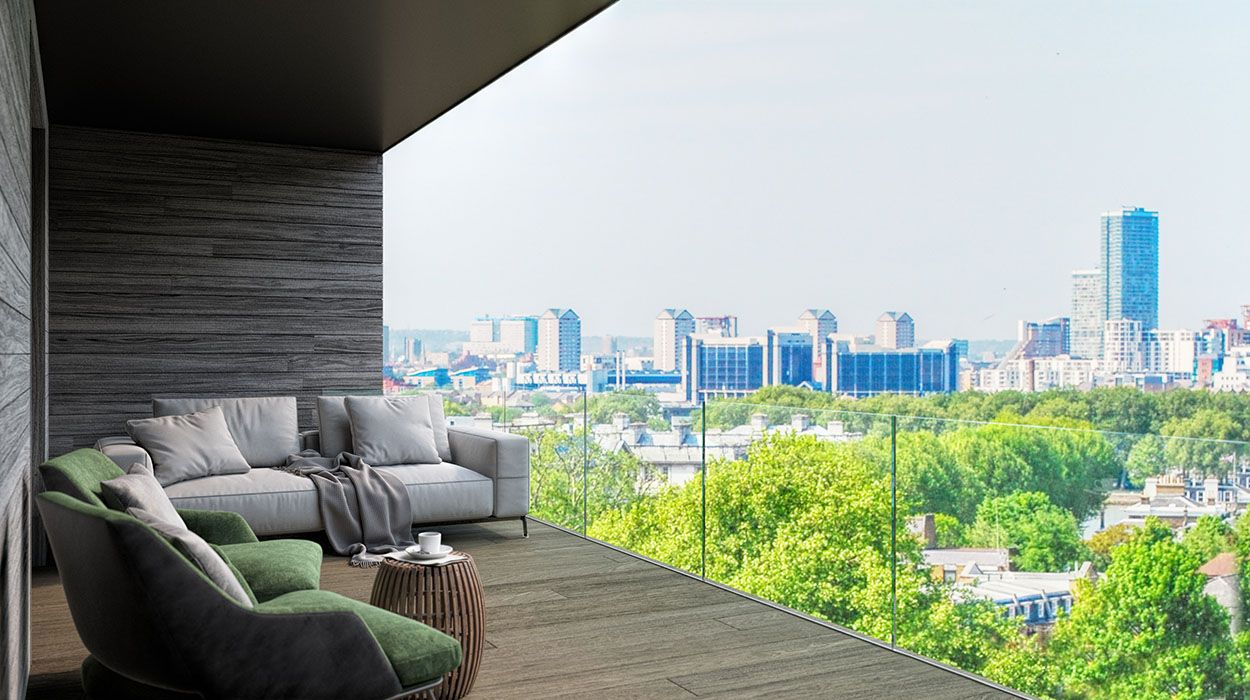 PVC Decking is a high-end premium decking product and is perfect for those wanting to achieve the look of a traditional timber deck, without the hassle of ongoing maintenance - thanks to its authentic woodgrain effect exterior and strong resin coating. PVC decking is manufactured to achieve a high-strength board with slip-resistant properties.
Cladco Premium PVC Decking is made from a durable synthetic structure that is manufactured to be either flexible or rigid. When paired with ASA resin coating, it creates one of the most high-performance decking products available on the decking market.
Although PVC does not contain any real-wood fibres like Composite decking, they do still contain potentially flammable materials and are not considered to be an A1 or A2 fire-rated decking product. It is, therefore, not recommended to be fitted on balconies that are above 11 meters from the ground and is best suited to garden and low-level patio applications.
Premium PVC Decking materials by Cladco are guaranteed for 20 years and have superior UV, rot, mould and splinter-resistant benefits in comparison to real wood or composite decking materials. They are available in a range of six natural colours and give an authentic look to any decking project.

PVC is not an environmentally-friendly material and cannot be recycled, therefore in the current climate whereby eco-conscious products are more desirable and sustainable, these characteristics can be deemed as negative contributions. This type of product is not suitable for use as balcony decking.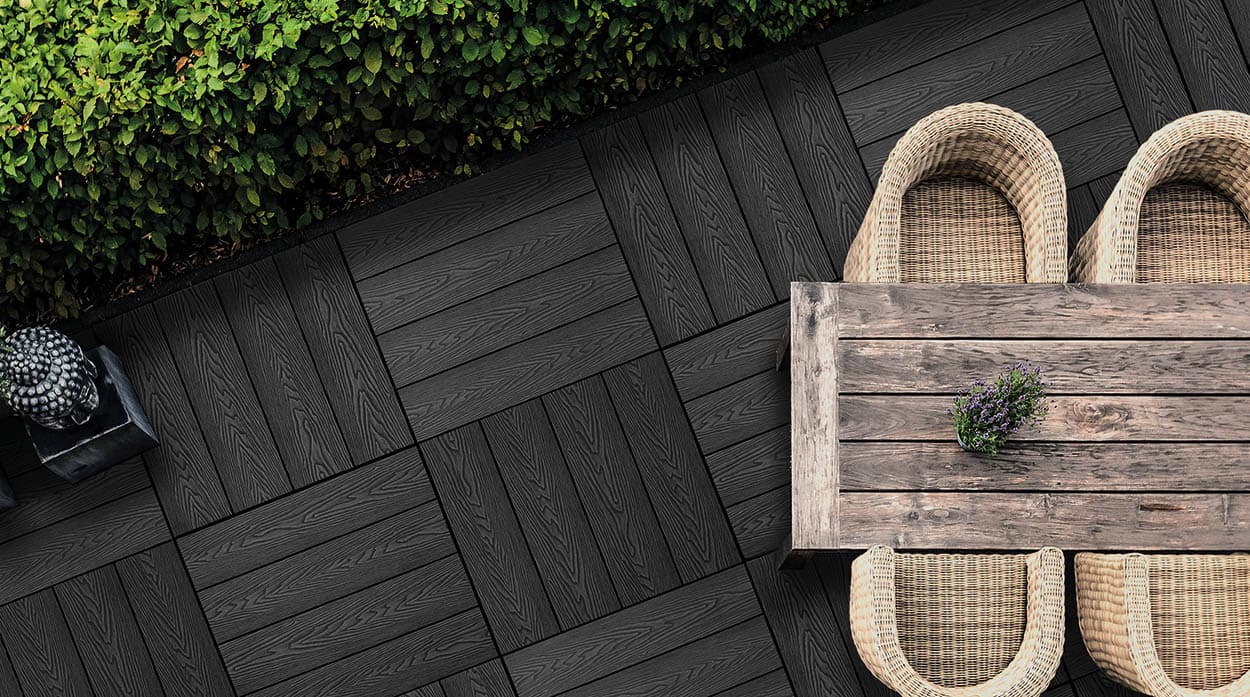 Composite deck tiles are the easiest way to transform a garden or outdoor space that's in need of an instant, low-maintenance flooring upgrade. Composite Decking Tiles can be combined with Artificial Grass Tiles, or used independently, to transform low-level balconies, terraces, verandas, patios, and many other areas that require a new look.
Cladco Composite Decking Tiles are ideal for a quick, attractive upgrade to your outside living area, with installation being achieved with a simple click-and-lock system between the tiles. Due to their wood/plastic composition however, they are not suitable for installations on any outside space about 11 metres from the ground.
Cladco Composite Decking Tiles feature a woodgrain effect surface that replicates the look and feel of real timber decking and are available in a range of four colours; Charcoal, Teak, Coffee and Stone Grey.

The cons of composite decking tiles on a low-rise balcony or terraced space is that the tiles cannot be cut to size, making it quite difficult to cover a space that is not perfectly square or rectangular. They're also less hardwearing than professionally fitted decking boards, however - they are a convenient, cost-effective option for smaller spaces.
For balcony decking installations above 11m from ground level: According to the new British Standard for the design of balconies and terraces (BS8579), non-combustible materials are recommended for decking outside spaces at heights such as balconies and roof terraces. In this instance, Aluminium or Fibre Cement Decking options are the most suitable options, due to their A1 or A2 fire safety rating.
If you are looking for the best option for low-level balconies or terraces that sit below an 11m height, Composite Decking Boards, Composite Decking Tiles or PVC Boards will give a traditional real-wood look with low-maintenance and easy-to-install properties, whilst natural timber decking is a cheaper choice.
Porcelain tiles work well when used in drier climates and holiday accommodations, but due to their weight - in the UK they are best suited to balcony decking at ground levels or very low heights.
All of these options can, of course, can also be applied to standard decking areas in a domestic garden and each comes with its own pros and cons depending on your needs.
Get in touch:
For more information and guidance on Cladco Decking options, visit us online at www.cladcodecking.co.uk or give our friendly Sales Team a call on 01837 659901.