Blending two different cladding materials together on the home's exterior has seen a huge rise in popularity in recent years - from Steel Cladding merged with cedar wood and traditional stonework mixed with Fibre Cement Boards, the combinations of different elements are endless.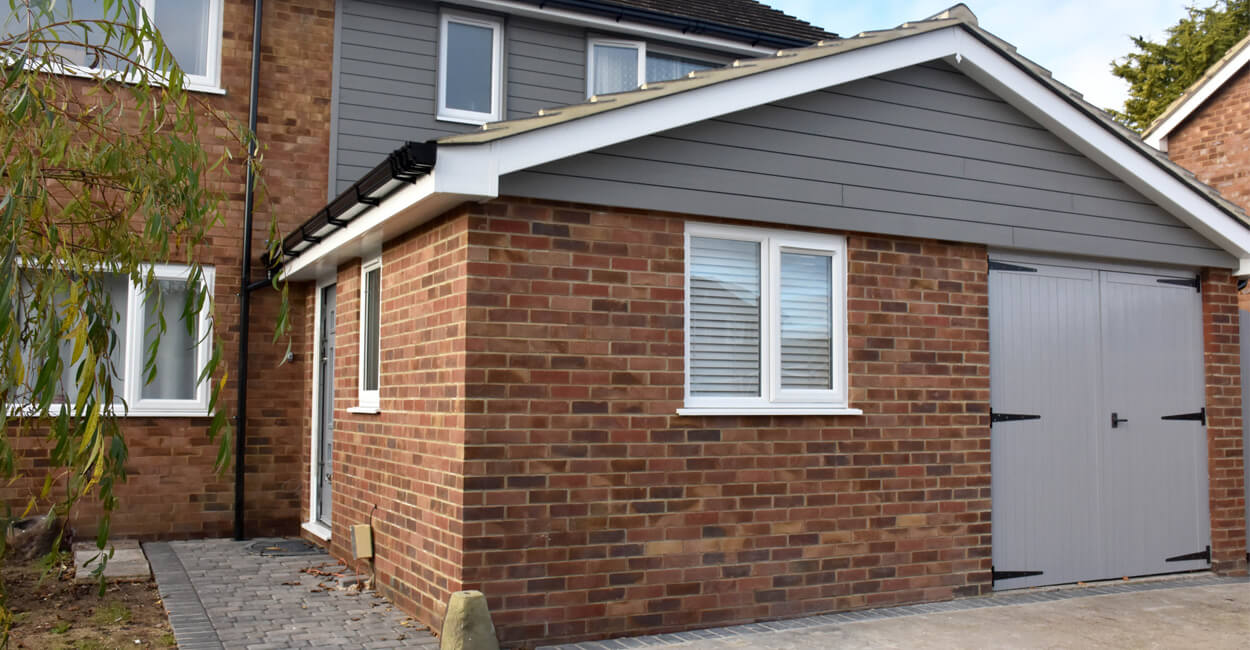 Cladco Stone Grey Composite Wall Cladding Boards used to partially clad a garage and house against a red brick wall
What are the benefits of mixing materials on house cladding?
With modern-day homes and newbuilds all looking very similar in stature and size - often with many similar architectural features, it's not uncommon for homeowners to want to add some variety and personalised touches to the outside of their homes.
Whether that be painting it a different colour, changing the front door - or in this case, installing wall cladding and mixing colours, materials and textures to create a unique exterior that stands out in style.
As well as adding character to your house's exterior, wall cladding has many advantages both constructionally and aesthetically. It can help to protect the structural integrity of the walls it is installed upon, increases weather resistance and can even add value to your property if it ever comes to market.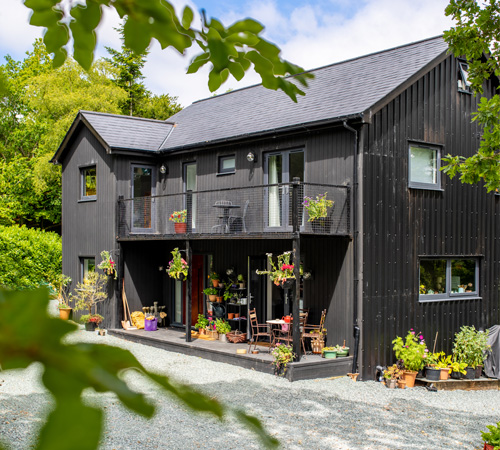 Charcoal Composite Wall Cladding mixed with Black Steel Sheet Cladding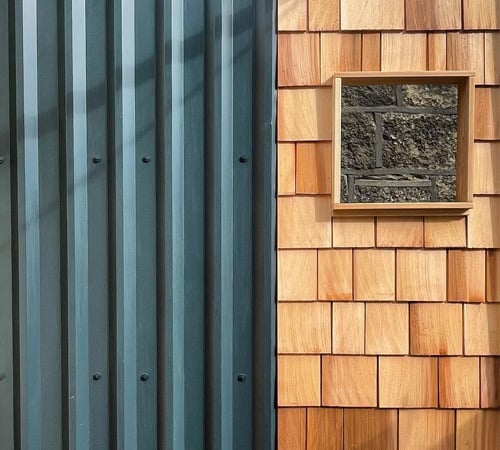 The trend of marrying two cladding materials together can uplift the look of your home and add instant kerb appeal, but knowing which materials work well together and which don't can be a daunting thought. Here, we take a look at some of the cladding combinations that complement each other for a contemporary finish that will last for years to come.
Fibre Cement Cladding Boards with natural stone cladding
Composite Cladding Boards with Natural timber cladding
Composite Cladding Boards with masonry stone cladding
Wall Cladding Boards with Steel Sheet Side Cladding
Coloured Cladding Boards with traditional red brick walls
Types of Wall Cladding that complement each other
1) Fibre Cement Cladding Boards with natural stone cladding
Fibre Cement Wall Cladding is a new and innovative way to change the exterior of your home and works wonderfully with natural stonework.
The contrast of the smooth, subtle colours and woodgrain appearance of the Fibre Cement Boards, with the rugged texture of the stonework, adds interest and variety to any home - working especially well on larger, detached homes as below.
Stone is one of the most historic natural materials used in building external walls because of its durability and great technical development over the years.
Fibre Cement Wall Cladding Boards make a durable alternative to timber cladding, with many advantages in comparison and so together, create an attractive yet strong exterior.
Cladco Fibre Cement Wall Cladding Boards come with a ten-year guarantee and Boards are suitable for most exterior walls, including concrete, brick and block, making the perfect Cladding material for most homes with alternative cladding already installed. Unlike timber or Composite Boards, Fibre Cement does not have any traces of wood fibres, and so should not expand or contract with changes in temperature and weather conditions.
They are available in a collection of seven colours with matching Trims and Fixings including Sage green as pictured below. An unpainted option is also available - enabling you to personalise your projects even more so.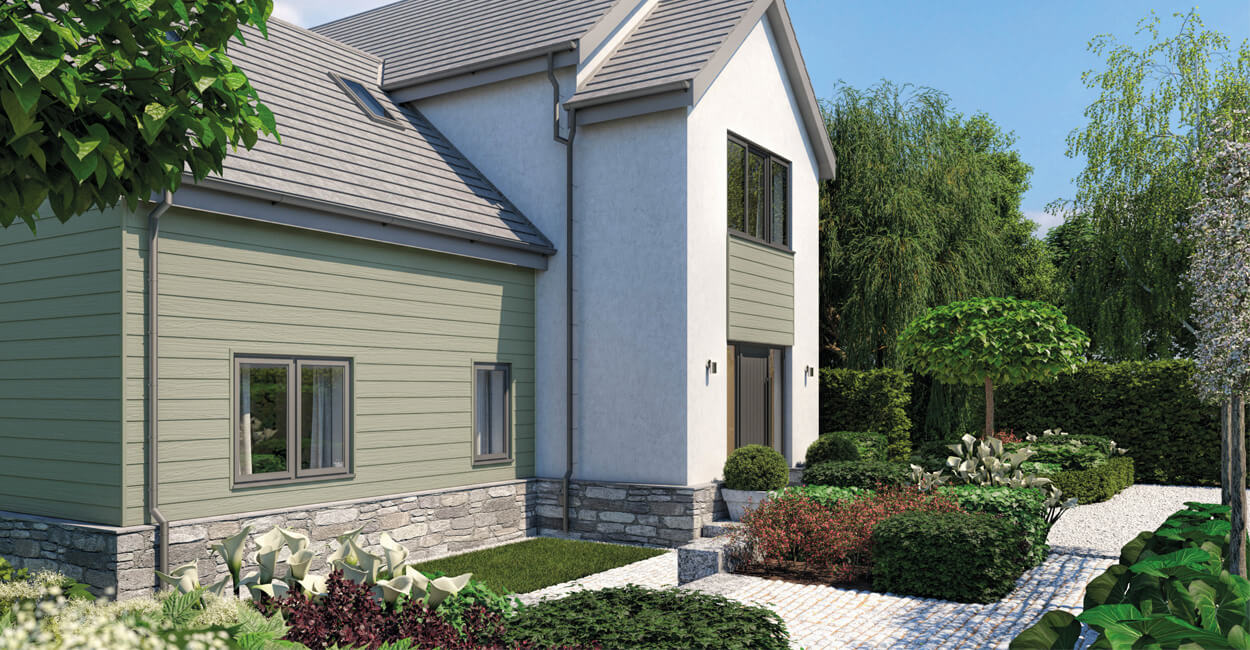 Sage green fibre cement cladding boards on house, with subtle high-grade stonework elements
2) Composite Cladding Boards with natural Siberian larch timber cladding:
Two very popular Cladding Materials both on their own as individuals, and more recently - together as a combination are Composite Cladding Boards and genuine wood timber cladding. The real wood cladding example below uses Siberian larch slats. This highly versatile timber product is the preferred choice for many architects and self-builders thanks to its high resin content and excellent durability.
Composite Cladding Boards, in dark colours especially, work beautifully when paired with Siberian Larchwood cladding and its natural wood tones. The mix of the two provides a modern yet traditional finish that works especially well in small garden rooms and studios.
Cladco Composite Wall Cladding Boards are manufactured from an environmentally friendly wood-plastic material comprising 60% FSC® certified recycled hardwood fibres and 40% recycled plastic. Available in 3.6m lengths, these cladding boards can be installed both horizontally or vertically depending on your desired look.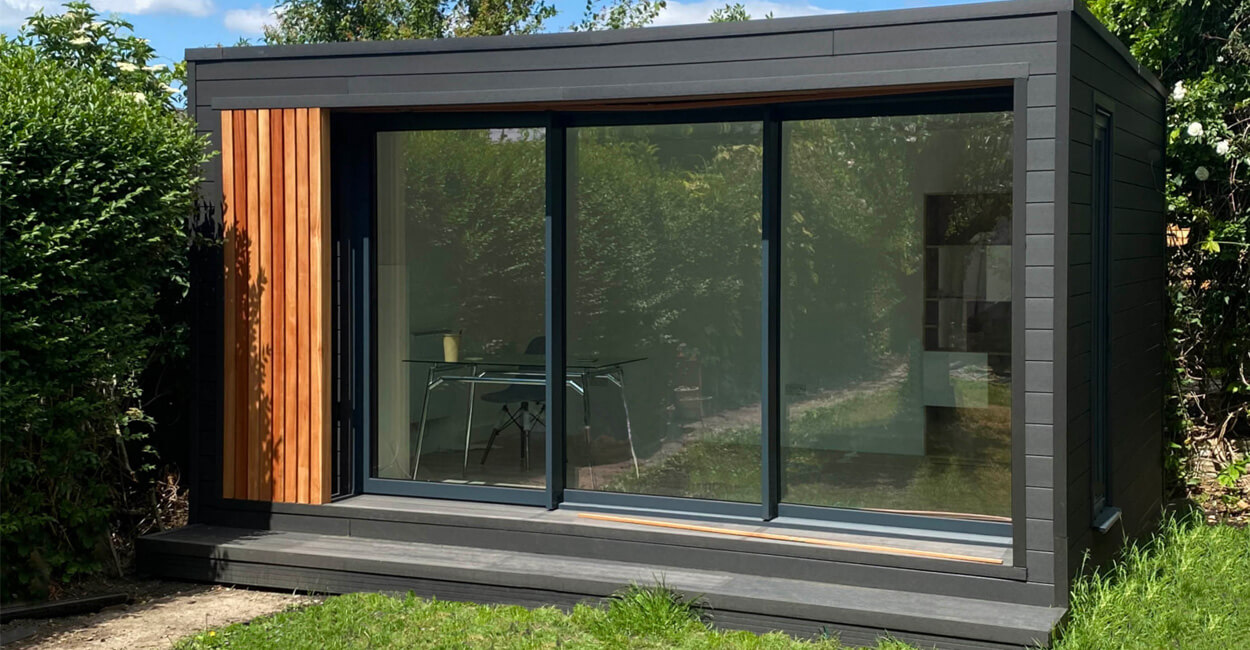 Siberian larch timber cladding and charcoal composite cladding combine well together on any sized project
As well as the colour Charcoal as pictured above, Composite Cladding Boards are available in the colours Olive Green, Ivory, Teak, Stone Grey, Light Grey, Coffee and Redwood.
3) Composite Cladding Boards with masonry stone cladding
Composite Wall Cladding, like Fibre Cement Wall Cladding also works well when paired with natural stone facades. With the increased use of reinforced concrete in the building industry, walls have become thinner and so natural stone is often used as a cladding material, due to its impressive durability and low maintenance properties.
Cladco Composite Cladding Boards are available in a choice of original and woodgrain finishes, with the embossed texture of the Woodgrain Boards replicating the look and feel of real wood cladding. Composite Wall Cladding has a range of benefits over traditional cladding including:
Easy to install using a simple tongue and groove method
Low-maintenance - no need to stain, varnish or seal
Made with 60% high-quality FSC-certified wood fibres
Available in a range of eight colours and do not require painting
High-quality, durable material
Range of Trims and Fixings available for a seamless application
4) Composite Wall Cladding Boards with Steel Sheet Side Cladding
Steel Wall Cladding or siding can make a fantastic addition to your home or garden room's exterior. Traditionally used as an agricultural-style roofing material, the two-tone home exterior trend has seen a huge lift in metal sheets being used as cladding alongside Composite Boards.
Cladco Metal Wall Cladding sheets offer a modern alternative to traditional materials, such as timber, wood or tile sheeting, and make for a cost-effective cladding solution.
Our Steel Wall Cladding sheets are available in 0.5mm thick sheets, and in a range of finishes and a variety of colour options to suit your budget and siding project. Choose from scratch-resistant PVC plastisol, smooth polyester paint, or plain galvanised steel-coated sheets, which are available in a variety of profiles to complement, or stand out against Composite Wall Cladding Boards.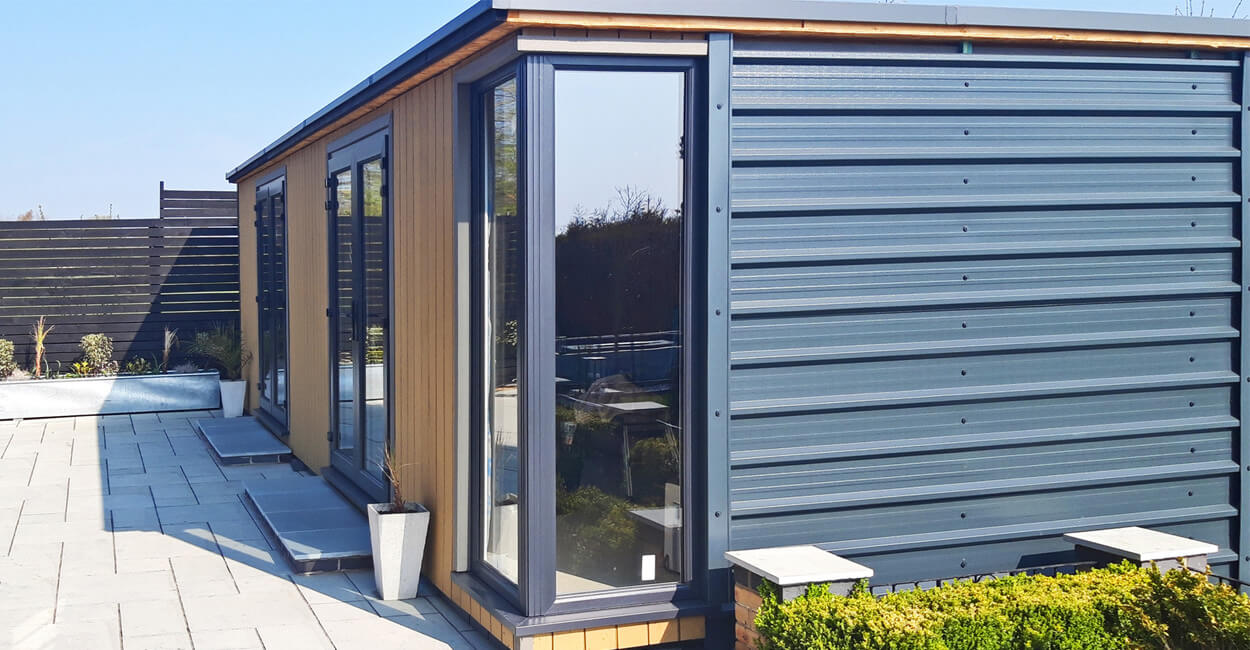 Cladco steel sheets in a 32/1000 box profile used as siding on a garden room project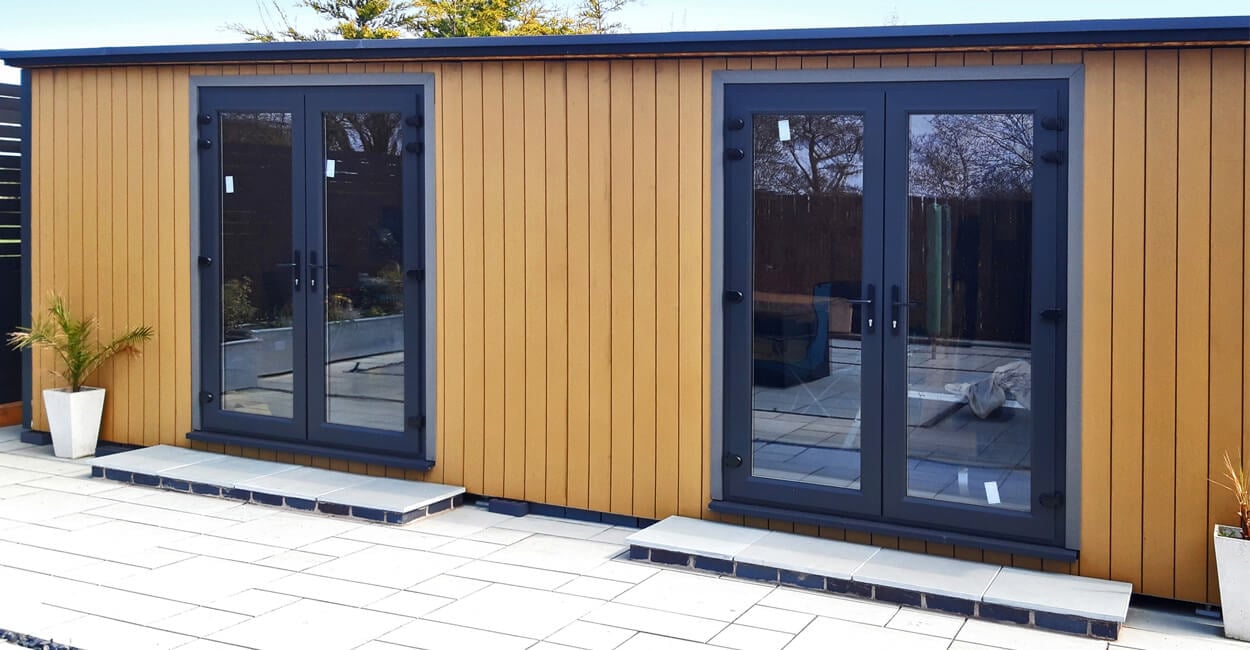 Cladco Composite Wall Cladding Boards in Teak combined with Steel Sheets in a Black PVC finish
As well as Composite Wall Cladding, Steel Sheet Side Cladding also works brilliantly on its own with contrasting pops of colour and can be just as effective for improving the facade of your building project.
Here, a large renovation has used Cladco Corrugated Sheets in Black PVC to clad the entire exterior walls, and the simple pops of bright orange paint on the balustrades and accessories work together to lift the dark tones of the build.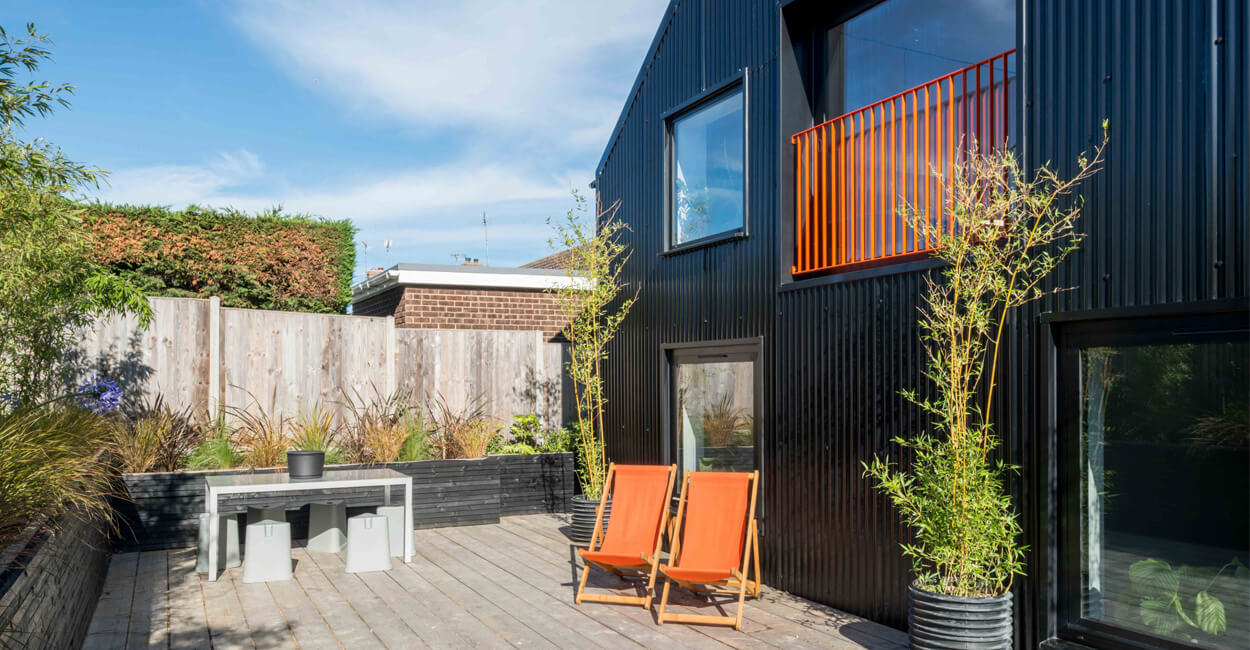 Black PVC Metal Side Cladding with bright pops of colour for a two-tone finish
5) Coloured cladding boards with traditional red brick walls
Wall Cladding Boards can be used to partially clad the exterior of your home, covering only parts of the walls and/or key features, whilst the rest of the house is left as the original building material.
Red Brick is one of the most popular building materials used on houses past and present and works beautifully when coloured cladding is contrasted against it. Below is a few examples of red brick houses and their coloured cladding finishes.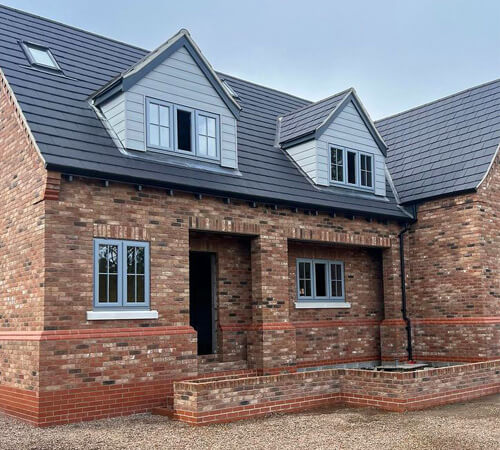 Cladco Stone Grey Composite Wall Cladding Boards used to partially clad a garage and house against a red brick wall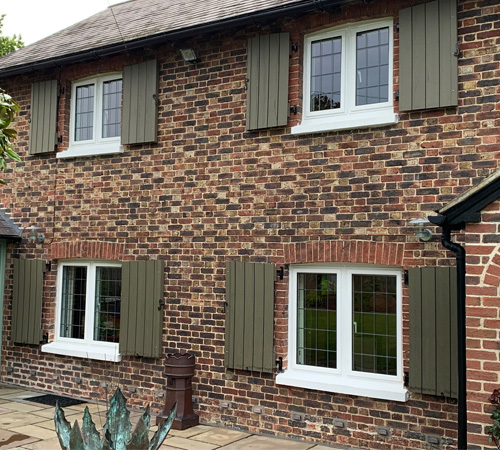 Olive Green Composite Wall Cladding Boards installed creatively as shutters against a traditional red brick
What to avoid when combining materials
Try to avoid combining too many materials. Using two together is a great way to achieve an understated look.
Aim to choose two cladding materials that are sympathetic to the surrounding areas.
When it comes to colour choices, less is more. Bright, vibrant colours work well together with dark tones well, however, using two or even three bright colours together can become overkill.