Last updated: 22nd March 2023
Are you wondering how much to budget for when planning your Composite Decking project?
Taking into consideration the size of your garden space and how much of it you want to turn into decking, we will take a look at what type of decking boards will suit your garden ie) composite or timber decking, the price per square metre (m2) of each, and their average installation costs and time frame required.
As well as Composite Decking prices, we discuss what other fixings, finishings, and maintenance tools you may need to keep your decking looking fantastic for years to come.
The Cost of Installing Composite Decking
When planning out the price of composite decking, start by calculating how much square meterage of outside space you want to deck.
Below is a list of the three main factors to consider when working out the cost of installing composite decking, which we will break down further throughout this article:
Materials - Not only do you need to consider the cost of the decking boards themselves, but you also need to think about the cost of additional items to finish your project such as corner trims, decking clip fixings, joists and other decking frame materials.
Labour - if you are going down the DIY route, this will reduce the cost of the installation drastically, however, this could increase the overall time to complete your deck. Professional contractors and building companies can be pricey, but will speed up the process.
Maintenance - Composite decking is naturally low-maintenance and so upkeep costs are kept down in comparison to timber decking. Cladco Composite Decking Boards come with a ten-year guarantee for additional peace of mind when it comes to upkeep. Simply keep your composite decking clean with lukewarm, soapy water and a soft brush once a year and that is generally all the maintenance that is needed.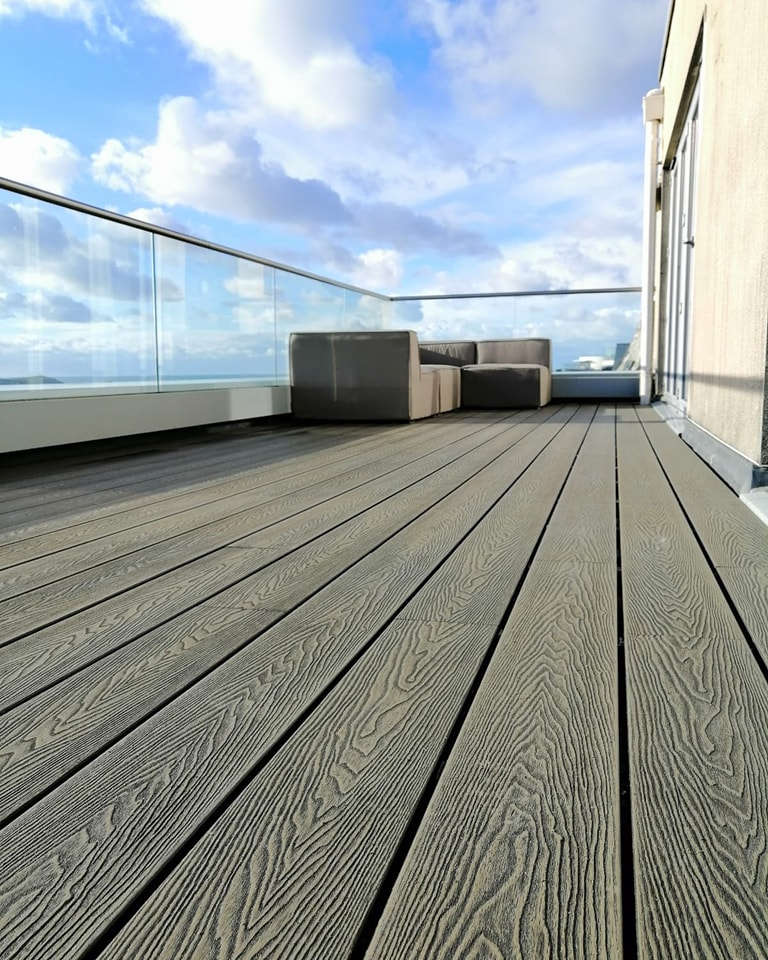 How much is composite decking versus wood?
Initially, timber decking is a lower-cost material to purchase. This smaller initial outlay is offset by the more expensive maintenance costs in the future, making composite decking a better investment in the long run.
For Timber Boards, include an average of £12-£18 per square meter of decking, with much more intensive upkeep required throughout its lifespan, including painting and staining. This will inevitably increase the price and time spent maintaining these types of Boards in the long run.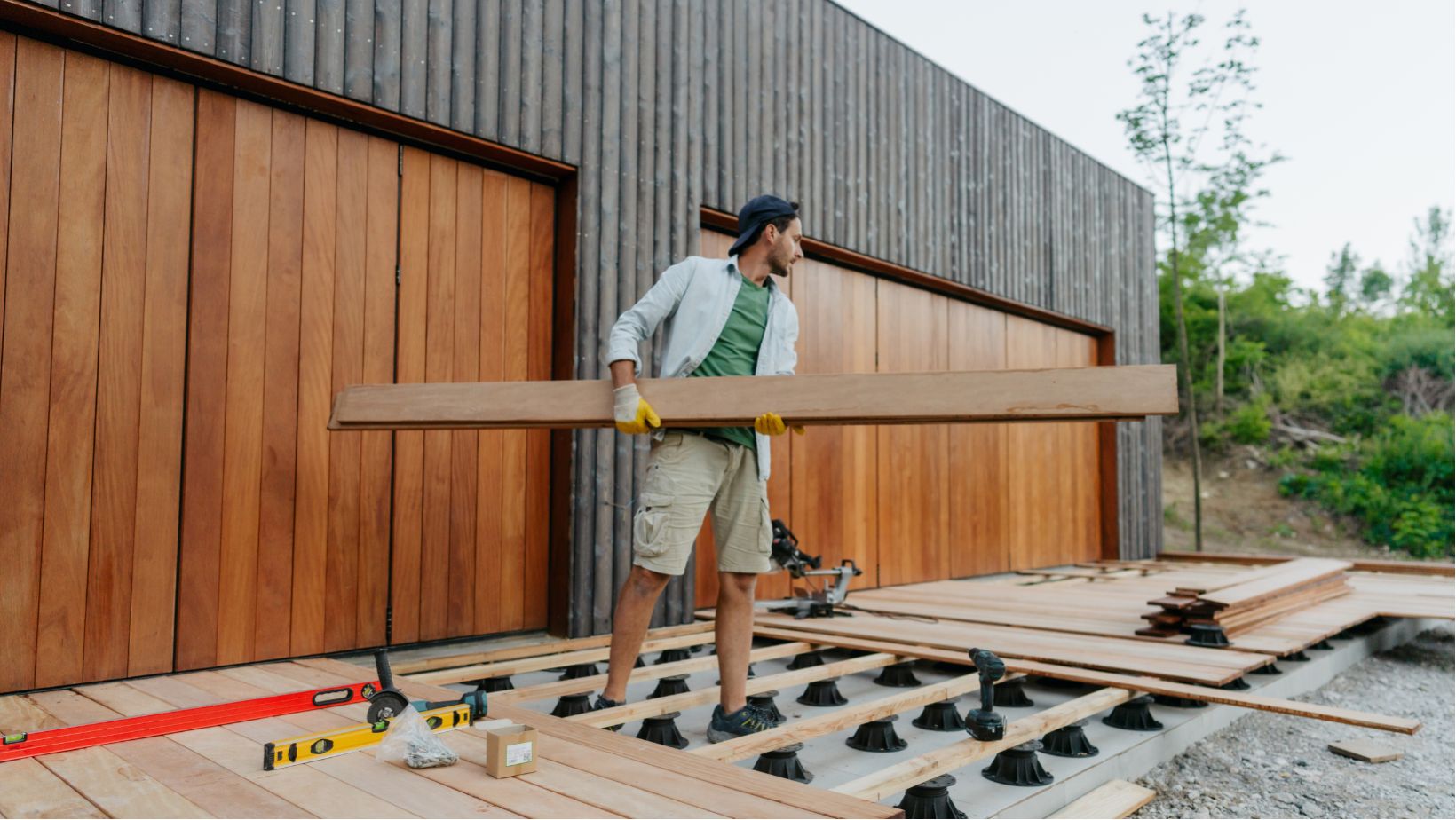 Composite Decking Boards by Cladco are generally priced higher and start at £38-£55 per square metre. This varies depending on the product's finish and whether they have a Solid or Hollow Composite core, and come with Woodgrain or Original finishes. Their low-maintenance materials mean that the cost over its entire life span will be considerably less.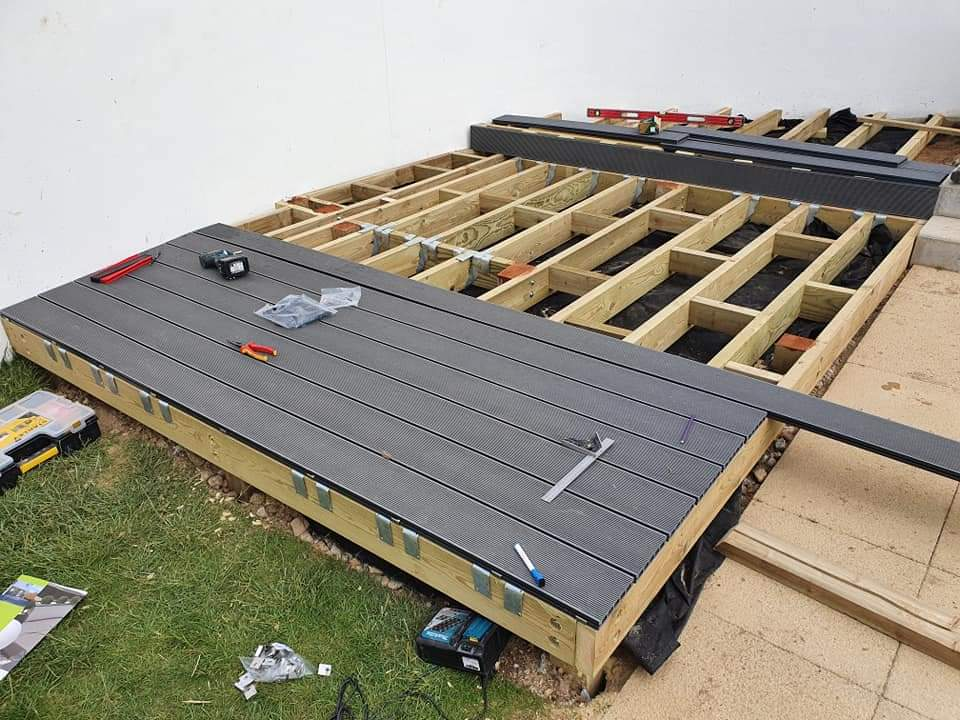 Composite Decking requires less time and maintenance than timber decking.
Cladco Composite Decking Boards come with a 10-year warranty. Be wary of manufacturers offering more than a 10-year warranty for quality composite decking without being able to prove the results of the long lifespan.
How much does it cost to install composite decking?
When working out your deck cost, you'll need to consider the size of your garden area and which additional products are best for your composite decking.
If you choose a local company, the average cost of a composite deck installation can range from £450-£750 depending on the size of the area, as well as what area of the country you are in (London for example, will be more expensive than other areas). You will need supporting joists to provide an adequate base for the deck boards, with Cladco Composite Decking Joists starting at £10.80.
Additional products such as Trims and Fixings are recommended for a perfect finish to your decking installation, and will naturally increase the cost of your project.
As well as trims and fixings, Weed Mats, End Caps (for Hollow Cladco Boards), Corner Trims and Skirting Trims may be required. Prices are discussed below.
High-quality, Solid Composite Decking is the more expensive option to buy outright, but the wood-plastic materials used to manufacture these boards provide long-lasting properties and lower upkeep costs overall. Composite Decking Board prices will vary depending on their type, with the average price of Solid Core Composite Decking by Cladco being £70 per square metre.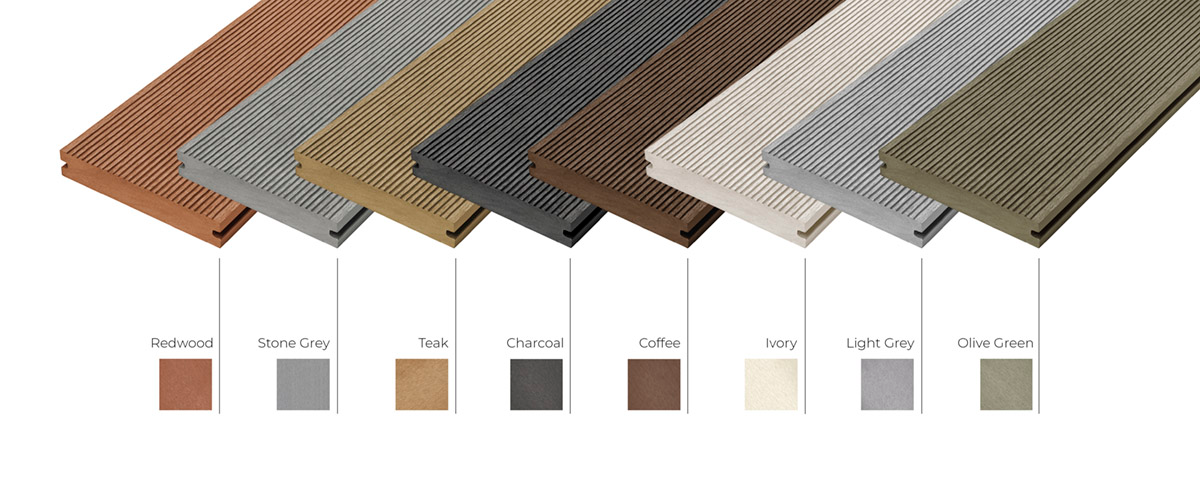 Solid Composite Decking Boards by Cladco are available in a choice of 8 colours
Cladco Hollow Core Composite Decking prices come in slightly cheaper as there is less material used within each Board, and range from £47.50-£52.80 per square meter, however, Hollow Boards provide less support for heavier objects such as jacuzzis, BBQs, and heavy garden ornaments.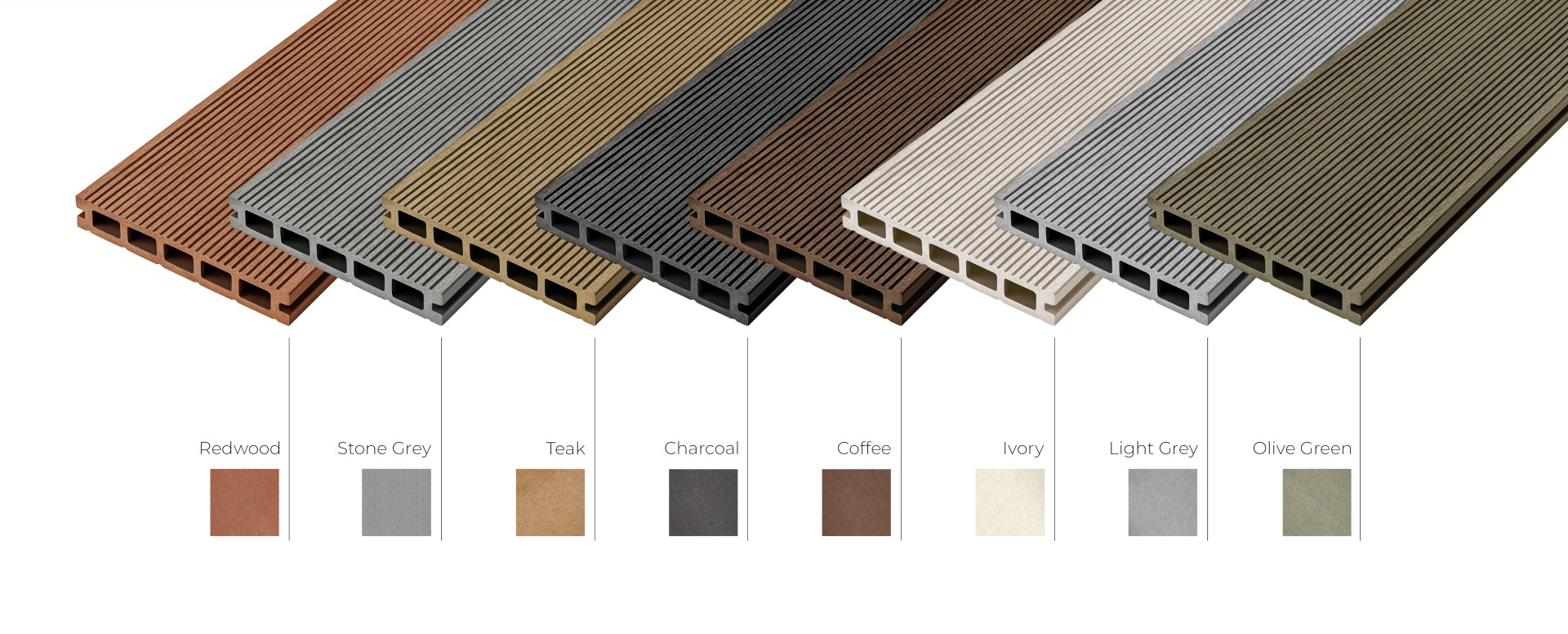 Hollow Composite Decking Boards by Cladco are available in a choice of 8 colours
TIPS TO SAVE COMPOSITE DECKING COSTS
Here are three ways to bring the installation cost price down for your Composite Decking project:
DIY route - Fitting composite decking yourself is the best way to reduce the overall costs of installation. Cladco Composite Decking is easy-to-install with a T-Clip System and Screw, so if you have the time and are physically able, this could be an option for you. Take a look at our Installation Guide for more information and advice.
Hiring a contractor - If you plan on hiring a contractor, aim for the off-peak season (Winter) when lower prices and discounts could be considered because demand is less.
Simplify your design - avoiding complex decking designs, such as curves and intricate steps will help keep wastage to a minimum and ensure you get the most coverage out of the materials supplied.
Composite Decking Accessories Costs
Composite Decking comes with additional costs that need to be considered, from Supporting Joists and Weed Mats, to Skirting Trims and Fixings. Below we look at what you can expect to pay for these extras and the average cost per 15 square metres of decking.
Weed Mats: from £23.40
End Caps: £0.72 each
Composite Corner Trims: from £10.20
Composite Skirting Trims: from £10.20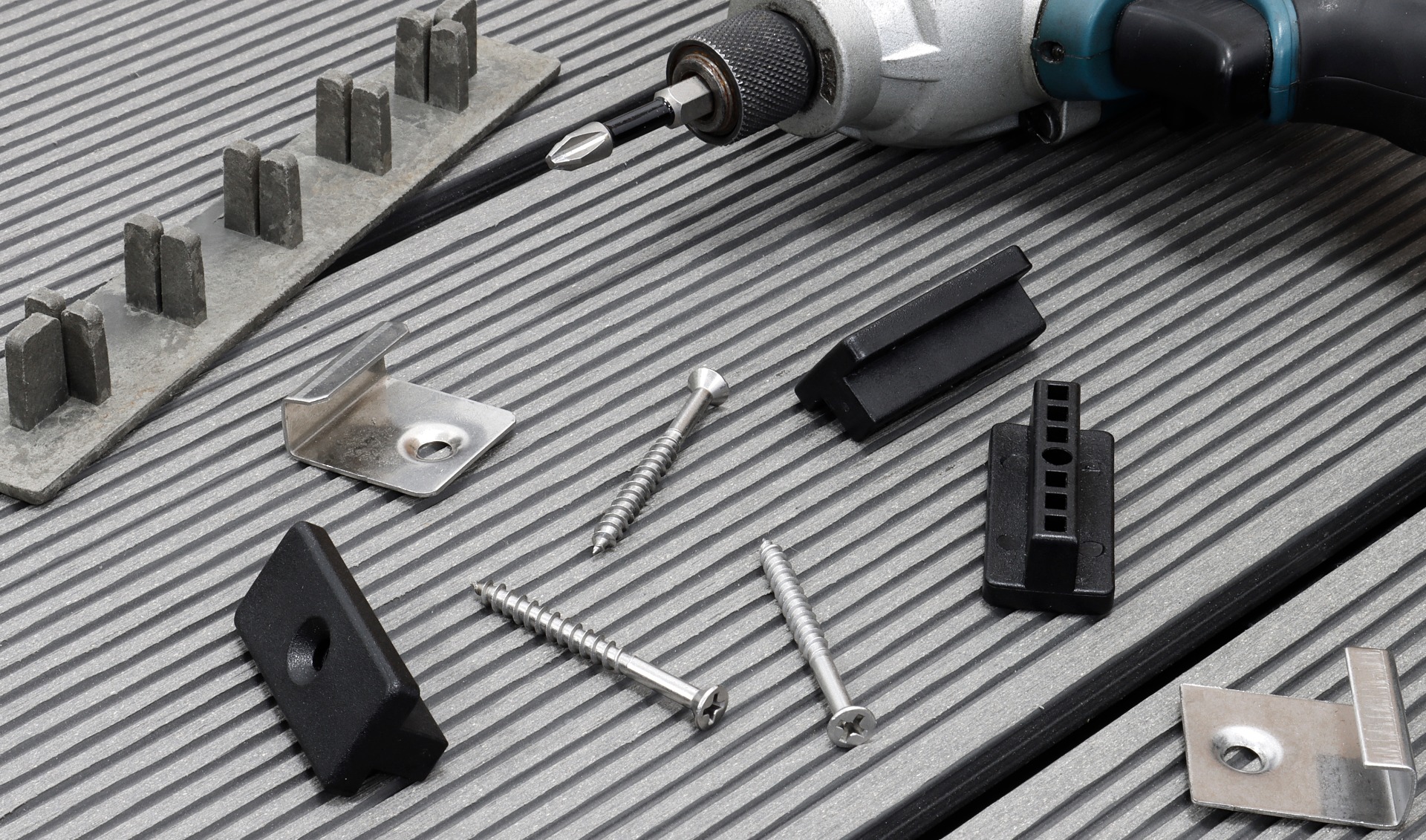 Labour costs and time frames
If you opt for a professional company to install your decking, expect to pay around £250 per day. This can vary given the location of your property, and the complexity of the decking area, but smaller decks of roughly 15 square metres can usually be completed in a single day.
For larger, more complex jobs, time frames can extend to 2-3 days, increasing labour costs to between £500-£750. Costs may be more if complications arise.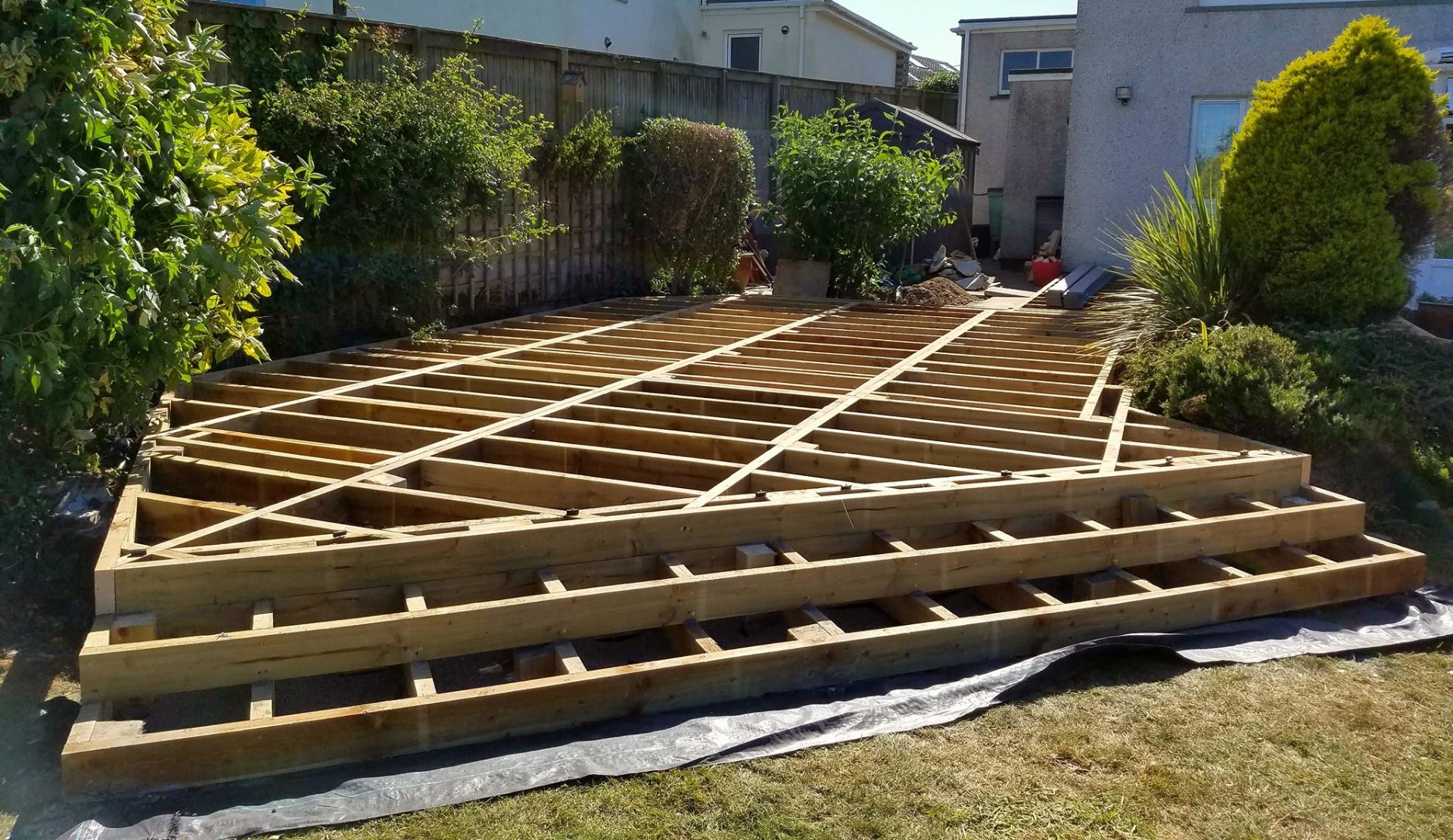 Consider the cost of subframes and decking joists etc that may be required for installation
Consider obtaining quotes from at least three different companies who are able to assess your garden area before beginning any work. Local decking specialists or landscape gardeners are good places to make a start when searching around.