When it comes to garden decking, most people immediately think of timber or wooden decking. However, if you're looking for something different, there are more alternative options out there than you may think.
Here, we discuss the pros and cons of timber decking and some popular timber decking alternatives.
Timber Decking costs and maintenance requirements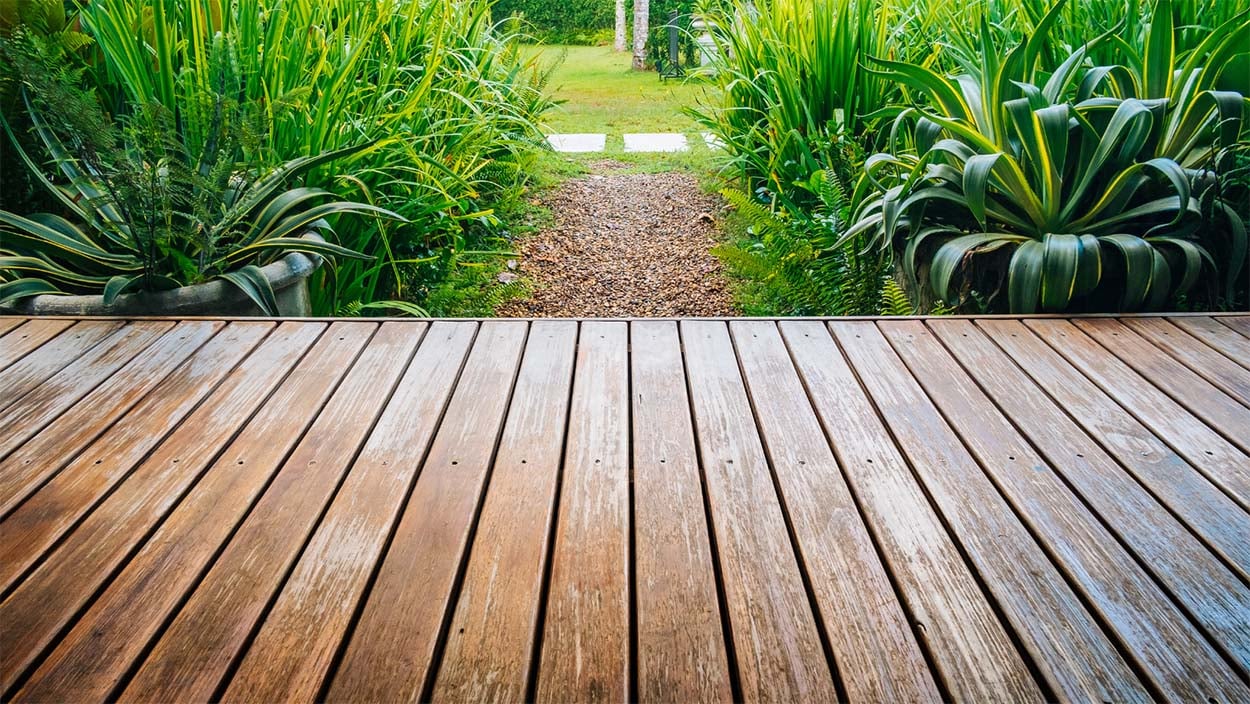 On paper, Timber Decking can appear to be a cheaper option when compared to Composite Decking or PVC. However, the hidden costs of regularly cleaning, sanding, painting and sealing a wooden deck can far outweigh the first monetary outlay.
Timber can become slippery in wet and cold weather conditions, and so will often need cleaning and sanding - costing you time and money year after year. As well as this, the wooden materials are more susceptible to rotting, and so may only last up to 5-7 years, meaning boards will need replacing fairly regularly.


Pros
Traditional decking that will suit most gardens
Lower initial cost than other decking options

Cons
Can become slippery in wet conditions
Requires regular maintenance such as sanding and sealing
Can rot and splinter if not maintained properly
Alternative decking materials:
Some alternatives to wooden decking boards include decking materials such as composite, PVC and bamboo - as well as different materials and styles altogether like slabs, bark chippings and gravel for example.
Read on to find out more about each, including their pros and cons:
Natural Stone Paving Slabs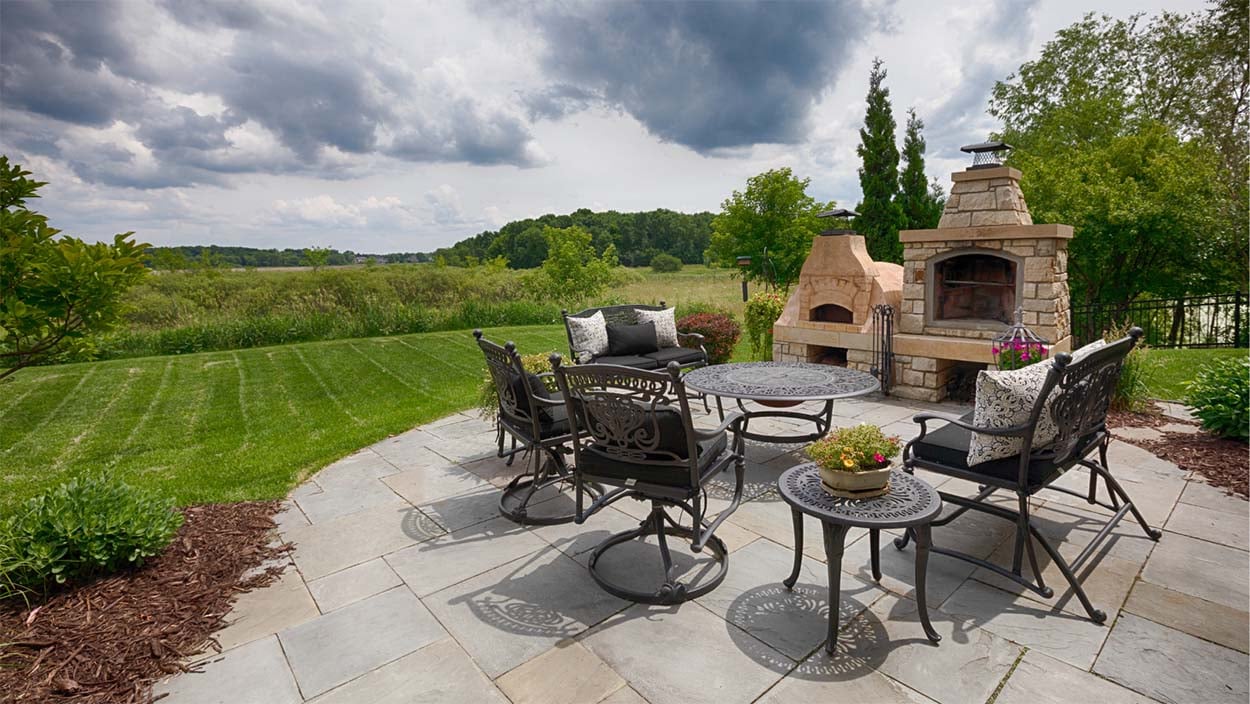 Commonly manufactured from granite, limestone and sandstone, natural stone decking alternatives like slabs are a timeless and practical addition to any garden. Inherently hardwearing and weather resistant, with each slab having its own unique veining, this option is one of the most popular among garden dwellers up and down the UK.


Pros
Attractive, timeless alternative to timber decking
Strong and weather resistant

Cons
Heavy and difficult to manoeuvre alone
Requires a solid, flat base which can often only be achieved with heavy ground working machinery
Is an expensive option in comparison to timber decking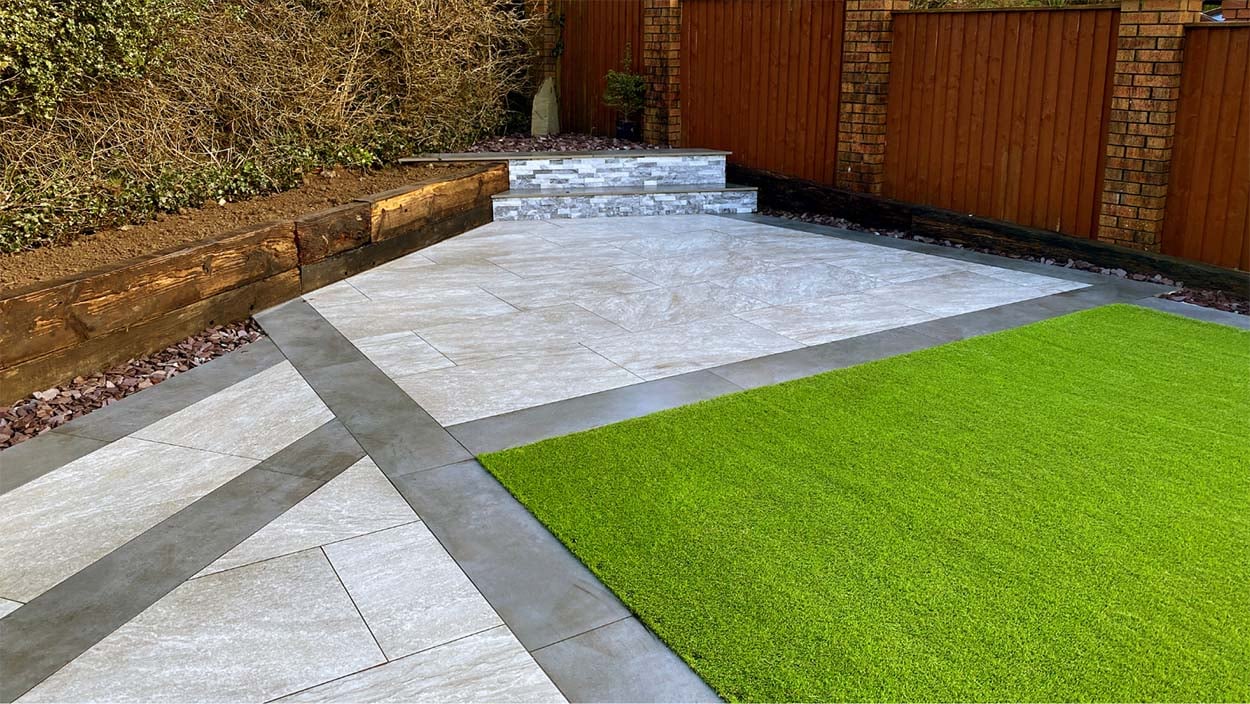 Manufactured similarly to natural stone slabs, porcelain paving is made from sand, clay and minerals that are baked at a high temperature, and then ground and polished - creating the unique, luxurious shine on the tiles. This baking process also makes porcelain tiles incredibly strong and weather-resistant.
Pros
An attractive option, often found in expensive hotels that gives a luxurious feel
Once, a top-of-the-range expensive option, porcelain paving has since become a more affordable option, with some options being even cheaper than stone.
Can withstand moisture and higher temperatures more successfully than stone paving tiles

Cons
Heavy and difficult to manoeuvre
Can be brittle due to the high temperatures used to bake the tiles during manufacture
The polished surface can become slippery during wet weather conditions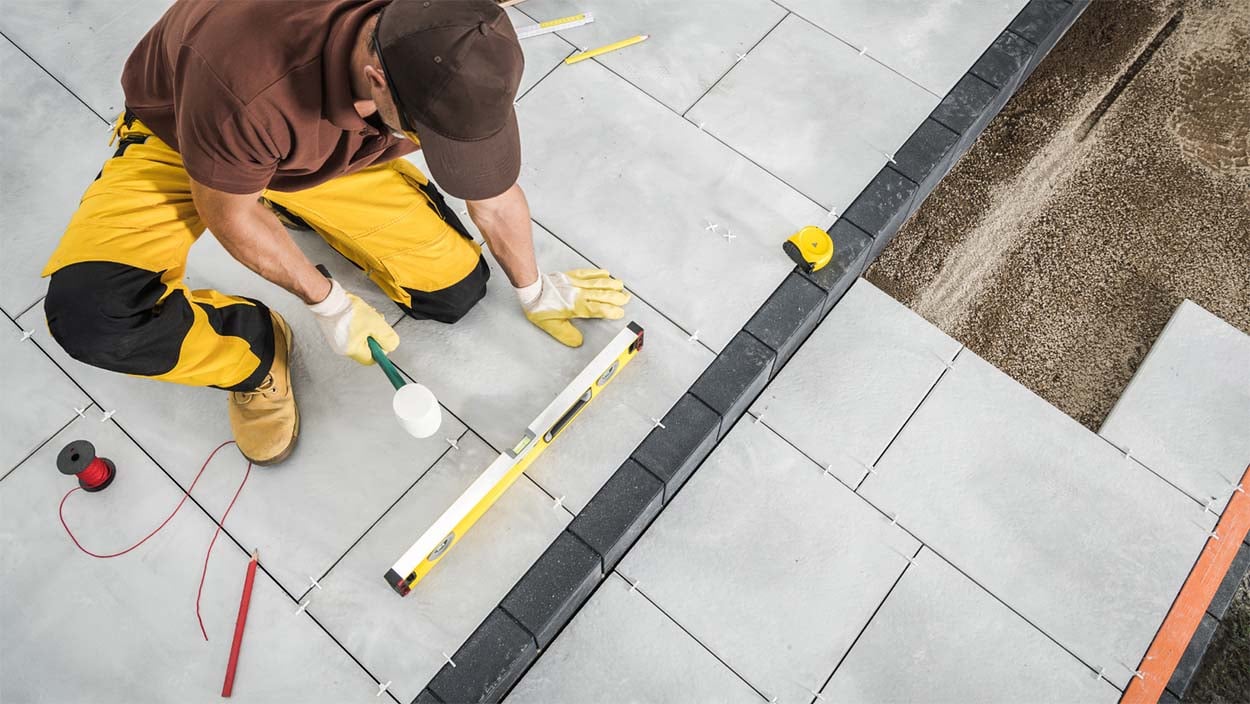 A cheaper alternative to both natural stone and porcelain paving tiles is concrete paving tiles. Concrete paving tiles are available in a range of colours and are designed to mimic the texture of brick or natural stone, at a lower cost.
Pros
Semi-permeable concrete slabs are available, which help with water drainage and prevent surface pooling
A cheaper alternative to natural paving tiles like stone or porcelain
Malleable: Can be formed into a variety of shapes and different textures before setting

Cons
The porous nature of the material can lead to unattractive staining
Concrete tiles can crack from movement underneath, and once this happens tiles will need replacing to prevent further erosion. New and older concrete tiles, when laid together, can create a mismatched look.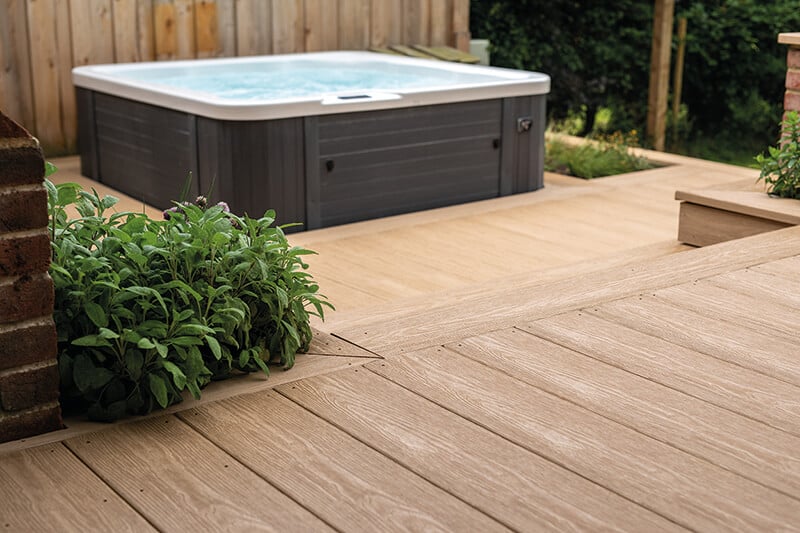 PVC Decking, unlike composite or timber decking, does not have any traces of real wood fibres, or natural materials, making for a synthetic decking material that is stronger and lasts longer than other real wood decking alternatives.
Cladco Premium PVC Decking is one of the highest-quality decking types on the market. Perfect for modern, traditional or alternative outside projects - and available in six colours. This decking comes with a 20-year guarantee and is the perfect high-end alternative to timber decking.
Pros
Low-absorption: the Boards are water-resistant - giving them the advantage over composite or timber decking for installations around swimming pools or hot tubs
Stain-resistant: will not hold onto moisture which encourages staining
Mould resistant: thanks to their low-absorption properties the boards will not encourage the growth of mould or algae
Increased strength: can withstand heavy loads, such as areas with high footfall or hot tubs.
Cladco PVC Boards have a 20-year guarantee

Cons
Unlike composite decking, PVC decking is not environmentally friendly
Unlike a composite Deck, a PVC deck board is not recyclable
More expensive than timber and composite boards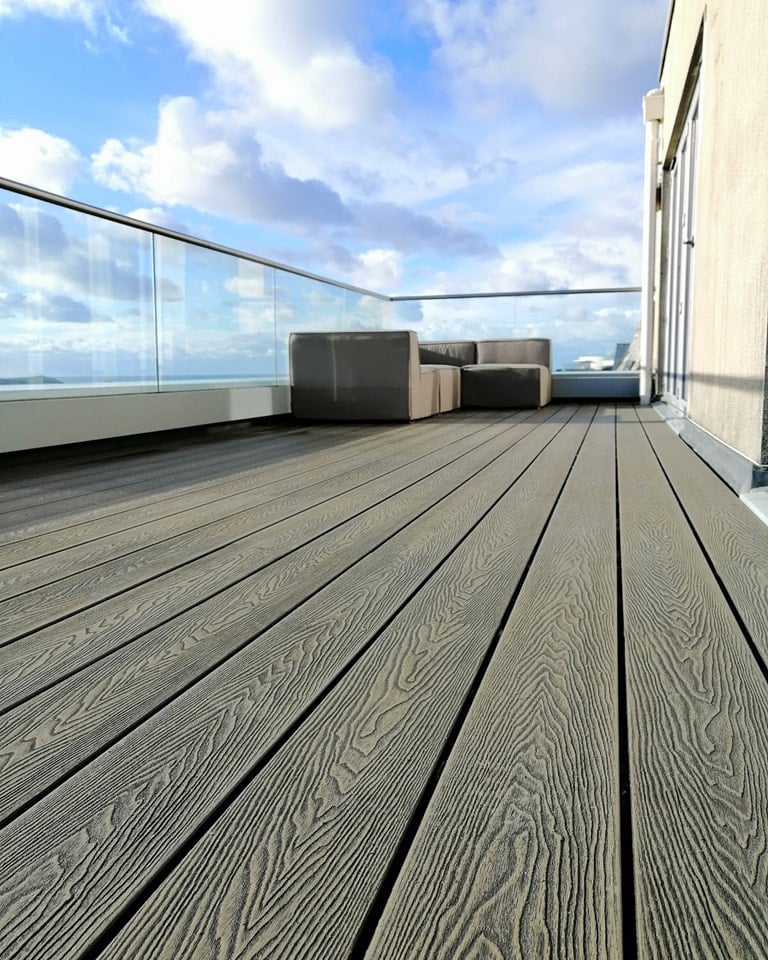 Composite decking is a high-quality and durable alternative to timber decking and is manufactured from a combination of natural wood and plastic fibres.
Cladco Composite Decking Boards are made from a wood-plastic mix, comprising of 60% recycled hardwood fibres and 40% recycled plastics. This makes Cladco Boards rot, warp and splinter resistant, whilst being environmentally friendly and long-lasting.
Favoured for being easy to install with low-maintenance properties, Cladco Composite Decking Boards are available in a range of eight attractive colours and in either Original or Woodgrain finishes.
Pros
Available in a range of eight colours as well as matching Trims and Accessories for a professional finish
No need to sand, varnish or paint
Environmentally friendly thanks to the combination of recycled materials (recycled wood fibres and recycled plastic)
Low maintenance - no need to sand, varnish, seal or paint your decking year in and year out
Insect and pest resistant 
UV resistant 
Cladco Decking products are available as FSC® certified for the same cost.

Cons
More expensive than traditional wooden decks
Despite being available in a range of colours, composite decking cannot be painted
Composite decking can expand and contract during changes in the temperature/environment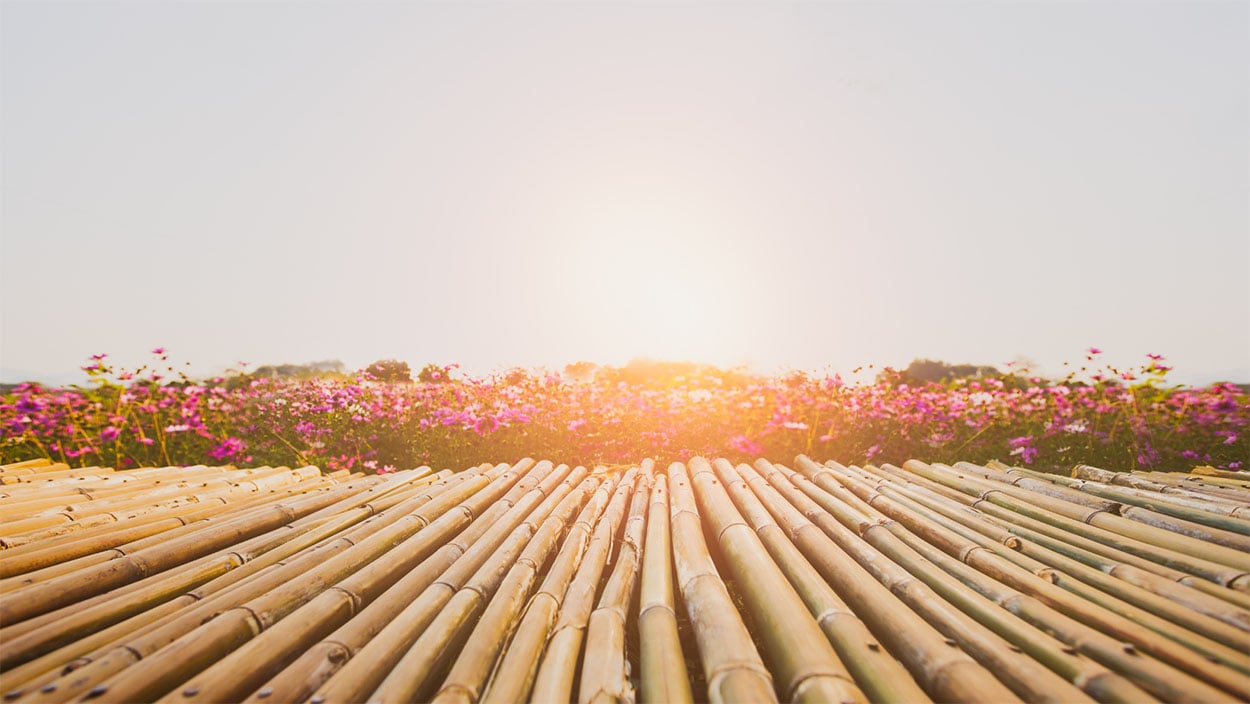 When it comes to decking materials, bamboo is probably not the first thing that springs to mind - however, today it is used for much more than just outdoor decor and garden props! One of these uses that is starting to make a difference is by using it as an alternative to decking materials like timber.
Pros
Aesthetically, bamboo is very popular among households looking for style and appeal - this reflects in the garden too when used as a decking material, bringing natural beauty and an oriental feel to outside spaces
Lightweight and durable: bamboo decking is easy to install in terms of lifting and moving
Minimal expansion and contraction in changes in weather and temperature
A cheap decking option that is generally less expensive than classic hardwoods like cherry or teak

Cons
Vulnerable to mould, mildew and rot due to the natural materials
Requires regular maintenance to avoid deterioration
Natural colour can fade over time, similar to wooden decks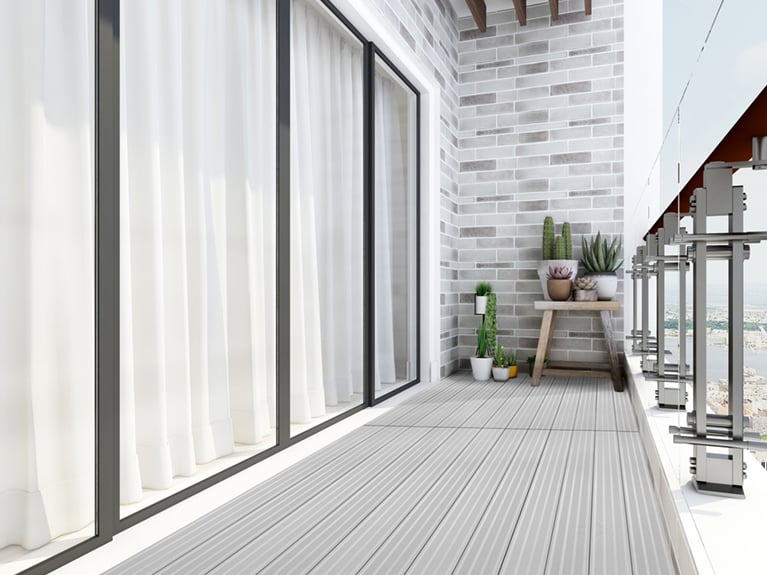 Aluminum Decking is one of the lightest weighing decking alternatives on the market. It is highly suitable for use on new builds, balconies and refurbishment projects whereby flooring may need replacing due to a change in residential fire safety regulations.
Cladco Aluminum Decking Boards are an A2-S1 fire rated alternative decking solution that makes the ideal choice for installations where specific building regulations apply. Available with four colours to choose from as well as plain Anodised Aluminium. Cladco Aluminum Deck Boards are a lightweight, non-combustible Decking option with superior strength when compared with Composite or Timber Decking.
Pros
One of the longest-lasting decking alternatives, with an extensive lifespan of up to 100 years
Perfect for installations at heights, such as balconies, due to their lightweight structure and fire rating
A2-S1 Fire Rated alongside an S1 Non-combustible rating

Cons
More expensive to buy than composite, PVC and traditional wood decking
Can be more challenging to install if you have no experience in fitting decking
It can provide an industrial look when finished, and so is good for commercial projects but not so attractive for domestic installations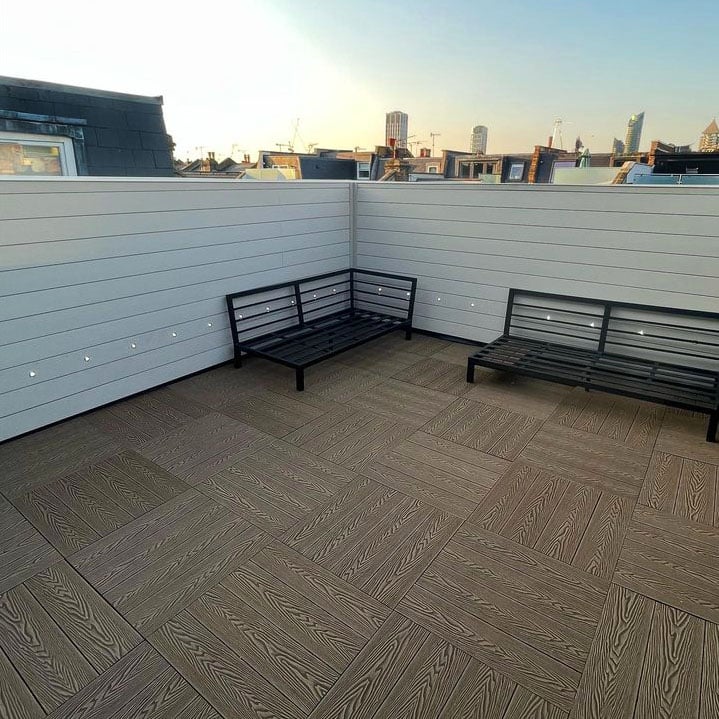 Decking Tiles can be installed quickly and easily without the need for a supporting sub-structure, screws, nails or adhesives thanks to their simple clip system.
Cladco Composite Decking Tiles are available in a range of four natural colours with a natural wooden pattern finish, that replicates the look and feel of wood, without the hassle of ongoing maintenance or lengthy installation times. Easy to install, the interlocking tiles feature a click-and-lock system - and look great all year round on balconies, patios, gardens and more.
Pros
Environmentally friendly (manufactured from recycled materials), and require very little maintenance
Can be used both permanently or temporarily on a range of applications, including, but not limited to balconies, outdoor eating areas, marquees, glamping pods, urban and rural gardens and rooftop terraces
Do not require a base to be installed upon

Cons
A downside to not requiring a sub-structure or base is that if decking tiles are installed on an uneven surface, they may shift and move
Weeds are also more likely to penetrate through the tiles when installed on grass.
Moisture should not be allowed to sit on the Tiles for prolonged periods



Cheap and easy decking alternatives
Compared with what has been discussed already, some cheaper alternatives to wooden decking boards include rubber mats, wood chippings and pallet decking. These more budget-friendly options may not have the same aesthetic appeal as timber, composite or PVC decking - but they do come with their benefits.
Read on to find out more about each, including their pros and cons.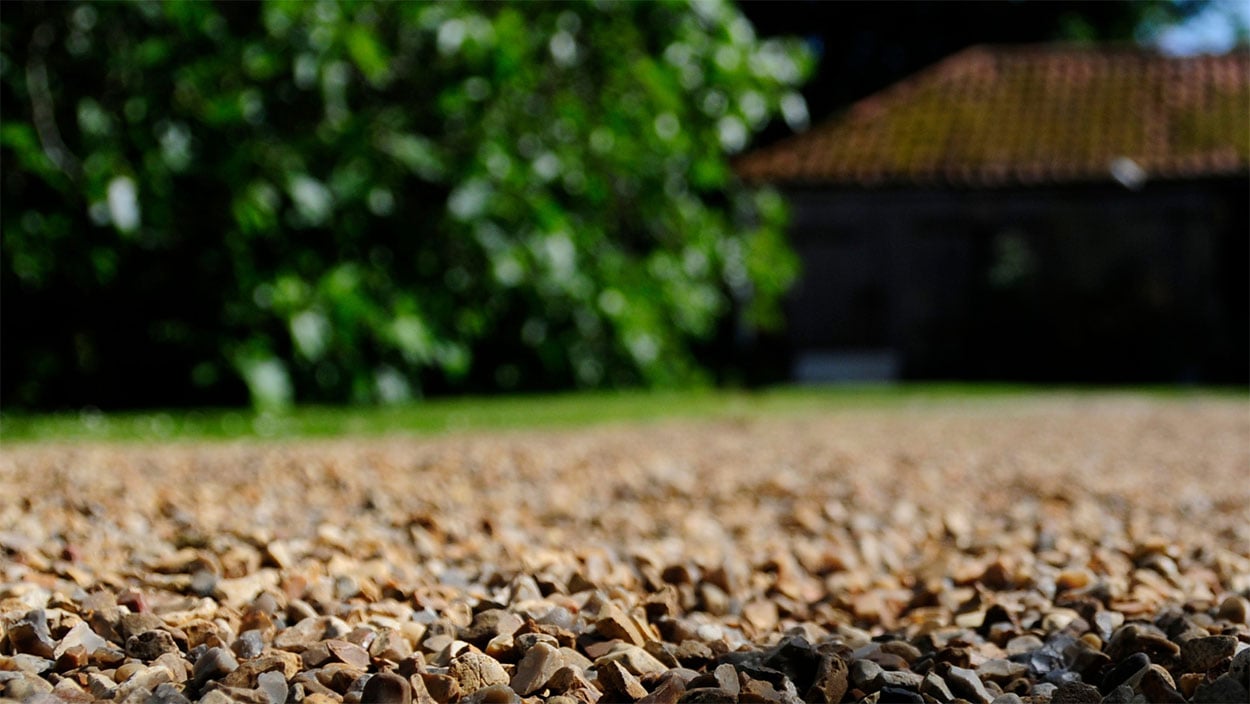 Gravel is one of the most cost-effect and accessible ways to create a usable and attractive surface in your garden. Unlike decking boards, gravel can be laid in as little time as one afternoon, and is a great option for the DIY-er who is looking to create an outside living space on a budget.
Pros
Cheap and accessible
Easy to maintain
Create a laidback feel to any garden

Cons
Weeds can easily grow up through the gravel
A membrane is suggested to be laid down before gravel - which can add additional time and expense to the project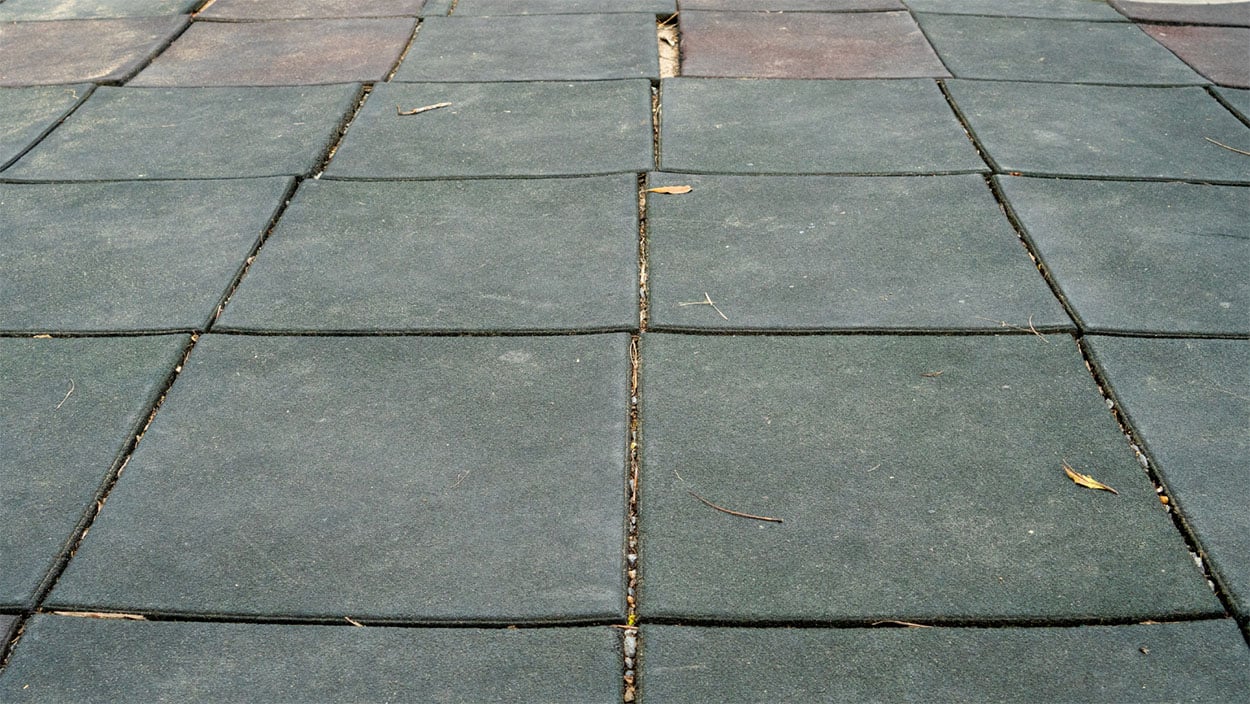 Rubber mats are a durable alternative to decking, and are great for areas with high traffic such as school playgrounds thanks to their slip-resistance and easy-to-clean properties. They are also a versatile option and can be installed both indoors and outdoors.
One of the only downsides to high-density rubber tiles/mats is that they can be a bit expensive. However, they will last you a long time so they are worth the investment if durability is what you are looking for.


Pros
Durable and slip resistant - can withstand heavy traffic
Easy to maintain
Great elasticity - meaning they are softer and spongier to walk on with bare feet than other options, again, making them great for playgrounds and schools

Cons
It can be an expensive option
Not very aesthetically pleasing - has an industrial look
It can be susceptible to an un-even finish depending on the ground beneath



Poured Concrete (Pattern Imprinted Concrete)
If you like the idea of having paving slabs as a decking alternative - be it concrete, porcelain or natural stone, but want to keep costs down - poured concrete is a great option for you.
Poured concrete patio options involve mixing cement, laying it whilst it is still wet/malleable, and forming shapes/patterns in it that can replicate the look of tiles, slabs or bricks.
You can also finish a poured concrete deck with a gloss or matte finish which can include an anti-slip additive to help prevent any slips or trips.
Pros
Unlike tiles or patio slabs, poured concrete means there are no gaps or cracks for insects and unwanted weeds to grow up through
Cheaper than most alternative decking materials on the market, including concrete tiles
Can be done at home as a DIY project - if you are planning on achieving this yourself, you can save up to 50% of the costs

Cons
Can be difficult to mix the exact right quantity and thickness of the cement that is being used
Not a suitable option if you require access to power or plumbing lines beneath in the future, as you will have to drill and remove the concrete to do so
Can be susceptible to an uneven finish depending on the ground. You may need to add compacted fill to the area to level out a sloped site for a patio.



A creative, cheap and eco-friendly decking alternative is using leftover pallets to create a patio area.
Year after year, thousands of wooden pallets go to land-fill, so reusing them in your garden as decking alternatives is a great way to maintain a green, environmentally friendly garden, with each pallet providing enough material for at least 1m2 of decking.
Pros
Cheap and easy to install - often they can be obtained for free
An eco-friendly option that re-uses wood that would otherwise go to waste
Creates a unique, recycled decking area

Cons
Some wood pallets can be treated with chemicals that can be harmful
The wood used in pallets can be prone to splintering and will need sanding and/or treating before being used domestically



One of the most natural and affordable ways to add useable space to your garden is by applying bark or "wood chip mulch". This is a combination of ground bark and wood that can be purchased in large bags and spread over outdoor living spaces as an alternative decking material.
As the bark is a natural product, it is a more environmentally friendly option over synthetic or rubber products.
Pros
Environmentally friendly
Cheap and easy to lay/access
Can help to repel some pests and insects

Cons
Can become damp in wet weather conditions, taking a long time to dry out
Not very aesthetically pleasing in comparison to real decking or paving tiles/slabs
In dry or windy conditions, chippings can be blown around



Self-binding gravel is made up of many fine particles of varying sizes (but all smaller than standard gravel) that essentially "knit together" to create a compact surface that is less likely to become dislodged or moved around than standard gravel.
This type of gravel isn't permanently solid in the same way that concrete or resin-bound surfaces would be, with most being able to be dug out in years to come - and reused.
Pros
Cheap and low-maintenance
Natural stone-looking appearance

Cons
Although low maintenance, weeds can appear and grow through the surface
Requires a free-draining sub-base before laying
A large density is required to cover a large surface area well
In dry or windy conditions, very small, dusty particles can be blown around and mark clothing/footwear



Brick has been a popular building material for many years, used for both building walls and houses, and paving surfaces for roads and pathways, bringing a timeless look to towns and cities. It also acts as a fantastic alternative to decking - with brick being a readily available material that is cost-effective and recyclable.
Pros
The attractive and classic appearance of brick patios can complement traditional red-brick homes
Durable and easily accessible material
Recyclable - leftover bricks can be reused for future projects
Easy to repair

Cons
Installation can be time-consuming due to the smaller nature of the bricks vs slabs etc
Does not allow for much scope in creating differently shaped decks - limited design options
Susceptible to frost heaving


To summarise, if you are looking to create a deck in your garden, but want to avoid using traditional wood decking materials - there are plenty of alternative options to choose from, from Composite Boards and Tiles to gravel and brick.