We answer some of your frequently asked questions about Cladco Composite Decking Tiles, so you can make an informed decision when it comes to looking for a brand-new floor for your home or outdoor space.
What is a Composite Decking Tile?
Cladco Composite Decking Tiles are square Tiles comprising of Composite Decking Boards secured to a solid plastic base. The surface of the Tile is manufactured from a low-maintenance, environmentally-friendly Composite material, consisting of 60% FSC-Certified recycled hardwood fibres and 40% recycled plastic.
Measuring 600mm x 600mm, each Tile can be connected to additional Tiles using interlocking pins and loops, allowing for various designs to be created by mixing colours and adjusting your decking layout according to the space available.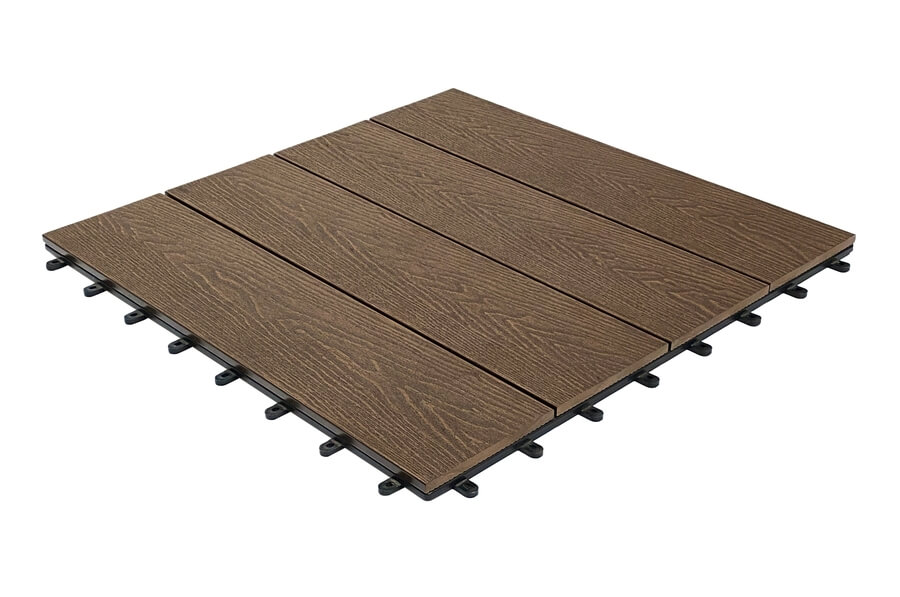 Are Decking Tiles good value for money?
Decking Tiles offer a cheap, low-cost way of reflooring and covering over existing tiles or paving slabs. Available in four colours – Charcoal, Coffee, Stone Grey and Teak – they can provide a brand-new look and style for your space. Sold as individual Tiles, you only need to purchase exactly the amount you require, however it can be advised to order 5% wastage in case of damage of mismeasurement. As these Tiles are low-maintenance, long term costs are considerably reduced when compared to timber decking, for example.
How many Decking Tiles will be required for my space?
You'll want to measure the area you wish to cover. Bear in mind, Cladco Decking Tiles are supplied in set sizes (600mm x 600mm) however can be cut down to size, if required. This is done by cutting through the plastic base and between Boards. Alternatively, if you're installing into a tight space, consider leaving room around the outside edge if the Tiles don't quite make up the required space. Use plants and other ornaments to help fill out, or hide, large areas around the Decking Tiles.
Cladco Decking Tiles measure 600mm x 600mm, covering 0.36 sq metres per Tile, which makes them four times larger than most other Decking Tiles on the market. Measure the lengths of the outside area of the space that you're planning to install the Tiles, and multiply those numbers to get the total square coverage. Then, divide this number by 0.36 to get the exact number of Tiles.
Here's an example calculation based on an area of 1.8 square metres:
Area to cover: 1.8 metres x 1.8 metres = 3.24 sq metres
Each Decking Tile (600mm x 600mm) = 0.36 sq metre coverage
3.24m (total area) / 0.36m (Tile coverage) = 9 Decking Tiles required
If the area you are covering doesn't quite equal a whole number of Tiles, then either round up if you have extra space around the edges, or round down to be safe.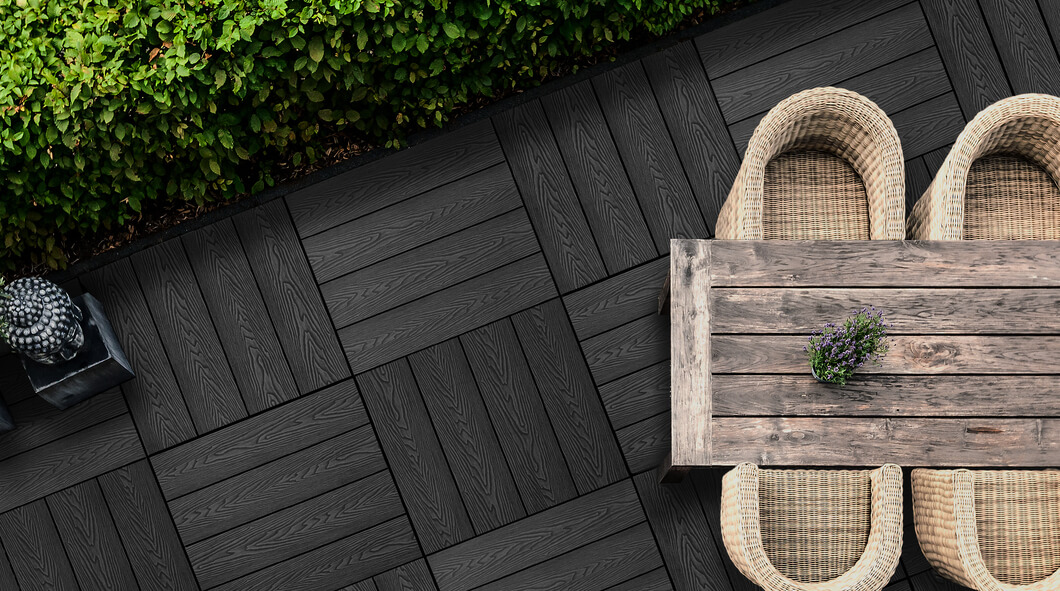 Where is the best place to install Decking Tiles?
Decking Tiles work best when installed over an already flat or level surface. This reduces the bumps and maintains a good connection between each Tile when laid. Examples of ideal surfaces could include a solid balcony, existing patio area, or concrete floor. Because Decking Tiles have such a simple design, installation is quick and easy if the existing ground is flat and stable.
Can I lay Decking Tiles on grass?
Although not recommended, Cladco Decking Tiles can be laid on soil or grass, however should not be a permanent solution. Be sure to check the ground is flat and stable before laying down. It's recommended to lay Cladco Weed Mat underneath to prevent any unwanted plants growing through. Weed Mats can also prevent the Decking Tiles from 'bedding' into the soil over time.
Can I lay Composite Decking Tiles around a swimming pool, pond or water feature?
Due to the natural wood fibres used in the manufacturing process, Tiles may expand and contract when saturated with water, so for this reason, where water may sit or 'pool' for long periods at a time, we don't recommend installing around swimming pools or ponds.
To help reduce any water build up on the surface of the Decking Tiles, we recommend installing them at a slight angle to allow the water to run off. Looking for the best decking around a swimming pool or pond? See our PVC Decking Boards here for more information.
What are the other benefits of Decking Tiles?
As well as being easy to install, low-maintenance and low cost, Cladco Composite Decking Tiles come with additional benefits. The anti-UV agent mixed into the Composite surface during manufacturing helps to reduce the level of fade from direct sunlight. Additionally, each Tile features a realistic woodgrain effect surface that's attractive and easy to clean. The same woodgrain effect can be seen on Cladco Woodgrain Composite Decking Boards.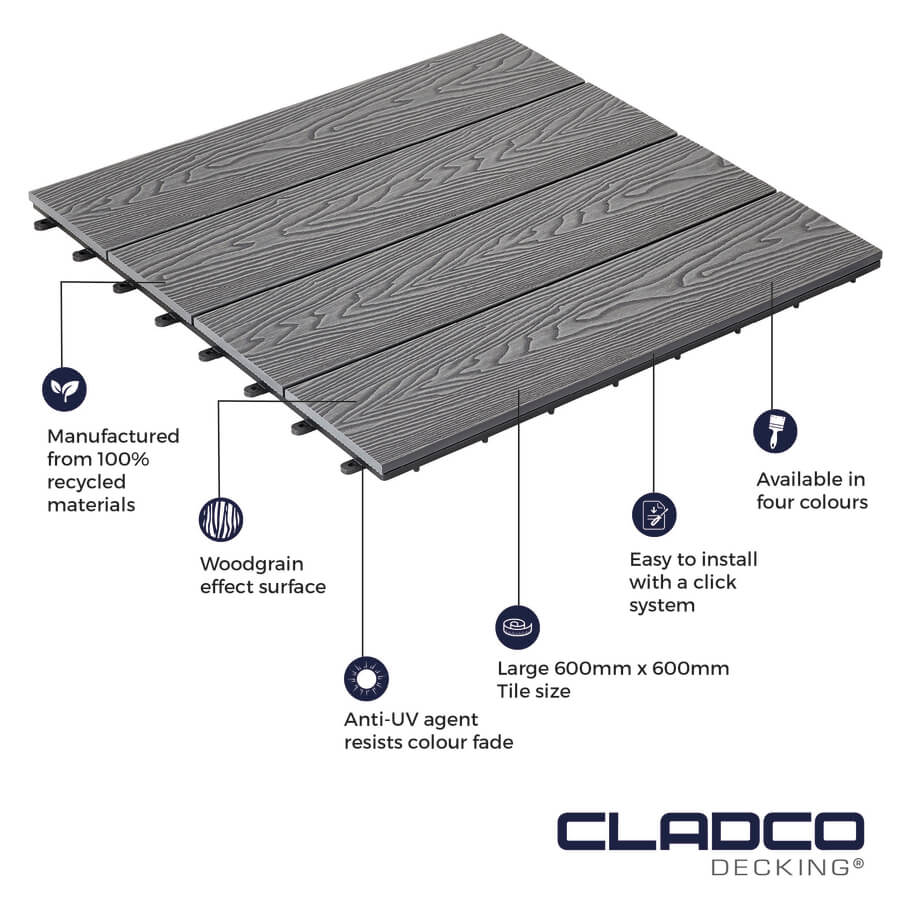 How do I fit Decking Tiles?
Cladco Decking Tiles are easily installed using a simple click system whereby plastic pegs on one side of a Tile are hooked into loops along the edge of another Tile to form a connection. This allows the Tiles to be quickly removed and replaced over time if they become damaged, and also makes them a flexible option for taking them with you if you plan on moving home, or renting a property.
Tiles can be cut using ordinary saws and tools, however we recommend that Tiles remain in their original form for stability and to keep their interlocking pins and loops in place.
This simple system requires little to no DIY experience or knowledge of laying Tiles, and there are no additional materials required to connect one Tile to the next.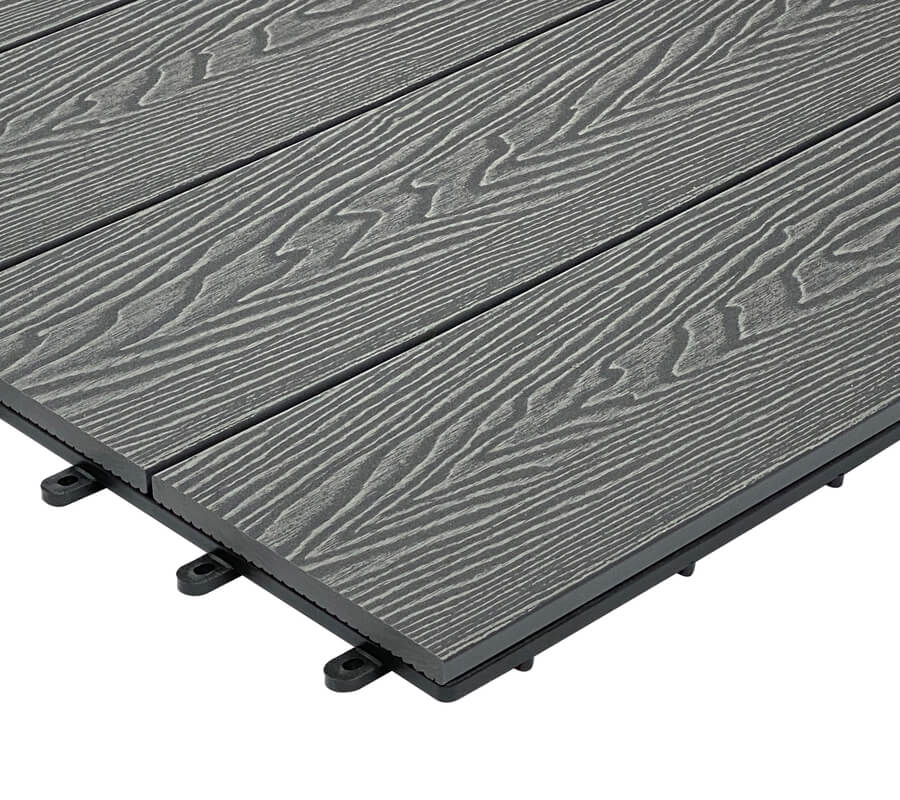 What happens if the ground is uneven?
We recommend to lay Decking Tiles on level, stable ground to allow the Tiles to securely sit in place and not move or shift. If the ground is uneven, attempt to level the ground first as much as possible, or by compressing any bumps down. Tiles are flexible and so will sit over the subtle dips and bumps with minimal distortion, but by reducing bumps will reduce any cracking or splitting in the base of the Tiles once connected and installed.

Find out more about Composite Decking Tiles online, or by calling our Sales Team on 01837 659901 for a quote.