Cladco Composite Ivory Wall Cladding Boards have been used in this fantastic project to clad this stunning Shepherds Hut
Since the 15th century, Shepherds Huts, predominantly used by shepherds to sleep and live in whilst tending to their flocks, all year round. The little homes on wheels would traditionally have a log burner and be used for living, cooking, sleeping, and nursing any injured lambs or sheep. Back along, these huts would traditionally have been made using timber and corrugated iron sheeting, materials which could be found with ease around farms.
Nowadays, however, Shepherds Huts are being used as second homes, holiday lets, travel, potting sheds, offices, businesses, and Airbnb to name a few. With the growing popularity of Shepherds Huts, the need to Clad them in either traditional or Contemporary ways is also growing.
Is Cladding a Shepherds Hut traditional?
While Cladding was traditionally done with corrugated iron panels and the occasional timber cladding. The Corrugated Sheets wouldn't have been the warmest in the winter and may have been unbearably hot in the summer. Timber, while looking attractive, demands a lot of time and laborious maintenance to ensure it stays a high-quality, durable product.
@the_hut_life on Instagram have recently created their own Shepherds Hut and have taken inspiration from classic huts. However, instead of timber or metal sheets, they have used Cladco Composite Wall Cladding Boards in Ivory on their idyllic hut. This not only pays homage to traditional timber cladding, but the ivory colour of the boards creates a contemporary yet traditional, sophisticated and chic aesthetic.

Cladco Composite Wall Cladding Boards are a high-quality, environmentally-friendly Wall Cladding Board manufactured from 60% FSC accredited wood fibres and 40% recycled plastic. Using both manmade and natural materials in this product gives the Boards a range of beneficial features not found in natural timber cladding, including:
Low-maintenance Cladco Composite Wall Cladding Boards do not require staining, sanding or varnishing.
UV-Resistant – Boards should not fade in the sunshine.
Bug and insect resistance
Easy to install – Installed using a Tongue and Groove technique for an attractive and seamless design
Available in a range of eight colours
What are the benefits of Cladding a Shepherds Hut?
Shepherd Huts are often Cladded in either timber or corrugated sheeting. Adding wall cladding can benefit your Hut for a range of reasons. Not only does adding Cladding transform the outward appearance and aesthetic of your Hut. The naturally hard-wearing and durable material used as Cladding should also protect your Hut against the elements.
Thanks to Composite Wall Claddings low-maintenance properties, adding Composite Cladding to your project can help reduce the amount of time taken caring and looking after it.
Do I need planning permission for a Shepherds Hut?
Please note that we are not certified building surveys, and before going ahead with building your Shepherds Hut, we advise contacting the correct legislation bodies.
As Shepherds Huts can be used as both commercial and domestic lodgings, planning permission needs may vary depending on where the Hut is situated and the use it is designed for.
The below is a quick outline of when you may need to seek planning permission, further information regarding Shepherd Hut planning permission here.
| | |
| --- | --- |
| Commercial Purposes – Renting as a work space or Holiday Let | Most likely need Planning Permission* |
| Personal / Domestic use in a Private Garden | Planning Permission may not be needed |
| Personal / Domestic on Agricultural / Farmland | Planning Permission may be required for change of use |
| Personal / Domestic use in an area of outstanding natural beauty / National Park / Next to a listed property | Planning Permission likely to be required |
| Commercial use on private land | Planning Permission likely to be required |
| Temporary / Seasonal Commercial use on Private Land | Planning Permission may not be required, however a Planning Exemption License maybe |
*source: https://www.tinyecohomelife.com/shepherd-hut-planning-permission
As a general rule, most Shepherds Huts shouldn't need planning permission if used domestically on private land. A garden building can be considered a permitted development as long as certain requirements are met. This includes the height, and the building must be a single level only, with the maximum height not extending 4m, unless the building is within 2m of your property's boundaries. Find out more about planning permission and regulations here.
However, if you would like to have your Shepherds Hut roam, this may need additional permissions and met other legislation, such as maximum height, weight, etc.

This Shepherds Hut is a stationary piece in a customer's garden, Cladded in traditional Timber Cladding and encased in Cladco Composite Teak Decking Boards.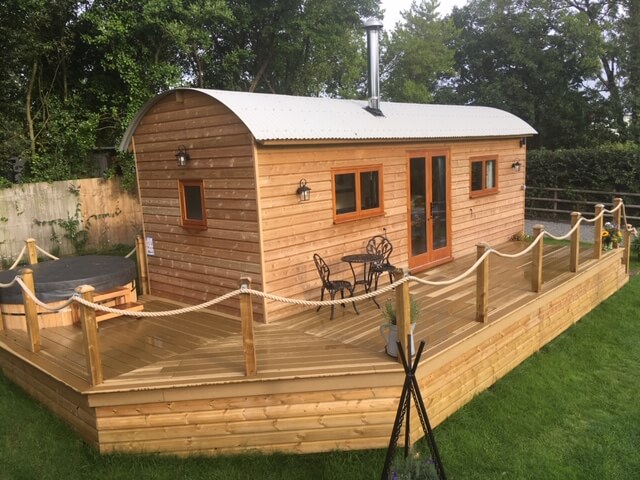 Cladco Composite Wall Cladding Boards can be used for various projects and designs, including homes, garden offices, garages and more.
See further inspiration on how you can use Wall Cladding on your next project in our gallery here.
Or use our Wall Cladding Calculator to figure out how many Cladding Boards, Fixings and accessories you may need.