The warmer weather is slowly arriving in the UK, and hopefully will be sticking around for the foreseeable months. With it comes longer evenings, more daylight, sunshine and BBQs with family and friends.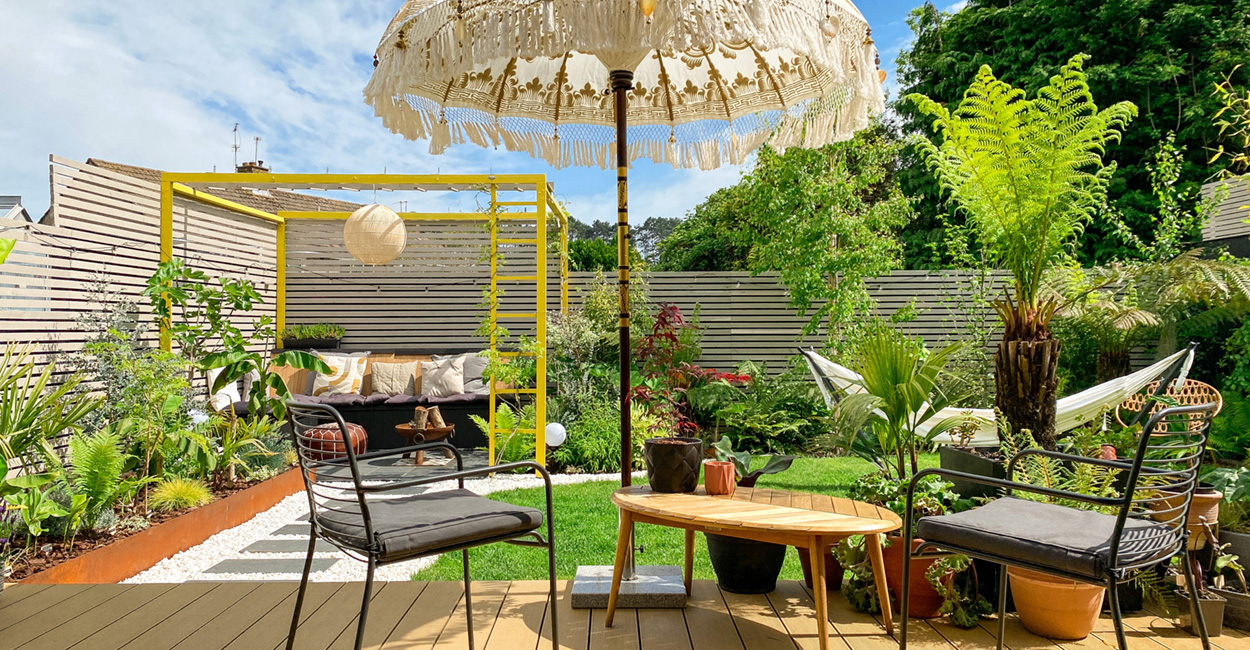 British gardens look their best when in full bloom and filled with colour. Prepare to bring your garden to life this summer by planting any flowering plants in advance.
Lillies and Dahlias for example thrive when cultivated in the spring and make for colourful options to add vibrancy and a new lease of life to your post-winter garden.
Be sure to use good compost and garden soil and remove any weeds beforehand, to give your flowers the best chance to thrive.
If your outdoor space is still feeling less than bright, pre-planted pots are a fantastic way to add an instant lift to your garden. Many garden centres supply a vast range of pre-potted flowers and plants during the warmer months that you can simply pick up and take home.
When placing your new pots outside, it is important to consider where they will be located - in the sun, in the shade, or in the shelter of a corner? Always check the planting care guidelines that come with your particular potted plant of choice, and be sure to water regularly during dry spells.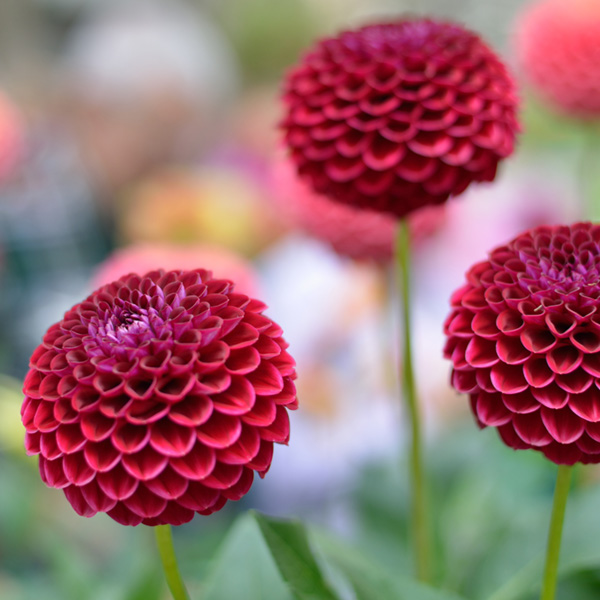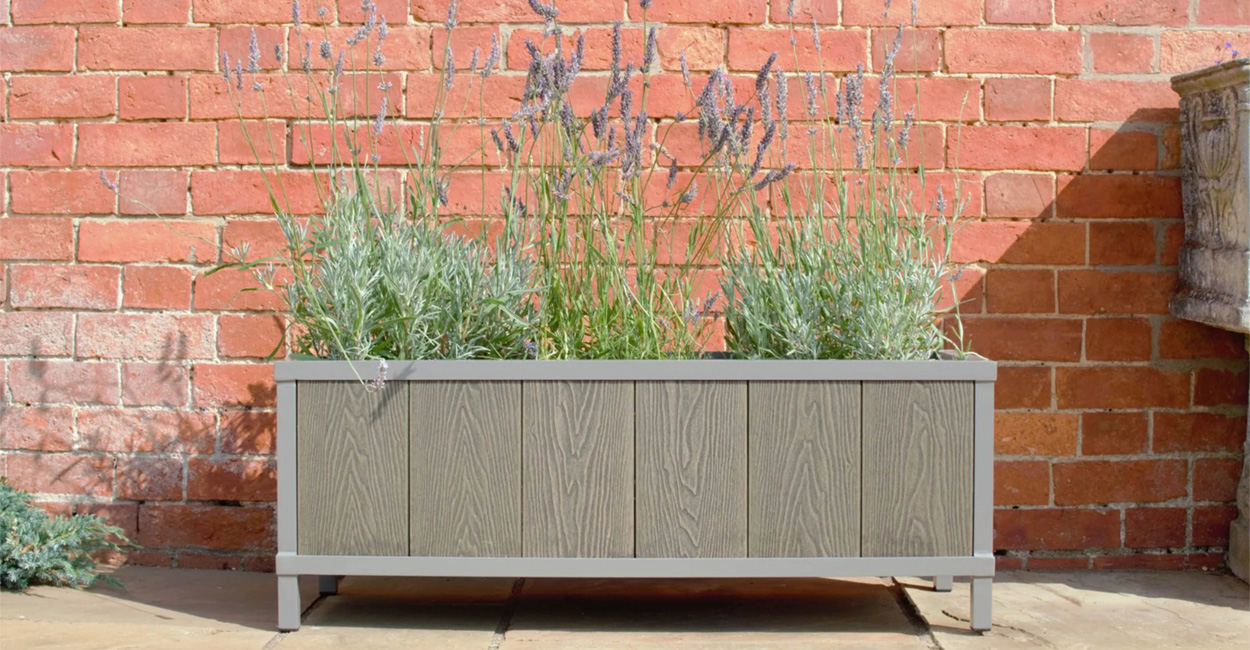 Why not experiment with any leftover Composite Decking Boards you may have and create a DIY planter, like the above by @GurneyDesign? It is a great, eco-friendly way to recycle and put any offcuts to good use. Find out more on our Blog.
2) Clean Patios, Paving Slabs and Decking Areas
Timber deck boards can become very slippery when wet and during the colder months, can become susceptible to algae growth on their surface which can become a hazard.
Before the Summer months arrive, be sure to sweep away any debris and dead leaves with a stiff brush. Then, once all the leaves are removed, using a good quality Deck Cleaner, scrub the boards in the same direction as the joins or use a pressure washer to remove dirt and build-up. Rinse away with a bucket of warm water ready for entertaining guests over the coming months.
Composite decking has a naturally lower-slip risk than timber, with Cladco Composite Boards featuring narrow grooves on the surface to control water pooling and add some grip underfoot.
Composite Boards are also rot and warp resistant, and so remain cleaner and safer all year round when compared to their timber counterpart.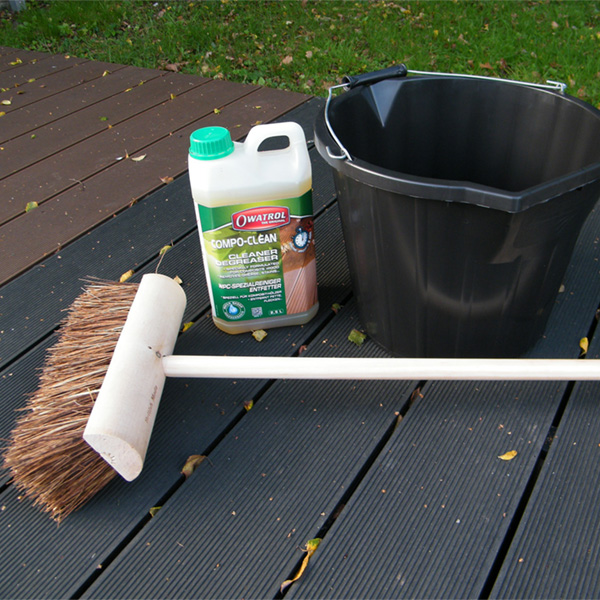 3) Clear out and spruce up the Garden Shed
Spring cleaning is not just reserved for inside the home - give your garden shed some pre-summer care and attention by clearing out any unwanted clutter, like old toys and unused gardening equipment. As a general rule - if it hasn't been utilised in the garden for the past 3 years, it's time to take it to the recycling centre. If it has - it's time to give dirty tools a clean and sharpen.
Spring is also a great opportunity to take the time to look at the maintenance needs of any garden buildings such as potting sheds, summerhouses and garden rooms.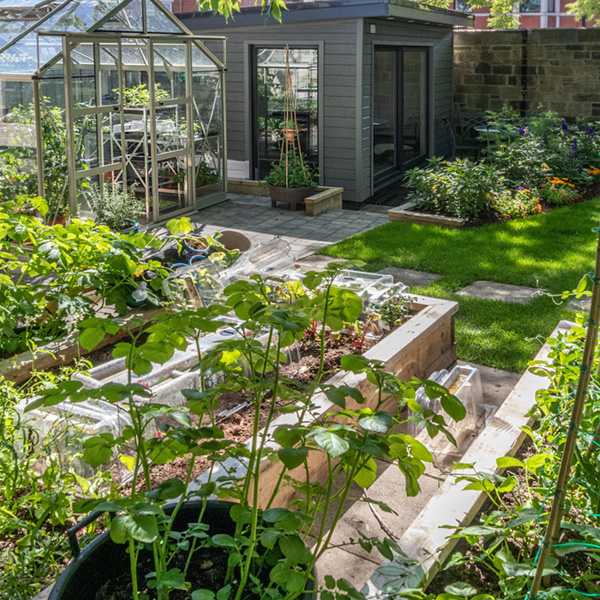 Check the structure of the building is safe and secure, whilst keeping an eye out for any potentially rotting timber or pest infestations.
If the case may be that your outbuilding is in need of some TLC, a good option is to repair and then protect the external walls using Cladco Composite Cladding to prevent future damage. Composite Cladding is resistant to pests and will not rot, warp or splinter - and is an easy-to-install way to bring some brightness to your garden ready for summer, whilst providing a shaded spot to relax and cool off in.
This project shows a garden outbuilding before and after some springtime maintenance, using Cladco Wall Cladding Boards in the colour Charcoal to improve the appearance and structural integrity of the newly cleared-out shed.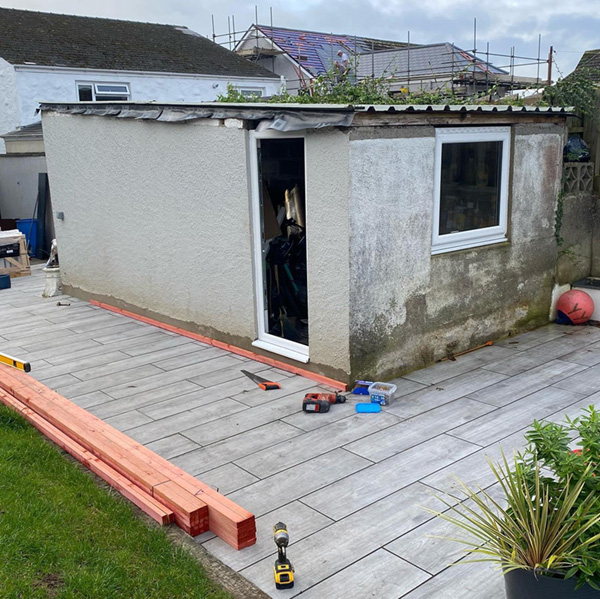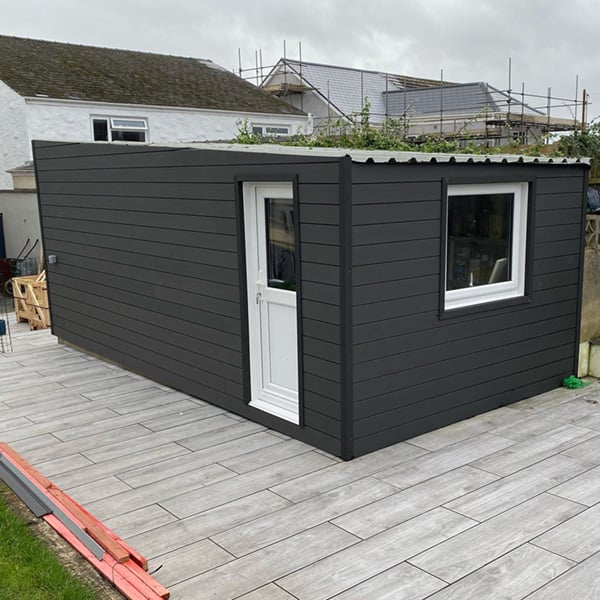 4) Clean the BBQ and Garden Furniture
 Get ready to entertain guests in advance by giving your barbecue a clean - it's a job we all put off every year, but having to scrub the barbecue and all the tools that come with it just when you are about to start cooking - makes the task even more dreaded.
5) Paint, Treat or Replace your Fence
As the weather improves, it's a great time to tackle those hard-landscaping tasks like repairing any fences or even installing a totally new one.
Not only do fences provide you and your family with privacy, but they also frame and set the scene for the rest of your garden. Treat and seal timber fences regularly to ensure they look and act their best year-round.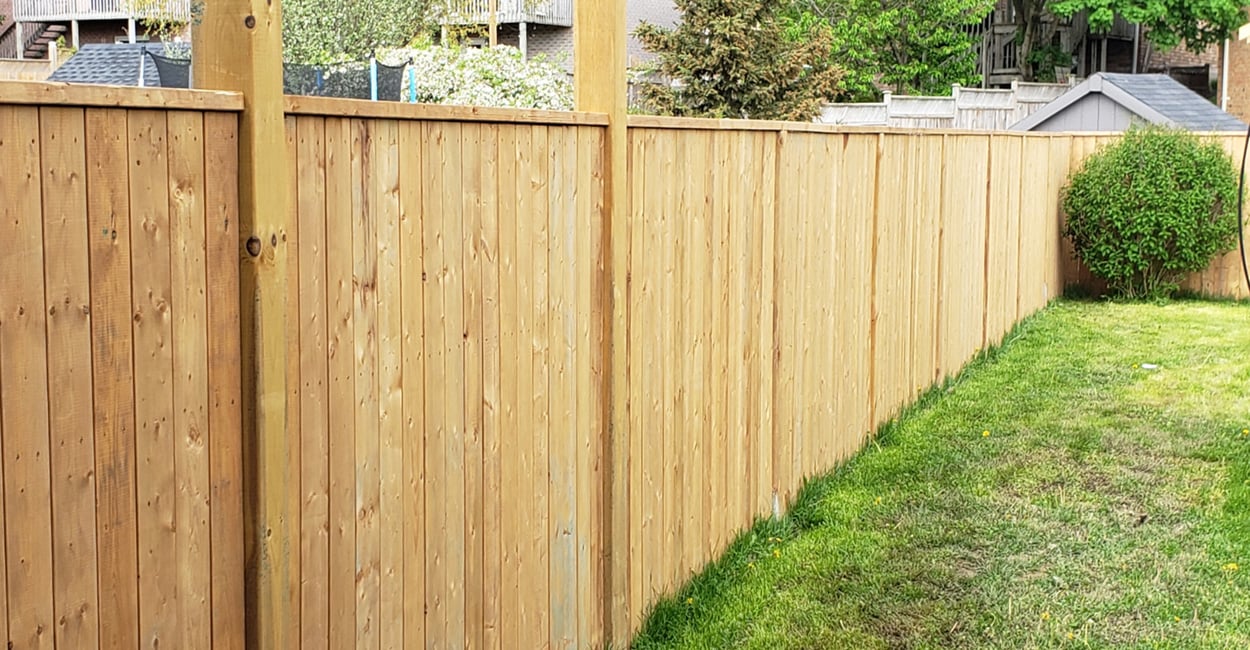 Cladco Composite Fencing Panels (below) will create a contemporary fence for your garden, as below. Manufactured from environmentally friendly materials that withstand harsh weather conditions, our composite products are rot and splinter-resistant, and do not attract insects and or pests, unlike timber alternatives.

Cladco also supplies Composite Fencing Posts and Post Caps in eight matching colours, from light and subtle hues to warm earthy tones, so you can design a garden fence to best suit your existing Composite Decking, garden furniture or buildings.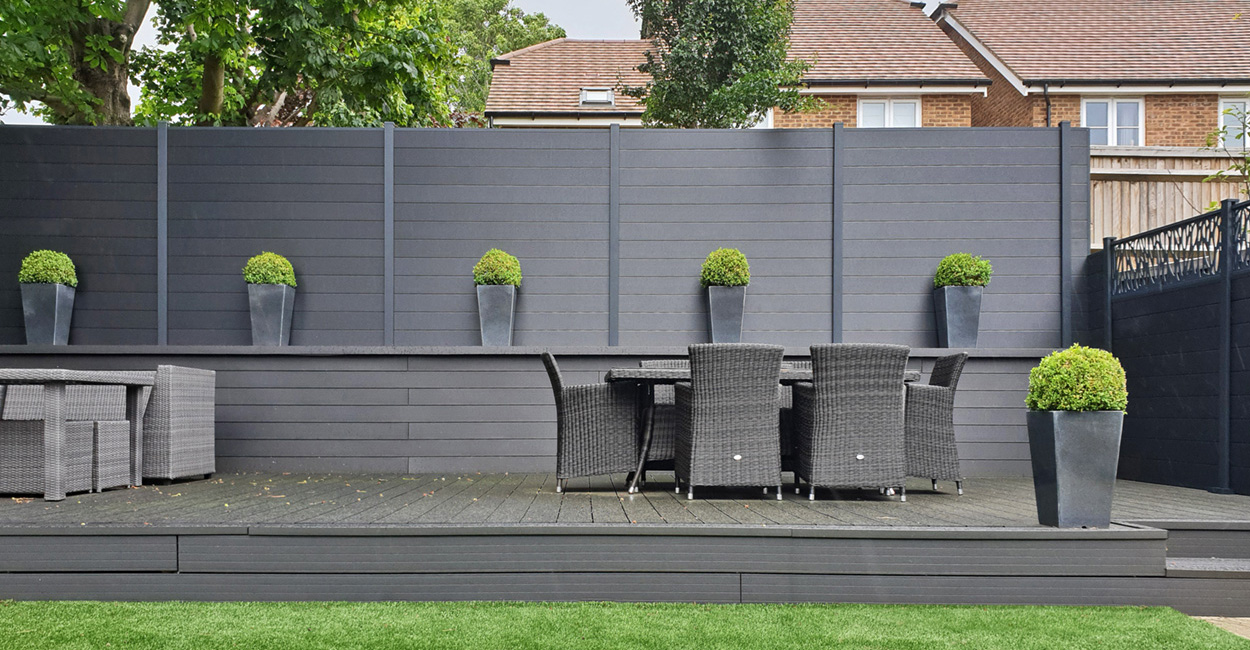 6) Add Pops of Colour with Bright Accessories
If you're not green-fingered or you have a small garden that doesn't have much space for flowers and foliage, adding bright accessories is another great way to add pops of summer colour to your outdoor space.
Bunting, colourful cushions and ornaments are a fantastic way to achieve a welcoming and comfortable space when entertaining and are a relatively low-cost way to make a big difference to get your garden ready for summer.
7) Prepare for Entertaining
It is often said that the first five minutes of a party is enough time for a guest to form an idea of how the rest of the experience will be as a whole, so it is important to ensure that your first impression is a good one!
Simple touches like a table filled with welcome drinks and nibbles that cater to all, or a sign directing guests to the garden can make people feel more welcome and they're more likely to leave having had a great time.
Create a relaxing atmosphere as the day turns to night with soft string lighting like fairy lights draped over trees.
Firepits, chimeneas and patio heaters can provide atmosphere, light, and a rustic holiday feel, whilst providing blankets for your guests will emphasise the effort you have gone to as a host!
To enhance the festive vibe, consider adding a curated playlist of background music that sets the tone for the evening, creating an immersive and memorable experience for your guests. Incorporating elements like wind chimes or a trickling garden fountain can add an extra layer of soothing ambient noise.
With UK heatwaves becoming more expected every year, having a shaded spot to relax and cool off in is a must. In preparation for the hotter months, why not invest in a built-in pergola, or, if space and time are against you - a good-quality parasol?
The below garden has utilised a pergola by encouraging climbing plants to grow around it, creating a natural and environmentally friendly shaded spot.
To prepare your garden for summer, there are several things you can do in advance to help your plants, decking, garden tools and entertaining space thrive.
Make a to-do list starting in the early spring, and get a head start to prevent any hard work building up last minute - from cleaning your BBQ and filling flower beds beforehand.
For more information, gardening tips and advice, always speak to a professional horticulturist about how you can help nurture grass and flowers during droughts and summer heatwaves.