So you've decided you're going to have Composite Decking in your garden… now comes the hard part – what colour should I choose? Selecting a Composite Decking colour might seem challenging at first as this is something you're going to see from the house, sit on all summer and have your friends & family come to see it. It's a big design decision and there are so many options out there. Cladco Profiles offer a range of 8 Composite Decking Boards, Teak, charcoal, Light Grey, Stone Grey, Coffee, Ivory, Olive Green and Redwood. A simple choice you might think when choosing from just 8 colours… but before you make your decision here are some quick tips to help you with the process.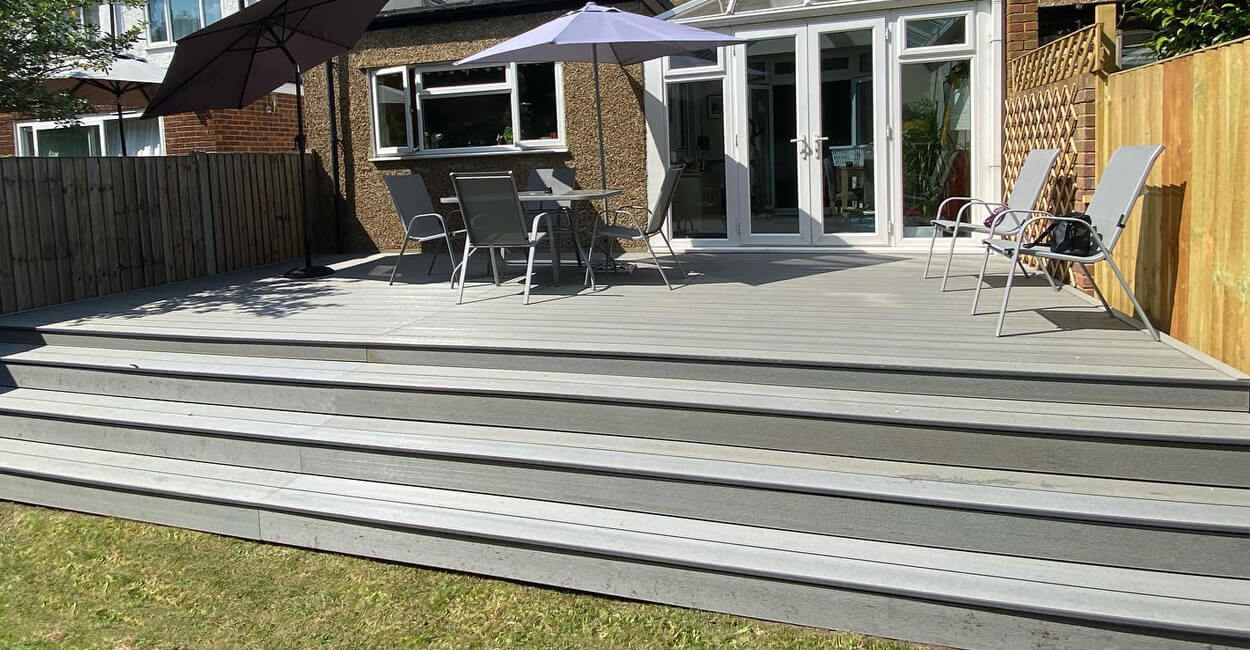 Colour Complimenting/Contrasting
Take a look around your home, it's likely you have a favourite group of colours or a particular theme you tend to work with. You may live in the Country and favour neutrals and natural colours, or a coastal property with a nautical theme. Whether you like bold striking monochrome modern or more traditional themes luckily Cladco's 8 Composite Decking colours are perfect for any style or theme.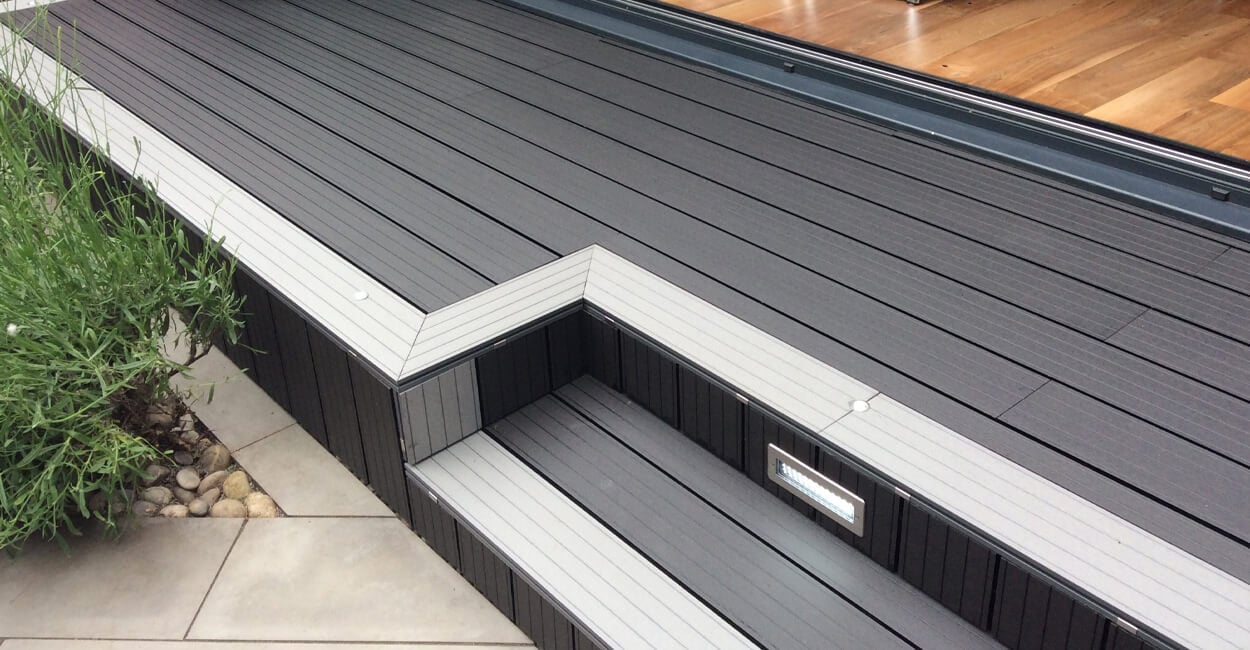 Think about where the decking will be laid.
As with any material when laid in the sun for long periods of time it will get warm. Darker colours such as charcoal naturally attract more heat. It's worth considering this when choosing your decking colour, if the decking area is going to be in direct sunlight all day every day you may wish to choose a lighter board to help with the temperature such as the teak, Ivory or light grey boards. It is worth considering installing a sun umbrella, or shade nets to help with sun exposure. If the Composite Decking is going in a shady spot then the colour may be less of a factor with regard to heat. You may also wish to consider how much you will be walking on it from the garden, naturally Charcoal shows a lot of lighter marks such as dust and footprints, this can also be the case with lighter materials. Thinking about your kitchen floor and which shows the most/least amount of dirt may also be a factor in choosing your colour. Slate floors for example can show a lot of marks whereas a cream stone floor shows less of day to day dirt.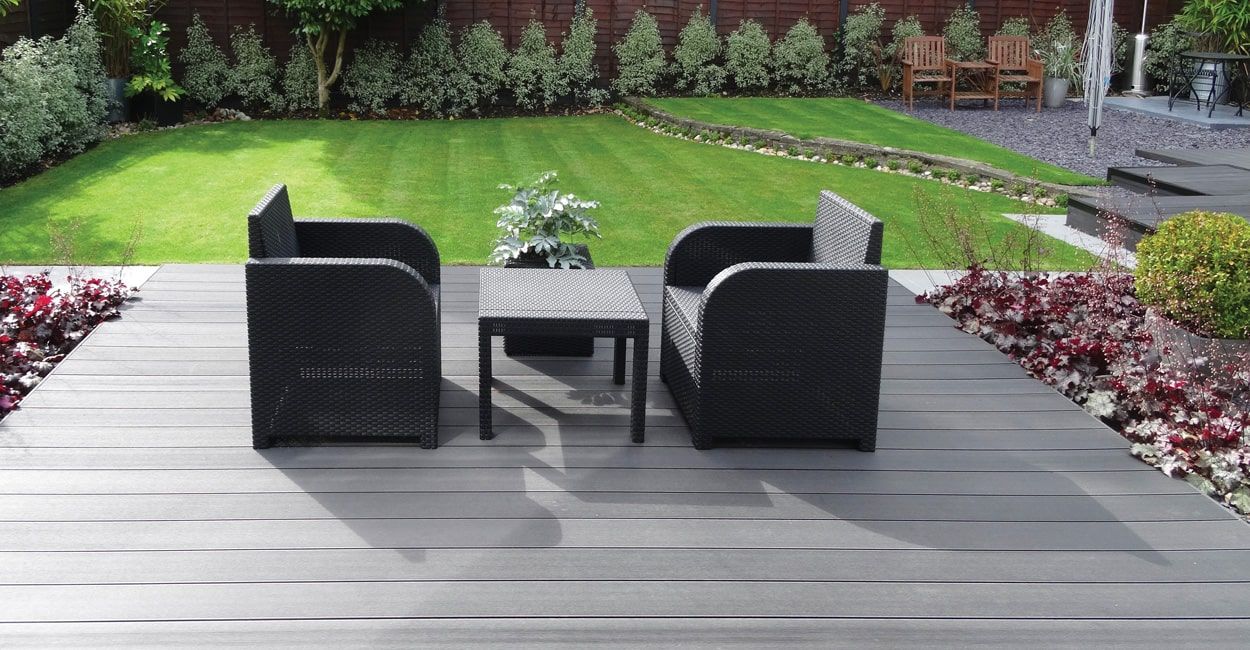 Consider colours around the decking area.
Consider what will be surrounding the Composite Decking area, have you got a fence near it? A painted white wall? Greenery? Trees? All of these things can affect how your decking will look once laid. For example, if you are looking to lay coffee coloured boards but you have a brown timber fence which needs painting, the decking may accentuate the look of this.
Your house is a huge factor of any garden as it's seen from most angles so you will want to complement this, a modern contemporary house may benefit from fresh grey tones of decking. Likewise, a country cottage may prefer the more neutral coffee colour decking.
If your home is a modern contemporary new build you may wish to look at the stone grey or light grey decking boards as these give a fantastic modern crisp appearance. If your home is yellow or beige the coffee coloured boards will likely compliment this better. If your home is traditional white colour then most Composite Decking board colours will work well against this as it's a blank canvas.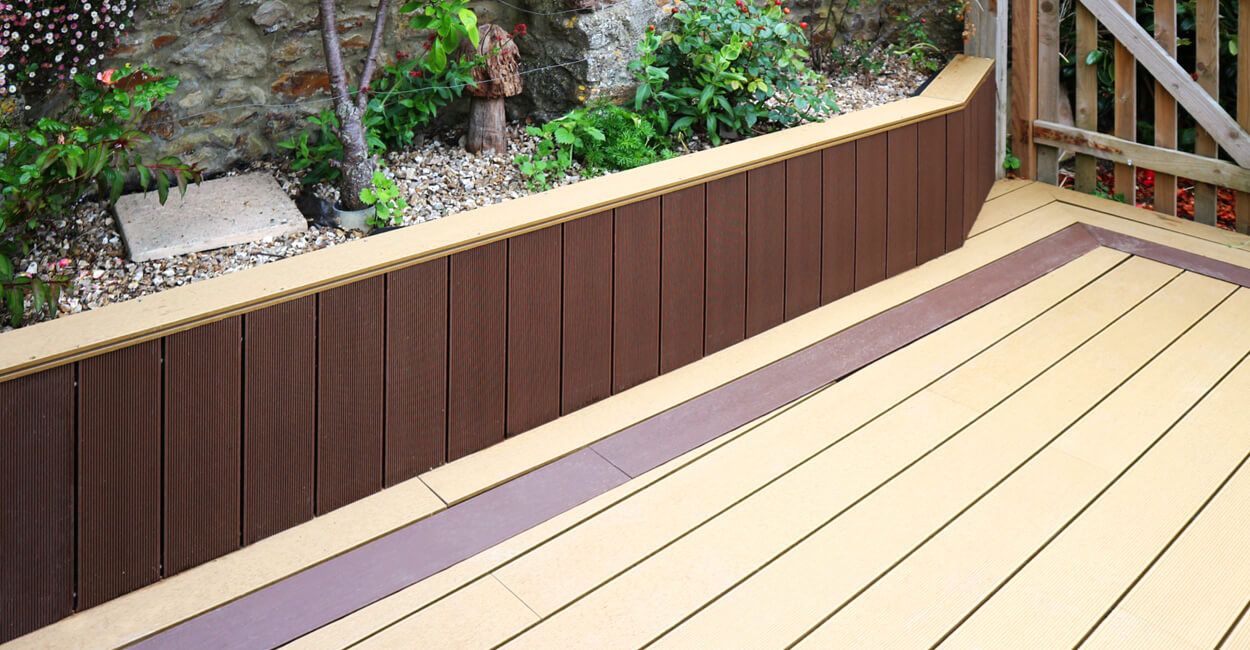 In the summer there's no greater feeling than having the doors open and expanding your living space from house to garden. When moving from house to garden you will want to consider the visual transition as well as the practicality. For this reason, you may want to consider a Composite Decking Board colour that is similar to your indoor flooring colour. This will minimize the visual disconnect between the spaces to create a larger free-flowing area, much like when you have a kitchen diner - the spaces soon complement each other and create a blissful area.
Use different colour boards
Think about using one colour for the main area of the decking but creating a contrasting border for the rest. Colours such as charcoal and light grey work well together to create a unique and modern effect.
When laying the Composite Decking the pattern and design options are endless, patterns such as herringbone, diagonal laying, alternate laying and so on can all be created with Cladco Versatile Boards.
Order Cladco Composite Colour Samples
Cladco Profiles offer a Sample Pack with all 8 colours of the Composite Decking included, not only that you also get a sample of the Solid Commercial Grade board meaning you can check which colour works well for you but also which composition will work better.
There's a lot to consider when building a new Cladco Composite Decking area. But luckily, we are here to help. Take a look at our Gallery page to help with your decision and check out our post on Grey Composite Decking. You can also lay the Samples down to get a better idea of how the decking will look.
Remember pot plants and furniture will soften the look of Composite Decking and can complement the colour scheme further.