Cleaning your Decking may not always seem like a priority, it's labour intensive, long, dirty, and can seem pointless. However, cleaning your Timber Decking is advised to keep your deck looking, clean, and fresh. Not only will cleaning the Decking remove any stubborn stains, debris, and dirt, but it can also help maintain your Decking for years to come.
If cleaning your Wood Decking isn't a priority for you, you would rather be doing something else, like enjoying your Deck! Read on to see our five-step guide to how to clean wooden Decking, and make sure you are done as quickly as possible, leaving more time for that all-important relaxation.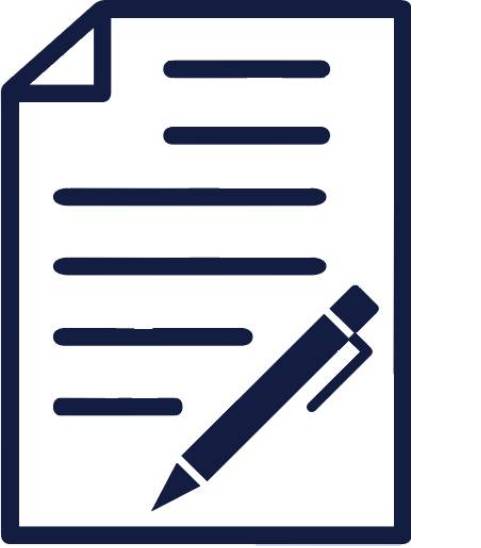 What you'll need
How to clean your garden decking
Step 1: prepare and clear the deck area
Step 2: pressure wash or hose down
Step 3: scrub the remaining dirt and rinse
Step 4: treat your Deck for mould.
Step 5: stain and finish
What's the best way to clean decking?
How often should you clean your Decking?
What are the best deck cleaning products?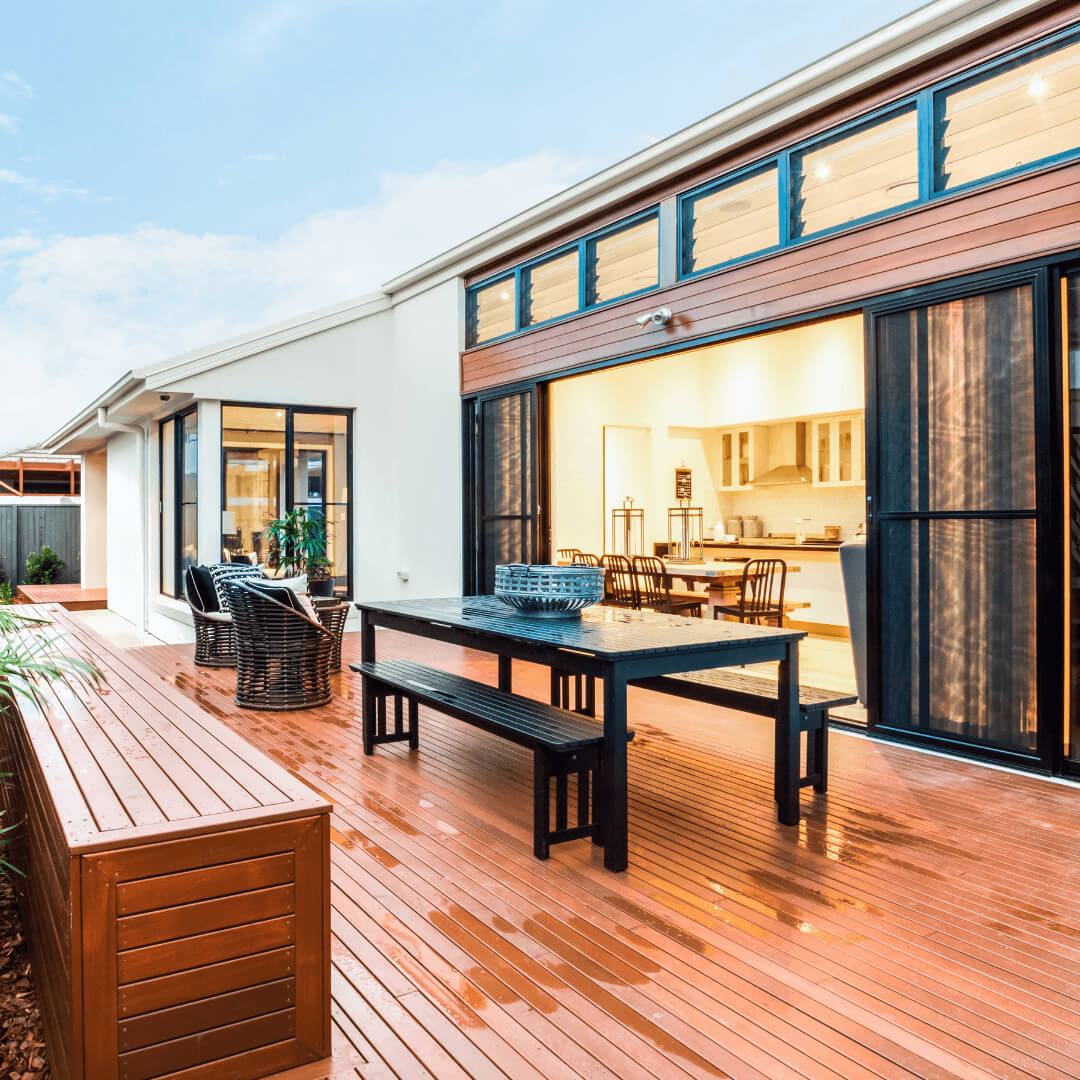 Before starting any Deck maintenance tasks, it is important to know first what tools you may need. We have compiled a simple list of what items you may need when you clean your Deck.
Decking Cleaner of your choice, or dish soap/detergent if you prefer.
Stiff Bristled Brush
Bucket
Decking stain
Pressure Washer
Wellies / other protective clothing
As your Decking is exposed to the elements all year round, regularly maintaining your Decking is key to ensure it has a long life. Your Deck has been outside and battling the winter weather for the past few months, and it is now time to ensure your Deck is looking clean and perfect for spring and summer. Read on to find out how to clean wood decking.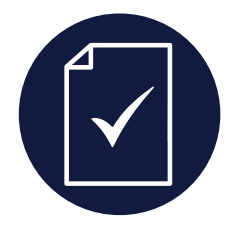 HOW TO CLEAN YOUR GARDEN DECKING
STEP 1: PREPARE AND CLEAR THE DECK AREA
Before you can go about Cleaning your Decking, you must first clear it.
Step 1: Clear - Remove any furniture, plants, or accessories from your Deck.
Step 2: Brush - With a stiff-bristled brush, remove any loose debris from the surface of the Boards. Ensuring all the nooks and crannies of the Deck are swept clear. Ensure to sweep any loose moss, leaves, and surface mildew from the Boards.
Top Tip: Use a smaller dustpan brush for the hard-to-reach areas of your Decking.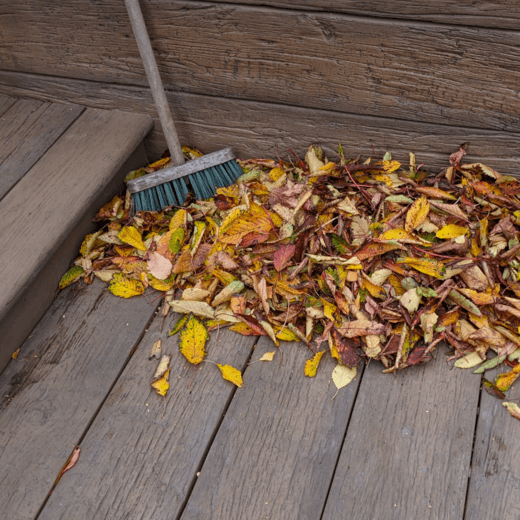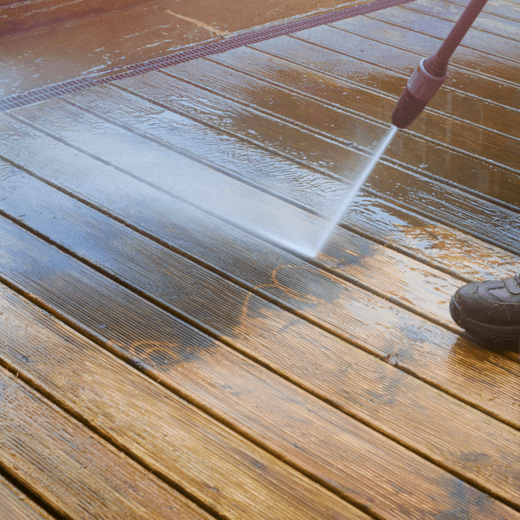 STEP 2: PRESSURE WASH OR HOSE DOWN
It isn't enough to remove the debris and loose surface dirt to ensure your garden deck looks and feels clean underfoot. You must also remove dirt, stains and ensure your Deck is looking its best. This can be done using a pressure washer or hose with some deck cleaner. Or if you don't want to use a decking cleaner, warm water and dish soap can be used instead, however, results may vary.
Step 1: Using a pressure washer or powerful hose, spray down the wood boards, removing any easy-to-lift dirt.
Step 2: Ensure to use the lowest setting on your pressure washer, and keep a couple of feet between the end of the nozzle and your decking boards. Working your way up and down the Decking Boards vertically, going with the grain of the wood.
Step 3: Once you have cleaned the boards as much as possible, aim your pressure washer in between the gaps of your panels, removing any spiderwebs, dirt or debris which has built up there.
Top Tip: Aim the spray directly at any stain which is slightly more stubborn, removing as much of the stain as possible before moving on to the next stage of decking cleaning.
STEP 3: SCRUB THE REMAINING DIRT AND RINSE
Once you have brushed and power/ jet washed your Decking, it is still unlikely that all of the mud, dirt, and stains have been removed. This is where it is time to apply some elbow grease and some decking cleaner.
Step 1: Create your cleaning solution with either purchased decking cleaner, ensure you follow the instructions on your Cleaning solution for how to apply it to your deck's surface, and see how many litres of water you may need for your space. Or with a kitchen detergent and warm water solution.
Step 2: Generously apply the soap/ cleaning solution onto your Deck, and with your broom, scrub the surface of your timber boards. Thoroughly scrub at your boards with your brush, ensuring to wash away any grease, mildew, algae and remove any stains.
Step 3: Once you have finished thoroughly scrubbing the Deck, rinse the cleaning solution off using a hose or a jet washer. You may have to go over the Deck twice to ensure all the soap, grime, and dirt are completely gone, and you are left with clean Decking.
Repeat steps one to three until you are happy with the job.
Top Tip: If you are worried about damaging your Decking, refrain from using a stiff-bristled brush, and opt instead for a sponge for the clean Decking.
STEP 4: TREAT YOUR DECK FOR MOULD
Unfortunately, timber decking, thanks to the wood's natural elements, is susceptible to mould, mildew, and algae. Not only does this attack the structural integrity of your Decking, but it can also cause a slip hazard to anyone using the Decking. Decking is subject to the outdoor elements 24/7 all year round. It is recommended to treat your Decking, protecting it from mould and algae.
Step 1: Ensure your Decking is properly clean and dry. Once your Deck is clean of any mould, algae, and mildew, the Boards should be retreated and reprotected to help prevent mould growth.
Step 2: A mould inhibitor is then recommended to be added to your Decking. Spray your Decking with the mould inhibitor and allow it to dry. Please follow the advice and instructions on your chosen treatment before applying.
STEP 5: STAIN AND FINISH
Ensure your garden decking has a long life span, stays looking nice, and has additional protection against sunlight bleach, mould, algae, and mildew. It is recommended to treat your outdoor Deck regularly to ensure you get the most use possible from it.
Step 1: Ensure your Decking is clean and dry before applying your paint/stain/varnish. Painting your Deck can transform the look of your outdoor area. However, this will cover up any woodgrain effect and can flake over time. Stains/Varnishes give an opaque look whilst protecting the Deck at the same time. In contrast, Decking oil will penetrate the pores of the wood and can offer a subtle but attractive appearance.
Step 2: Once you have chosen your treatment, start the first coat in the furthest corner of your Decking, giving yourself an exit route. Make sure you are painting your boards in the same direction as the grain. Being careful not to get oil, paint, varnish, or stain on any surrounding patio, walls, or garden furniture.
Step 3: Paint three-four boards simultaneously, ensuring even coverage across the space for the best look. Once completed, wait for your Deck to dry completely before adding the second coat.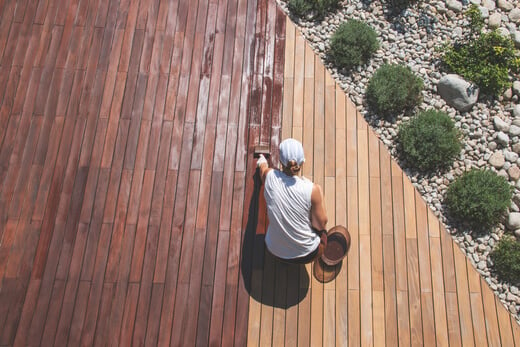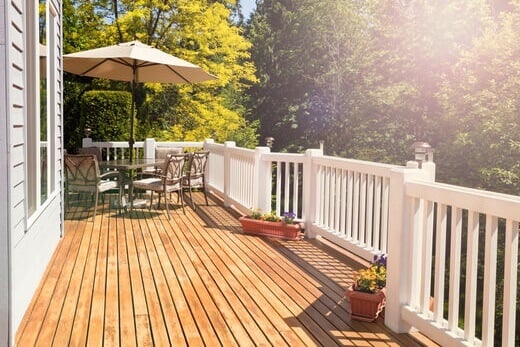 Top Tip: Staining and finishing your Decking should occur when you have a few days of clear, dry weather. It is not recommended to treat your Deck in wet weather. Spring or summer is preferred for treating your Deck as opposed to winter.

WHAT'S THE BEST WAY TO CLEAN DECKING?
There are many ways of scrubbing and washing your outdoor decking space, but which version is the best way? We found out the best way to get the job done for you. Making sure your Decking is clear of grime and looking its best is a surefire way to make your garden look fantastic this summer.
1) Soapy water - A gentle solution of soapy water and a low-pressure washer is the best way to clean your Deck. The solution should not damage your Decking and should gently clean your Deck.
2) Deck cleaner solutions- Using Decking Cleaners is a great way not only to clean your Deck, but it can also help open up the pores of the wood, preparing it for the stain, oil, paint, or treatment you add to it next.
3) Pressure wash -While this can remove the dirt and moss from your Deck with ease. The pressure washer can also push any mould or stains further into your Decking. The pressure of the water can also damage your wood a little bit, so while this is a great, fast and easy way of cleaning your Decking, it may not be the best.
4) Soda Crystals - Soda Crystals can help with the washing of your Deck. However, they're designed to clean stone and patio. So while they will make your Decking Cleaner, they are not typically designed for that use.
HOW OFTEN SHOULD YOU CLEAN YOUR DECKING?
Adding a timber deck to your garden is a pricey and laborious project to undertake. Make sure you get your money worth by regularly maintaining and cleaning your Decking. Decking Cleaner can be applied to your Deck as often as you wish. However, it is recommended to clean your Deck with Decking Cleaner annually.
WHAT ARE THE BEST DECK CLEANING PRODUCTS?
There are many Decking Cleaners on the market. However, we recommend Owtral Decking Cleaner. This decking cleaner can be purchased here and is ideal for timber or Composite Decking Products.
When working with natural products, such as timber, and having the product outside, free to the elements, one of the first things to know is how to clean a wood deck. Naturally, timber cannot clean itself. Knowing how to clean a deck is important when owning a timber deck to ensure your Deck stays looking fantastic.
A low-maintenance, high-quality alternative to timber Decking is Cladco Composite Decking Boards. These Boards look like traditional timber but do not need to be regularly maintained. Find out more about Cladco Composite Decking Boards via our website or by calling our team on 01837 659901