If those times when cleaning a Timber or Composite Deck requires a little more than a stiff brush and warm soapy water, bring out the pressure washer for more intense treatment. We recommend preparing your deck's surface before jumping right in, as pressure washers can do more harm than good if used incorrectly.
Worried that pressure washing might damage the wood surface? Follow these quick steps on using a pressure washer correctly and pick up a tip or two for achieving a clean deck that's free of mould and grime. The below steps can also be applied to a patio, using patio cleaner where needed.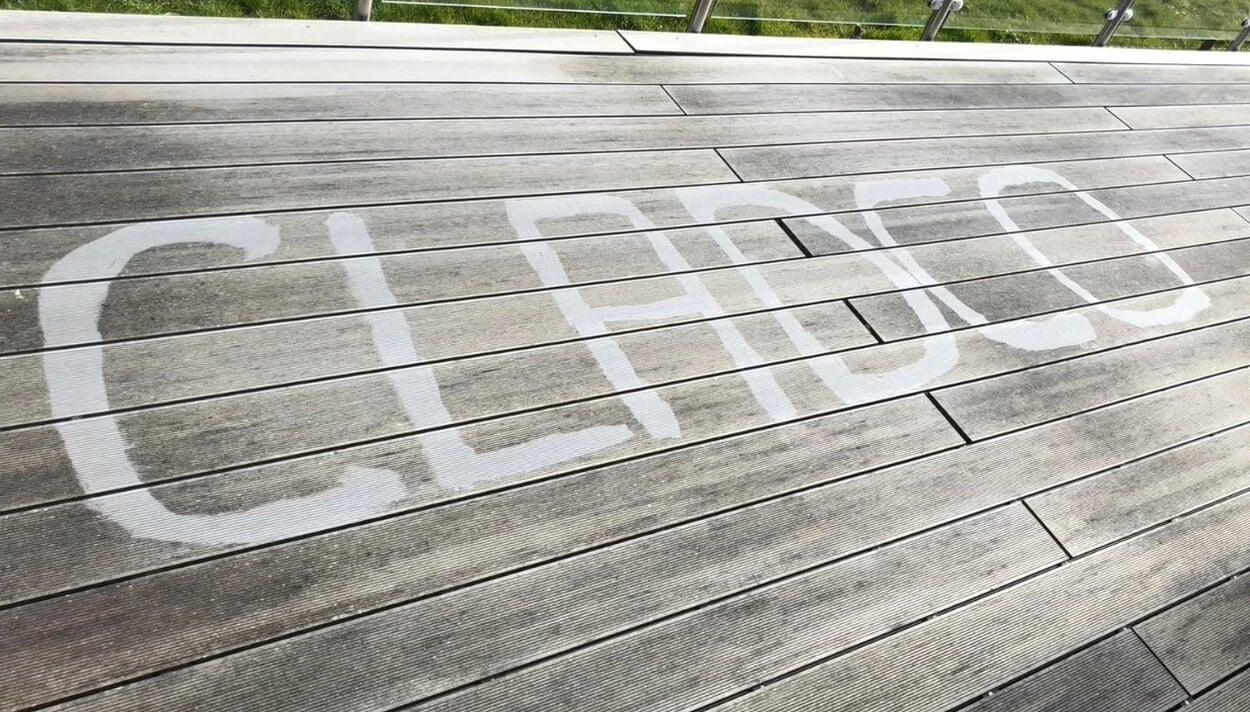 Equip yourself with the right tools to clean your deck when pressure washing:
Specific cleaner product
Pressure washer (150 bar maximum)
Spray nozzles
Rotary surface attachment (optional)
Stiff broom
Wellies
Goggles
Rubber gloves
Ear defenders
Stainer, sealer or paint (for timber decking)
Available water outlet

A word of warning! Pressure washing wooden decking with a high-powered hose must be carried out with caution, as the material is likely to expand and contract when saturated with water, combined with being hot or cold. Using a jet washer to do the job will increase the water absorption within the boards and could make the boards more susceptible to splitting.
STEP 1: HOW TO PREPARE YOUR DECK
Pop on your wellies and prepare your deck properly before jumping into deck cleaning.
Reducing the time spent using the high-pressure setting on your pressure washer will help to prevent the wooden deck from becoming over-saturated with water and splitting. This will also help to keep the final pressure wash even across the surface of the wood.
Start by using a stiff broom to push aside any loose debris or leaves off the surface of your deck before pressure washing.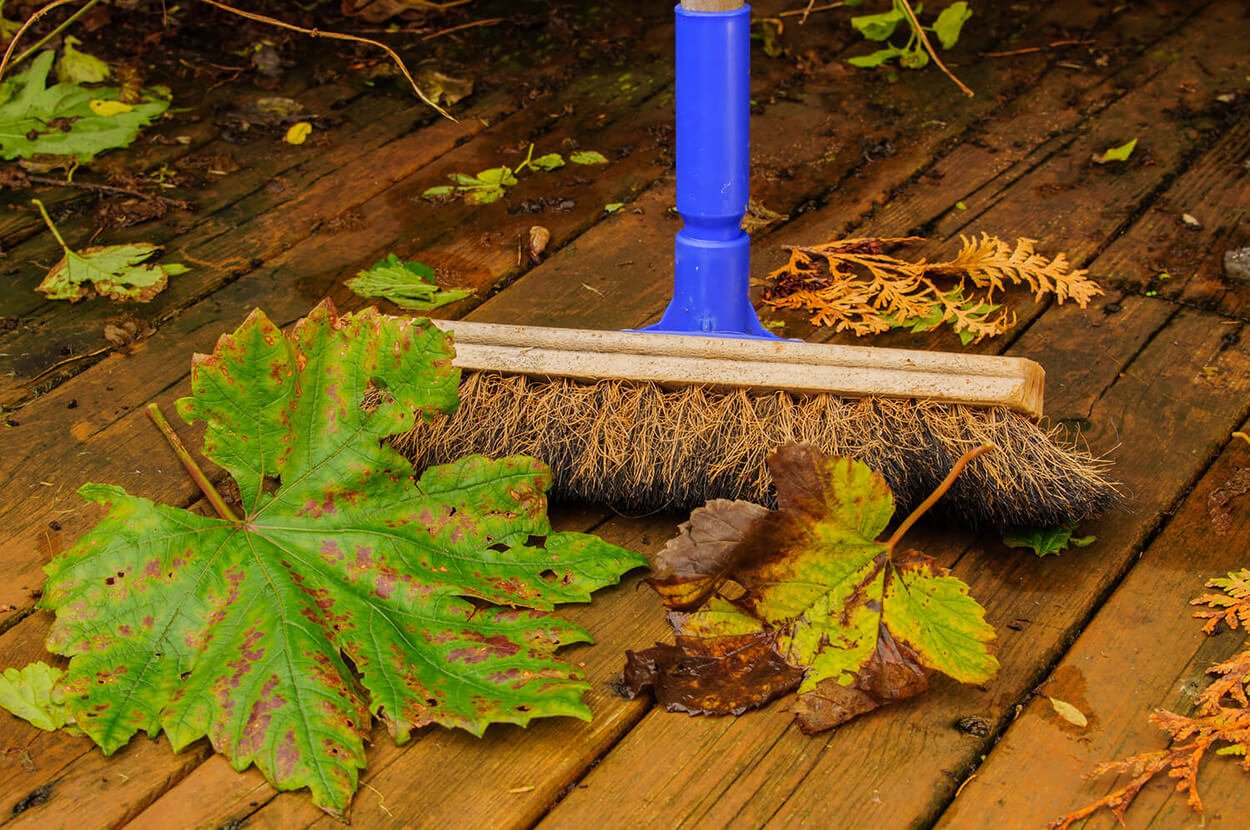 Pre-treatment of your wood deck, or patio, is important, as this will help to soften up thick dirt or grime before high-pressure washing. For heavily soiled decking, apply a wood-specific, Composite cleaner or detergent and allow to soak in for 5-10 minutes. This can make a big difference to the initial washing process (please refer to the manufacturer's instructions for best results).
Use a low-pressure setting on your pressure washer, or the steam setting, to remove any surface stains, dirt, or grime, as well as any residual detergent, where applied.
Your decking should now look a little cleaner than it did before. Follow the below steps on how to set up your pressure washer to clean your decking without damaging the wood or Composite surface.
STEP 2: SET UP YOUR PRESSURE WASHER
Pressure washers usually come with a range of nozzle attachments and settings to help minimise the impact and pressure from the water be applied to the wood. Use a pressure washer with a maximum pressure output of 150 bar for the best results to avoid applying too much pressure.
Set up your pressure washer with a fan nozzle attachment, or rotary attachment, to create a wide spray pattern or circulating pattern with the latter attachment.
Use a wood-specific cleaning solution for loading into your pressure washer (refer to the manufacturer's instructions)
Set your pressure washer to a medium to high power setting, depending on how dirty your wood deck is. If your decking is lightly soiled, and you pressure wash every year, a medium setting is recommended.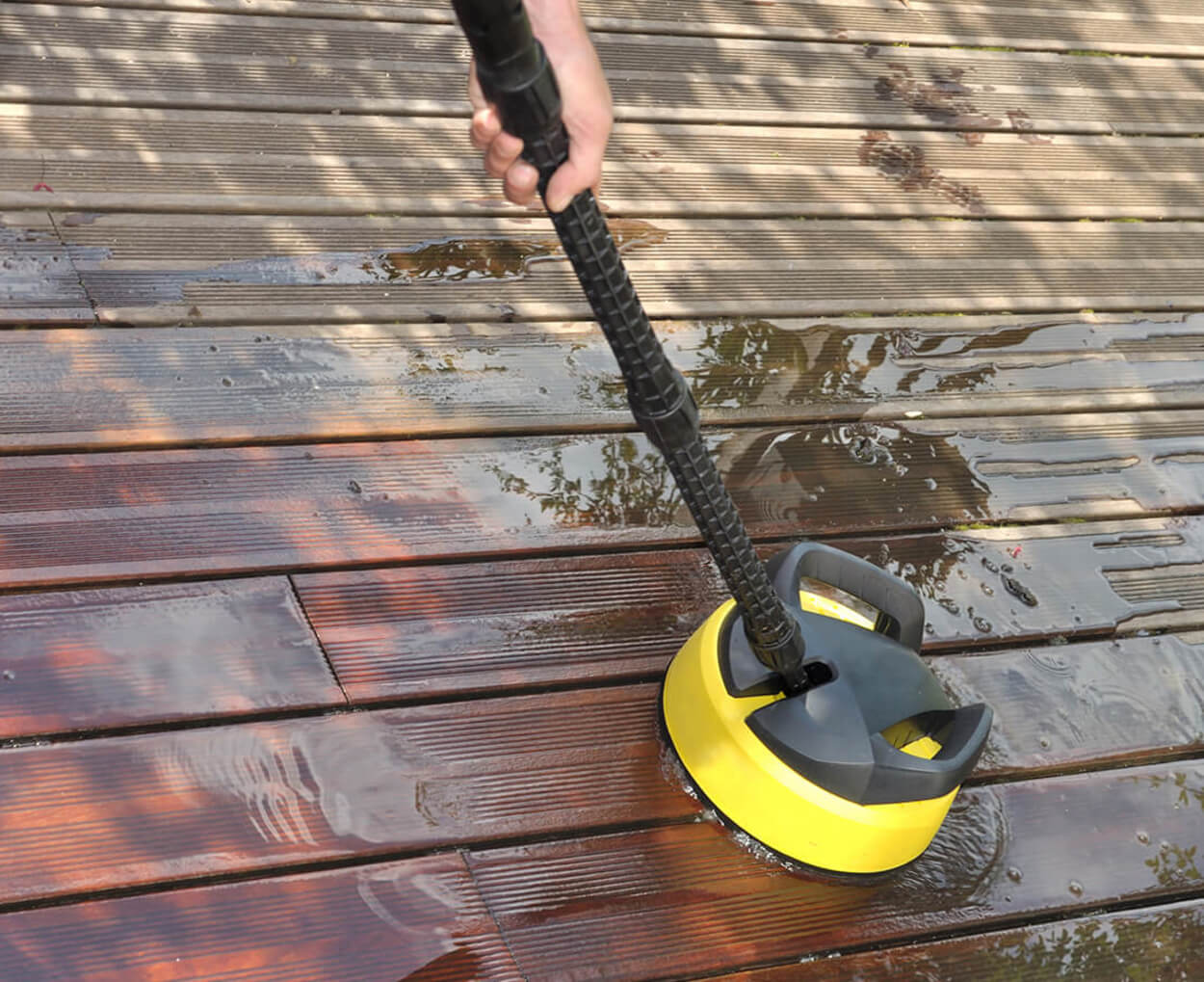 If the above steps have been taken, you should be ready to pop on a set of ear defenders and goggles and move onto the next steps.
STEP 3: HOW TO PRESSURE WASH YOUR DECK
Unlike harder surfaces such as paving slabs or concrete, a wood deck will expand and contract when soaked in water. This makes it vulnerable to splitting or cracking if saturated and sprayed with high-powered, pressured water.
Start by washing a test area of your decking, for example on boards that are out of sight. This will help you to slightly adjust the settings and get the optimal spraying range.
Aim to keep the nozzle approximately 6 inches (15cm) or more away from the surface of the deck as you go along.
Use a medium to high power setting available. Avoid changing power settings through the cleaning process, so as not to create obvious cleaning marks.
Use a rotating tip, or wide fan nozzle attachment at about 40-60 degree spread, to achieve a more thorough clean when covering larger decking areas. If you don't have a rotating attachment, use a wider nozzle attachment to cover as much of the deck as possible.
Move-in the same direction as the grain on the wood or composite deck to reduce the possibility of any damage to the surface. This will make the decking look natural when finished.
Use overlapping lines to hide watermarks as you wash your deck.
Try not to pause in one place while spraying as this can damage the grain and saturate the deck with too much water.
Continue with a steady, smooth, and consistent speed and power while moving along the grain of the decking to create an even wash.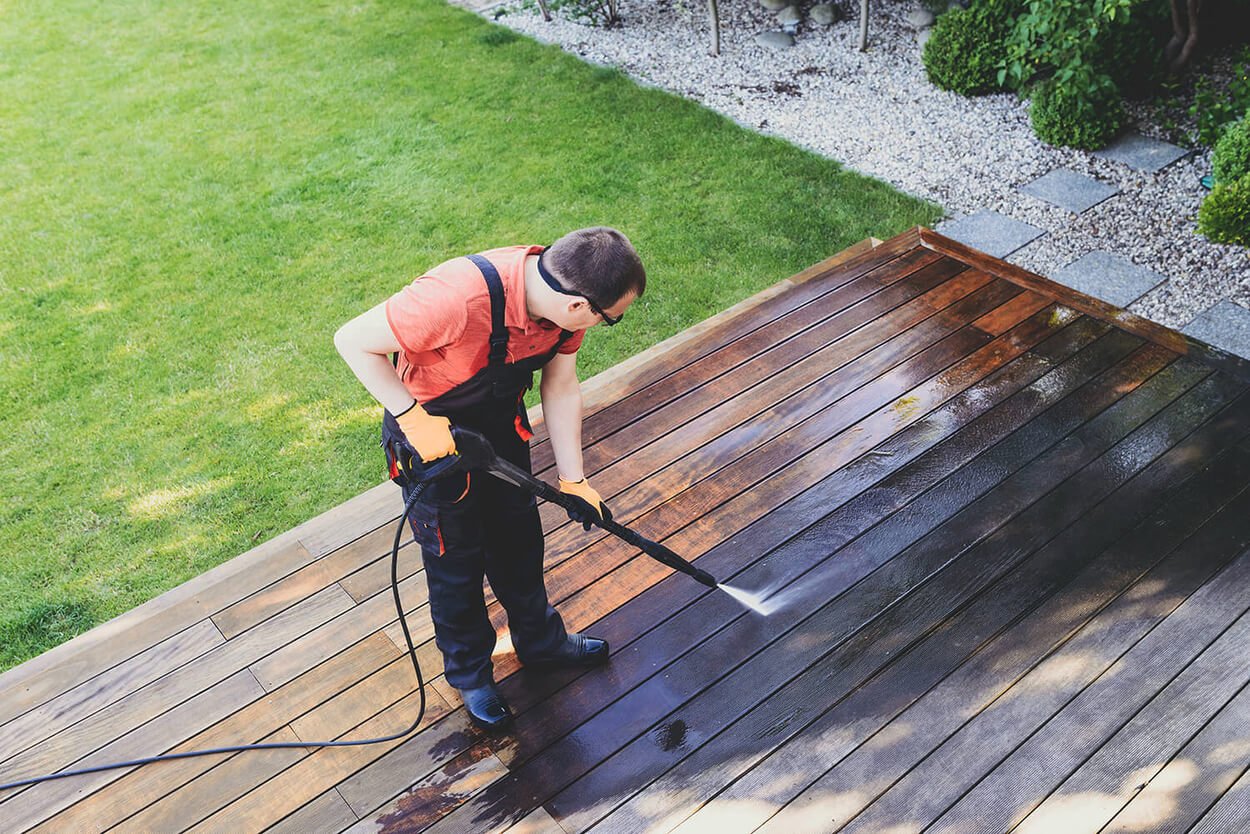 After completely spraying the whole garden deck area, finish off with a rinse down using a soft spray setting. This will help wash away any loose debris and detergent left over.
Cool the decking using cold water spray from a garden hose, and then finish using a dry broom to push off any remaining puddles of water (this is especially important in colder months of the year when water may freeze and cause a dangerous, slippery surface).
Safety Tips and Accessories
Use safety goggles during cleaning in case debris flicks up during the washing process.
Ear defenders are one of the most important safety accessories to wear, as pressure washing is a very loud process.
Rubber gloves can offer protection from the cleaning detergent and cold water.
STEP 4: DECKING POST-WASH AFTERCARE (OPTIONAL)
IMPROVE DECK APPEARANCE WITH CHEMICAL BRIGHTENERS & STRIPPERS
SANDING DOWN YOUR DECK
Make sure your Timber Deck is clean and dry before you sand, varnish or treat your decking. Once your deck is dry and is clear of deck cleaner, you can begin to treat, paint, stain or protect the wood for protection against future mould or dirt. This bit won't apply to Composite Decking as no maintenance of this type is required.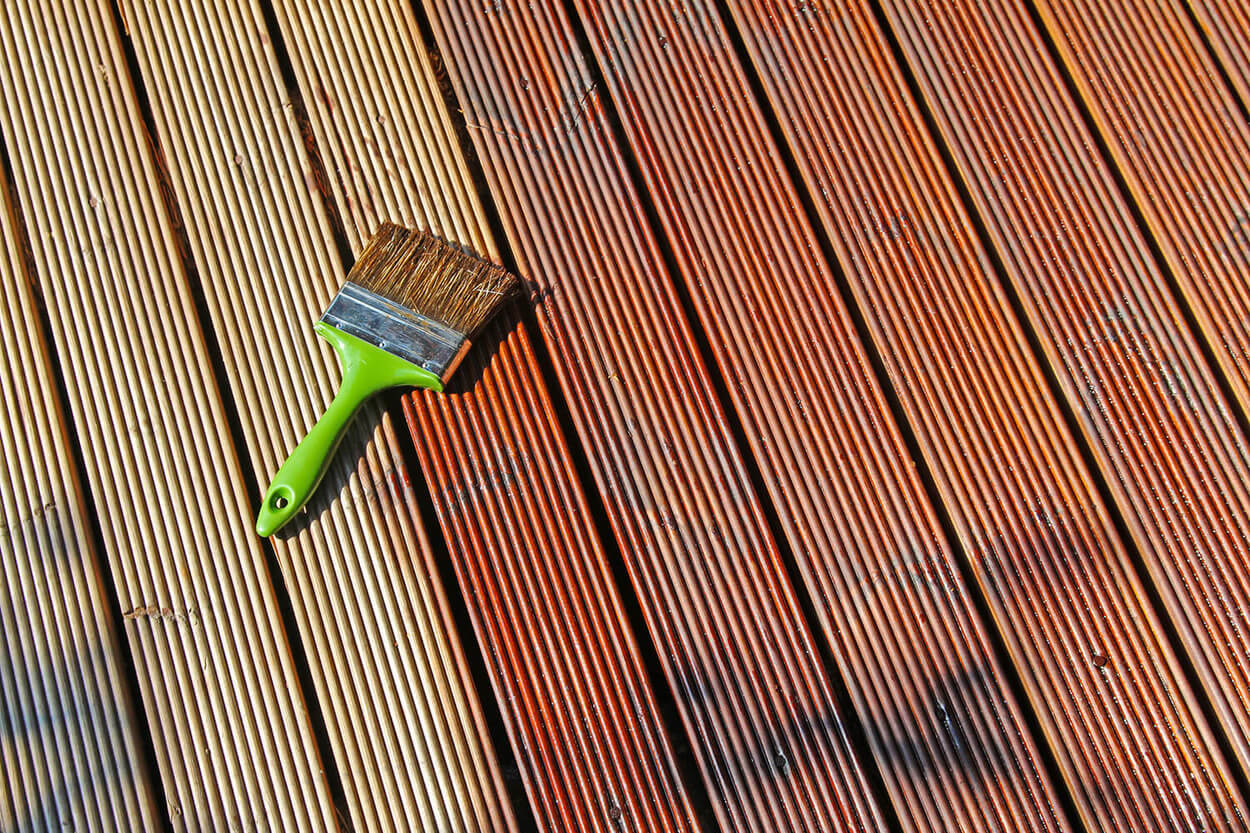 Staining your timber deck is a great way to improve its lifespan and reduce the maintenance required throughout the year. Match the staining product colour to your deck.
Tip: Check the forecast as you want to avoid staining in wet weather!
Cleaning decking is a process that takes time, but the end results can free your deck from unsightly marks or algae and restore the boards back to their original quality. Pressure washing a wood deck will come with its risks, but starting with a test patch is the best way. If you need to make adjustments you can do without damaging the main area. Just be sure to follow the above advice and have the correct accessories and nozzles to completely and safely clean decking. Performing this once a year can increase the lifespan of your Composite or Timber decking.