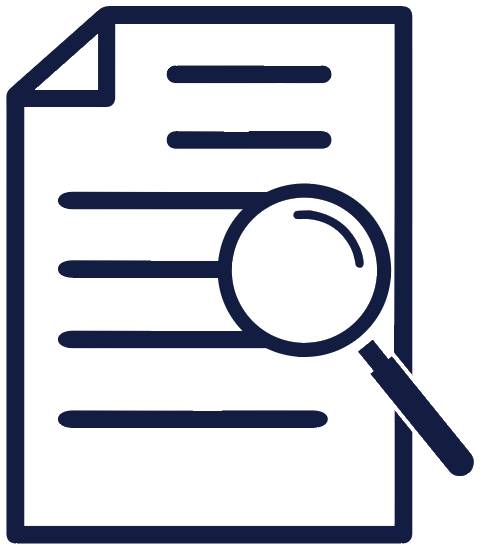 The colder weather has arrived in the UK and will be sticking around for the foreseeable months. With it comes frost, excess rain, sodden fallen leaves, snow and solid, icy ground - all of which can play havoc on a garden that you've spent the warmer summer days pruning and perfecting.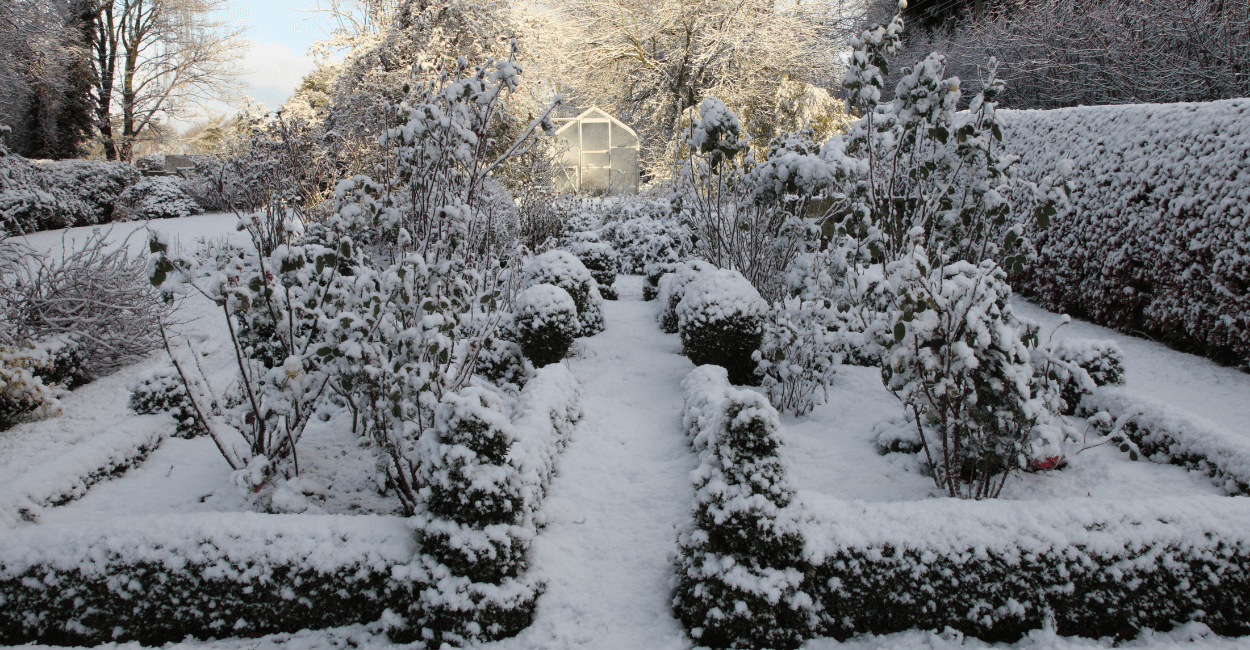 Get your garden ready for winter
In this Blog, we take a look at some top tips and ways in which you can get your garden prepared for Winter during the late Autumn, which can help to equip and maintain it throughout the cold weather months to come.
1) Clear Garden Paths and Decking Areas
Most people will give their lawn a final mow and rake dead leaves away in late October-early November, in anticipation of its growth being stunted during the winter, but what about the areas with no grass - such as pathways and decking areas?
Patios and Pathways
Before it's too cold to think about it - it's important to anticipate the effects of cold, wet weather before it hits. Garden pathways can become slimy from wet mould and growth, so before your Autumn garden becomes a Winter garden, clean away any moss etc that might be growing between paving slabs and scrub their surface with a hard brush and pressure washer and/or patio cleaning solution.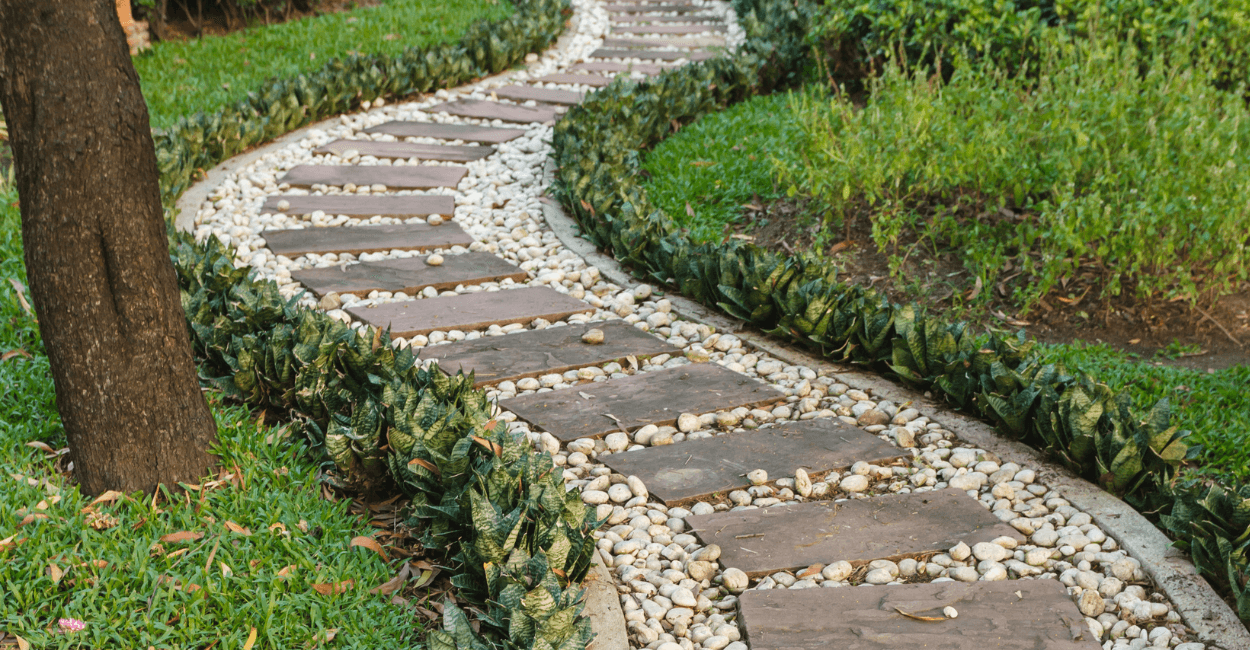 Clear garden paths to prevent slippery slabs in the winter
This will help uplift any algae that is likely to become wet and slippery, whilst preventing any potential accidents when you're accessing your garden in the darker mornings. Not only will this make your garden a safer place to be, but it will also instantly become a more welcoming and tidier-looking space for when spring comes around thereafter.
Decking Areas
Decking areas, especially those with heavy footfall or needing to be walked over to access the rest of your garden, will also benefit from a pre-winter maintenance clean.
Timber decking boards, like paving slabs, can become very slippery when wet and left in cold conditions - with algae thriving on their wooden surface, quickly turning into a thick layer. Before the colder months arrive, brush away any autumn leaves that are likely to rot and become dead vegetation if left. Then, once all the leaves are removed, using a Decking Cleaner or soapy water and a hard brush, scrub the deck boards in the same direction as the joins to remove dirt and build-up. Wash away with a bucket of warm water.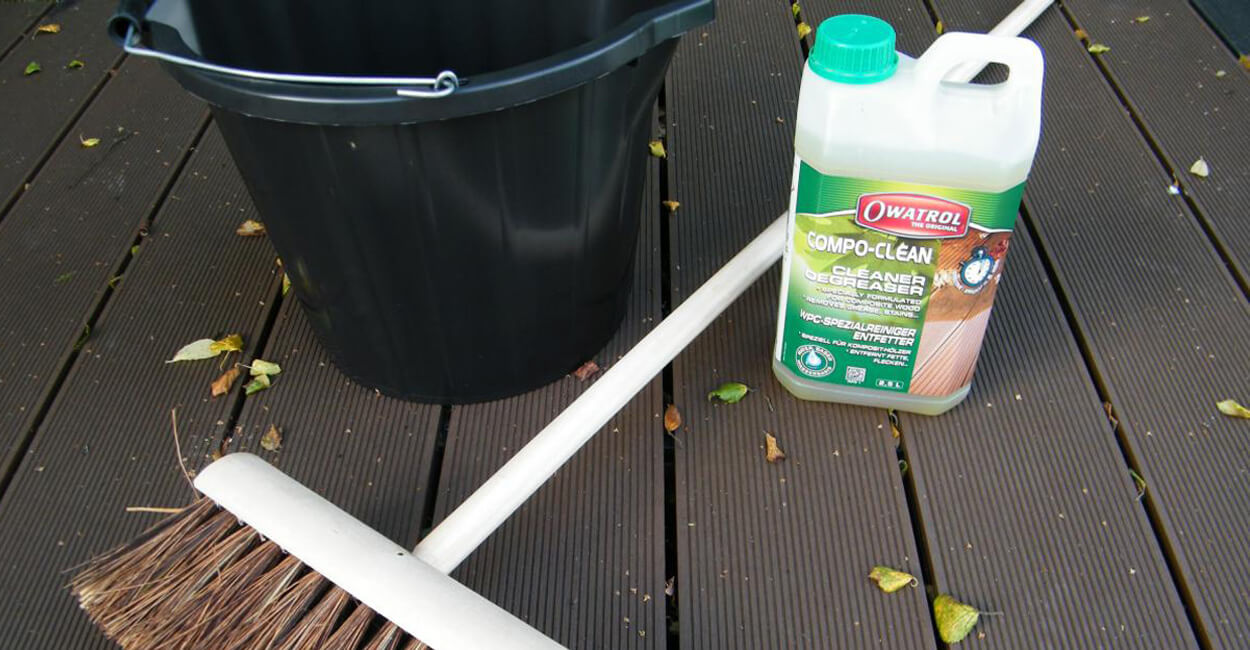 Clean decking to prevent algae and slipping with a decking cleaner and hard brush with wooden handles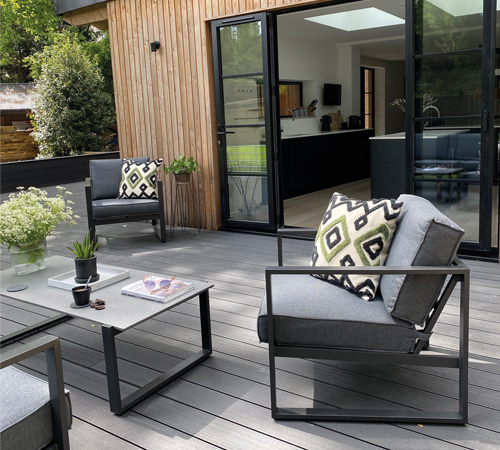 Composite Decking by Cladco is resistant to insects, rotting and warping - helping to deter algae from growing during winter months image @ninapeths
Composite Decking has a naturally lower-slip risk than timber decking, with Cladco Composite Decking featuring narrow grooves on the surface of each Board to prevent water pooling and add some grip underfoot. As well as this, Composite Boards are rot, splinter and warp resistant and so inherently remain cleaner and safer during winter time than their wooden decking counterpart. Composite materials are more resistant to algae growth than timber boards, especially if properly cleaned pre-winter, and in extremely cold weather spells, they will not split – which could make your decking a hazard with small children or pets around.

They will however still benefit from a pre-winter scrub, using the same technique as timber or with a power washer. Cleaning your Decking before cold spells hit will also deter ice from forming - for more information take a look at our Blog: Prevent your Composite Decking from becoming slippery with ice
2) Prune any Shrubs and Trees
Terminate any damaged or dead branches, particularly on trees, to stop the stems from chafing together and potentially developing tree wounds or deformities. Any wayward branches on your structural shrubs will need pruning away to help improve the overall shape whilst improving winter protection -ready for when they regrow in the spring. Also give any hedges, if you have them, a final trim in the late Autumn - before any possible frosts may hit.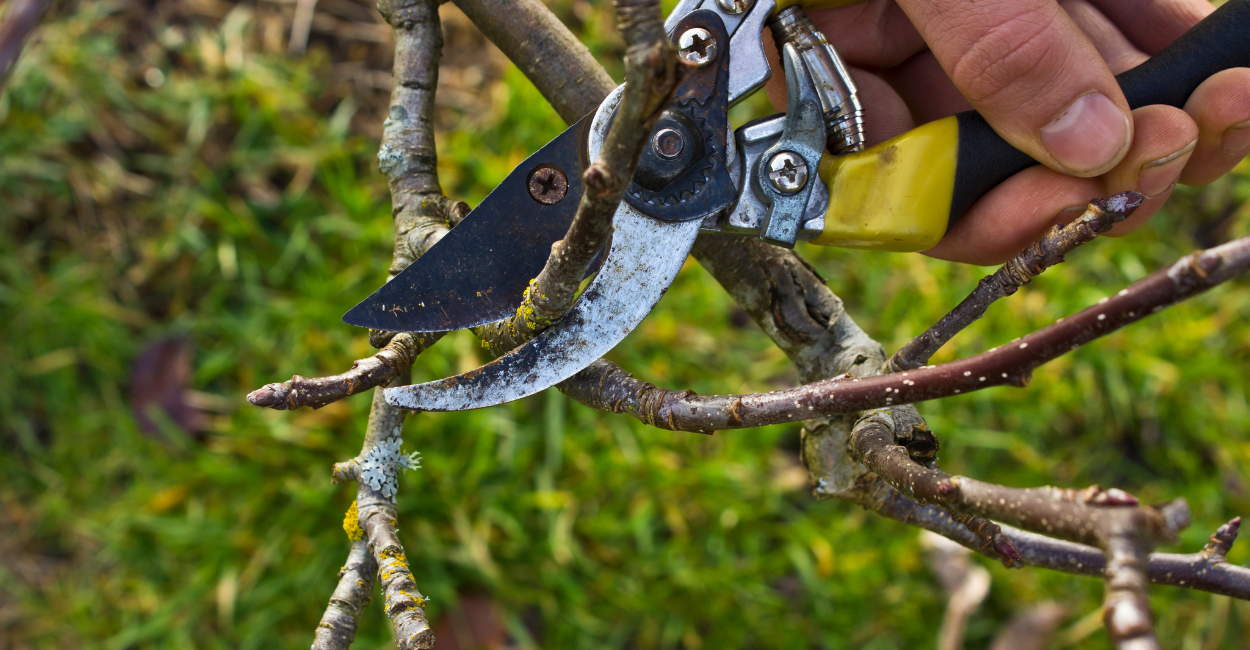 Prune back any dead branches on trees and shrubs
To bring a pop of colour to your winter garden when shrubs are not in bloom, opt for plants with uniquely coloured bark such as a Cornus Sanguinea "Midwinter Fire" - their brilliantly red bark is a great way to add warmth and colourful hues among otherwise bare garden plants.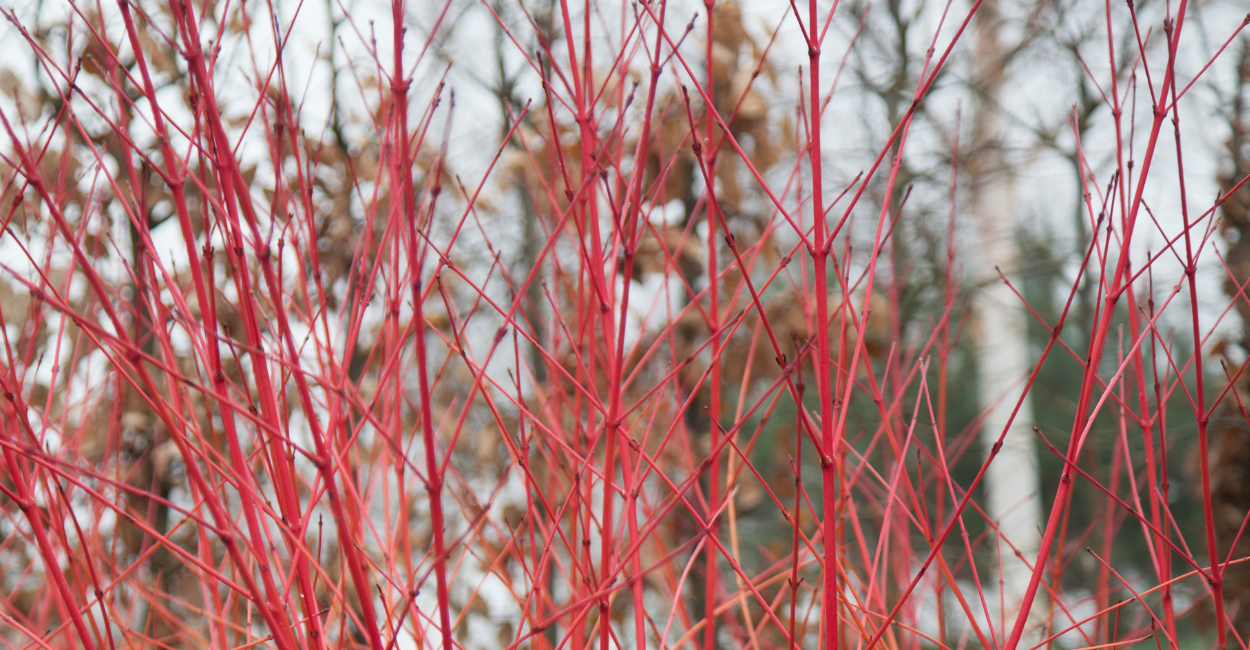 Cornus Sanguinea "Midwinter Fire" bring colour to your garden for winter
Finally, you may want to add some Bone Meal to the ground soil surrounding your shrubs and trees, which is a natural feed that is rich in calcium - promoting healthy roots and regrowth when temperatures begin to rise in the spring.
3) Repair Structures such as Garden Rooms and Summer Houses
Autumn/Winter months are a great opportunity to take the time to look at the maintenance needs of any garden outbuildings such as a potting shed, summerhouses and garden rooms. Check the structure of the buildings are safe and secure, keeping an eye out for any potentially rotting timber or woodworm infestations.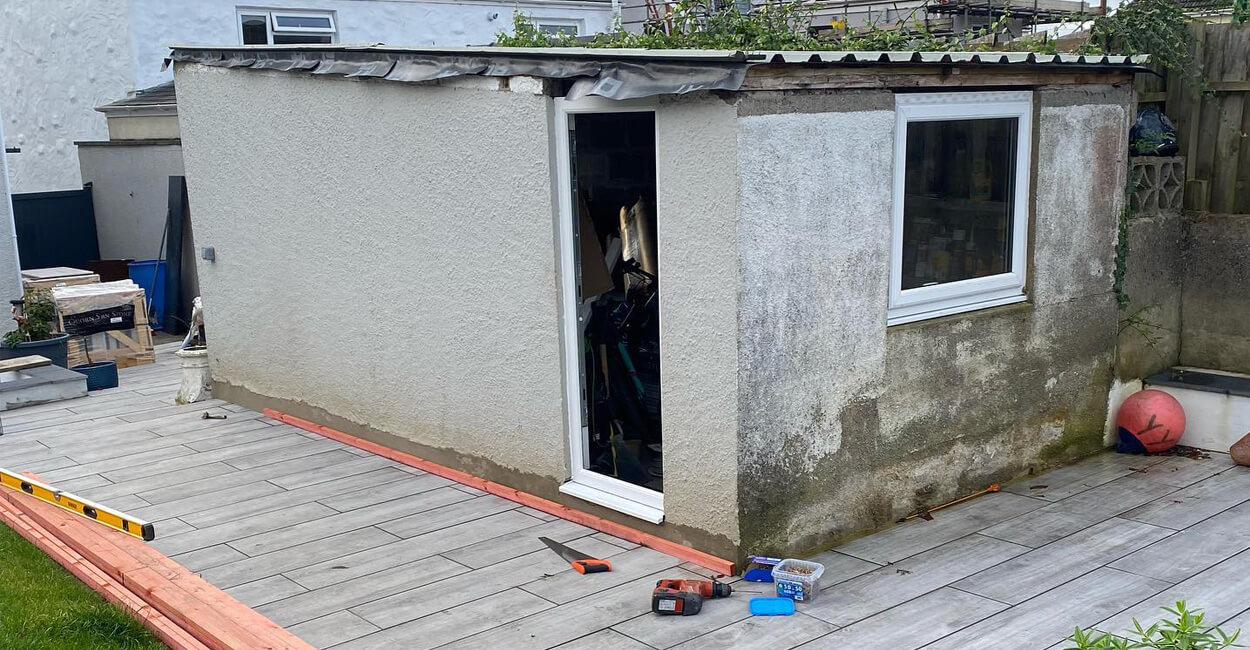 A garden shed in need of some maintenance
If the case may be that your outbuilding is in need of some TLC, a good option is to repair and then protect the external walls using Cladco Composite Wall Cladding to prevent future damage. Composite Wall Cladding is available in 8 unique Colours, from natural wood-like tones such as Teak to brighter hues like Redwood, and is an easy way to bring some brightness to your garden in the Winter, whilst providing a sheltered spot to relax in.
This project shows a gardening outbuilding before and after maintenance, using Cladco Composite Cladding Boards in the colour Charcoal to improve the appearance and structural integrity of the shed.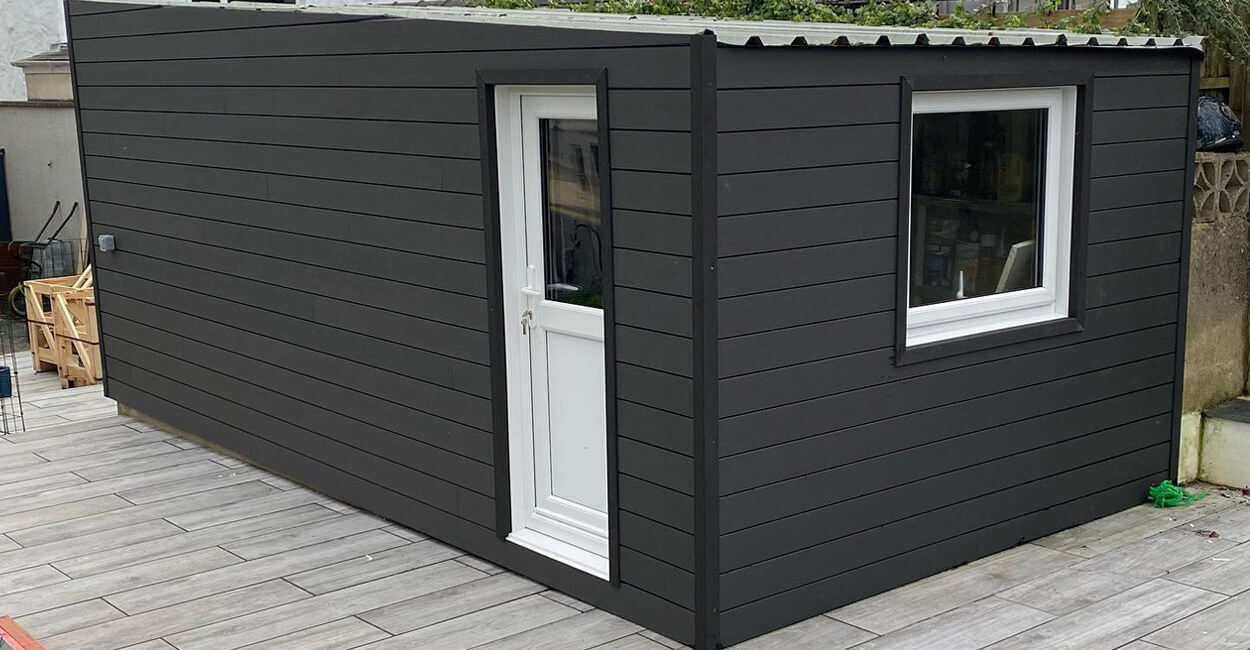 Cladco Composite Wall Cladding Boards create a neat and tidy finish
Other benefits of Cladco Composite Cladding Boards are that they're low-maintenance, whilst being rot and warp-resistant - meaning that once installed, there is no need to then repair or replace them every Autumn/Winter going forward.
4) Maintain Borders, Lawns and Flower Beds
Trim any herbaceous perennials in your borders and garden beds back close to the ground as they begin to die down to encourage spring growth - whilst removing annual plants that have finished their growing season. Now is an excellent time for planting bulbs before the winter kicks in - doing this now is the ideal way to prepare your garden for a prosperous and hassle-free spring growing season.
Apply a layer of mulch over the planted bulbs to prevent soil erosion and maintain warmer temperatures for growth.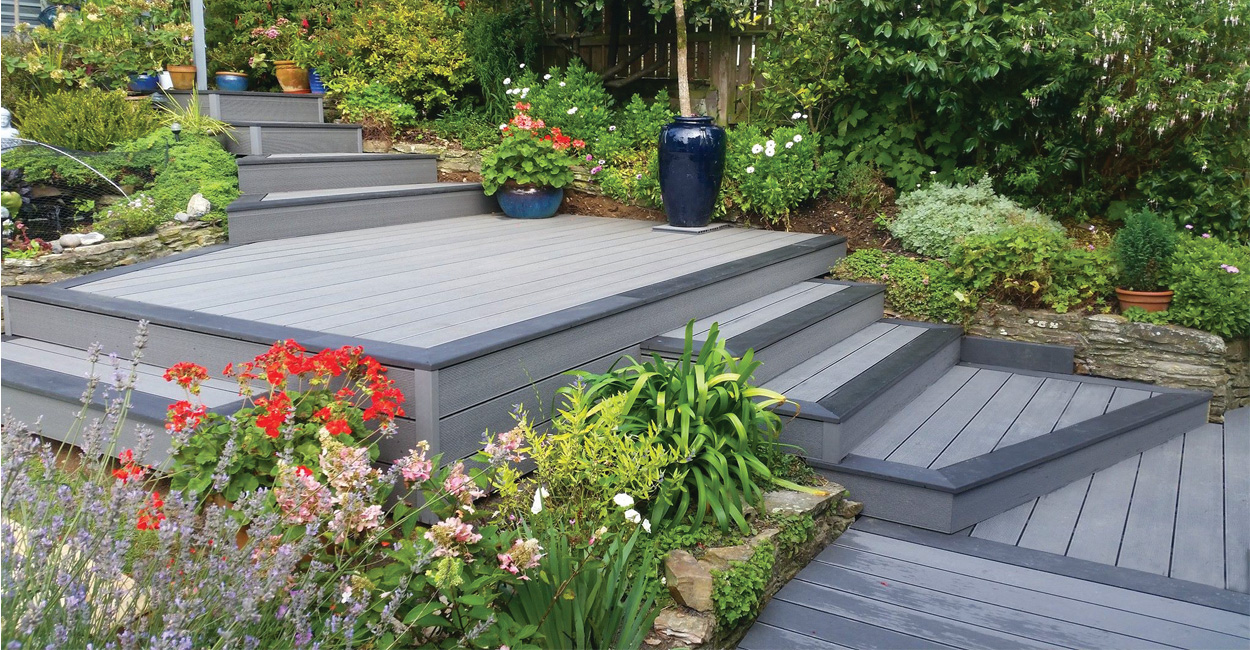 Edge lawns with a pair of sharp secateurs and be sure to rake any weeds, moss, leaves and dead vegetation left from the autumn off the grass to encourage a healthy, lush lawn in the future. If you have large amounts of moss - chances are water drainage is poor and so use a lawn spike aerator or garden fork to improve this and help with breathability.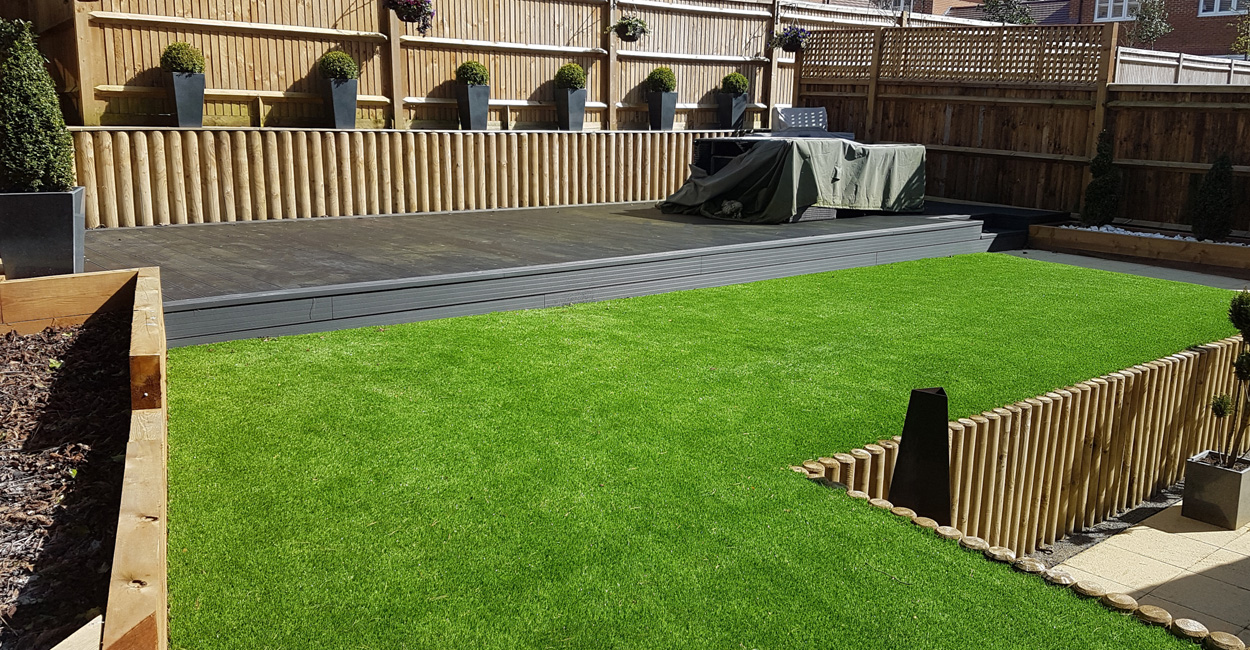 keep gardens and their lawn tidy by edging them with sharp secateurs
5) Protect Garden Plants and Plant Pots
In order to survive the Winter, relocate any tender species of plants and potted plants such as palm varieties or Agapanthus into a greenhouse, indoors or alternative light and warm place such as a conservatory for additional protection.
Hardier potted plants can remain outside, although it is best to keep them in a sheltered spot for protection from frost and cold weather.
To ensure the pots themselves are prepared for colder weather and do not rot or warp in damp conditions, why not make the most of any leftover Composite Decking Boards by repurposing them into planters like below? For more information - take a look at our Case Study "Creative Ways to Recycled Cladco Composite Decking Boards".
Keep tender plants indoors to prepare for the cold
6) Reap and Regenerate your Compost Heap
Old, rotted material in your composite bin can now be emptied and spread as fresh organic matter over the soil in your newly maintained flower beds - to prepare for, and protect the planting of spring bulbs whilst concealing any unsightly old soil - making for a more presentable winter garden.
Your compost heap or bins can then begin to be refilled again with this year's food/compostable waste - and with Christmas falling in the coldest month of December, there will be plenty of vegetable peels and leftovers from your Christmas dinner - ready to become next year's rich, fertile compost. Ensure any weeds are disposed of at a distance from your compost - as you don't want to be scattering unwanted seeds in your beds and pots.
Reuse Decking Boards to create a similar compost bin like this
Why not build your own compost bins using any spare or leftover decking boards in a style like the above? A great way to recycle and reuse, especially since Cladco Composite Decking Boards are already an environmentally-friendly material thanks to their 60% hardwood fibre and 40% recycled plastic material. For more ways to recycle unused Deck Boards, see our guide here.
7) Neaten up Ponds and Water Features
Light Gret Decking Boards with Built in pond
Prevent water features or ponds from becoming blocked and stagnant from fallen leaves by covering them with a wire mesh or net in the months of Autumn/Fall.
As well as this, place a small floating ball such as a children's football on the water's surface. The movement of the ball bobbing in the water will prevent the pond from fully freezing over in sub-zero conditions - therefore creating a small hole, and keeping the fish and any underwater plants from becoming starved of oxygen.
The below project has used Cladco Composite Decking Boards to create a neat edge around the feature.
Cladco Premium PVC Decking is also an ideal material to install in areas that are prone to water spillages and dampness, such as around ponds, hot tubs and swimming pools. The ASA resin which encases each Board is a water and weather-resistant super strength coating that provides an authentic woodgrain effect - perfect for those wanting a traditional timber-looking deck, without the hassle of ongoing seasonal maintenance.
Cladco Premium PVC Decking Boards are ideal for use arounf hot tubs and water features
Premium PVC Decking by Cladco has superior strength and water resistance when compared with other decking options
8) Keep on top of Bird Feeders and their residue throughout cold weather
If you are encouraging birds into your garden throughout the winter months with feed, to keep them healthy and well-fed over frosty periods, regularly tidy and clean up any food that may have dropped from the feeder. This will prevent any unwanted weeds from growing from hidden seed heads that may have been left unbeknownst over the winter.
Ensure gardens are kept weed-free in the Sping by keeping on top of bird feeder remains.
As well as seeds and food, ensure you're also wiping up any bird mess under the feeder, as this can also contain unwanted seeds and toxins that can potentially stain your Composite Decking or other surfaces beneath the feeder.
CONCLUSION
To prepare your garden ready for winter, there are several preventative things you can do to help your plants, decking, patio and flowerbeds survive the colder winter months.
Make a to-do list, starting in the early Autumn and building up week by week up until early Winter, of things you can do to prepare your garden as discussed above - from cleaning your Decking and pruning your shrubs.
For more information, tips and advice, always speak to a professional horticulturist about how you can help tender species survive the frost.
To find out more about Cladco Composite Decking, Composite Cladding and PVC Decking, visit our Website or call our helpful Sales Team on 01837 659901.