Here at Cladco Profiles we understand the importance of value and that's why no matter what size the decking project is we want to help. We understand that it can be costly to transform your garden so we wanted to show you just how much can be achieved with a fairly small budget.
This project used Cladco Stone Grey Composite Decking in hollow on an area of 17.5m2. This is a great size for most gardens allowing you a space to relax, entertain or alfresco dining. (Use our online calculator to work out your area here)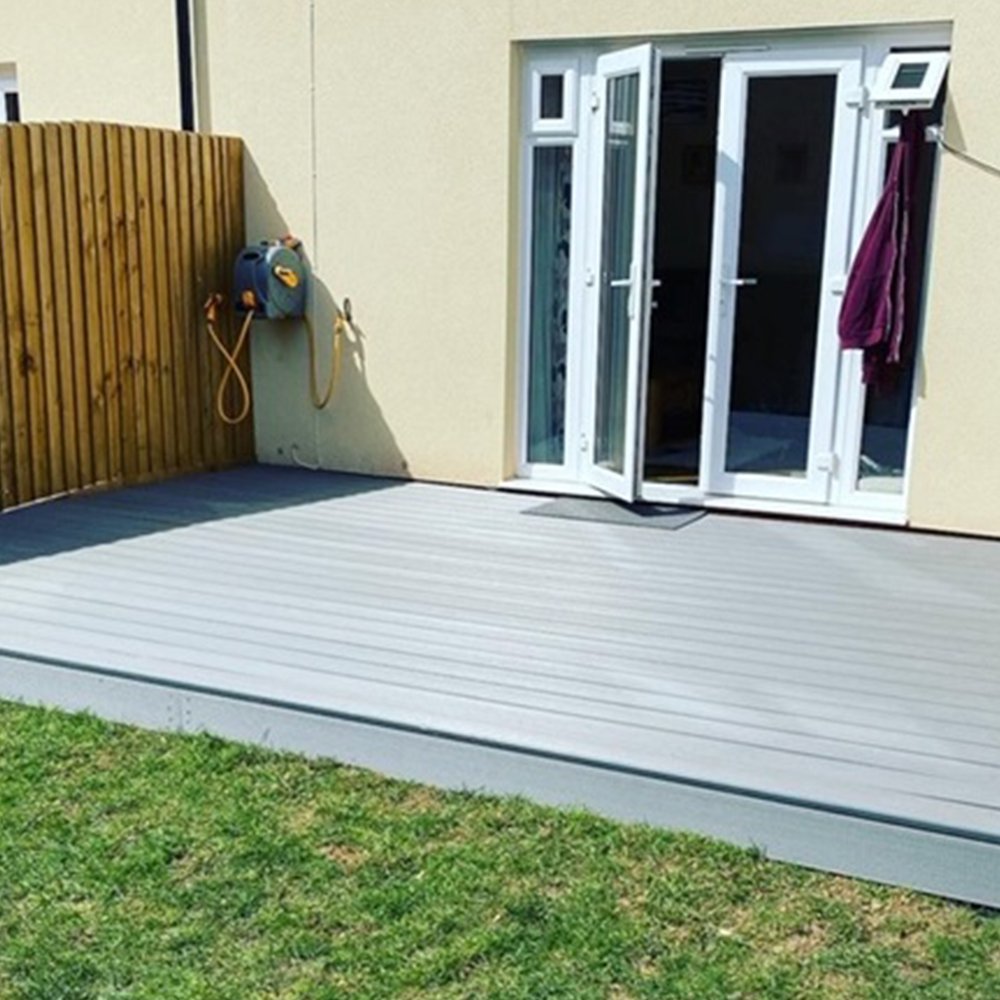 The project was taken on by a competent DIY customer and needed to be completed in a quick period of time ready for the spring weather. It was important for the customer to use Cladco composite decking to ensure they did not need to spend time maintaining it. Simply relaxing and enjoying their new decked area. The project was completed with the following items:
When starting a composite decking project its important to get the foundations correct before installing. This means clearing the area of weeds, debris and levelling where possible. It can be beneficial to fork over the area underneath before laying the weed mat (Dog helper is optional)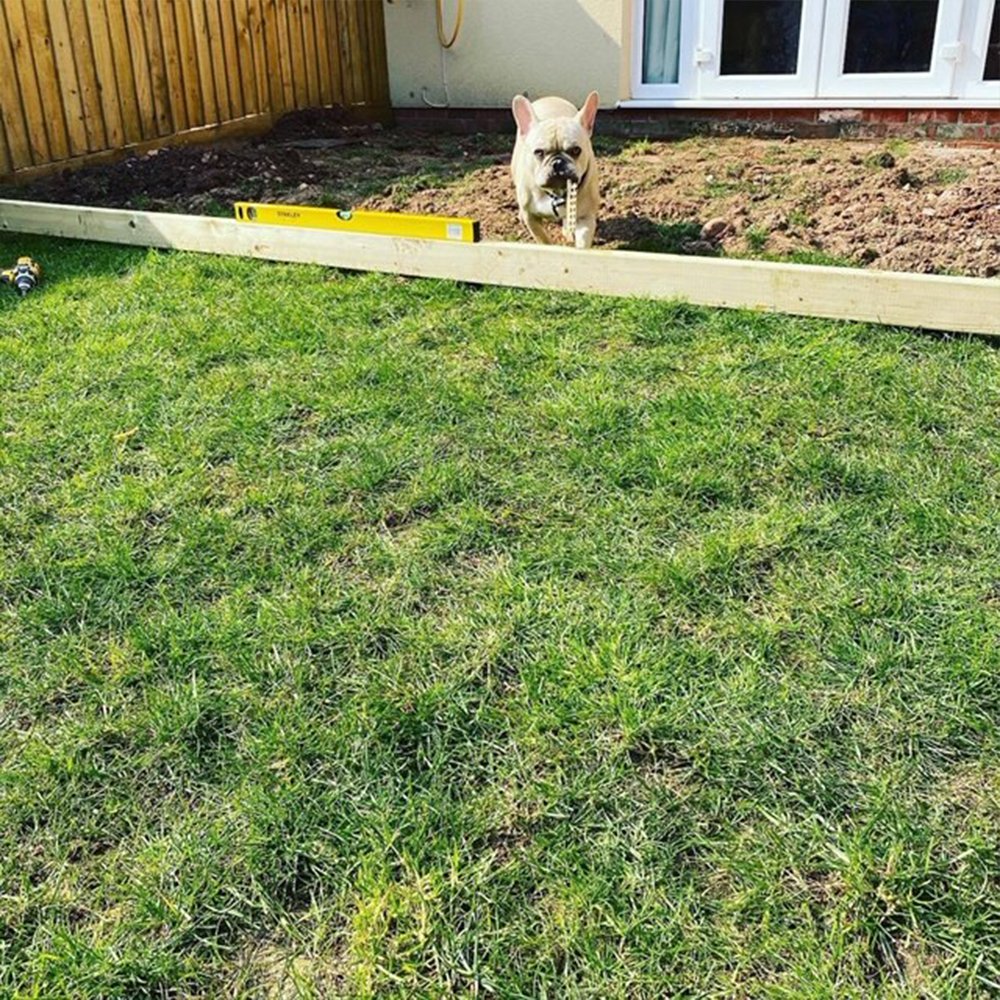 To ensure a long lasting weed free decking area, it's important to lay a weed mat onto the foundations. Weed mats are vital to ensure no weeds can penetrate through and ruin the high-end look of your finished decking area. Cladco weed mat crossfibre polypropylene pattern allows water and nutrients to drain through ensuring the soil underneath is not affected. Weedmat can be overlapped in areas rather than leaving gaps, its important to do this so your hard work is not wasted.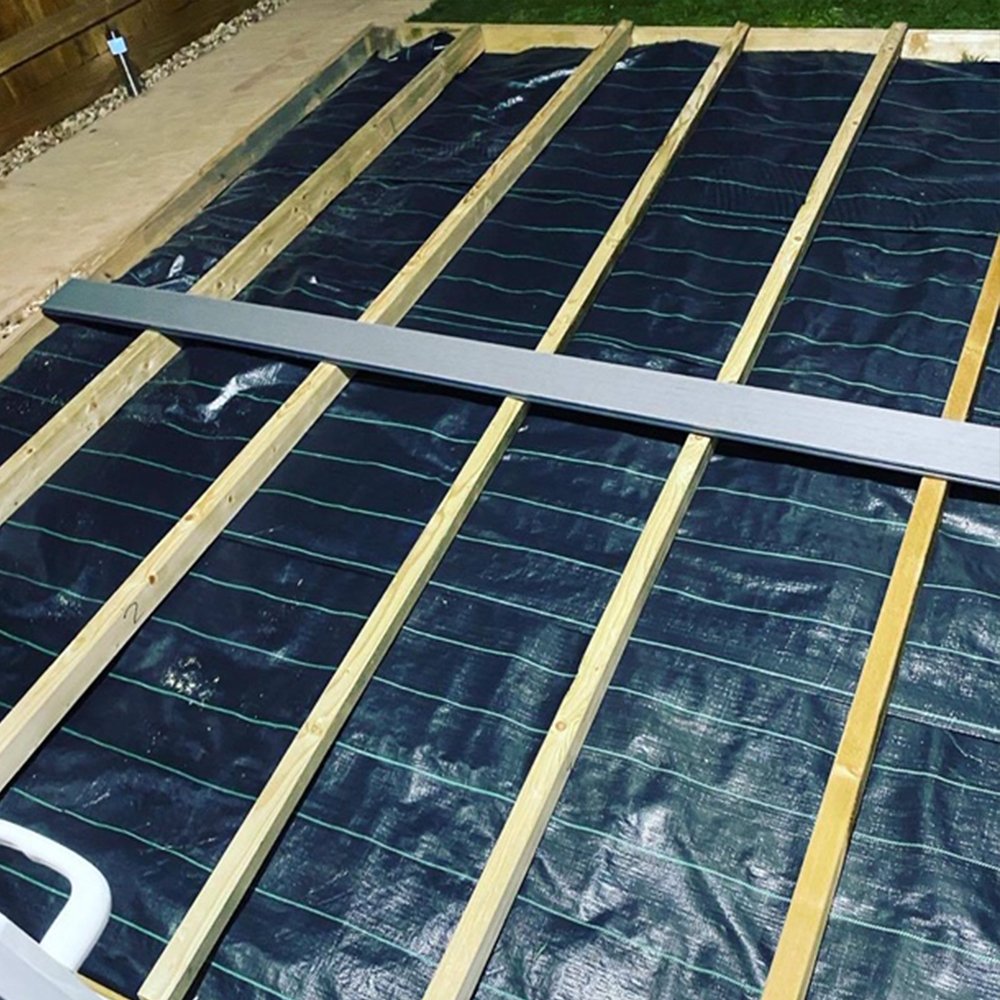 Next the Cladco timber joists were placed on top of the weed mat to build the decking frame, this project used 100mm x 47mm C24 timbers.
The project used Cladco 3m, 100 x 100 timber frame posts for the edges, a timber frame is a great option to use when installing on grass and don't have the option for a concrete base and composite joists.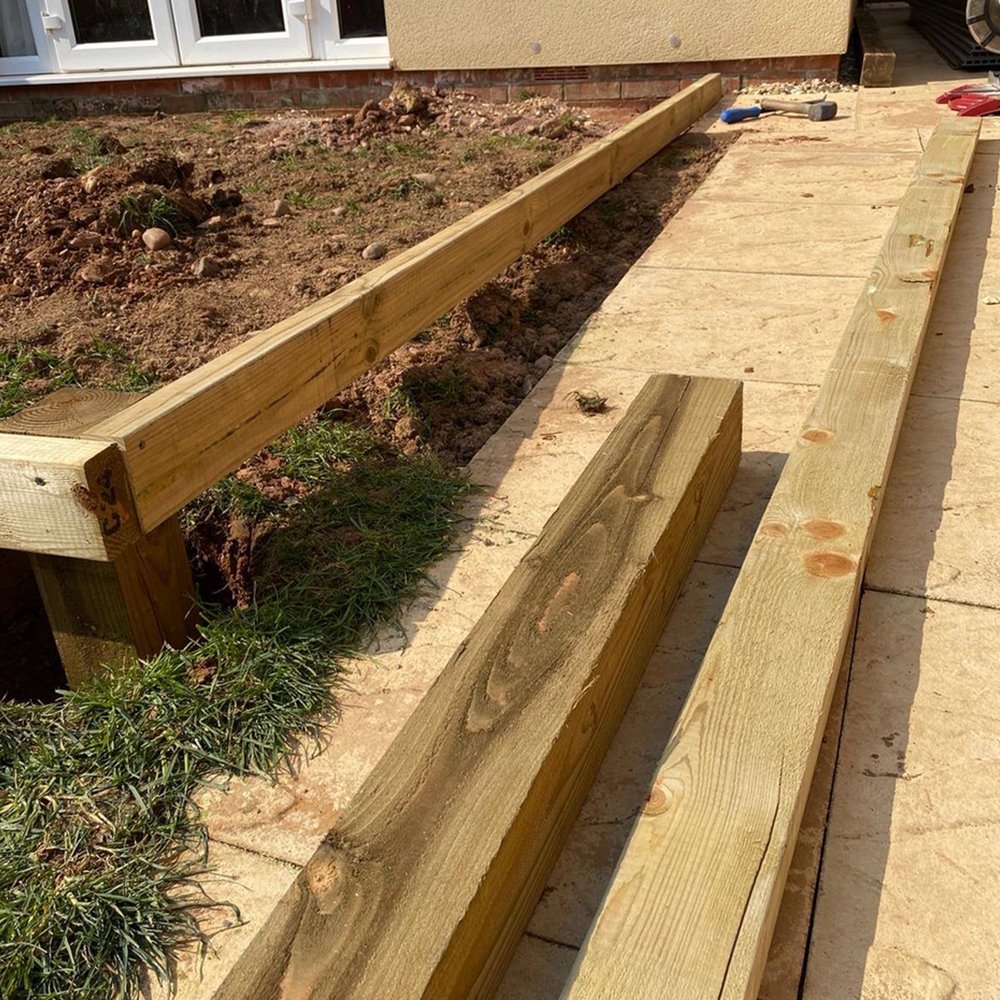 When starting to lay the boards it beneficial to use a starter clip for the first board to enable it to sit flush to the wall. Particularly with patio doors onto the decking area you will want this deck to sit flush rather than leave a gap.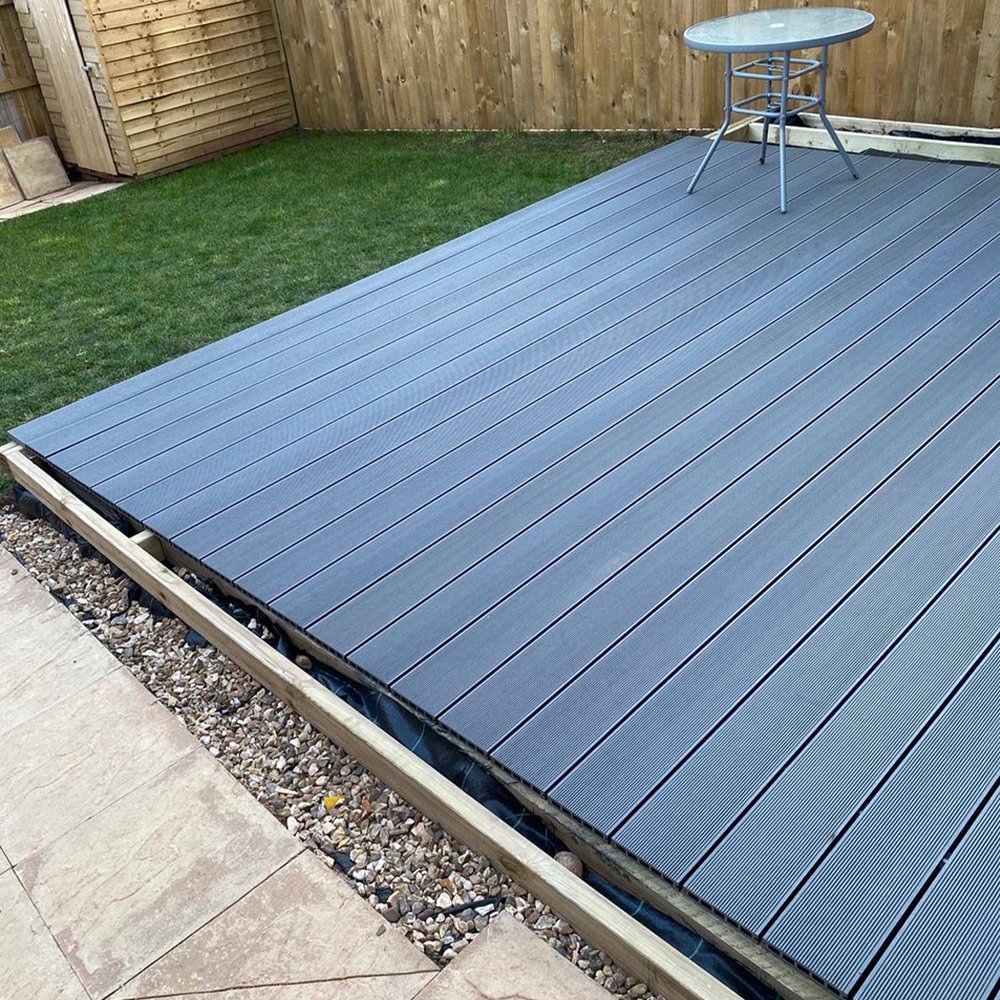 This project was 5m wide meaning the boards would need to but up together and leave an expansion gap on the edge.
The honeycomb core on the composite decking boards can be left open or can be covered with the use of corner trims, skirting trim or using a composite bullnose board.
This project opted for a bullnose board to run around the edge in stone grey. This finish can often be referred to as a picture frame effect and can be done in a matching or contrasting colour.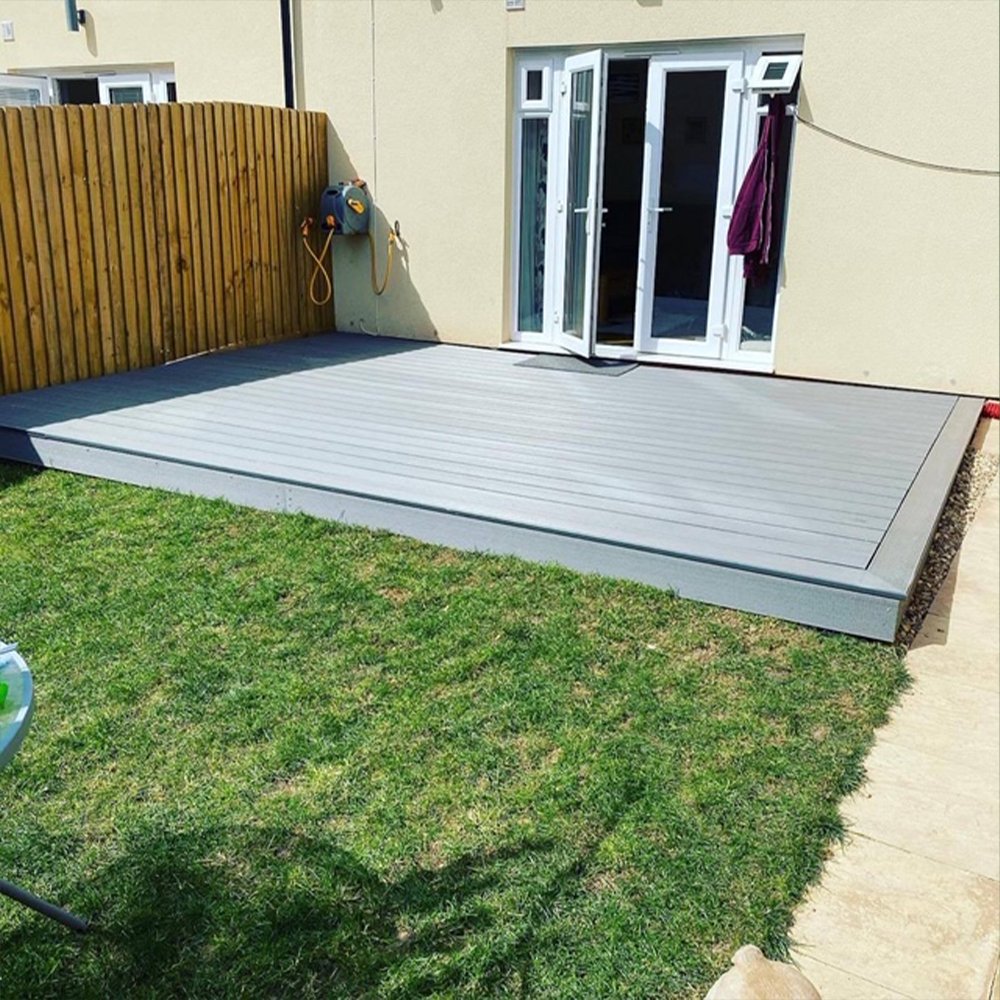 Overall, this project including the frame, weed mat, boards, clips and edging board came in at a total cost of £998.87 inc VAT. This composite decking area now provides a relaxing area to entertain, children to play and for eating in the evening. The low maintenance and low cost of the composite decking means this area can be enjoyed rather than sanding and painting it every year which would be required with timber decking.
We can cater to all budgets and provide quotes for retail or commercial premises; you don't have to spend a fortune on composite decking to see a huge improvement. Sample packs are provided so you can check the colour of composite decking you want before making a purchase.
Call our sales team today on 01837 659901 or visit our website.