When it comes to installing a new fence in your garden, there are plenty of options to choose from. Gone are the days of the traditional wooden fence, often taking shape in the form of thin timber panels - which can require regular staining and painting, are prone to wind damage - and can look untidy if not properly maintained.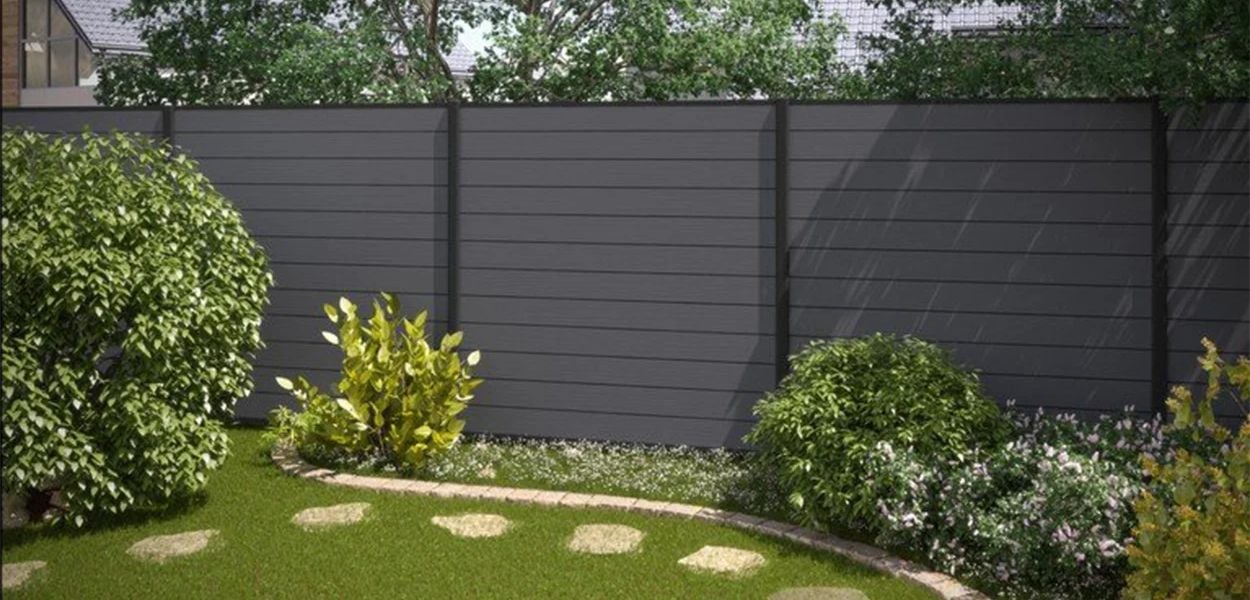 Composite Fencing is a contemporary fence style and a great alternative to traditional timber fencing, with its combination of recycled plastic and wood fibers making for a strong, attractive option when looking to replace or install your new garden fencing.
In this article, we take a look at the advantages and disadvantages of composite fencing, as well as how it's manufactured and installed.
What is Composite fencing?
Benefits of Composite Fencing
Drawbacks of Composite Fencing
Installation advice
Composite fencing transformations
| | | |
| --- | --- | --- |
|   | Composite Fencing | Wooden Fencing |
| Colours Available | Eight Contemporary Colours | Natural Wood / Wood Stain |
| Maintenance  | Low | High |
| Durability | High | Low |
| Environmentally Friendly | Yes | No |
WHAT IS COMPOSITE FENCING?
Composite Fencing is manufactured from 60% recycled hardwood fibres and 40% recycled plastics, combining the best of both wood and PVC/vinyl fencing to create a stronger, longer-lasting and more durable product that is environmentally friendly.
It is available in a range of colours to suit any outdoor project - and unlike wooden fences, can withstand harsh weather conditions and is rot, splinter and insect-resistant.
DURABILITY
The nature of the materials that make up Cladco Composite Fence Boards (60% recycled wood fibres and 40% recycled plastic) makes Composite Fencing an extremely durable material, especially compared to other fencing options. When installed alongside Composite Fence Posts, Composite Fencing can withstand extreme weather conditions like high winds.
The plastic component within Composite materials also means that insects such as woodworm and carpenter bees will not bury into the product, making it longer lasting (in excess of 30 years lifespan in normal weather conditions) and stronger than wood.
LOW MAINTENANCE
Composite fencing materials are naturally low upkeep. The plastic elements within the material make Composite products rot and mould-resistant, therefore requiring very little maintenance. Traditional wooden fencing, on the other hand, requires regular sanding, painting and sealing to maintain its condition year in and year out.
AESTHETICS
Composite Fencing by Cladco is available in a range of eight attractive colours (below), ranging from contemporary Charcoal to the more wood-like hues of Teak. Whatever colour you opt for, the Cladco Fencing range comes complete with matching coloured Composite Fencing Posts and Post Caps, for a seamless design - or, mix and match for a contrasting finish.
These eight colours are also available in the Cladco Composite Decking range, for a complementary garden decking and fencing combination.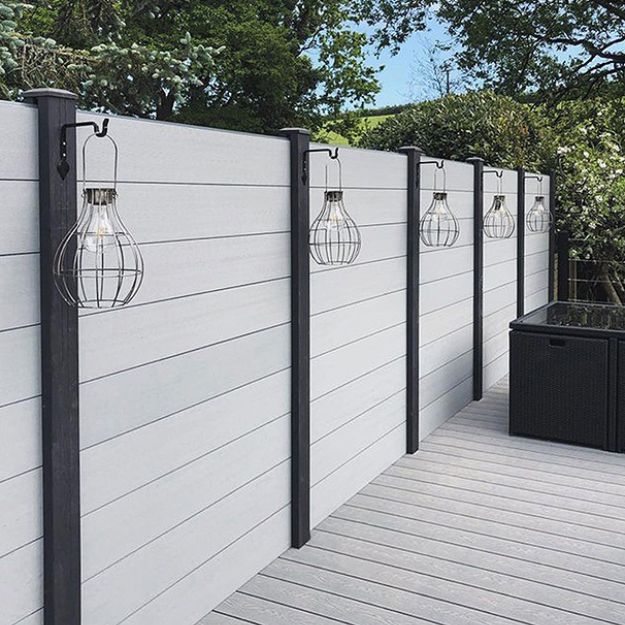 Cladco Composite Fence Panels in Light Grey with contrasting Charcoal Posts and Post Caps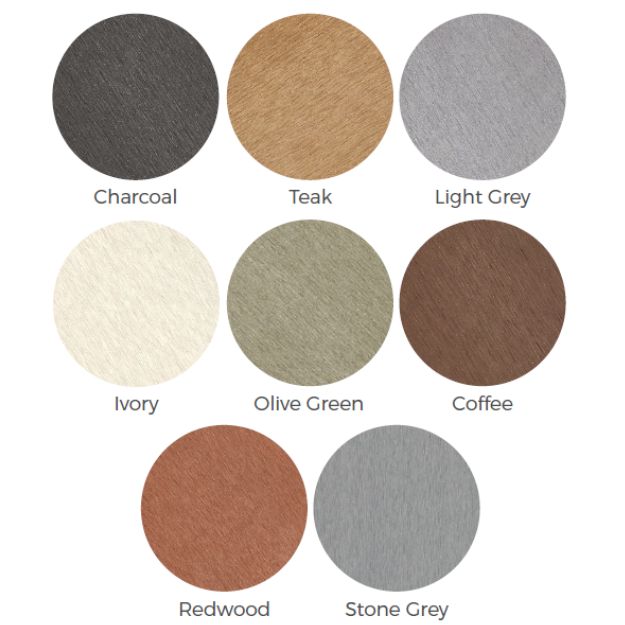 Composite decking and fence products by Cladco are abailable in a range of 8 colours
ENVIRONMENTAL IMPACT
Composite Fencing Boards are environmentally friendly, being manufactured from 100% recycled materials - 60% reclaimed wood chips from FSC® approved forests and 40% recycled plastics. This helps reduce plastic and wood waste from going to landfill, and instead reusing it within Cladco Composite products.
The FSC Certification available with our products means that all real wood used meets the highest environmental and social standards.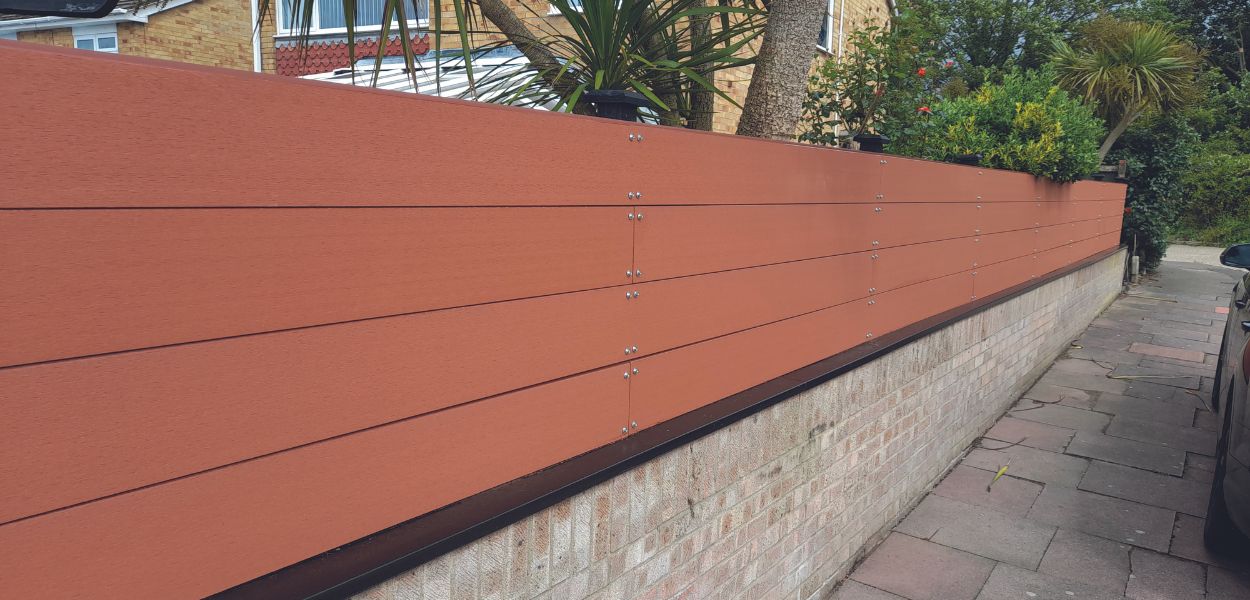 Cladco Composite Fencing Panels in Redwood
COST
The initial price of Composite Fencing is higher than that of a wood fence of a similar design - however, the long-lasting (30+ years if properly looked after) and low-upkeep properties of Composite fencing materials mean that these upfront costs are far outweighed in the long run. You will save money on replacements as well as time and expenses on additional paint/sealant/sanding products for maintaining
INSTALLATION RISKS
When installing Composite Fencing, it is essential to take into consideration that Panels can expand and contract with temperature changes. This thermal expansion means that Boards need to be fitted with a gap of at least 5mm between Panels to prevent overcrowding during warm spells.
OTHER
As with all materials exposed to direct sunlight, some natural weathering may occur over time. It's recommended to purchase all Composite Fence Panels required for a project at the same time, as this will ensure colour consistency throughout. We recommend laying out all the Panels before installation to ensure the colour tone is balanced across the whole of your Fencing.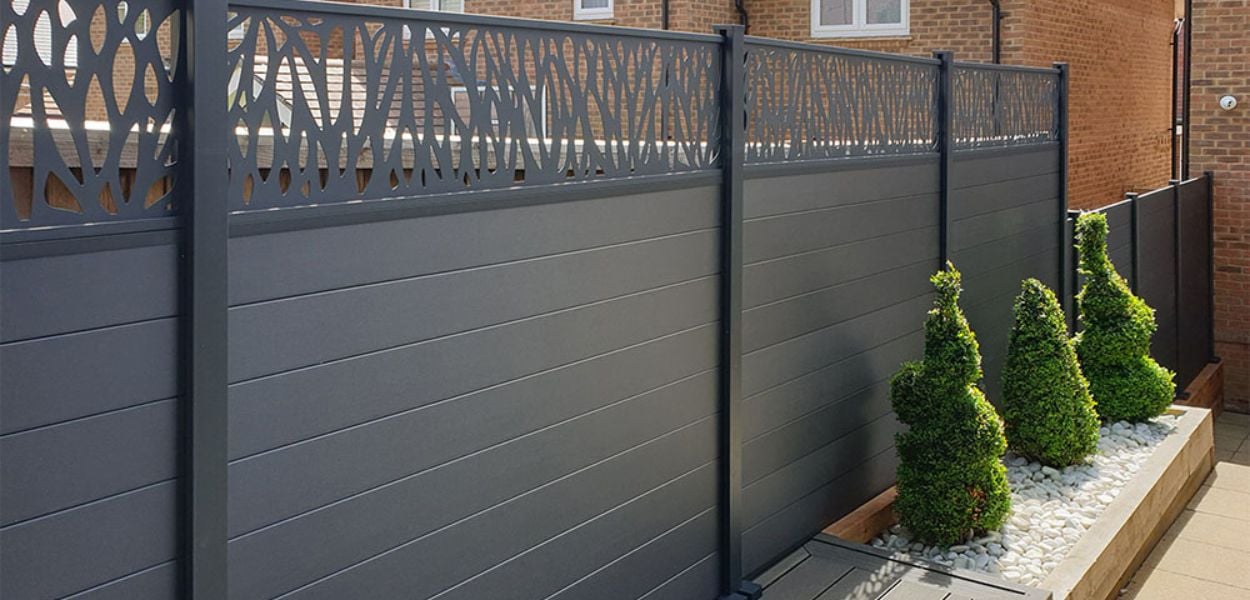 A decorative and long-lasting alternative to wood fencing
1) Prepare your area by removing any stones, debris or hazardous material. Dig the Fence Post holes to 25% of the Post height. The Fence Posts must be a maximum of 1.8m apart to ensure they can support the Fence Panels. Run a piece of string from the first Post to the last Post to make sure they are positioned square to each other. Use a spirit level to ensure each Post is 100% level before adding postcrete to secure in place. (see fig.1 below)
2) If using the slot-between method, cut up to four channels per Post to allow the Composite Fence Panels to slot into one another (see fig.2 below)
3) Simply slide the Composite Fence Panels into the grooves of the Posts, ensuring the Panels are slotted into place securely and are level.
4) Finish your Fence Posts with Fence Post Caps. Fence Panels can be finished with Cladco Fencing Rails for added protection. Rails can be cut down to size using Straight Cut Tin Snips and slotted onto the top of the Panels for a neat edge.
For more information and alternative installation methods, take a look at our Composite Fencing Installation Guide.
Most composite fencing products can also be installed as a split rail fence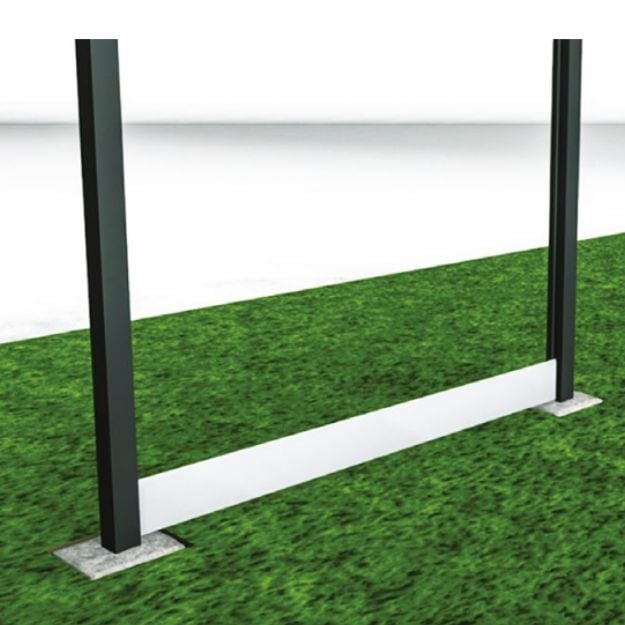 Fig.1 - Fit and secure your Fencing Posts at 1.8m intervals using postcrete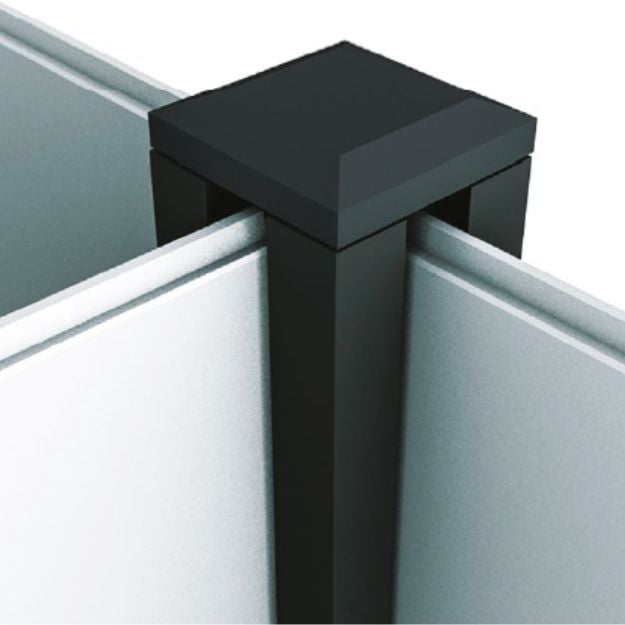 Fig.2 If using the slot between method, cut up to four channels per Post
Case Study: A Composite Fencing Transformation
The below example demonstrates just how easy it is to transform your outdoor space with Composite Fencing. This Cladco customer has used Composite Fencing Panels and Posts in the colour Charcoal to conceal their old wooden fencing - adding a more aesthetically pleasing parameter to their garden.
The Composite Panels and Posts work together to increase longevity and will require fewer replacements in the long run in comparison to almost any other fencing material, such as wood.
The addition of green foliage along the top of the Panels makes for a contemporary and well-put-together privacy fence.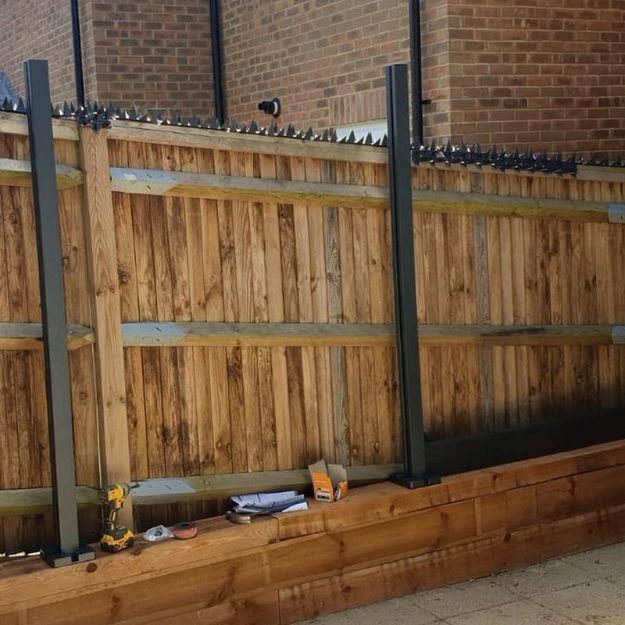 Cladco Composite Fence Posts installed securely, ready for the additional Composite Panels to be fitted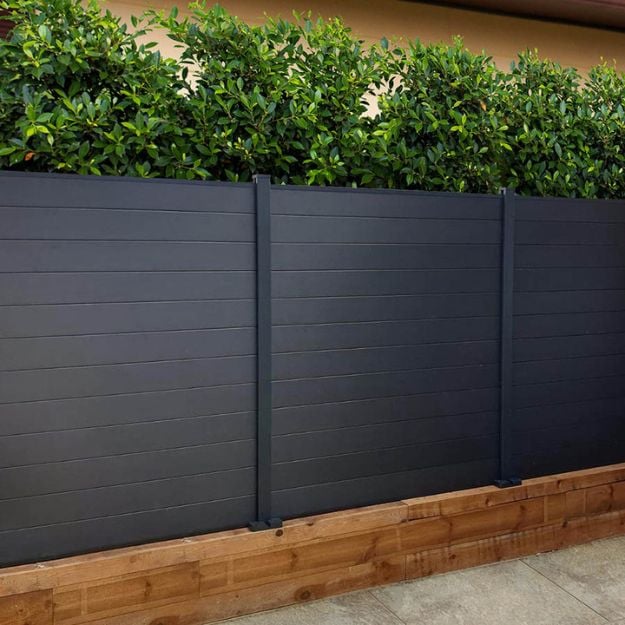 Cladco Composite Fencing Panels in Charcoal
If you are looking for a scratch-resistant, long-lasting garden fence that is available in a selection of matching colours, choose composite fencing.
Despite its initial cost being higher than that of a wooden fence, the 30+ year lifespan and low-maintenance properties of a Composite fence far outweigh this. You will save time and money in the long run, with no need to replace, sand, seal and paint your composite fence year after year.