Cladco Composite Wall Cladding in Olive Green has been installed on the exterior walls of this modern, custom-designed Garden Room.
Wall cladding is an inexpensive and adaptable way to cover the exterior walls of any building and gives an instant, stylish finish that improves the look of your entire outdoor space. Cladco Composite Wall Cladding can be used on almost any home's exterior surface including, render, pebbledash, brick, stone, and concrete - or, as in this case, on the outside walls of a bespoke garden room.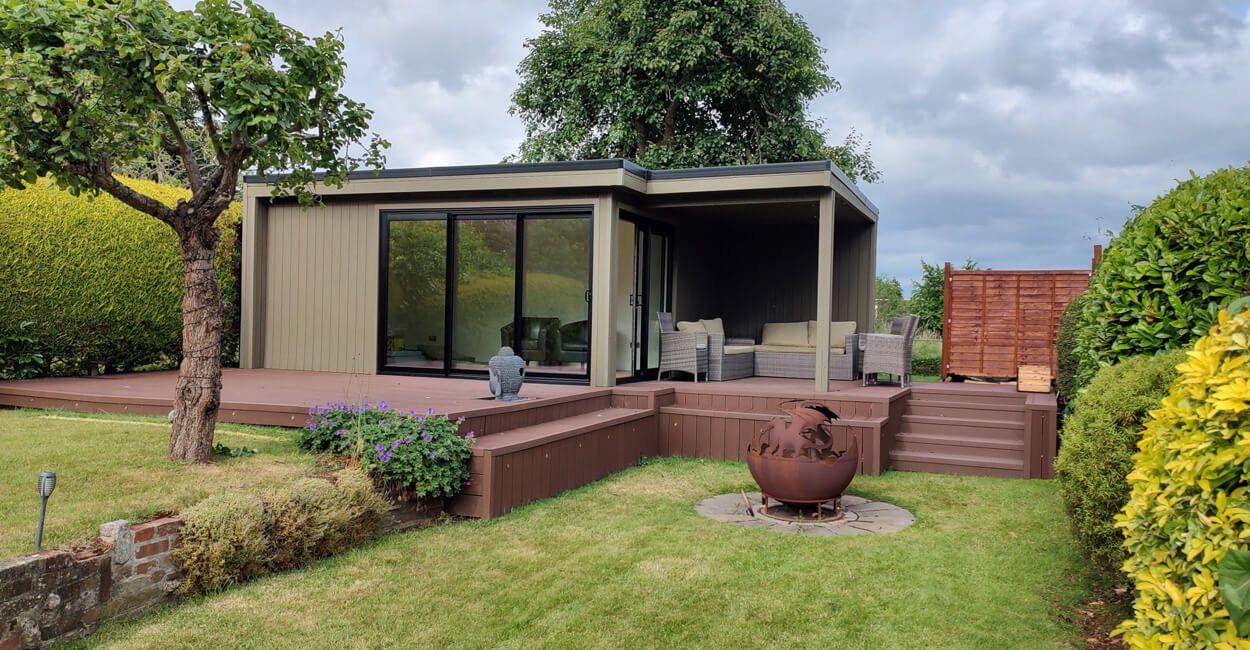 Bespoke Garden Room Clad with Cladco Composite Boards in the colour Olive Green
Garden rooms are a fantastic additional living spaces to relax and entertain in, or hives of productivity when working from home. The long-lasting, rot and mould-resistant features of Cladco Composite Wall Cladding Boards allow you to enjoy your garden room for years to come, whatever its end use.
Why not create a bespoke garden room to use as a home gym, an art studio, or just as extra space for entertaining? guests?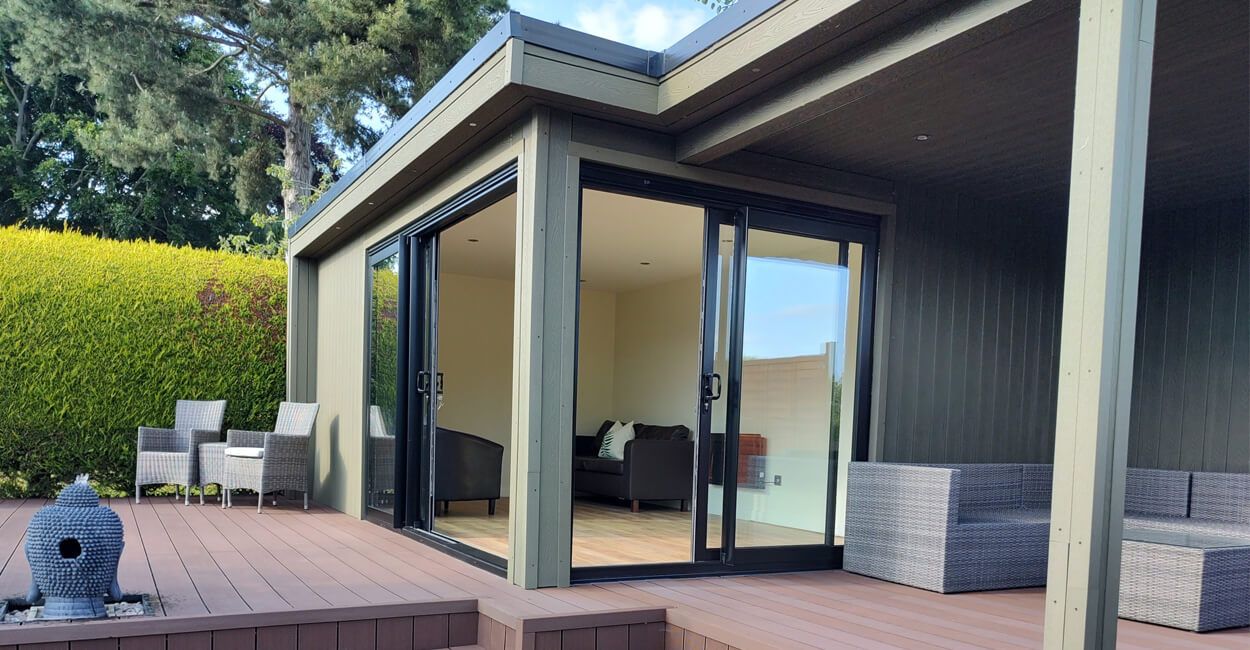 Composite Cladding and Composite Decking used together to construct a bespoke garden building
This project shows beautiful natural grounds surrounding the garden room, with the lush green grass complementing the natural and subtle khaki tones of the Composite Boards in Olive Green.
As well Olive Green, Cladco Composite Wall Cladding Boards are available in a range of other colours including Stone Grey, Light Grey, Redwood, Ivory, Charcoal, Teak and Coffee.
The Composite Cladding as installed here has been complemented with matching Composite Decking by Cladco, this time in the colour Coffee. The combination of both Composite materials and their natural colours together makes for a high-quality appearance as well as great structural integrity - thanks to the multiple benefits of using a wood-plastic Composite material.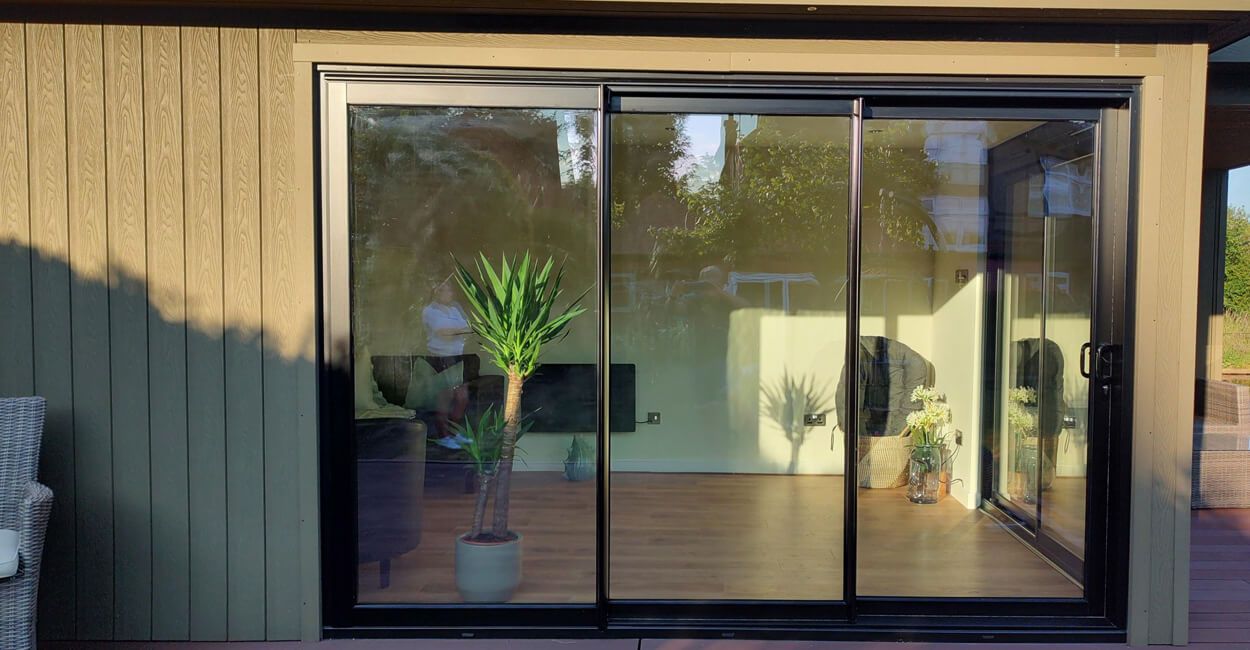 Garden Room with Composite Cladding in Olive Green and Composite Decking in Coffee - both by Cladco
Cladco Composite Wall Cladding and Decking are manufactured from a long-lasting, environmentally friendly material comprising of 60% Recycled Hardwood Fibres from FSC-certified trees and 40% Recycled Plastics.
This combination makes for a high-performance material that will protect, add insulation and improve the durability of your outbuildings walls, and unlike timber cladding, it does not require staining, sanding, painting, or any other regular maintenance.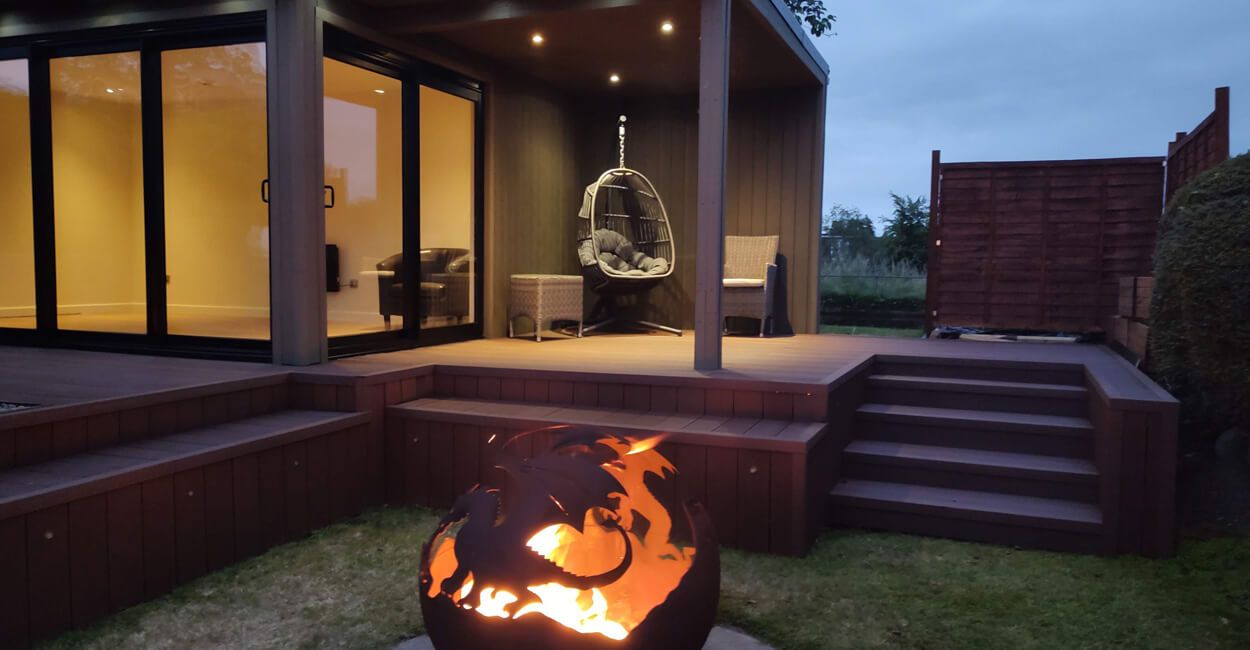 Enjoy your outside space and stay warm with a cosy fire pit and fully insulated, low maintenance garden room
Composite Battens are installed to the surface of the wall for the Composite Cladding to then be fitted upon. This allows air circulation behind the boards whilst preventing water from entering behind the Boards. Cladco Composite Cladding can be installed both horizontally and vertically*, and are a great way to add a personal touch to smaller buildings such as garden rooms, due to its range of colour options and finishes.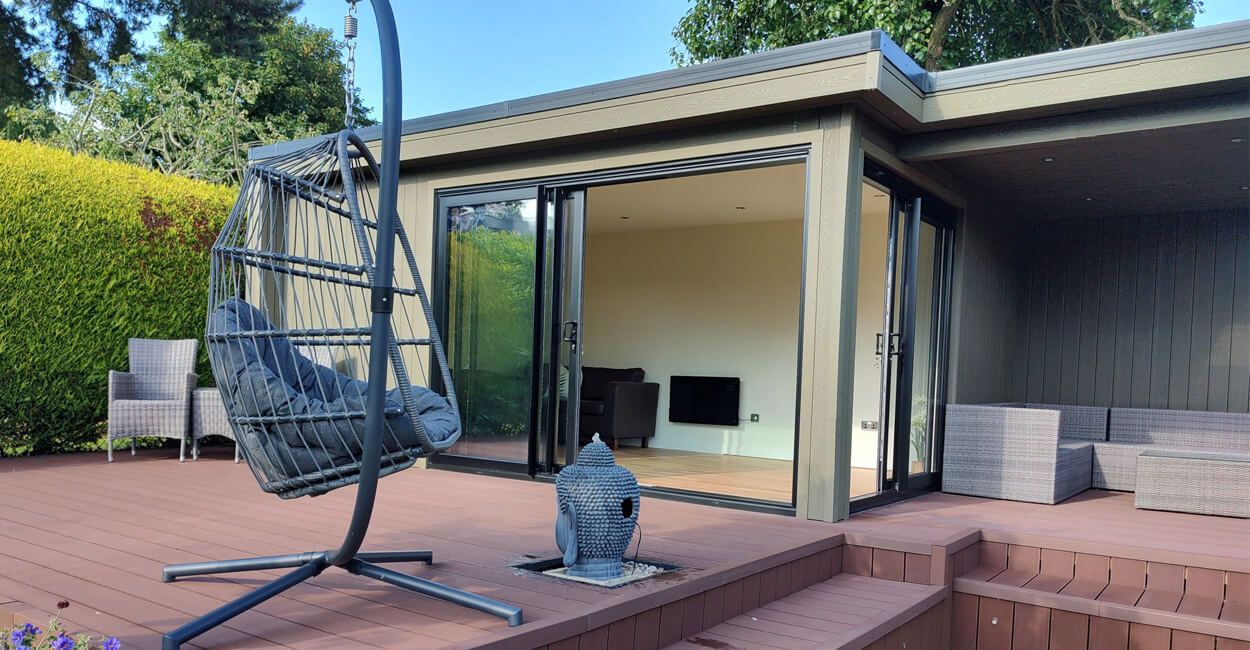 Garden room with sliding doors and exterior Composite Decking for spending time in your outside space
*For more information on how to install our Composite Boards, take a look at our Installation Guide here.
FAQs
Do I need planning permission to put my Composite Cladding up?
In most cases, adding Cladding to your home does not require planning permission, providing that the materials are of a similar appearance to the rest of your home. In some cases, you may need to apply for planning permission if your home is a listed building in an area of exceptional beauty or a national park.
*Please note that we are not licensed planning or building surveyors. We recommend speaking to a licensed professional.
Can Composite Cladding Boards be installed inside?
Yes, the Cladco Composite Wall Cladding range is a versatile Cladding material, designed to transform the outside of your home. However, the Boards can easily be installed on internal walls if desired, provided the walls are structurally sound enough to support the Battens and Composite Boards.
Do I need to paint my
Composite

Cladding Boards?

Cladco Composite Cladding Boards are available in a variety of eight colours. The low-maintenance Composite material does not need to be sanded, treated or varnished. Simply select your chosen colour, install and enjoy with peace of mind year-round.

If you have been inspired by this Garden Room and its Composite Cladding, why not visit us online to order a FREE SAMPLE or give our friendly Sales Team a call on 018737 659901 to kickstart your own Composite Project