Cladco Environmental
Over the last few years, Cladco have made some major changes in the way the business operates in order to improve sustainability and to reduce it's impact on the environment. We are constantly reviewing the way we work and setting new targets to ensure that as a business, we are being as environmentally friendly as we can be.

It's more important than ever for companies to reduce their impact on the environment.
Over the years, we have made many changes throughout our business, and we wanted to share with you our 'greener' journey.
All of our composite boards are made of 60% recycled hardwood fibres and 40% recycled polyethylene together with a bonding agent, colour tint and additives. The hardwood used in our composite products is FSC reduce their impact on the environment.
From using electric forklifts to minimising paper use in the office, we are constantly working towards lowering our impact on the environment. We use a charity scheme that upcycles our pallets into creative designs such as benches, planters and bug houses.
We have installed showers into our new warehouse to encourage a cycle to work scheme, and we are creating our deionised water for our forklifts by using our filtering system. This saves using thousands of plastic bottles. More than 60 million plastic bottles end up in landfill every day, and over 22 Billion Plastic Bottles were thrown away in 2017 alone. At Cladco, we feel that if we do not act now, by 2050, there could be more plastic in the ocean than fish.
To further reduce our impact on the environment, we recycle all our paper and printing ink, our packaging is all recyclable, and we take all our scrap metal for recycling.
Our future goal is for all of our forklifts to be electric at present, over 90% of our vehicles are ultra-low emission compliant and do not sit idle therefore avoiding fuel wastage.
We achieved our ISO14001 accreditation in November 2019, and this certification provides a framework for environmental management. ISO14001 ensures we as a company comply by:
Minimising our environmental footprint
Diminish the risk of pollution incidents
Provide operational improvements
Ensure compliance with relevant environmental legislation, and Develop our business in a sustainable manner.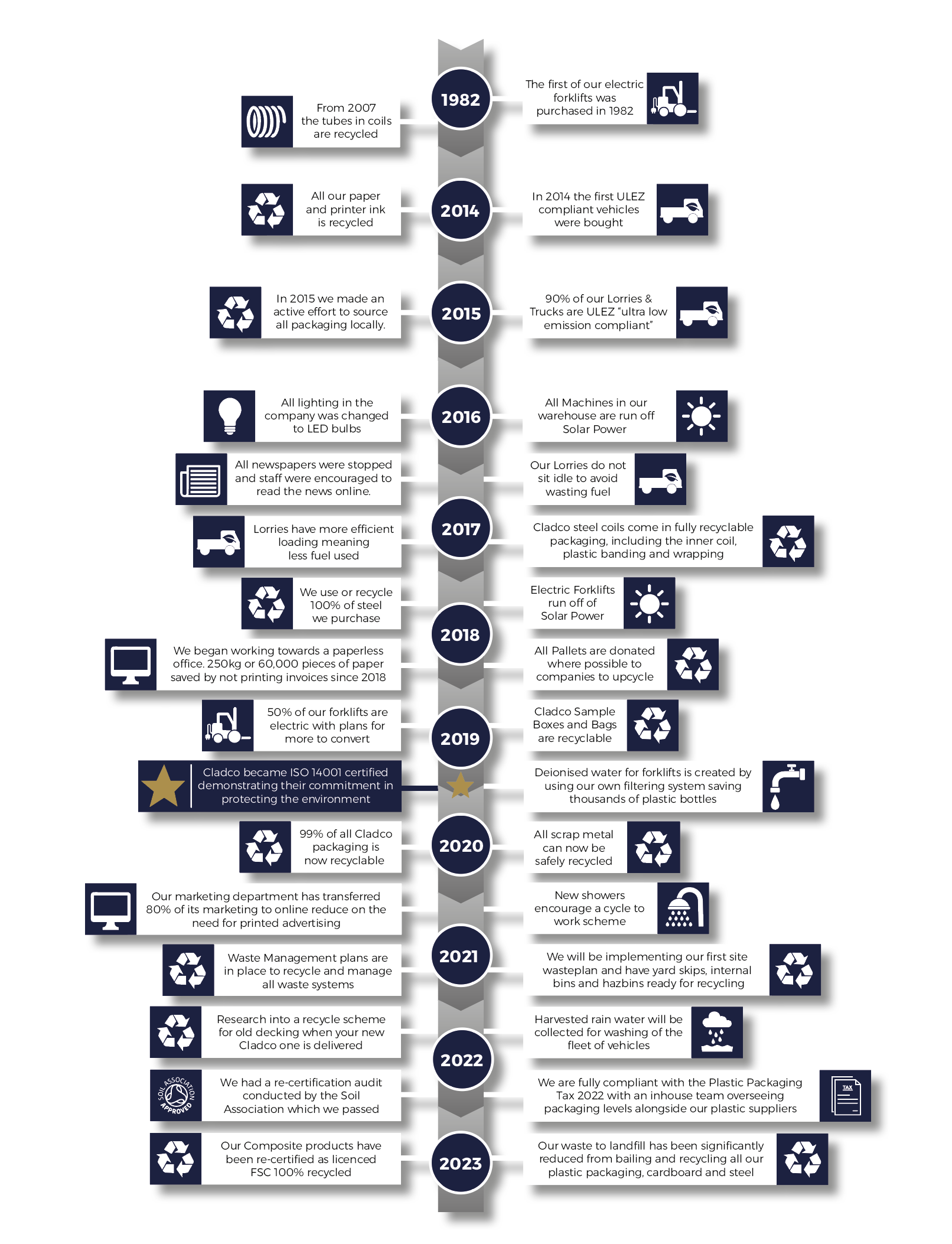 We will continue our efforts towards an ethical and sustainable future
Ideas for you!
We have ideas to help you recycle too! Why not look at our 'how to guides' below to create these beautiful products with your off cuts. Please tag us in your photos of upcycling leftover composite decking using the hashtag #cladcorecycled