To celebrate our 50th Anniversary, join us in taking a look back at how we have evolved and innovated as a company to become the UK's Leading Supplier of Roofing Sheets and Composite Decking.
It all started on a driveway in rural Devon in 1972, when Leslie J Trescher began supplying Roofing Sheets to local agricultural communities across the South West.
Originally named LJT Western, we quickly grew a reliable customer base and, with such a high demand in the first few years, this led to Leslie moving the business to a much larger site in Hatherleigh, Devon. We operated from Hatherleigh for an impressive 27 years, which proved to be a crucial part of the future of the business and our customers.
Eight years after inception, in 1980, and now based in Hatherleigh, Devon, we successfully began delivering Roofing Sheets nationwide. This opened up the potential client base to a much broader area, which in turn increased the demand further for products.
In 1982, Leslie's son, Lawrence Trescher, the now CEO and owner of Cladco, joined full-time and continued to expand the business further, eventually running the business single-handedly, from manufacturing to answering the phone and delivering the products.
With a passion for providing a more bespoke service for our customers, this led to the purchase of our first roll forming machine. This paved the way for a new process of manufacturing Profiled Sheets in-house and marked a major milestone for our family-run business.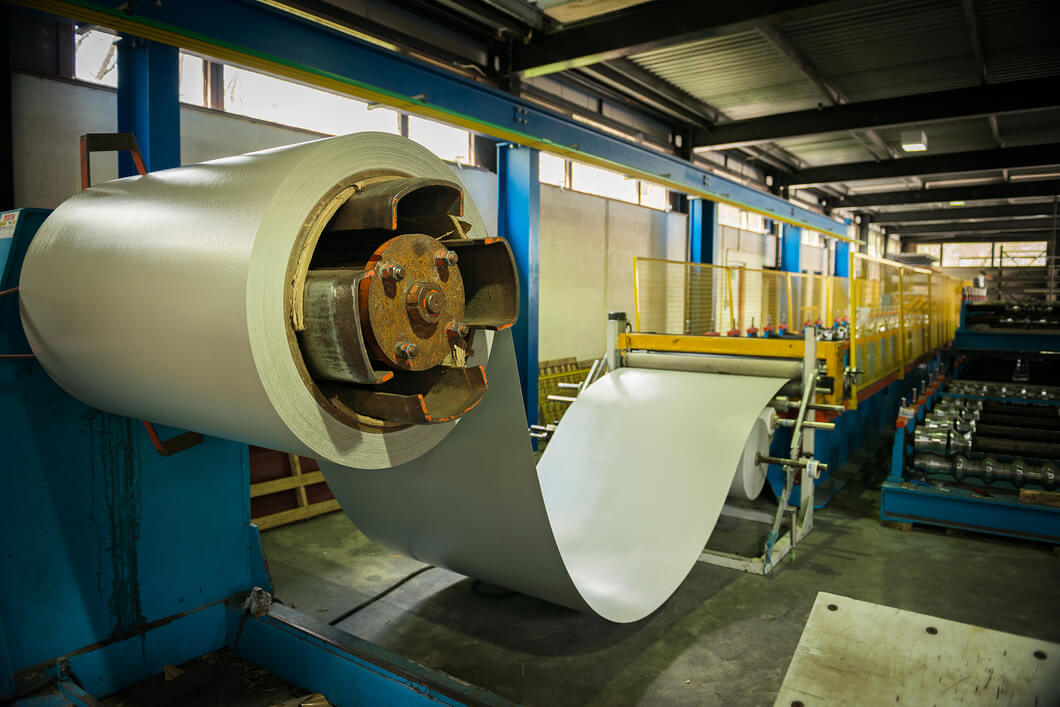 The introduction of roll forming machinery enabled the manufacture of Profiled Sheeting
In 2004, Lawrence made the call to expand the business by relocating to North Road Industrial Estate, Okehampton, investing in our future success and product offering. This opened doors to the production of a wider range of galvanised and finished Steel Roofing products, including the popular Box Profile 34/1000 and 32/1000 Sheets, to Corrugated and Tile Form Sheets following in 2007.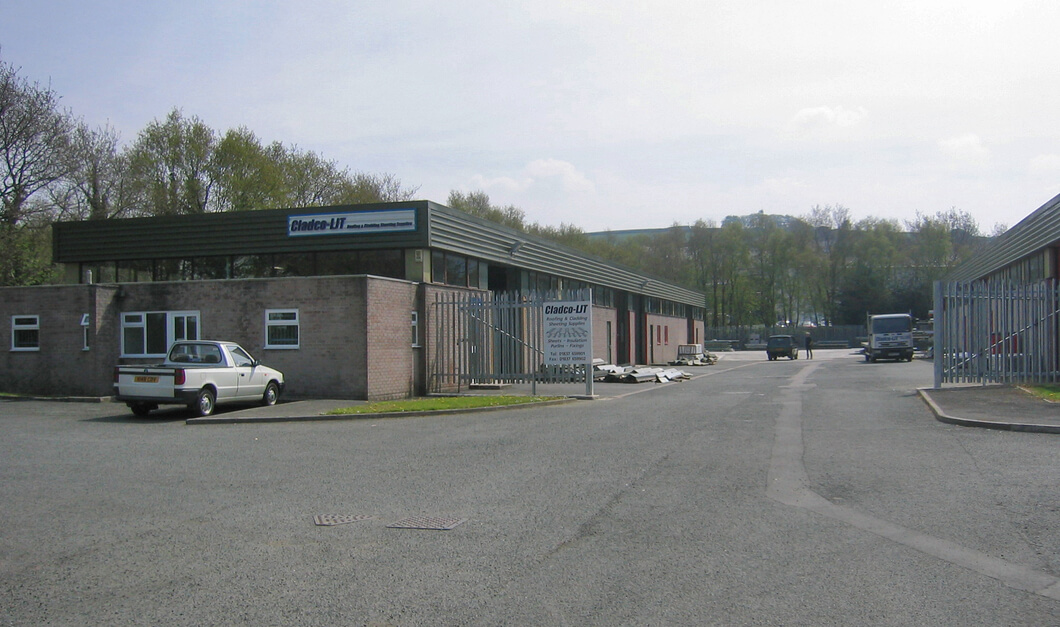 Our larger HQ in North Road Industrial Estate, Okehampton, circa 2004
While we were having great success with manufacturing high-quality steel Roofing Sheets, Lawrence identified a gap in the market for a high-quality decking product that didn't deteriorate or need treating. After years of extensive research, finding the ideal supplier and product, we successfully launched our Composite Decking Range in 2013, which, once more, opened new avenues to remain competitive in a busy and growing UK market.
Following continued expansion, a new larger site was required to house more machinery, growing stock levels and increasing staff numbers. In 2017, we moved from North Road Industrial Estate to Exeter Road Industrial Estate, a big step in future proofing the business for not only our products but also staff.
Three years later, in 2020, a second Unit was completed to house the growing stock levels, transforming us into the UK's Leading Supplier of Composite Decking and outdoor products.
For more information about our history and mission statement, please visit our About Us section.
Keeping Cladco In The Family
Family has always been at the heart of the business and will remain a part of us for generations to come.
Founded by Leslie J Trescher with his son Lawrence and wife, Jo, joining in the early eighties, to the present day with Lawrence's four sons forming an integral part of the business; with Dan Trescher in Senior Management joining in 2007, and Lewis and Jack both working in Operations.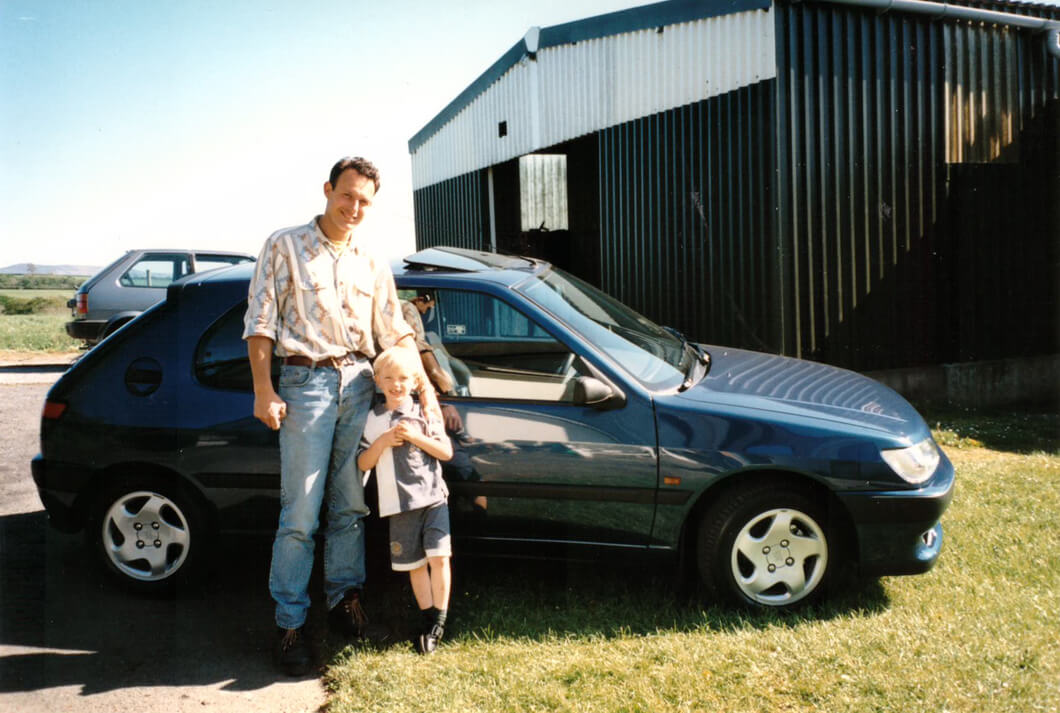 Lawrence and his son, Dan, outside the original warehouse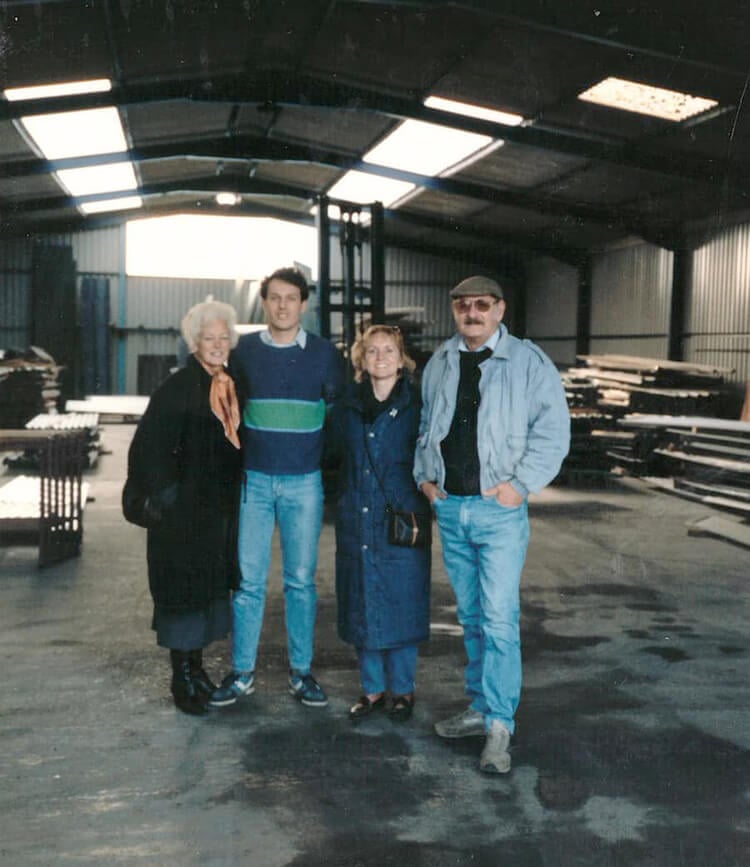 The Trescher family and a friend stand together inside the warehouse, circa 1989
We have been rapidly expanding and now have over 80 employees working across two sites in Devon. Family has always been pivotal, creating a culture that promotes togetherness and teamwork across all departments, ensuring the best experience possible, not just for our employees but for new and returning customers, too.
The Evolution Of Cladco Trucks
The delivery of Cladco products has always been just as important as the products themselves. As a growing and innovative company, we have consistently developed and evolved products and how to reach our customers across the UK.
From the first Roofing Sheets sold in Devon to the manufacturing of bespoke Profiled Sheets on-site, our passion for providing the best quality materials hasn't slowed, and neither has our fleet of Trucks.
Trucks has been an evolving aspect of the business, with the first side curtains introduced in 2017.
Here's a look at how the face of our Trucks has changed over the years.
Developing Cladco Products
On the Roofing side of the business, we have been producing Tile Form Sheets since 2007, enabling the authentic pantile effect to be created with ease using a Prelaq Mica coating. When compared to individual roofing tiles, this sped up the installation process for homeowners and businesses alike.
In 2008, we began the production of Corrugated Roofing Sheets on-site within a dedicated factory using the latest roll forming machinery. The addition of Corrugated Sheeting into the product range was a big step, enabling the production of custom-made Sheets in a range of finishes and colours for customers nationwide.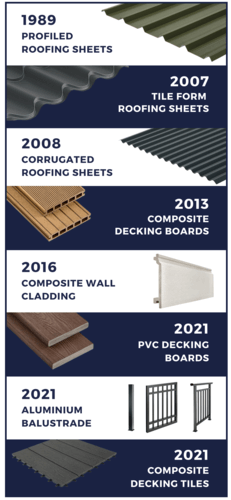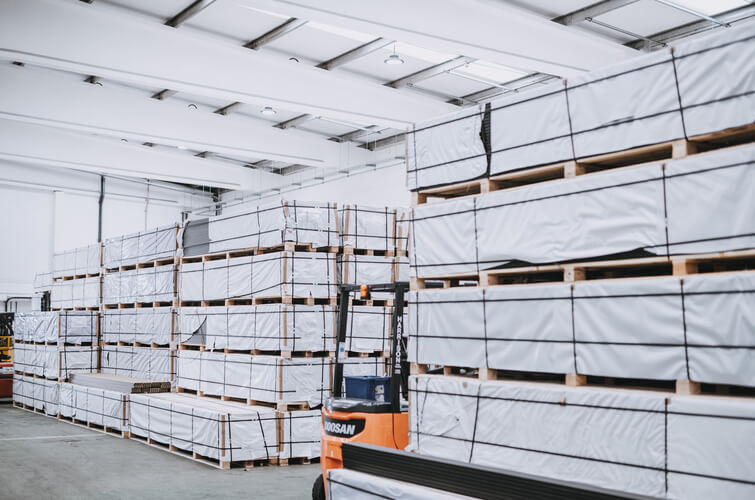 Composite Decking Boards in stock
Wood-plastic Composite Decking Boards manufactured from FSC Certified wood fibres and recycled plastics were introduced into our product line-up in 2013. Composite Wall Cladding soon followed in 2016, enabling for an exciting Composite range that boasts sustainable and environmentally-friendly materials.
"Everything we have ever sold has always been of the highest quality. I could never see the business not being run by the family"

– Lawrence Trescher, Company Director
The past couple of years has seen a run of exciting new product launches, with the introduction of large 600mm x 600mm Composite Decking Tiles, proving to be a great alternative to Composite Decking Boards.
The release of 100% Recycled Plastic Joists and Posts in 2021 furthered our environmental efforts. The 100% Recycled Plastic products provide tough, structural support for Decking Boards and raised Decking areas, while reducing impact on the environment.
Along with the evolving range of Composite Decking, Composite Cladding and Composite Fencing Panels, we introduced PVC Decking and Fibre Cement Cladding into our range in 2021. These products provide an alternative to Composite Wall Cladding and Decking, with an attractive colour range and additional benefits for a harder wearing, more weather-resistant outdoor product.
The Brand Through The Years
We have not only developed and innovated our products and fleet of vehicles over the years, but have also constantly been adapting our brand image and logos.

In 2000, LJT Western became Cladco-LJT Limited and shortly after that we moved to Okehampton into larger premises where the logo changed again to include a light blue colour scheme. This also incorporated simple graphical elements to represent the Box Profile and Corrugated Sheeting being produced in-house.
In 2012, Cladco-LJT changed to Cladco Profiles and introduced a new font choice and graphical component into our logo. After the introduction of the Composite Decking products in 2013, the logo was re-designed to a combination of green and brown colours with a simple graphic to represent the outdoor composite products now available.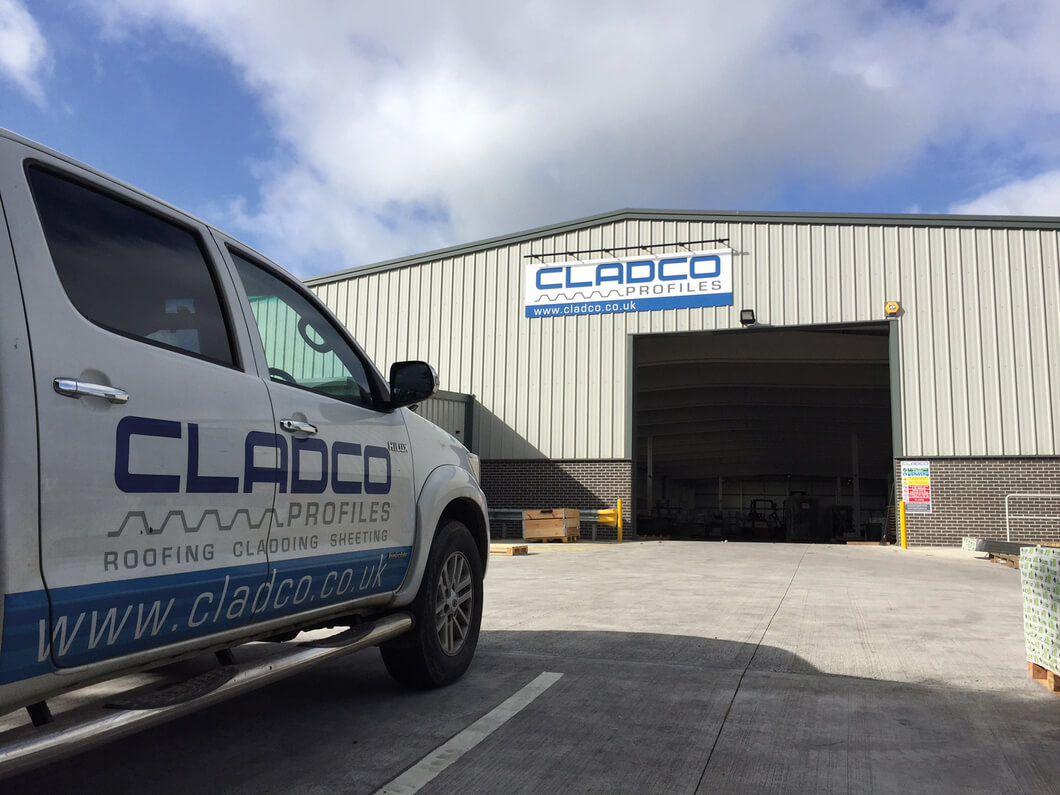 Cladco Profiles moved to Exeter Road Industrial Estate in 2017
As we grew our range of products, with Composite Wall Cladding and Composite Fencing now being sold nationwide, a wider rebranding went underway in 2019 to unify the two sides of the business – Roofing and Decking. This led to the creation of the familiar dark blue colour scheme we now know today.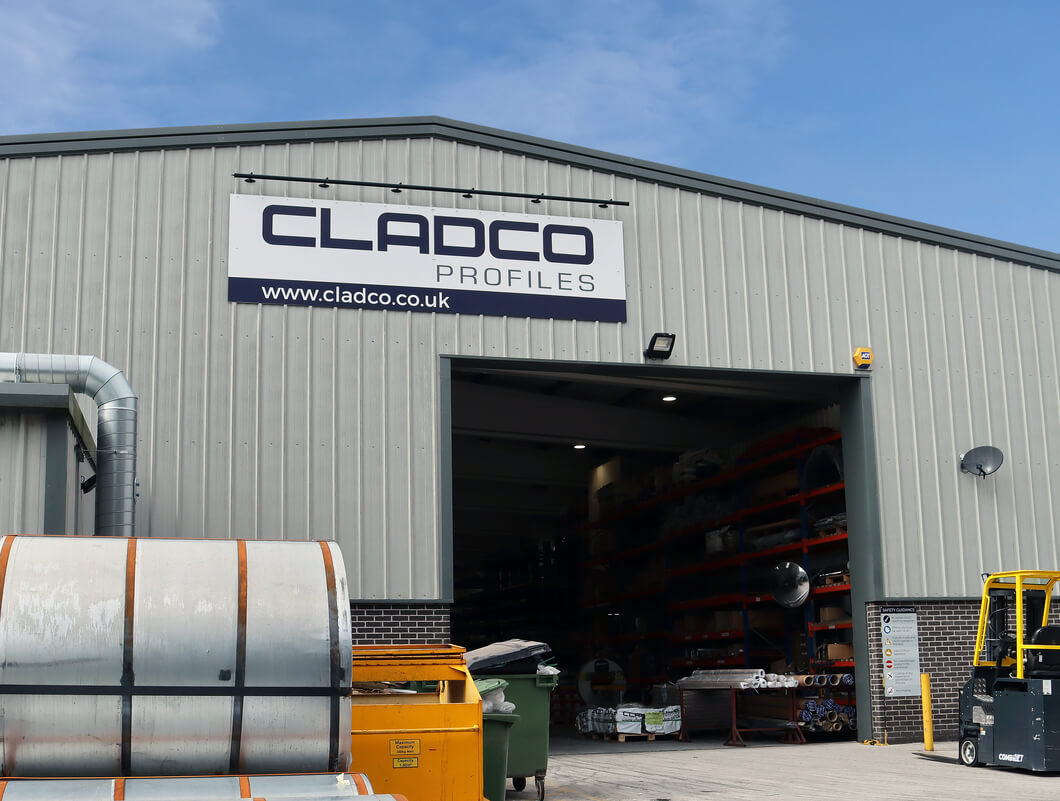 Exeter Road Industrial Estate HQ featuring the latest branding
Achievements Over The Years
Environmental Focus
We have been constantly adapting to the environmental concerns that become increasingly more prominent year on year. Here's a look at how we have strived to look after the environment in every aspect of what we do.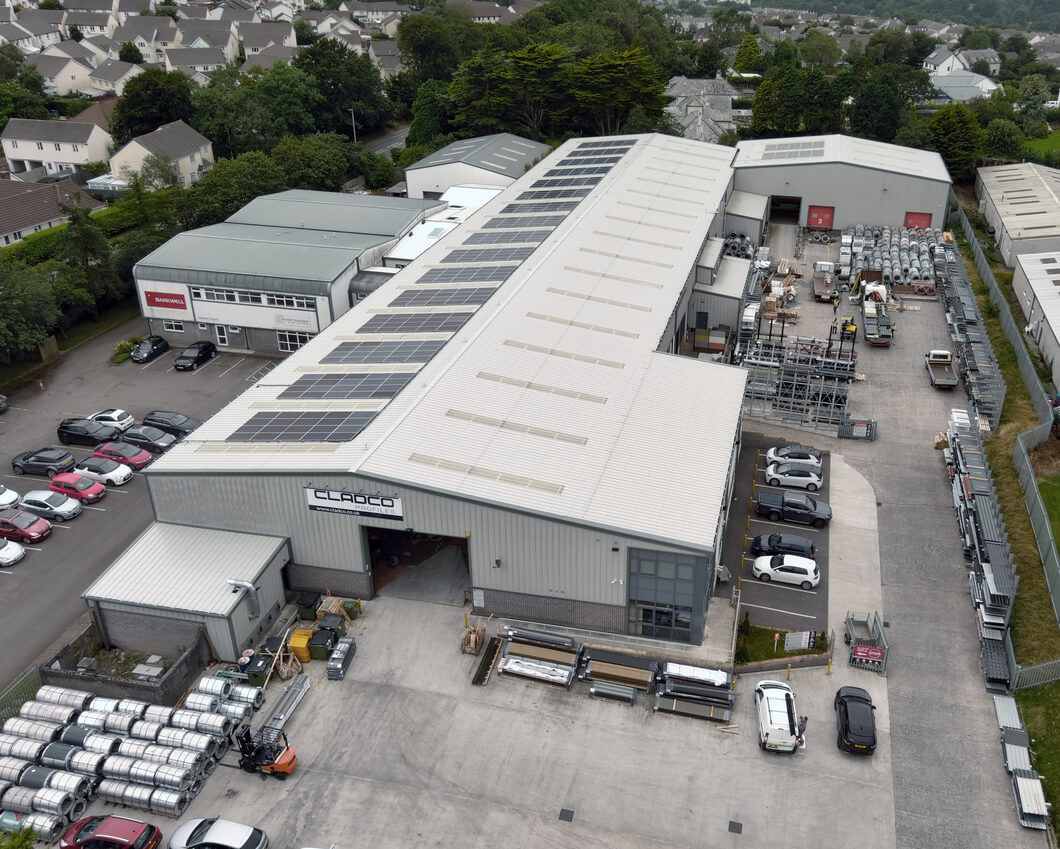 Solar Panels providing sustainable energy

Environmental Accreditations
In November 2019, we were proud to have been awarded the ISO 14001 Certification, signifying sustainability and environmentally-friendly efforts across the business and how we are helping to reduce the risk of pollution.
Find out more about what makes us an eco-friendly business here.
We would like to take this opportunity to thank all our customers over the past 50 years for helping us to grow from strength to strength. We look forward to seeing what the next 50 years of trade will bring.