Explore the best decking materials on the market, from premium plastic decking (PVC) to 100% recycled wood-plastic Composite Decking Boards, exotic or tropical hardwoods.
Whether you are looking for maintenance-free decking in the form of Aluminum Decking, or natural pressure treated softwood timber decking that will require maintenance throughout the year, we compare the prices of each type and the pros and cons of the materials to give you the best start when planning your next outdoor project.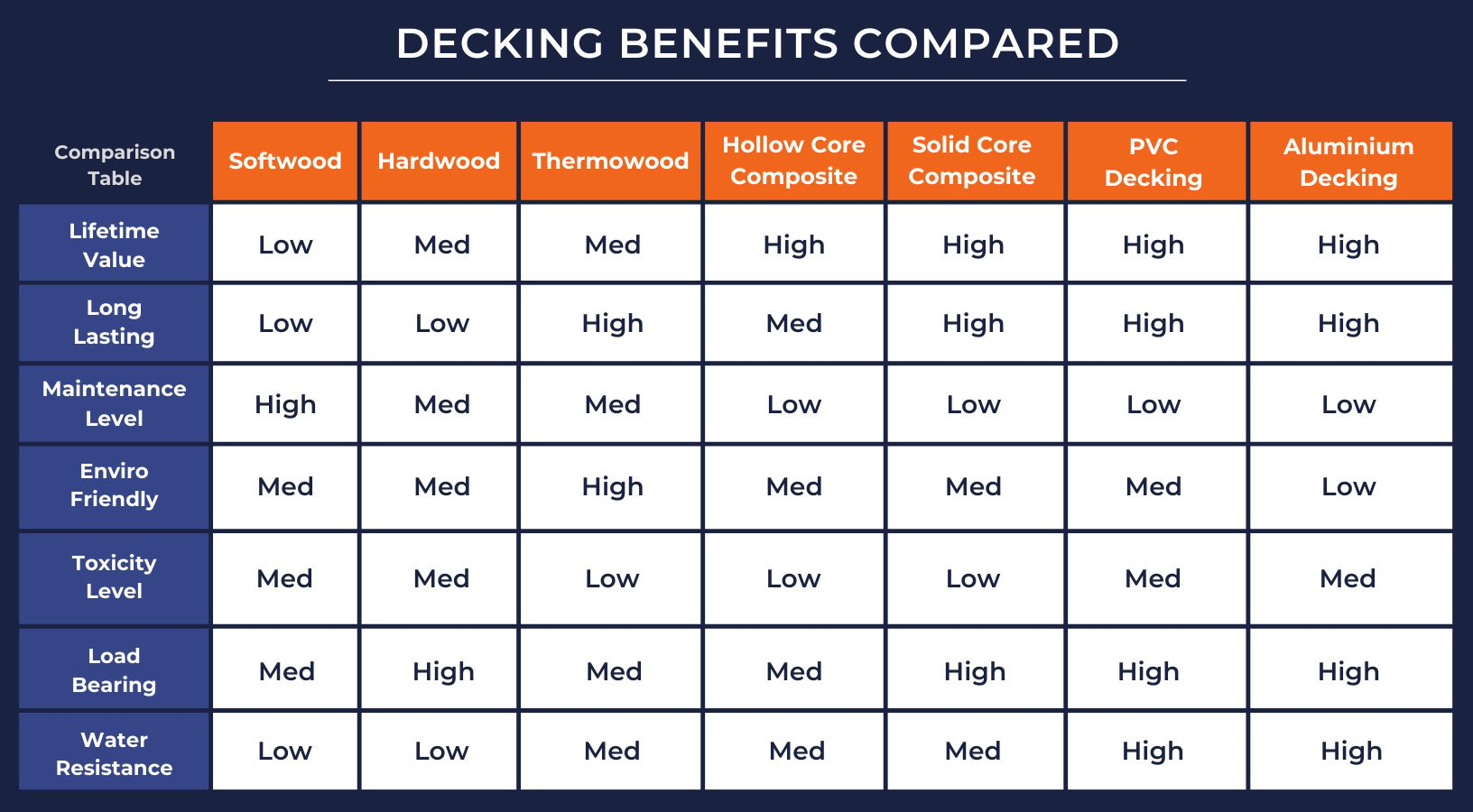 The above table shows the properties and benefits of a selection of different decking options available. To summarise:
If you are looking for a decking board with high water resistance, then PVC, or Aluminium Decking, is the best option.
If you need a low-maintenance deck that is also environmentally friendly, then consider Composite Decking for your project.
For a low initial cost with that real wood look, then a pressure treated Timber Deck is going to be your best option.
1. Cost of the decking material
Choosing the best decking materials will depend on your budget as well as how long, or how often, you intend on using the deck. It's important to think of price and cost as two separate things, with the latter referring to how much the deck costs over its lifetime. Price refers to the initial outlay, so you should consider which additional decking materials to include when buying. This will include additional items such as starter clips, screws, joists and finishing touches. Do you need End Caps for Hollow Core Decking, or Bullnose and Fascia Trims for raised decks and 'picture-framing' an area?
Timber will be cheaper on the initial outlay but will require ongoing maintenance, such as annual staining or treatment, increasing the lifetime cost with the possibility of having to replace Boards depending on annual weather conditions.
Cladco Composite Decking and PVC Decking types are guaranteed for 10 years and 20 years, respectively, and require low-level maintenance to keep costs down over their lifespan. Aluminium Boards are ultra low maintenance but are more expensive on the initial outlay.
2. Durability of the decking material
With increased durability comes an increase in the initial price, as well as longevity, of the deck. PVC Decking features a PVC core that is capped in a hard-wearing, water-resistant ASA-resin shell. This is best suited for areas prone to water, such as around pools or larger water features.
Composite Decking is manufactured from recycled hardwood fibres and recycled plastic and offers low-slip properties, or a high-quality woodgrain effect, with excellent durability underfoot. This is perfect for garden transformations, or covering over unsightly concrete, for example.
Opting for Aluminium provides additional benefits that include fire ratings for balconies and high-rise building projects to meet building regulations. As a highly durable material, Aluminium Decking could be the best option for commercial projects, for example, where durability is number one priority.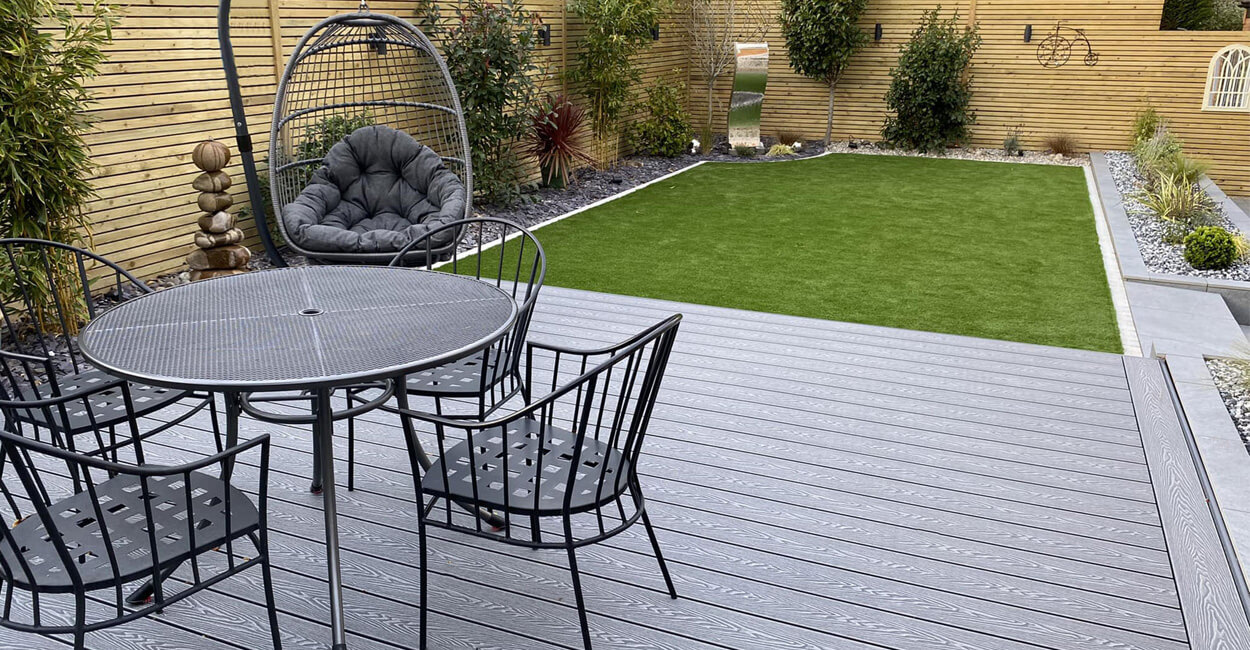 3. Maintenance of the decking material
Decking materials of any kind will require some extent of maintenance. A pressure-treated wood deck is more demanding every year to keep it looking at its best, with a Composite and PVC Deck only requiring the occasional wash, whenever needed. Depending on the surrounding conditions, and the location of the deck space, for example, under a leafy tree or by a bush with berries, you may need to invest in a Composite Deck cleaner or a pressure washer.
As is the case with anything subjected to seasonal changes throughout the year, Composite Decking may need some extra care and attention over PVC Decking. For example, due to the natural fibres in Composite Boards, expansion and contraction will naturally occur. Timber Decking will be the most demanding and costly, with staining and treatment being a requirement to keep your deck looking as good as the day you bought it.
4. Environmental impact of the decking material
The environmental credentials of decking materials are important. Cladco Composite Decking is manufactured from 100% recycled materials, comprising of 60% FSC-certified recycled hardwood fibres and 40% recycled plastic, making for an environmentally-friendly product that supports sustainable foresty and reduces plastic waste.
Timber Decking that is preserved with chemical-based preservatives can be damaging to the environment if applied incorrectly, or not properly monitored and maintained. PVC Decks are completely man-made, so have a higher environmental impact than other types of decking materials.
5. Toxicity of the decking material
It's important to know what's in your deck boards and how they've been treated. When opting for Timber Decking, which have naturally occurring oils and natural tannins by default, treatment through staining and painting can affect the deck's toxicity level and may not be the right material for your environment.
Composite Decks are manufactured from recycled natural wood fibres and recycled plastics, which have been combined using glues, tints and dyes to form the colour across a solid form. Once combined, unlike treated wood, a Composite Deck does not require varnishing or sealing to keep it looking new.
Thermowood is pressure-treated wood that is free from chemicals. Unlike other wood decks which are preserved using chemical processes, Thermowood is a non-toxic deck material.
A few factors will come into play when considering different types of decking. Cladco Domestic Grade Composite Decking is designed for outdoor spaces that experience lighter footfall and smaller pieces of furniture. The hollow, five-hole honeycomb core forms the centre of these Boards, reducing overall weight for installation and also the price per Board.
Cladco Solid Core Commercial Grade Decking is best for busier deck spaces that will be subjected to greater footfall, heavier furniture and ornaments. Improved soundproofing underfoot is an additional benefit of this type of decking.
PVC Decking, as opposed to Composite Decking, or traditional wood, does not contain any natural wood fibres, and so has improved water resistance, making it best for use around pools, water features, or in areas which are prone to standing water.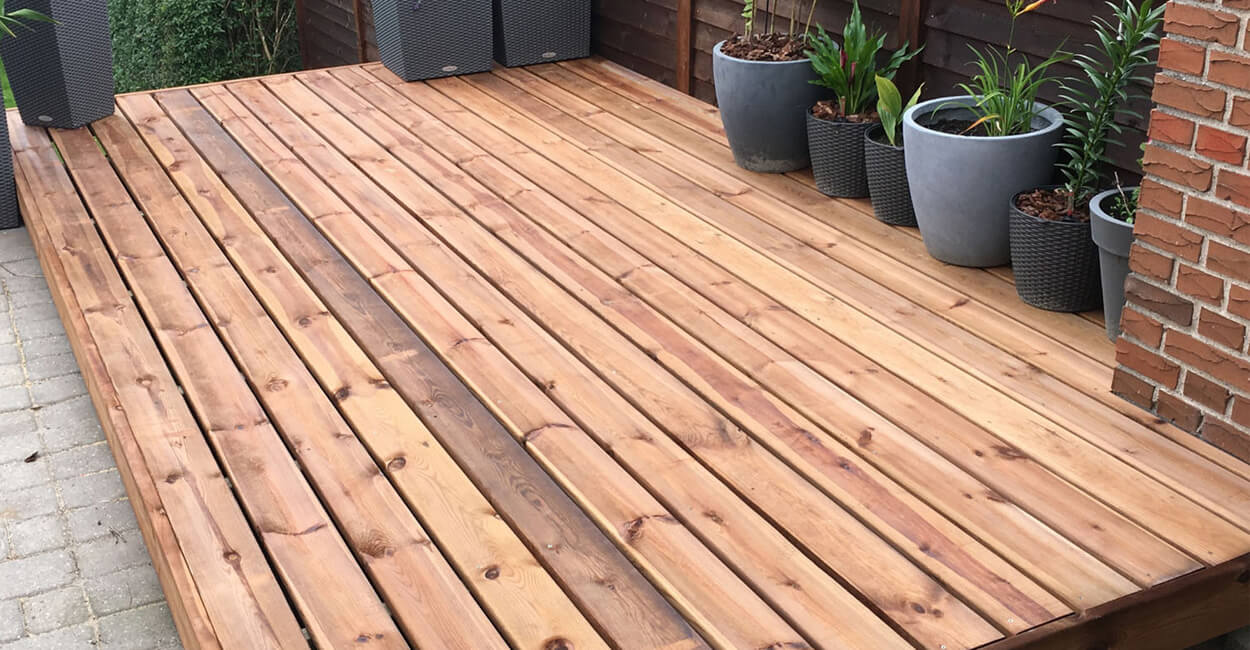 Traditional wood decking materials come in the form of softwood, hardwood and Thermowood (heat-treated softwood). Pressure-treated wood is where natural wood is impregnated with preservatives and chemicals to give it a longer lifespan, which has its benefits in an outdoor setting.
Softwood Timber Decking is made from a common decking material, such as spruce, pine, larch, redwood and cedar types, and is known for being durable and lightweight. Softwoods range greatly in softness, and a common misconception is that all softwoods are softer than hardwoods, which isn't necessarily the case. For example, balsa is a hardwood but is the softest wood in the world.
Cladco Timber Decking is manufactured from softwood spruce and is green pressure treated with preservatives, making this ideal for use in the construction of Decking areas.
Pros
Cheap initial purchase price
Easy to work with and install
Real wood textures
Cons
Susceptible to rot and mould
Can splinter or crack
Requires regular maintenance
Cost per m2
Softwood Decking costs approximately £22 per square metre (£6.70 per square foot).
Typical hardwood decking materials include oak, walnut, ash, beech and maple, to name just a few. Usually, from climatic conditions including temperate and tropical, hardwoods are commonly used in the construction of furniture, flooring and higher-quality, timber-based products that are naturally resistant. Picked for its long-lasting qualities, a deck design featuring these types of decking materials will usually outlast softwood decks.
Pros       
Natural timber grain
Strong, high tensile strength
Increased resistance to rotting
Cons       
Ongoing maintenance required
Harder to install and heavier
A more expensive form of timber
Cost per m2
The price of hardwood decking per square metre can range vastly depending on the type of timber. Expect to pay between £25-£50 per square metre (£7.50-£15 per square foot).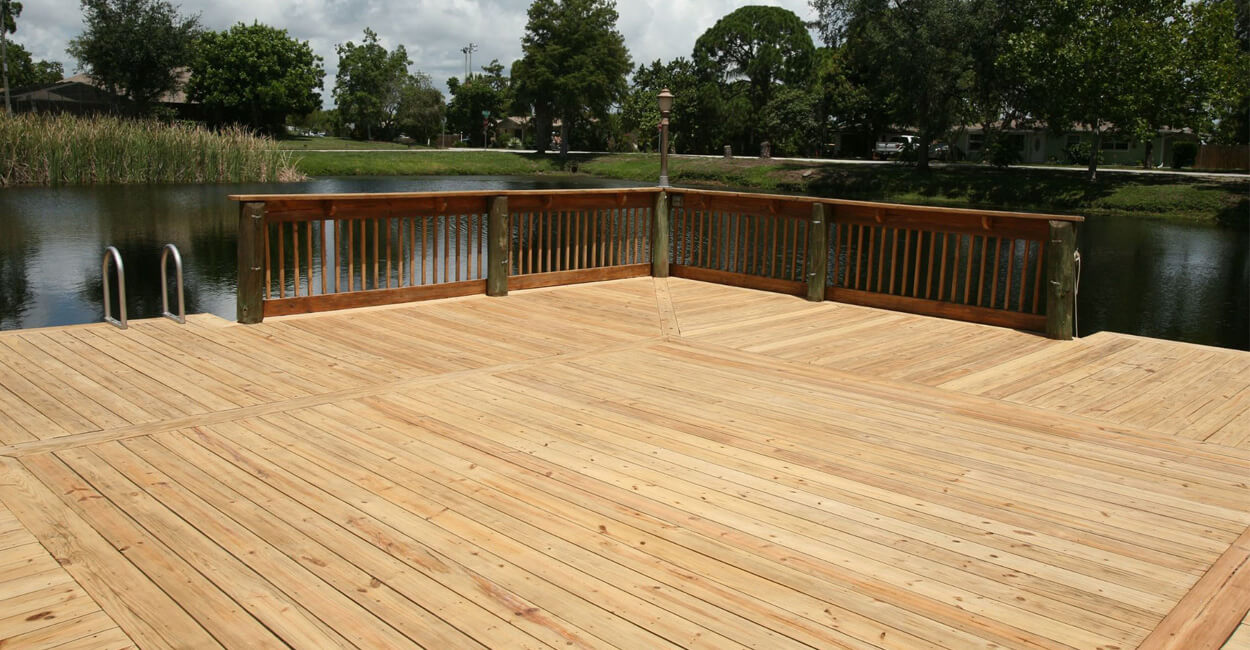 Thermowood decking is produced by heat-treating certain wood species with a process that is chemical-free, using just steam and heat vapour, to improve durability and longevity. Created from softwood species, for example Scandinavian pine, this environmentally-friendly wood deck has improved moisture resistance and insect resistance over an untreated wood decks.
Pros       
Chemical-free, recyclable deck
Enviro-friendly
Dimensionally stable
Variety of wood types available
Cons       
More expensive than other timber
Burns quickly due to low moisture content
Susceptible to splitting
Cost per m2
Expect to pay between £30-£60 per square metre (£9-£18 per square foot) depending on the wood type.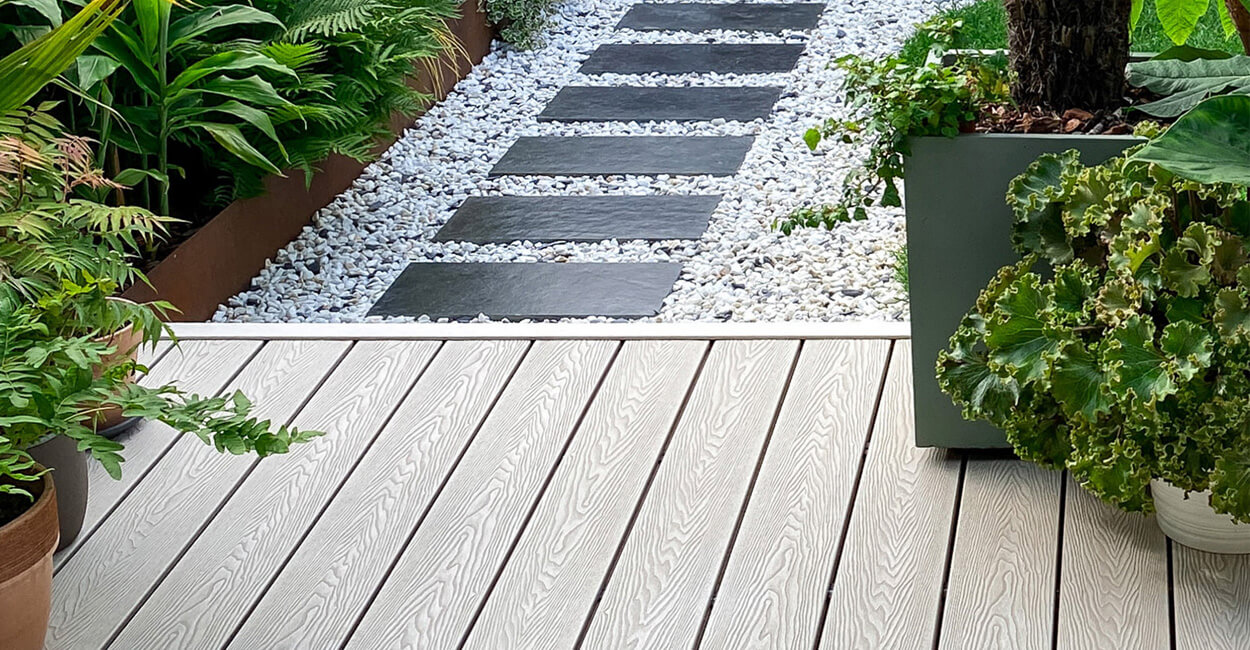 Composite plastic-wood Decking is available with either a Solid or Hollow Core construction. Manufactured from 100% recycled materials - formed of 60% recycled hardwood fibres and 40% recycled plastics - Composite Decking is an environmentally-friendly product. Available in eight colours, and depending on the design, Composite Decking can feature either a low-slip walking surface or a high-quality woodgrain effect.
Composite Decking materials come with many benefits over wood decks, including being resistant rot and insect damage. Due to the natural wood fibers within the Boards, Composite Decking will expand and contract slightly with the changing ambient temperatures throughout the year.
Uncapped Composite Decking, also known as Domestic Grade Hollow Core, is lighter in weight due to the reduced amount of materials used within its construction. Cladco Hollow Core Decking features a five-hole honeycomb internal structure, making them strong and durable. To finish off Hollow Core Decking, End Caps can be used to seal the exposed ends.
Pros       
Environmentally friendly
Low maintenance
No sanding, painting, or treating required
Insect and pest resistant
Slip resistant
Eight deck colours available
Safe for bare feet
Cons
Requires capping to close off deck ends
Boards may fade after exposure to harsh sunlight  
Cost per m2
Hollow Core Composite Decking costs approximately £44 per square metre (£13.30 per square foot) as priced in 2023.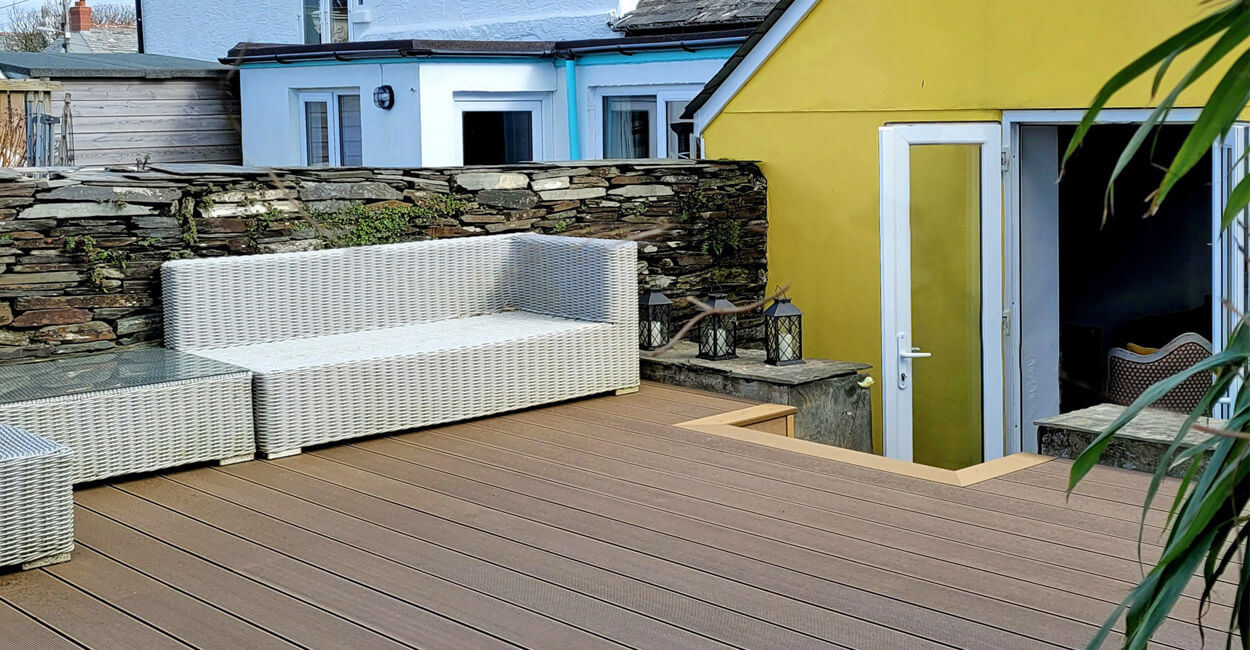 Solid Core Composite Wood Decking is a commercial-grade composite wood decking that provides extra soundproofing underfoot. Due to the solid construction of these premium Composite Decking Boards, durability is increased and no capping is required. For raised decking spaces with steps, these can be the best decking materials for these types of installations.
Pros      
More durable and heavier duty than Hollow Core
Improved soundproofing underfoot
Can be cut with normal woodworking tools
Rot and insect resistant
Ideal for heavy furniture and increased footfall
Safe for bare feet
Cons     
Heavier to carry
Increased initial costs over Timber or Composite Hollow Core
Boards may fade after exposure to harsh sunlight
Higher initial costs than hardwoods or softwoods  
Cost per m2
Solid Core Composite Deck Boards costs approximately £64 per square metre (£19.40 per square foot) as priced in 2023.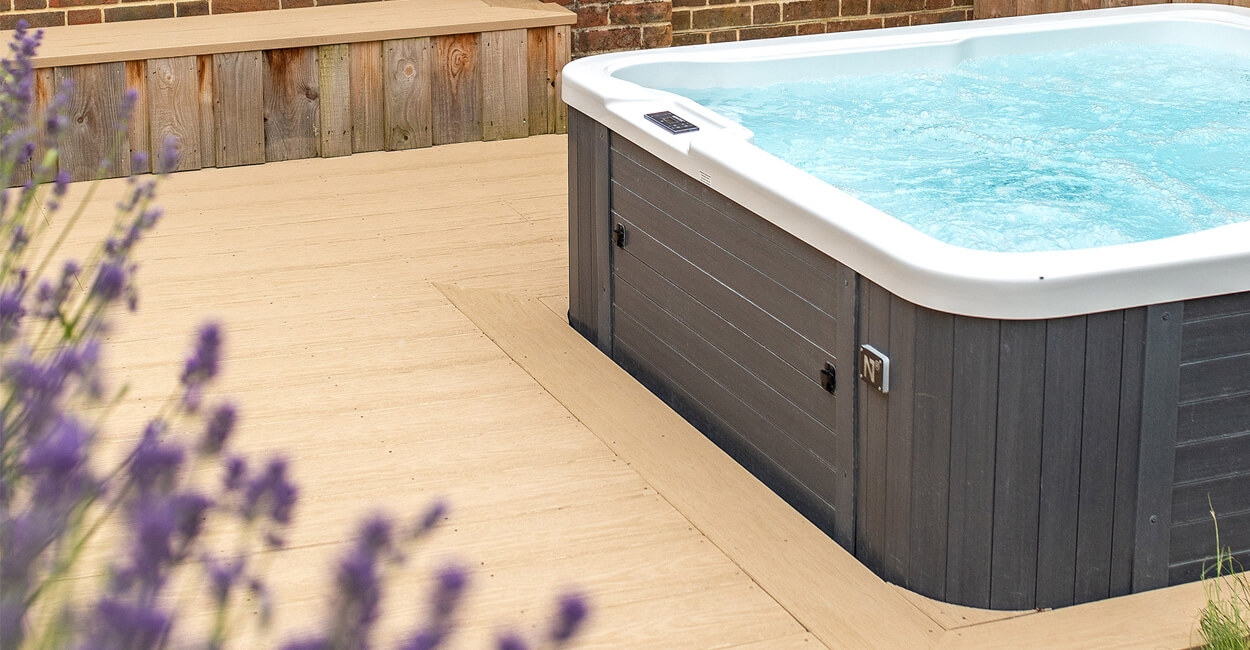 Cladco Premium PVC Decking is a form of solid plastic decking, as opposed to hollow vinyl decking, manufactured to a premium standard using a PVC core that's encased in ASA resin. PVC Decking is easy to clean and extremely water resistant due to the fact there are no natural wood fibers that could expand or contract. As a premium composite deck type, PVC Boards offer a wider board coverage at 200mm when compared to Composite Deck Boards or Timber Boards.
Pros       
Low absorption rate
Wide 200mm Board coverage
Rot, scratch and warp resistant
Strong and durable, suitable for heavy loads
High-quality woodgrain effect
Cons
Manufactured from 100% man-made materials
More expensive than Timber or Composite
Cost per m2
A PVC Deck costs approximately £95 per square metre (£29 per square foot) as priced in 2023.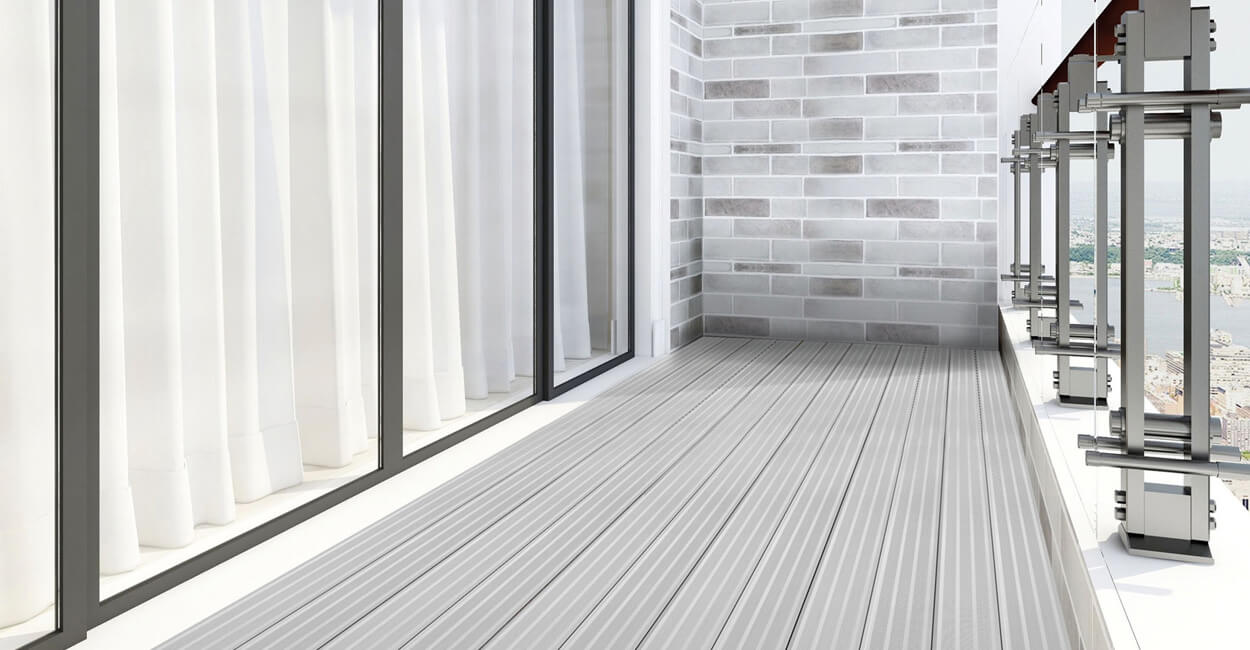 Unlike wood types, Aluminum Decking is chosen for new deck designs that need to meet certain building regulations, for example, decks over 11 metres above the ground. As a premium Decking Board, this type of metal decking is fire resistant (fire-rated to A2-S1). maintenance-free and can last a lifetime.
Pros       
Fire-resistant properties (A2-S1 rated)
Meets building regulations for balconies
Hard-wearing decking surface
Durable powder-coating
Extremely long-lasting (lifetime guarantee)
Cons       
Expensive Board price on the initial outlay
Requires specific tools to cut and work with
Cost per m2
Aluminium Decks cost approximately £120 per square metre (£36 per square foot) as priced in 2023.
What is the cheapest decking material?
Timber decks are the cheapest to purchase on the initial outlay, but with more maintenance required throughout the lifetime of the Boards, this will increase long-term overall costs. A Composite Deck and PVC Deck require little maintenance which keeps long term costs to a minimum.
What is the longest lasting decking material?
The longest lasting deck from the above mentioned deck types is Aluminum. This is a deck type that offers the best resistance to fire, moisture, insect damage and rot, and can last a lifetime.
What is the best low maintenance decking material?
The low maintenance requirements of Aluminum Decking make this type of deck the easiest to maintain, followed closely by PVC Decking. An annual visual check is all that is required to ensure that debris is removed from the surface of the deck. A Composite Deck is also low-maintenance but may require a specific Composite Deck cleaner to remove a tough stain or mark. A timber deck requires a visual check every few months to keep on top of debris and objects, such as plant pots, affecting the wood.
What is the most cost effective decking material?
Composite Boards offer the best short-term value with a guarantee of 10 years. However, if you plan on keeping your Decking area for longer, then Premium PVC Decking should be the Decking Board of choice, with a 20-year guarantee. This averages overall as cheaper per year when compared to real wood or treated wood. If you require a decking space to last a lifetime, then the winner is Aluminium, however, more expensive on the initial outlay.
If you would like to speak to us about any of the Cladco Decking® products mentioned above, please give our friendly Sales Team a call on 01837 659901.