Where to Buy Composite Decking At Online Sale Prices
Stuck choosing the supplier for your next composite decking project? We take a look at the top three decking companies providing quality composite decking at low prices. We compare the differences in pricing between Cladco, Trex, and Assured Composite, and provide some handy tips on how to keep costs to a minimum.
Top 3 Cheap & Quality Focused Composite Decking Companies
Finding the next supplier of your composite deck material with the right finish and at the right price point can be challenging and at times confusing. Cladco, Trex, and Assured Composite all manufacture great quality wood-plastic boards at varying prices. Cladco, however, offers the cheapest composite decking boards out of the three, but why is this?
Composite Decking generally comes with a higher price tag over traditional timber decking, but the longer life span and lower maintenance costs will offset this higher financial outlay. The question is though, how much should you be paying for the cheapest composite decking?
CLADCO DECKING
Cladco Composite Decking Boards are the most cost-effective boards out of the three manufacturers, offering high-quality, wood-plastic decking boards from just £17.28 per board.
Cladco Composite Decking is low maintenance and has various resistant properties, including rot, insect, and UV, which all means money is saved on upkeep costs over its lifespan.
For the best price composite decking, save up to £4.72 per board on lower-cost boards, such as Hollow Decking Boards when compared to premium decking brands.
Larger projects can help save on the cost of delivery, so it's a good idea to order all your materials at once rather than paying separately for each delivery fee per item.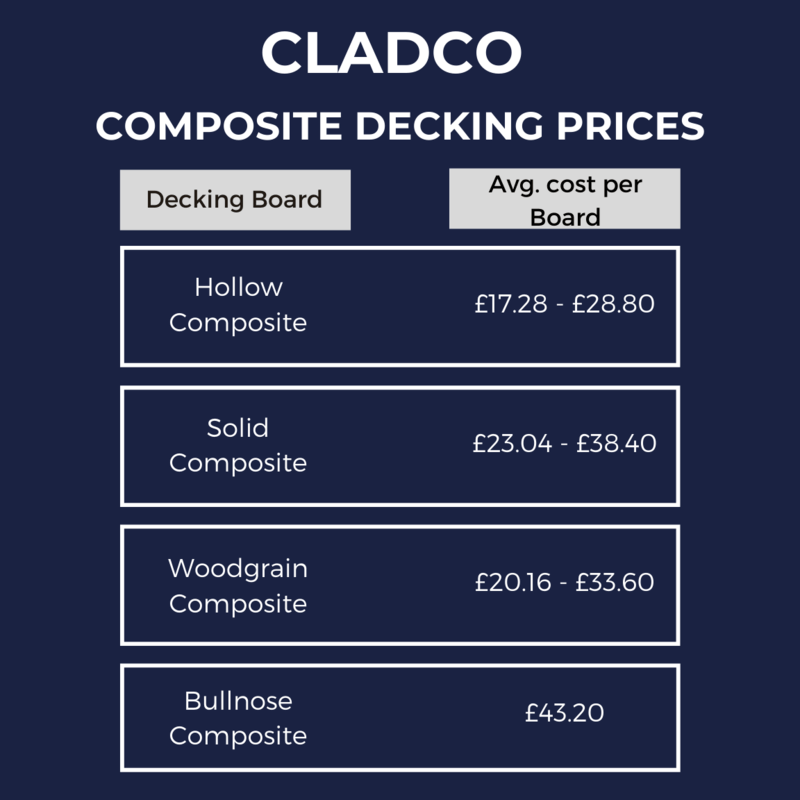 Use the online Cladco Decking Calculator to work out the exact materials and quantities required, so you can be sure not to overspend on your decking project.
TREX DECK
Composite decking boards by Trex come in at a higher price point per board because of how the composite boards are manufactured. Unlike Cladco, Trex doesn't produce hollow composite boards, only solid core. Although solid has its benefits over hollow, such as greater sound absorption, hollow composite decking is made from fewer materials which keeps the cost per board down.
The average cost per board from Trex starts at £29.15 (please note, this price is approximated) and prices go up to £45.42 for their more premium board range, such as Transcend, featuring a more natural look.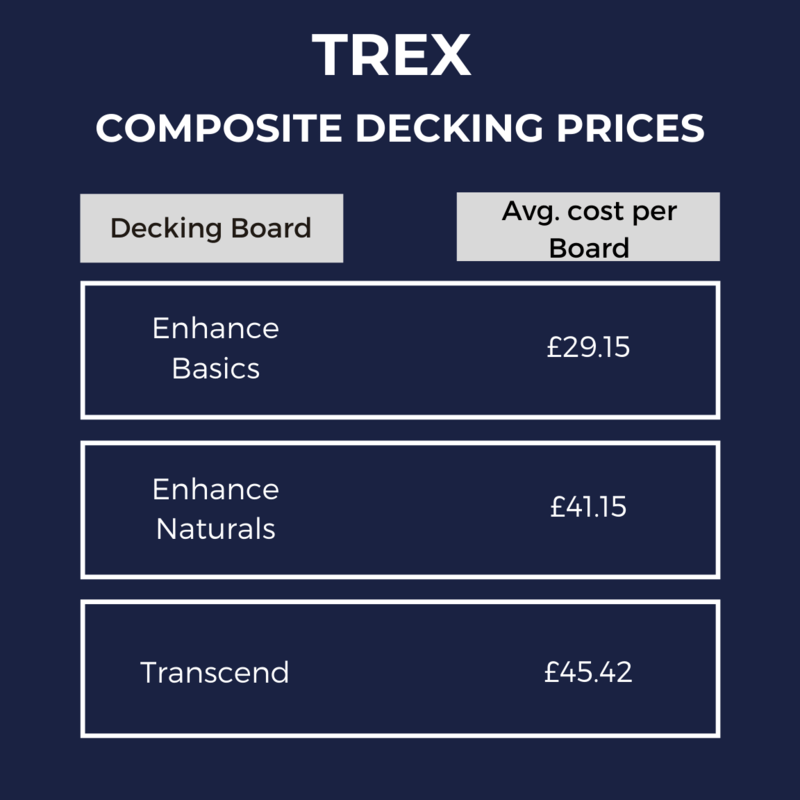 ASSURED COMPOSITE
Assured Composite manufactures deck boards to 3.6-metre lengths only. Starting at £22 for each board, you can buy hollow core deck boards with Assured's Premier Composite range. Compared to Trex, these boards are cheaper and lighter due to fewer materials used in the production, however only available in 3.6-metre lengths could be limiting when planning your design.
It makes a lot of sense to opt for smaller boards if your project is small, by the likes of Cladco's 2.4m hollow core decking boards.
Higher-priced boards from Assured Composite come in at £32 per board in their Elite range, however, colour options become limited to only three choices.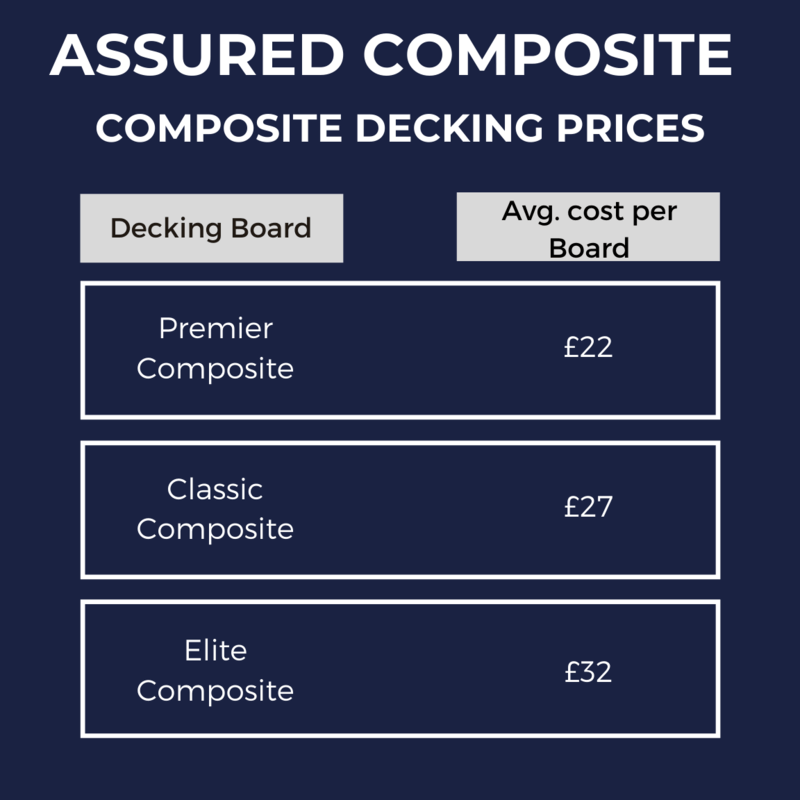 Tips to save composite decking costs
Finding quality composite decking at low prices can be challenging, so we have some handy tips on how to save money on your composite decking:
1. Save on delivery by arranging a collection day for your project.

2. Composite decking is simple to install and requires little experience in construction, so there's never been a better time for attempting a spot of DIY to save on paying someone else to do it.

3. Keep the design simple as this could save on cost per decking board and prevent possible wastage of composite decking.

4. Pick the right finish - from board weight to varying resistant properties, be sure to pick the right deck for your project. What you plan on putting on your decking will determine the type of boards you need, be that hollow core or solid core decking.