Cladding has long been a popular way to improve the protective properties and the look of the exterior of your home. For many years, timber panels have been one of very few external cladding options available to homeowners on the market - however, as time and manufacturing techniques progress, there are now many more options available to choose from.
Fibre cement and composite cladding both provide a longer-lasting and more structurally sound finish to any building when compared with natural cladding - but which one of these is best suited to your project?
Here, we take a look at the two popular new ways to clad your home and compare cost, installation, aesthetic appeal and durability to help you make the right decision: Fibre Cement Cladding or Composite Cladding.
Composite Cladding Materials
The material used to make up composite cladding is a combination of semi-synthetic products to provide additional strength and durability when compared to hardwood cladding. Cladco Composite Wall Cladding is manufactured from 60% FSC® recycled hardwood fibres and 40% recycled plastics, which helps to reduce plastic waste and support sustainable forestry.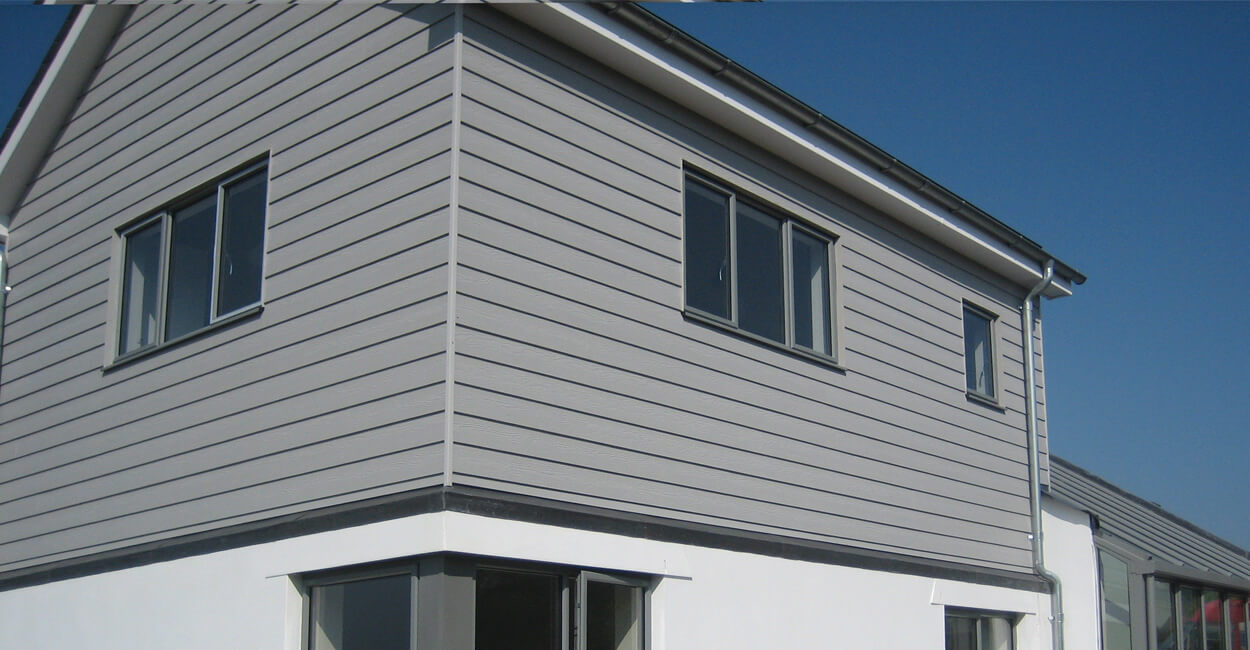 Cladco Composite Wall Cladding Boards in Stone Grey
Cladco Fibre Cement Wall Cladding is manufactured from an adaptable, non-combustible material made up of cement comprising of clay, iron and limestone to create the main foundation on the boards, sand for resilience and weather resistance, cellulose fibres to maintain the structural integrity and water/additives to activate the ingredients and bind them together.
Fibre Cement planks can be set with woodgrain effect textures on the surface, to recreate the look and feel of hardwood cladding - with the added benefit of being available in a range of colours to complement your home's interior style too.
The material composition of fibre cement cladding makes the product highly weather-resistant, and will not expand or contract with changes in temperature; making for a longer-lasting and durable cladding product. With this, Cladco Fibre Cement Wall Cladding Boards come with a 10 year guarantee, providing peace of mind for years to come.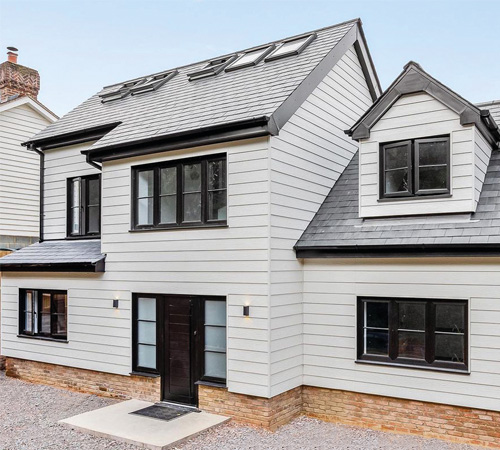 Cladco Fibre Cement Wall Cladding in the colour Cream
When it comes to cost between the two options, composite wood cladding is initially the most budget-friendly option of when compared with fibre cement cladding. The material itself is generally cheaper to source and manufacture into a board, with the cost of labour to install being of a standard rate thanks to the easy tongue and groove fit technique.
Fibre cement can be more expensive to purchase and install due to the additional manufacturing requirements to create the product itself, along with higher labour costs due to the slightly more complex installation method.
However, the long-lasting durability and low-maintenance benefits of the fibre cement material counteract the initial larger expenditure on the product itself, making it cheaper in the long run.
Cladco Composite Wall Cladding is simple and quick to install, using a simple tongue and groove method making it suitable for both horizontal and vertical installation on almost any building project.
Cladco offers a range of Composite Trims and Joists/Battens are available to help achieve a seamless installation. For more information on Cladco Composite Wall Cladding and how it's installed, see here.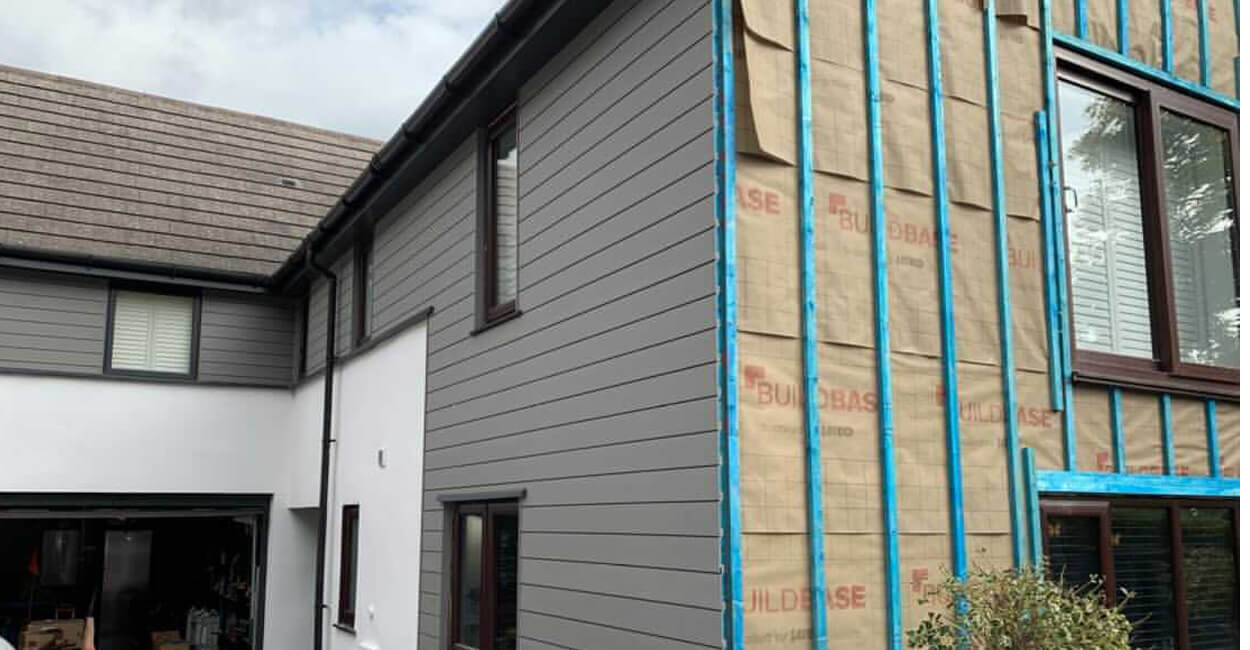 Fibre Cement Wall Cladding, on the other hand, are a heavier product when compared to hardwood or composite, requiring more time, work and planning to install. Boards are only able to be installed using a unique horizontal featherboard technique - which albeit makes for an attractive appearance, does require more skill to achieve and cannot be fitted vertically.
For more installation advice, take a look at our guide. If you are unsure of installing Fibre Cement Cladding yourself, always seek advice or recruit a professional.
A garden summerhouse ready for fibre cement boards to be installed upon
Fibre cement boards give an attractive featherboard appearance (pictured colour: Blue)
Unlike timber cladding, composite, once installed, is very low maintenance. The wood/plastic composition of the product means there is no need to varnish, seal or paint the boards to keep them in good condition - and with a selection of eight colours to choose from, your choice is flexible.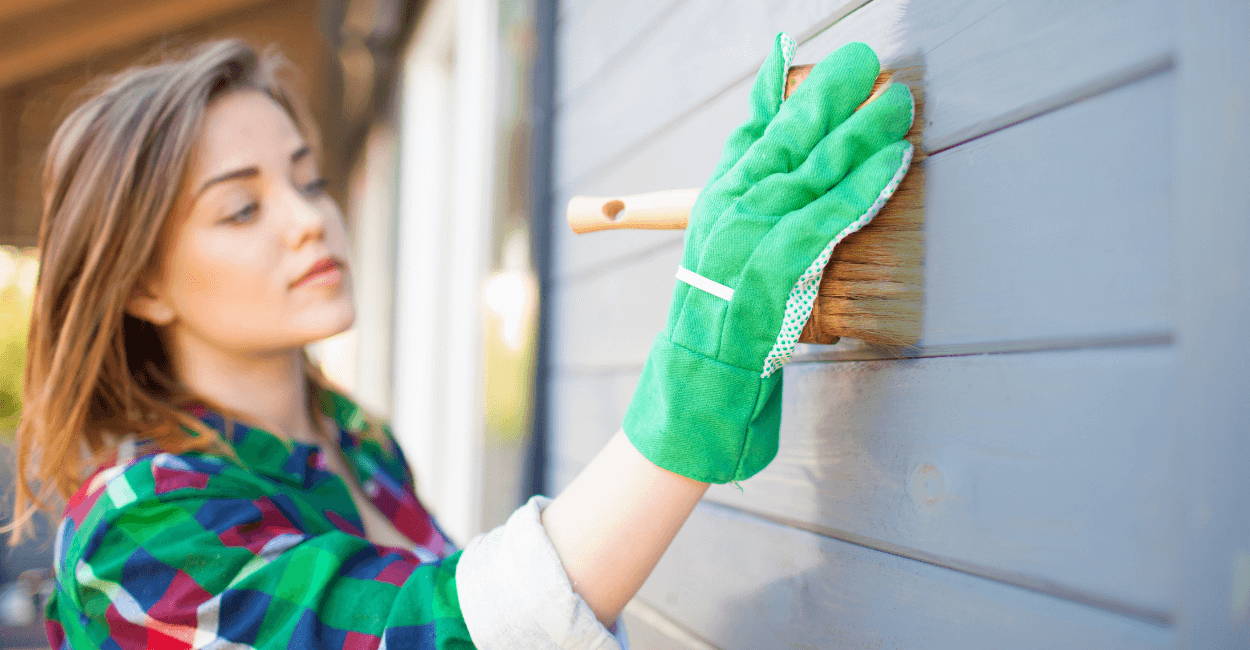 Composite and fibre cement does not require painting or varnishing
Fibre cement cladding also requires very low maintenance, with the added benefit of UV fade-resistant properties to preserve the colour. Much like composite, Fibre cement cladding does not require ongoing full paint jobs or sealing, and the unpainted panel option gives you the freedom to choose which colours you'd like.
Please note: Fibre cement colours can chip if mishandled during building work. With this in mind, Cladco supplies a colour-matched Fibre Cement Touch-Up Paint in the same eight colours for any areas that may need minor attention.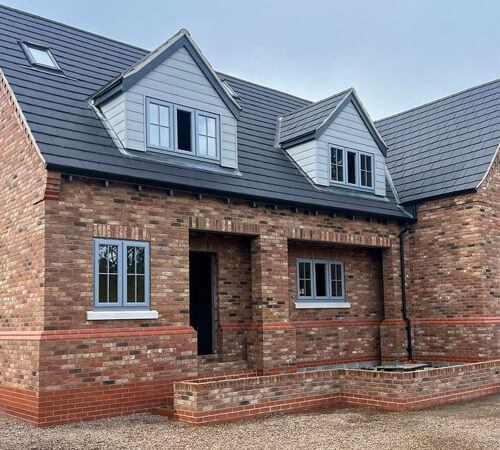 Fibre Cement is great for installations in areas susceptible to high moisture levels and adverse weather conditions
Composite is a durable material in comparison to wooden cladding. The combination of wood and plastic makes for a strong board that will not rot, warp or splinter over time and can increase the insulation of your house when paired with a well-protected sub-structure. Cladco Composite Cladding is guaranteed for 10 years and simply requires regular cleaning using a brush and soapy water to keep it looking brand new for longer.
Fibre Cement Cladding is the most durable of the two, with improved resilience to damaging weather conditions, especially adverse heat, salt water and/or sub-zero temperatures - making the ideal choice for use on homes in moisture-prone and coastal areas. Cladco Fibre Cement Cladding Panels prevent your home from fading with UV exposure (which other cladding options can be susceptible to), whilst adding a contemporary and modern appearance to your house or garden building. 
As well as this, fibre cement cladding is one of the only cladding options on the market that is often available with a fire rating for increased safety.
Installing Composite Cladding to the exterior of your home is an instant way to create a contemporary exterior. Cladco Composite can be clad both horizontally and vertically to create the illusion of added breadth or height.
Available in a wide choice of eight Composite Colours - from natural hues such as Olive Green and Coffee, to more muted shades of Ivory and Light Grey, they make styling your home's exteriors to match your style, simple.
Fibre Cement Cladding by Cladco is available in a selection of eight colours, from soft pastels to contemporary greys. The unique layered featherboard technique in which boards are fitted with brings a luxury look to the outside of any home or commercial building.
As well as the eight available colourings, Fibre Cement Panels are also available in an unpainted option - giving you the freedom to choose whichever colour you prefer to suit your aesthetic or match your interior.
The recycled hardwood fibres and plastic elements within Cladco Composite Panels are sourced from FSC® Accredited forests, helping to minimise the impact on the environment, whilst the recycled plastics are a fantastic way to shrink unnecessary plastic waste.
Fibre cement cladding however is the lesser environmentally friendly option of the two - with the manufacturing process requiring larger amounts of water and energy to simulate. On the other hand, the long-lasting benefits of the fibre cement material can make it more environmentally friendly in the long run - as they do not need replacing as often as lumber cladding boards for example - which requires cutting down trees regularly.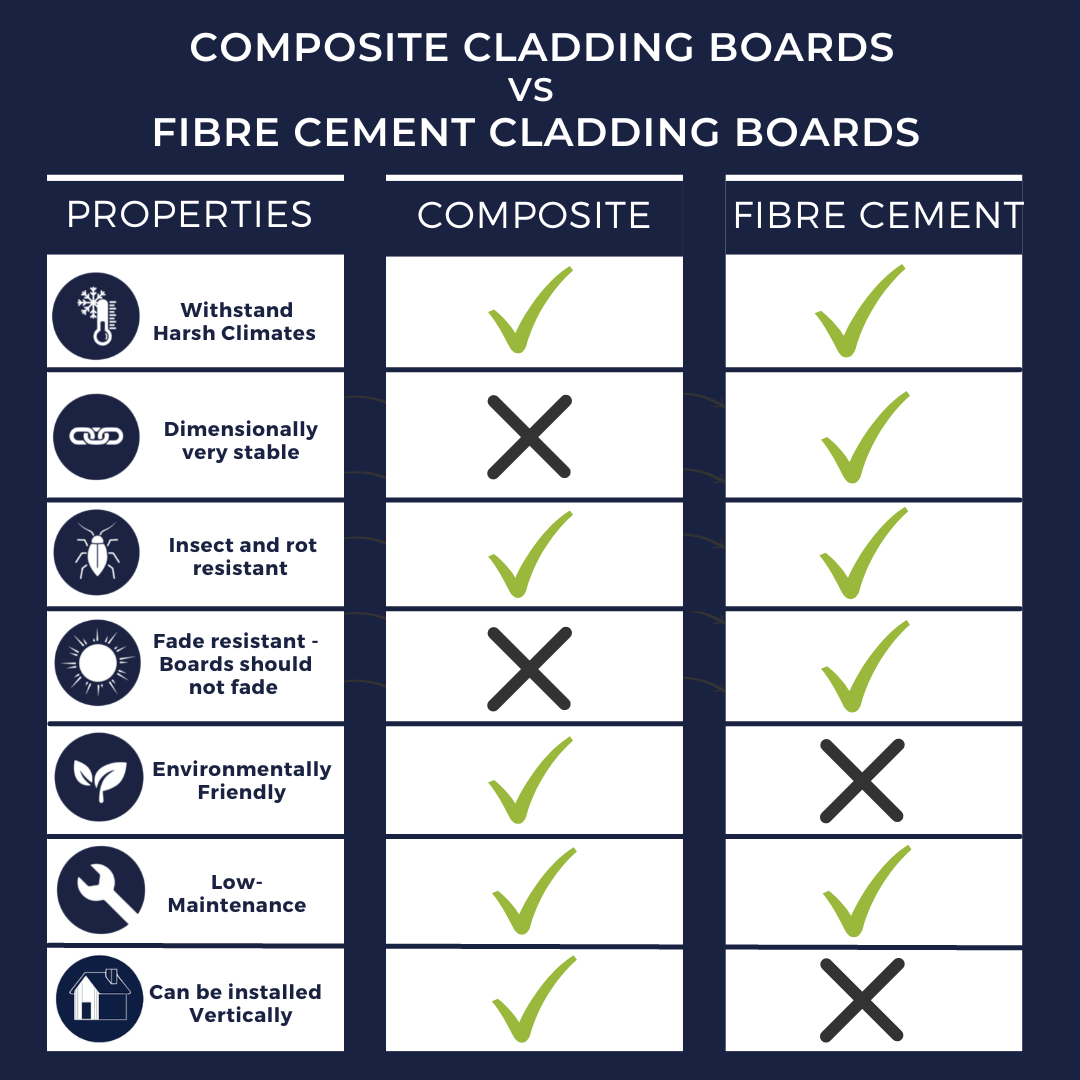 Fibre Cement Cladding vs Composite Cladding by Cladco
The material you choose to clad your house with not only provides an extra layer of protection from rainy weather conditions and moisture - but also improves insulation and enhances the all-around appearance of your home in general.
When selecting a product that is right for you, take into consideration initial costs, labour costs, as well as maintenance costs, durability and fire safety once installed - and the overall look you are wanting to achieve, be it contemporary and subdued or bright and airy.