The world of screws is not as simple as it may seem. From flat-headed, uncoated screws to threaded, tapered, and copper-coated screws, there are many varieties available on the market. We look at the basic difference between what makes deck screws more suitable than wood screws for your outdoor project.
In this article, we look at the difference between wood and deck screws and which one will be best for your outdoor projects for reducing corrosion and splitting on a deck board. Screws come in many different shapes and sizes, with different types of screws designed for working with different materials and wood types. Screws threading can vary, as well as size and design. They are vastly different to nails, which have a thinner diameter without threading.
When working with a decking board, you'll want to make sure you have bought deck screws, which have been designed to work with either timber or composite decking boards. Read on to find out why this is, as well as spotting the differences so you can become an expert in all things screws.
Wood Screws vs Deck Screws
When looking up screws online, you'll see many different types of screws for different applications. The design of screws has been specifically made to suit the type of material they are being applied to. A bit of research before starting your project will be key to avoiding potential pitfalls when working with specific materials, and this even comes down to whether you plan on doing general woodworking or laying decking boards.
Here we look at the differences between deck screws and wood screws and how you can tell one from another. This includes the shape of the head, the sharpness of the point, and whether or not it's fully threaded or with a smooth shank.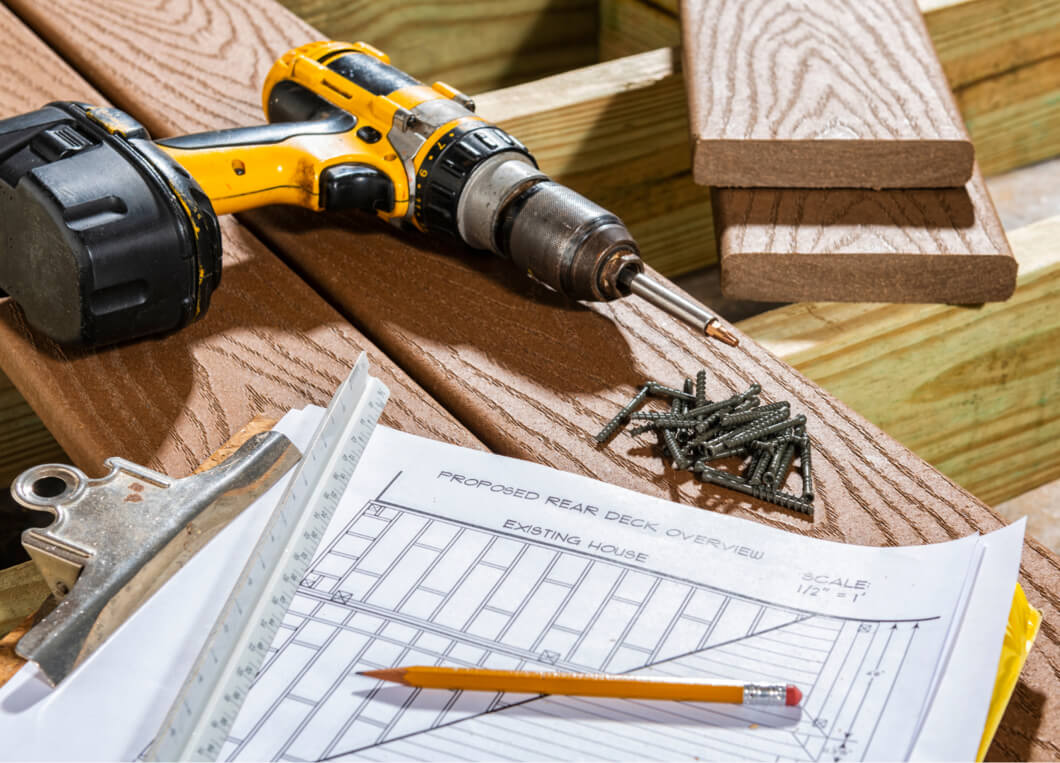 WHAT ARE DECK SCREWS?
To answer the question 'what is a decking screw', these are screws that have been specifically designed to work on securing a deck board to timber or composite joists. The design of the screw, from its extra-pointy tip, deeper threads and larger surface area, all makes for a more stable and stronger join between the top frame and supporting substructure.
Deck screws also feature a coated surface that means they are able to withstand harsh weather conditions, with rust-resistant properties for those outdoors settings. Decking screws are usually longer than wood screws to better match the thickness of the material, be it Timber or Composite.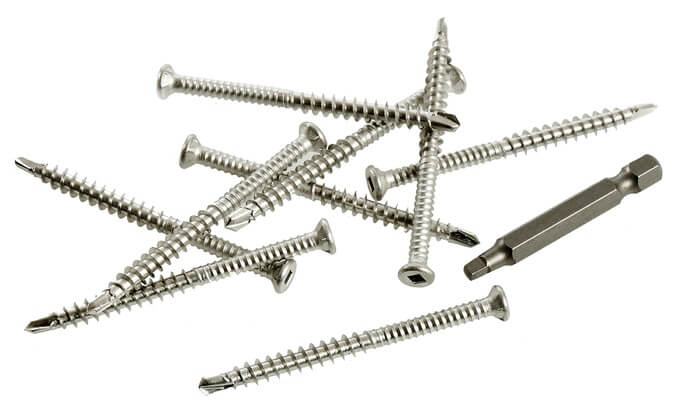 WHAT ARE WOOD SCREWS?
'Wood screws' is the general name given to the types of screws used for standard carpentry and joinery. These types of screws are designed in a way that provides a secure join between two pieces of wood, with a sharp tip and wide head. Standard wood screws are usually not tapered and when countersunk will sit flush with the top of the wood.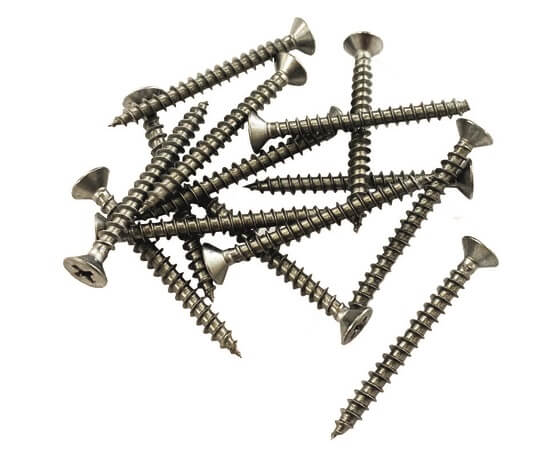 Wood and Deck Screw Differences
When you compare a deck screw vs wood screw, you will find that they have been designed differently to accommodate the material and purpose. The varying shapes and sizes of screws will determine how screws are applied.

SCREW HEAD
The head determines not only which type of drill bit is required but also how much area it will cover and if the screw is countersunk. For a deck screw to sit flat with the wood, it will feature a bugle or tapered shaped head.
Deck Screws
Bugle shapes are smaller in size making them less visible on the surface of the decking board. This also makes it easy to countersink into wooden or composite decks. Deck screws have sharper points for drilling into pressure treated timber decking. The head design on decking screws is also suitable for dealing with the expansion and contraction of a composite deck.
A coated screw prevents rust and adds corrosion resistance to the head of a deck screw. So long as this coating isn't scratched, the stainless steel metal will remain protected.
Wood Screws
The tapered design on wood screws allows for countersinking into the surface of wooden objects, however with larger heads covering a greater surface area, this could increase the risk of splitting the wood. Deck screws will usually have a narrower design to prevent this.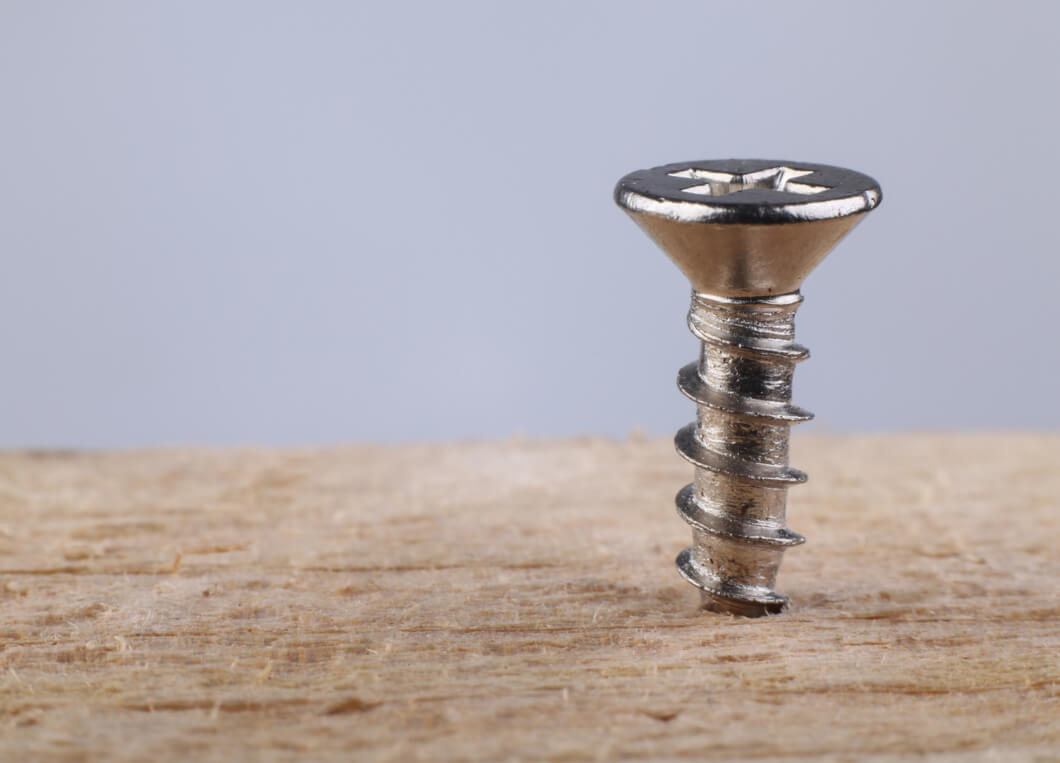 SCREW THREADING
Deck Screws
To enable a better connection, deck screws feature a section of thread underneath the head which is narrower. This helps for increased deck pull up when compared to wood screws, which feature a thread from the tip to the head of the screw unless there's a shank section. The sharp point of a deck screw is also wider and sharper to provide easier drilling through the dense wooden deck.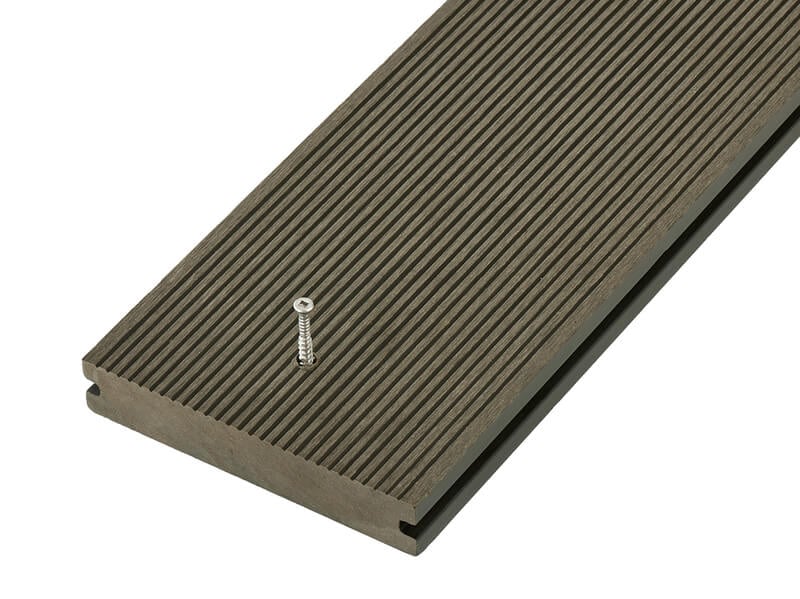 What's more, deck screws feature a deeper grooved thread for stability for decking boards underfoot. The goal is to prevent movement off the board while dealing with the expansion and contraction effects as much as possible.
Wood Screws
Wood screws can either be partially threaded or completely threaded, which can cause over-heating during drilling put the metal core at risk of breaking under pressure and becoming brittle over time.

SCREW SHANK
Deck Screws
A deck screw is designed to increase the pull between the decking boards and the joists underneath. Generally, this is the job of a smooth shank (the unthreaded section underneath the head), however, a deck screw features shallow threading under the head to improve connection while still increasing pull up between wood and joist.
Wood Screws
The shank of the screw is commonly seen as flat and smooth without any thread. This allows for the screw to increase the pull between the two pieces of wood, as the shank allows the topmost board to slide while drilling. On fully threaded screws, the wood pieces will close together and then stop once the topmost piece reaches the top of the screw. With a shank, the head of the wood screw will continue to spin as the screw tip pulls up the wooden piece beneath.

CONSTRUCTION MATERIAL
Deck Screws
Designed to last longer than wood screws for outdoor projects, deck screws feature a rust-resistant coating, either stainless steel or copper, for example. This coating will prevent the screws from corroding in the decks surface once installed and will resist wet weather conditions.
Wood Screws
Wood screws used for joinery and furniture are sometimes uncoated as they are predominantly used indoors, although most wood screws will have some form of coating applied for increased durability.
Having a basic level of knowledge when it comes to the range of screws available is going to be helpful. If you're working with a wooden or composite deck, a pack of deck screws will provide better durability and resistance to water, as well as a better connection between board and joist due to the design of the thread. The length of deck screws and wood screws make them suitable for different projects and how deep the joins are. Head sizes and point designs will all affect how the screws will drive through the wood.
Pick the length and work out how many are required for the job before shopping to save on delivery costs. Having the correct hardware and tools for the job before starting your project will make all the difference. Preventing splitting is also important when working with composite or wooden decking joists and posts, and having either copper or stainless steel coating will prevent rusting and corrosion.