With so many options to choose from when it comes to screws, you will be forgiven to assume that traditional woodworking screws would work well with Composite Decking Boards. However, the performance of Composite Decking screws vs wood screws allows them to penetrate a Composite Board more effectively.
What's more, the performance, quality of fitting, and finish of woodworking screws in Composite Boards will not look or work as well as Composite Deck screws.
Composite Decking is made up of a mixture of wood fibres and plastic, bonded together with extra chemicals and additives to create a high-quality, synthetic deck that represents and looks like a timber deck. This means you can have an attractive deck without having to maintain it.
Thanks to its various materials, Composite Decking should only be installed with the correct screws and fasteners for the optimum finish.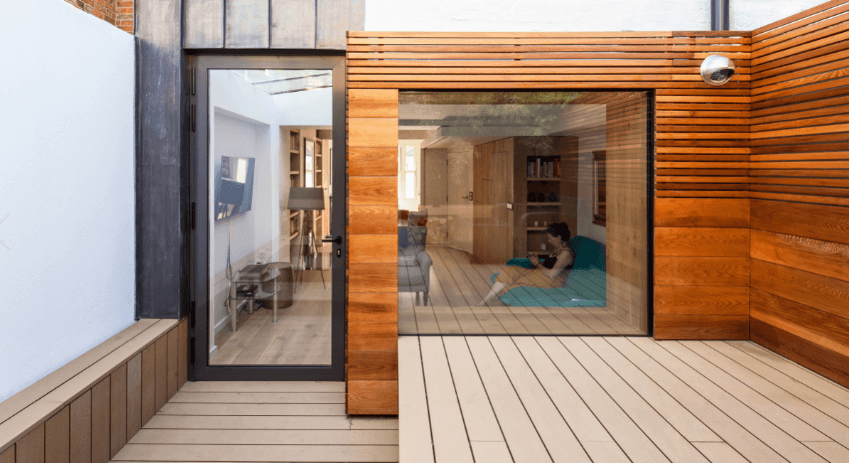 Which Composite Screw is right for the job
SPEEDDEKZ Stainless Steel Decking Screws
How to use Screws for Composite Decking Installation
Don't forget fixings & pins!
Popular composite screw FAQ's
WHICH COMPOSITE SCREW IS RIGHT FOR THE JOB?
First, when installing your Decking, ensure to fit the products following the instructions from your supplier.
There is a range of Composite options available on the market, each specifically designed in a different way, and will require different types of screws, fasteners, and clips.
The best screws for Composite Decking may differ depending on whether the board is Solid or Hollow, and the screws for Trex Decking products may not be what is suggested for Cladco Composite Boards.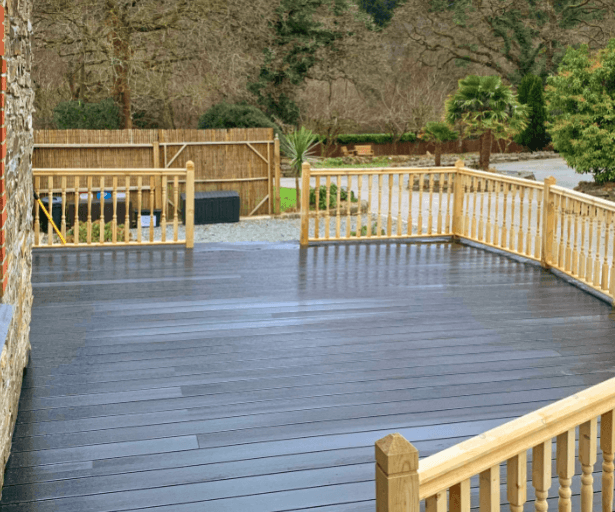 SPEEDDEKZ STAINLESS STEEL DECKING SCREWS
Cladco Composite Decking should be installed with starter clips, followed by a series of T-Clips, which are then secured to the supporting joist beneath using Stainless Steel Wood or Decking screws to create a smooth and sturdy attachment.
SPEEDDEKZ Stainless Steel Decking Screws should be used when installing Composite Bullnose Decking Boards, which go around the edge of your decking to create a sophisticated finished look. The screws are recommended to be inserted at an angle, rather than down in a straight line, to secure the Bullnose Board to the below joists. This way the head of the screw will not be easily spotted when the deck is complete.
One of the many benefits of Stainless Steel Screws is that they are resistant to rust as well as corrosion and will ensure your deck system will stay fixed for many years.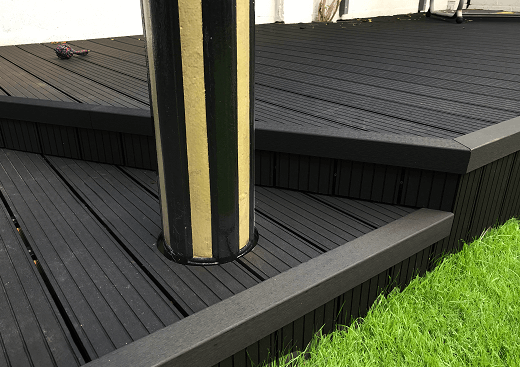 HOW TO USE SCREWS FOR COMPOSITE DECKING INSTALLATION
Composite Decking Board screws are specifically designed for use on outdoor Composite Decks, made to ensure the boards are fixed securely to the substructure to create a seamless finish.
While Composite Decking is known to be tougher than traditional timber, and should not expand, contract, rot, splinter, or warp, Composite Decking screws are typically designed with thick thread fastenings which provide the deck with a secure fixing. However, due to the design of the screws, these could damage the boards, and their finish, if not installed correctly.

Fastening Tips
Fastening can sometimes become loose over time if the product they are securing expands and contracts regularly. While this is not a regular occurrence with wood-plastic Deck Boards, it is something people want to be well aware of and checking for, when using part natural material.
Get more information on how to install Composite Decking correctly with both screws and fasteners here.
Cladco Composite Decking cannot use fasteners alone. If you are fitting Hollow Composite Boards, screws should not be inserted through the planks as the screws will not be fully supported. Instead, a T-Clip fastener is used to fit the Decking, and Composite screws are used to fasten the T-Clip to the joist below.

Using Weed Matts
A Weed Mat beneath your deck can prevent any unwanted vegetation from penetrating the surface of your deck. We recommend fixing the Mat with Weed Mat Pins, as the thick pin can easily be inserted into the ground, with teeth that grip the soil so the Weed Mat will not loosen. The head of the pin then sits neatly on top of the Mat to finish, fastening it to the ground.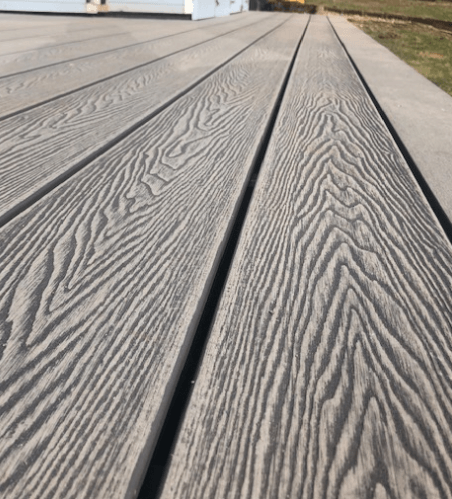 Composite Decking T-Clip Fixings and Screws
Cladco Composite Decking is manufactured with a groove in each plank. These thin grooves allow for easy and simple installation and the spaces allow for any fastening to be hidden, giving the deck a smooth finish with no screw head on show.
T-Clip fastening is used for Composite Decking as the fastening is anti-rust and corrosion-resistant and will provide a 7mm gap between each board, which allows for any board expansion.
Fasteners such as T-Clips will mean that the screw head is not on the surface of the plank, and all of the fixings are hidden within the product and joist system.

Weed Mat ground pins
Weed Mats are often installed and hidden beneath your structure. The Weed Mat is made from thick fibrous material, which while not allowing weeds to grow, does allow for water and nutrients to drain into the soil beneath.
The Weed Mat is incredibly strong and weighs around 7kg, and is secured by 150mm long pins. Each pin has a set of barbs on either side, fastening the Mat and helping to prevent them from loosening.
POPULAR COMPOSITE SCREW FAQS
What kind of screws should I use for Composite Decking?
Different Composite Decking products require different ways of fastening. Some need screws that must be pre-drilled, however, others use hidden fasteners, called T-Clips, which can be held in place by SPEEDDEKZ Stainless Steel Decking Screws. One benefit of the T-Clip is the heads and fastenings are hidden.
High-quality Composite Decks are created with cutting-edge technology, and traditional Decking screws cannot be used for installation. Instead, Composite Screws, such as SPEEDDEKZ Stainless Steel Decking Screws, have the correct features and threads.

Do I need special screws for Composite Decking?
If you drive timber screws into Composite Decking, they could splinter them. Composite screws are thicker due to their threads, which make them superior fasteners for Composite Decking.
Composite Decking should always be installed with Composite screws, which should be stainless steel with anti-rust and corrosion features.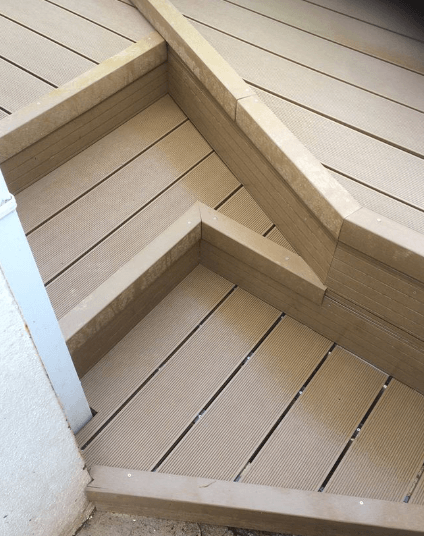 Can you put screws in Composite Decking?
Composite Decking is available in either Solid type or Hollow type and with either a solid or grooved edge.
Screws cannot be inserted into Hollow Decking as the threads will not have anything to grip on to, so this is where a T-Clip groove system is used instead.
Solid Boards can be installed by having the Composite screw driven through it and into the structural joist below.
If in doubt, first contact your supplier, as they will want to advise you on the type of fasteners and how many you will need.
If you would like more information on Cladco Composite Decking, T-Clips, and Weed Mats, see our website or contact our team via [email protected] or calling 01837 659901.