Summer 2020, the year when holidays ceased, pubs, restaurants and even friends and families were closed to visitors. People Nationwide have found that they have extra time on their hands and what better way to spend it than creating their own garden paradise?
The housing market is a forever changing, rising and falling often reflecting current financial climates. One way to potentially increase your house price is by simply adding a composite decking area to your property.
Outside decking areas can increase your living and social space, opening up your home to new opportunities in the warmer months, as well as being aesthetically pleasing to the eye.
These extra living spaces can be constructed for relatively low cost with huge amount of benefits attached to it. Composite decking is low maintenance and comes with a ten-year guarantee giving you more of your garden to enjoy without the maintenance hassle.
To read more on potentially increasing a property's value, take a look at a past blog here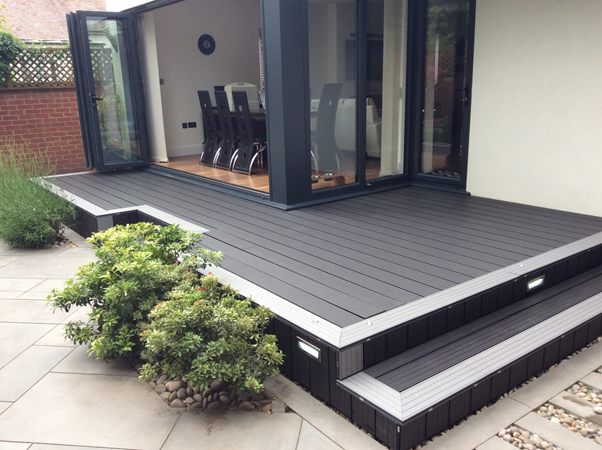 During these uncertain times, where millions of people are currently working from home, and 9.3 million workers are currently being furloughed it is so important to look after your mental health.
It's no myth that studies have proven, * spending time outside is good for your mental and emotional wellbeing, it's not always possible to escape to the countryside, especially if you live in an urban area.
By adding composite decking, no matter the size, means you have a beautiful tranquil spot to soak up some much needed vitamin D.
Here's a beautiful fox red labrador, doing just that on his owners brand new decking.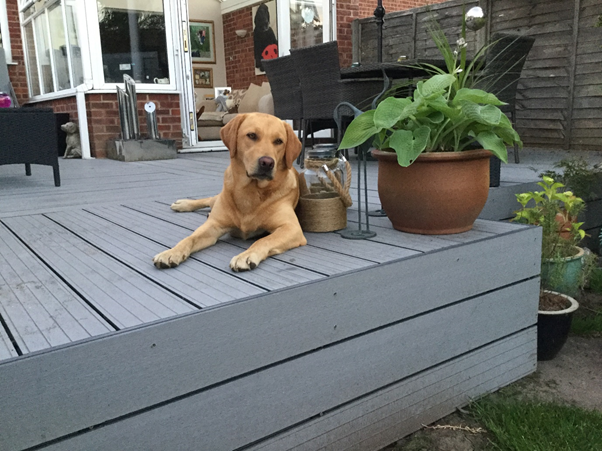 With the Nation being urged to follow Government regulations when it comes to socialising, maintaining at least a 1-meter distance between members of separate households, can be difficult.
The limitation of number of customers allowed in pubs, shops, cafes and restaurants means that you need to get creative when meeting friends.
Outside decking is the perfect solution, allowing you to be outside and distanced, without having to risk mingling with the general population.
Cladco composite decking is one way you can spend more time with your loved ones, while keeping a safe distance and abiding by Government regulations.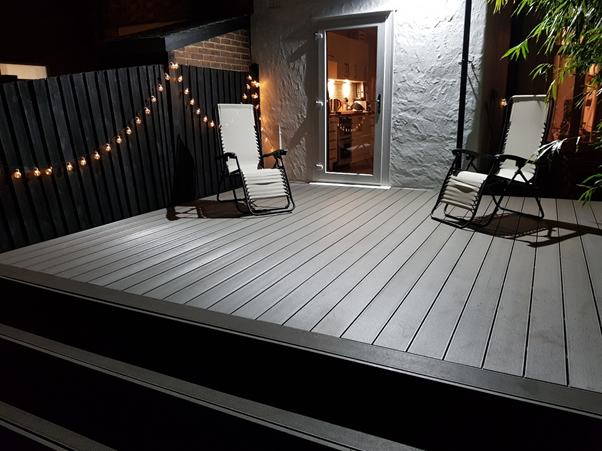 Holiday style in your own back garden
Thousands of people have had to cancel their holiday plans this year, thanks to the outbreak of COVID-19.
Holidays are a time to relax, unwind and catch some sun. Why not replicate the experience this year in your own back garden?
With Cladco decking, a bit of sunshine, and your preferred book/ drink/ music of choice, you can turn any day into a break and any garden into a coveted holiday destination.
Stuck at home with limited space – convert your garden into a peaceful retreat
Families up and down the country have been forced into spending more of their day working, learning and living within their own four walls.
Have you been confined to your home, these past few months?
Having a decking or updated outside space allows an extra room for family members to find a peaceful spot, soak up some sun, socialise or just relax.
Why not accessories your deck by adding dining furniture, having outside dining for friends and family doesn't just help increase socialising safely during COVID-19, but also creates a holiday/ Al fresco dining vibe in your own back garden.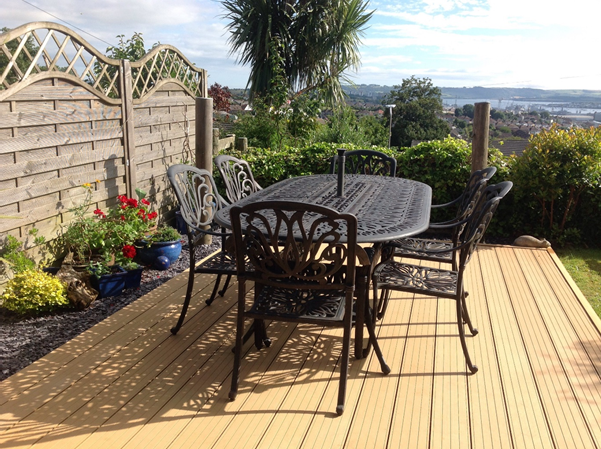 If you've been inspired by any of these, and want to find out more about buying, designing and building your own garden decking, please do get in touch either by email or over the phone.