Owning a Composite Deck not only creates an area of visual interest outside, but is a great way to tidy up garden zones and add practicality to your living space.
Composite Decking is a fantastic way to expand your outdoor living space, allowing you to create an area to relax, dine, entertain in and so much more.
Cladco is one of the UK's leading Composite Decking Brands and specialises in Composite products that are low maintenance, high quality, environmentally friendly and available in a variety of colour options.
Once you have installed your new Composite Decking, however, it can be challenging to know how to style it so that it's not only in keeping the rest of your garden - but a reflection of your personality and design preferences too.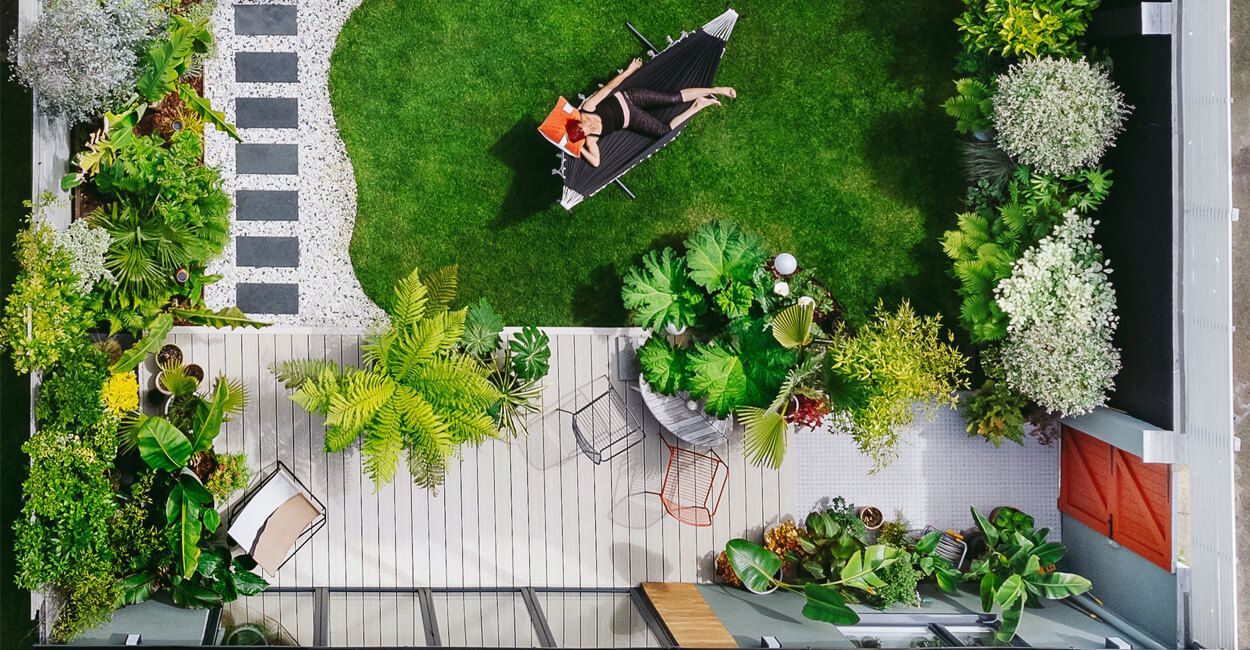 Composite Decking ideas - bring your Deck to life with accecssories, plants and furniture
Naturally, you'll want to get the most out of your new Composite Decking by adding tables/chairs/social areas - but what other design elements and add-ons can you include to ensure your new deck stands out from the crowd and is unique to you?
Adding an Al Fresco Dining Area
The obvious choice when it comes to adding interest to your Composite Decking Area is to add a dining table and chairs.
In the UK, the warmer months and longer evenings are few and far between, with many homeowners making the most of the extra sun exposure by eating alfresco and spending time on their Composite Deck long into the evenings.
Whether you choose to sit with your morning coffee alone or entertain family and friends with a bottle or two of wine and a feast cooked on the barbeque - a good set of chairs and a sturdy table is a surefire way to make the most of your Deck (with a south facing garden being an added bonus!).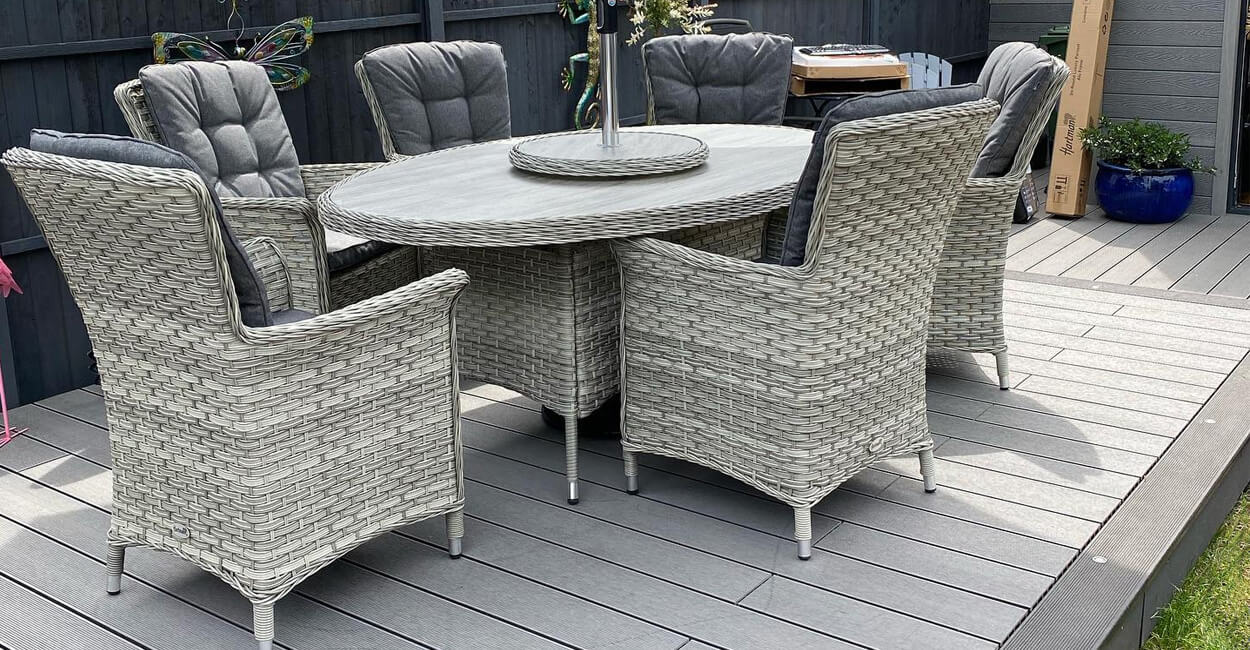 Composite Decking Boards in Light Grey with Stone Grey Bullnose edges, for a social dining set up
Unlike natural wood, Composite Deck Boards are splinter, rot and warp resistant - so there is no need to worry about heavy footfall causing any damage, or small children/pets injuring themselves when entertaining or hosting garden parties.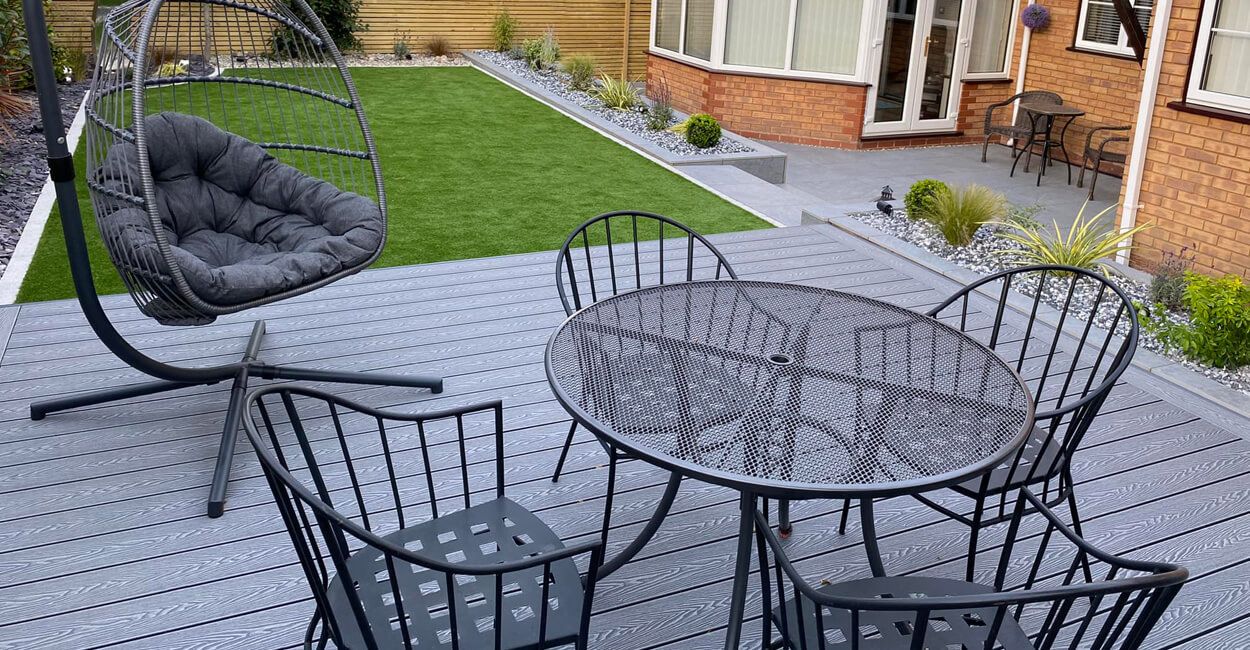 Cladco Woodgrain Stone Grey Composite Decking with metal seating and table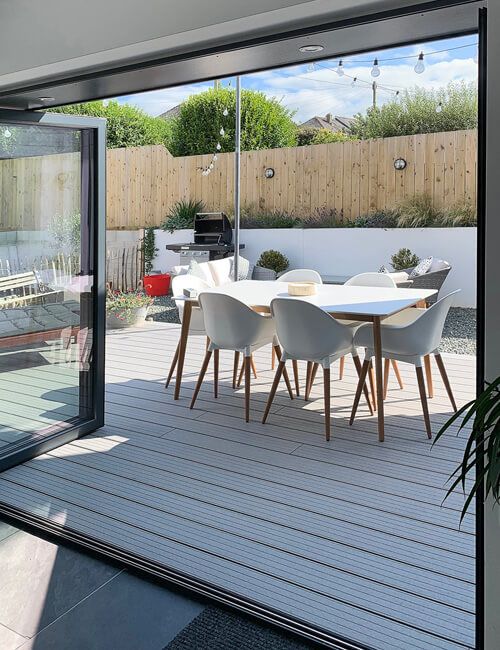 Extend your kitchen/diner into the garden. This Deck Project acts as a seamless dining extension from the kitchen
Style your Deck with Plants and Pots
So, you've selected your dining furniture for your Deck - but what about those additional composite decking ideas that make your outdoor living space even more appealing?
One of the answers to this is plants and lots of them! Potted plants are a great way to style up your composite decking area, they add instant natural beauty and can be moved around or used to cover deck joists/joins or any imperfections caused when laying decking, that you do not want on show.
You can mix up colours, sizes and types to create your own mini jungle, or simply add one pot or two. They make a great addition to any garden - especially those that are not blessed with a lawn or natural flower beds.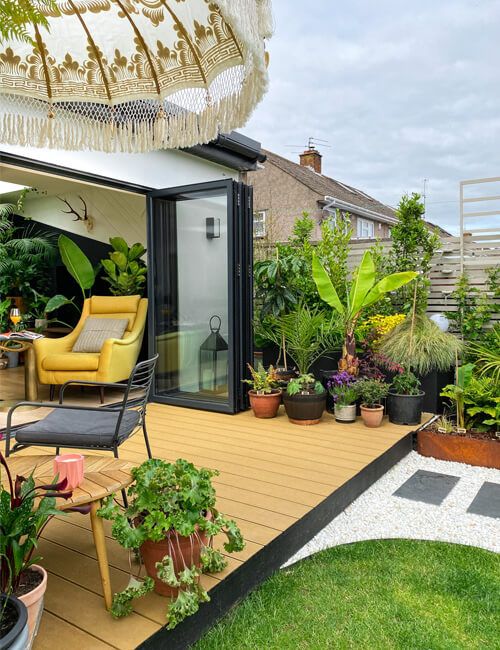 Cladco Composite Boards in Teak have been bought to life with a variety of bright pots and plants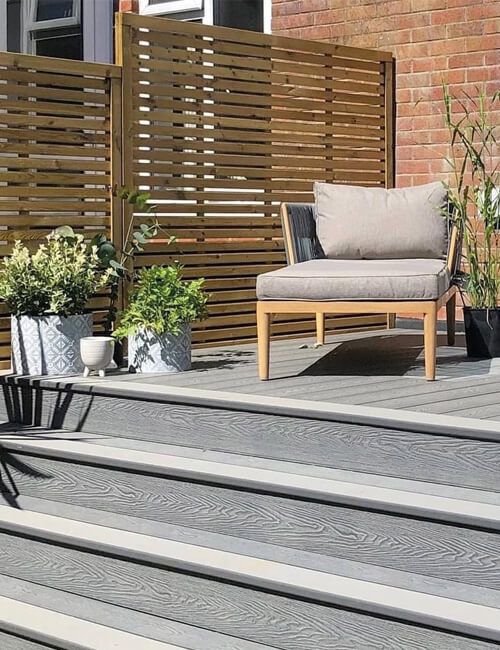 Woodgrain Composite Deck with Bullnose Deck Boards on the step edges
Composite Decking materials have a low water absorption rate, so after watering your potted plants, your Decking will still be as good as new.
Adding Communal Seating and Social Areas
If you don't have the square meterage or are simply opting out of having a dining furniture set in your new Composite Decking space - then a comfortable seating area is one of the other most important elements you can use to add both character and style to your decking.
The colour, practicality, size and placement all are decisions to be taken into consideration if you want to complement your Decking.
As you can see in the image below, this homeowner has chosen a large corner seating area in black with white cushions, to tone in with the Grey Composite Decking and utilise the available space.
The addition of the large, overhead pergola adds a built-up feeling, creating the illusion that the entire deck is its own outdoor room.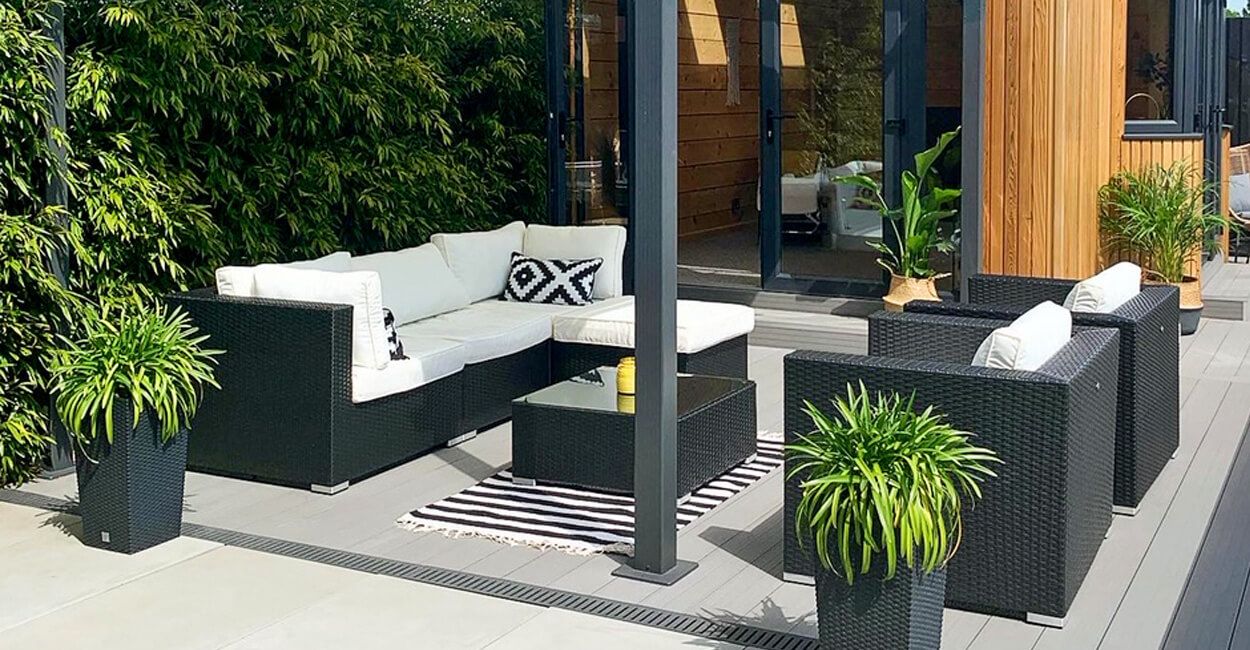 Cladco Composite Light Grey Decking Boards with a built in pergola and large seating area
Soft furnishings alongside the natural-looking wood Deck below bring pops of colour into an otherwise neutral palette - brightly coloured cushions can be easily added or taken away and provide a quick design update to the space. Many cushions now come in waterproof materials meaning they are just as easy to maintain as the Composite Decking materials themself.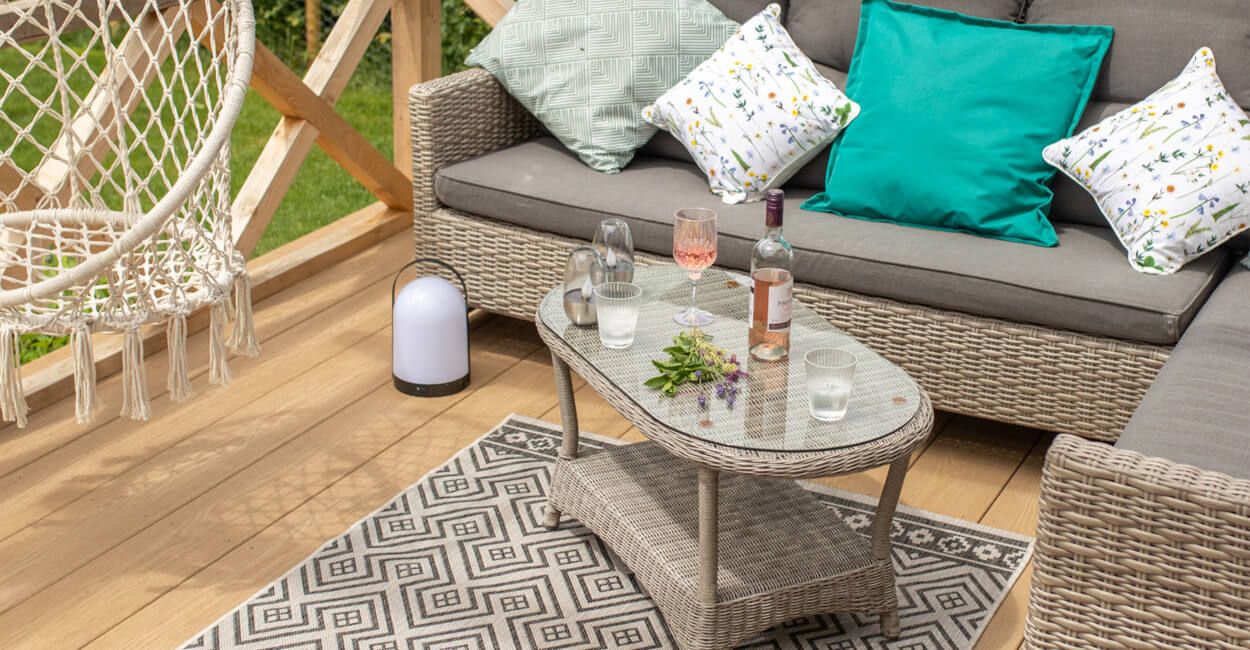 Cellular PVC: Cladco Premium PVC Decking in Cedar Wood replicates the look of timber decking without the hassle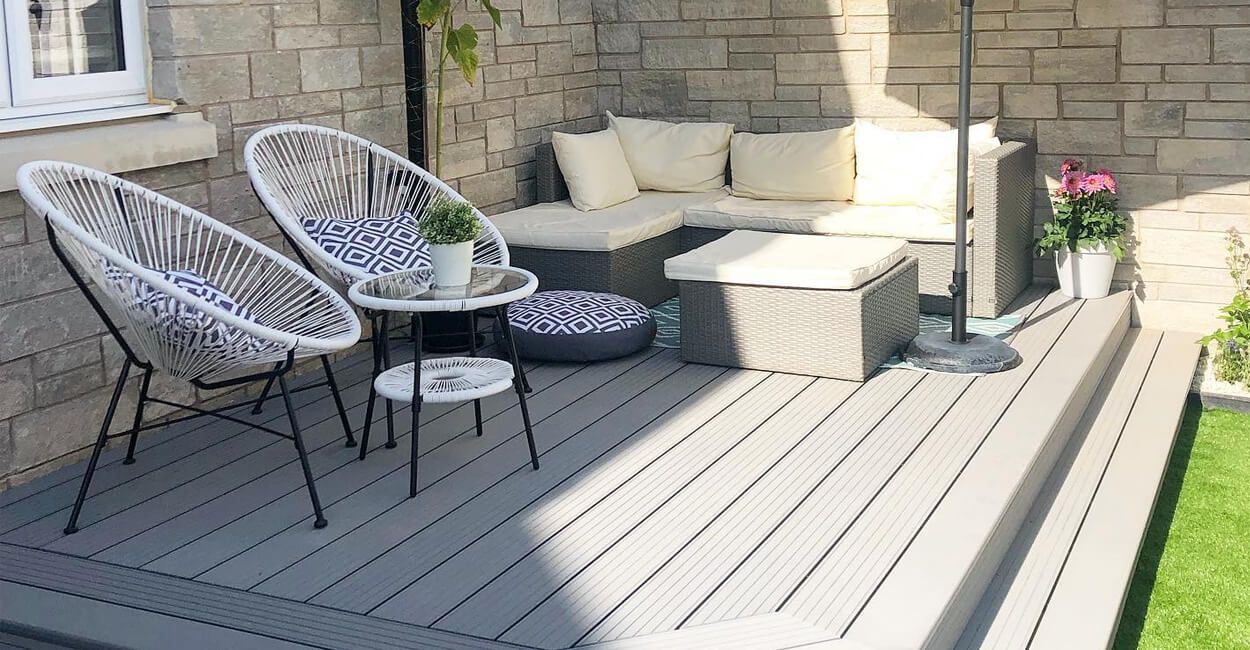 A small Cladco Composite Deck accessorised with an outdoor corner sofa, matching white parasol and scandi-style chairs
So you've got your seating sorted - but what about as the sun goes down? How can you ensure your new decking area is just as warm, comfortable and suited to evening use as well as daytime?
These Composite Decking customers chose to add a fire pit system to their outdoor space, whilst protecting their Deck Boards with small stones and gravel.
The central fire pits provide warmth on chilly evenings and allow a focal point when entertaining guests.
Both fire pits have been fitted with Composite Bullnose Boards around the edge to create a picture frame effect.
*Always ensure you check the fire rating on composite decking and never leave flames unattended.*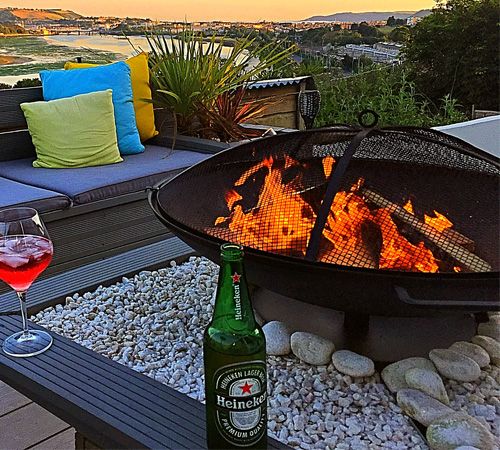 Enjoy the sunset with family, friends and a firepit - just one of the many composite decking ideas to improve your space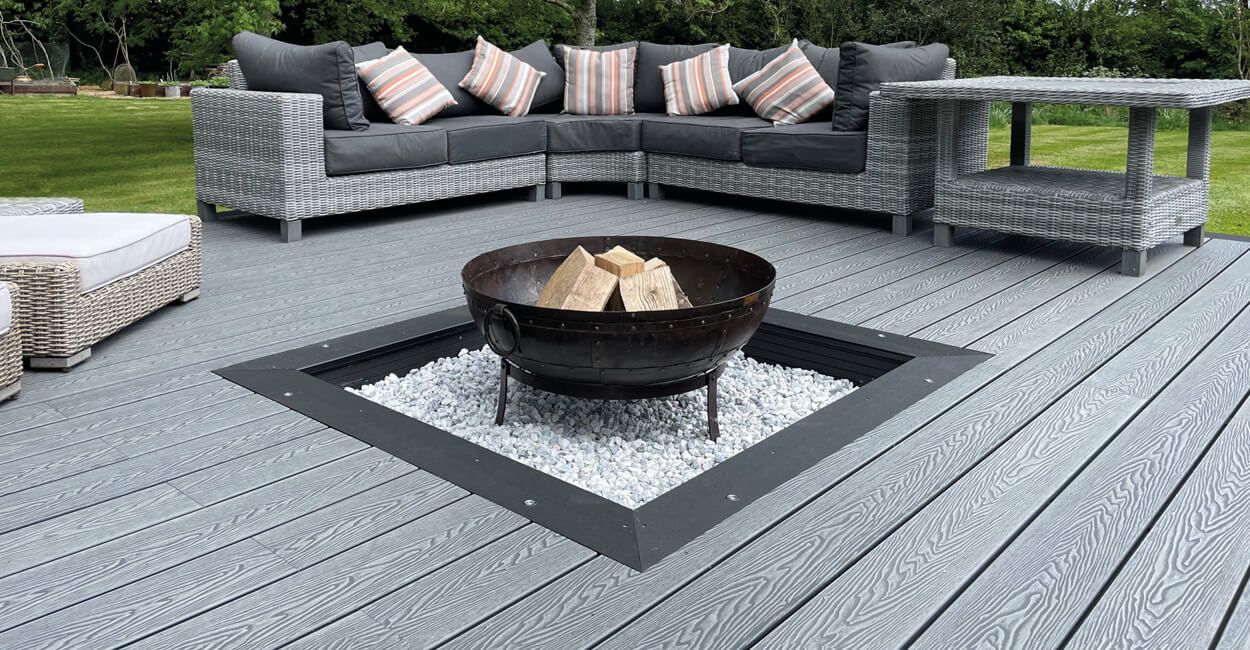 Picture frame effect: Stone Grey Woodgrain Composite Decking with a Bullnose Board Centrepiece for a firepit
Add Ambience and Character with Alternative Lighting
Festoon lights add a contemporary feel to this small, grey Composite Decking space
Cosy lighting is another great way to customise your new Composite Decking area, you can choose from integrated lighting systems within the deck itself, the popular style of festoon lights (as pictured below), lanterns and more.
Good lighting can provide a soft, warm glow and lift darker colours as the nights draw in, and with more than one style available to complement your new space - from coloured lights to solar-powered options, there is no excuse to not spend time in your outdoor space both day and night.
String lights installed around a decking seating area for day-to-night enjoyment
Finishing Touches: Rugs and Other Soft Furnishings
Above all, your new Composite Decking area is a place to relax and enjoy. Whether you fill your deck with flowers and furniture or simply leave it bare - it will provide you with a low-maintenance and practical outside space for years to come, with many Composite Deck Boards coming with a 10-year guarantee.
Why not bring your home comforts from the inside out, with the addition of an outside rug? They are a great way to add a warm, cosy touch to an otherwise chilly Deck, and with so many colour and design options to choose from, from soft neutrals to bold geographical prints, they can work with your colour scheme to tie all elements of your outdoor living space together seamlessly.
Composite Decking ideas - outdoor rugs can stylishly bring together any decking board design
These days, outdoor rugs and soft furnishings are extremely versatile and multifunctional: their colourful designs bring a refreshing variation to outside seating areas and decks - and their durable material can withstand most weather conditions, much like Composite materials that have a low water absorption rate and are UV resistant
Decking Boards in lighter colours can be styled with most accessories - like this herringbone pattern rug
Cladco Composite Decking Boards in Ivory have been styled with a durable outdoor rug and matching accessories
Want to find out more?
For more inspiration on how to create your perfect decking project, please visit our Gallery, take a look at our online Installation Guides or give our friendly Sales Team a call on 01837 659901.
*Please note fire pits should be used with caution, fire pits are used at your own risk and may not be suitable for use on the decking. Please refer to the decking fire rating certification here.