As the Autumn months turn to Winter, the frosty mornings and shorter, colder days can begin to take their toll on our homes and gardens.
These types of adverse weather conditions can make a big difference to your Decking, the Boards can form an icy layer, causing them to become one of many slippery walking surfaces around during the winter months.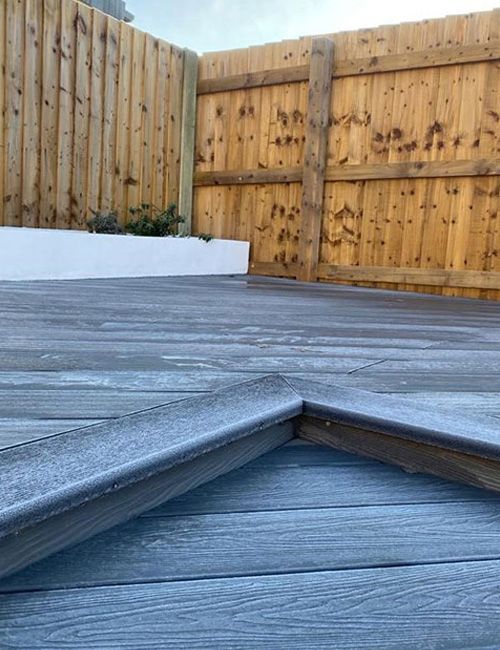 Colder, frosty days during the winter season can cause Deck Boards to become icy and slippery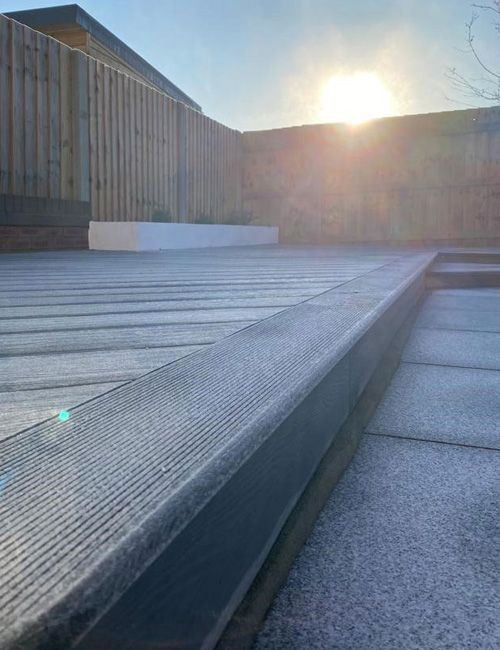 Narrow grooves on the surface of Composite Decking offer additional low-slip benefits
Having wooden decking during the winter season can be a breeding ground for slips, trips and falls during bouts of snow, ice and frost. Wood deck boards can rot and warp in winter weather conditions, with debris and mould growing on the surface causing slipping hazards.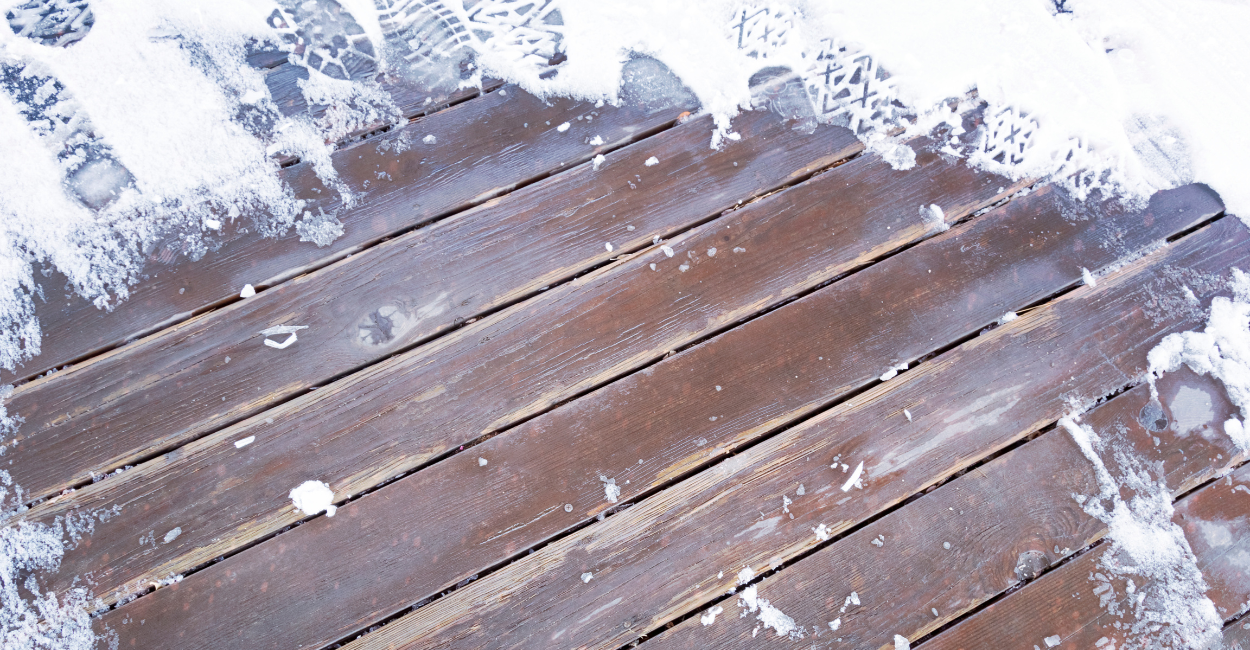 Wood decking can become slippery with frost and ice due to the natural material growing mould/rotting
One of the many benefits of having Cladco Composite Decking as opposed to a traditional wooden deck installed in your garden is that our Boards are splinter, rot and warp resistant making them easy to maintain all year round.
That being said, during the winter months not even Composite Material can escape the frost of the cold mornings. Steps can be taken, however, to prevent water from turning to ice on the surface of the Boards, and potentially help to avert any slippery decking in high-traffic areas.
Whilst Cladco Composite Decking has a low-slip surface on the narrow-grooved side of the Boards, this textured surface alone is not enough to make any Decking completely non-slip, and there are still other ways you can help to stop Decking ice build up.
Preventative ways to stop ice building up on your Composite Decking
After the Autumn months have passed, you may be left with leaves on your decking, or it could be covered with other debris. This can not only make your decking more of a slip hazard due to the moisture that leaves and moss can hold,  but could also stain your decking if left over time.
Removing any leaves by giving your deck a quick sweep regularly is an easy solution to ensure it doesn't become too slippery as the temperatures drop.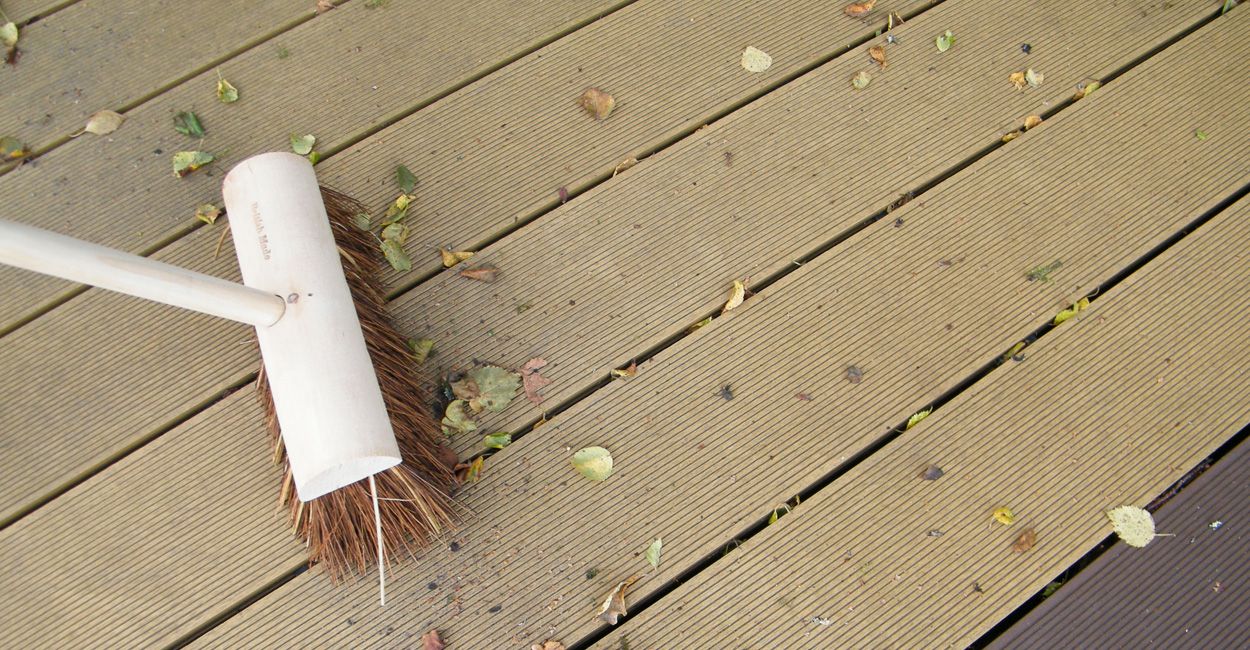 Preventing any build up of debris by regularly sweeping your Decking is a great solution to stopping slippery surface
Install your decking at an angle to reduce ice build up
Fitting your Composite Decking in your garden at a slightly sloping angle enables any rain or ice melt water to drain away more successfully, keeping standing water that can easily freeze in cold temperatures to a minimum. Having less standing water on your Decking area encourages less ice to form and therefore contributes towards a more non-slip surface.
Fit your Decking Boards the correct way
Cladco Composite Decking has a narrow grooved surface on one side of the Decking Boards, and wider-spaced grooves on the other. Simply lay the grooved Boards with the narrow side up, to give the Boards additional low-slip properties. See Cladco Installation guides for more information.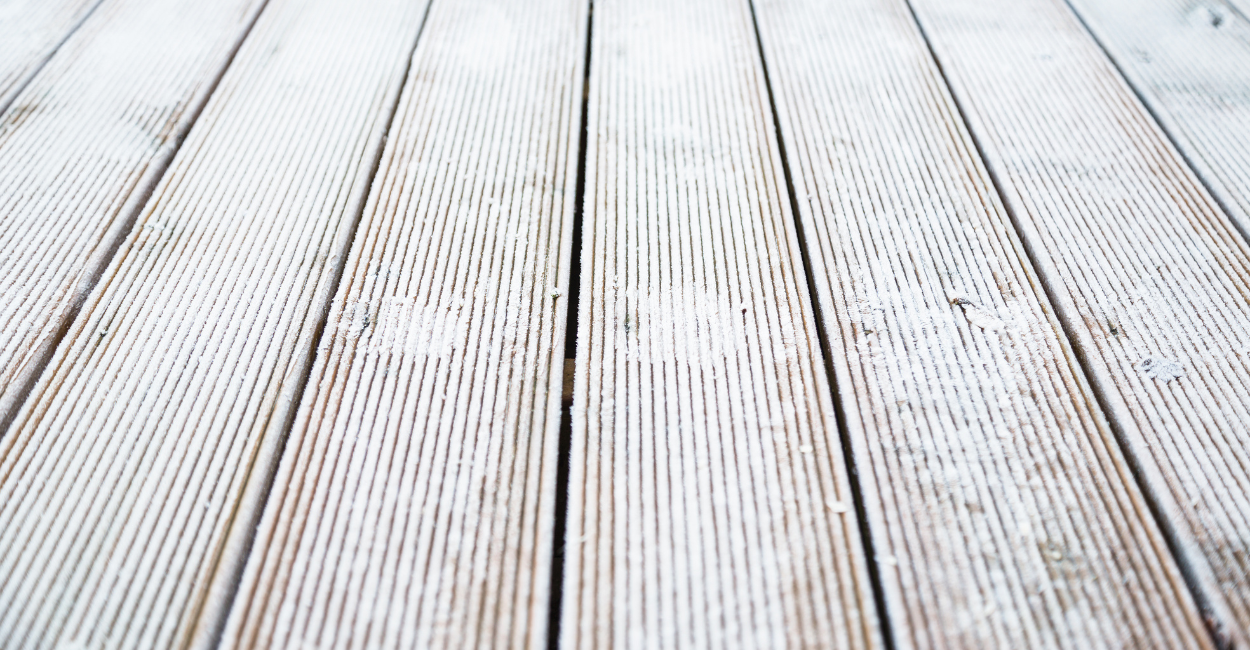 Add anti-slip Accessories to your Deck
You can also purchase non-slip decking accessories or non-slip coatings to add to any deck, be it timber or Composite, to help improve its non-slip properties.
Anti-slip outdoor mats, non-slip strips, and anti-slip tape can all be temporarily added and removed from your garden as the seasons change to keep walkways and areas with heavy footfall as safe as possible in icy weather.
What happens if my Composite Decking becomes icy?
Around the cold times of the year when snowfall and ice form on roads or pavements with heavy foot traffic, you often see 'gritters' out and about in full force, laying salt to help dissolve and remove ice, as well as sand and grit to add traction and grip.
Unfortunately, due to the 60% natural hardwood fibre composition of our Composite Decking Boards, we do not recommend using any grit salt, harsh anti-slip chemicals or products with any added colourants onto your Composite Deck - as the abrasive properties of the grit could potentially scratch or mark your Decking, and the dyes/chemicals found within man-made antifreeze solutions could discolour or stain the Boards.
Instead, we recommend gently pouring warm (not hot) water over your Decking to gently melt away any ice built up or, if you would prefer to use an artificial de-icer, we recommend you ensure that the product contains calcium chloride, as this will not damage Composite Decking. It may leave a slight residue behind, but this can be easily cleaned away, as below: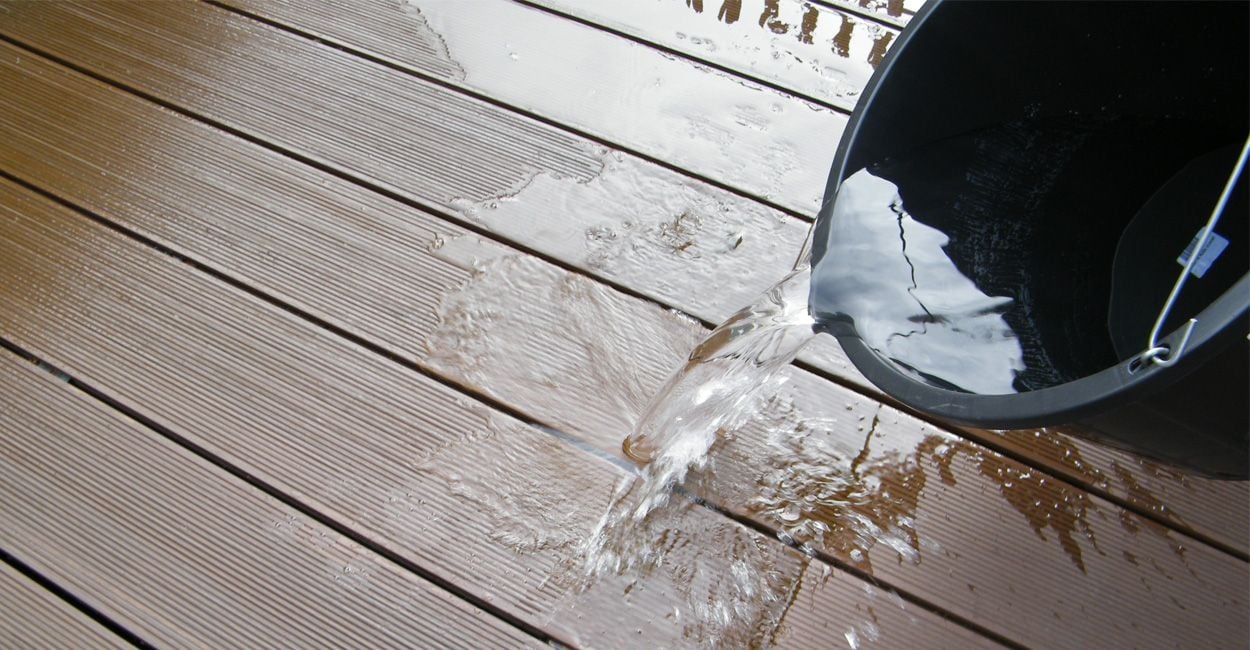 Gently pour warm water over your Composite Decking to melt away any frost or ice
Ensure you are careful if using a metal shovel to ensure you do not scratch the surface of the decking.
What next?
When the icy weather has passed, it is best to clean your Deck of any dirt or natural grit that has formed on the Boards throughout the winter season. 
Sweep your deck gently with a brush (ensuring the bristles are not too hard as they may scratch) to clear the Decking area, then with either water or Composite Decking Cleaner, brush and clean away the residue.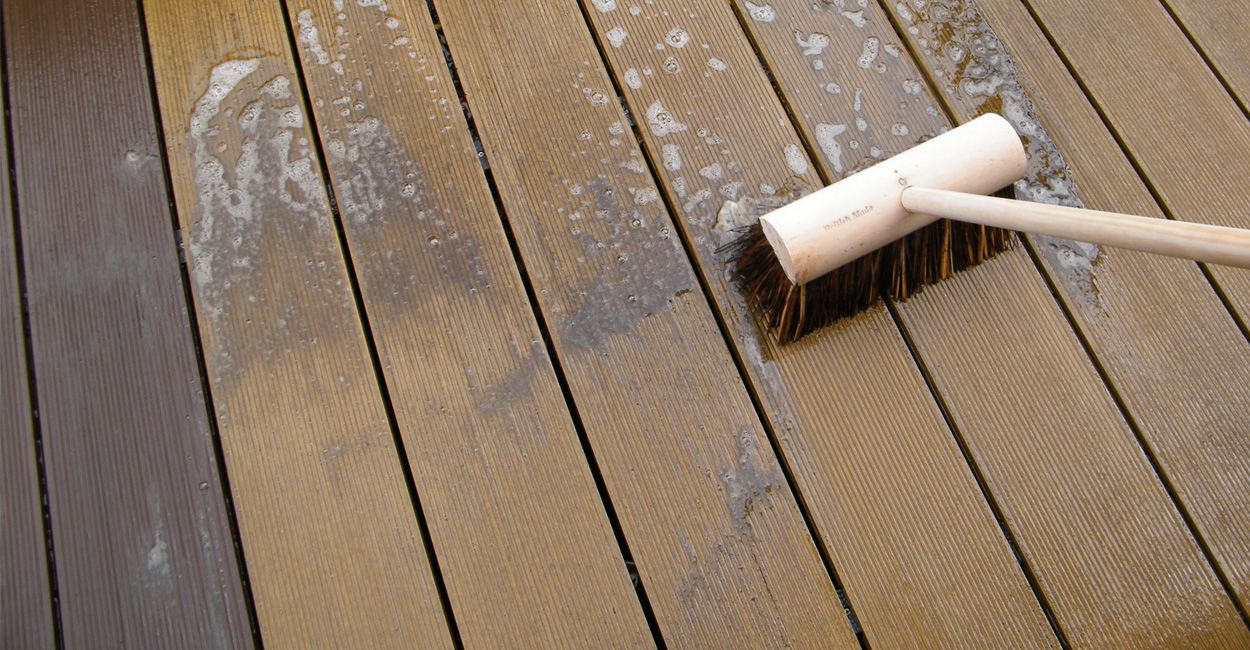 Warm water is a gentle and natural way to remove ice on your Deck
Alternatively, a pressure washing machine can be used to clean your Composite Decking area after sweeping away debris. Use a low-pressure setting on your pressure washer steam setting to remove any surface stains, dirt, grime or any residual detergent. We recommend using a pressure washer with a PSI of no greater than 2,000.*
For more information and alternative ways to clean your Decking, see our other Blog post here.
*If a pressure washer has been used to clean your deck please note that this may increase the chance of screw holes becoming more visible.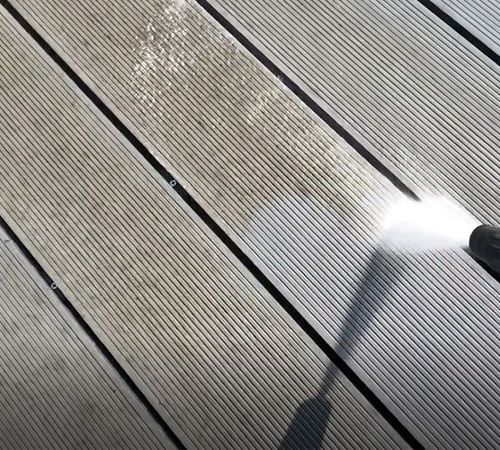 Please note: Cladco can not take responsibility for any damage caused to boards by colder temperatures, ice and ice preventative strategies such as salt, sand or chemical de-icer. Care should always be taken to reduce the risk of injury.
*If a pressure washer has been used to clean your deck please note that this may increase the chance of screw holes becoming more visible.
For further information about how to maintain your Composite Decking, see our website, email our Friendly Team at

[email protected]

or by calling us on 01837 659901