Compare PVC vs Composite Material, Prices & Pros & Cons
Over the last decade, the decking industry has received mass rises in design technology and innovation, allowing for the creation of timber decking substitutes, with longer lifespans and a range of beneficial properties. Composite Decking and PVC decking, while both have a longer life than traditional timber decking have different properties, and differ in cost. If in doubt of what decking you prefer simply order a sample of the colour, style or deck type, most decking suppliers offer free samples.
This article will explain in detail the differences between PVC decking vs Composite decking materials, how the pricing and properties differ, what could benefit you and where to find a sample of the two different decking boards.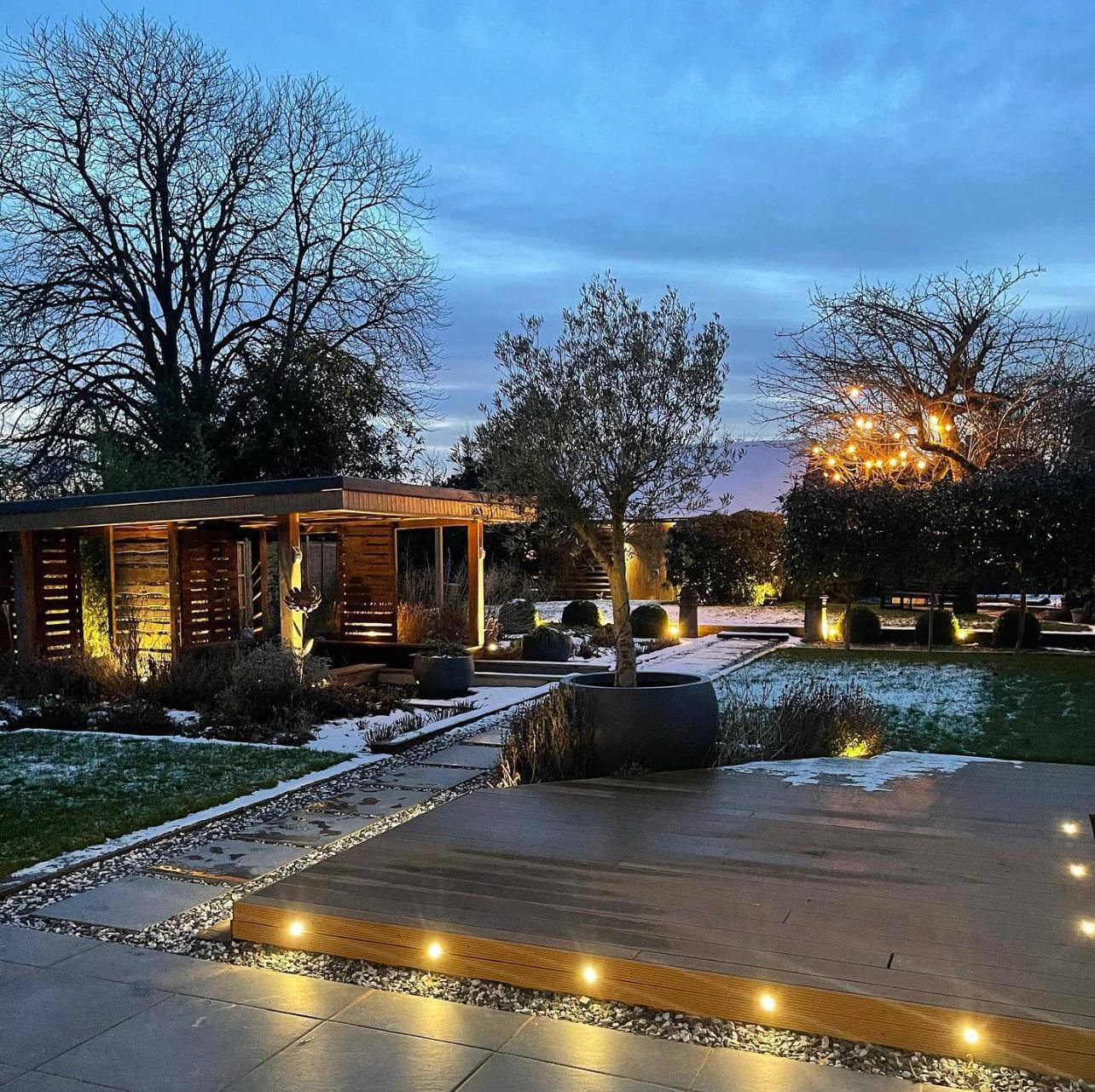 Which is better, composite or PVC decking material?
Depending on the use, style, size and budget you have for your outside decking area, will depend if a PVC or a Composite Deck is better-suited for the delivery of your needs.
Both boards are available in a range of colours and require less maintenance than timber decking boards.
However, Composite deck boards are environmentally friendly, made from 100% recycled components, vs PVC Plastic decking boards which are not environmentally friendly.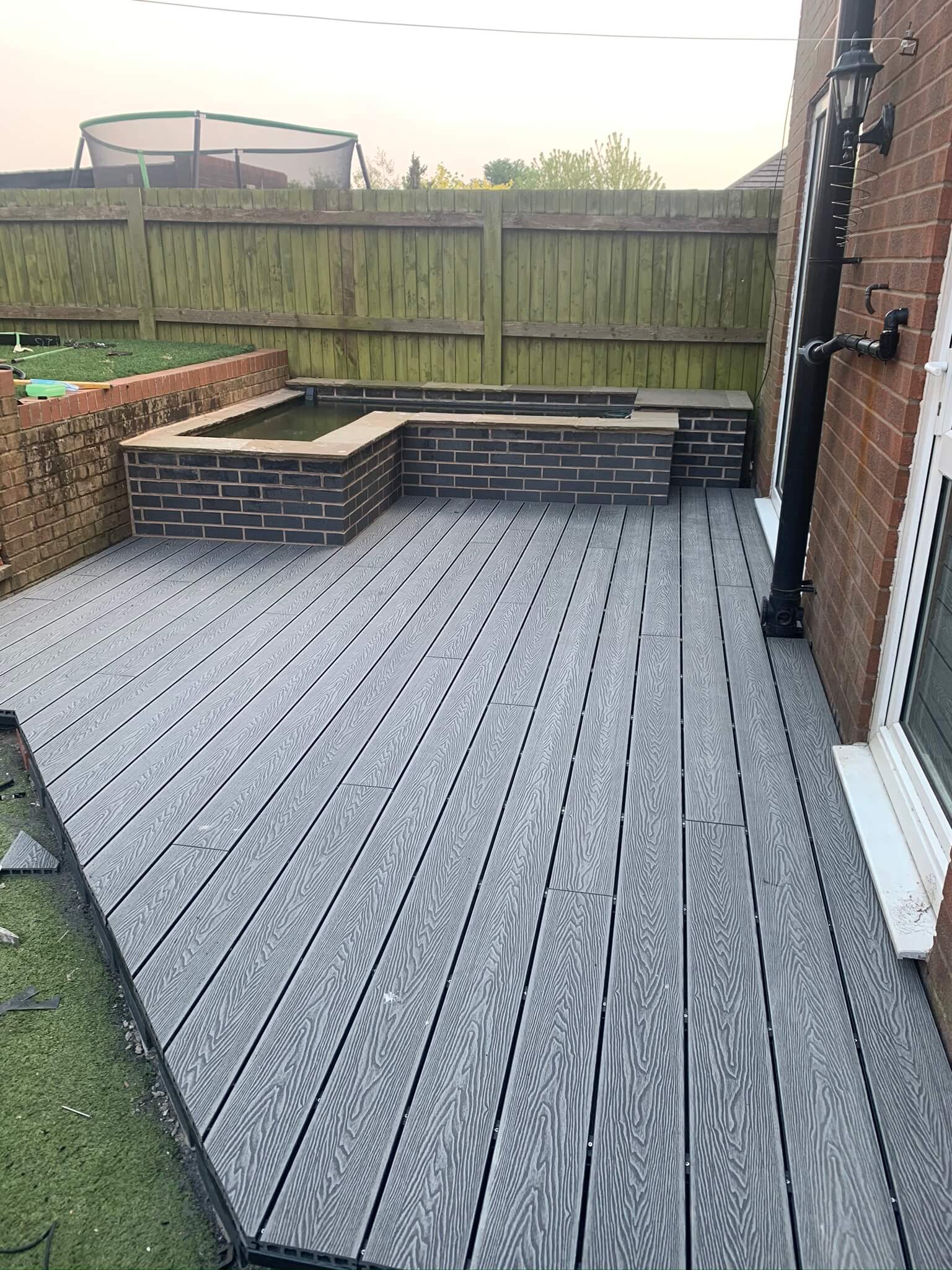 What is composite decking?
Composite Decking is an amalgamation of part wood and part plastic. Made from 60% recycled wood fibres and 40% recycled plastics, together with bonding agents and additives. Creating a low-maintenance, slip-resistant composite deck. The delivery of the wood-plastic composite board creates a synthetic natural timber appearance. Without the need to stain, varnish or sand the boards, for an attractive, low-maintenance garden addition.
Composite decking boards, come as either solid boards or Cladco Composite Hollow decking. The Hollow has been designed with a five-hole honeycomb structure for superior strength. These are available in woodgrain or original finish, hollow boards will need to be finished with end caps to ensure bugs, debris and water don't get into the hollow interior.
Composite decking pros & cons
Advantages of Composite Decking:
Available in a range of eight colours - can be designed to match or contrast with your home, decking can be one colour, or have a sophisticated picture frame edging in an alternative colour.
Can be solid or hollow - Solid boards are ideal for areas with a high level of footfall.
Low-maintenance - due to the material of the boards, they do not need to be sanded, stained or varnished
Low-slip properties, when the board has been installed with the narrow grooves facing up, the customer will benefit from a low-slip surface.
UV-Resistant - The boards colour should not fade
Long-lasting - Thanks to the high-quality materials and technology, Composite Deck boards have a longer, lifespan than natural timber deck boards
Insect repellant - Due to the dense make-up of the interior, insects are unable to burrow into the board material.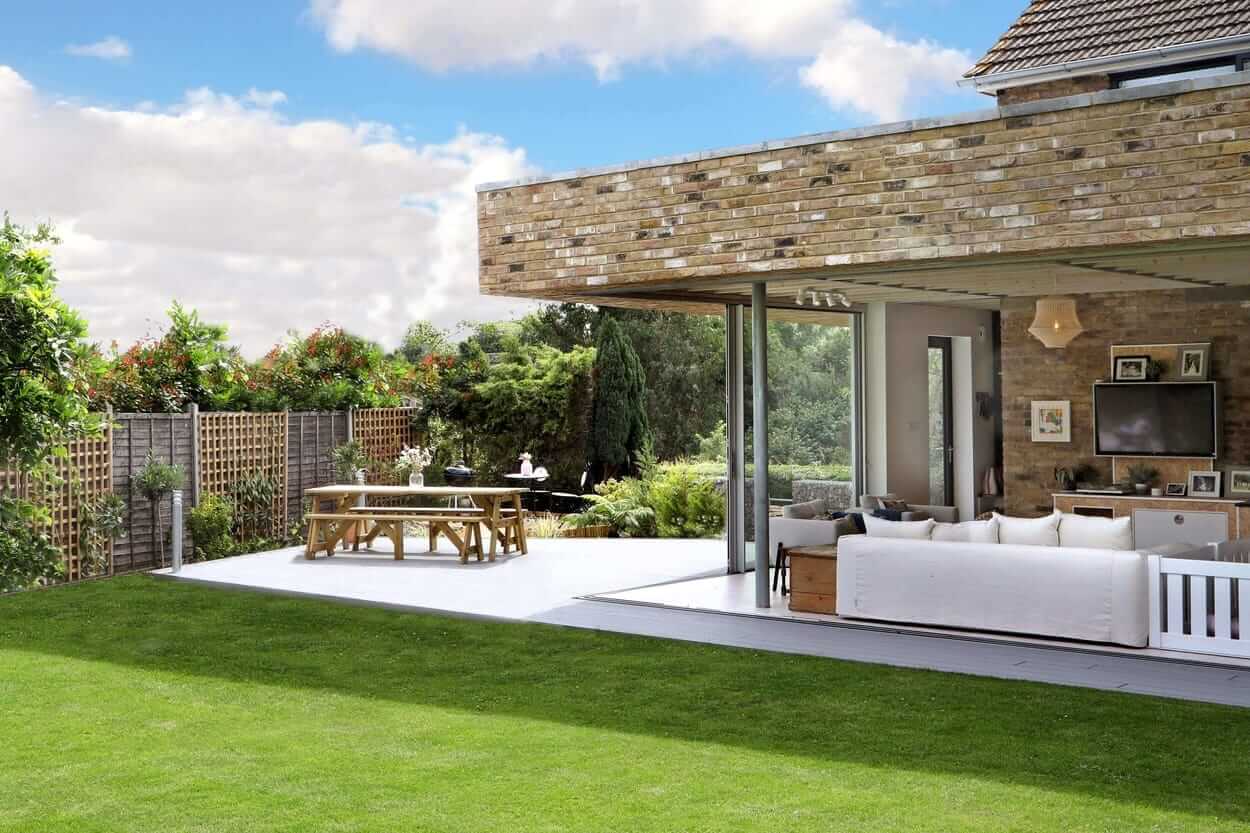 Disadvantages of Composite Decking:
The boards are not 100% natural wood and can look slightly synthetic compared to natural wood
Composite Decks are more expensive than timber boards due to their increased life, and range of properties
Cannot withstand heavy loads, such as Hot tubs, statues and some water features
What is PVC plastic decking?
Plastic or PVC decking is a 100% manmade plastic product, designed and manufactured to look like natural wood, but made from non-wood materials. Created, like composite decking to require a minimum amount of maintenance, with anti-fade and anti-slip properties.
PVC decking is made from Polyvinyl chloride, a durable, stronger, synthetic material. PVC decking can be made rigid or flexible and is the third-highest manufactured plastic in the world. This popular material can be paired with an ASA (acrylic-styrene-acrylonitrile) core, creating one of the strongest, decking boards on the market. Some plastic decking boards can look synthetic, however, most PVC boards are a premium product, giving a high-quality wood aesthetic.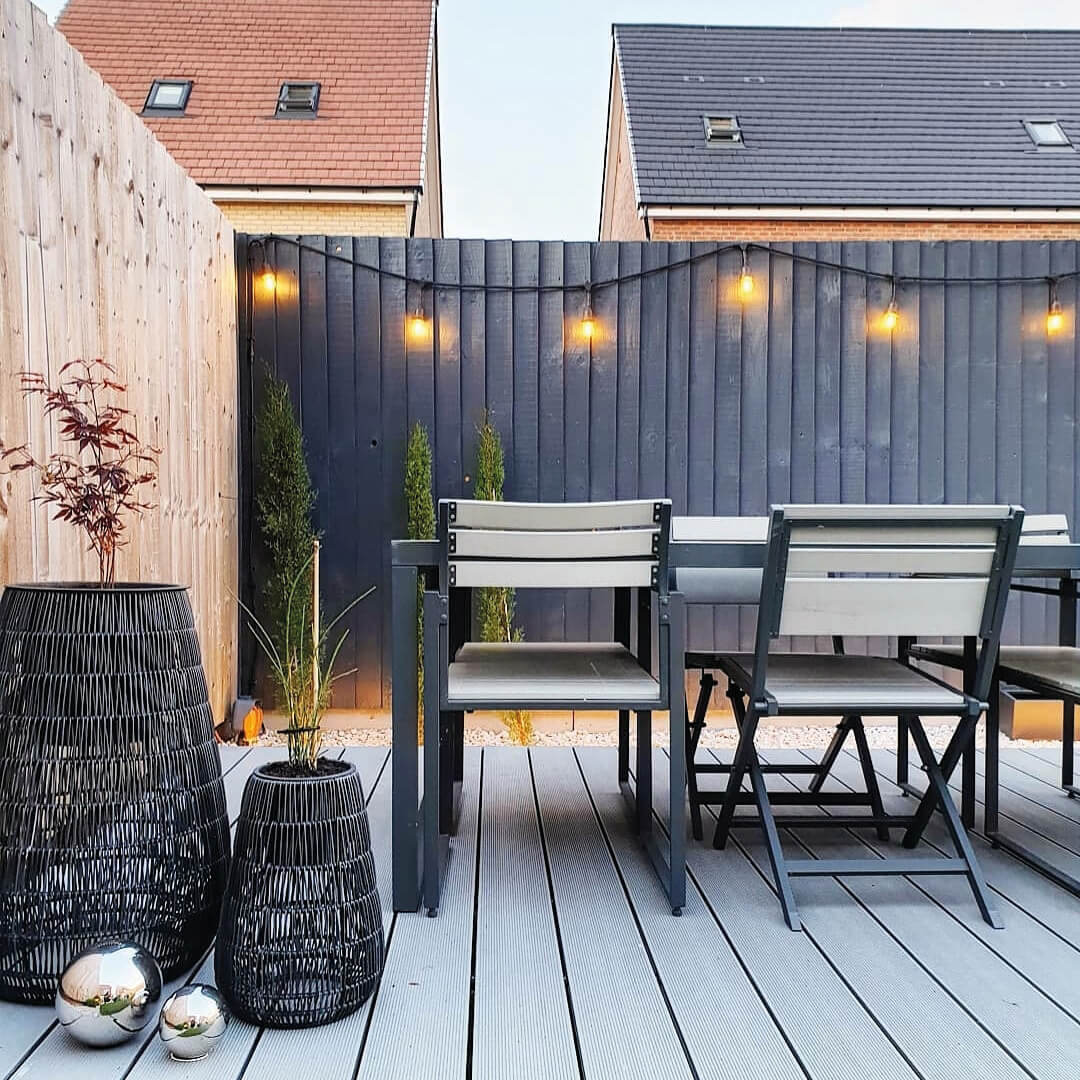 PVC Plastic decking pros & cons
Advantages of PVC Plastic Decking
Durable, and strong is able to support heavy loads such as hot tubs, statues and water features.
Due to the hard exterior, the board will not scratch or stain
UV resistant properties so the colours of the board will not fade.
Made from high-quality materials to last a long life.
Unlike Hollow Composite Boards these do not need fitted end caps
Due to their 100% man-made interior, the boards are insect resistant
Non-slip surface
High-quality premium look and feel of the decking board
25-year Guarantee
Low-maintenance does not need to be sanded, varnished or stained.
Available in a range of natural-looking colours
Disadvantages of PVC Plastic Decking
PVC Plastic Decking Material is 100% man-made and is not environmentally friendly
Cost of decking boards is more expensive than traditional timber, due to their range of properties and longer life span.
Deck boards are not made of wood and can look a little synthetic
100% plastic decking boards are more likely to flex, splinter or break due to their plastic interior.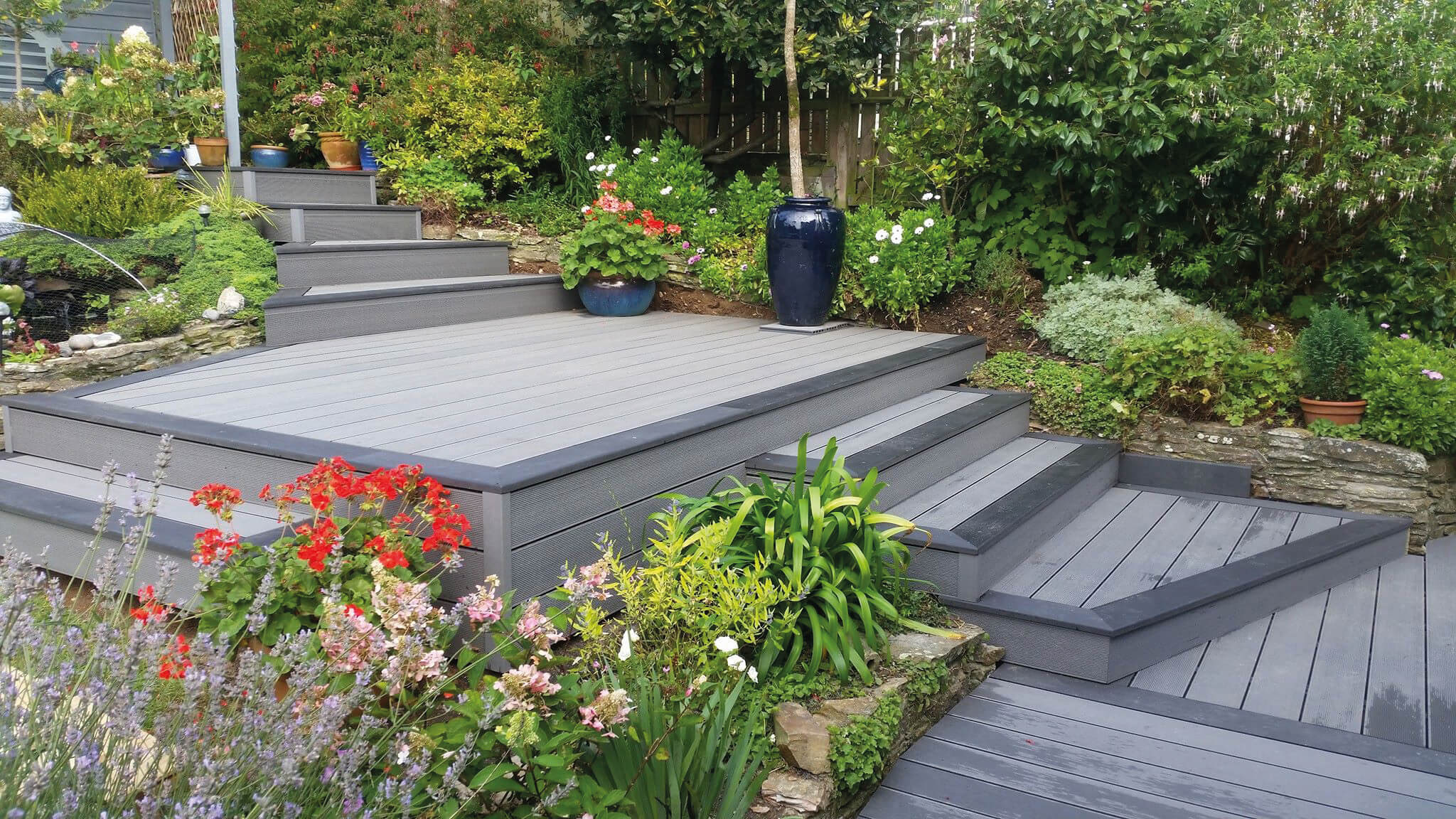 Plastic vs Composite decking prices
100% Plastic Decking (not PVC) is cheaper than Composite Decking. While Composite Deck Boards are made from both natural and synthetic materials, giving them an authentic wood look, high-strength and a range of properties. Plastic decking can look synthetic, is not as strong, and can fade in the sunlight.
The average cost per square meter for a 100% plastic board (not PVC board) is £82 - £113, this price includes the boards and any fixings needed.
The average cost per square meter for a Composite Decking board is £57.60, not including fixings or accessories.
The average cost per square meter for a PVC Decking board, including 5% for wastage is £94.80, not including fixings or accessories.
Is plastic decking cheaper than composite?
Plastic (not PVC) deckings overall price is cheaper than that of a Composite Deck. The materials for a Plastic Deck vs Composite Deck are quicker, and cheaper to source and bond together.
Plastic boards are less expensive than composite, the boards, however, are more likely to flex and split. The look of the boards is also forfeited for the lower cost and often give a synthetic and fake look. Whereas, the pricer, wood-plastic deck boards are available in a range of shades, and benefit from a natural, wooden aesthetic, without the hassle of a traditional timber deck.
PVC Plastic boards, however, are often a superior, premium style of decking, made from PVC with an ASA interior, for a strong, durable board with an improved woodlike appearance.
Both the 100% plastic decking prices and the composite deck price are shown in the final look and feel of the product - you get what you pay for after all.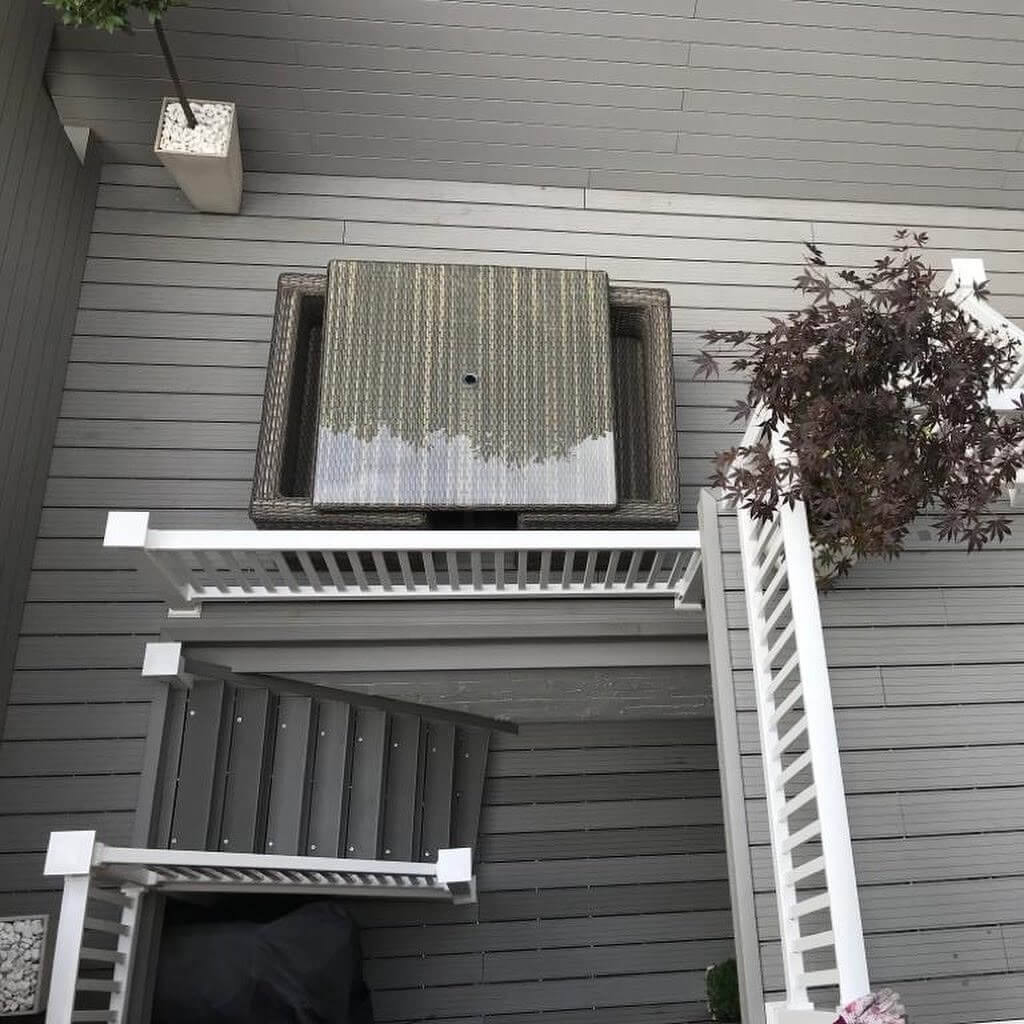 Composite decking board prices
There is a wide range of composite boards available ranging from £17.28 - to £38.40 depending on the style look, and size of the board.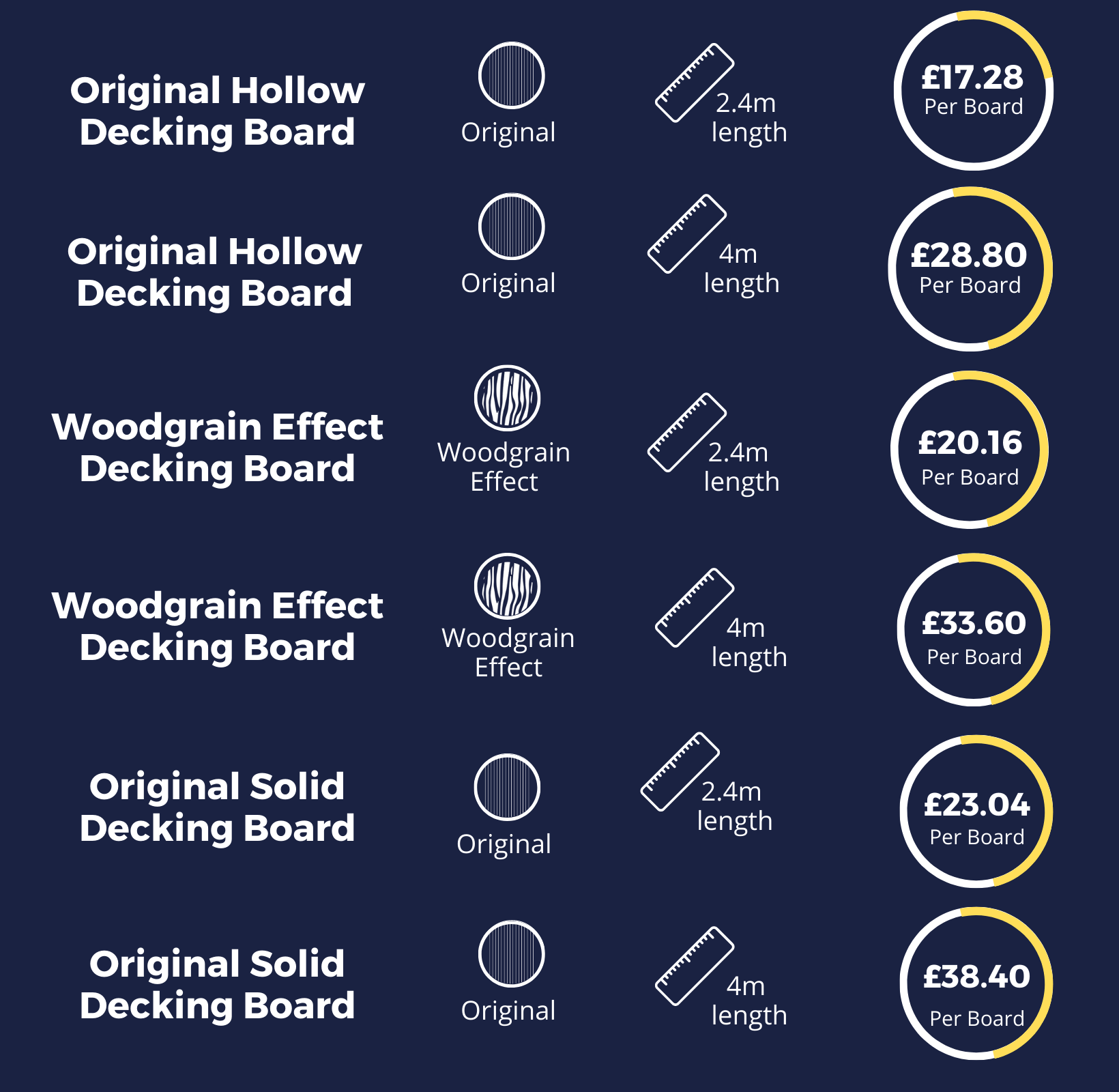 Plastic decking board prices
PVC Plastic Decking Boards are a high-quality premium product, with a premium price to match.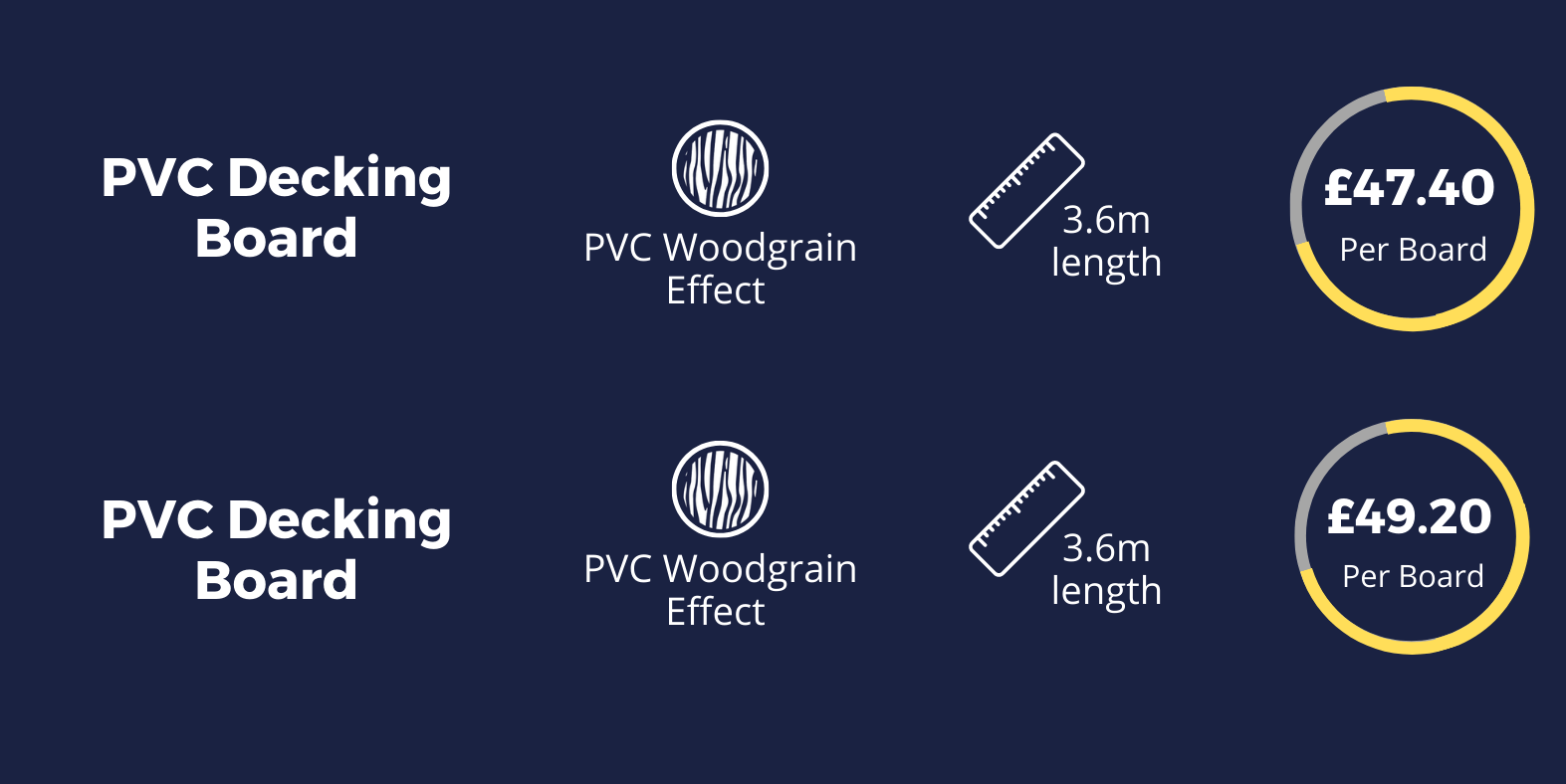 Capped vs. Uncapped decking
What is Capped decking?
Capped decking is a traditional Composite board which has an extra layer of protection in a polymer covering. Capped Composite Board, as well as having all of their standard Composite properties, also benefits from additional protections. They are better protected against UV rays, dirt, debris and other damages. Allowing the deck boards to be wiped clean, with no need for pressure-washing. The deck will still need to be kept clear of leaves, mud and other mess.
Advantages of Capped decking?
Capped decking, not only adds an extra protective layer to the boards, allowing for an even lower-maintenance approach to your deck boards. Capped Composite Boards are available in a range of colours, and benefits from all the advantages of a traditional Composite Deck.
Capped decking is a cheaper alternative to PVC decking, the added layer of polymer protects the synthetic colour from fading.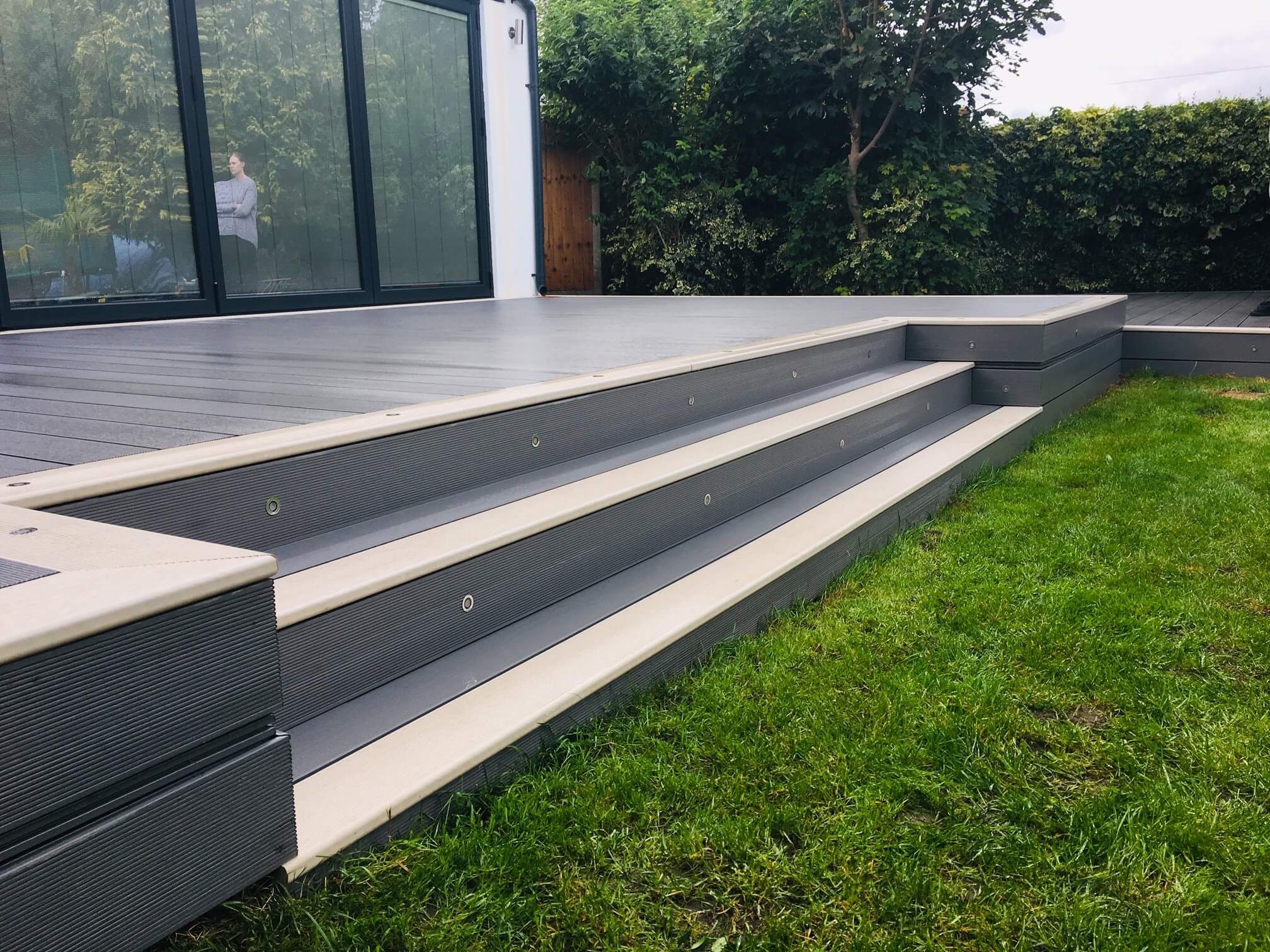 What is uncapped decking?
Uncapped decking, is a traditional composite board, which does not have the additional protective coating. While this coating does not affect the properties of the deck. Unlike capped decking, uncapped may require slightly more cleaning, and pressure washing using a scrubbing brush with a cleaning solution for hard to shift stains. However, the difference between the two boards are very slight and both styles will provide you with a beautiful, functioning deck.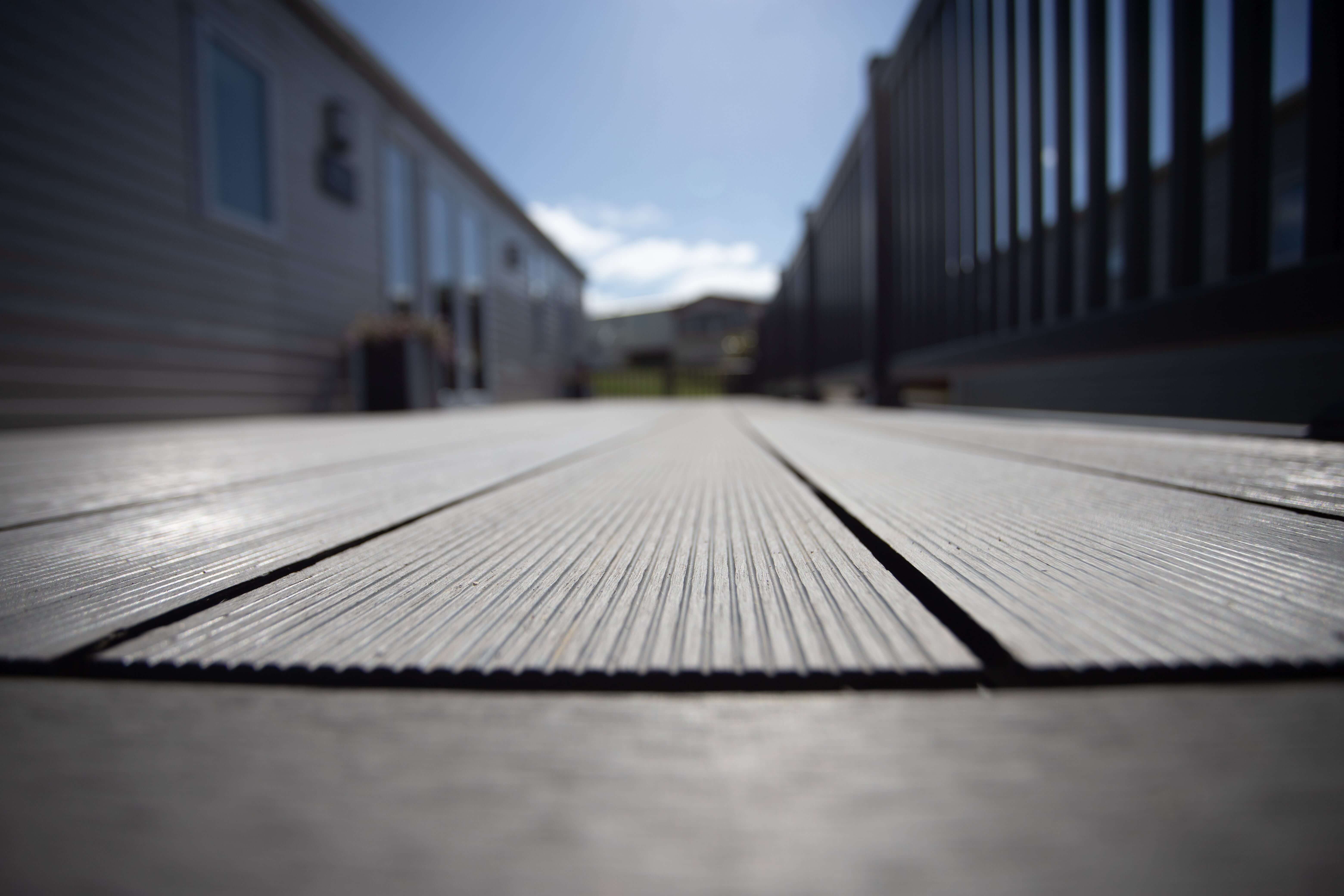 Conclusion: which is better PVC or Composite decking?
Composite vs PVC decking and which would be better suited for your needs does depend on how you want to use or design your decking, how much budget you have and what type of look, and colour your prefer.
Both PVC and Composite decking have a range of similar features, such a low-slip/non-slip surface, easy to maintain and is fade/scratch proof.
However, if your deck is going to be withstanding heavy loads, and a large amount of footfall, PVC decking would be the better investment, thanks to its durability and strength.
If you're looking for a quick instalment for a short period of time, not in your forever home, then Composite Decking with its ten-year guarantee and natural appearance will do the job at a cost-effective price.
PVC decking, is a premium quality board, with a 25-year guarantee, perfect for those who have found their long-term/forever home and are wanting to get the most out of the outside.
Order a sample of either PVC or Composite decking here: https://bit.ly/3r5VIrG