The Best Composite Decking Companies and Manufacturers in 2021
With the market for traditional natural wood decking dwindling, and the appetite for synthetic, low-maintenance decks increased. The Composite Deck Market has become saturated with information, brands and products.
How can you make sure you are buying the best composite decking products available for you and your project?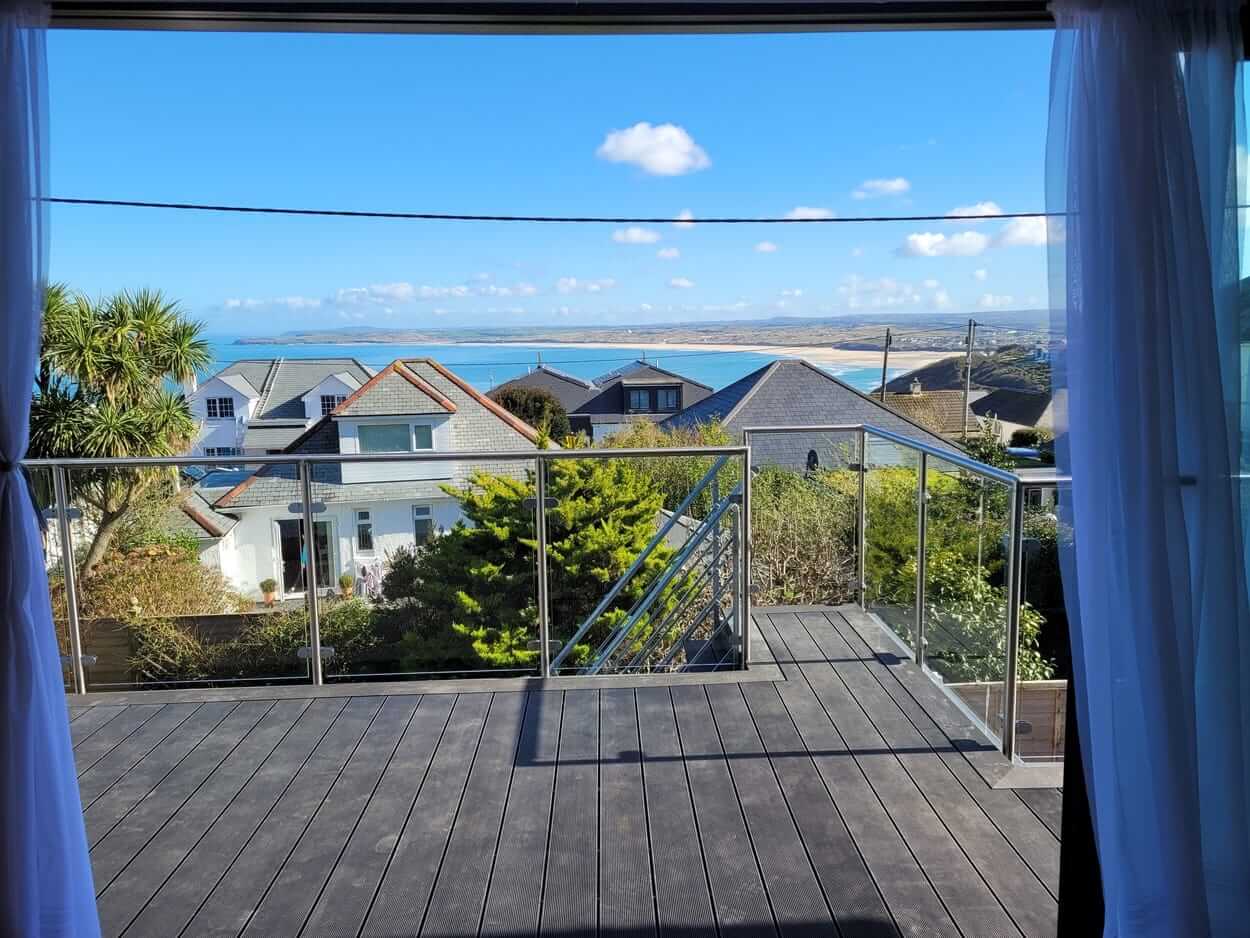 Eliminate a sizeable amount of brands just by reading this article. Find out the best composite decking brands and know which companies and manufacturers create high-quality, long-lasting products at a reasonable price.
Article Contents
Top 3 Cost-Effective Composite Decking Companies
Top 3 Premium Composite Decking Companies
What is the best composite decking brand?
Common Questions
Top Composite Decking Brands in 2021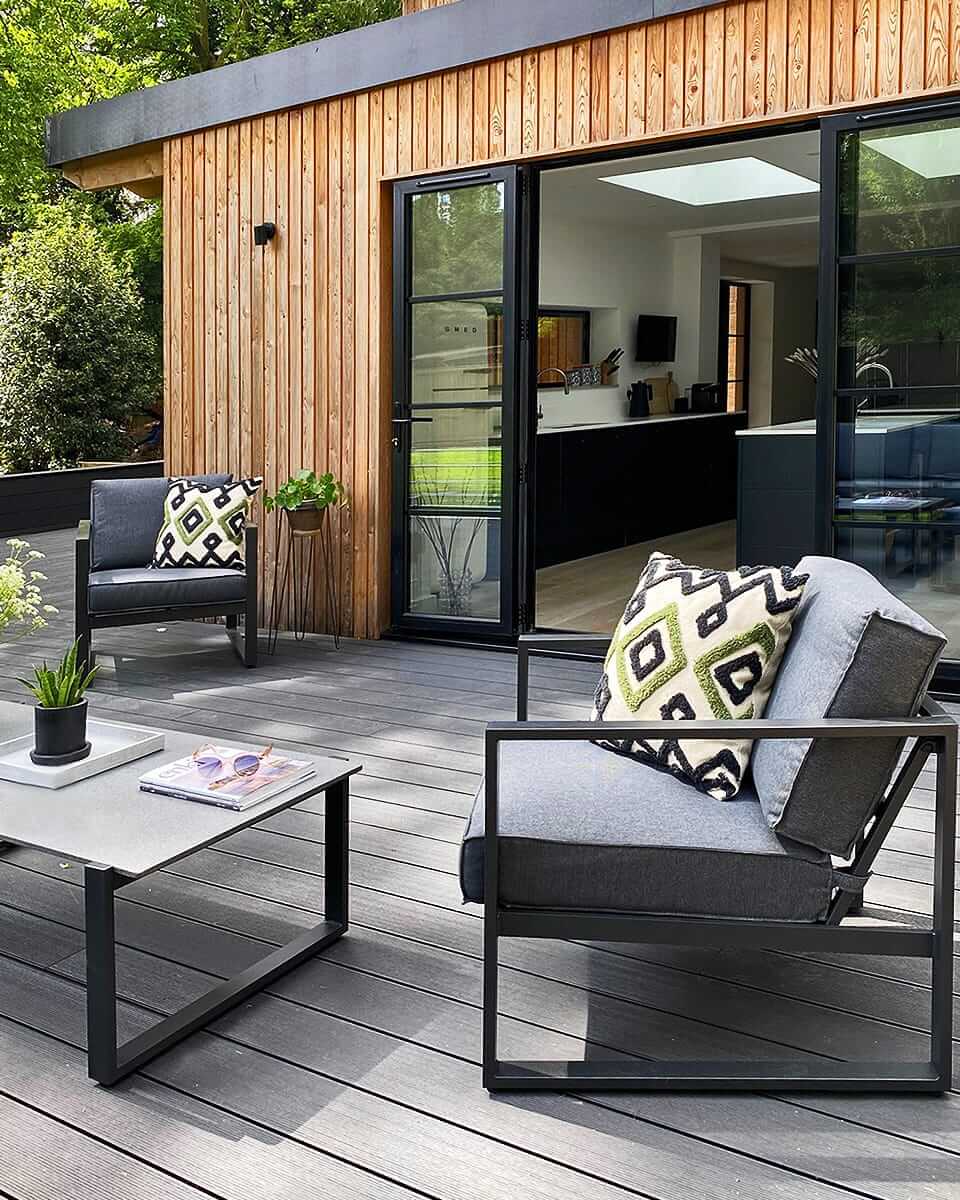 Cladco is the UK's leading Composite Decking supplier, offering a range of hollow and solid core boards in either wood grain or original finishes. Cladco pride itself on supplying high-quality sustainable products and cost-effective prices.
Cladco is a local family run business - meaning the company work hard to ensure the highest levels of customer satisfaction with every sale.
Cladco has a large team who are available seven days a week to help customers choose the best product for their project.
Cladco has worked closely with its composite manufacture to ensure all boards are created using 100% recycled materials
Envirobuild
Envirobuild has over six decades worth of experience in the construction industry, with a broad range of composite products available in a range of colours, styles and lengths.
Envirobuild has built up a steadfast reputation over its 60 years of trading.
Envirobuild is knowledgable about the construction industry and works closely with architects and building firms to stay in the know.
Envirobuild works hard to ensure its customers receive the highest possible standard of care
Trex Decks
Trex decks have been a supplier of high-quality composite decking boards for a quarter of a century, building a reputation for delivery timber-like boards that require little, to no maintenance. Trex Decking offers a range of composite decking products which have a protected outer shell with a natural look and feel.
Trex decks work hard to ensure their products are created and distributed in an environmentally friendly way.
Trex Decks is an American based business and one of the leading suppliers in the US of composite decking
They work hard to meet all of their customer's needs.
Before settling on a company to buy your Composite Decking from, it is paramount to do your research, some of the main points to check before purchasing from any decking site is the following:
Their companies history - Have they been selling and trading for a long time? This will give you an idea of how reliable their product, stocks and customer service is.
Customer reviews - How is the brand rated on websites such as Trustpilot are they reviewed highly, do their boards arrive within the delivery time, are they high-quality, if their reviews are responded to this highlights that they are a caring company with a high level of customer service.
Do they offer a range of decking, including multiple lengths, colours and solid/hollow options? A company with a range of high-quality products offers more choice.
Does the company have any ISO accreditations. ISO 9001 is the worlds most recognised quality management system standard, if a company has this then all services and products are delivered at a high quality. Cladco is accredited with ISO9001 after achieving management excellence status from ISO.
Does the company have separate installation guides for each range of Composite Boards and products? Composite Material Deck Boards are similar to natural wood deck boards but different Decking Composites Boards have different ways of installation, be sure to follow the brands' guide to ensure the brand's warranty is not affected.
Are the Composite Planks priced fairly? If you are building on a budget be sure to purchase high-quality products at cost-effective pricing.

Top 3 Cost-Effective Composite Decking Companies

Adding a deck to your home could be a way to increase your property value, boost your time spent outside, and create an easy to maintain garden.

With composite decking materials and products, the durable and low maintenance boards can be a great cost-effective way to change the way you use your outdoor space.

But, what is the best composite decking at the most competitive price? We went through and found the top three cost-effective Composite Decking boards and Composite Deck manufacturers for you to peruse.

Tagline: To Create High-quality Sustainable Products at a Competitive Price

Company history: Cladco Profiles, an independent Family Business, founded in 1972 by the current CEOS father. Is now the UK's leading supplier of Steel Roofing Sheets and Composite Decking, offering expert advice and delivering environmentally friendly Composite Decking, Cladding, and Fencing available in a variety of eight colours nationwide.
Tagline: Changing the way the world lives outdoors.
Company history: Trex Decks has been transforming and reinventing Composite Decking since 1996. Becoming the worlds largest supplier of timber alternative decking boards. Trex alternatives for timber provide their customers with a low-maintenance Composite Decking at an affordable price. Leaving you with a beautiful deck, Trex range of products are perfect for any home.
Cost: 5/10 £82 and £113 GBP per square metre
Warranty: 25 Years
Board Materials: 95% recycled materials including wood and plastic
Board Colours: Three colour families, browns, reds and greys
Stain Resistance: High
Scratch Resistance: High
Mould Resistance: High
Fade Resistance: High
Tagline: Efficiency - quality - customer care
Company history: Assured Composite, based in the East Midlands is a newer Composite Company with an IOS9001 accreditation. They pride themselves on their high-quality products and customer values. Offering three ranges of composite decking, including hollow, solid and an elite range.
Cost: 8/10 £22-£32 per board)
Warranty: 10-25 Years
Board Materials: 50% Recycled wood, 38% recycled plastic, 12% additives
Board Colours: Five colours Blue-grey, cedar art, coffee, grey art, light grey
Stain Resistance: Medium
Scratch Resistance: Medium
Mould Resistance: High
Fade Resistance: High
Top 3 Premium Composite Decking Companies
When it comes to adding Composite Decking to your home and garden there is a range of companies offering the product. Here are the best composite decking brand and the premium composite decking brands with high-quality products and prices.
We went through and found the top three most premium composite deck material providers for you to peruse.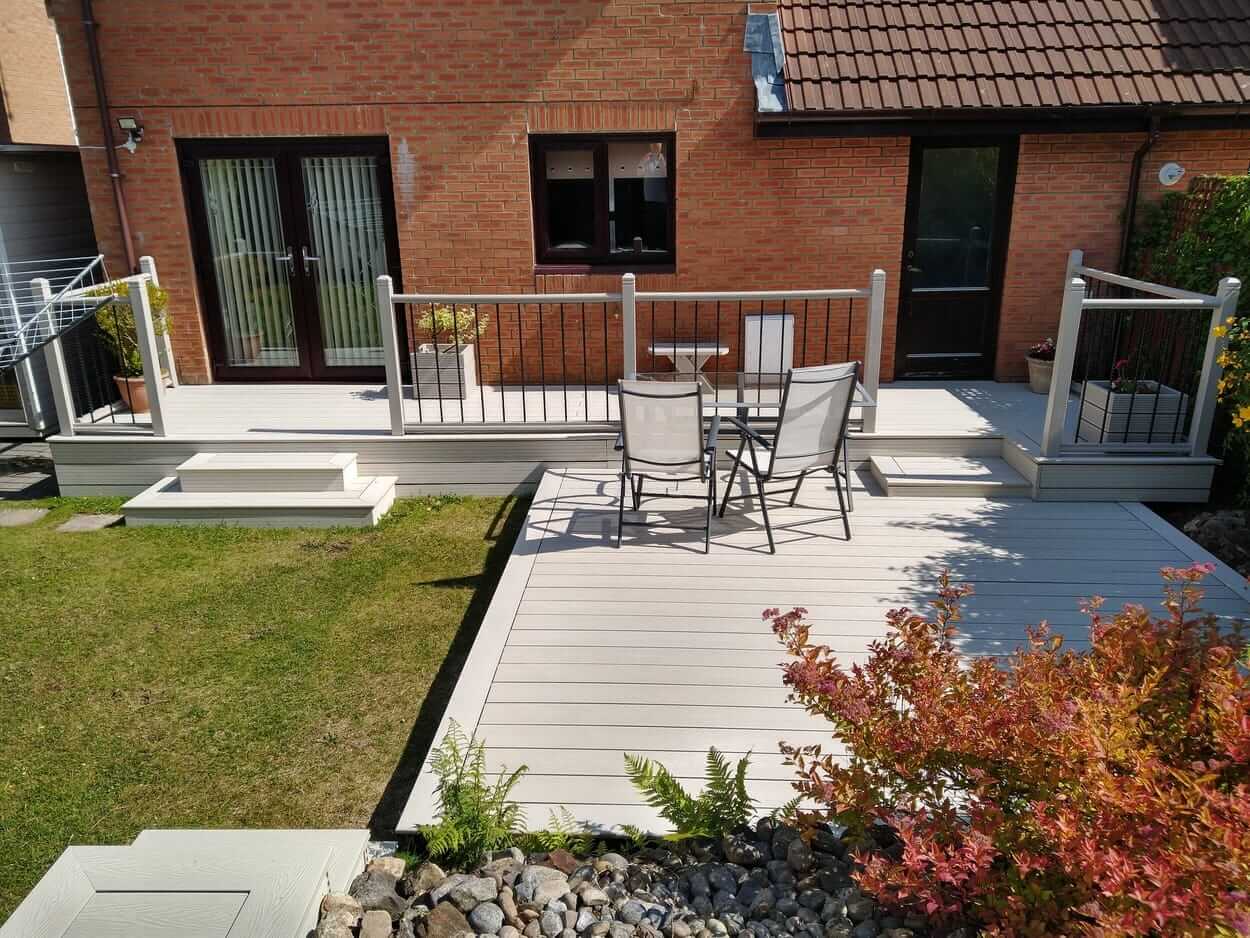 Tagline: Providing a quality experience for our customers is at the core of our values.
Company history: Envirobuild has been supplying the construction industry with materials for the last 60 years. Having grown into one of the leading suppliers of Composite Decking to architects, contractors and the building industry in the UK, with a range of deck materials to choose from. Working hard to promote outdoor living through their range of Composite Boards created with and without grain pattern and wood fibers.
Cost: 5/10 £29.90 - £42.73 per board.
Warranty: 10-15 years
Board Materials: 90% recycled materials ground wood fibers and recycled plastics
Board Colours: Five colours, Oak, Granit and Stone
Stain Resistance: High
Scratch Resistance: High
Mould Resistance: High
Fade Resistance: High
Tagline: NeoTimber® are specialists in composite decking – it's all we do
Company history: NeoTimber has been suppliers of Composite Decking since 2008, started off with the two founders aiming to provide a high-quality affordable alternative to natural wood deck boards, similar to Trex Decking.
known for their high quality, premium product, ranging from £20 per board
Cost: 8/10 - £22.50 - £32.50 Per board
Warranty: 10 year for commercial and 25 year for domestic
Board Materials: Advanced formula of wood and plastic
Board Colours: Five, including Grey and Chocolate
Stain Resistance: High
Scratch Resistance: Medium
Mould Resistance: Medium
Fade Resistance: Medium
Tagline: With a passion for outdoor living and a love for luxury decking design, DeckPlus are composite decking suppliers with many years of industry experience.
Company history: Deck Plus owner has been providing outdoor accessories and advise for nearly three decades and founded Deck Plus in 2004 to provide the UK with a large range of decking boards including a Composite Decking in its range. Deck Plus has recently established itself as one of the UK's leading composite suppliers, offering a range of boards including, hollow, solid, capped and uncapped in a range of colours.
Cost: 4/10 £35-£45 per board
Warranty: 10 years
Board Materials: A combination of plastic decking and real wood.
Board Colours: Six colours including grey, brown and charcoal.
Stain Resistance: High
Scratch Resistance: High
Mould Resistance: Medium
Fade Resistance: Medium
Conclusion: What is the best composite decking brand?
After making the above Composite Decking Comparisons, we have eliminated several companies and have found that the best Composite Decking Manufacturer in the UK is between Cladco Decking and EnviroBuild this is due to its high resilience to scratches, stains, mould and fading as well as the price and choice of colours available.
Both companies have high-quality products and customer service at cost-effective prices. Envirobuild offers a range of five colours whereas Cladco offers eight colours in different lengths and in either wood grain or original finish.
Shop the Cladco range and calculate how much decking you may need for your garden using the Cladco Decking Calculator.
Common Questions
Which brand has the most realistic decking?
Cladco Decking, Envirobuild and Trex Deck all offer a wood grain effect on their boards, as well as in a range of 'lumber style' colours including browns and reds.
When buying Composite Decking on a budget and wanting to get a high-quality timber look without the hassle of maintaining timber decking boards, Cladco offers a range of hollow woodgrain decking boards. Hollow boards will need to be capped to ensure water, debris and insects don't climb inside.
Shop the Cladco woodgrain range including joists, trims, capped ends and more here.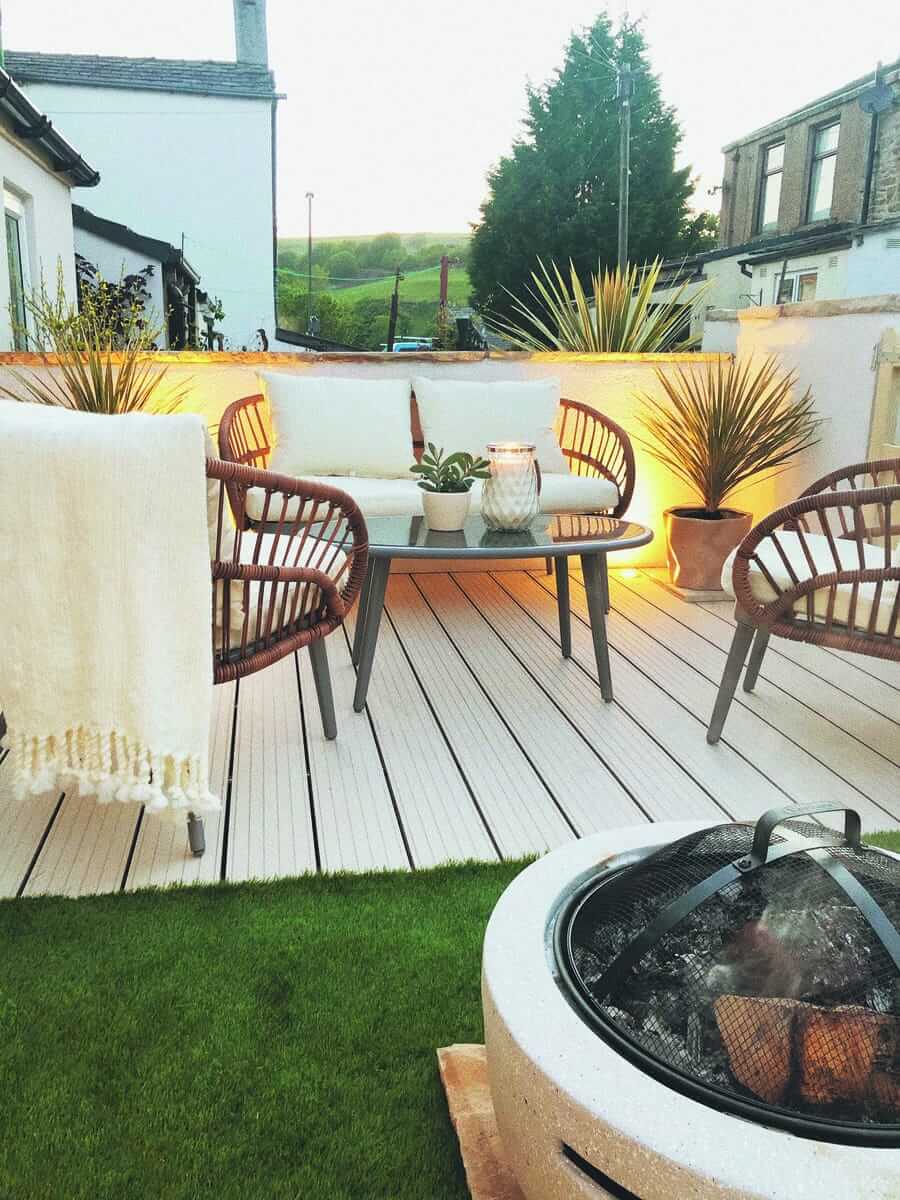 Which brand of decking is easiest to install?
Cladco Profiles Decking boards are simple to install, the boards can easily be cut to size using traditional timber cutting tools. Installation guides are available for all.
Which brand of deck stays cooler on your feet in summer?
As with any material under the heat of the sun for hours, Composite Decking will become hot underfoot. Lighter coloured decks such as ivory, light or stone grey, or teak will absorb less heat than darker colours such as Brown, Dark red and Black. All composite brands above will offer a range of coloured decking, some of which will absorb the heat better than others.
What's the average warranty to look for?
On average, Composite Decking should last between 10-15 years with low-maintenance, however Composite Decking, thanks to the range of properties and synthetic ingredients can last longer than the companies warranty. Composite Decking will offer a high-end look for many years to come compared to timber decking which outer shell will age fast and the boards will require a high amount of maintaining over the years.
Which composite deck brand lasts the longest?
Trex Decks Composite Decking Products have the longest lifetime warranty for their Composite planks, providing they are cared for and installed correctly, Trex Deck boards should last on average 25 year.
10 - 25 year is also the average lifetime for high-quality, maintained, pressure-treated timber decking Products.
Find out more about the variety of Natural looking Composite Decking Products offered by Cladco Profiles and order a sample here, see some inspirational customer images here.
Interested in Cladco Composite Decking? Receive a quote via the Decking Calculator, or contact the sales team via [email protected] or by calling on 01837 659901