When adding Decking to your home, you want to ensure that the Decking is high-quality, long-lasting, and durable, able to withstand being outside 24/7, and high-volume of traffic.
Most Decking not only transforms the look of your home and creates new areas to enjoy, but some Deck materials can help to improve your property value, creating an attractive return of investment benefit.
This article will break down what benefits a Deck could bring to your home and compare different types of materials you can use and the best wood for decks for your home.
General Info: Composite Vs. Wood Decking
Traditionally Decks have been built using natural timber boards; however, due to recent technological developments, Composite Decking, an amalgamation between plastic and wood fibres, has emerged.
Composite Decking Boards offer the traditional appearance of lumber without the need to maintain them. While both Boards are attractive, versatile and dimensionally stable materials, they do have differences.

Composite Decking:
Cladco Composite Decking comes in a range of eight colours.
Low-maintenance, Boards do not need to be regularly maintained.
Low-slip properties due to the narrow grooved design
Low-absorption properties give the Boards resistance to staining, warping, rotting and swelling.
Composite Decking Boards can be more expensive than traditional timber decking.
Boards have increased durability and can withstand the elements well compared to other softwood and hardwood species.

Timber Decking:
Timber Decking Boards come in natural colours and can be difficult to paint.
Timber requires annual maintenance, staining, sealing, sanding and varnishing.
Boards can get slippery when wet.
The Wood fibres within the interior of the boards absorb water, causing Boards to swell and contract, which could result in warping and swelling. Timber is also more prone to staining and rotting compared to Composite Boards.
Timber Boards may have a longer lifespan than some Composite Decking Boards.
Wood Boards can be less expensive than Composite Boards.

You can read more about the differences between Composite and Wood Decking in a previous blog here.
Cedar wood is a softwood material sourced from sustainably managed resources. Red Cedar has been used in outdoor Timber structures such as Decks for many years and is hardy enough to withstand being exposed to the elements. Making Cedar one of the best wood for an outdoor deck.
Using Cedar wood for your Wood Deck is a classic choice for most Decks, with a traditional western vibe for your garden. Cedar Wood is one of the most popular choices in America for Decking, thanks to its rich, attractive colouring and its natural resistant properties.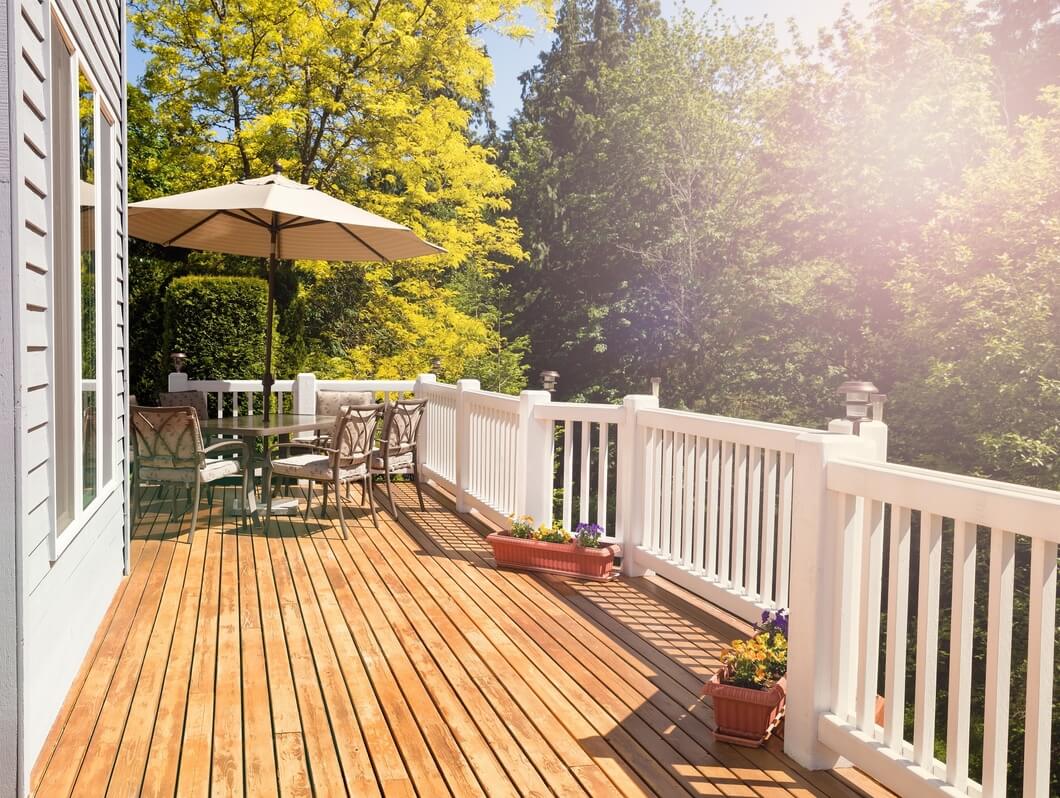 CEDAR DECKING PROS & CONS
Benefits of Cedar Decking Boards:
Due to the naturally occurring resin within the boards, they are rot-resistant
Low-absorption properties so should not warp or split over the years
Attractive wood appearance with naturally occurring wood knots and woodgrain.
Cedar Deck Boards have a lifespan of 15-20 years depending on the amount of maintenance the softwoods been subjected to.
Boards have increased durability and are able to withstand the weather well.

Disadvantages of Cedar Decks:
Cedar is a softwood, and because of this, it is less resistant to scratches and marks than the more durable hardwoods or composites.
High-maintenance, unlike Composite Decking, Cedarwood does require regular treatment, annual or bi-annual staining, sanding, sealing and varnishing - not treating a cedar deck means the surface of boards may turn a silvery colour.
Insects are more likely to burrow into and eat the wood, causing early-onset decay.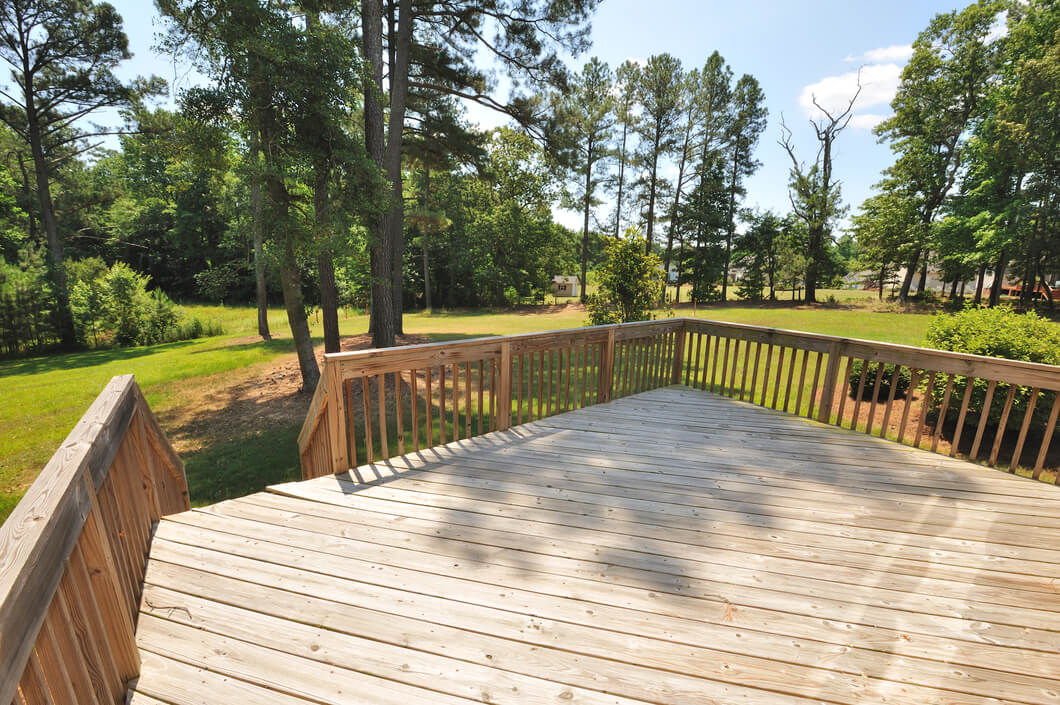 Once the lumber has been removed from a living tree, as a natural material, is it susceptible to rot, insects and weather causing issues and decay. Pressure Treatment covers the lumber in chemical preservatives. These chemicals are applied to help extend the life of the wood, giving them UV and rot-resistant properties.
Pressure-treated wood is an ideal wood deck for any homeowners who require a long-lasting wood deck.

PRESSURE TREATED DECKING PROS & CONS
Advantages of Pressure Treated Decking:
Pressure-treated wood is resistant to fungal growth and rot.
Should absorb less moisture than an untreated wood deck
Insect-resistant - bugs and insects should be less able to burrow into the wood
Pressure-treated wood has increased durability compared to untreated lumber
Pressure-treated wood is a cost-effective alternative to cedar decking boards
Most types of hardwood and softwoods can be treated including, pine, oak, and cedar

Disadvantages of Pressure Treated Decking
Chemicals are used in the wood.
During the wood treating process, the chemicals used within the treatment can cause the lumber to expand and contract.
Cedar wood will look better than most pressure-treated woods due to the number of chemicals within the boards that can change their appearance.
When processed improperly, pressure-treated wood can be bad for the environment compared to an untreated wood deck.

While a pressure-treated wood deck has both its advantages and its disadvantages, the process of chemical treating wood has increased durability, longevity. It is available in a range of hardwood and softwood species, so you can get pressure treated one if you want a pine, oak or cedar grain deck.
Cladco Composite Decking, made from 60% FSC accredited wood fibres and 40% recycled plastics. Composite Decking may cost slightly more than some traditional timber decking boards. However, they require less maintenance and are available in a range of eight colours to complement or contrast any furniture or other aspects within your garden, which lumber does not normally offer.
The below Decking has been designed using Cladco Composite Decking boards in Stone Grey with a Composite Corner Trim edge for a sophisticated and sleek, linear finish.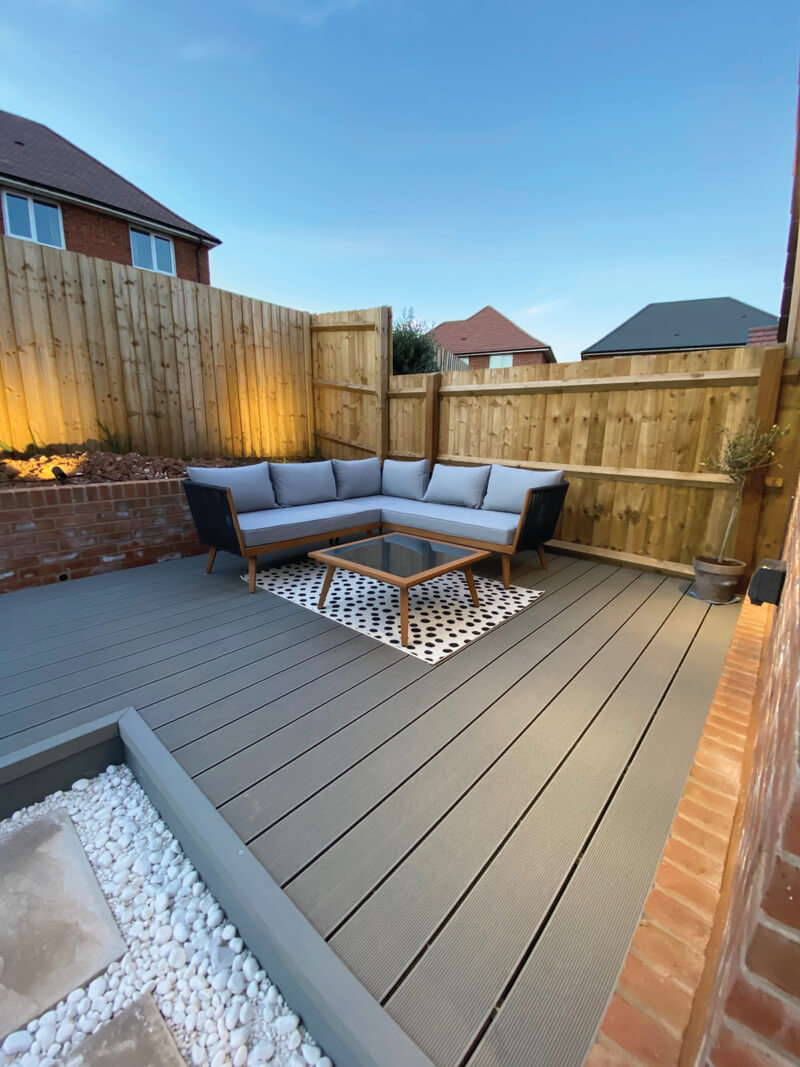 COMPOSITE DECKING PROS & CONS
Composite versus wood decking has a range of beneficial features.
Advantages of Composite Decking Material
Low-maintenance - Boards do not require any staining, sanding, varnishing, or painting
Low-slip surface
UV resistant - Boards should not fade, and if they do so, this should give them an attractive weathered appearance.
10-year guarantee
Insect-resistant
Should not rot, warp, or splinter
Low-absorption rate, meaning moisture shouldn't penetrate the Boards causing stains or mould.
Environmentally friendly, wood is only harvested from sustainable species and areas of trees (find out more about FSC accreditation here)

Disadvantages of Composite Decking Material
Composite Material is made of part plastic so can sometimes not look like grade-A Timber
The cost of Boards may be higher than hardwoods or softwoods
Summary: Which Should You Choose?
When adding a deck to your home, it is important that you are 100% happy with your choice. Having read the article and know some of the pros and cons of some of the most popular Decking choices, which one do you prefer?
To receive a cost quote for your project use the Cladco Decking Calculator to calculate how many Boards, Trims, and Fixings you may need.
Alternatively, order a free sample pack and speak to an advisor by contacting the friendly sales team on 01837 659901.