Summer is fast approaching, which means bright mornings, sunny days, and warm evenings are on their way. With the easing of restrictions happening up and down the Country, we may be able to socialise with friends and family with BBQs, coffee dates, cocktail evenings, and dinner parties this summer.


What makes Cladco Composite Decking the ideal material for an outdoor dining area?
Cladco Composite Decking comes with a range of beneficial properties, making it a perfect material for outdoor use.
Cladco Composite Decking Boards are made using an amalgamation of 60% FSC accredited Wood Fibres and 40% Recycled plastic. Building any Decking or structure using Cladco Composite Products means that the project should not rot, splinter or warp, thanks to the materials' low-absorption properties.
Cladco Composite Decking Boards also have a resistance to moderate stains, scratches and marks. Composite Decking Boards are resistant to dropped food or drinks for al fresco dinners when installed narrow groove side up. Slight marks may appear from grease due to the natural wood fibres within the product. *

Why use Cladco Composite Decking for your garden?
Adding Decking to your property is a fantastic and attractive way to extend your living areas into the outdoors, creating a seamless divide between your home and garden while also increasing comfort and satisfaction.
Cladco Composite Decking is a high-quality, low-maintenance Decking, available in a range of eight colours, in a woodgrain effect, a traditional timber look, or an original grooved style. So no matter the style or colour scheme of your property, Cladco have a Decking Board for you.
Cladco Composite Decking Boards are easy to install and are guaranteed for ten years. Adding Composite Decking to your garden can reduce the amount of lawn demanding your attention and is a low-maintenance addition to your property. Unlike traditional timber boards, they do not require regular staining, sanding, varnishing or painting; simply install and enjoy.
Decking could also help add your home more attractive to potential buyers and may even help add additional value to your home.

Why Cladco Composite Decking?
Cladco is the UK's leading supplier of Composite Decking, delivering products Nationwide. In the past eight years, since selling Composite Decking Boards, Cladco has helped thousands of customers up and down the Country transform their back gardens into the perfect retreat.
Below are just a few of the fantastic Decking areas customers have created using Cladco Composite Decking Boards: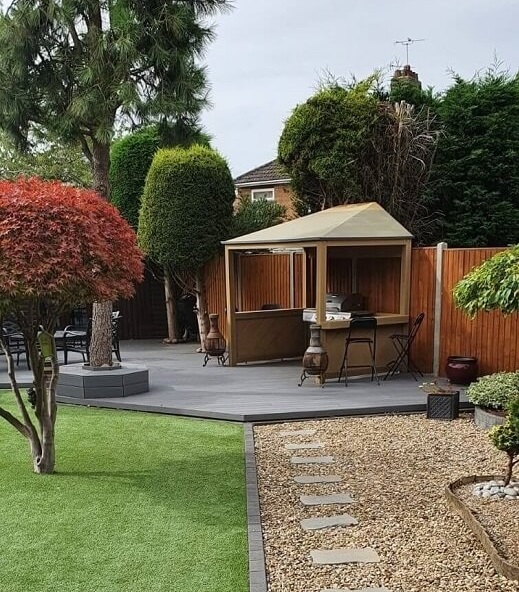 BBQ Pergola made from Cladco Composite Decking Boards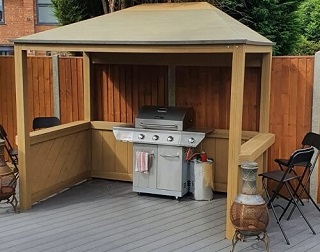 Cladco Composite Stone Grey Decking Boards have created a low-maintenance, attractive seating and dining area. This Deck encourages time spent outside thanks to its lovely, spacious design.
This garden has been expertly designed with several different components and materials, splitting the space into separate zones.
The Stone Grey Composite Decking contrasts well with the natural colours situated around the garden.
Cladco Composite Teak Fence Post and Panels have made this fantastic pergola / BBQ cover. Protecting the BBQer, BBQ and food from the temperamental British weather.
This design has also expertly incorporated the garden's natural elements, using the Decking Boards as Fascia Boards to surround the tree trunk. Creating a seamless transition between the artificial and the natural.
Create a relaxing Spa-like area with Cladco Composite Decking
Cladco Composite Woodgrain Stone Grey Decking has been used to encase this customer's hot tub, creating an attractive stairway and platform.
The Woodgrain effect gives the high-quality appearance of traditional timber Decking without the hassle of maintaining it.
Cladco Composite Stone Grey Woodgrain Decking has also been used as vertical and horizontal Fascia Boards in this project, concealing the structural base and underside of the Decking structure for a neat, sophisticated project appearance.
Two matching inbuilt planters have also been expertly built into the Deck, framing the stairs on either side, using Cladco Composite Stone Grey Decking boards.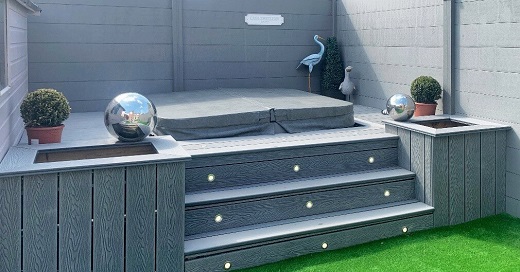 Cladco Composite Stone Grey Fence Panels and Posts have been used for a complete, seamless look tying the entire garden into the contemporary grey theme.
This Decking has been expertly designed to utilise the space available, the genius idea of encasing the Hot tub in Decking, creating an additional tier, making more room for football or games on the lawn.
Incorporate your garden pond with Composite Decking
Cladco Composite Decking can be styled around any of your gardens existing features with ease.**
Stone Grey Composite Decking Boards have been expertly built to create a relaxing, outdoor living area with complimenting grey furniture.
The rectangular pond is the focal point of this design, with Cladco Composite Bullnose Boards instaled around the pond's edges for a sophisticated and attractive frame.
Spending time near water has been proven to be relaxing and a great way to unwind after a busy or stressful day. Ponds can be especially beneficial and soothing when fish inhabit them. Watching fish can release serotonin and promote relaxation. This Decking area is the perfect viewing platform for this pond, and thanks to the pond lighting, this Decking can be enjoyed any time, day and night.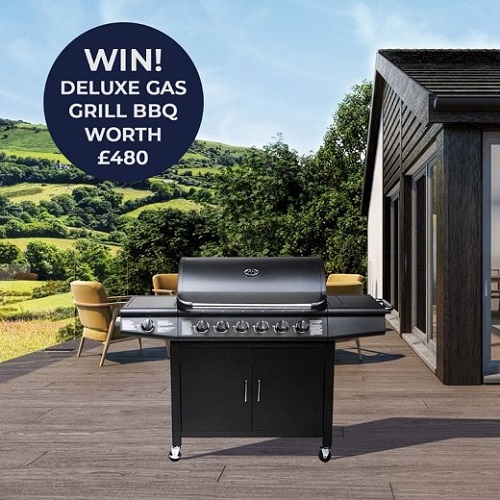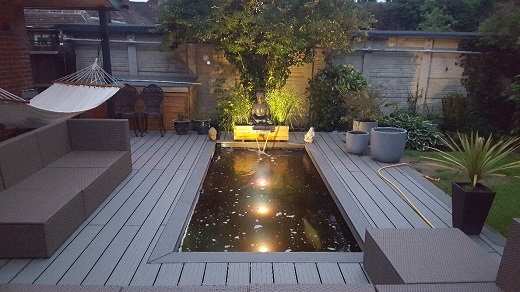 Please note these Boards have been installed on the reverse, and we recommend Decking Boards to be laid with the narrow groove side facing up to benefit from the Boards' low-slip properties.
If you would like to create a similar Decking area for outdoor entertainment and dining, why not enter our Competition to win a Delux Gas BBQ worth £480. To enter, please click here.
If adding a Decking area to your garden is something you are considering, find out more about our Decking Range here or by contacting our friendly sales team on 01837 659901
Or, if you would like to sample the colours and finishes the Boards are available in, order a FREE sample pack with code SUMMERSAMPLE at checkout here.
*Please note Boards only benefit from low-slip and scratch resistance properties when installed with the narrow grove side facing up.
**For Decking in use with Water please see our PVC Decking range which is water resistant. Composite Decking will absorb water due to the natural elements and care should be taken when installing near pools or ponds.