Adding outdoor decking is a fantastic way to ensure you make the most of your property and creates an additional living space in the fresh air. However, getting to that point when you can sit back and relax on your deck can be a bit of a journey.

While many Decking suppliers provide installation guides with their product, and an avid DIYer can install, many people often look to trust their vision with an outside trade company of contractors.
But how do you ensure you are trusting the best company with your money and your garden? This article will highlight a simple checklist for you to work with when you want to pay a deck builder to install your Decking.
BEFORE HIRING SOMEONE TO BUILD YOUR DECKING
Before sourcing a deck building company, it is essential to first scope out some of these critical things you may need to know or have:
Size of your Deck:  Whether you're shopping around for a quote or about to sign a contract, all installers will need to know the dimensions and style of your Decking. Find out how many Boards or fixings you may need for your Decking using the Cladco Decking Calculator here
Type of Material: There are many different Decking types, traditional timber, Composite, or PVC; the material you choose could affect which deck contractors are the best ones for you.
Additional Features: When designing your dream Decking, you may want extra lighting, a built-in seating area, awnings, Balustrade, or ponds, be sure to know what it is you want before reaching out to a deck installation contractor.

Before you dive headfirst into planning a new deck building project, you first need to research your materials. Having high-quality Decking components could be the difference between a sound Decking installation and a great one. Some materials you may need are:

Boards - Cladco Composite Decking Boards are available in a range of eight colours, with various properties and features ideal for creating a stylish, attractive Deck to your specifications. Learn more about Cladco Composite Decking here. 

Trims - Cladco Skirting and Corner Trims can be used as trims or as Fascia Boards to cover any gaps and hide the Deck's underside for a clean, smooth finish.
Fixings - Such as T-Clips, Starter Clips, or Wood Screws are needed when installing your Decking; T-Clips are hidden between Cladco Composite Decking Boards for a high-quality finish.
Weed Mat - Installed to prevent weed growth beneath your Decking penetrating between the Decking Boards.
Joists - Composite or Timber Joists should be used as a secure substructure to support your Deck
End Caps - If your Deck has used Cladco Composite Hollow Decking, you may want to purchase End Caps to hide the Board's interior and prevent any debris, water, or insects from entering the Board's interior.
Balustrade - Balustrades can be added to a Deck for safety or aesthetic purposes



Once you have done all your research and got an idea of your budget, size, location, and design of your Decking, you can start looking into builders and outdoor Deck contractors.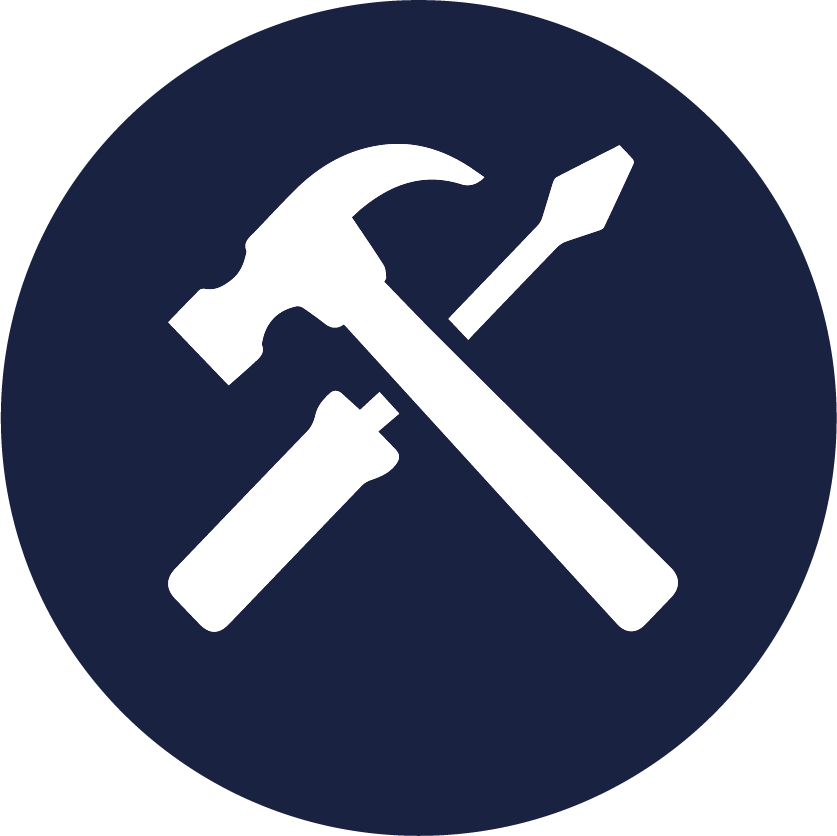 With the idea, budget, and materials in place, it's now time to find a reliable, highly recommended construction professional to install your Decking. Before you hire a contractor, is it important to make sure you shop around and get the best contractor/deck builder who can build a deck to your specifications and standards.
There are, however, a few ways you can find a reliable contractor who will be able to provide you with a completed custom Composite or timber Deck.


HOW TO FIND A DECKING CONTRACTOR
Friends, Family, and Neighbours - Homeowners are often incredibly vocal about contractors, builders, and construction companies who do either a great job or a lousy job, so it pays to ask around.
Reviews - To make your search more straightforward for a Decking Contractor, it's recommended to find the top reviewed companies online. The top reviewed Deck Builders you will have found will be able to give you a good idea of the type of Contractor you may be needing and looking for. Look into the reviews the company has on a reliable review source, such as TrustPilot. Bear in mind that the best contractors and builders will be busier in the spring and summer months.
Website -Contractors and professional builders often rely heavily on word of mouth, so asking around, finding reviews, so often post images of their completed projects across websites and social media pages. Be sure to view their previous work and the services they offer before reaching out for a consultation.
Ask around for custom quotes from different contractors, compare the costs and time frames, and reference the Contractor's produce.
QUESTIONS TO ASK FORMER CLIENTS
You want to know the genuine service you may be receiving from the contractors you pay to work on your house or your garden. If you follow a friend's recommendations for contractors, be sure to ask them or any other past clients some questions about the service they received. Questions such as:
Did the Contractor finish the job on the date that was decided?
Did your Composite Decking, Timber Decking, or House Project come within budget? If it didn't, why didn't it?
Were you kept in the loop regarding costs of construction and materials?
How did the Deck builder handle setbacks and glitches?
Was the Deck Contractor easy to work with? Did they help your vision come to life?
What was the Contractor's team like? Were they respectful and easy to get along with? Did they keep your house and garden clean of any unnecessary debris and materials?
Would you hire these Contractors again for any future projects?
Can they commit to a project end date? - While this shouldn't be a deal clincher, it is helpful to get an idea if your deck contractor can commit to an end date.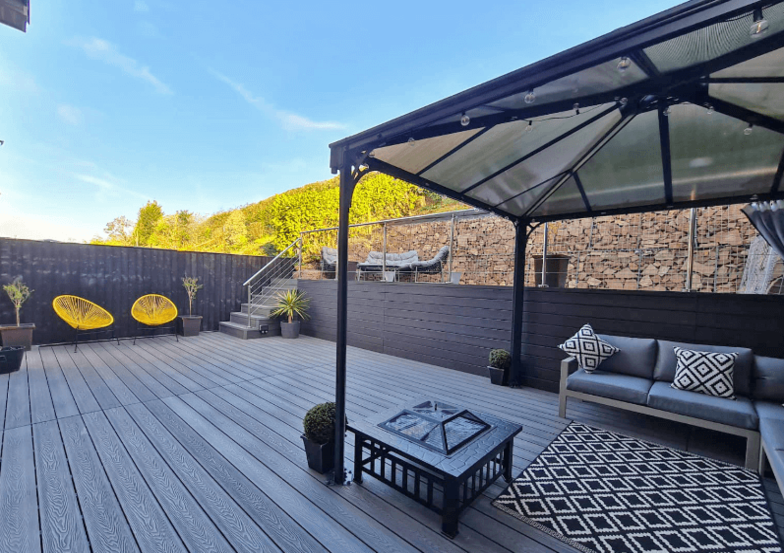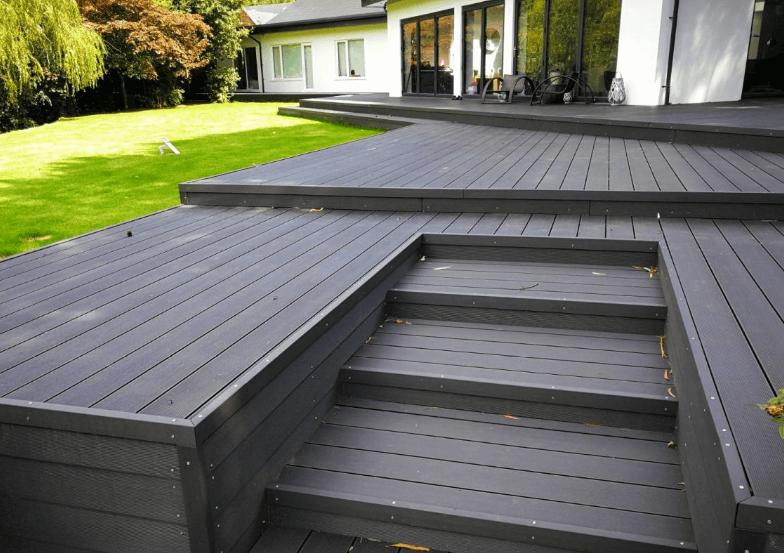 WHAT TO ASK THE DECKING CONTRACTOR?
Your Decking Contractor will have the ability to transform your Deck Design ideas into a sturdy, attractive wood or Composite Deck. They will also be spending a lot of time in your garden, so it is best to find a Deck contractor with who you can work well.
Whoever your hiring, whether they have been recommended or not, it is a good idea for you to ask the following questions:
How many Decking Projects have you constructed?
Have you done a project like this before?
Will you organise the Planning Permission for the Decking a speak to the building regulations?
Can I visit a site you are currently working on?
How many people do you have on your team?
Is there anything I need to know about the way you work?
Do you have a specific payment schedule you like to work on?
Will you visit my location to view the project before committing?
Do you have a website I can visit?
How do you update your customer? Do you do daily, weekly, or monthly project updates?
Can they send you any references you can look into?
Organising the required permits when building your Deck. All Deck projects need to be regulated by your local building regulation. A permit must be organised, ensuring the construction is built according to local building standards and safety regulations.
Once you have asked all the questions you feel you need to relate to your project, your design, you may want to start the next stage.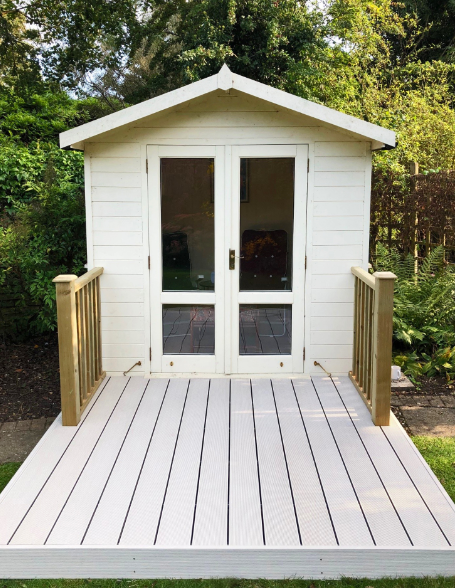 HOW TO AVOID GETTING STUNG
The last thing you want to do when hiring a contractor to build your deck project is being left with an unfinished deck and a business that has upped and left you with a half-finished project. Or a business that has received payment in full and not delivered on the service you have paid for.
The best way to avoid being left in the lurch is to look out for the following red flags:
Cannot show insurance or license documentation - Building Decking Contractors licensing is regulated by a regulating body, and each job they undertake will be included with that licensing.
Demands complete payment upfront, in a cash-only transaction
Pressures you into making an immediate commitment to working with them
Will not organise the planning permissions or business regulations for you
Will not give you references or images of past projects they have worked on
GETTING AN ESTIMATE & AGREE ON DELIVERABLES
Now you've chosen your decks custom design, decided if you want stairs, Trex decking, Composite Decking, a raised or ground level decking space etc.
You have also completed your search process and contacted a local deck builder contractor who has answered all your questions, and you want to get started.
Estimates should always be given in writing and should be based on the details of the design and size of the project, including:
The breakdown of the cost and quantity of materials needed
A time frame for the work to be started and completed in
A firm breakdown of the cost of hours required
A solid price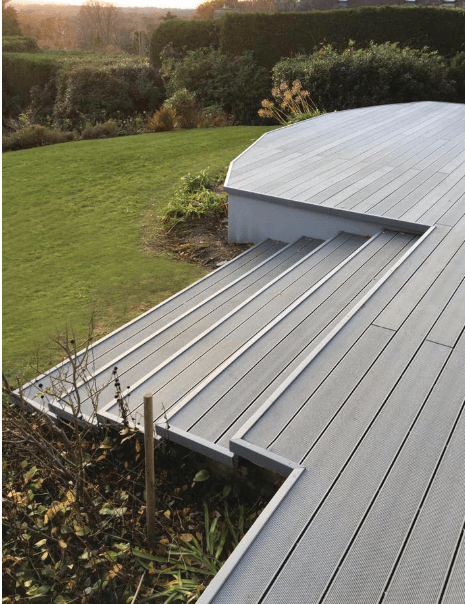 Conclusion
When hiring a wood deck contractor or a Composite Deck contractor, it is important to know what you may be getting yourself in for. You must be able to trust whoever is working on your property.
Don't forget that a decks installation period could be a day, a few weeks, or months depending on the intricacy of your design, and the deck builders you hire will be entering your home and outdoor site. So finding a team of deck builders who work well with you is essential.
Finding the most relevant questions to ask, like the ones above, to past clients, contractors, and deck builders is an excellent start to seeing narrowing down the contractor options.
If you want to find out more about the best materials to use for your decks or how to custom design your Deck, see the Cladco Decking Calculator, or see all of our Decking here.
To find out more about Cladco Composite Decking, our company, our range of projects or to ask for advice, contact our friendly team today via the website here, [email protected] or by calling our number on 01837 659901. Cladco Profiles is open 8AM-5PM during the day, Monday - Saturday for any help you may need.