Last updated: 29th March 2023

Wanting to add decking to your garden? But not sold on the amount of time and effort timber decking takes to maintain? Composite Decking is an innovative, low-maintenance, high-quality alternative to traditional wooden decking. Timber decking will have reached its peak the day it's laid. Every day from then the decking will be ageing, splintering, rotting, going mouldy and dulling in colour. Composite decking is a maintenance-free decking alternative for improved outdoor living. When it comes to buying a long-life composite decking material, it is important to shop around, ensure all composite decking reviews are founded. So what are the best non-slip composite decking boards and what are the best rated composite decking boards and best quality composite decking board products on the market? As well as what is the best composite decking on the market? This article should be able to answer all those questions and more.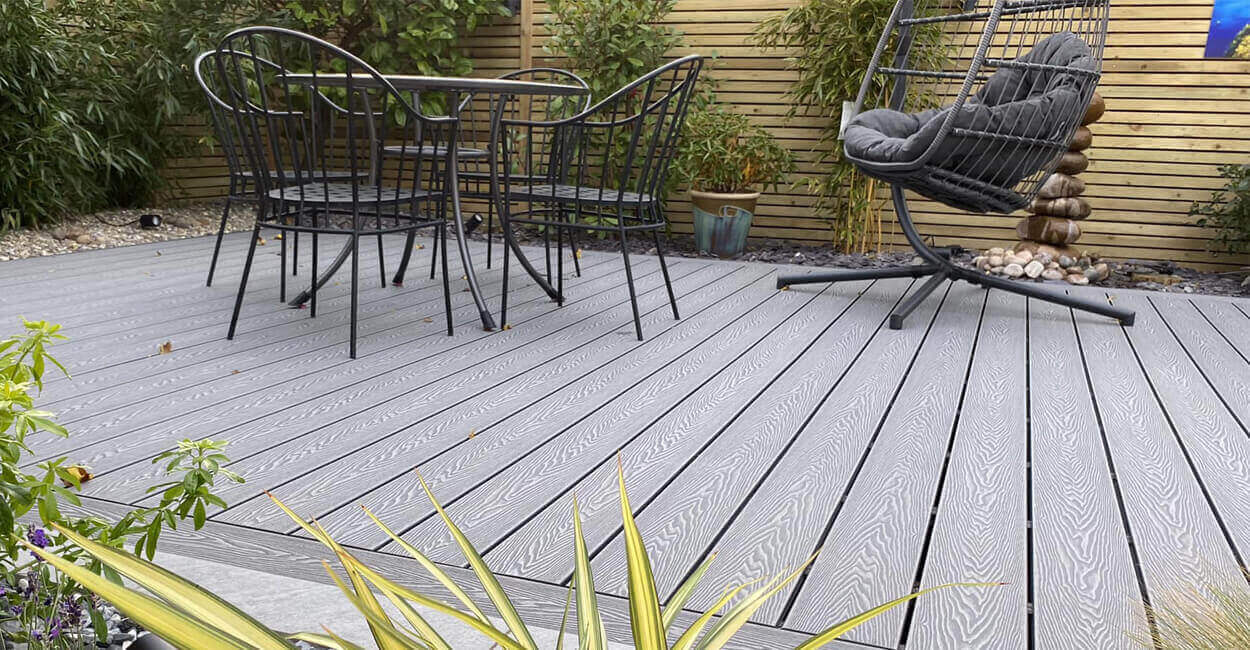 Composite Decking - What is it?
Composite Decking is made from 100% recycled materials, part synthetic, and part natural product. Made from 40% plastic deck material and 60% FSC accredited wood fibres, together with a bonding agent and other additives such as UV resistance agents and colour tints.
Composite decking is the perfect timber alternative for your decking, the synthetic wooden decks have been around since the early 1990s when people jumped on the idea of having a low-maintenance deck, for a lower cost than original decks.
Now 30 years on composite decking is more popular than ever. When it first appeared on the scene composite products were only available in grey. Now, while grey is still one of the most popular composite decking choices, there is a wide range of colour available in decking composites, within most companies from Cladco Profiles to Trex decking.
Having composite boards for decking thanks to the bonding agents, colour tints and other additives give the existing wood fibres added strength, meaning your deck will be looking newer for longer, compared to conventional decking boards.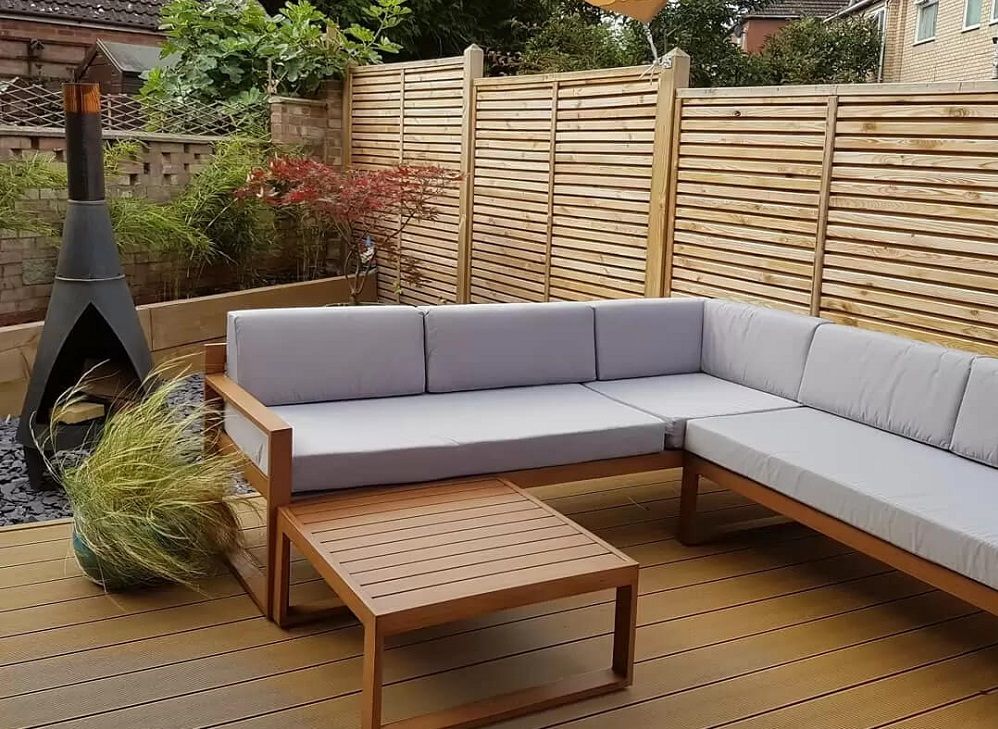 Types of Composite Decking
But what are the composite decking comparisons? Like with any product, there is no one size fits all when building a composite deck. There are two choices of boards: Hollow Boards or Solid Boards. To find out the difference between the two, head to our helpful infographic and blog post Here.
Hollow deck boards are cheaper than solid boards, but, you may want to cap the ends for a neat finish and to prevent any water from leaking inside the boards. Solid deck material composite does not need to be capped, and can often withstand a higher number of footfalls.
What to consider when choosing deck boards?
Cladco Decking, like Trex decks, is high-performing, low-maintenance and low-cost composite wood deck. Available in both hollow and solid boards, with the option of a woodgrain finish.
When making a large purchase, such as a composite decking area on your property, it is important to ensure you consider the following factors
Appearance:
How are you wanting your deck to look? Do you want a plain or woodgrain finish? A woodgrain texture giving the appearance of traditional timber decking? Are you wanting natural wooden tones, such as teak and coffee coloured boards? Or a more modern, grey or charcoal look? How are you wanting to finish your deck? Are you wanting a bullnose board finish in complementing or contrasting colours? See Cladco's Decking Gallery for inspiration.
Price:
How much are you willing to spend on your new decking area? How long are you planning on being at your current home to enjoy it? If this is your forever home, it is recommended to spend a little more to ensure longevity.
Durability:
Where will your decking be installed, what will it be used for? Will your decking be used in areas with high footfall? Will the boards be subject to heavy loads and lots of people? The use of your decking and the weight it needs to endure is important to consider. Cladco Composite Solid Boards are designed to withstand high levels of footfalls and heavier weights than hollow decking boards.
Lifespan:
Adding composite decking board products to your home will naturally have a longer life than timber products. Composite products are made from part natural and part synthetic materials, with extra additives to ensure a low-maintenance long life. When buying decking, it is good to know how long you are wanting it to last before having to replace the boards. Cladco Composite Decking Boards have a 10-year guarantee.
Warranty:
When purchasing a costly amount of materials or items from a company, it is important to know where you stand if the items are faulty, damaged or have anything wrong with them once they have arrived or been installed. Research the company you wish to purchase with, what are their warranty terms, are they fair and do they support you in your purchases? Find out about Cladco's Ts&Cs Here
Sustainability:
What are the brands of composite decking boards you are purchasing made from? Are they made in a sustainable and eco-friendly way? Cladco Profiles offer a 100% environmentally friendly recycled board, made with FSC accredited wood fibres and recycled plastic. Find out more about their Environmental Properties Here.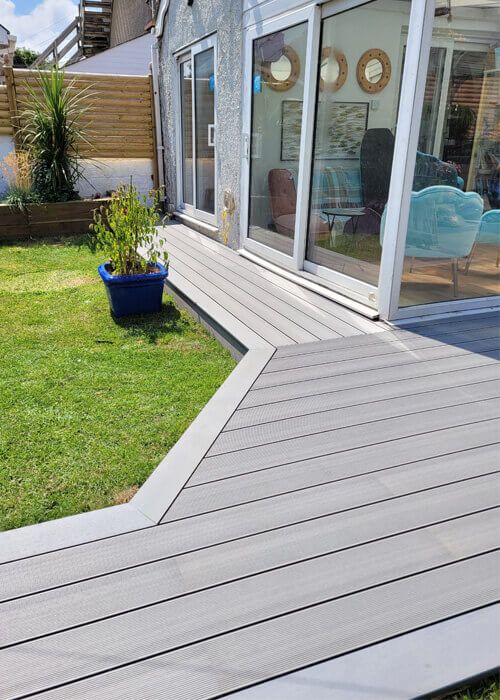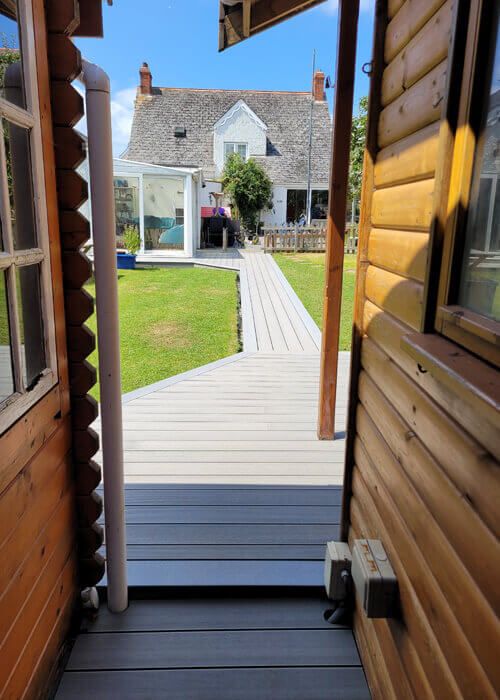 Top 3 Cost-Effective Composite Deck Materials
What is the cheapest composite decking on the market? Essentially, you get what you pay for, however, the following three brands are some of the best composite decking brands on the market, with high-quality products at the lowest possible prices.
#1 Cladco Profiles
Cladco Profiles, the best composite decking brand and the UK's leading supplier of wood fibres and plastic decking boards, provide a range of wood composite decking boards, solid, or hollow decking boards in either original or woodgrain finish. The boards are seen to be the most valued composite decking boards on the market, due to their range of properties, timber like aesthetic and sustainable interior.
While composite boards are likely to be more costly than treated timber decking boards, they come with a range of properties, do not need to be sanded, treated, varnished or painted and often last longer than traditional lumber. Cladco Composite Decking Boards are made with 100% recycled materials and come with a ten-year guarantee.
#2 Trex
Trex Deck provides a composite decking board, made from 95% recycled wood fibres and plastic, coming with a range of properties. The boards are available in a range of five - two colours depending on which range the composite board features in.
Trex Deck offers a woodgrain, solid board, a grooved edge board and a basic board, all with improved flexibility and durability.
#3 Assured Composite
Assured Composite pride themselves on providing high-quality decking board at a cost-effective price. Assured Composite Decking boards are created with wood-polymer fibres with added additives and colour tints, providing the boards with UV resistance and low-maintenance properties. Assured Composite offer one length of board at 3.6m and the boards are available in a range of colours.
Like Trex Decks and Cladco, Assured Composite deck material, while not timber, gives the appearance of natural lumber thanks to the woodgrain finish on the board.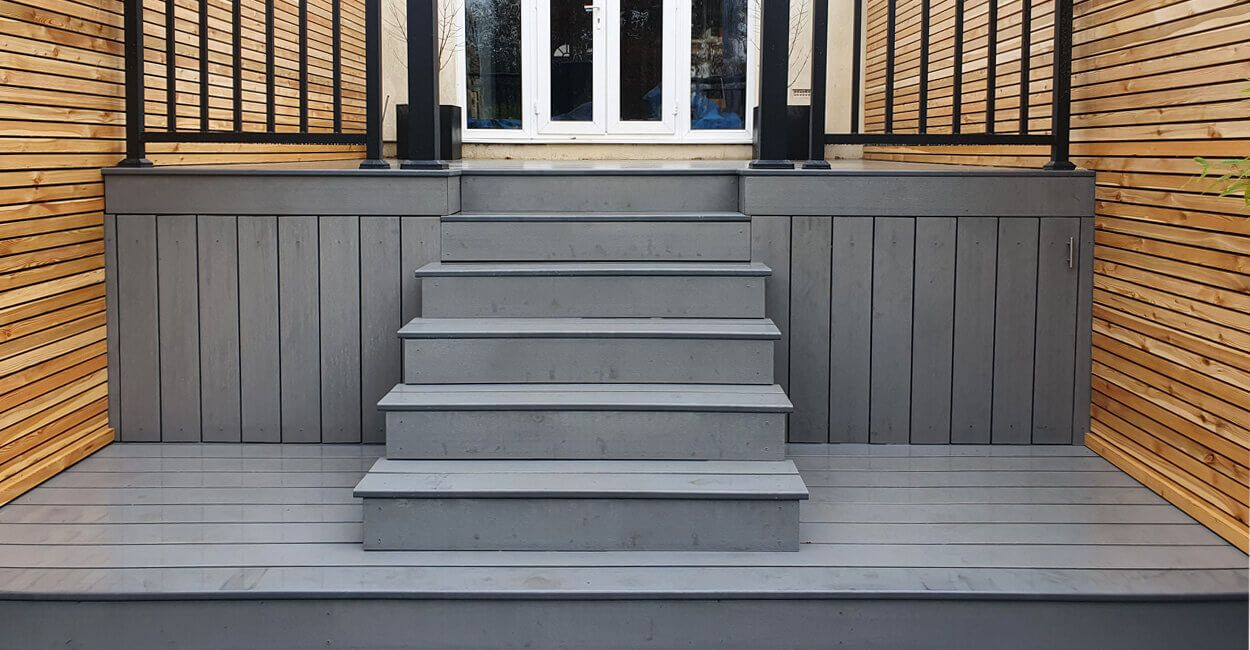 Top 3 Premium Composite Deck Materials
#1 Envirobuild (rights reserved)
Envirobuild has a range of four different styles of composite decking boards to choose from. All in a range of colours and finishes, for a unique, high-quality deck. Each board benefits from a range of properties unique to composite decking, low-slip properties, resistance to fading and insects. The boards will also not warp, rot or splinter.
#2 Neo Timber (rights reserved)
Neo Timber uses high-end technology to create, sustainable, affordable composite decking boards. The boards are available in a range of colours and finishes, enabling you to make a high-quality wooden aesthetic deck without having to maintain or treat your decking. Neo timber decking is a light-weight hollow decking board with a unique circular hollow interior. Neo timber also offers a range of solid boards as well.
#3 Deck Plus (rights reserved)
Deck Plus has a stock of both traditional and contemporary looking composite timber decking boards. The boards are available in a range of colours, perfect to contrast or compliment the surrounding areas, and are easy to instal. Like Cladco Composite boards, Deck Plus offer both hollow and solid boards.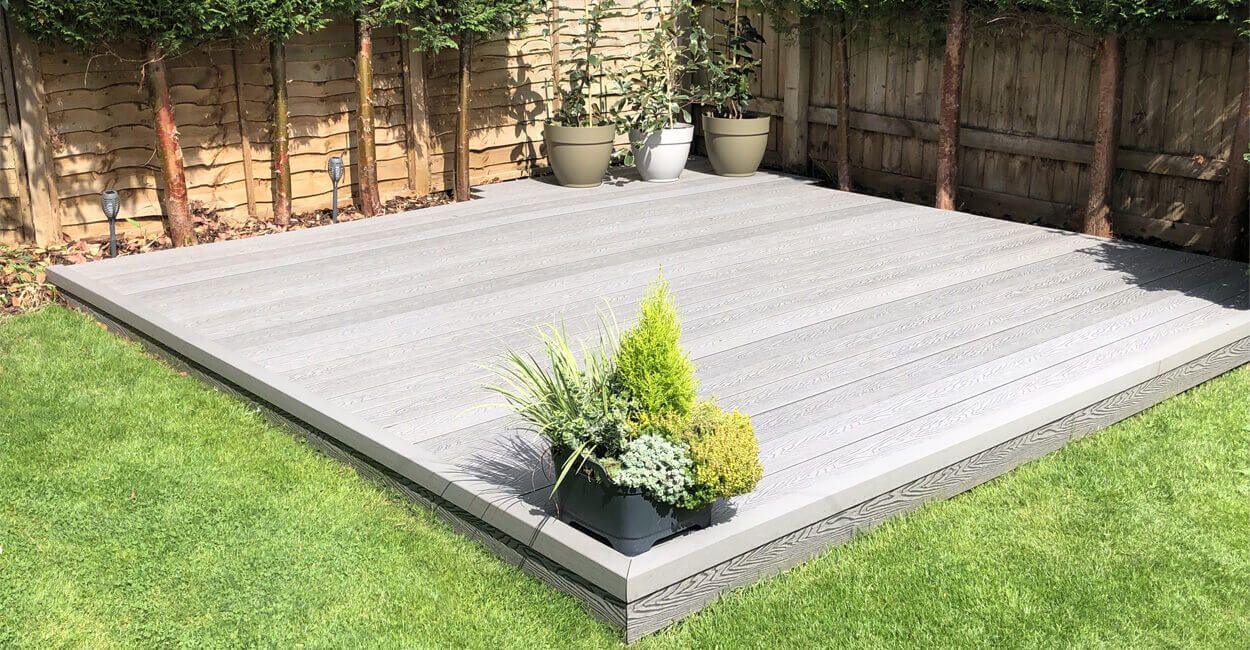 Durability: How long do Composite Decks last?

Unlike traditional timber, decking material composite has been specifically designed to be a high-quality alternative to a natural timber deck. With a ten-year guarantee and a longer life span, without the need for treating, painting, varnishing, or sanding.
With proper care, your composite deck can last 25-30 years. Compared to the 15-year life span of wood decks. Providing the deck had been properly built using hidden fasteners.
Because the boards are made up of a combination of natural wood products and synthetic plastic materials and have been pressure treated, insects are unable to burrow into the boards, causing damage and rot.
Thanks to the plastic material used in the boards, they can be treated with UV protection, preventing the colour boards to fade and change. Please note that colours will fade over time if subjected to vast amounts of UV rays, giving your deck an attractive weathered look.
Unlike pressure, treated materials, composite boards for decks will stay looking high-end, without splitting, cracking, or warping. Giving you a long-lasting Trex for decks.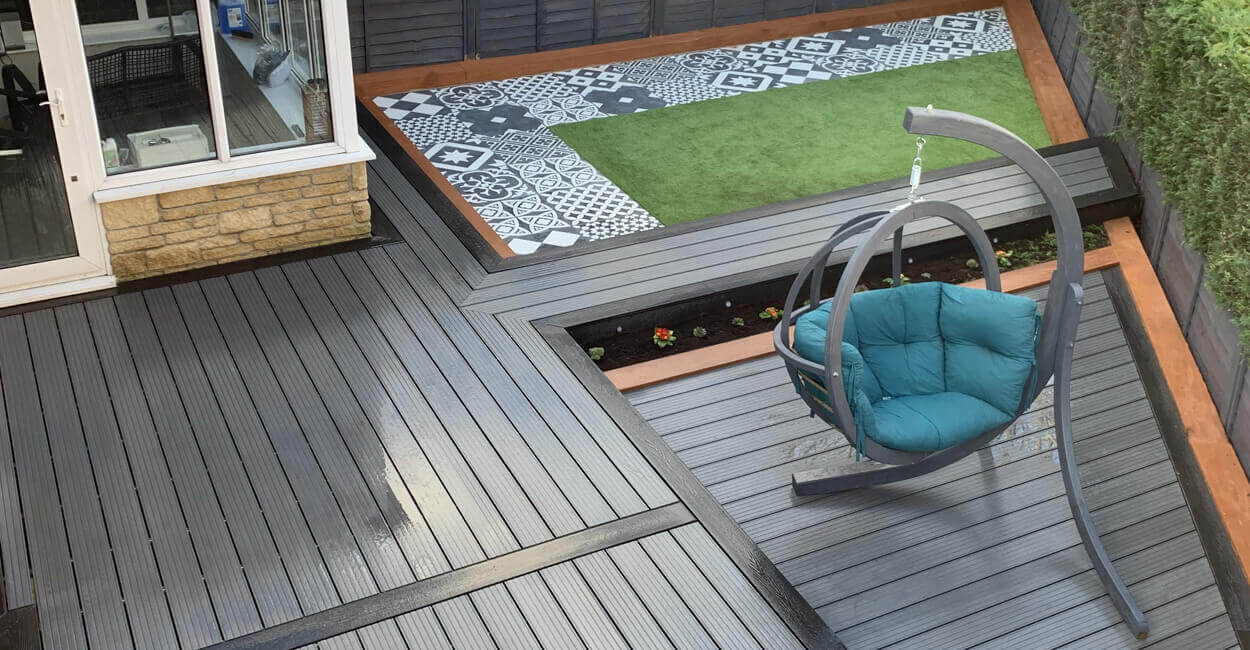 Why you should choose composite decking for a maintenance-free garden

We understand that your free time is precious, and should be used for relaxing, socialising, and enjoyment, not for treating, sanding, and maintaining your deck. This is why composite materials are ready to be enjoyed as soon as they have been laid, without any faffing around.
Composite decking is the ideal solution for any home thanks to its long-lasting, easy to maintain qualities. Deck materials are also known to have low-slip properties when lain narrow groove side up, providing a safe to use deck no matter the weather. Thanks to its UV prevention treatment, unlike wood, your deck is not going to be damaged or bleached by the sun's rays.
Thanks to the decking materials being scratch-resistant, and thanks to its dense makeup, the plastic decking material will not splinter, so your deck is safe for children and animals.
Composite decking can be built using hidden fasteners and in a range of colours so you can start living your best life outdoors, with a beautiful deck.
Need further information? Contact our sales team either by emailing [email protected] or calling on 01837 659901